Want to know 'how much does a chatbot cost?' 
The answer is — well, it depends on many different factors. 
What you want out of the business chatbot, or what you want it for, are easily the two major factors to the cost. 
That apart, the pricing also depends on the chatbot type, functionalities, integration, etc…and the list can go on.    
Plus, one more important thing you need to understand —  chatbot technology is evolving and becoming more sophisticated by the day, and with sophistication comes a high price tag. 
Pricing will also depend on whether you hire someone — a third-party company or a freelancer – to build it or take the DIY route. Both options will have different price structures. 
So, don't expect to find a fixed chatbot price tag anywhere. Rather, you would find an approximate price range that often gives a good idea about how much you might need to spend for a bot.  
In general, the estimated price range for a high-quality chatbot could be anything between  $10,000 – $150,000, or even more.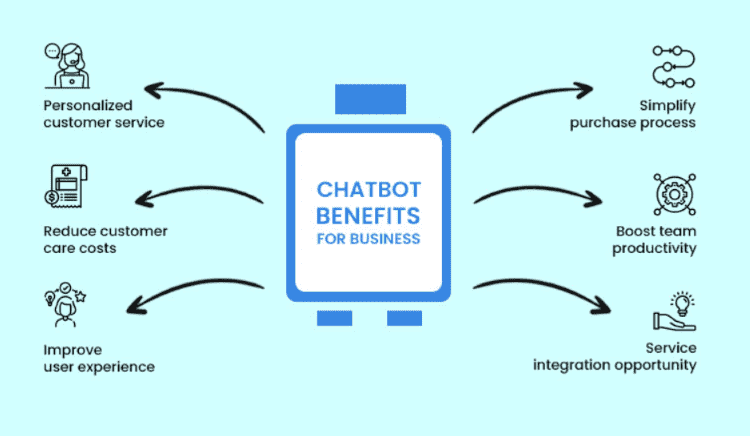 If you want to understand what is a chatbot and why it's important, or what are some of the chatbot benefits, have a look at these blogs – 
Factors Affecting Chatbot Cost
Chatbots don't come with fixed pricing because each of them is unique with specific project demands and business requirements. Plus, chatbot development is a long, diversified process with multiple steps that also affect the cost. So, you not only need to analyze different chatbot examples but also understand how different factors are the reason the final chatbot cost varies drastically. 
There are a variety of factors that often affect chatbot costs.
DIY approach or custom development

– Whether you take a DIY approach ( and decide to build the bot all by yourself ) or hire a third-party company for custom chatbot development will affect the pricing. Naturally, the

DIY route

would be cheaper

compared to the

custom process, but it all depends on what you need out of the bot. But yes, custom development means you will need to bear less chatbot maintenance cost for sure.   
Business goals

– When it comes to building a chatbot, the most important factor that affects the pricing is your business goals. Based on goals and your supposed

chatbot use cases

, you will need chatbot features which, in turn, will add to the complexity and development scope of the bot. Right from an

FAQ chatbot to lead generation bot

,

marketing, customer support, information collection, appointment booking, etc, you can have any type to meet your goal but prices will obviously vary for each of them. 

The number of supported platforms

–  The cost of building a chatbot is also influenced by the number of supported platforms — the more platforms you need support for, the bigger the price will be. So, there will be a messenger chatbot like

a chatbot for WhatsApp or Facebook Messenger and you can choose whichever fits your needs perfectly. After all, Facebook already has over 300,000 bots on its platform.  
The type of integration you want

– The type of integrations to websites, apps, email, CRM, and analytics is also a big pricing factor for chatbot development. The cost will depend on whether you want the

bot to be integrated into a company's app or website

( doing this can have a huge impact on your customer service). 

The kind of internal processes you want the bot to handle

– Many businesses are aware of

chatbot trends stats

and get them built for internal use, like automating routine processes or handling customer databases, etc. For such bots, the chatbot cost would obviously depend on the complexity and kind of internal processes your business wants the bot to handle.  

The complexity of data analysis with AI-

Chatbots can talk like humans, learn from past conversations and handle any complexity of queries but only when it's built with AI-powered tools like

machine learning algorithms, data analysis algorithms, and predictive analytics

. And building such tools are a complex and time-consuming process and therefore will affect the price.
Custom Chatbot Development or Bot Builders?  
Chatbots are growing in usage and popularity by the day. In fact, some 87% of consumers report positive experiences with the bot. 
Considering all the factors, custom development of your chatbot can approximately cost anywhere between $20,000 to $80,000. 
This chatbot price range would include everything, right from the overall design to the development, and integration of data analysis features like machine learning.   
So if you're planning to hire a third-party company for custom chatbot development, be better prepared — it can be expensive.
And if the price looks steep, you might like to compare chatbot vs live chat to get a clear picture of what to go for. 
If your business doesn't require a custom chatbot, you can surely consider going for a chatbot builder like REVE Chat. Check our chatbot and live chat pricing here.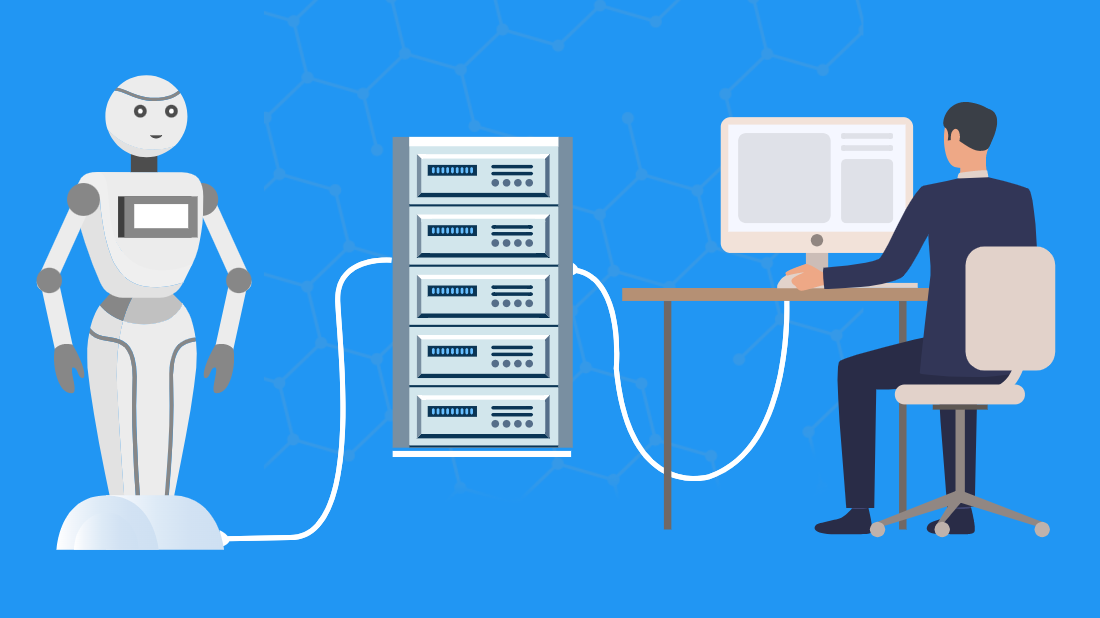 Bot builders or chatbot platforms are a cheaper option compared to the custom development method as it comes based on a monthly subscription basis. Here, you would get what you pay for. 
With bot builders, the chatbot pricing starts from zero — yes, you can build a bot for free and use it for the entire trial period without incurring any money — and can stretch as far you want the features and sophistication with it.   
Whichever option you choose, it will benefit you in many ways given how chatbots can save businesses 30% costs on customer support alone.
Chatbot Cost with Custom Development 
There are no fixed costs to building chatbots when you hire others for development. It varies as you can see there are many different factors that affect the pricing of AI chatbots. It's therefore important to first know and understand those factors in detail that might influence the final cost of a bot. 
Bot development pricing can vary based on what and how you approach the process. 
1. Who do you hire to build the bot? 
The cost of building a chatbot will depend on who you hire to build it. If you want a top-notch off-shore company to do the development, obviously the chatbot cost will be high. If you approach a local business, you can expect the price to stay lower compared to the offshore partner. And if you hire a freelancer, naturally you can get the bot built in the cheapest way it could be through the custom development method.
You however need to understand the limitations that often come with hiring a freelancer for complex software projects as they might not have the kind of tech expertise needed to do justice to a chatbot project. And freelancers might also not develop all the functionality or chatbot features you need with the project, particularly the AI-based features.   
2. Do you want to have POC and MVP phases with the chatbot price? 
The final cost of your chatbot will also depend on whether you want POC and MVP phases for the obvious benefits they bring.  
Some businesses prefer to have a POC (Proof of Concept) as an early model that does not have all the functionalities yet serves a great purpose in validating key elements like chatbot design.  
Likewise, it's a common practice in the software industry to have an MVP (Minimum Viable Product) or a beta version with basic features of the final solution. The idea is to use the MVP to gather initial feedback from the concerned person and then scale up if everything seems right. 
This shows how you need the right chatbot strategy in place to get the pricing right.    
3. Want a simple button-based bot or advanced AI-powered chatbot? 
Yeah, you will have these two types to choose from. And as you guessed it right, button-based chatbots would be much simpler with no ability to understand natural languages. They will come with the pre-defined flow which means all the answers are already fed into them and users just have to click on the buttons in the chat to get the answer. 
On the other hand, AI-powered chatbots are more intelligent as they use NLP (natural language processing) and can understand the natural human language. Users can expect such bots to perform a bit more complex actions, like remembering previous data, providing information that is not scripted, and so on. This is why conversational AI chatbot pricing is higher. 
So, simple button-based bots often cost 2-3 times less than advanced AI-driven ones.  
4. How many languages do you want your chatbot cost to support?
Chatbots can support many languages, as many as you want. But you need to keep in mind, the more language you want with a chatbot design, the more you will have to pay. If you choose rule-based chatbots, you can customize their text messages and choose any language. However, AI bots will require extra testing for each language you want. 
The good thing, some chatbot platforms ( or bot builders) have built-in support for many, so you won't need to spend more on additional languages.    
5. What type of frontend, backend, and maintenance do you want with your chatbot price?
Any business would want their bot to have a good UI with elements — like the color scheme, style, and labels- in tune with the brand voice. However, some bots come with fixed UIs and won't have the option to customize things. And if you want the ability to customize, there will be additional costs.  
The chatbot cost will also vary for the level of complexity involved with the development of the backend, and the ability of the backend to support various integrations and business logic smoothly.
And lastly, a chatbot widget template will need maintenance on a regular basis which is often 10% of the total cost of development.
Chatbot Pricing with Bot Builders  
Zero! Yes, it may surprise you, but it's true. The cost of building a chatbot with a bot builder is zero — only your time is involved. You can easily go to a chatbot platform, use its flow/ blocks and then create the type of bot needed, or for any purpose, whether to answer FAQs or collect leads, etc.    
The bot builder option is monthly subscription-based and suitable for those looking for a low-cost way to build the chatbot. For payment you make, you get a framework to build upon, as well as support and maintenance from the vendor. With bot builders, you are sure where to buy chatbot without spending big 
So, if you're daunted by the number of factors involved in custom bot development, you should consider a DIY approach or rely on one of many self-service best chatbot platforms to build the bot from the start. In this method, there is no need to code anything, as the method is largely drag-n-drop.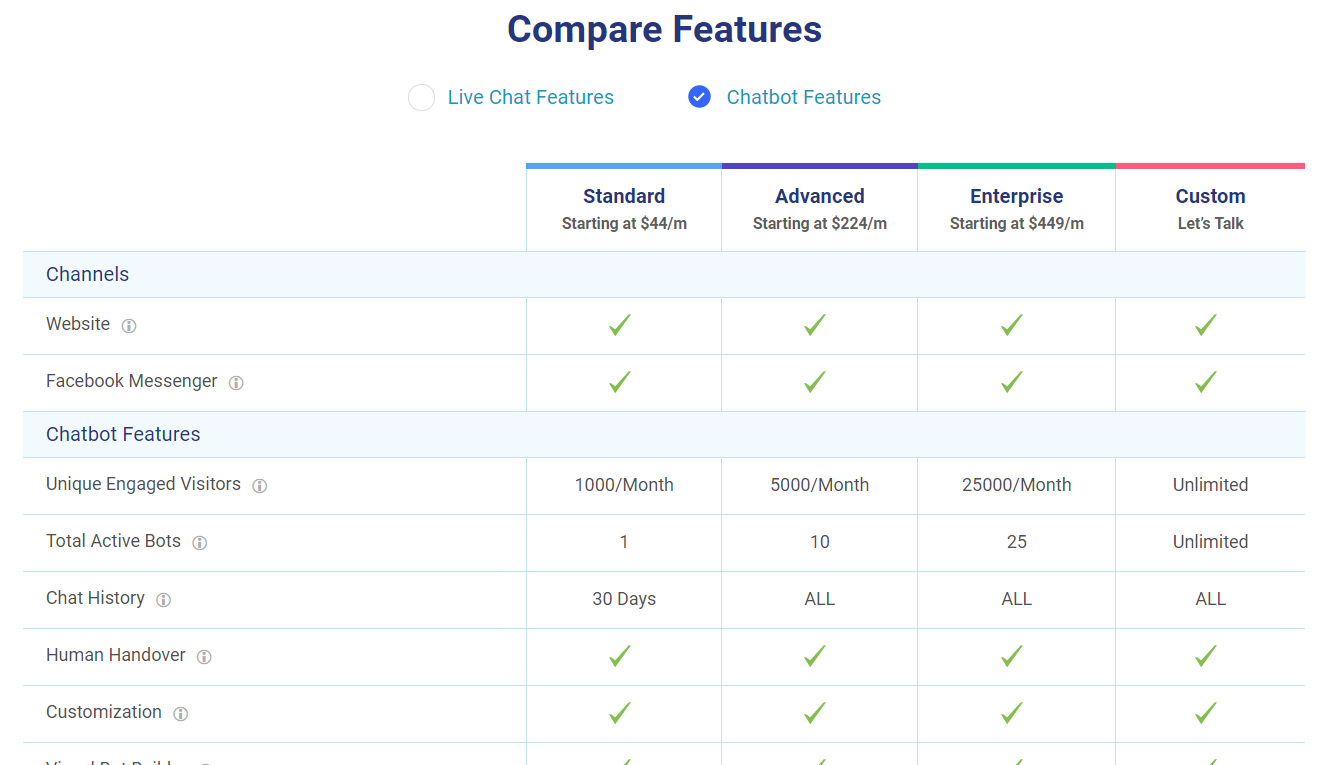 The pricing of building a chatbot with bot builders may have different aspects to it. 
Active chatbot

– The number of active chatbots you can connect with your channels with each plan will come with a price tag. And this number could go from anywhere 1 to unlimited, depending on the monthly charges or plan availed.

Unique engaged visitors/month

–  Chatbot platforms often charge based on the unique engaged visitors who interacted with the bot. They offer a limit ranging between 1,000 to unlimited visitors, depending on the plan availed. Once the number of limits is crossed, there will be extra charges per unique visitor which can increase the chatbot cost.

Chat history

– The number of days till you can access the chat history and analyze your

chatbot analytic metrics

and bot performance will depend on the type of plan you avail, which will vary from a 30-day period to no limit in some plans.

Fallback responses

– The chatbot pricing will also rely on your ability to set up fallback responses for scenarios where the bot can't recognize the user input. Not all plans you avail will have this feature. 

Appointments scheduling

– Not all bot builders' plans will have the option to enable appointment bookings for your customers with a chatbot. So if you want to give users the flexibility of self-schedule, you need to opt for the relevant plan.  

ML intent & training

– AI chatbot pricing will be higher for plans that give the option to train the bot to use machine learning, comprehend user conversations, and do real-time responses. 

FAQ and keyword builder

– You will have to pay more for a plan that offers to train the bot with FAQs and relevant keywords so that it can easily handle customer questions of any type.    

Sentiment analysis

– Smart AI-powered bots are able to analyze the sentiments of users based on the basis of decoding the emotions in the texts or voices, but such features cost more. So if you want a 

chatbot sentiment analysis

feature, you will need to spend a bit more. 

Offensive world filters

– If you want a bot with the ability to filter offensive words from interactions, be ready to pay more for this feature. 

Synonyms

– Some bot builders may charge extra for the synonym feature where the users can feed words to the bot to make it smarter so that it can efficiently handle customer conversations.

Bot reports

– Users need to pay more if they want a bot with the ability to generate various types of reports whether bot analytics, leads report, fallback reports, or custom reports.

 
Chatbot building with REVE Chat 
Creating a chatbot with the REVE Chat platform is a breeze. You can build your own AI bots with no coding, or create bots with your desired features to put customer service on autopilot.
It's a great platform for chatbot development with prices starting from as low as $44 with virtually all the features for your bot. We have plans based on a monthly, 1-year, and 2-year subscription basis. 
The best part, if you need more than our plans have, you can always take the custom chatbot development approach and get in touch with our experts to take the process further.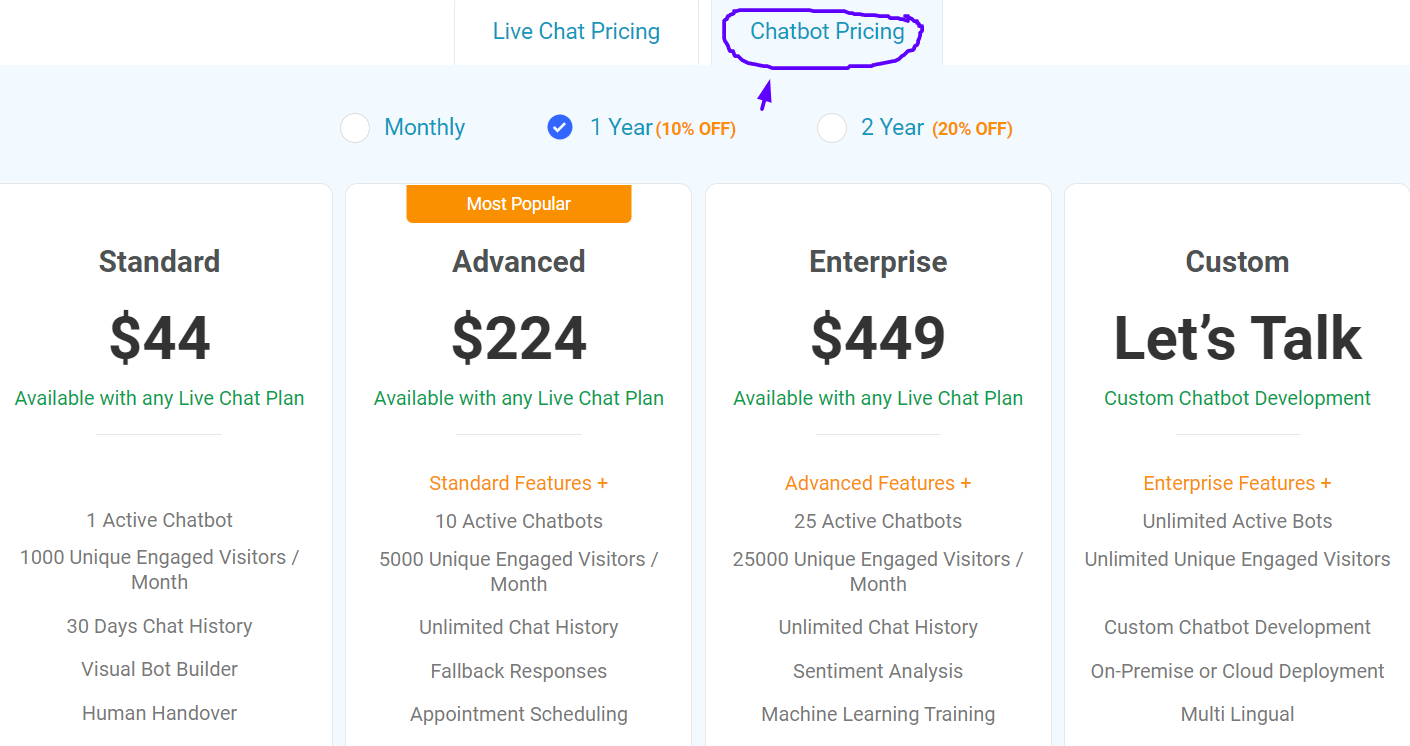 Chatbot development with REVE Chat promises a range of benefits. 
Build your Bot Flow –

Build and customize the bot design in tune with your business needs.  

Easy Scalability –

Develop bots that work for you 24×7 and let them

handle a higher volume of conversation without impacting support performance.  

Human Handover –

Create bots with the ability to

handle the basic and repetitive queries and route the complex conversations to the right agent/department.   

Bulk ML Training –

Train the bot by importing all the general FAQs and answers so that it can deliver faster and effective answers to the customers. 

Advanced Reporting –

Measure the bot performance with metrics like first response time, average resolution time to identify clients metrics like total visitors, missed chats.
Want to know more? Check out our chatbot pricing. 
Enjoy the Cost-structure Flexibility for Chatbot Building and Grow Your Business 
Custom chatbot development is quite like taking a leap of faith into the dark. It often involves so many factors and variables that low-budget businesses might find tough to benefit from. This is where chatbot platforms can help. They give your business a great deal of freedom and have an amazing chatbot cost structure to leverage. 
You can now build your own bots in minutes, add whatever features deem fit for the business, take help for custom addition later on. And when so much is there to gain, it would be a surprise if you did not benefit from the popular bot building method.
Scale your service and support with REVE Chat's AI chatbots.