Customers deserve good experiences. They feel happy when customer service is prompt and smooth. In fact, quick responses can turn them into brand loyalists.   
However, when agents are busy or overworked, they don't reply fast to routine questions. It can frustrate customers and result in poor service. So, how can you avoid compromising the quality of customer service?   
Well, your organization should think of automation. You should plan a system that solves customer problems with a bare minimum of human interaction.  
Customer service automation is not only helpful for customers but also for agents. While it helps deliver prompt replies to routine questions of customers, service reps will save the burden of answering each question. 
More importantly, automation is great for those customers who prefer self-service and avoid talking to human agents. It not only saves the time of customers but also of your agents.  
In this blog post, we will discuss the use of automated customer service and how it can transform the meaning of support.   
What is Customer Service Automation? 
Automation is a new trend in customer service. It's something more businesses now look to leverage and ensure value to customers. You're less likely to find companies that don't what is customer service automation, as most do.   
Automated customer service is the approach to solving problems without the involvement of human agents. It's a type of customer support arrangement where automated technologies such as AI-powered chatbots, replace people as part of the problem-solving equation.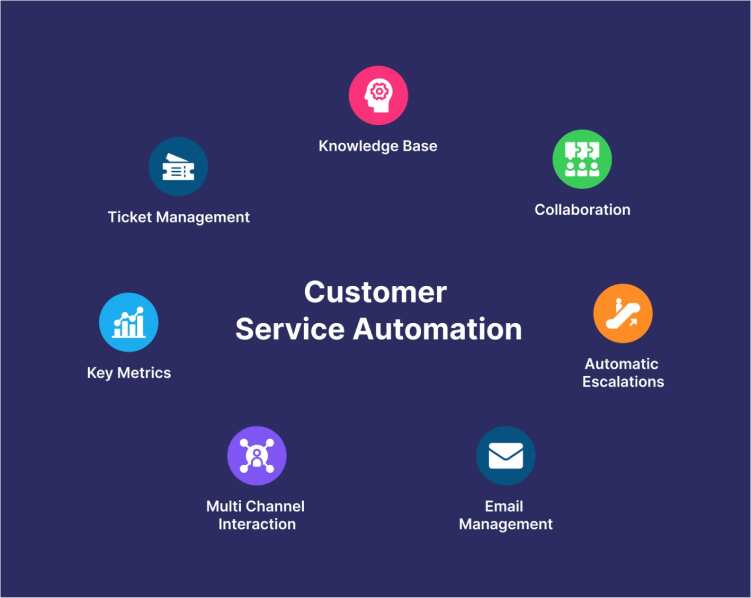 When customer service automation is implemented, the goal is to leverage software and tech innovation to provide human-less and prompt support on a 24×7 basis. The use of customer service chatbots ensures instant replies to customers while agents save effort and time that would otherwise go in handling queries.    
With automation, it's possible to put customer support on autopilot and free up agents so that they are not part of handling simple, repetitive tasks. With automation in customer service, agents have more time to give attention to customers who genuinely need human support.
The automated customer service definition makes it clear the power of artificial intelligence technologies in transforming the meaning of support.    
Advantages of Automated Customer Service
Automation has literally transformed the way customer service is delivered and experienced. In fact, more than 85% of customer service interactions are powered by AI bots which shows how automation ensures value to everyone, whether customers or agents. On top of that, automated support can be the way forward to delight customers and boost profits.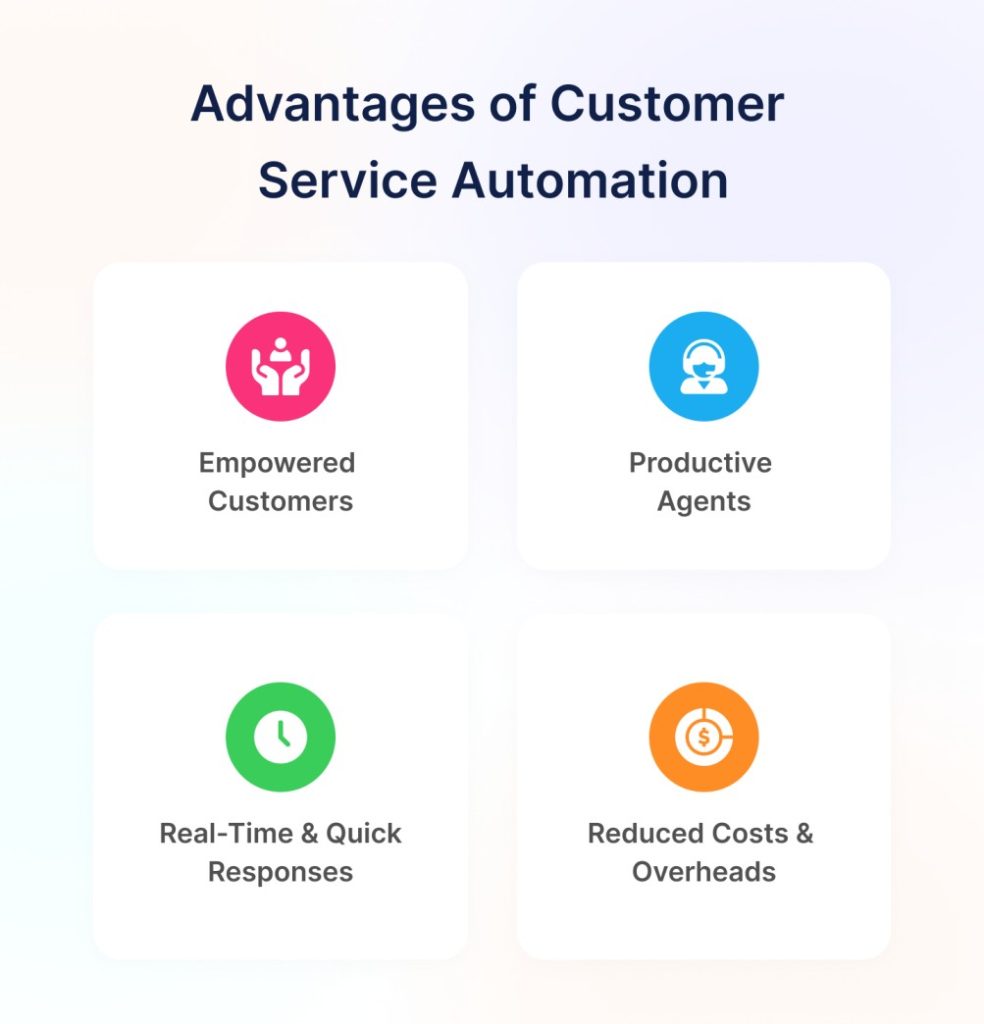 Some of the major advantages of automated customer service –  
Empowered Customers

– Automation is a new approach to the way customer support is offered. It puts customers at the center of things by giving them the choice to not contact humans yet get quick resolutions to their problems. 

Productive Agents

– Customer service automation can make agents more productive and save them the hassles of answering everyday questions. Plus, service reps can squeeze more

chatbot business benefits

by focusing more on handling those types of customers who genuinely need a human touch.   

Real-time & Quick Responses

– Automation in customer service makes it possible to deliver quick and real-time responses 365 days. It enables replies that too without compromising on quality and without involving the human capital.  

Reduced Costs & Overheads

– Thanks to the customer service automation platform, organizations don't need to hire and train people to handle support duties. This can help economize support operations and save costs.
Chatbot as a Customer Service Automation Software 
Automation is the new normal in the delivery of customer service. The trend is going to get bigger in the future as 50% of consumers don't care whether they interact with humans or AI-driven assistants. It explains why AI chatbots have taken over the role of automation to fill the gap in the customer support system.
Artificial intelligence bots can be used as customer service automation software for a variety of roles – 
Instant Support 
Customers hate waiting. The longer they have to wait for replies, the more they feel frustrated. And if a business does not know how to deliver instant responses, it's not going to solve customer service problems quickly.  
To overcome this challenge, you can make chatbot a part of the customer support system and enable quick assistance to customers.   
You can integrate the bot into your website or app or social channels such as Facebook or WhatsApp and ensure instant replies via automation.
It's possible to – 
Train your bot to resolve questions using your own resource materials such as FAQs and knowledge base. 

Show answers based on what customers are typing before they press the ENTER button.

  
With an AI chatbot embedded into your customer service automation software, you'd find it incredibly easy to improve the response times many notches up. 
Conversational Support 
Chatbots are a great tool when it comes to providing conversational support to customers. You can use them to ensure 24×7 engagement with users on your website. 
An AI-bot can fill in for service agents, converse with customers and offer them links to resources. It can also ensure human intervention when the queries are complicated and need the involvement of agents. 
You can use the bot to show the available hours of the agent as this will help customers won't stick around and rather know when to approach the agent. 
Bots can be a top tool when you search for one of the best customer service automation solutions for your business.
Reduce Support Tickets
When customer issues are not fixed at the earliest, support tickets swell in number. And the more support tickets are there, the more it will hamper the overall productivity of your service team. 
AI bots can be a great solution for such cases as they can save around 70% of customer interaction. So, your business can use them to resolve the issues in a timely manner and boost customer experience.  
You can – 
Program your support chatbot with all key customer centric-data so that it can route tickets to the specialized team or department. 

Automate simple queries with AI bots to reduce the ticket burden on the team.   

  
It explains how the use of artificial intelligence technology or a customer service automation platform can be key to not only bringing down the number of support tickets but also enhancing the customer experience with your brand. 
Answering via Learning  
Chatbots can learn and improve over time. This way, you can train them and expect to improve the quality of support. You can use AI in customer experience and deliver value at each stage of the journey.
The use of AI and machine learning can make your bot trained and improve its responses in the future. This is how you get an advanced automated customer service system in place for your business. 
If you want your chatbot to answer via learning, make sure you – 
First, recognize the pattern of questions that customers routinely ask

Then add the common phrases or words in the knowledge bank 

Make the bot get better with answers.  
Continuous learning can make bots more powerful and this is how your automated customer service can prove effective.    
Tailor Your Response Based on Customer Types 
Chatbots make it possible to not only personalize experience but deliver tailored responses to different types of customers. This can make your replies flawless and add value to customers at any stage of the journey.
With an AI bot, you can set the parameters around which to respond to customers such as location, budget, demographic, business type, and more. 
And when the parameter is set, the bot will always offer answers specific to the needs of the customers. This is how you can get the most out of customer service automation and make your support as prompt as needed.  
In fact, offering tailored responses to customers is one of the top chatbot use cases to benefit from.  
Context-based Personalized Responses 
Chatbots are an excellent tool to deliver personalized and content-based responses based on user data. The bot can use the already available information in the system to not only offer quick replies but also personalized customer service or responses.
AI bots can use conversational history to improve responses and add a new dimension to customer service automation. With customer data and content available, it will be easy to improve the bot response and make automation feel more valuable.  
Similarly, customer data could also be used to know the types of customers who are more interested in hybrid support rather than talking to a bot. 
When you have automated customer service software, you're always able to deliver content-driven responses to queries. 
How to Choose a Great Customer Service Automation Platform  
Customer service automation software makes it simpler to build and maintain relationships with customers. It helps businesses adapt to the ever-growing changes in the field of customer service.
So, it's obvious to look for a platform that helps you automate support and meet customer needs easily. You need the right tools and technologies at the helm to bolster the support team and help them improve online customer service.
You can therefore trust customer service automation platforms to help your team not only achieve better collaboration but also draw on unique service methods.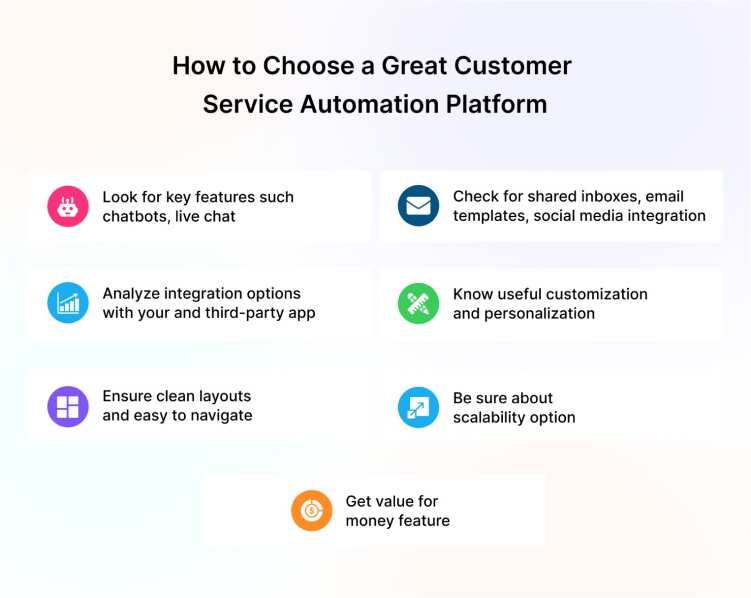 Make sure you focus on these criteria before choosing a customer service automation platform – 
Look for key features

– When choosing an automation platform, one of the first priorities is to look for key features such as set up & training support, chatbots, live chat, shared inboxes, email templates, social media integration, and help bases. 

Analyze the options of integrations

– A great customer support automation platform will have a wide array of options of integrations. It will make it easy to connect with all of your, or third-party apps. It can ensure all types of integrations to help automate the flow of support to your team. 

Customization & Personalization

– Make sure you choose software that allows for useful customization and personalization for customer support. It's equally important to get a platform that has clean layouts and that is easy to navigate.   

Value for Money

– The platform you plan to choose must provide value for money. The price has to be in sync with the features and capabilities available for the customer support team. Plus, the platform must help you scale up so that your business can be ready for future growth. 
Automated Customer Service Examples for Inspiration 
The use of AI technologies is helping businesses automate and deliver seamless customer support. Due to the emergence of these path-breaking technologies, it's now possible to take the automation route and empower customers with self-service. That's why more organizations now take to this new era of customer service and deliver value to customers. 
Some customer service automation examples include – 
Customer Service Automation Example 1
American Well, a telemedicine company, is a wonderful example of how to use chatbots and live chat in combination to automate customer service to a great extent. Its automation effort is intelligent enough to determine user intent quickly and enhance customer experience. 

It not only uses AI-enabled chatbots as the primary channel but also has an option of a human handover in case the question turns complex for the bot to handle.  
Automated Customer Service Example 2 
Social media is now where a lot of customers go for engagement and support. Not all businesses however understand the value of deploying additional resources for social platforms. Chatbots can be a huge help in such cases as they can help deliver automated responses to users' requests on social media.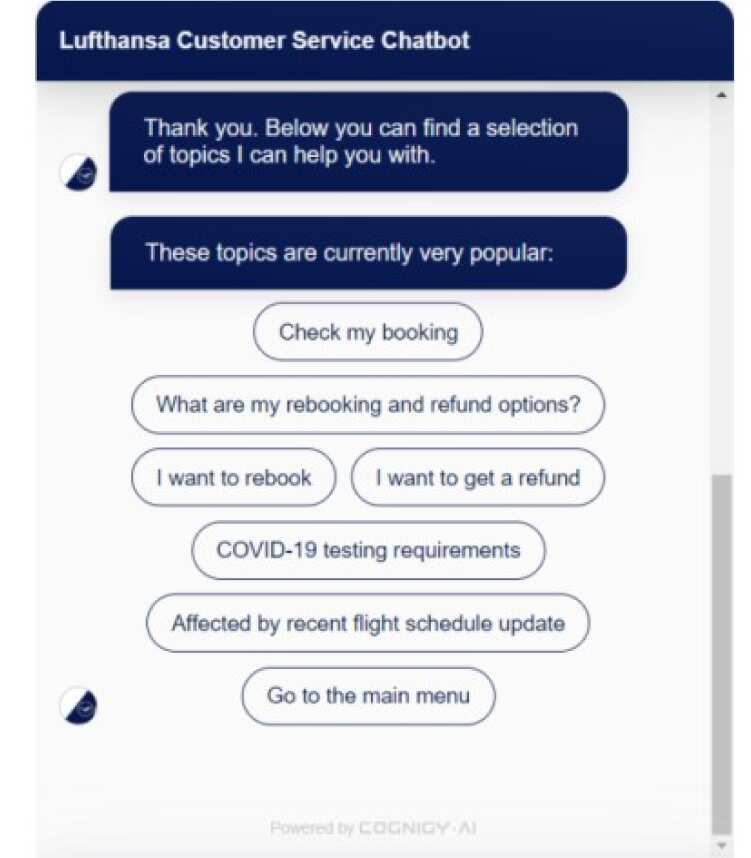 Lufthansa is one of the top automated customer service examples of how to implement a chatbot and improve responses. The bot is available on the website and on other channels such as airline apps, WhatsApp, and helps users find and book cheap tickets  
How REVE Chat Can Automate Your Customer Service
It's possible to easily scale your support with AI chatbots and deliver automated responses to customers.  
Using REVE Chat's AI-powered live chat platform, you not only automate the support 24×7 but also reduce the everyday issues handled by live agents. 
You can also combine bots + live chat software to ensure hybrid support where bots will manage FAQs while agents will be ready to handle more complex chats.   
Similarly, it's simple to train your bots with the frequently asked support-related queries and enhance the value of your automated support. 
With a powerful and feature-rich artificial intelligence bot, it's easy to reduce common help desk tickets and make your team focus on more important tasks at hand. 
In addition, advanced customer service automation solutions can help you reduce common help desk tickets and focus your team to work on more important support issues.
Apart from providing instant answers to all the support-related questions, you can connect the chatbot with your knowledge base to boost the level of automated responses. 
Final Thoughts
Customer service automation is the future and businesses must plan for it. With AI technologies improving and customers getting more conscious of their needs, the time has come when automated support became mainstream. 
We, at REVE Chat, realize the value of automating customer support through the use of customer service automation solutions and ensuring value at each step of the journey. 
In your automation effort, we help you start a free trial of our AI-powered chatbot and bolster your support.
So, take the next logical step and add AI bots to get the most of your automated customer service effort.