Artificial intelligence (AI) has transformed the way businesses interact and engage with customers. Modern-day businesses are rapidly shifting from transactional to conversational relationships.
With the emergence of chatbots, businesses are getting innovative ways of building strong relationships with customers. Marketing experts predict that before 2023, "85% of consumers will be able to manage their relationships with brands without human interaction".
Oracle says, "80% of businesses want chatbots as they are beginning to see the benefits of using chatbots for their customer-based products".
So, if given a choice between chatbot vs live chat, what would you choose to deliver superior customer service? Both communication channels create a unique customer experience for users by providing quick answers, so they don't have to wait for an email or jump on the phone.
Let's discuss comprehensively the pros and cons of chatbots and live chat that will help you in selecting the right technology that complements your business requirements.
Why is Live Chat Important?
Live chat allows users to connect with sales & support reps to get real-time support. It is the most preferred proactive channel as it offers real-time support. 70% of consumers prefer to live chat, and nearly two-thirds of customers who engage with a chat platform are more likely to return to a website and purchase again. 
It is an integral part of a successful customer service toolkit that gives the highest customer satisfaction as compared with email and phone. Live chat benefits are many and you can utilize them to improve the key support metrics such as first response time or average resolution time.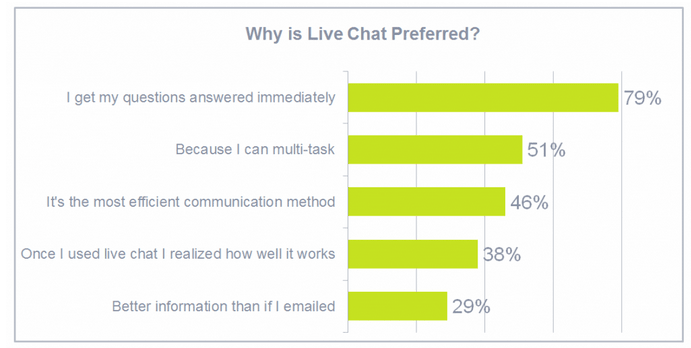 The key reasons why live chat is in more demand are:
Live chat handles complex conversations better

– There are certain queries that require elaboration and discussion. By chatting with a live agent complex issues can be handled seamlessly with effective solutions.

Live chat allows multitasking

–

 

Live chat helps to improve your team's efficiency by allowing agents to handle multiple conversations simultaneously. You can identify the chats and route them to the right team for faster support.
Why are Chatbots Important?
Before we dig deeper into the importance of bots, let us know what is a chatbot and how it works?
Chatbots are essentially designed for improving customer experience by automating sales and customer support. Talking about the chatbot pros and cons, bots are always-on to engage customers by answering their simple queries and pre-qualifying leads by asking relevant questions.
Bots can engage customers across websites, applications, and messaging apps such as Facebook Messenger or Whatsapp. By studying the most common chatbot use cases, you can build a bot that matches your business objectives.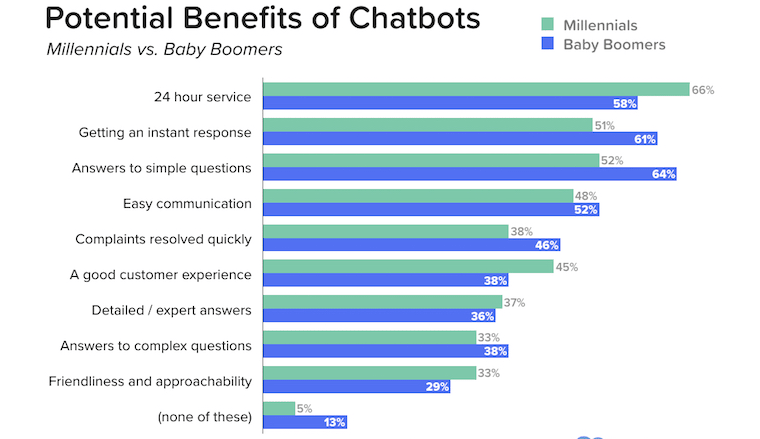 Source – Drift
The key features of AI-enabled bots mentioned below help to improve customer experience. 
Bots are always active

– With bots, you can engage your customers 24×7 by answering their FAQs promptly.

Chatbots are easily scalable

– Bots are easily scalable with no upper limit

when there is a sudden increase in the volume or a support team is not available.

Chatbots are less prone to errors –

Chatbots are designed to enhance customer experience by responding with speed and accuracy.
Live Chat vs Chatbot: How Do You Decide?
Both live chat and chatbot are predominant channels used by businesses to assist and engage customers. Both tools can also work well together. In this guide, we will discuss when it is best to select between chatbot vs live chat and which one is more suitable for your business.
#1. Response Time
Customer expectations for real-time help are on a very high level. Response time is one of the important attributes of customer excellence. 59% of customers are more likely to buy when brands answer their queries in under a minute.
Happy customers are key to your business success. Delayed response time is one of the main reasons why customers leave your website.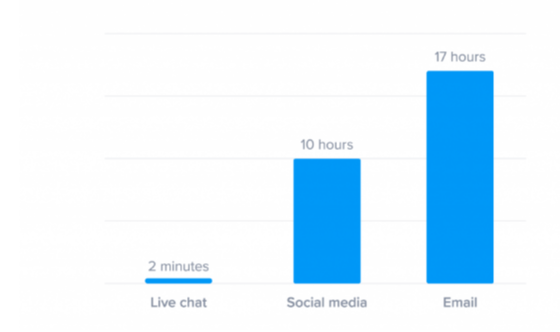 Live chat offers instant response assuring the lowest queue time as compared to other reactive communication channels. It empowers your customer support team to:
Use canned responses to offer quick answers to FAQs

Provide real-time sales & support assistance

Route chats to the right team for faster response
The chatbot report prepared by Ubisend says, "21% of consumers see chatbots as the easiest way to contact a business". Bots can engage customers 24×7 by answering their common queries and ensuring that customers receive instant responses. 
Chatbot benefits businesses in the following ways:
Bots are always available to provide prompt answers to simple queries, prequalify leads and collect basic customer information..

Chatbots can initiate proactive interaction when customers get stuck on a specific page such as product or pricing

Bots are a better way to keep your customers engaged when the support team is not available or busy.
So, based on your business requirements you can decide between live chat vs chatbot and meet your customer expectations.
Key takeaways:
If your business needs to respond to customers within 30 seconds, a chatbot as the first contact can be an ideal fit for your business.

If your customers are not very time-sensitive and prefer to talk with a real human, then having live chat is a better choice.

You can also start conversations with a chatbot for handling repetitive questions and routing complex queries to the live support team.
#2. Cost-effectiveness
It is imperative to have cost-effective business decisions to increase business revenue and reduce costs.
Live chat is an affordable communication channel as compared to other channels. It empowers your support team to connect with customers in real-time, preventing sales funnel dropout and ultimately delivering a better RoI (return on investment) to convert website visitors into customers.
According to Juniper Research, "chatbots will help businesses save more than $8 billion per year by 2023". The main difference between chatbot vs live chat is that the latter help can help your business save customer service costs.

The additional costs may include salary costs, training costs, and infrastructure costs. The hiring process of support agents, and training them to require additional costs and time. 
Here is how bots help businesses to save costs:
Easy scalability during peak hours –

Bots are programmed to meet endless requests with great ease and effectiveness. You can scale as per requirement without any extra cost.

Automating repetitive tasks –

If your business receives simple queries, you can automate with the help of bots to engage customers.
Bots enable a simpler and seamless brand experience for customers along with reducing costs and resources for your business significantly.
Key takeaways:
If you are a start-up and the cost is a key business factor of your business, a chatbot is the best solution. It will help to automate business operations without hiring resources.

Live chat can be a better option when customers look for a detailed explanation of any query that is complex.
#3. Availability
Finding a way to provide 24/7 customer service isn't just good for business, it is becoming a requirement. You can not take the risk of making your customers wait. 68% of customers switch to a competitor if they don't think you care about them. 
Unlike live chat, where agents have to be online to chat with a customer, chatbots are available 24×7. You never know when your customers try to reach out. If you miss out to engage them, certainly they will leave your site. With chatbots, you can deliver real-time support to your customers, which makes them satisfied and their lifetime value of the customer increases.
As per Deloitte, "62% of companies view customer experience delivered by a brand as a competitive differentiator".
By automating your regular sales and support tasks with bots you can engage customers in better ways:
Provide answers to customers that are relevant and effective. It reduces the number of support tickets raised by them.

Qualify leads by providing sales assistance and directing it to the sales team for further process.
So, the top potential benefit of using chatbots is 24-hour sales & support assistance. With bots, you can engage your customers who reach out when your support team is not available or busy.
Key takeaways:
Having

good customer service

available around the clock creates a positive impact on customer satisfaction and retention. 

You can use a chatbot solution for acquiring customer details and engaging human agents in handling complex conversations.
#4. Scalability
While managing your conversations having scalable support is like a blessing as you might not be aware of when the traffic will hike. Businesses that use only live chat support can encounter challenges such as:
Hiring more resources in terms of support agents

Training the new hires includes additional cost and time 

Infrastructure & salaries costs
By implementing a chatbot, you can overcome the above challenges. With bots, you can easily scale your conversations and provide quick solutions to customers. It improves your business productivity without any extra costs and resources. 
Suppose your business receives more than 1000 chats per day. It is not possible for your support agents to handle those many chats and deliver instant assistance. You can use the chatbot solution to scale your chats and manage your resources effectively.
Key takeaways:
You can balance your scalability with chatbots and live chat to automate your repetitive queries and human support for complex queries. 

If you are a small or medium business and customer support cost is a major concern, investing in chatbot solutions can help you to scale easily.

You can scale your bot during peak hours or when your support team is busy or not available. 

With chatbots, you can engage in endless conversations irrespective of time and volume. Both the business and the customers are happy.
#5. Accuracy
Although chatbots are being used by many businesses, live chat is a knockout solution when it comes to accuracy. For being able to deliver accurate solutions, understanding the context is the most important part.
Undoubtedly, chatbots instantly answer simple queries that have predefined or predictive patterns. But they might lack the ability to think and adapt complex questions where the customers might need answers they can rely on. 
Even with Machine Learning (ML) and Natural Language Processing (NLP), it is difficult for a bot to handle complex queries. While a live support agent can help to develop an emotional connection by identifying the right pattern and can offer other related advice to solve issues.
If we talk about customer psychology, at times customers expect empathy during a problematic situation. And bots can't empathize. If there is no live support, it may create an impression that your brand is cold and impersonal.
Key takeaways:
If your business requires handling FAQs faster with little human intervention, chatbots can be the best solution to manage first-level support.

In case customers reach out with complex questions live chat can be the best solution for your business. Live agents can comprehensively discuss and resolve the issue. However, having both solutions can help your business significantly.
#6. Human Touch
For every customer-centric business, the focal point is to engage customers in real-time and deliver a great customer service experience. Bain & Company says "the businesses that successfully engage with their customers were able to increase the customer spend by 20% to 40%.
Live chat acts as a perfect balance for both real-time assistance along human touch. Being conversational in nature allows communicating in a natural way for immediate and personal communication. 
Live chat is conversational

– It allows agents to make conversations interactive and meaningful by using live customer engagement tools such as

co-browsing

& video chat. 

Live chat has a personal touch

– With live chat, you can personalize your conversations, greetings, and visitors' information which builds customer loyalty.
By using visual engagement tools, agents can identify issues faster and deliver interactive visual support at the first touchpoint. You can deliver hybrid support to your customers by providing real-time support with AI chatbots and human support for tricky questions. 
Key takeaways:
If human touch is important for your customers, live chat solutions can help you to boost customer satisfaction with personalized conversations.

Chatbots delivering humanized touch is difficult in many scenarios. They may fail to understand the complex customer issues which can be better resolved with the help of human agents.
#7. Customer Satisfaction
Both live chat and chatbot technologies are geared towards modern business communication to create a unique customer experience. By adopting the right technology between chatbot vs live chat, you can meet your customer expectations and improve your brand credibility.
Live support agents are considered more efficient in addressing customer issues without any hassle. Humans can offer high efficiency in query resolution and complex problem-solving. On the other hand, chatbots help to improve customer satisfaction by 24×7 customer engagement. 
Happy customers turn out to be your loyal customers and become brand advocates. 
Here is how chatbots help to increase customer satisfaction:
Deliver prompt support around the clock

Provide basic information related to purchases or products

Transfer the complex queries to deliver humanized support
Bots can improve the face value of your brand through better customer engagement, frictionless customer service, and reduced churn.
Key takeaways:
Live chat is a better communication channel for businesses that deal with comprehensive support queries. The complex queries can be handled with a personalized explanation.

Implementing chatbots may have adverse effects on some businesses for customer satisfaction. You can measure your customer satisfaction metrics to learn the bot performance over your business RoI. Based on the insights, you can balance the use of live chat vs chatbot accordingly.
Chatbot vs Live chat: Finding the Right Balance
How would you decide?
The best approach is to use the chatbot and live chat together in order to deliver a delightful customer service experience. Understanding the pros and cons of chatbots and live chat will provide better insights into which is the ideal fit for your business. 
Here are the best practices you can follow:
You can identify various customer interactions and classify whether they are the right fit for using bots or whether they need to be engaged by live agents. Any repetitive task is an ideal scenario to implement a chatbot and any complex queries need human support.

You can balance using both technologies in the right balance to deliver a better customer experience. With bots, you can handle simple queries and complex queries can be managed by the live support agents. This will help you to deliver your customers the best of both worlds.