Over the years, messaging apps have grown tremendously in popularity. Their reach has become so widespread that most customers prefer to use them to communicate with companies. And when customers show a preference for messaging apps, how can businesses stay far behind and not follow the suit! 
So, naturally, a growing number of enterprises are now leveraging the popularity of consumer messaging apps like Facebook Messenger, WhatsApp, Viber, Telegram, etc. to ease customer communication. Since these apps come with a handful of useful business and consumer-centric features, they feel perfect for a variety of tasks across customer service, marketing, and e-commerce. 
Plus, each of the messaging apps commands a big presence in specific geographical areas,  supporting brands in the delivery of great service to customers. It'd be fair to say these apps are driving consumer communication to new levels. 
In this blog, we will discuss some of the top consumer messaging apps for business, their features, utility in facilitating customer-business communication. 
Why Do Businesses Use Consumer Messaging Apps?
The ability to communicate quickly and easily with consumers often sets the foundation of growth for any enterprise. With business messaging apps, brands can help people at every stage of the customer journey, maintain a smooth flow of communication and ensure the exchange of ideas without any fuss.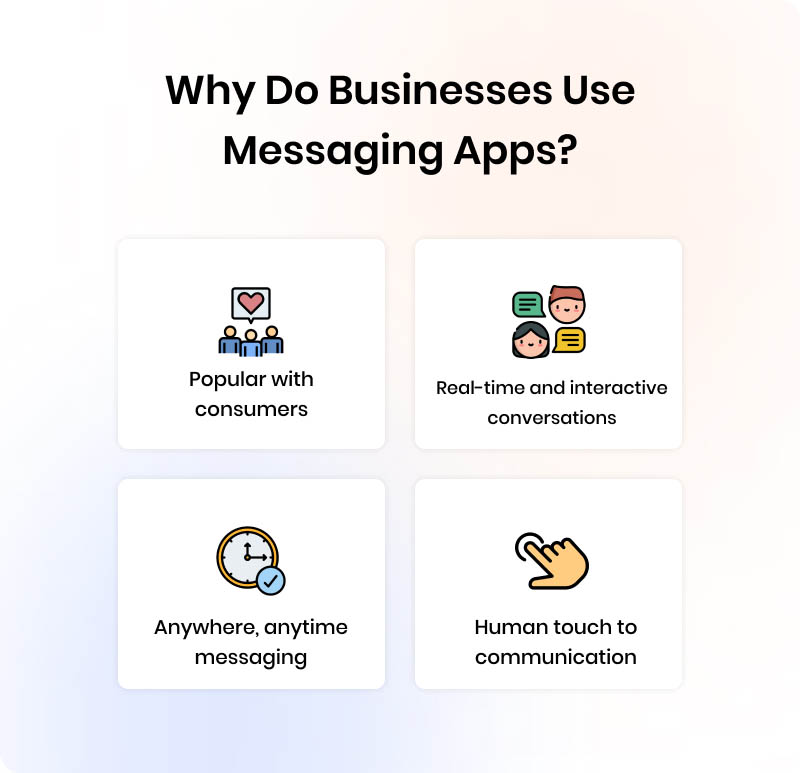 There are many reasons why businesses prefer consumer messaging apps for communication.  
Popular with consumers

– Consumer messaging apps are all the rage these days as people cutting across age and geographical barriers use them for various purposes. In fact, over

3 billion people

use messaging apps which has forced businesses to include them in the mix of consumer communication tools.    

Real-time and interactive conversations –

More companies use

messaging apps to connect with their target audience as they are suited more for conversational style interactions. Plus, these apps facilitate real-time interactions between consumers and brands.  

Anywhere, anytime messaging –

Thanks to the use of messaging apps,

consumers and businesses can converse anywhere and anytime. The ability and option to have a business conversation in that manner means customers can receive help as and when needed.

Human touch to communication

– AI and bots are indeed helpful for customer support purposes but most customers still prefer to speak to a person for getting natural responses and smooth engagement. And there is nothing like messaging apps when it comes to holistic human engagement.  
Top Consumer Messaging Apps for Businesses 
Consumer messaging apps are dominating the global app market with ever-growing popularity and uses. Businesses now find them very helpful for reaching customers for various purposes across customer service, marketing, and eCommerce. With each market having its unique preference, there is a clear reason to see why some messaging apps perform better in one market while some in others. 
There are some really good consumer messaging apps for businesses that will redefine communication.   
1. Facebook Messenger 
Messenger is always the first one on the list when we talk about popular consumer messaging apps. Since it's owned by Facebook and has 1.3 billion active users worldwide, brands find it a huge value addition in terms of customer interactions.
Similarly, most consumers love Messenger as it's connected to the world's largest social network. For them, using this app is like getting the dual benefits of an IM and social network together. 
And don't forget, this app witness some 260 million new conversations on a daily basis which is huge by any standard.  
With a number of built-in options for communication, a lot of companies see value in using Facebook messenger for tasks as varied as customer service, marketing, and sales.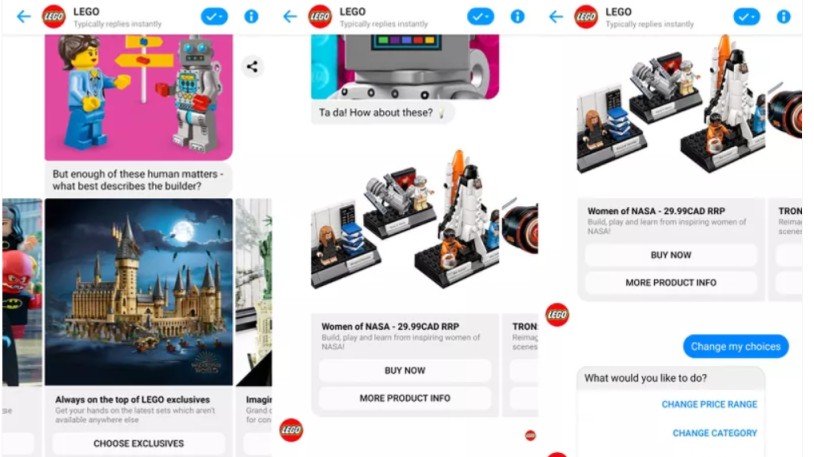 The leading toy production company Lego is a good example of how to use Facebook Messenger for customer communication. It launched a marketing campaign using Messenger with the idea to help people easily buy a gift for a child. 
The company uses a bot to ask various questions related to the country, price point, and the receiver of the gift and then builds a  buyer profile for this Facebook Messenger user. This information is later on used to send targeted marketing messages.   
How does Facebook Messenger support business to consumer messaging?
The Messenger and its wide range of features can give a big boost to the business' external communication capabilities and allow brands to leverage the power of instant messaging in a variety of ways. 

Together with conversing with customers in real-time, businesses can use it to generate leads via Messenger campaigns.

It's possible to add a live chat plugin and enhance

online customer service

.  

A business can produce scannable codes and get new users directly into Messenger conversations.  
2. WhatsApp 
WhatsApp is the most popular global messaging app, based on the MAU ( monthly active users). 
It's neck-to-neck with Messenger on most parameters related to consumer messaging apps. It's also owned by Facebook and enjoys a massive 2 billion active users worldwide. 
Today, WhatsApp is a leader in many countries as people love its features and ease that add value to the conversation. Compared to other messaging apps, WhatsApp enables end-to-end encrypted conversions so it feels safer.     
For using this app, people just need to have a private phone number with no need for an account to a social profile. More importantly, consumers like it because it gives them the freedom to reach out to businesses in an instant without having to pick up the call. 
And in recent times, companies have started using it more often for business communication purposes.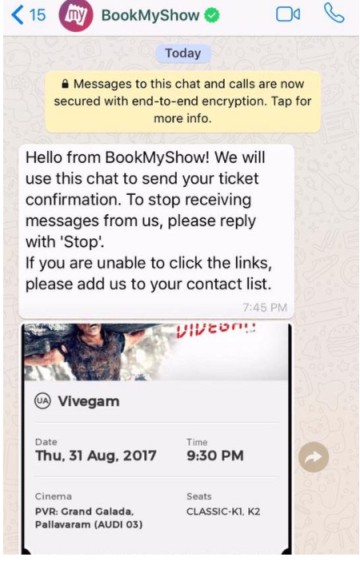 To understand how brands are using WhatsApp for customer communication, you should have a look at the example of BookMyShow. It was one of the first companies to leverage WhatsApp for helping customers with ticket booking. 
Customers who book a movie ticket using this platform receive a QR code on WhatsApp that replaces their ticket for the movie screening. This feature was very innovative at the time and still adds value to the users with ticket requests.  
Features that make WhatsApp one of the top consumer messaging apps  
Businesses that want to use this app for communication purposes can do it in two ways: (1) through the WhatsApp Business App, and (2) through the WhatsApp Business API.

The

WhatsApp Business App

is ideal for small business owners as it gives the option to create a business profile and includes features such as a frontend interface, quick replies, away messages, and contact labeling. 

On the other hand, the

WhatsApp Business API

is suitable for big enterprises that want to communicate with, or broadcast to, multiple users. 
3. Telegram
If security and speed is the chief concern you look for in a consumer messaging app, then Telegram fits the bill perfectly. It's a free messaging app that enjoys popularity for its secure privacy policy. 
Businesses can use it for customer communication through sharing and exchange of messages, photos, videos, stickers, and files. The major highlight is the "secret chat mode" in which conversations are completely encrypted from end to end.
Telegram enjoys 550-million monthly active users with a presence in countries across Asia, Europe, Latin America, and MENA.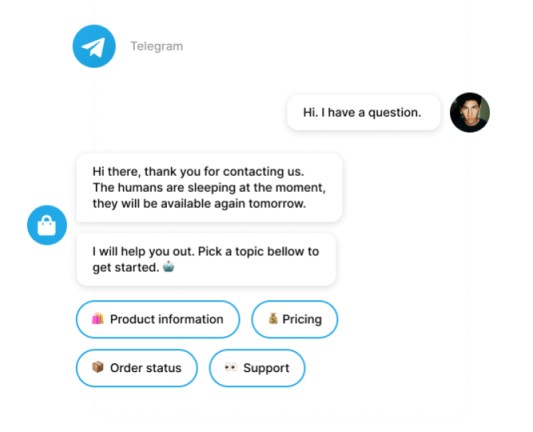 For the example shown above in the image, a business can automate customer communication by using the Telegram app in combination with a chatbot. This way, it would be easy to use features like quick replies, and auto-replies like pre-written messages to immediately answer frequently asked questions.
Similarly, a Telegram bot can take over simple support queries, help you use pre-written greetings to welcome users, and add value to communication.  
What makes Telegram click as a great consumer messaging app?
Sending a message is not the only way to connect with customers here as businesses can fix issues through video calling features. It's possible to do a video call with up to 1000 people simultaneously.  

Together with the video call feature, businesses can also complement communication with screen sharing to ensure visual support.

With Telegram, it's possible to share documents up to 2 GB whether in groups or in personal conversations.  

Brands can create a Telegram channel and send broadcast messages. Users can subscribe to this channel which will help them get those messages. 

 
4. Viber 
Viber is one of the most widely used consumer messaging apps. Free, simple, and fast, it's also considered the most secure app for messaging and calling.  
With over a billion monthly active users and end-to-end encryption to messages, it remains a top choice for businesses for customer service communication. 
It's a messaging app that gained prominence due to a secured UX. Plus, its focus has always been on calling, though there are many other features that make it fit for business communication tasks. 
Some of the top messaging features of Viber include free voice, video calls & messaging; voice & video messaging; group chats, deleted seen messages, and so on. Plus, you can benefit from the Viber chatbot and transform the way you connect with customers. 
Coca-Cola, the world's largest beverage company, is a good example of how to leverage the strong user base and messaging feature of Viber to achieve success with customer communication. 
The company paired itself with Viber's connected and engaged Bulgarian audience to increase its mobile footprint while interacting with customers and offering them an integrated digital experience. The campaign ran for three months and fetched amazing results for the brand.  
Top features of Viber for consumer messaging
Set up a community

– A business can set up a community with up to one billion users to facilitate the exchange of tips and support with customers.

Free Voice and Video Calls

– Viber users can make free voice and video calls all across the world without worrying about steep calling charges. 

Chats with stickers and GIFs

– No app has more GIFs than Viber and there are over  35,000 stickers in its Sticker Market to make your chat look and feel more exciting.

Automatic messages deletion

– Users can self-destruct their chats by setting a timer for all messages in the secret chats. This will save them the hassles of having to delete the message over and again.

                          
5. Website Messenger  
A lot of consumers still prefer to visit the website to know something about the company, its product, or its service. In fact, many still like the idea of reaching a business through website chat. 
This explains the need to have a website messenger integrated into your website so that customers can send messages right from there itself. 
With chat integration, you can make conversations exciting by letting customers add emojis, and GIFs or use voice messaging in-app video or media transfer features. 
The good thing, there are so many chat integration options available including Live Chat Solution from Reve Chat, to support your cause of customer communication at every stage of the journey. 
So, if you think of giving customers the ease of reaching your business, the website messenger is the way forward. 
Features of a website messenger  
Co-browsing

– It's possible for businesses to use a

co-browsing feature

to collaborate with the customer's browser and offer real-time help by improving the first call resolution.

Video Chat

– The use of live video chat solutions can help you interact directly with customers either on the website or mobile apps in real-time.

Chatbots

– AI-powered bots can help you automate customer communication and deliver quick responses anytime, anywhere. 

Omnichannel Platform

– You can think of collaborating with customers in real-time to resolve issues faster by combining live video chat.
How Can REVE Chat Prove a Valuable Consumer Messaging App? 
Not all consumer messaging apps are created equal. While some are good for messaging and calling, others add value in setting up a community or exchange of files. 
However, your business needs an app that comes with a whole host of features for ensuring a smooth flow of messaging and communication with customers. 
The live chat software from REVE Chat could be your best tool when it comes to complementing customer communication on any scale.
It has everything you need for adding value to everyday interaction with users. Be it an AI-powered chatbot or screen sharing feature, there's all for a successful omnichannel communication approach. 
You can deliver automated support and allow customers to reach your business from the channel of their choice. This type of consumer messaging app for business is always helpful in ensuring quick replies to users. 
Final Thoughts on the Impact of Consumer Messaging Apps For Businesses 
Business to consumer messaging is often the foundation upon which the script of success is written. Your organization too will need a feature-rich messaging app to facilitate swift and smooth two-way communication with customers.  
Since not all consumer messaging apps have the features you need, it becomes important to search and find a solution that meets all your business requirements successfully and eases the worries on the front of communication. 
With REVE Chat, start a free trial of one of the top customer communication tools and see how it can add value to every stage of the customer journey. 
With these top-quality tools, you can be sure that customers find it easy to reach you and get their issues fixed immediately.