Instant messaging has become the go-to way of communicating with businesses. Customers demand the ability to communicate with brands instantly. Thus, the popularity of using messaging today to connect with companies is undisputed.
66% of consumers rank messaging as their preferred channel for contacting a company.
A majority of consumers expect to connect with support reps instantly. They are using instant messaging apps like Facebook Messenger, WhatsApp to connect with businesses. Consumers' interest, preference, usage, and demand for business messaging are evident.
Companies that have enthusiastically embraced messaging have taken their customer experience to a whole new level. Businesses need to leverage consumer preferences to deliver them Omni channel messaging experience. 
Implementing the right business messaging platform is the top conversational marketing trend.
What is Business Messaging? 
Business messaging refers to the set of messaging channels over which brands and customers communicate with each other. The main objective is to connect with customers over their preferred messaging channels for marketing, sales, or customer support and deliver a great customer experience. 
Leveraging messaging channels helps businesses to attract more customers and engage them better. A right business messaging software also delivers ease and convenience to consumers when they engage with companies for pre-sales and post-sales interactions with companies. 
REVE Chat customer engagement platform offers businesses to connect with their customer over their preferred messaging app in real-time and address their concerns effectively. Sign up with REVE Chat to find how to being a significant difference to your customer communication strategy.
Benefits of Business Messaging for Consumers 
Business messaging is an indispensable solution to increase customer satisfaction and loyalty.
Research by Market Strategies International found that consumers look for a company that meets their needs where they already are (on the website, mobile, on social), proactively reach out to them with relevant products & services, and make it easy to do business with you.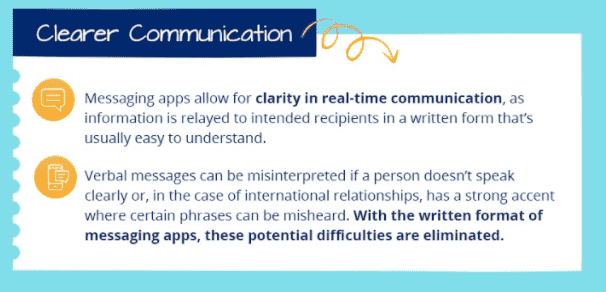 The key benefits of business messaging software to the customers are as follows:
Messaging apps empower customers to

reach out to businesses through their preferred channels

. It allows customers to respond to conversations at their own pace.

Customers do not have to wait to report their queries. Business messaging

allows customers to submit requests 24×7

without waiting for an agent to be ready.

Instant business messaging provides

access to the previous conversation history

to the customers and they do not have to remember or repeat details of prior interactions. 

Compared to phone or text, business messaging services

support the exchange of rich and visual content

.
Why Messaging is Important for Businesses? 
Companies implementing business messaging platforms witness a significant digital transformation. Messaging makes customers less reliant on phone calls, which is the most expensive channel, and more willing to use digital channels that are easier to automate through chatbots and other self-serve options.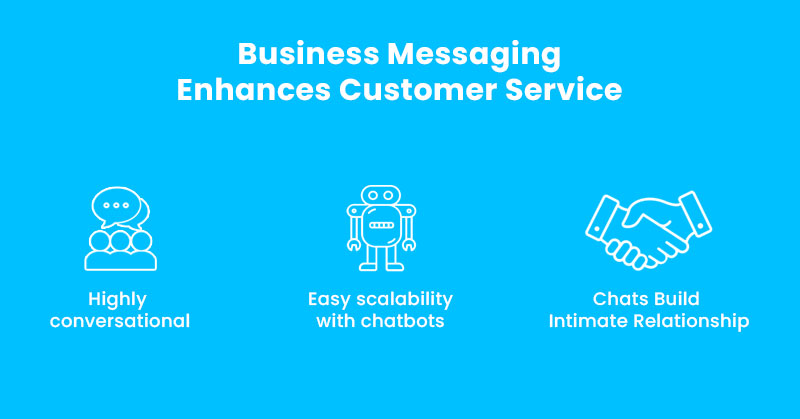 The key benefits of messaging for businesses are as follows:
Acquire more customers

– Instant messaging helps business to connect with customers and engage them in real-time that meets their expectations, increases your consumer base, and boost revenue growth

Expand customer engagement

– By adding new customer communication channels to the existing ones you can increase customer engagement and deliver a better experience. 

Reduce cost per resolution

– Business messaging software can handle multiple chats at once thus offer instant solutions. The high-resolution rates make messaging more cost-effective than calls or live chats.

Higher customer satisfaction

– When customers are engaged across their preferred messaging platform, they are highly satisfied with the service and often rate messaging more highly than live chat or phone.

Make customers feel valuable – 

A simple message can make a big difference. Every time a customer comes to you to buy anything, simply say,

thank you for choosing us

. Your support means a lot to us! It will make them feel valued.
Choosing the Right Business Messaging Platform 
Every small, medium, or large scale company, nowadays, uses the power of messaging platforms. Choosing the most reliable business messaging platform is the first thing that you should take care of for successful campaigns.
Here are the key criteria to select the right business messaging platform for your business.
Features

– Depending upon the business use case (marketing, sales, customer support), you need to check the features of the messaging platform that can help you in meeting your end goal. 

Pricing

– Select the business messaging service provider who charges you as per the features used. Check for the hidden charges if any and API limitations that would add to your final cost.

Channel support –

It is vital to evaluate the business messaging platform on what the respective channel support being offered. 

Access to API

– Choose a messaging platform that offers access to API. It offers modern communication solutions that drive better user experiences.
Get the Best Business Messaging App
Communication is an essential component of any business: interaction with external or internal customers. App messaging has undoubtedly become one of the most used nowadays. A good communication platform is vital to stay connected with the clients and broadcast information fast and efficiently.
The reasons why customers use messaging apps are as follows:
Real-time communication
Convenience
Records of a chat history
Easy for multitasking
Operating anytime anywhere 
Stickers
Depending on the business needs the messengers can be separated. For real time personalized communication WhatsApp business messaging app, Facebook Messenger are considered to be the best with prominent features.
REVE Chat, the best customer communication platform offers businesses to offer personalized engagement to customers across various messaging apps like WhatsApp, Facebook, Viber, Telegram. Sign up today with REVE Chat and engage with your customers across their preferred messaging app.
Business Messaging Use Cases and Examples 
A best business messaging software for business allows more efficient and streamlined conversations. Hence, implementing a business messaging platform adds new communication channels for customers by being available wherever and whenever they need it.
Let us discuss the common use cases of business messaging software.
#1. Sales conversions
The conversion rate of your business is a direct reflection of the number of visitors that find value when they visit your website. Optimizing your site with compelling copy, a clear call to action is critical for increasing the number of conversions.
With an estimated open rate of 99%, business text messaging is an extremely attractive and cost-effective option for promoting sales. 
Websites can measure conversions by the number of visits, form fills, subscriptions, or, more commonly the number of sales made. The goal you are measuring can be requesting a demo or watching a video.
Key ways messaging can increase conversions
Integrate live chat on the website

 –  It shouldn't be hard for customers to reach you on your website. Put out the welcome mat and let customers know that you're available to answer questions right away.

Make text messaging easy

– While chat may be the answer for desktop customer messaging, it can be clumsy and cumbersome on a mobile device. Instead, enable a "Text Us" option on your mobile-optimized site so that your customer can communicate via their native messaging app.

Use appealing imagery

– Modern messaging apps allow sharing of hi-res images, videos, links, PDFs, and gifs. Include attractive images of products, videos of client testimonials, or even fun emojis depending on the conversation to add that personal touch.
#2. Booking appointments
Implementing messaging for business helps to remove the manual, repetitive work associated with managing schedules and allows you to focus on growing your business. No matter which messaging channel the customers are using, they can book meetings on the same channel without back and forth hassle. 
Businesses can integrate live chat with Google calendar to allow their customers to schedule instant meetings in chat messenger.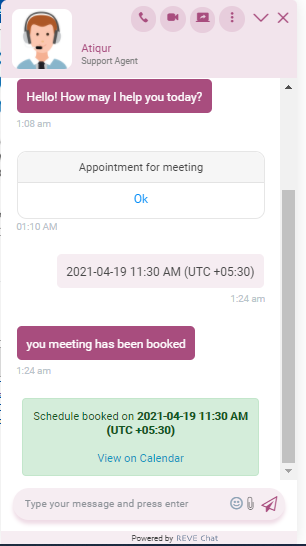 Chatbot helps businesses to manage and schedule appointments on WhatsApp. It helps you to schedule appointments without getting overwhelmed with calls.
Here is how an appointment booking chatbot can fit your business.
Seamless appointment scheduling

– An appointment bot makes it convenient for the consumers to easily book meetings as per the slots available and confirm them accordingly.

Provides immediate assistance

– At timeless customers require instant assistance for some urgent issues. A chatbot routes the conversation to the right agent who can provide the right solution.

Saves time and money

–  Both the clients and the agents save the time they spend on scheduling an appointment. Users can book an appointment right from their comfort of their home.
#3. Customer support
Businesses are constantly looking for a way to improve their connection with their target groups, become more innovative with customer communication, and keep their customers as loyal as possible. 70% of consumers choose "message us" buttons over "call us" buttons.
Messaging app customer service is the channel that can deliver the best results. 
Threads, a London-based luxury fashion retailer gained the limelight because of their business model that is in stark contrast to all preconceived retail ideas. They sell luxury items solely over WhatsApp and WeChat.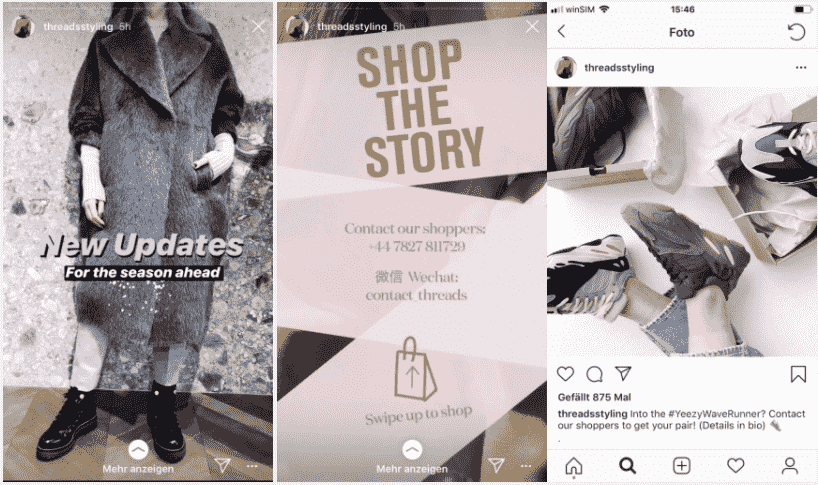 They engage clients through WhatsApp & WeChat and transact directly on those platforms, which means they deliver the Threads customer experience wherever our clients are in the world. 
Here is how messaging helps to transform customer support.
Provide better and faster responses

– Instant messaging helps business to provide their customers with quality support without any friction.

Automate FAQs – By deploying business chatbots within apps, you can deliver faster responses to the simple queries reported by the customers. The 24×7 availability of the bot engages clients in real time when agents are away.
Connect with the right agent

– By using artificial intelligence (AI) and machine learning (ML), you can analyze messages, filter them, and route to the right agent, every time.

Analyze customer data

– You can identify ambassadors and detractors while boosting sales with analytics that track volume, activity, and quality across every interaction.
#4. Social engagement 
Business messaging solution is great for engaging with your audience and providing real time social media customer service. Messaging apps can provide a more personal touch for social audience members who have questions or need assistance.
Implementing a messaging app as a part of your marketing strategy leverages both conversational and personalized marketing tactics. Messaging apps allow your customers to interact directly with your brand on their own schedule. By removing time as a barrier to entry, you open your brand up to conversations with your audience around the clock.
Being a DM away from your followers can boost trust in your brand. In fact, 69% of users say that being able to message a brand boosts their trust and confidence in the brand. Opening your brand to direct, real-time messages from your followers not only boosts engagement. It also helps them move to the next step of their user journey and your sales funnel, too.
#5. Notifications
Business messaging software helps in getting users to engage and re-engage users through sending notifications. Notifications are a fast and efficient way to communicate with your audience.
91% of Android users and 43% of iOS users opt-in to receive these notifications, which of course gives way to customer retention and drives conversions.
How businesses can use messaging for sending notifications?
Stimulate user engagement

– Notifications can help to attract more customers at certain touchpoints. They can help in sending real time updates and reminders that get your audience to regularly engage with your brand even if they're not aware of it.

Re-engage and retain users

– Notifications are a good way to turn these inactive users into active users. Notification messages can provide users with reminders, personalized offers, and breaking news. 

Increase conversion rates

– Timely marketing messages are the best way to increase conversion rates because they can notify customers or create a sense of urgency. 

Improve brand consistency

– Notifying customers of last-minute deals, coupons, and special offers is a great way to get an additional touchpoint in your marketing funnel and give value-added information about your brand. 
#6. Marketing 
Customers are no longer interested in being advertised to form a pedestal. They want brands to get down and talk to them, which is not convenient for the brands.
Messaging applications make it increasingly easier for businesses to set up their presence on these apps and interact with consumers. This presents a big business opportunity.
Key benefits marketers can see from including messaging apps as part of their overall marketing strategy.
Audience segmentation

– With messenger apps, marketers can pull in an incredible amount of data to segment their users rather than showing the same sponsored content or ads to all.

Higher engagement

– Consumers are so used to being bombarded with ads that it takes something special for them to engage. Brands can use that to their advantage by offering more content that is personal and geared towards increasing interaction.
Conclusion
Customer preference for messaging for connecting with businesses continues to grow, with no end in sight.  They appreciate that texting is a fast and efficient customer support option, and expect businesses to respond accordingly. 
Customers want real time responses to their support issues. With business messaging apps, you can provide a new channel to customers to reach out to you and provide a better customer experience, while saving business costs.
REVE Chat offers businesses to connect with their customers across the popular messaging apps such as WhatsApp, Viber, Facebook and deliver real time personalized engagement. Sign up today and improve your business communication standards.