Consumer behavior is changing drastically. Customers today prefer businesses to talk to them in a conversational way. They also want communication to feel as relaxed and natural as if like talking to friends or family. 
90% of people with smartphones and internet connection access messenger apps which clearly indicates the constantly evolving trends of communication. This also makes the 'message' loud and clear: messaging apps are the future when it comes to conversation between brands and consumers.    
Companies can make messaging apps a part of the customer support mix to be in tune with the modern-day habits of users. These apps are also the way forward to achieve better follow-up than reactive channels like email and phone. 
Here are some of the leading business messaging apps for customer service platforms that will dominate the future.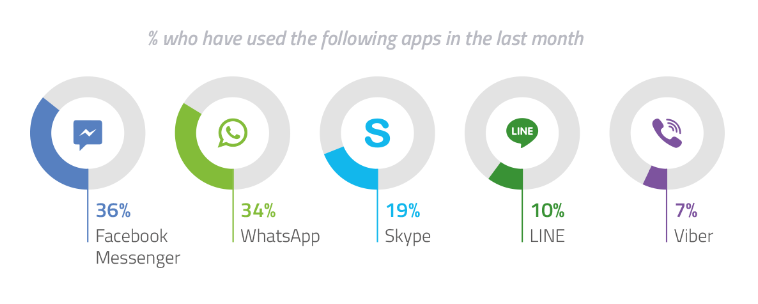 Best Messaging Apps for Customer Support 
Messaging apps are proving a great asset for companies in terms of ramping up customer care through quick and direct response. They have added a new dimension to customer service communication and ensured a range of benefits to businesses, including:
Increase response rate 

– Businesses struggle to achieve better response rates. By using the best messaging apps for customer service, brands can witness a significant increase in the response rate as compared to phone or email support. 

Boost conversion rate 

– Response time directly impacts conversation. The lower is the response time, the higher is the customer satisfaction, and sales conversion rate.

Personalized response 

– Implementing the best messaging apps offers a great communication channel to offer personalized responses vis one-to-one conversation.    
There are many messaging apps that can help perk up customer support and boost business matrices. Some of the popular names include:  
Now, let's dive into a discussion on how these messaging apps help in delivering excellent customer support.
1. WhatsApp
WhatsApp is the world's most popular business messaging app with a dominant position in most countries across the globe. It has two billion monthly active users which makes it an obvious choice for businesses for customer service.    
Brands all over the world find WhatsApp very helpful to deliver instant and personalized responses and grow the customer base. It has virtually all the basic and advanced set of features to prove an excellent tool for customer support.    
There are two options to use WhatsApp for business purpose:
 WhatsApp Business App – This app is specifically designed for smaller businesses that can use a modest set of features to cater to a small customer base. There are auto-reply and response template features, and also the ability to create profiles, labels, and away messages.
 WhatsApp Business API – For medium and enterprise-sized companies, the WhatsApp API is a more-suited option as it allows them to add their own features and integrations. A business can connect the API to the choice of solutions and strong customer support.    
How to use for customer support?
WhatsApp has some built-in features for customer care, including: 
Automated message

– The feature helps set up automated welcome and away messages and allows the creation of templates for quick replies.

Multimedia format options

– Multimedia messages can be shared in different format options be it videos, audio, photos, or documents in formats like PDF.  

Shared team inbox

– Your team can share the inbox, analyze conversations and respond timely to boost the quality of customer support.
2. Facebook Messenger
Facebook Messenger is one of the most trusted messaging applications in the world for customer support. It has a 1.3 billion strong user base and is popular across the globe. 
The FB Messenger has a host of features for communication and is considered a complete package for augmenting customer care response. Brands can benefit from powerful automation, live agent support, and handover protocol feature to boost customer service productivity.  
How to use for customer support?
Facebook Messenger has a variety of features that make it a top messenger app customer service platform. These include:
Automate FAQs

– You can provide customers with instant responses to common questions and let agents devote time to more complex tasks.

Live agent integration

– This feature allows companies to give customers an experience that is a mix of automated and personal touch.   

Appointment booking follow-ups & reminders

– The messenger can integrate the appointment booking feature of Facebook and allow businesses to send automatic follow-ups and reminders to customers. 

Conversation with customers who sign up for an event

– Any business that uses Facebook's events feature for marketing purposes can turn on an option that allows them to chat with any attendees via messenger.

 
3. Telegram
Telegram is a popular messaging app that enjoys a big reputation for privacy and security. It has a 500 million user base and enjoys a dominant presence in mainly three markets: Ethiopia, Iran, and Uzbekistan.
This app is considered unique in many ways, particularly in the way it keeps focus on encryption and open-source API. The USP of Telegram is those secret chats that are end-to-end encrypted and come with self-destroying timer features.
How to use for customer support?
Telegram doesn't offer the feature of setting up business accounts but offers a few customer care options, including: 
Chatbots

– Companies can automate their marketing and customer care through Telegram bots which can be created on the platform itself.

Channels or groups

– Unlike other messaging apps, Telegram does not offer any limitations on the maximum number of people in groups. This feature can prove helpful in achieving marketing and community goals without hassle.

 
4. Instagram
Instagram is one of the most popular messaging apps for customer support and engagement. Businesses all over the world use Instagram and leverage the 1 billion strong user base to respond to customer queries instantly and in real-time. 
The interactive nature of the platform is the reason why millions of people love researching products and commenting on posts. Instagram can prove a great tool for customer care since most of the users on this platform follow a business account and message companies directly.
How to use for customer support?
Instagram has a great range of features that brands can use to boost customer service. The options are:
Contact buttons

– It's easy to set up a professional account and add various contact buttons to give customers many options to contact your business.

Push notification

–  This feature ensures that businesses never miss a message, comment, or mention and boost customer support.

FAQ story highlight album

– Companies can improve customer experience by creating an FAQ story highlight album below the bio section.

Canned responses

– Quick reply feature is of great help for companies as they can create canned responses to use in the direct messages. 

 
5. Viber
Viber is a cross-platform messaging app that is popular in the Middle East, Eastern Europe, Russia, and some Asian countries. With 1 billion monthly active users, it becomes a potential tool for businesses to do personalization and effective targeting. 
It's considered a safe and secure application with rich messaging and excellent interface options. Since it's a multi-platform app, chats are always synced between the devices of choice be it mobile, tablet, or desktop.
How to use for customer support?
Viber has some useful features that can be used for customer support. They include: 
 

Viber bot – Businesses can set a chatbot for Viber for excellent one-to-one customer support, and can also assign those bots to interact with customers and solve their FAQs.   
Build a community

– Any business can set up and join a community and not only share ideas about products and services but can also use it to deliver customer support.   

Stickers & GIFs

– Brands can create stickers and GIFs to personalize customer response and also to express themselves perfectly.

   
6. WeChat
WeChat is a messaging app that can be a great customer service option to the target audience in China. It's popular for a unique set of features that combine the best of both social media and messaging apps. 
It allows better control over internal communication and comes with great user management features. Using this platform, businesses can segment contacts into different departments and assign permission levels accordingly.  
How to use for customer support?
WeChat comes with a whole variety of built-in features for customer care response. They include: 
Chatbots

– Businesses can easily automate their customer service via WeChat chatbots and improve their response time and deliver excellent support.

Shared team inbox

– WeChat allows the feature of a shared team inbox which can be used by the entire team for collaborating on incoming messages.

Branded stickers

– Agents can create brand stickers to add a bit of personalized touch to customer communication and showcase their uniqueness to customers. 

 
7. Line
Line is a trusted messaging app in Japan with 164 million monthly active users. It also has a solid reach in countries like Taiwan, Thailand, and Indonesia.
The app is considered an excellent communications tool for messages and video chats. It offers official accounts which businesses can use to engage with customers and widen the reach.  
How to use for customer support?
The Line messenger app for customer service offers a range of features for businesses to connect with clients and benefit from the best messaging apps for customer service. These features include:
The Line Official Account Business account can create its own profile and then provide updates to users just like social media. This account can also be used for customer care as it allows users to contact brands and receive quick chatbot responses.
Auto responses

– Automated responses are a wonderful feature of Line as it helps brands set up specific keywords and trigger them with relevant customers' queries.

Stickers

– Companies can create their own brand & character stickers to not only promote themselves but also offer personalized responses to customer queries. It's possible to create animated and sound stickers as well for boosting customer response.

Away message

– Businesses can set up away messages and trigger them for off-time customer response.  
8. Website Messenger
Website messenger is a powerful platform to engage visitors in real time and deliver personalized conversations. Live chat messenger helps in delivering high-quality customer service via the website. With proactive and contextual communication, you deliver an enhanced customer experience.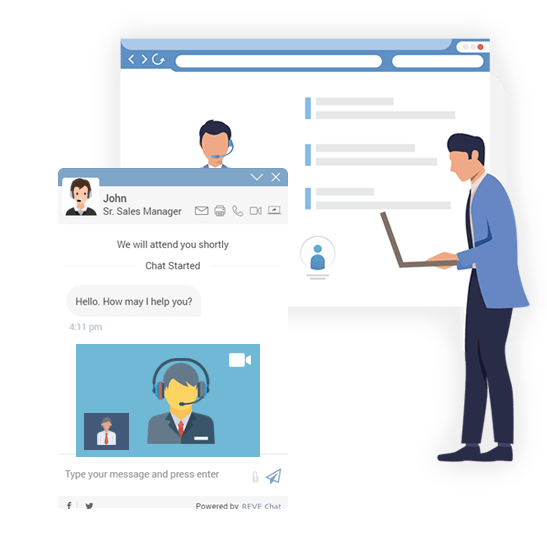 Website messenger gives businesses the opportunity to engage customers with visual engagement tools. Having a messenger app for customer service helps in better engagement by sharing a product link with a text message, share screen to scale customer support. 
How to use for customer support?
The website messenger adds great value to customer support through a host of built-in features, including: 
Co-browsing

–  It helps in real-time collaboration with customers on the website or inside a mobile app for a quick chat and instant resolution. 

Live chat

– You can connect with the customers and visitors in real-time and provide them excellent support with

live chat

.

Video chat

– Customers can be delivered personalized conversations with face-to-face voice & video chat for great assistance.

Chatbots

– Engage your visitors 24×7 to answer their common queries by deploying a

customer service chatbot

. 
Best Practices to Use Messaging Apps for Customer Support
It's essential to first understand the customer expectations from messaging channels before delivering support.  Once you define the team the best practices, achieving great customer support becomes easy.   
 Some of the best practices to use messaging apps for customer support are as follows:
It's important to

identify the right messaging channels

preferred by customers and focus on that to offer customers unified omni channel messaging and support.   

Keeping the

message short and concise

is important to retaining customer attention and avoiding the needless confusion that long answers often cause.

Customer

response time should be kept as low

as possible, preferably below 1 hour, to ensure instant response and optimize the customer experience.  

Setting up

automated responses

is essential to reply to common queries of customers in a quick manner or meet customer expectations.

Setting up automated responses is essential to common replies such as thank you for shopping with us, thank you for your purchase, etc in a quick manner to meet customer expectations.

The messaging app should appear on the contact page to

showcase your presence

and also to let customers know you want them to use that.   

It's hugely important to adopt a

hybrid approach

where your most common queries can be managed by bots while advanced queries can be handled by live agents. 

 
Enhance the Value of Your Customer Support with Messaging Apps  
Messaging apps have changed the entire landscape of communication between customers and businesses. They not only deliver exceptional customer care but also close the gaps that earlier existed due to the lack of proactive support channels.
Advancements in artificial intelligence (AI) are sure to further drive the adoption of messaging as a support channel. Make sure your business does not miss out and makes the most out of the best messaging apps for customer service.