Leveraging a chatbot solution to your business helps to enhance customer communication and boost the level of engagement. Whether you're a growing company or an established name, chatbots are always an excellent tool to deliver value and delight customers across buying journey. 
Over 64% of business respondents believe that chatbots help them offer a more personalized service experience for customers.  In fact, chatbot features have evolved so much that organizations find them indispensable to their business communication strategy for enabling real-time responses to consumers. 
By deploying bots, businesses can automate interactions as customers are also more comfortable interacting with chatbots. However, you need to know those AI chatbot functions that can help meet the customer expectations and deliver a prompt answer to their questions.  
What makes chatbot successful?
The best chatbots always focus on the quality of the conversation and have features that ensure a high-caliber conversational experience.  There are many real-life chatbot examples that combine the key elements of technology, flow, and design in order to prove effective in handling customer interactions without requiring any human assistance. 
Here are some key features that make chatbots successful.  
Deliver contextual responses:

 Chatbots need to have the ability to understand the context so that customers feel like talking to a real person. By leveraging the advancements in natural language processing (NLP), bots can be made to understand context without asking validating questions.   

Allow human handover: Bots need to be smart to understand the sense of urgency and complexity of a conversation. Even when a chatbot template for online order fails to understand the query, it can still intelligently hand over the conversations to human support.
Great UI/UX: 

 AI chatbots should not be complex or hard to use else they won't be able to make conversations interactive. The design has to be simple and intuitive so that users find it easy to use them for answers. 

Well-trained with FAQs:  Chatbot benefits are many when they are trained. Regular training can help chatbots become powerful and enable them to smoothly handle questions and interactions.  
Offer personalized support:  Bots that are designed using AI and machine learning can easily comprehend user conversations and respond in real-time. A customer support chatbot template can adjust the tone and language to give personalized experiences.    
10 Key chatbot features that impact your bot performance  
Customers expect nothing less than great experiences when they communicate with brands. When planning to use chatbots to support business communication, you need to consider the key features of chatbot design to deliver conversational experiences. 
Here is the list of 10 key chatbot features to build a successful bot
Let us go deeper into discussing the AI chatbot features that help in making conversations successful. 
1. Visual Flow Builder
Building a chatbot should be easy and hassle-free. The visual flow builder makes it possible and enables zero-code bot building. Due to which a bot can be designed directly on the platform with the help of a drag-and-drop chatbot builder.
If your business requirements are simple, you can go with the visual flow builder. You can manage your scenarios in an intuitive interface and build a powerful bot without any coding knowledge.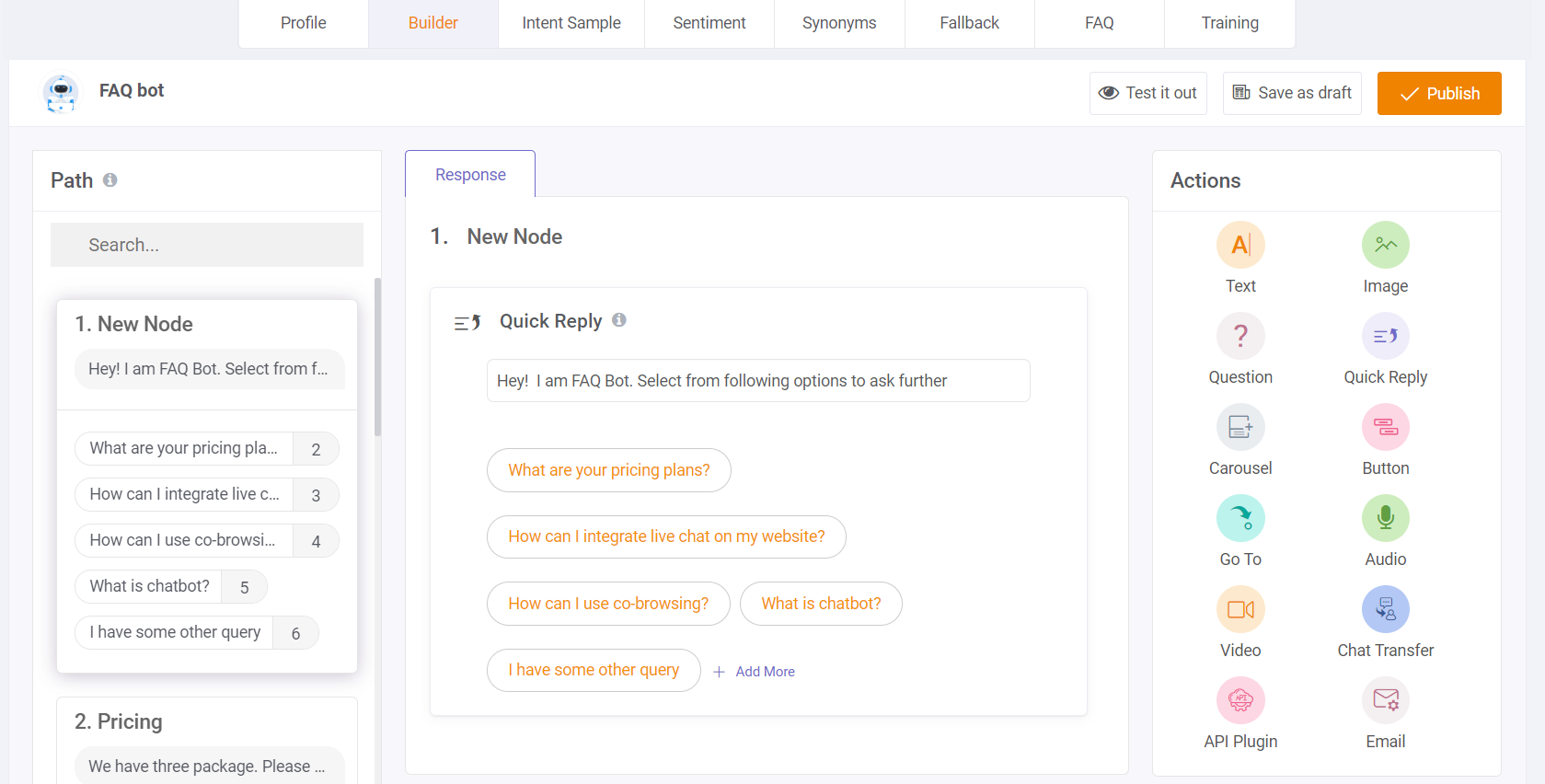 With the visual flow builder, you automate resolutions for a range of customer issues and ensure hassle-free conversations. It also helps to tweak your bot's workflows and improve its performance based on customer feedback.  
Why is visual flow builder functionality important? 
Drag-and-drop conversation blocks can be used to build your stories

without any technical knowledge or coding skills. 

There will be

multiple bot response formats and actions to choose

from and ensure great chatbot experiences.

It's possible to

customize the bot design in sync

with the specific business needs.  

It will always be easy to build a virtual assistant with the ability to suggest answers and automate resolutions for common issues.

 
2. Omnichannel Messaging Support 
Brands that leverage omnichannel strategy achieve 91% greater year-over-year customer retention than the rest.  
Chatbots with omnichannel messaging support features can easily be implemented in multiple channels like a website, Facebook Messenger, WhatsApp etc, to enable smooth interaction with customers.  
Chatbots that enable omnichannel messaging support can help brands understand the interests and preferences of customers, and enable your agents to easily leverage past interactions to drive future conversations with customers. 
Why is omnichannel messaging support feature important?  
Chatbots can be launched across channels easily without the need to do the integrations manually to ensure

a uniform experience for customers

. 

Customers are not required to repeat themselves as

chatbots can provide contextual support

via relevant details. 

Businesses can leverage omnichannel support to

deliver better solutions or feedback surveys

.  
3. Live Chat Handover 
Chatbots are advanced and smart to handle customer conversations of any nature. However, there are situations where bots fail and human intervention is needed. In such cases, a well defined fallback helps the bot to transfer the chat to the right human agent.
The fallbacks need to be defined for two scenarios: (i) when the bot finds the query complex and (ii) when users prefer to interact with the support rep.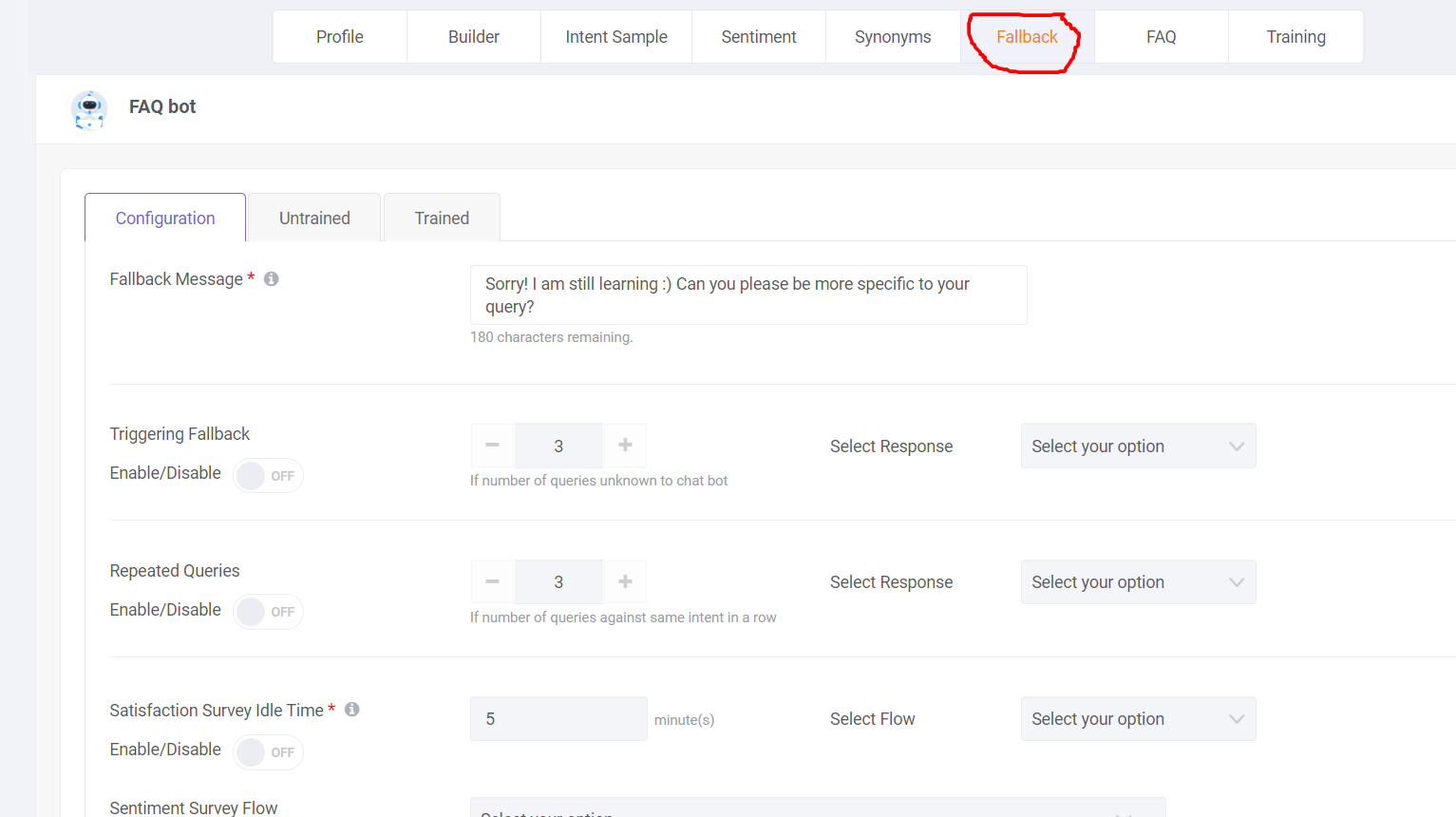 The main purpose of the live chat handover is to let customers have fallback options to exit the chatbot conversation or to speak to a live agent when there is urgency or for complex matters.    
Best practices
Chatbots need to detect the type of problem a customer is having and

quickly route the user to the right agent

.  

Use tags and variables to

help the bot gather the user's input and then send the data to the agent

when the handover happens.  

Agents should be able to see the conversations between the bot and customers to

understand the context and offer a quick resolution

.  
4. Sentiment Analysis 
Sentiment analysis is one of the advanced features of chatbots that is based on the concept of determining the emotion behind a customer's message. It's about mining opinions, thoughts, or sentiments from text or audio data to understand and then influence customer satisfaction level.   
A bot needs to understand the mood of the customer by sentence structures and verbal cues to enhance the value of customer communication. The use of sentiment analysis can add value to your customer service chatbots and ensures a better experience.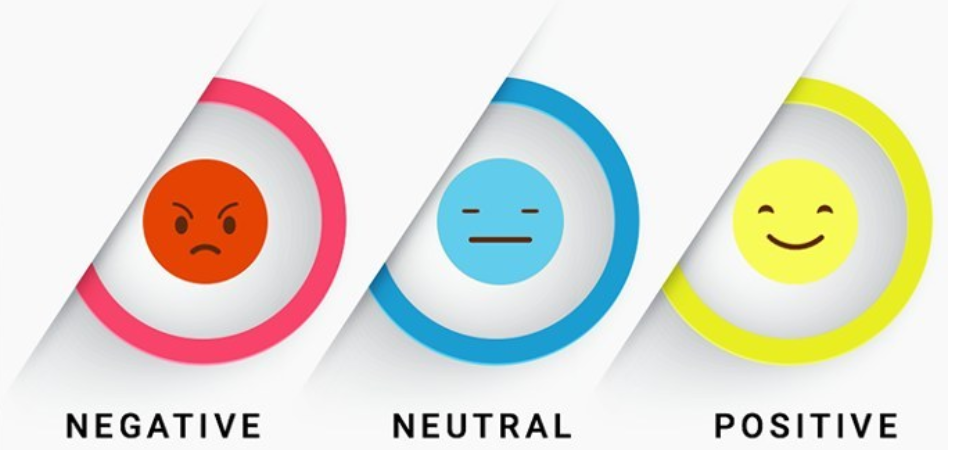 AI bots can use sentiment analysis to modify responses in alignment with customer's emotions and segment the audience based on satisfaction scores. They can help parse user data from social channels, surveys, feedback, and reviews to understand how well products or services are perceived by customers.  
How does sentiment analysis in chatbots work?
It can

identify sentiment types and analyze emotions

whether the conversations are positive, negative, neutral, or objective.  

The technology can

measure the intensity of the emotions

and give a score to each of the emotions.  

Sentiment analysis then

offers the final output

that helps the chatbot to drive the conversation accordingly.   

 
5. Chatbot Marketing  
Chatbots today are extremely advanced and can help you automate your marketing. They can help promote products and services and push customers seamlessly through the sales funnel.   
Using chatbots for marketing can help your business achieve a variety of marketing activities be it making orders to scheduling meetings, tracking orders, sharing updates and news, etc.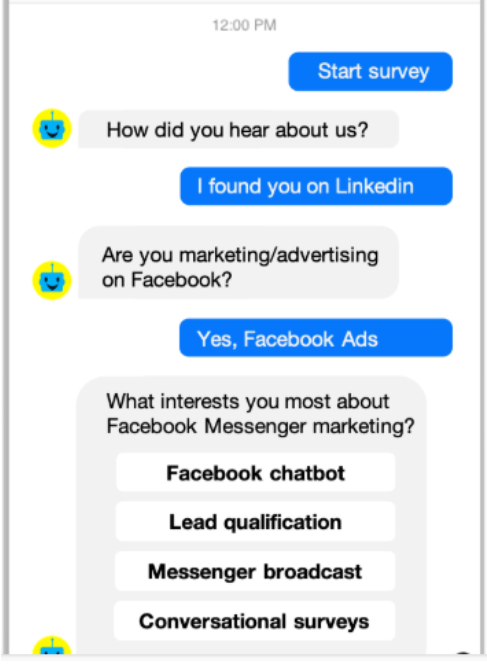 Chatbots can help segment the audience and also in completing orders without the need of forcing users to move to the website. They are helpful in collecting data to gain insight into the audience's needs and drive prospects down the sales funnel.  
Best practices 
Consider the content that your chatbot will contain

and also research your most frequently asked questions. 

Avoid fully open-ended conversations to

stop any type of confusion and enhance user experience

.  

Enrich your bot with data to

cater to the specific needs of customers in a personalized way and improve the return on investment (ROI)

. 

 
6. Chatbot Analytics 
Chatbot analytics can help in knowing your customers in detail and leading with data. Using this feature, a business can get a deeper understanding of the customers and make better decisions. 
With the chatbot analytics feature, you can get valuable insights and analyze all the chat conversations handled by your bot. It can help you measure the accuracy of the responses provided by bots to customers. 
By planning a successful chatbot strategy, you can measure your bot performance and assess the growth of your business.  You can leverage chatbot analytics to track relevant chatbot KPIs to make data-driven decisions and better understand the customer journey.  
Key chatbot metrics to evaluate your chatbot performance:
Total number of users: 

The total number of users who interacted with chatbots can be traced to get insights on how many customers are using your chatbot.  

Bounce rate: 

It denotes the number of users visitors who enter the website and leave without interacting with your chatbot.  

Interaction rate

– Observing the interaction rate KPI can help you measure user engagement during conversations with your chatbot. 

 

Fallback Rate (FBR)

– The fallback rate will capture insights about the scenarios where the bot is unable to gauge the user request and offer a relevant solution. 
7. Chatbot Widget Customization 
Customizing the bot can give a better understanding of how the bot will communicate through a choice of tone, style, and language. Your bot will become more authentic for the users to believe in. The widget customization can help in two main areas:
Branding – The core messaging of your brand can be set into the bot persona to engage customers in a personalized manner.  
Messaging – You can set up warm welcome greetings to begin a flow of conversations and also guide your visitors about the product and services.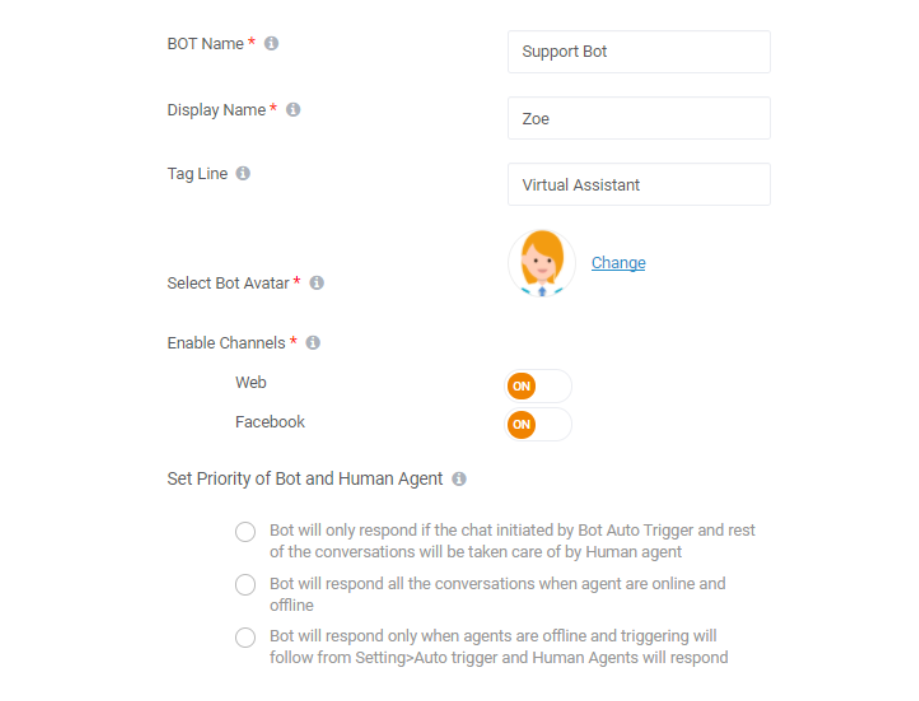 Chatbot widget customization is important to reflect your brand personality and win customer trust. By customizing the chatbot character, you can boost the overall customer experience.  
Key areas to customize your bot.
Bot name

– You can choose the bot name relevant to the needs of the business, such as the support bot. 

Display name

– Give the appropriate display name to your chatbot so that it can reflect your brand persona perfectly.  

Tag line

– Chatbots can be given the right tagline aligning with the specific needs of the business.  

Bot avatar

– There will be different bot avatars to select and give the right feel to users.    

Channel

–  You can decide whether the chatbot will be active for the web or Facebook channel. 

Bot Accuracy levels

– It helps you to select the query matching the accuracy level percentage-wise.

Set priority of bot & human agent

– You can choose the preferred option that suits your business and set the priority of bot and human agent for seamless communication.

Set trigger events

– Here you can choose triggers for the chatbots across different scenarios. Based on the selected trigger the chatbot will initiate conversation.

 
8. Artificial Intelligence (AI) Chatbots  
Rule-based chatbots are not able to understand the context or the intent of the human queries. On the other hand, Artificial intelligence chatbots are more advanced, can comprehend open-ended questions easily, and can improve their functionality over time. 
AI-powered chatbots use NLP and machine learning algorithms to become more intelligent and can easily understand the visitor's sentiment to respond dynamically. 
AI-enabled chatbots can enable dynamic and agile conversations as their function relies on bot flows that interact with each other. These chatbots are equipped to provide human-like responses as they can understand the intent and also mine previous conversations easily. 
 Why artificial intelligence is an important AI chatbot feature? 
Human speech can be interpreted to

deliver well-tailored responses with NLP algorithms

. 

User input can be analyzed to continuously improve performance and businesses can use this aspect to

offer proactive customer service

and deliver seamless customer experiences. 

It's possible to periodically

measure the bot's performance

, work on the responses & workflows, and train it for more efficiency. 
9. Chatbot API
A chatbot API can help you go further and achieve more than what a chatbot builder generally allows. You can rely on it to pull data from other tools such as CRM, database, etc. to boost customer conversations.  
Chatbot functionality can be enhanced manifold by using relevant APIs and this can also help in optimizing human resources. APIs are quite helpful when it comes to helping a chatbot fetch user data from different apps and sources to enhance interactions with customers. 
Thanks to APIs, your business can make human-chatbot interaction more productive and seamless by accessing data from apps that are not part of the chatbot ecosystem. 
Why Chatbot API feature is important?
Your business can use a chatbot API to

make the data smoothly flow between your CRM

or any database, and use the information to add value to conversations with customers.    

The API integration can help enhance the chatbot functionality and productivity as then your business can

leverage the interconnected nature of the existing data

.  

Chatbot API helps you send

personalized messages based on the IP address

or the website visitor data. 
10. Data Security 
No technology is totally hacking proof and chatbots are not different. They can be at risk due to various reasons including weak coding, poor safeguards, or user error. 
Chatbots are now quite common across industries that handle very sensitive data and personally identifiable information. Chatbots need aggregation of data to perform optimally and they need not be vulnerable to hacking attacks.   
Threats are one of two types of security risks that chatbots are susceptible to as they include malware and DDoS attacks that can hijack the system and hold you to ransom. Hackers can also expose sensitive customer data or use the vulnerabilities in the system to their benefit. 
Best practices to ensure chatbot security  
End-to-end encryption

– A chatbot design should prevent

anyone other than the sender and recipient from accessing the message.  

Authentication and Authorization

– These are the two main security processes that chatbot needs to use to ensure user identity verification and granting permission to do any task. 

Self-destructing messages

– Chatbots need to delete the sensitive message after a period of time to prevent any misuse of sensitive information. 

Personal scan

– This technology is used to verify an individual identity when a transaction is initiated or when there is the need to access a bank account using a chatbot.
Achieve your business goals with AI chatbot features 
A bot solution with excellent chatbot features is essential for achieving business goals. You can leverage various features of chatbots to add huge value to business communication. The best chatbot has features like no code deployment, omnichannel messaging support, fallback options, sentiment analysis to add value to conversations.   
Integrating chatbots can help your business deliver automated smart responses and achieve marketing goals efficiently. The focus should always be on leveraging the features to achieve ROI and realize the true potential of your business.