Today's customers expect great customer experience across all touchpoints. Contact centers are one of the major customer support channels that connect customers with the business. We outline how businesses can use modern visual engagement tools to assist customers with video chat and co-browsing in contact center solution.
 According to Deloitte, 62% of companies view customer experience delivered by contact centers as a competitive differentiator.
Challenges faced by contact centers
With digital and social channels, reshaping customer expectations and maximizing business competition has made it harder for contact centers to meet customer expectations. Rising customer expectations result in increasing customer attrition. 
There are umpteen challenges faced by the contact center industry. Here are some of the major challenges that the call center executives have to face frequently:
Long wait times – 

As an agent can handle one agent at a time, the queue time is longer and customer declines due to frustration.

Multiple touchpoints –

As the problem can't be viewed, the number of touchpoints increases for the problem to be resolved.

Communication problems –

Customer support over the phone can lead to communication problems. There are many things that can not be easily relayed. 

High service costs –

When resolving a problem requires multiple touchpoints, that obviously increases the customer service costs.
Co-browsing is a key tool that can solve some of the above contact center issues with live assistance and in a true sense can help to improve the overall support KPIs. With co-browsing solution, call centers can add proactive support to their existing channels. 
How co-browsing works in call centers?
The call center representatives help customers to offer different tools for live assistance such as co-browsing, live chat, video & voice chat. By using live customer engagement, the agents can effectively support and improve customer experience. It helps in building customer loyalty and meet their business metrics.
Seamless integration with existing systems
Every call center has an existing system and tools to implement work with. Co-browsing tool can seamlessly integrate with the existing call center systems without changing the system flow and delivers better live assistance to the customers.
No extra downloads needed
Co-browsing solution built with WebRTC technology does not require installations or plugins. It means co-browsing is purely browser-based and you can instantly engage with your website visitors by combining with live chat and video chat simultaneously. It helps to deliver a seamless experience to customers who look for real time in-context communication while browsing your website.
Secured customer data
Co-browsing assures utmost security to the conversations and sensitive information (such as credit card/personal details or login credentials) during the live sessions. The customers need to approve the request before the agents can start the co-browsing session. All the customer data is completely protected and is not stored on any devices.
Co-browsing solution delivers a host of benefits that helps the contact centers to overcome their problems and deliver better customer service. Let's discuss in detail how co-browsing can benefit your contact center customer experience. 
1. Improve FCR rates
FCR or First Call Resolution rate is an important facet to achieve customer satisfaction and a critical metric for contact centers. However, as today's customers tend to encounter complex queries, it is not always possible to provide an immediate answer.
When the customers have to talk to multiple call center executives regarding the same query or problem, the customer experience gets diluted and satisfaction levels plummet. Co-browsing solution can be the best way out.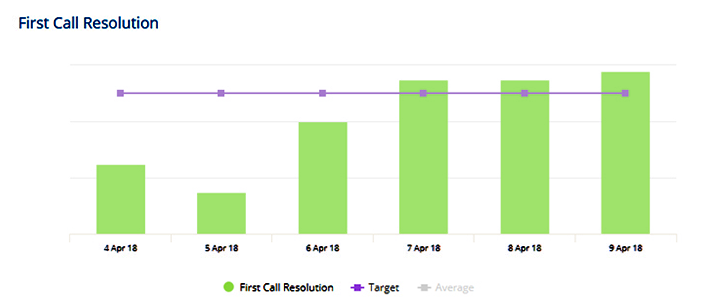 Co-browsing tool helps to address customers queries in the first contact so that the multiple call back times are reduced or the calls are not transferred or handed over to a call center supervisor to get resolved. 
How to overcome poor FCR rates?
With co-browsing, call center agents can fix customers queries faster to improve the FCR rate. Co-browsing tool helps in improving the response time addressing the customer queries faster.
Another way is to engage in root cause analysis. It means to identify the exact reasons customers end up reaching out call center and using that information to fix specific problems at the source.
You may also like to read – How to achieve FCR with live chat
2. Generate more sales leads with co-browsing
Every customer conversation present upselling or cross-selling opportunities. In most of such cases, the sales assistance needs to be in real time. 
As the old sales saying goes, "Show, don't tell", co-browsing lets you mount a chat or phone interaction (Telling) into one where the customer can get live assistance from the executive can by 'Showing' them.
Co-browsing solution is the best to boost website conversions by as much as 45%.
Co-browsing empowers call centers to deliver crucial customer support and sales support in real time. With co-browsing, the support agents overcome many difficulties that are faced while trying to help customers. 
There are three key areas where co-browsing can help with sales and lead generation:
Application process

– The agent guides through the complex form fill-up or application process by sharing the browser screen of the customer.

Demos

– With co-browsing and video chat, agents can provide a product demo to help customers to make the right decision.

Online engagement

– With co-browsing, call center executives can guide customers when they need any assistance on your website or inside your portal across their online journey.
Co-browsing can be the best way of delivering live assistance when businesses need real time help. Some key industries where co-browsing tool is used are banking, insurance, financial services, healthcare, and retail.
3. Boost customer satisfaction of your contact center
Customer satisfaction is an important metric to measure the productivity of the contact center representative. The customer satisfaction scores directly indicate if your call center is able to provide the right support to your customers they are looking for.
Co-browsing helps call centers to focus on first-call resolutions rather than keeping the customers in a loop. When the customers receive a quick resolution in the first attempt it leaves a long lasting impression on your customers that keeps them around for the long haul.
Customer satisfaction is determined by the following metrics:
Customer Satisfaction Score

– With co-browsing solution, call center agents can deliver personalized support in an interactive way that boosts customer satisfaction level and improve customer experience. 
Net Promoter Score

– The NPS scores measure your customers' overall perception of your service and brand experience. It gauges the customer's overall satisfaction with a company's product or service and the customer's loyalty to the brand.
Co-browsing with video chat enables the call center agents to personalize the communication and provide step by step live assistance, which boosts boost customer loyalty.
4. Improve your communication flow
"Miscommunication leads to complication."
When asked what the most frustrating aspect of a customer service experience is, over a third of U.S. respondents (34%) chose "Automated Telephone System (IVR) inability to reach a live person for customer support."
For instance, when you talk to a call center representative in person and see the person's facial and body expressions you can more clearly understand the message he is sending. On the phone, however, you can only hear the vocal inflections and tone. 
Co-browsing solution gives your customers the edge. There is a clear call to action to help customers who are facing a complex issue. Co-browsing provides an opportunity for customers to share their screens with call center representatives in real-time. Live assistance with co-browsing helps in navigating websites, filling forms, completing transactions, or resolving issues.
With co-browsing, important call center KPIs can be met by the representatives.
Average handling time

– Co-browsing helps the call center agents to understand the customer's problem better and resolves the issues faster. It reduces the long handling time that the contact center agents struggle with customer requests. 
Average queue time

– Customers wait in queue for their calls to be answered. If the average queue time is more, it affects their customer experience. With live tools such as co-browsing and video chat, you can resolve issues faster and support more customers.
5. Deliver frictionless call center customer experience
Now remove the blindfold from the customer service agent and assist callers right on their website. 
Not every issue can be resolved over the phone. It often leads to misunderstandings and frustration. Proactive support approach such as co-browsing solution and video chat is preferred in such scenarios to deliver a smooth customer experience.
Aberdeen Group shows that co-browsing is helping companies accomplish far greater annual improvements to customer satisfaction (5.1% compared to 1.4%), achieved by minimizing customer effort by having the customer and the support agent able to navigate the website in real time.
How contact centers can deliver smooth CX?
By understanding the customer journey across digital touchpoints where exactly the customer needs help. Identifying the right touch point and connecting with the customer helps to ease the customer journey.
By assisting customers with tools such as co-browsing, video and live chat deliver a truly engaging experience and interactive support. Identifying the problem faster helps to provide better solutions.

Measuring the acquired customer feedback and adopting the processes to deliver live engagement to resolve the customer pain points.
Co-browsing is not a magic spell to end all customer frustration. But it certainly goes a long way empowering your call center agents to minimize customer friction in a time when your website is the most common place for customers to interact with your business.
6. Guide customers across their online journey
In the current business landscape, visual engagement is key to boost customer experience. Customer engagement and satisfaction is a priority for any business and co-browsing goes a long way in this regard.
With 90% of customer's interactions begin after using a product on a company's website, a large part of their customer journey context is wrapped up on their browsing session.
According to the Deloitte survey, contact center executives use live assistance channels such as co-browsing, chatbots to grow from 6% in 2017 to 16% in 2021.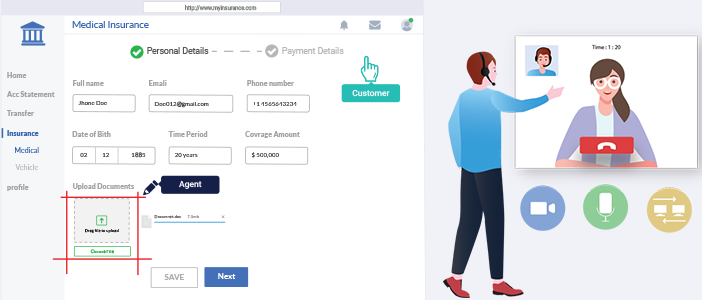 Co-browsing solution helps to guide customers across their journey and deliver a superior customer service experience. Whether it is a complex form fill up the process or any technical query, co-browsing along with video chat can handle it in the best way.
Read about Top 9 Contact Center Trends to Watch Out in 2021
The customers not only get rapid effective support rather than typing out questions or trying to explain their problem verbally on the phone but also are guided successfully to get the problem to be fixed. 
7. Collaborate with your customers in real time
Co-browsing can be a game changing tool for your call center. The proactive ways such as co-browsing and video chat take over the phone, and voice chat interactions with real time collaboration to deliver an effective solution in an interactive way. 
Aberdeen Group found out that businesses using visual engagement tools marked 83% in annual revenue and an array of positive growth.
When your customer is talking to call center executive, one of the best ways to collaborate is using live assistance. So, how that can work in a call center environment?
With live engagement tools such as co-browsing, video chat, and text chat, the executives can help the customers in real time by requesting customers to share their screen and helping them to resolve the issue. It could be on across any digital channel, be it your website, apps or inside your portal.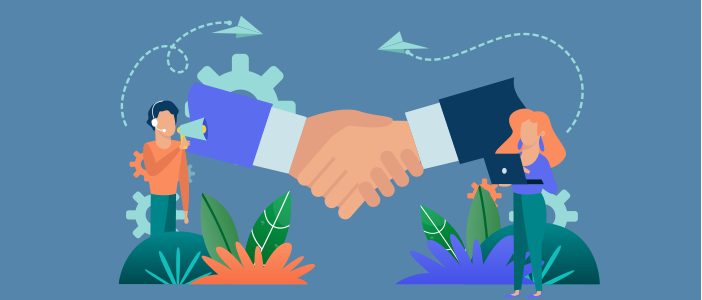 How the agents collaborate?
Co-browsing allows a call center agent to view the customer's browser. The agent can use the built-in pointer to guide the customer and instruct further to perform required actions. It allows the agent to get a better understanding of the customer's problem and the context, and to resolve it quickly. 
The main goal is to improve the way the agents and customers communicate in real time.
Benefits of real time collaboration
Co-browsing helps to deliver call center KPIs and SLAs and meet customer expectations.

Deliver solution in real time and first contact itself reduces the number of customer touchpoints.

You can acquire first-hand information about the customer issue and deliver faster assistance.

Visually guiding customers to make the resolution effective and build customer trust.
Final thoughts
No matter big or small, customer experience must be a top priority for every business. In order to enhance customer experience businesses should adopt tools that can offer proactive support. Having the right tools such as co-browsing can truly differentiate you in terms of delivering support and gives your business a competitive advantage.
Call centers face many challenges and with the proactive approach, it can create meaningful customer experiences. Hence, the executives need to align their approach and strategies to optimize customer satisfaction level.