What could be great ways to increase retention and make every customer interaction a delightful experience? The answer is simple – to follow the best customer service tips & examples to deliver excellent sales and support assistance.
$1.6 trillion is lost by companies due to customers switching as a result of poor customer service. When businesses give high credence to customer support quality, only then they can build customer loyalty and increase the customer lifetime value (CLTV).
Customers always remember brands by the kind of service quality they offer. If your customer service strategy is not well structured, you will lose business no matter how good your product is or how proficient your team is.  Hence, it is extremely important to focus on improving support quality by adopting the best customer service tips and tricks in 2023.
How Important is it to Deliver Excellent Customer Service? 
Better technology, more informed consumers, and higher expectations for fast access have all shaped how support is handled in businesses today. The relationship between customer support & customer experience has become much closer and has made a much larger impact.
Hence, companies will need to continue to adapt their customer service tips and experience strategies that focus on customer happiness. The bottom line is businesses are soon expected to compete mainly on customer experience.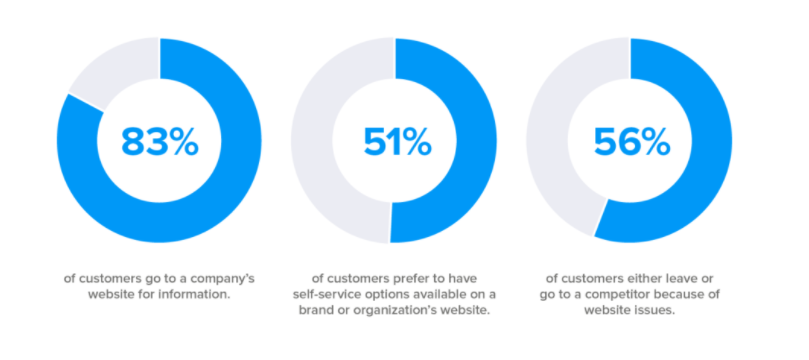 The impact of adopting customer service tips on key business areas such as:
Happy and satisfied customers

– When you offer service that is aligned with their expectations, customers are delighted, and this increases loyalty.

Word of mouth publicity

– Happy customers refer your brand with positive word of mouth to their friends and share their experiences across social media.

Increase customer retention

– By delivering high-end customer service you impress your customers and they choose to retain your brand for a long time.
20 Customer Service Tips & Tricks for the Support Teams
Businesses have been using many customer service tips time and time again to create great experiences. One common way followed to keep the support team responsive is by giving them a customer service tip of the day.
Well, we have put together the key customer service techniques and ideas showing how to enhance your customer satisfaction levels and boost loyalty.
Let's discuss the best customer support techniques & ideas so that you can inculcate them in training your team to deliver excellent customer service tips in 2023.
#1. Provide Omni channel Customer Support
Nowadays, customers multiple channels and devices to connect with businesses. So, as a business, you should focus on making it easy for your customers to contact you. Usually, customers complain about not reaching out to the support agent in real-time.
Omni-channel customer support integrates different channels to deliver a unified brand experience and consistent service across multiple channels. Depending on your business, you should identify the most relevant channels you could opt for to connect with you. 
Suppose you are a SaaS business, your strategy should include channels like:
Email support

Phone support

Social media support

Email support

Live chat support

In-app support
The above platforms ensure a seamless customer experience no matter the channel they use. When you are able to engage customers seamlessly by being where they are and providing consistent service across channels, you deliver the best omnichannel customer service.
Excellent customer service example
Oasis is a popular UK retail brand that sets an outstanding customer service example. The major highlight of the store is how nicely they have integrated both the online and physical stores together to provide a unified customer experience. 
Here having an omnichannel communication strategy can improve your customer service.
Identify the customers preferred channels and streamline all under a single platform to engage and deliver real-time customer service.
Deploy tools like live chat, chatbot, visual tools, and self-service portals to deliver customer support 24×7 across those channels
Gain insights into customer behavior and provide personalized support to delight your customers. 
The good customer service tip: Your business goals should be to make the customer journey hassle-free and provide many options across channels to engage them 24×7 effectively to deliver a great service experience.
#2. Deliver Real Time Customer Support
When customers face any issue or have any query related to your products and services, they expect a real time effective response. 73% of online adults claim that the best thing a brand can do to offer them great customer support is to value their time."
Real time support is directly related to customer satisfaction levels. The faster your support, the higher is your satisfaction rate. It is an important factor for customer retention and increasing their lifetime value.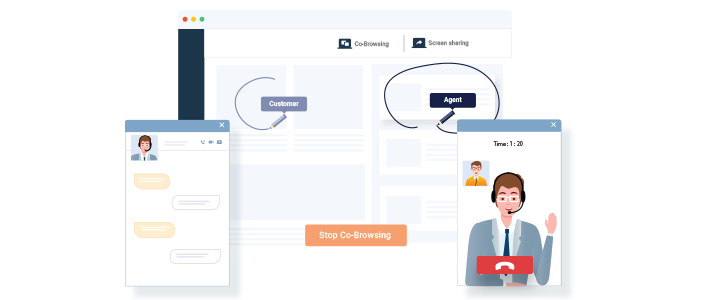 You can use different customer service tools to engage clients in real time to deliver effective support. 
Live chat: 

helps you deliver immediate support assistance to sales and support concerns raised by customers and boost their satisfaction.

Co-browsing: 

allows you to

collaborate with the customers in real-time and guide them through a complex form fill-up process.

Chatbots

helps to answer customer queries in real-time and is available 24×7 to engage customers.

Video chat: 

empowers you to have face-to-face interactions to identify the issue faster and reduce the resolution time up to 2-3x. 
Using visual engagement tools is one of the best customer service tips that can help businesses to make conversations interactive and boost customer satisfaction.
#3. Automate your Customer Service with Chatbots
Automation is an important part of businesses in the current time to improve operational efficiency in order to reduce costs while enhancing the overall customer experience. 
Chatbots can save up to 30% in customer support costs and can help businesses by speeding up response time and answering up to 80% of common questions. Chatbots are best to handle common FAQs on the first go. When it comes to complex queries bots fail to answer and directs them to the right human agent.
FundsTiger has launched its customer service chatbot for easing the loan service for its customers.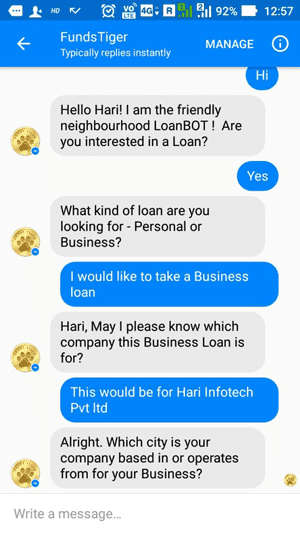 Source: Fundstiger
The conversational chatbot helps to know more about business loans, and personal loans and helps users to file business/personal loan applications in the course of these conversations.
Here are the key chatbot benefits that can improve customer service quality.
24×7 support –

Chat Bots allow brands to engage with their customers 24×7. Chatbots can handle common support queries when the agents are not available.

Reduce support tickets

– Chatbots help to answer all the basic queries that are based on providing information that results in fewer support tickets. 

Easy scalability – Bots can be key to customer service automation as they are easily scalable during peak hours or rise in traffic to handle queries effectively.
Human support for complex queries – When chatbots find the queries complex to answer, it is transferred to the right human support agent for effective resolution.
#4. Measure your Customer Satisfaction 
Customer satisfaction scores have a significant impact on customer retention rates. It is the key to creating long-term relationships with customers. You have to woo your prospects to win over them as your customer.
Higher satisfaction scores lead to greater customer loyalty. 95% of customers will "take action" after a negative experience like sharing concerns with friends and family or churning.
Here are the key metrics to measure customer satisfaction.
Customer satisfaction is a key metric that measures how well your company or its product and services are meeting customers' expectations.

Net Promoter Score (NPS):

NPS measures your customer satisfaction and loyalty. On a scale of 1 to 10, customers are asked about their willingness to recommend your brand to family or friends. NPS survey questions are triggered through various survey channels like email, web, text, etc. during any stage of the customer lifecycle. 

Customer Satisfaction Score (CSAT):

CSAT metric

directly measures the levels of customer satisfaction

. The score is calculated by dividing the number of responses that are rated above 4 by the total number of responses. 

Customer Effort Score (CES):

With this survey methodology, you can measure ease of experience with your company by asking customers, on a 5-point scale of "Very Difficult" to "Very Easy". 
Customer service tip of the day – The metrics can be used not only to measure overall customer satisfaction but also in the specific areas of your business, products, or offers.
#5. Measure your Support Team Productivity
As said – what gets measured, gets improved.
And if you don't keep track of your customer service goals, how would you know their effectiveness? 
One of the most important things that you need to keep your eyes on is to measure the productivity of your customer support team. The key KPIs to measure team efficiency are as follows:
First response time (FRT):

It is the time between the chat made by the customer and when it is responded to by the agent.

Average resolution time (ART):

The average time taken by the customer service rep to resolve the problem once it is taken over.

Total conversations:

The total chat conversations were handled successfully by the support professional out of how much was assigned.

Conversations across channels:

It helps to understand which channels are more popular and be given importance when it comes to meeting your KPIs.
The above support metrics give a complete overview of how productive your support team is and ensures that you have your hand on the pulse. So that you can act according to the results. 
Key reasons for measuring the Return On Investment (ROI) in customer service.
Good customer experience boosts sales conversion and if you get an idea of what extent and how exactly you can improve CX helps you to drive even more sales.

The customer service departments and reps are often overlooked and overworked. If you invest in them can certainly change that to a great extent.
#6. Lower your Response Time
The average response time for customer queries is one of the important attributes of good customer service. 59% of customers are more likely to buy when brands answer their queries in under a minute.
Live chat is one of the most preferred tools to address customer queries and boost customer satisfaction. It enables businesses to reduce response time and deliver a good experience.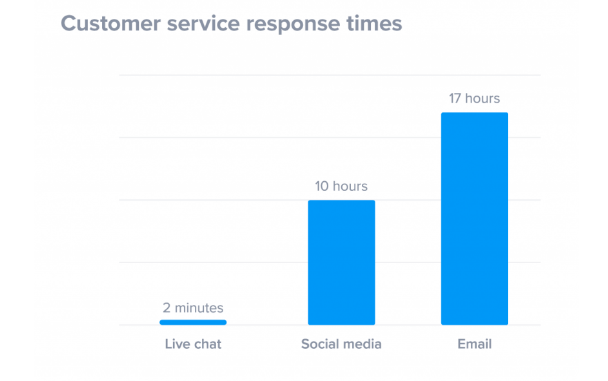 Source: SuperOffice
Here is how life can maintain the response time.
Live chat helps to

understand customer pain points

and deliver an effective solution in the first contact itself.

By using

canned responses to the FAQs

, you can deliver faster and more consistent answers and reduce the average wait time. 

Comprehend customer problems instantly and guide them with the right solution by

using live engagement tools

.

Track visitor activity with real-time visitor monitoring

, and provide personalized solutions for the problem. 
Live chat improves the customer experience by addressing customer issues in real-time as compared to reactive channels like email or phone. 
Customer service tip of the day – In order to maintain the response time you can set KPIs like, "Answer calls within 20 seconds," and "Process emails within 2 hours of receipt." Your KPIs should be specific and measurable.
#7. Exceed your Customer Expectations

Identifying and understanding customer expectations is a vital part of every business. It means you need to meet their requirements to improve customer satisfaction and keep them loyal to your brand. Also knowing customers' opinions is equally important to deliver superior customer service. 
Customers tend to show loyalty towards companies that have met or exceeded their expectations, both in terms of customer service and the products that they have purchased. Feedbacks help to identify the gaps between customers and businesses. 
How customer feedback helps businesses?
It helps to improve your brand quality 

You can measure the customer satisfaction level

You can build and improve your customer communication strategies
The right way that a business can conclude its performance is by asking customers what they think. Once the information is gathered it should be acted on to fix the specific issues that are identified from the feedback. 
By knowing customers' expectations and analyzing customer feedback you can retain your customers with your business. It helps your business to grow by improving the services and products proving to be one of the top client service tips.
#8. Automate Customer Service Tasks to Increase Productivity
Automating customer service tasks improves response time and increases business productivity. Customers are becoming highly demanding and their top expectation is instant response.  54% of consumers say that they have higher customer service expectations than earlier.
Automating repetitive business tasks with chatbots can reduce human involvement in simple tasks rather can be used for complex processes. Bots are easily scalable during high traffic or when your team is busy or not available. With bots, you can manage your resources without any extra infrastructure costs.
Excellent customer service example
Cleo has launched an AI-powered chatbot that is the best replacement for your banking apps.
Automating customer service with chatbots does not require hiring more resources when the business scales up as it can manage all the customer support queries effectively.
Here are the customer service tips to automate business tasks wisely. 
Use canned responses

– These are responses for the common customer queries, used to reduce the handling time and make customer support effective.

Knowledge base

– Empower your customers and improve your response time by using knowledge base information.

Chatbots

– Implement chatbots to handle information-based queries 24×7 and are easily scalable whenever required.
#9. Humanize your Customer Service Conversations
Genesys survey made over 9,000 consumers asked about what mattered to them most when it came to doing business with companies and 40% of them said "better human service".

Source: ciklum
Here are the ways how to humanize your customer service interactions:
Address your customers by their first names to give a friendly touch

Make your customers feel comfortable with warm-up conversations 

Send personalized "thank you" gestures to your customers

Use live engagement tools to deliver to engage them in real-time
Humanizing customer service is all about making your customer feel they are interacting with a real human. It is important because when your customers feel they are getting personal service they become your loyal customers. 
So you can believe that providing humanized support is one the easiest client support tip you can implement, which directly affects your customer experience.
#10. Make Use of the Right Customer Service Tools
Choosing and implementing the right customer service tools is important to encourage customers to have greater interaction with their brand. It helps you to build your brand credibility and deliver a great customer experience.
Here are the suggestions for selecting the right customer service tools which can be used for various customer communication objectives
Live chat

– Live chat delivers instant support to the customer's queries over the website as well as mobile applications. 

Social media

– Connect with your customers over social media and offer consistent support services.  e.g. Hootsuite 

Customer feedback

– Collecting feedback is very important to deliver better service and improve brand quality.  e.g. Qualtrics 
By using the above-mentioned tools, you can deliver outstanding customer service and create memorable experiences. Empowering your support team with the tools can be good customer support trick bringing in benefits like:
You can

deliver a faster response

to customer queries and boost their satisfaction level.

Promptly engage customers across social media

channels to show your customer that is valuable to you.

Handle your customer requests 24×7

for common queries and reduce the number of support tickets.

Collect real-time feedback

and know the areas where improvement is needed to build a stronger brand.
#11. Proactively Reach Out to Customers
Proactive support is one of the best customer service tips that allow you to predict and address customers' issues proactively based on their behavior. InContact study found that customers are satisfied and positive with proactive customer service. 
How proactive customer service impacts your business?
Improve customer loyalty

–  C

ompanies that follow a proactive approach have noticed

a significant increase in customer retention rates by 3-5%

.

Reduce support tickets

 – Proactive service allows you to know the customer's problem and guides them using different tools to deliver the right solution. It reduces the total number of support requests.

Boost customer retention

– Proactive support develops good relationships between the customer and the business. You need to meet your customer's expectations by delivering good customer service across all channels.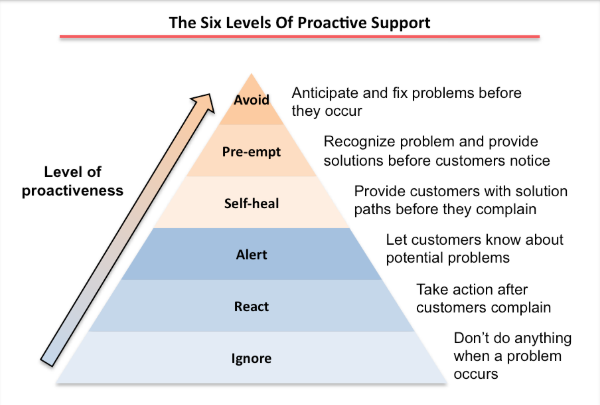 Customer service tips for proactive support
Canned responses for FAQs –

Preset answers for the FAQS help customer service teams to guide consumers which reduces the response time with effective engagement.

Live chat for real-time support –

Using live chat and other live engagement tools such as co-browsing and video chat can help to offer real-time support for form fill-up or transaction checkout.

Self-serve customers with support content –

Provide step-by-step guidance to your customers with

FAQs, tutorials, and videos that are considered to be the best ways to provide self-service informative content to your customers.
#12. Escalate Support Requests to the Right Team
Just imagine saying "No" to a customer's question or even politely declining a customer request. It will totally diminish the value of your support service. Of course, you won't always know the answers, but, it's 100% about how well you manage the "No."
If you don't offer to be helpful to a customer in need, that only frustrates them more. 
Follow the practice: Focus on alternatives
"That's a great question. I want to be sure I give you the right answer, so I need to double-check with someone. Can I call you back?"

"Before I answer your question, I need to check a few things on my side. Can I follow up with you later today?"

"My colleague is an expert in that area. Could you hold just a moment while I check with him?"
The tone is really very important as it affects communication. The common mistakes that customers make are using passive-aggressive language ("Actually…") or confusing customers with slang or technical jargon.
Which one of the following statements sounds more appropriate to you?
You are being transferred. Your call is very important to us.

Hey Amy, I'm going to introduce you to our customer support expert who will be better able to answer your question!
#13. Give Credence to Customer Complaints 
The key to improving your customer service and growing your business is to learn about both the good and bad experiences of your customers. Practically, it is very difficult to get in front of every customer problem no matter how good you are at it. 
So, what can you do?
You can create multiple touchpoints that are easily accessible for your customers to give feedback on your products and services. Collecting feedback can be a good customer service tip to improve your brand overall. You need to ask for customer feedback regarding products, and check in with your customers regularly. 
Feedback is something you should ask at the right time like – after the chat ends, during transactional checkout, or a product demo.
Excellent customer service example
Disney, is known for its excellent customer support and has a great approach to service recovery. It is a five-step process, with the easy acronym H.E.A.R.D.
H- hear

E- empathize

A- apologize

R- resolve

D- diagnose
With all these steps, you can easily turn around poor customer support.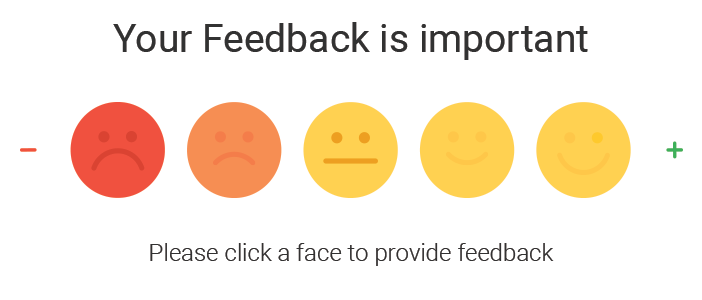 Not collecting the feedback is enough but acting on it is more important to improve the brand and deliver better customer support. Essentially, once you receive customer feedback, you are supposed to:
Discuss the feedback internally to have a better understanding and improve upon customer pain points.

Share the feedback with the potential team members across the different departments to know more about customer expectations

Identify the gaps between your brand and customers. Based on that you can plan new business strategies to bridge the gaps.
#14. Train your Support Team Regularly
It is very important to invest in refining the emotional intelligence, understanding, and training of the customer service teams. Imparting examples of customer service etiquette to the team helps to make every customer interaction deliver an optimal experience.
Have company-wide personal upskilling sessions. It is easier if your customer service department enables ongoing training. You need to check the following grounds:
Communication 

Attentiveness

Patience

Product knowledge

Time management 
What should companies focus on when training the support team?
A well-planned marketing strategy acts as a great customer support tip and trick to increase conversion rates. You have to train your team efficiently to handle all kinds of customer queries with great ease.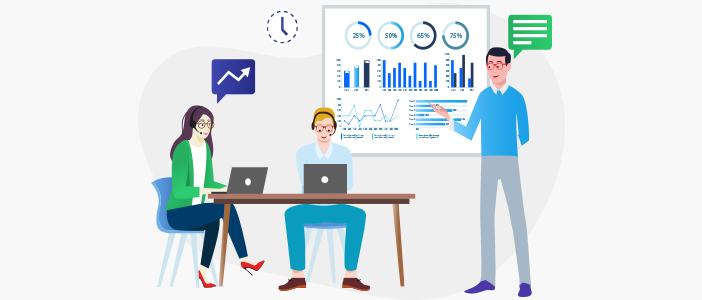 Here are some positive client support tips for training for enhancing the skill set of your CSR.
Interpersonal communication
The customer service teams should be patient and empathetic. They should use positive sentences, for eg. "you are completely right", and "I agree with you" to make the customers feel special and trust that their problem will be resolved.

When support agents are polite and gentle towards customers it ends up with positive results. Using courteous phrases like "Let me find out for you", and "I'm glad that I was able to help you" acts as a wow factor.
Product knowledge
Customer support teams should effectively handle queries and requests for support, product, and service knowledge.

Make sure to acknowledge and advise your support team when there is a product or service upgrade. Upgrade the knowledge bases and update the agents about the same.
Thus, your team will continue to improve their ability to serve your customers and to provide top-notch support you expect to be associated with your brand.
#15. Make Everyone Part of Customer Service
One of the best customer support tips to improve the quality of support by making all the teams to be part of the improvement process. When from the top management to all the departmental teams are involved in customer service, there is a significant improvement.
Why? Because the knowledge of issues and features is much more widespread throughout the team. Why is it beneficial? 
Because right from the management to all the teams, everyone should be aware of the customer's pain. Everyone can suggest and be a part of setting new processes in order to deliver better customer service. 
When you involve all the teams altogether, the ideas and new strategies that come up help in providing improved services and customer experience.
#16. Be Consistent Across all Customer Service Channels
Never overlook the consistency part while interacting with customers over multiple channels (website, social media, email, etc.). Your support team should be well trained in communication ways with your customers. It should not vary from one channel to another.
It is very important for customer service teams to maintain consistency in tone and approach across all the channels and the processes they follow. Using the CARP method is the best way:
C

-control the situation.

A

– acknowledge the dilemma.

R

– refocus the conversation.

P

– problem-solve so the customer leaves happy.
For example, if the customer approached for the first time over Facebook messenger and the kind of service he received differed from what he received over the website it becomes a bad experience. The inconsistency of information and lack of instant support across multiple channels frustrates customers.
How service consistency can act as good customer service tips?
Escalates business growth by adding more customers by delivering 24×7 real-time support.

Delivers a better customer experience to customers by effective services at the right time and developing long-lasting relationships.

Providing instant resolution boosts customer satisfaction and turns customers into brand advocates.

Identify your customer's preferred channels and be available to assist them round the clock.
#17. Offer Money-Back Guarantee 
Having a refund or money-back guarantee in your service policy acts as an excellent customer support trick. Following the policy increases customer trust in your business which enhances the brand value. There is no insecurity feeling, so customers show a willingness to try your products and services.
Just offering a money-back guarantee policy to customers is not enough. In order to stand out from the competition follow the below-mentioned customer support tips.
Make your refund policy easier to understand for the customers. 

It is recommended not to use complicated legal jargon, which can confuse customers.

Use bulleted lists to showcase the eligibility requirements, and clearly outline any deadlines or options people need to keep in mind.

Create a separate landing page or FAQ article discussing how your refund policy works in plain terms.
Customer service tip of the day
Offering a 15 to 20-day guarantee policy is always great. But you go the extra mile to wow your customers with a 60 or 90-day money-back guarantee policy. Well, whatever helps you prepare refund policies from your customers' point of view is indeed a smart move.
#18. Offer Premium Support for Loyal Customers
Not all customers are the same. Some customers have been associated with your brand for a long time and are loyal to your company. Basically, they are the customers who are satisfied with your support services and are even ready to pay more.
70% of buying experiences are based on how the customer feels they are being treated.
You need to manage VIP customers in a better way. You can filter enterprise or long-term customers to ensure timely responses. They may have different needs; set them up for success by getting them with what they are looking for.     
 Excellent customer service example of premium banking services
Garanti Bank, the leader of the Turkish banking sector, allowed its loyal customers to decide the name of the new branch. For this purpose, the bank used Pisano's real-time digital surveys that offered the premium customers 4 name options in those surveys. 
Garanti made it possible for its customers to feel like a member of the Garanti Bank family by constructing a special customer experience journey.
#19. Make Design an Integral Part of Customer Service
A visually appealing interface is an integral part of the client service tips. It plays an important role to provide a delightful digital customer service experience. The brands that take this concept seriously and invest in design outperform their competitors.
As Business Insider reports, "Over a 10-year span, the stock price of companies that placed a premium on design excellence outpaced the S&P Index by almost 220%." A brand that values creativity exceeds its design-negligent competitors. Great design needs an understanding of how your brand fulfills your customer's needs.
Excellent customer service example – Air BnB
During the company audit, the Airbnb website failed to impress because of dull photos and property descriptions.  Airbnb focused on customer service tips to upgrade its support.
Airbnb took its website design seriously. Instead of allowing users to upload property pictures, it hired professional photographers and content writers to create property profiles. And it worked! The new beautiful-looking profiles actually doubled the company's revenue in a week.
#20. Follow the Right Customer Service Etiquette
Empower your customer support team with proper training and education on how to interact with customers. The customer service rules can help businesses to deliver excellent customer service, cultivate long-term relationships with clients, and build customer loyalty.
High-quality customer service etiquette can be a distinguishing factor for your business. The basic principles of service etiquette should be integrated into every facet of your business to deliver top-quality service.
Customer service tips of the day
Use the right vocabulary while interacting with your customers. The first impression is created generally

with certain customer service keywords and phrases used by the support agents.
Listen to your customers and make them feel comfortable, valued, and appreciated. Be knowledgeable of and understand the relevant policy and procedures. 
Offer gratitude to your customers. Kindness and gratitude to customers are a sure way to further engage them in the long term.
Follow the right phone, email, live chat, and call center etiquette.
Customer Service Tips for Various Industries
No matter how awesome you think your product is, or how talented you think your team is, what your customers are most likely to remember is the direct contact they have with your company. Let us discuss the best customer service tips for 2023 across various industries.
Call Center Customer Service Tips
Call centers traditionally play a significant role in customer service strategies because they're one of the first ways customers were able to contact a business without having to walk into its stores. 
Here are some customer service tips for call centers:
Engage in active listening for effective communication
Be courteous, polite, and have respect for your customers
Address your customers by their name
Be proactive in understanding customer needs
Retail Customer Service Tips
Just like any other customer service practice, the end goal of retail customer service is to meet customer needs in a timely and efficient manner leading to delightful experiences.
Here are tips for good customer service:
Understand customers better than your competitors

Set customers' expectations right from the start

Practice customer-listening skills 

Consider employees as your first customers
Banking Customer Service Tips
By delivering a world-class service that offers customers relevant and meaningful advice, banks can minimize drop-offs, improve conversion rates, and increase customer loyalty.
Some good customer service tips for banks are as follows:
Promote financial literacy via customer education

Customize the customer journey

Establish an extraordinary first impression

Combine innovation with a personal touch
Hotel Customer Service Tips
33% of Americans say they consider switching companies after a single instance of poor customer service. And while the definition of excellent customer service varies by industry, the best customer service hotel can be defined by characteristics like personalization, creativity, etc.
Tips to great customer service for restaurants are as follows:
Surprise your guests with presents and appreciation
Go out of your way to make your customers happy

Embrace technology to impress your hospitality customers

Listen to your clients carefully
Healthcare Customer Service Tips
Businesses must provide excellent customer service or risk losing customers. Communication is one of the keys to success in providing top-notch customer service, especially in the healthcare industry. 
Here are some hospital customer service tips and tricks:
Take patient complaints and concerns seriously

Practice effective communication

Measure patient satisfaction regularly

Create a blame-free environment
Final thoughts on Customer Service Tips for 2023

Customer service is an essential part of every business. Following customer support, best practices and techniques help you convert prospects to the next level and deliver higher satisfaction and a better experience. Hence, the bottom line is that exceptional service quality is directly related to great customer experience (CX).
Hopefully, the above list of excellent customer service tips has provided useful information. Let us know your favorite customer service tips that you have accumulated in the comments section.