One of the most important goals of every business is to deliver exceptional customer service. As per the Gartner Research, "More than two-thirds of companies now compete primarily on the basis of customer experience." 
And it's no secret how a lot of customers would happily recommend the company to their family or friends after having a positive experience. 
But how do you make sure that your support agents are handling customer conversations effectively?
Live chat is the most important channel to provide real time sales & support assistance. Hence, support representatives need to deliver quality service for building strong customer relationships. For delivering excellent support, you need to ensure that your team is following the live chat etiquette and guidelines.
15 Live chat etiquette to deliver customer excellence
Poor customer service has a negative impact on customer satisfaction that reflects on your brand credibility. By making your team understand what is chat etiquette and providing the chat guidelines, you can deliver an excellent live chat support experience.
Let us discuss the popular chat etiquette tips that can be followed by the business to set live chat etiquette examples.
1. Set a positive tone
Customer support agents being able to frame the conversation in a positive manner is one of the most important live chat etiquettes. While handling chats, agents should also be cheerful and polite as it is not only about resolving a query, but also about the right way it is done.
You should use empathetic statements that make your customers feel that you are able to understand their journey and feelings. They will be more comfortable to open and help you to build strong relationships.
Positive phrases that can be used:
Please don't hesitate….

Please note that …..

Let me check this for you, one moment, please
Negative phrases that should be avoided: 
Do not say NO directly.

Go to our website and find out

Avoid using – I think/I feel/I believe instead say "There might be an issue here, let me check this".
Note: In case there is some negative news to share, the agent should pace it at the starting of the conversation and share the positive news towards the end to have a positive effect on customer enjoyment.
2. Use canned responses for faster replies
Like everyone, customers also don't like to wait. They expect an effective response for their query in real-time. Rightly developed canned responses can help in handling customer's problem effectively and quickly.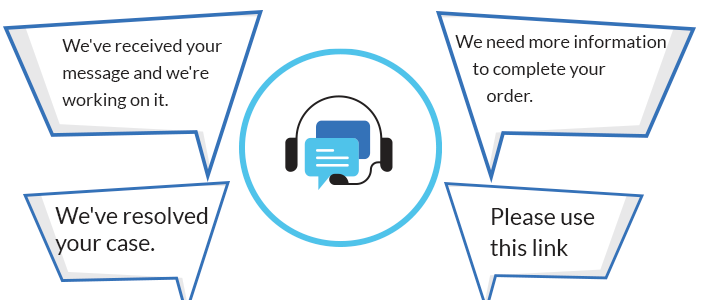 Canned replies can maximize a customer support team's efficiency to smoothly handle multiple chat sessions and balance the response time efficiently.
Some examples of canned responses are:
We have received your message and we are working on it.

We are still working on your case. We will update you soon.

Your problem has been resolved.

Were you happy with the resolution?
3. Deliver hybrid support with bots
Both live chat and chatbot are great channels for real time customer engagement. It is crucial for businesses to know customer preferences and use both the platforms in the right way to deliver automated conversational support. Chatbots are the best option for businesses that need to deliver 24×7 real time support. 
The chat guidelines here are to use chatbots as the primary contact for FAQs and the complex conversations that need human touch can be handled by live chat agents. 
Best practices to be followed to deliver better conversational support
Provide your customers with the experience of hybrid support of both live chat and chatbot. Bots can handle FAQs and humans can handle complex queries.

Develop an easy way for your users to connect with your support team. This will increase user engagement and boost customer satisfaction.
However, it is recommended that businesses can use both channels to deliver a hybrid customer support experience.
REVE Chat provides a range of customer experience tools that can add great value to the way provide support. Sign up to get top engagement tools and start delivering value to customers.
4. Never keep customers waiting
When we talk about live chat, the lesser the response time the higher is the customer service.  
Forrester research says, "More than 30% of customers expect live chat on your website." They grow impatient and get irritated if they fail to connect with the support agent in real time. Many customers will abandon their purchase if they don't get an instant answer right away! 
The best way to win the hearts of your customers is to close their cases in the first contact itself, without having them have to come back multiple times and go over the same questions again. Following the live chat tips at work helps to gain more loyal customers.
Also, your agents should accept multiple chats requests automatically and deliver them the quick meaningful solution they are looking for.
5. Humanize your live support
Have you ever wondered that your customers might get a feeling that they are talking to a bot?
It happens frequently that customers end up with the feeling that the conversation was robotic. The key reason behind this is that the support agents fail to give the human touch while handling the chats.
Missing out on the human touch can have a negative impact on your business from losing customers to dissatisfaction. So, adding a human touch to the chat conversions is the important chat etiquette tips that every business should follow.
Here are some tips to follow to deliver a humanize conversational experience:
Update your chat profile by adding the real picture and designation of the live support agents.

Rightly use the canned messages while handling customer conversations.

Develop an emotional connection with customers with personalized communication.
6. Reduce response time
During peak hours, many businesses struggle to deliver real time responses that are the main reason why customers abandon. When customers reach out to you, they expect faster solutions else leave being frustrated.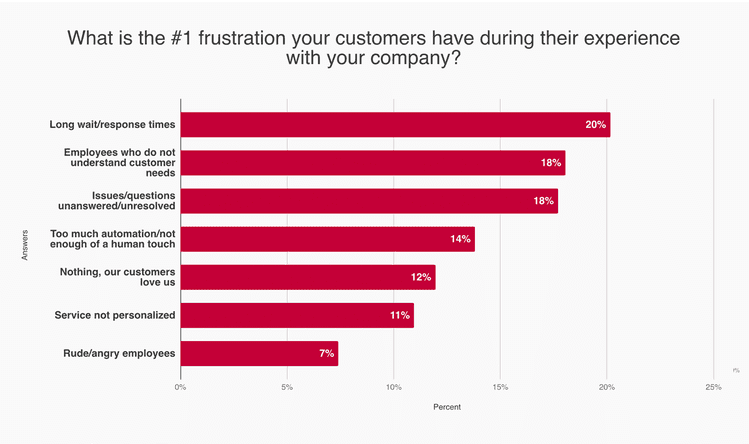 There are a couple of ways that can be followed as webchat etiquette to reduce the response time and deliver a better experience.
Routing conversations to the right team could be a good live chat etiquette tip. When chats are directed to the right department, the agents should promptly identify the matter and provide effective solutions much faster.

Having sufficient resources onboard to manage customer conversations effectively. It helps in improving the key business metric First Response Time (FRT) and maintains the service quality. 

Automate your customer support with bots to answer information based queries in real time. Bots are 24×7 available to engage customers to deliver instant replies.
7. Ask for feedback to improve
Customer feedback is very important for every business. One of the best ways to know about customer satisfaction is through feedbacks. Feedbacks provide valuable insights that can help to enhance your product and business process.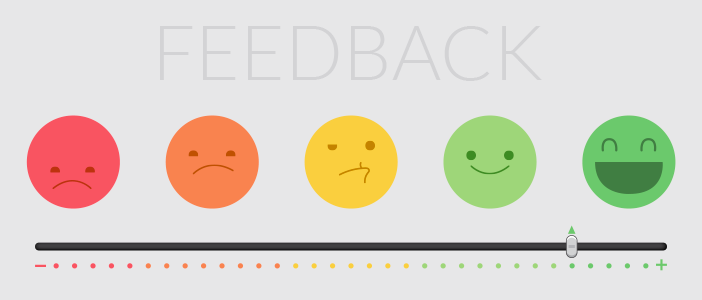 You can ask feedback from customers right after:
The end of a live chat session

– When the live chat session completes you can ask customers to give feedback about their chat experience.

When the customer service request ends

–  You can ask for feedback to your customers after you meet your customer service request.

A demo is offered–

Once you give the product demo, ask your customer to provide the product feedback.

The transaction is done

– After a successful transaction checkout, you can ask for customer feedback.
Asking feedback from customers and acting on it is an important live chat etiquette guidelines and a key factor that determines business growth. Feedbacks help to transform your brand products and services to gel with the needs of your customers.
8. Use welcome greetings
Welcome greetings are one of the most effective ways of engaging and converting your website visitors. A well-timed greeting message can be a great way to engage your audience and deliver a better experience.
Following welcome messages as a chat etiquette rule, motivates customers to increase product engagement, open up conversations, and engage users to use the product in the right way to get the significant benefits.
Here are some live chat guidelines on how to use chat greeting messages:
For onboarding new customers

–  Sending welcome messages is the best way to convey the core brand messaging.  

Use chat greetings based on the page

– When a visitor spends more time on a particular page, it is a good chance to initiate proactive chat by triggering the right personalized messages.

Use triggers to the right audience – 

Sending the right messages to the right audience at the right time has a great impact on sales conversions.

Promote offers with welcome messages

– You can engage more visitors by initiating chats proactively and get more conversions by increasing chat engagement.
9. Train your team with live chat ethics
Team training is essential and compulsory. Having deep knowledge about the product and services helps to resolve queries quickly and efficiently. You should be using a chat etiquette ppt for training your team efficiently on the right ways to approach the customer queries. 
Prefer using first person while conversing with customers

Use terminology relevant to your products and services

Avoid complex technical jargons

Identify the problem and offer effective solutions
A well trained and knowledgeable team dissolves the customer queries very quickly. Hence the first contact resolution is improved along with team productivity.
10. Build the right interpersonal skills as chat guidelines
When you interact with customers, it is important that you be able to relate to others on a personal level. The customer should feel as if they are interacting with someone who genuinely cares and wants to solve their problem. 
The key interpersonal skills that can be considered as professional chat etiquette are as follows:
Practice active listening
Listening attentively to the customers should be the chat etiquette at work. One main reason why businesses receive a large number of customer complaints is just about the fact that agents do not "listen" to them. Listening to them helps to figure out what exactly your customers want, their opinions, feedback, etc. The information collected can be passed to the teams across respective business teams to implement it.
Keep your promise
When you guarantee or promise your customers of something, for e.g. free delivery, keep the promise and spare the disappointment in the future. It shows that you can't respect your duties regarding your customer for reasons outside your ability to control. So, never being over-promising to customers is one of the best live chat etiquette.
Be empathetic
Dealing with the mood of your customers is an art. Show your artistic beauty in handling customer complaints and angry customers. By using the right empathy statements you show your ability to "walk a mile in someone else's shoes". The right phrases make customers feel that they are understood and their feelings are validated.
11. Use simple language with right grammar & spellings
Generally, customers face problems in understanding technical terminology. It is an important chat etiquette guideline that you make them understand in simple terms and avoid jargon. You should focus on using simple and precise questions. It always helps to locate the issue instantly and resolve it.
You need to make sure that the chat solutions that you offer to your customers should not have spelling or grammatical errors. Make sure to read the complete questions asked by your customers and prepare your answers accordingly. 
Control over abbreviations, ellipses, emojis personalizes the chat conversations and eases the situations where a word can be negatively interpreted. 
For instance, the word 'OK' can be interpreted in different ways being a neutral word. Adding an emoji along with the word can be made expressive "OK 🙂". 
Protips
Avoid using

ALL CAPS

sentences for a chat. Ideally, capitalized sentences stand for shouting so using capital words may give a commanding or rude feeling.

Chat conversations with customers are going at a pace, so abbreviations should be used in the right place and time. Excess use of abbreviates shows you are not an active person. 
12. Set clear expectations
It is always a good practice to let the customers know for how long they may need to wait to connect with the live support agents. By queueing the chats you can provide an estimated queue time to customers so that they have a clear idea of how long they have to hang on.
With queuing, you not only keep the expectations level clear but also lets the customers use their valuable time in the way they would want to. 
Below are the tips of how you give your customers a clear idea about the waiting time.
You can set concurrent chats to the agents to handle effectively. 

Routing the chats to the right teams can help in providing faster solutions thus, reducing the wait times significantly.

Set a clear idea about the wait time so that they are not annoyed.
13. Keep your conversation to the topic
Although at times there might be some general chit-chat with customers, that is appreciated, going out of topic often is not a good practice. Making it a part of live chat guidelines follow it for all first time as well as returning customers.
Let me explain with a live chat etiquette example – 'Let's get back to business' usually helps with bringing the visitor back to the right subject.
Keeping discussions on the topic is usually appreciated by the customers as it reduces the total conversation time and helps them to resume their work after the quick query resolution.
14. Never leave your customers unanswered
When customers contact you, they expect you to provide a quick and effective solution to them. But there might be times when you do not have a relevant answer or solution and that is normal. 
Sometimes customers may ask you questions that require collecting extra information or consulting with the senior managers. What is the chat etiquette to be followed here? You can politely inform them that you are looking at the query and reaching it in a short while.
By using positive phrases like " Please give me a minute. I'll quickly find this out for you". Trust me! It won't reveal that you are helpless. Rather it will show your effort to help and take care of the problem.
Best practices:
It is better to take some time and provide the right information instead of providing an irrelevant answer instantly. Following the latter one can risk your brand credibility, which is a great loss.

When you tell customers that you need some time, make sure that you update them within that time frame. It leaves a good impression and customers appreciate your professional chat etiquette.
15. Wrap up conversations with a positive note
Closing the conversations is vital as you as a business are expressing your delight of getting a chance to serve them and pay gratitude for choosing you.
By saying positive statements like – "Thank you for choosing us, We hope you are satisfied with our service.", " It was a great opportunity for us to serve you. Please feel free to contact us in the future."
Following these business chat etiquette can help you to increase your customer base with word-of-mouth advocacy.
Final thoughts on live chat etiquette
Not knowing your chat etiquette rules can get your business in great trouble at times. That's the reason why we need a manifesto of live chat etiquette.
Above all, you need to have a feature-rich and advanced live chat solution that helps in customer engagement. Sign up to get top-rated customer engagement tools and redefine your support. 
The above mentioned chat etiquette tips and tactics will certainly help you to provide exceptional customer service. However, these are not the only professional chat etiquette that your team should follow. If you have your own rules, please let us know in the comments section.