A positive first impression is a vital start to forging a strong relationship with potential customers. Welcome messages act as a great strategy to be a part of the customer journey, understand them more and provide a better understanding of taking the next action to use the product successfully.
"Users who receive a welcome message show 33% more engagement with the brand."
A warm welcome message for the customers gives a sense of caring and makes them feel appreciated.
Nurturing customer relationships is a crucial part of a successful business. Because how you leave customers feeling after having an experience with your business becomes your trademark. But, how to do that? Find here resources needed for customer service.
Customers tend to share both good and bad experiences that influence others. Hence, it is more important than ever to create a welcoming and friendly experience for your customers by following the welcome message templates.
What is a Welcome Message?
A welcome message or welcome email is defined as the form of communication with your target audiences such as website visitors or customers to greet, onboard, or connect them with you.
The main purpose of welcome messages or emails is to encourage users to carry out certain actions depending on your product such as make a purchase, download content, sign up for a trial, etc. 
Why are Welcome Messages Important?
Welcome messages play an important role to help customers to learn more about your brand or guide them through the customer journey. Well crafted welcome emails can be a great way to engage your audience and deliver a better experience.
Welcome emails or messages not only create a perfect first impression but also witness other significant benefits such as:
Higher open rate –

Welcome emails have

86% higher open rates

and engagement than other marketing emails.  They give better clarity about the brand to the users and reassure the impression they hold about your business.

Successful onboarding –

Welcome messages are vital for educating customers and motivate them to take the right actions. It helps as a stepwise guide to proceed to use the product or service in the proper way. 

Increase engagement – Using a chatbot template for welcome greeting messages for customers is a great way to increase product engagement, open up conversations, and engage users to use the product in the right way to get significant benefits.
Best Welcome Messages Examples for Customer Onboarding
A good welcome message acts as a strong foundation for long-lasting customer relationships. In fact, the power of positive words and phrases for customer service is matchless as it builds loyalty and wins trust. We have compiled welcome message templates and examples used by the real brands that can help you to craft your messages effectively. 
Here is a list of use cases and templates where welcome messages for customers play a vital role in improving the brand experience.
Let us discuss how welcome messages can be a part of your customer retention strategy for your business and helps you to express gratitude to customers and how valuable they are.
#1. Onboard New Customers With Welcome Messages
Here are some classic examples of onboarding new customers with welcome messages. You can copy these messages and use them for your purposes:
Example 1
Hey There!
We are happy to have you join our online community!
For the most recent information, advice, and deals, follow us. We appreciate your visit and are here to make it pleasant and memorable.
If you have any questions or need assistance, don't hesitate to drop us a message or leave a comment below. Our team is always here to help. Stay tuned for exciting content and surprises! Let's make this journey together.
Best wishes
REVE Chat.
Example 2
Greetings from REVE Chat
Hello!!
We appreciate you selecting REVE Chat. We are happy to welcome you as a new client!
We want you to have the best [product/service] experience we can give you. Contact us over WhatsApp or give us a call at [customer service number] if you need any help or have any questions.
Wishing you a wonderful day!
The success of your customer onboarding greatly relies on the first few actions you take, and it starts with your welcome message or email. Welcome messages for websites are a great way to convey the core messaging of your brand by using welcome videos that showcase the powerful features.
Onboarding messages have three major goals. 
Welcome the customer and guide them to learn about the next set of actions 

Give them a touchpoint if they have any questions. 

Provide customers with self service options to learn themselves.
You can briefly define the steps that educate the users as per their expectations with your product or service.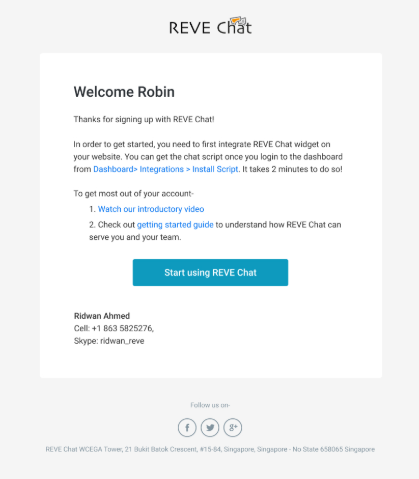 REVE Chat gives the perfect website welcome message example. Once the visitor signs up with REVE Chat, a welcome message is sent immediately to the new users thanking them and provide instructions to get started successfully. You can also include the introductory video to guide customers to use the product.
Takeaways
Set up a nice tone for your brand in the welcome messages for customers. A friendly conversational tone encourages users to read all your messages.

You can define a call to action in your email templates you are following such as sign up to a webinar, update their profile page, etc.

Build an emotional connection with your customers by introducing yourself to show new customers there's a real person behind your product.
#2. Website Welcome Greeting Message For Online Visitors
For inspiration while writing an excellent website welcome message, check out the samples below:
Example 1
Hello, and warm welcome to our website! 
We are thrilled to have you here. 
Whether you are a first time visitor or a returning friend, we are excited to share our world with you. Our website is a treasure trove of interesting content, new items, and priceless information. Explore at your leisure and see what we have to offer. Everyone can find something here thanks to our wide selection of goods and services and our wealth of useful resources.
We appreciate your comments since they enable us to improve your experience. Please let us know if you have any recommendations, remarks, or thoughts for how we may do better. Your advice is very important to us.
Thank you for visiting!
Happy Browsing!
Example 2
Hello!
Welcome to REVE Chat's website! We are excited to introduce you to the world of intelligent virtual assistants.
We specialize in building cutting-edge AI-powered chatbots at REVE Chat that can completely change how you interact with your audiences. Our chatbots are built to be intelligent, effective, and user-friendly, enabling frictionless interactions between businesses and their clients.
Want to explore the various applications of our chatbot?
Click here to start a free trial!
Greetings message is one of the most prominent elements on the website, and if it doesn't appeal to users within those precious few seconds, they're going to bounce. Hence, if you want to captivate your website visitor, nothing is more important than nailing your homepage messaging. 
With a warm welcome message for a website, you can win your visitors and convince them to explore your website. So, you need to focus on creating a message that compels users to stay on your site longer than a few seconds.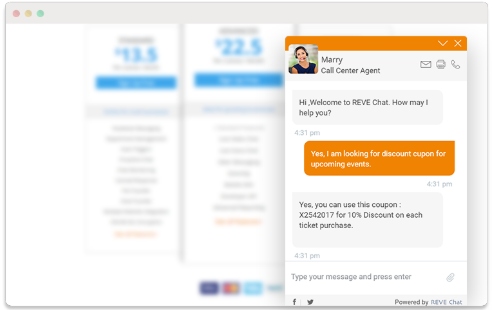 Here is how REVE Chat sends a well informed, personalized, and timely proactive triggered message to its website visitors. can pour in sales opportunities and boost customer satisfaction. 
You can try out your hands signing up REVE Chat, that empowers you to set a customized welcome message based on your types of visitors. It will help to to initiate a conversations that will be productive and help covert your visitor into customer.
Takeaways
You can trigger proactive messages if your visitors are stuck at any specific pages to guide them in the right direction.

Send chat greeting messages based on demography. For example, France – Bonjour "name of the customer" Comment

puis-je vous aider means  Hello 'customer name' how may I help you)
#3. Welcome Messages For A New Subscription
Here are a few of the most effective examples that you could use:
Example 1
Thank you for subscribing!
Congratulations on becoming a valued member of our community.
We want to thank you for deciding to sign up for our subscription service, and we are pleased to welcome you. Stay tuned for special offers, early access to new products and services, and exciting promotions that we have in store just for you. 
We are excited to embark on this journey together!
Best Regards,
[You company name]
Example 2
Hello There!
Welcome to our academic community! We're overjoyed to have you as a new subscriber and are eager to start learning alongside you.
You now have access to a huge selection of courses, educational materials, and priceless content as a subscriber. Get ready to open a world of information that will broaden your horizons and enlighten your thoughts.
Thank You for choosing us as your educational partner.
Best Regards,
[You company name]
Once customers make a final purchase of your product or service, you can welcome them with chat greeting messages. 
Targeting subscribers when they are most engaged (like when they signed up) has been known to increase long-term engagement with a brand by 33%, and welcome emails have transaction rates ringing the register 9 times more than other transactional emails. 
In short, welcome messages for customers are winners.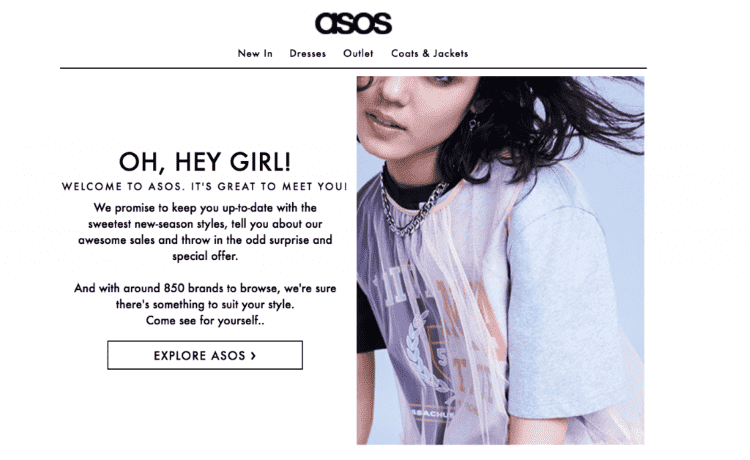 Asos, the popular online clothing store, welcomes its new users with the message "Oh, hey girl!", which creates a carefree attitude towards the business. A warm welcome, a brief outline of what you are going to get as a subscriber, and an invitation to explore further – what else one needs.
Takeaways
Welcome messages for customers is an opportunity to build a strong relationship as it is the initial interaction and eventually make them more receptive in the future.

As it is the first exchange between your business and a new subscriber, setting up a tone is vital for future communications and encourages new members to engage with your business.
#4. Onboard Your Users With In-app Messages 
Some examples of onboard your users with in-app messages:
Example 1
Greetings from [Your App Name]! 
 We appreciate you joining our community of learners. Prepare to go out on a voyage of learning and exploration. 
Let's start by creating your profile so that we can customize your educational experience. To begin, tap 'Complete Profile'.
Example 2
"Have you heard? You can quickly bookmark your favorite articles for subsequent viewing with [Your App Name]. Any article can be saved to your 'Saved' list for quick access by simply tapping the bookmark symbol next to it. 
Good luck with your reading.
Welcome messages are the perfect way to solidify a person's first impression. By reaching users on multiple channels, they'll have an easier time remembering your app and the onboarding experience.
In-app messaging notification is displayed within the app via popups, yes/no prompts, interstitial, etc. These messages enhance the user experience by giving them a rundown of the latest updates or reminding them of a limited time offer. 
Whatever the use case may be, the main purpose of in-app messages is to add value to the app, not just reminding people that the app exists.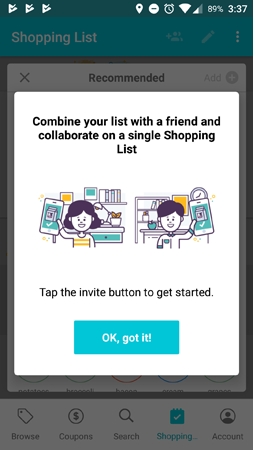 Flipp is a good example that uses in-app messaging to help shoppers find coupons and discounts for everyday products. The app delivers the welcome text message for the new users to scroll to the shopping tab for the first time. 
The message acts as a tutorial screen as it explains how combined shopping lists work. But on another level, it is a CTA to drive more app installs via invites. It also gives new users a good reason to invite a friend, a smart strategy for increasing acquisitions.
Takeaways
Allow users to opt into in-app messages so that you can engage and grow your user base by communicating with them whenever they have your app open.

Keep your in-app messages highly targeted so that your messages are delivered to the right person at the right time based on their latest context. 
#5. Cart Abandonment Emails
Some classic examples of cart abandonment emails that you can use on your website are:
Example 1
OPPS! Did you forget something in your cart?
You recently visited our website, and while you were there, you added some great products to your shopping cart. It appears that you abandoned your purchase, though. We know that life may get busy and that we might forget things, but don't worry—we're here to help!
To go back to your shopping cart and complete your order, just click the link below. Keep in mind that these things won't be available for much longer, so be sure to move swiftly before they sell out!
Hurry Back to complete your order!
Example 2
Opps! Your chatbot is still waiting!
We see that you recently came to our website and began the process of building your own chatbot using AI. But it appears that you were unable to complete the setup. We're here to help, so don't worry!
You are one step away from improving your customer support and engagement using AI. Complete your setup now, and let's embark on the journey together!
Cart abandonment is a big challenge for eCommerce retailers. More than 70% of shoppers abandon carts at the check out process. This is why marketers usually turn towards abandonment cart email strategy to combat the phenomenon that will help to recover these abandoned sales. 
The main reason behind implementing email strategy is high conversion rates and 50% of the users who open have made the purchase successfully.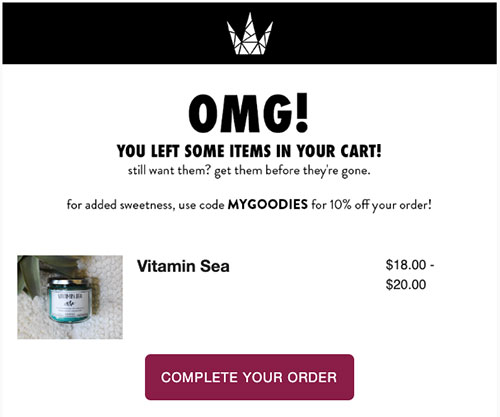 Let us take the successful example of Evil Queen, who took immediate action to send the email. They used an appealing discount code in the cart abandonment email message sent to the customers. They used good subject lines and discount codes to get their email message to be noticed over the cascade of emails in the inbox.
Takeaways
Focus on the right time

– The timing of your cart abandonment email is essential. Make sure to send your first email after an hour of abandonment.

Easy to identify call to action

– Bold and attractive CTA can really grab the attention of the shopper and push them towards an action you want them to take.

Appealing subject line

–  Create a subject line that can grab customers' attention to open the email. You need to make your message instantly understandable. 
#6. Re-Engage With The Customers
Here's a list of several examples of different types of re-engagement emails:
Example 1
Hello Rifa!
It's been a while since we talked. Are you still thinking about using our services?
To reactivate your account, click here!
Example 2
Hi Mishal!
Do you still worry about hackers accessing your personal devices? Our anti-malware program can be useful. To find out more, Click Here!
For every business, there might be some users in their email lists who do not show any interest in their messages. You must put efforts to wake the sleeping contacts in your mailing list and try to re-activate them back again with re-engagement email campaigns.
Invesp says, "Turning an inactive subscriber into a customer costs 5 times cheaper than acquiring a completely new customer, where inactive subscribers generate 7% of overall business revenue."
With effective welcome back messages, you can revive your customers' back, and it costs cheaper than acquiring new ones.
Userlist for example sends targeted in-app messages to engage customers instantly when they are using the product. Userlist considers it as a better way to provide useful information at the right time when your users need it.
Takeaways
You can now share actionable tips, link to help articles, promote upgrades and coupon codes, announce new features, or broadcast company news.

Providing the right information to the users at the moment when they need helps them to navigate your product easily, and reduces your support workload.

Using the in-app messages are a great way to re-engage customers and motivate them to be your active users. 
#7. Welcome Message For The Referral Customers
Let's illustrate some examples of welcome messages for the referral customers, as mentioned below:
Example 1
Hey Richard!
It's important to spread the good news. Refer a friend if you like your most recent purchase, and you'll both get 25% off. To learn more, visit this page.
Example 2
Hey Rafa!
Sharing is caring.  You can get a 15% discount by bringing a friend and a 30% discount by bringing two friends. As time is limited for this offer, hurry up! And start referring.
For more information, click here!
As per Heinz research, "70% of companies with referral programs were on pace to meet or exceed their revenue goals."
A referral program acts as a way to give a customer back in favor of recommending their products to their friends and family.  One of the good ways is to start it from your existing customers so that they can use it among their friends.
Referred customers are more valuable as they have a 16% higher customer lifetime value (CLV) than others.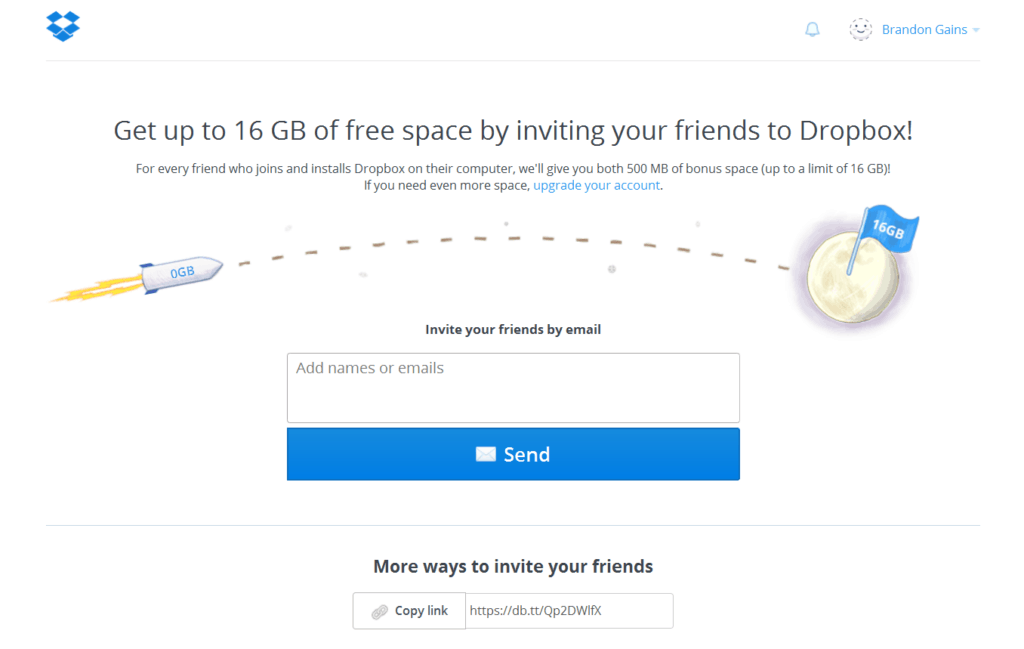 Dropbox followed the same technique for their referral program. They rewarded their customers with additional storage space. The program benefited customers to earn 500 MB of space for each successful referral. The strategy fueled their growth from 100,000 to 4 million users in just about a year. 
Takeaways
Ensure that your referral messages should have a clear call to action (CTA) to grab the attention.

Make your value proposition prominent and convey the benefit the customers are going to get.
#8.Order Confirmation Messages
Some examples of order confirmation messages are:
Example 1
Thank you for shopping us!
It was successful placing your order. Order #12345. Once your things have been shipped, we will notify you. Contacting our customer care is always welcome if you have any inquiries.
Example 1
Hi Mahi!
Your order has been accepted by Pizza Delight!
Order id:67890. 30 minutes is the estimated delivery time. Once the driver is on the way, we'll let you know.
Order confirmation emails or messages can help to create awareness around other products or services and build customer loyalty. The confirmation email messages have the highest average click rates of all email types. It provides a great opportunity to engage with your customers.
You can guide your customers in the right direction with an engaging order confirmation email example. This is how you get an order confirmation email when you purchase something from Cult Beauty.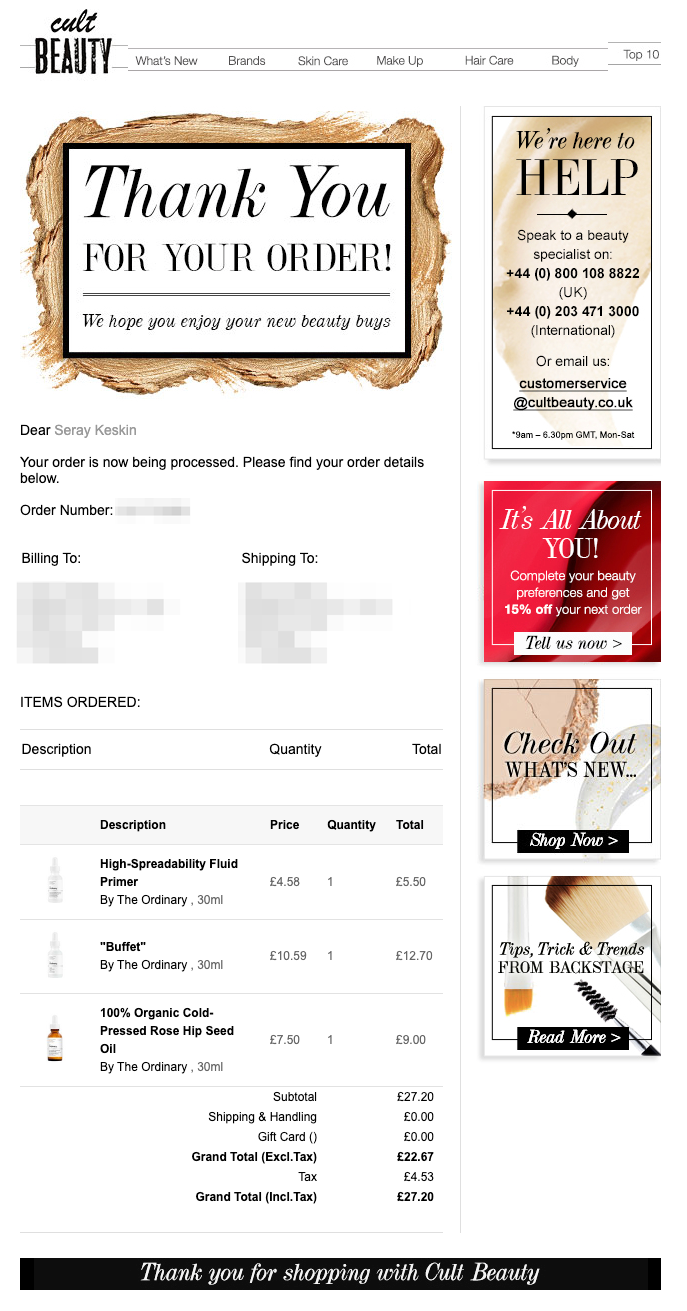 Cult Beauty captures users' excitement with its headline followed by the details of your transaction. Within the email, Cult Beauty invites you back to its site, but with three different options i.e. (i) Update your preferences and get a discount on your next order (ii) Check out what's new on the website for promoting new arrivals (iii) Learn beauty tips and trends. 
This is how the leading cosmetic brand sets a welcome message example of engaging order confirmation emails. 
Takeaways
Not every customer is the same. You can guide them, providing different options to engage them at different levels. 

Timing plays a critical role in converting buyers into repeat customers. You can encourage your customers to shop again by sending post-purchase emails.
#9. Welcome Emails For Customer Feedback
We've gathered some outstanding welcome email samples from both large and small brands:
Example 1
Dear Customer,
We sincerely hope you are doing well. We wanted to take a minute to express how appreciative we are that you chose [Your Company Name] and that you shared your ideas with us.
We believe that customer feedback is the backbone of our growth and improvement.  Your suggestions are extremely valuable in helping us develop new goods and services and improve the overall user experience for all of our devoted customers. 
We want to show you how much we appreciate you by giving you early access to new features, exclusive deals, and unique sneak peaks. You'll be kept informed of all the interesting happenings at [Your Company Name].
Thank You! And we are excited to have you.
Example 2
Hey Nick,
Thank you for purchasing our product!
We've added you to our membership newsletter according to your request. You're among the first to learn about [explain special offers, discounts, and promotions your business runs].
Please take advantage of [explain the discount or offer you're offering] as our way of saying thanks for joining up. When making your order, use the code [list coupon code if available].
Click to read the next newsletter [link to newsletter] now.
Best Regards,
[Your Company's Name]
One of the good ways to re-connect with customers is to ask for feedback to know what customers think about you. Feedback email messages gather qualitative opinions from customers after the end of a chat session, ticket resolution, product demo, or a successful checkout. 
Feedbacks helps marketers with valuable insights that can be used to improve the product.
Here is a feedback request email example from Shopify. It tells the receiver why the survey is useful and specifies the deadline for the activity.
Takeaways
You have to segment your audience to ask the right feedback from the right customers.

Incentivize your customers with discount coupons for their time to provide feedback.

Ask feedback at the right time via the right channel to acquire the most honest feedback.
#10. Greeting Messages For Special Days 
Some examples of greeting messages for special days are mentioned here:
Example 1
HAPPY NEW YEAR!
We wish to express our sincere gratitude to all of our guests as we embark on a new year that is full of opportunity and promise. We appreciate your support and involvement with us over the years. 
In the coming year, we look forward to providing you with more insightful articles and intriguing developments. Don't miss our new year's special offer. Get 35% off every purchase!
Wish you an amazing year ahead!
Example 2
Happy Birthday Richel!
Wishing you a day filled with joy, laughter, and unforgettable moments. To make your day more special, we have many discounts and offers for every purchase. You can enjoy a 10% discount on our premium services.
Best Regards,
[Your Company Name]
A sincere greeting message to your premium customers shows how much you value the relationship. It encourages them to be loyal to your brand and buy more. 
A simple and genuine message goes a long way.
Taking out time to wish customers on their birthdays can mean the world to them.
Birthday emails are triggered messages that are easy to implement and offer excellent results, both in terms of brand reputation and conversions.

Sending personalized messages strengthens their bond and can increase brand loyalty and build stronger relationships with your customers. 

They share their experience with their family and friends, which might influence them to connect with your brand.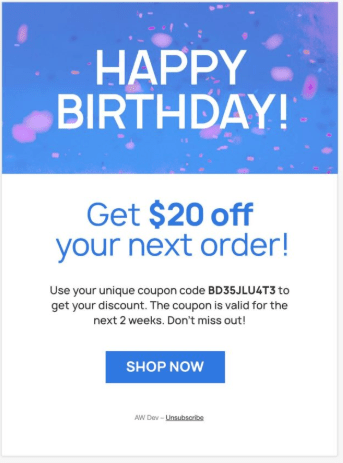 Let us take WooCommerce birthday emails as an example. They found sending such emails is worthy of their business and proves to be effective emails when compared to regular promotional emails. They also included an irresistible coupon code and customized the emails to increase the impact. 
Takeaways
You can reinforce customer delight by pampering your recipients and making them feel special. Who doesn't like to receive kind wishes on their special day?

With emails for special days, you can engage inactive users with unusual, personalized, and non-routine content. Even the least active users will be pleased to receive a personal email and intrigued by the promise of a gift.
#11. Subscribe To Newsletter 
Some Examples of  subscribe to newsletter messages are:
Example 1
Dear [Name of Recipient],
By signing up for our newsletter, you can stay up to date on all the latest information, wonderful deals, and special content. Don't pass up on insightful tips and exclusive offers created exclusively for you.
Simply click the link below to sign up:
[Get Subscription]
We appreciate your joining our community. We're excited to keep you informed and involved.
Best wishes
[Your Business Name]
Example 2
Dear [Name of Recipient],
Are you prepared to expand your relationship with [Your Company Name]? You can get a huge range of advantages by signing up for our newsletter, including:
Early sales access and special prices
Insider advice on how to utilize our goods and services to the fullest

Exciting changes and new product debuts

Inspirational materials to make your day better
Don't pass up the benefits! Immediately sign up by clicking the following link:
[Get Subscription]
Welcome to the community of our newsletter! We are overjoyed to have you join us.
Sincere regards,
[Your Company Name]
When a person subscribes to your newsletter, it indicates that the person wants to hear from you. They are showing interest in your brand, want to know your domain expertise, and be a part of your community. 
Building a strong subscriber list and engaging them helps to know why they are important and communicate effectively. With welcome messages for customers, you give the best opportunity to make them part of your industry.
Here is the example of a welcome message for customers that are sent after users subscribe to the Customer.io newsletter. They followed the listen-first approach instead of product-focused message or product-specific call-to-action. They asked their subscribers questions such as Why did you sign up?  What do you need help with?, or What problem are you trying to solve? Or simply ask people to share a little bit about who they are.
Takeaways
Mention clearly what they can expect from these emails.

Ask the right type of questions to initiate healthy conversation.

You can share the best resources based on their interests to keep them engaged and immediately delivering the value.
#12. Messages To Extend The Offer Period
Let's see some examples of  messages to extend the offer period:
Example 1
Dear [Name of Recipient],
We sincerely hope you are doing well. We've decided to extend the offer period by another day due to overwhelmingly high demand! Don't pass up this wonderful chance to benefit from our special offer.
Extension of the Offer: [New End Time]
Grab your preferred goods and services quickly before they are gone. To begin shopping, click on the following link:
[Purchase Now]
Act quickly because we don't want you to lose out on this fantastic offer!
Best wishes
[Your Business Name]
Example 2
Good day, [Recipient's Name]
You should know some fantastic news! After considering your suggestions, we have decided to extend the offer's validity by an extra [Number of Days]. You now have more time to take advantage of this fantastic offer.
Extension of Offer: [New End Date]
You have the opportunity to save a ton on our excellent goods and services. Don't allow it to disappear! To take advantage of the extended promotion, click the link below:
[Buy Now]
We appreciate your participation in our community. Happy shopping, and enjoy this extended chance!
Sincere regards,
[Your Business Name]
When you provide a trial period for the customers to use the product, that particular time period may not be sufficient for them to understand the potential features of the product. Hence, you can extend the offer period for the customers to evaluate the product thoroughly before the final purchase.
You can provide the extension message inside the dashboard or convey it by sending an email. Here is how you can use an email template to communicate the message. When users receive such unexpected emails, it surprises them and you get a chance to strengthen customer trust in your brand.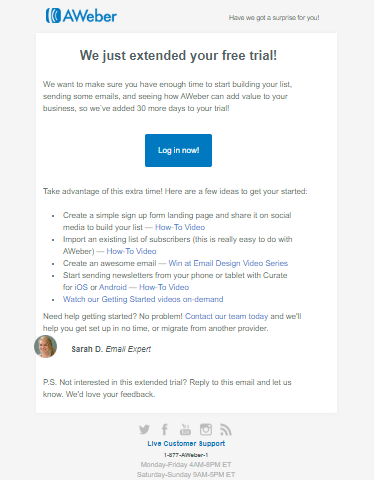 Aweber is a good example of sending a trial period extension email. They placed their CTA at the center of the email to grab the user's attention. Below that, they explained how to take advantage of the extra time. If users have any problem, they can contact the team for help
Takeaways
You can get users excited about the step they have already taken by using the trial period. Emphasize the importance of taking the next action.

You can show them how to use your product effectively (video tutorial, step by step guide, images, etc.)
Final thoughts
The importance of a welcome message for customers cannot be understated. It is a form of personalization that is valuable for lasting customer relationships. Rightly using the welcome messages across websites, in-app and emails can help you to hold on to your customers for a lifetime. 
By using the welcome message examples, you can deliver a better experience from the starting of the customer's journey till the end. And signup with REVE Chat will help to set exclusive welcome messages for your differed audiences, which will showcase your value towards your customers, deliver personalized service, and positively impact sales.