What is the best way to improve growth in your business?
Apart from adopting the latest technology and tools, improving live chat customer experience is also a top priority. A study by White House Office of Consumer Affairs found that 80% of U.S. customers would pay more for a product or service to ensure a superior customer experience.
So, the question is which channel provides the most ROI when it comes to delivering the best customer experience? As per Forrester report, 30% of customers expect live chat on your website. The bottom line is that live chat by far is the most important channel to improve customer experience and boost customer satisfaction.
Customer experience (CX) is the pulse of every business. It touches all facets of the business ranging from customer satisfaction, loyalty and brand positioning.
9 ways live chat improves customer experience (CX)
Live chat has many benefits to boost sales conversion and accelerate the growth of your business. Let's discuss 9 ways that live chat can be used to improve customer satisfaction and provide a better customer experience.
1. Live chat converts your website visitors into leads
Website is the main source for your brand image. Visitors interact first with your brand through the website. Live chat offers a great opportunity to engage website visitors while they are on your site and increase conversions.
In fact, it can increase website conversions by 45% because all you're really doing is offering instant customer service.
How to use live chat for sales and lead generation to improve customer experience?
With live chat, businesses can track their website visitors and effectively convert them into leads by triggering right and timely messages. If you offer better customer experience to your first time visitors, they will become your potential customers. According to Emarketer, 63% of customers were more likely to return to a website that offers live chat.
Integrating live chat with CRM software collects and stores information such as contact details, order history from all the website visitors and customers to build customer profiles. It becomes easy for your agents to access the customer profiles when they return to chat again.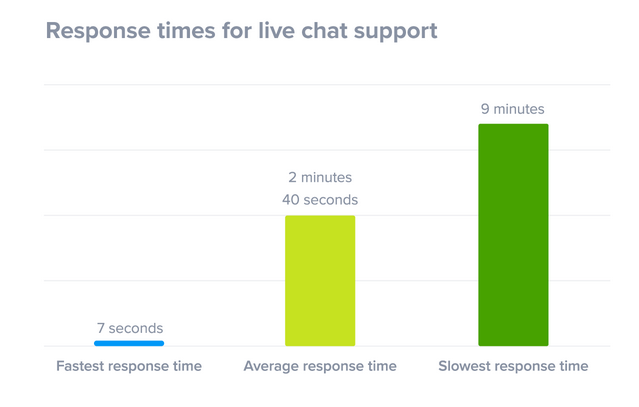 Tips:
Connect live chat with your CRM tools so that your sales team can instantly follow-up with prospects.

Use chatbots for collecting visitor information so that conversations can be started with customers based on their previous or pending requests. It is appreciated by customers and makes them feel you care about them and this small thing helps to deliver a  better customer experience.
2. Live chat reduces the response time
Response time is identified as the time between the chat made by the customer and when it is responded to. It is one of the important attributes of good customer service. Ifbyphone research finds 59% of customers are more likely to buy when brands answer their queries in under a minute.
Live chat can reduce the response time in different ways:
Comprehend customer problems and offer resolutions easily by using live engagement tools

With real time visitor monitoring, you track your visitor's activity to offer a customized solution and reduces the second contact.

Identify the nature of the problem and deliver correct resolution in the first contact itself.

Use canned responses to make chat conversations effective and help customers in quick decision making.
Live chat offers a faster response as compared to other communication channels such as email, phone or social. Less response time means better customer satisfaction. Delayed response time is one of the top 3 reasons why customers leave your website.
Tips:
Boost live chat customer satisfaction by instant resolution of the problem in an interactive manner.

Live chat helps to respond to customers queries instantly. With live chat, an agent can handle a maximum of 5 to 6 conversations at the same time. Thus, customers get an immediate response without waiting for a long time.
3. Make use of chatbots to automate your live chat support
With chatbots, you can improve live chat customer satisfaction by handling queries round the clock. Chatbots help to automate your repetitive activities such as information collection or answering common queries thus letting your human agents to focus their time on more complex issues.

Innovation & Digital Transformation leader Oliver Laborde says "Chatbots are making their way into the landscape of customer relations with the opportunity and promise to offer a better customer experience.
"Chatbots are key tools of good integrated customer experiences." – Olivier Ezratty
Bots help to improve customer experience by following ways:
24×7 support –

With chatbots, businesses can engage their customers 24×7. When the chat representatives are not available chatbots take care of chats conversations.

Reduce your help desk support tickets

: Chatbots takes care of all the basic queries (like asking the delivery date). It means less help desk tickets will be raised.

Collect customer information

: Apart from chatting with humans, chatbots also help to collect customer data such as name, email, etc. that is further analyzed and processed as per requirements.
Human support for complex queries –

When bots are not able to answer complex queries, bots transfer the conversation to the right service in the first attempt, avoiding redirections.
For example, Funds tiger launches chatbot for loans purpose.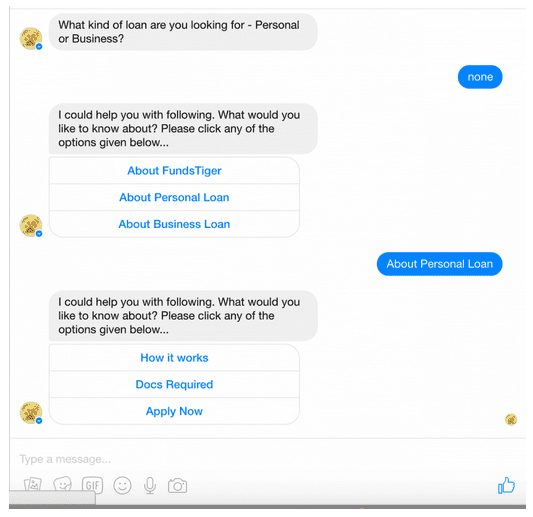 Tips:
Chatbots can handle queries quickly that can be easily predicted and are repetitive without the need of raising tickets.

Bots engage customers round the clock with effective support that levels up the live chat customer experience.
4. Live chat delivers interactive customer engagement
Customer Think says customer satisfaction ratings for live chat are often higher than all other support channels, likely because of the speed and conversational nature, with chat being the preferred support channel by millennials.
Live chat software helps to communicate instantly without letting the customer wait for a long time. The chat conversations can be made interactive by using face to face video chat and co-browsing for better live chat customer experience.
Co-browsing solution helps the customer service agents to interact and guide the customers in order to deliver better customer experience. Find out how interactive customer engagement benefits the customers:
Combining live chat with co-browsing and video chat helps resolution of the query in an interactive and meaningful manner.

It reduces the total number of touchpoints to get an accurate solution.

Live chat customer experience develops trust and loyalty with personalized chats.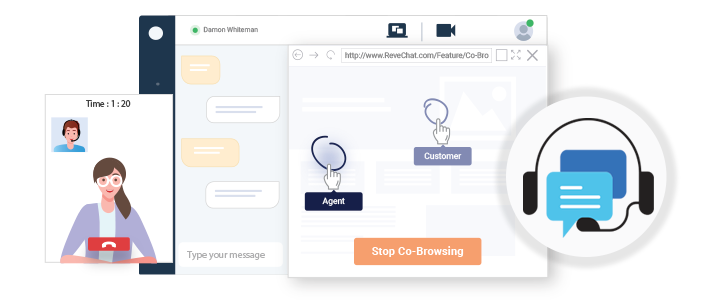 Tips:
Making the chat conversations interactive boosts customer satisfaction rates and improves customer experience.

Deliver better live chat customer satisfaction by using customer engagement tools to make your conversations meaningful.
5. Humanize your live chat customer experience
Do you remember how many times you reached out to a company's help desk number and all you got was an annoying robotized voice repeating the instructions?
Live chat is one of the best tools that can humanize your customer support. With live chat, you are free from such an annoying robotic experience and you get connected with a human agent for personalized support.
Precisely, this is one of the crucial reasons why 92% of clients feel satisfied while using live chat for customer support.
So how live chat brings a human touch to improve the conversation customer experience?
Live chat is conversational – Live chat allows agents to make conversations interactive and meaningful by using video chat 

and co-browsing solution. The face to face interaction allows quick resolution in the first contact.
Live chat has personalized touch – Live chat helps to personalize the conversation, greetings and visitors information that builds trust in customers.

How may I help you?

Can I help you in taking a closer look at the products?

Are you happy browsing or do you need some assistance?
Tips:
Live chat offers humanized support for complex queries by using live engagement tools to deliver better customer experience.

Live chat support agent does not follow automated instructions rather offers effective guidance and suggestions in a friendly way. Is not that great!
6. Live chat helps to collect instant feedback
Running a business means to please your customers, meet their requirements and keep them loyal to your brand. At the same time learning customer's opinions is equally important to deliver the best customer experience. Feedbacks helps to identify the gaps between customers and businesses.
Customer feedback plays a vital role in many business facets:
Improve the quality of products and services

Measure the live chat customer satisfaction

Enhance your customer communication strategies

Improve customer retention
Customer feedback also helps you to improve the products and services of your brand to better suit the needs of your customers.
Live chat is an important channel for customer feedback and gaining more preference because it is the best way to ask customer feedback through rating customer service. Asking customer feedback immediately after a demo or live chat session is the best practice.  
It is important to know the right time for asking feedback questions to your customers.
End of chat conversation

– At the end of every live chat session, you can ask customers to rate their chat experience.

During the product tour

– When the customer is inside your app, you can ask them to provide their opinions.

After transaction checkout

– When there is a successful checkout, ask the customer to provide his feedback.

Measuring customer satisfaction comes down to collecting customer feedback via different methods (surveys, polls). You can receive customer feedback through email or during a live chat with rating view after the session.
Tips:
Acquire customer's feedback instantly to learn about  live chat customer experience

Ask for customer experience feedback after the customer completes a transaction or task or his conversation is closed. This is the best time when the customer has used your brand and most likely to provide his honest experience feedback
7. Live chat support boosts customer satisfaction
Offering real time customer service is one of the best features of live chat that boosts customer experience. The ability to have questions answered right away or log an issue and know someone is working on it gives a great feeling to customers.
Live chat is the most preferred software because it offers real time customer service. So why live chat is your biggest support channel? There are a few factors:
Live chat has the

lowest queue time

compared to other customer service channels.

Live chat

allows multiple conversations by

making it a cost-effective support channel.

With live chat,

conversations are routed across the right departments

and agents quick resolution.

Live chat allows to

begin a proactive conversation

with customers and help them in their journey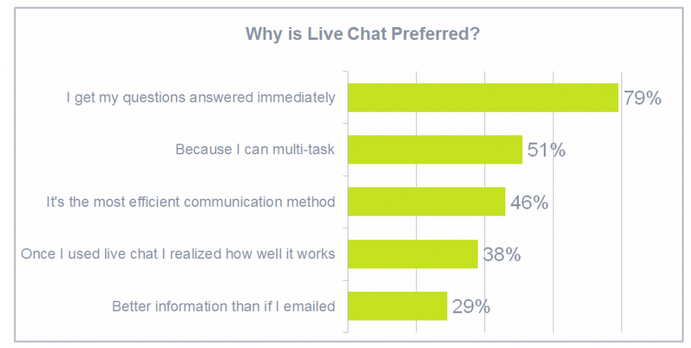 Tips:
Real time customer service with live chat enhances customer experience and lead your business to greater success.

Identifying the complexity of the query makes the resolution easier and quicker offering better customer service and improving live chat customer experience.  
8. Live chat for in-app customer retention
In-app messages boost engagement by 3x! – Localytics
Providing in-app support, right inside your web or mobile app, is a great way to drive higher user engagement and product support. If you are a SaaS product, there are high chances that your customers may look for help when they are inside your product.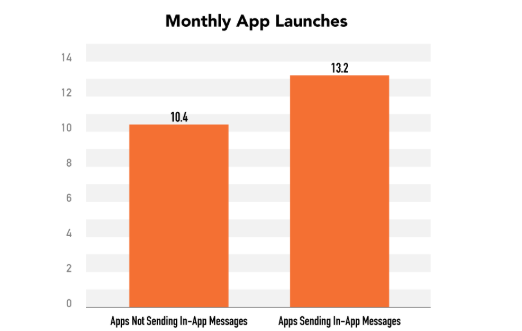 So when it comes to delivering great customer experience, quality product support is one of the key factors for a software business that drives their customer retention. There are few areas where live chat messaging is a key contributor in increasing your customer retention
Sounds a bit exaggerating? Well, as per walker report, customer experience will surpass these attributes as a key differentiator by 2020.
Tips:
Integrate live chat inside your SaaS app to provide in-app help desk support. It helps to boost your product stickiness and hence increase your retention rate

Use in-app messaging to provide users with a solid app onboarding that educates about using core features and hence increases mobile engagement
9. Live chat increases team productivity
Using live chat to your business greatly impacts your business. It allows instant connection with the customers and hassle free resolution with live engagement tools. Automating the tasks reduces the manual intervention and extra hours gained can be used to provide better customer service to improve the customer experience.
Tasks automation

– If your team spends 4 hours every day on the same tasks – by automating the tasks will save 200 hours exactly. The hours gained through automation can be utilized for improving customer experience.

Use advanced analytics

– Live chat allows tracking, viewing, monitoring the agents and team performance. Using live engagement tools makes conversations interactive and effective.
Employing such strategies helps to boost team productivity that will influence customer experience.
Tips:
Instant response to customer queries by your support team means higher satisfaction and better live chat customer experience.

With a live chat and bot, your team can take care of the complex queries and chatbot can manage routine tasks.
Final thoughts on how live chat improves customer experience for higher satisfaction

Customer experience (CX) is a critical factor in the success of your business. A business with great CX is better able to satisfy customers and assures they continue to return again in the future. Customer experience must be evaluated through the complete service delivery chain starting from initial customer contact to remote support to on-site technician service, and follow-up.
To improve CX brands must develop best-in-class processes, create new and unique ways of interacting with customers, and invest in technology to optimize these touch points. With live chat, you open gateways for customers to reach you instantly and improve live chat customer experience.