Customers want fast, efficient, and convenient engagement with businesses. 
Providing that kind of engagement is possible only when a business is aware of what communication channels customers prefer more today.  
Another equally important thing to consider is to make sure the channel perfectly aligns with the changing tastes and preferences of modern-day customers. 
This is where live chat fits the bill immaculately– it's one of the best channels to deliver on-the-go support and enhance customer communication. 
62% of customers are likely to return to a website that offers live chat benefits & 38% say they make purchases due to the chat session itself. 
More online businesses are leveraging the benefits of live chat to seamlessly connect with their customers, provide fast support and increase engagement, all that in real-time and directly on the website itself.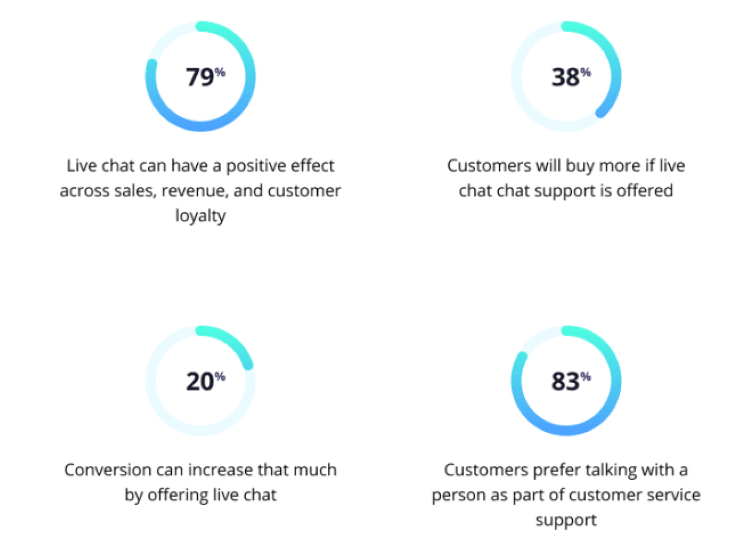 Live chat can increase customer satisfaction, prevent cart abandonment and also help reduce bounce rates.  More live chat benefits are available that your business just can't afford to miss out on in today's competitive world.
11 Practical benefits of live chat for businesses 
Live chat can empower support agents and help them offer prompt assistance to visitors and customers. The use of live chat can improve customer service communication and strengthen client relationships. A range of other significant live chant advantages can also be achieved to ensure a positive impact on the overall business growth.   
Let's look at some of the top live chat benefits that businesses can't ignore.
Let us dive into a comprehensive discussion of live chat benefits.
1. Live chat meets the preferences of new-age customers
Live chat has become the leading digital contact channel for online customers. 
A growing number of businesses today look to gain from live chat benefits because most customers prefer to chat with a support agent in real time situations, rather than email or phone support.
When your customers are able to get in touch with you in real time, you can not only meet their expectations but also gain a competitive advantage in the market. 
Using live chat, agents can be available at every touch point and deliver a better experience. Customers prefer live chat over benefits other communication channels for a variety of reasons, including:
Faster response time

– Live chat helps brands provide faster solutions by using advanced features like canned responses and tags, therefore handling multiple conversations together that reduce queue time.

Reduced number of touch points

– Agents can use live chat to understand the customer issues effectively and provide the right solution which will reduce the number of touch points.

First contact resolution (FCR)

– The use of live chat makes it possible to organize chats better by routing them to the right agent and then provide an effective solution and

improve the first contact resolution (FCR) rate

. 
2. Live chat influences customers in decision making 
Customers can make a quick sales decision when engaged at the right time and guided smoothly throughout the buying journey. 
Using live chat, your agents can trigger personalized messages based on the action which ultimately shortens the sales cycle and increases the conversion rate.
Active engagement and quick support can have a great impact on customers as 35% more people made a purchase online after using live chat.
The importance of live chat is huge as it gives companies an opportunity to enhance the level of engagement through preset answers for common queries and thus reduce response time. Chats can be routed across the right agents for quick resolution of queries to influence final sales decisions.
Live chat can impact sales conversion rate in different ways: 
Deliver a virtual in-person experience –

Brands can

use video chat and co-browsing feature

 to deliver a virtual in-person experience and can start a conversation through automated triggers and welcome greetings.    

Engage with visitors for final sales  –

Using

proactive triggers cab help companies deliver promos or offer and engage with customers for final sales. 

Turn your visitors to potential customers –

You can engage with visitors based on the website journey and use the right chat messages to develop loyalty towards your brand. 
3. Live chat delivers proactive assistance  
Implementing live chat benefits gives online businesses an opportunity to deliver real-time service and offer proactive assistance to customers. 
Customers feel delighted when there are a personalized experience and quick support. They always prefer chat assistance without delayed response to make quick decisions. 
The focus should always be on enhancing engagement so that visitors can easily connect with you. 
Live chat is a great tool to ensure prompt customer service in various ways: 
Engage your customers with visual engagement tools

such as co-browsing and video chat to identify issues faster and deliver effective support in real time.

Personalize your chat conversations

to make customers feel comfortable and improve customer experience.

Handle multiple conversations simultaneously

to deliver faster real-time solutions,  thus reducing the queue time.
4. Live chat reduces cart abandonment rate
Customers have always been choosy. It takes some doing to keep them pleased. And if the checkout process is even a wee bit out of place, you have lost one of them.   
Cart abandonment is a big challenge for brands all across the world. 
In fact, the average cart abandonment rate is a shade below 70 across industries.
Live chat advantages can help businesses avoid the situation where customers leave the cart before completing the purchase.    
A business should thus think of adding benefits of live chat to the website and ensure that all the product and service-related communication, questions, and doubts of customers are solved. 
Live chat can significantly reduce cart abandonment rate in various ways:   
Agents can

answer customer queries instantly

that often arise in the checkout process.  

Your business can start a

proactive chat session with visitors

that shown interest in the site to convert them into leads.   

Tracking tool can be connected to live chat to get important

stats about customer journey

through the website. 

Live chat gives the option to target customers based on their interests

and stage in the sales funnel.
5. Live chat provides contextual support 
Businesses can benefit from a complete toolkit available with live chat software and add value to engagement with contextual support. 
Excellent in-built tools can help agents gain the context and do total elaboration of the issue, therefore delivering personalized solutions to provide a positive customer experience.
The use of co-browsing solution enables real-time collaboration where agents can control the customer's browser and guide them in the right direction to boost sales conversions.
Similarly, video chat can be used to deliver personalized customer service based on diagnosing the exact issue faced by clients. This can ensure an effective solution and reduce the number of touch points.
Contextual customer engagement has the potential to drive CX on various levels: 
Visual tools are a great help in collaborating with the client's browser to

improve first contact resolution (FCR)

and preventing customers from returning again. 

Live engagement tools can make the resolution process faster and also help

reduce the number of touch points. 

Chats can be personalized to

boost customer trust

and develop loyalty towards your brand. 
6. Live chat lowers customer support costs 
Gone are the days when support agents could handle only one call at a time over the phone. 
The times are changed. The arrival of digital communication platforms, live chat in particular has helped businesses economize customer handling and also save precious time to agents. 
More brands now understand the importance of live chat as it can help manage and keep low the costs related to sales and support.
Live chat is cost-effective for many reasons:
Simultaneously handling of multiple chats

– Agents can handle multiple conversations simultaneously, and also use multiple options for chat distribution and utilization. 

Effective support in minimum time

– Brands can connect with customers in real-time, identifying the complexity of the problem and resolve the issue in the first contact.

Low help desk costs

– Help desk costs can be lowered by reducing the queue time and intelligently

routing chats

across the right departments.

Increase average order value (AOV)

– Delivering real-time assistance to customers can help increase average order value agents can use live chat to show exactly the products needed.
7. Engage customers 24×7 with AI chatbots
Brands are deploying chatbots to engage customers 24×7 and providing instant answers to common sales or support-related queries. 
Automating live chat conversations with AI chatbots can prove an excellent way to improve operational efficiency and reduce costs which leads to a better customer experience. 
95% of consumers believe customer service is going to be the major beneficiary of chatbots. 
Chatbot however won't be able to handle complex queries, so using them together with human-powered support can do the task easily. 
Here is HDFC Bank's EVA (Electronic Virtual Assistant) for example, an artificial intelligence-driven chatbot, for delivering 24×7 customer service.
Eva can answer millions of customer queries across multiple channels promptly. It can assimilate knowledge from thousands of sources and provide answers in simple language in less than 0.4 seconds.
Quite like Eva, your business too can take the automation route and achieve many chatbot benefits:
Round-the-clock customer engagement

– Bots can do customer engagement round the clock to answer the common support or sales queries when the team is busy or not available. 

Lesser support tickets

– The use of a bot means general queries of customers are answered in a prompt manner which can help reduce the number of help desk tickets. 

Lead qualification automation –

You can qualify good quality leads with the help of a sales questionnaire and can also immediately direct the leads to the sales team or schedule an appointment. 

Hybrid support approach

– Brands can use bots to answer frequently asked queries (FAQs) and involve human touch when issues are complex and the bot is not able to answer.
8. Live chat improves customer experience (CX) 
75% of companies identify improving customer experience as their top objective.
Live chat is a great help for businesses in quickly solving or addressing customer concerns before it becomes a pain point.  
Using the advanced features and benefits of live chat software can help ensure proactive support which leads to a frictionless website experience for customers. 
Live chat is also preferred over-reactive channels such as email or phone calls as they make it tough at times to understand paint points as brands can then only hear, not see.    
Businesses can use live chat to discover customer pain points and offer effective solutions in an easy manner. 
Instant connectivity can be created with customers to immediately determine their needs and provide products/services that best meet their interests.

Agents can leverage live chat features to understand every issue to the best of their abilities and offer timely solutions.
9. Live chat improves the efficiency of your support team
Brands can use live chat analytics to make their support team more efficient. 
Monitoring agent's performance is also possible by using the visitor data along with chat histories, agent performance reports, wait time reports. 
The use of live chat performance analytics can thus be used to evaluate the effectiveness of your live chat and know the areas you need to improve. 
With the continuous measurement of the key chat KPIs, you can improve the chat performance experience of your customers and also boost team productivity.
Companies should know the key live chat metrics to make their agents more efficient: 
Response time

– It refers to the time between the chat started by the customer and when it is responded to.

First contact resolution

– How well agents handle the chats and resolve customer problems in the first contact.

Total resolved conversations

– It refers to the total number of conversations that are resolved out of the total assigned.
10. Live chat helps to deliver a great website experience 
Live chat proves incredibly helpful when it comes to reducing website bounce rate.
Businesses can use the live chat tools to connect with visitors in real-time to answer their sales-related queries, which can increase website engagement and reduce bounce rate significantly.
When live chat is intelligently placed over the pages across the website, agents can easily help customers navigate the right thing they are looking for. 
Live chat can be used to increase website engagement in more than a few ways: 
Set up automated personalized messages

that start a proactive chat with visitors.

Guide visitors in the right direction through proactive conversations to achieve a boost in 

live chat conversion rate

.

Gain

valuable insights about visitors' journeys

and the previous touch points.

Handle multiple chats that reduce queue time.
11. Live chat builds customer loyalty
Customers often value experience more than anything else, even those who're price-sensitive most of the time. 
If your business manages to meet and exceed customer experience, then the sky is the limit. 
Brands report that the customers who have live chat experience tend to come back and buy more often.
90% of customers believe that the "Live Chat" button gives them confidence as they get real-time help.
It's quite clear that without live chat benefits, a business will struggle not only with sales but also with building trust with the website visitors.
Using live chat smartly can help your business build customer loyalty on many levels: 
Personalized chat conversations

can be used to develop a comfort zone and personal connection which can go a long way in positively impacting conversion rate and business growth.

Adding live engagement tools can

make the chats interactive and personal

with face-to-face contact.

Brands can offer one-on-one service, do real-time collaboration

and deliver prompt solutions which all can make customers advocate and become loyal to brands.
Redefine your customer experience with live chat 
Live chat applications have added a new meaning to digital communication. More brands today understand the huge importance of live chat in increasing the efficiency of their support team and providing real-time assistance to customers. 
The value of chat live is also irreplaceable in terms of boosting sales conversion, delivering real-time support, automating responses, and increasing customer experience. It's definitely the right time businesses gave a re-look at their customer service plan and decided to improve customer experience through quick, personalized, and real-time support. 
Live chat benefits are definitely worth every penny of the investment to drive conversions.