Customers reign the digital landscape to a maximum extent. And customer experience has evolved with the changing demands on customer communication. With the productive benefits of live chat, the conversations are not only productive but happen via the customer's preferred channel.
"Customers expect interactive technology to provide faster, more accurate customer information, and where possible specific, and contextual information." – cio review
How live chat wor
ks?
Adding a live chat button to the website offers is a real time support channel to acquire, engage, support, and retain support website visitors and customers for online sales and customer service. It has a very simple integration process. Once you log in successfully, you will have to copy the chat script and paste the code snippet wherever on the website it is required. That's all! You are done!
Top benefits of live chat
Live chat is intuitive. The main advantages of live chat are that it helps your support representatives to assist customers promptly and develop a better relationship. The below mentioned points describe the importance of chat elaborately.
1. Live chat is the most popular channel
Live chat is most popular as compared to other communication channels such as email, phone, or social. The major reason businesses adopting live chat is because maximum customers prefer to chat with a support agent in real time situation, rather than email or phone support.
Prompt communication between the business and customers has changed the way of interaction. With business live chat, businesses could reach customers in a few minutes as compared to the sluggish wait time for other channels – such as 12 hours average for email.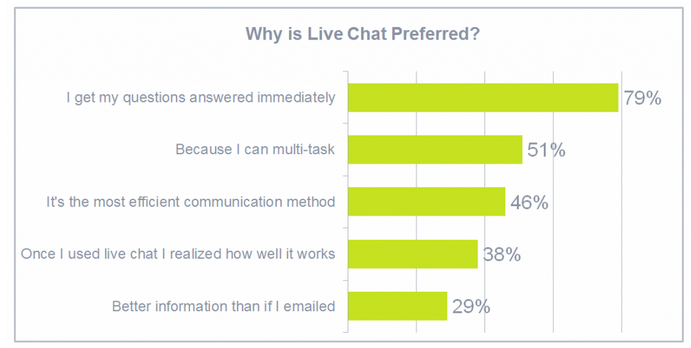 Source: Superoffice
Here are some reasons why live chat is most preferred by the customers.
Response time

–

Ifbyphone

research finds

59% of customers are more likely to buy when brands answer their queries in under a minute.
Faster resolution

– Live chat t promptly connects with customers, helps to identify the root cause of the problem and offers a faster resolution.

Less touchpoints

– Live chat addresses customer's issues promptly and effectively that reduces the number of touchpoints.

First contact resolution

– Getting the first hand information about the problem helps to deliver the right solution the first contact with interactive and personal chat.
2. Reach proactively to your customers with live chat
With live chat software, turn your website visitors into customers. GDS international group report says, companies using a proactive approach found an increase in customer retention rates by 3-5%.
Live chat helps to reach out proactively to your customers to resolve queries instantly. Real time guidance to the visitors in answering their queries instantly, encourages them in quick decision making for buying your product.
Amazon follows the best proactive approach. What Amazon did?
Predicts questions on delivery dates and times, notifying customers beforehand of any delays.

Reach out to customers through email and SMS, to inform and convey the new delivery date.

For Amazon Prime subscriber, it credits one free month of the service for such inconvenience.
You can gain detailed insights about your website visitors and learn more about their interests as well as behavior. Based on their journey trigger a personalized message at the right time to guide them effectively.  
3. Automate conversations with AI chatbots
Automating live chat conversations with Artificial Intelligence (AI) powered chatbots helps to improve operational efficiency and reduces costs delivering better customer experience.
According to Mindbrowser, 95% of consumers believe 'customer service' is going to be the major beneficiary of chatbots.
You can empower your sales and support teams with chatbots to engage the website visitors, answer queries, and qualify leads in real time. With the help of a well designed questionnaire, chatbots automatically convert your website visitors into qualified leads and route them to your sales department.
Benefits of chatbots:
24×7 customer engagement

– Bots allow brands to engage with their customers 24×7 when the support agents are not around.

Minimize support tickets

– Chatbots reduces the number of help desk tickets raised by the customers by answering general queries.

Acquire customer information

– Chatbots collects basic details about the customers that are further analyzed and processed as per requirements.

Lead qualification –

Prepare questions to convert your website visitors into potential prospects for your sales team.
HDFC Bank's EVA (Electronic Virtual Assistant) for example, an artificial intelligence-driven chatbot, for customer services.
Source: DNA
Eva is India's first AI-based banking chatbot and can answer millions of customer queries across multiple channels promptly. It is said that Eva can assimilate knowledge from thousands of sources and provide answers in simple language in less than 0.4 seconds.
4. Boost your sales conversion rate
When you reach out to your website visitors/customers at the right time and engage them with the right guidance in their entire journey they are able to decide quickly. When you trigger the right messages based on the visitor's journey reduces handling time and increases the conversion rate.
eMarketer report found out the impact of live chat has on customers and found out that 35% more people made a purchase online after using live chat.
How live chat increases sales conversion rate?
With live chat, you can not only improve the sales but also able to deliver an amazing live chat experience to your customers.
Engage your website visitors with live tools

– Live chat can be used with video chat, and co-browsing to deliver a virtual in-person experience. With automated triggers and welcome greetings to start a conversation with visitors.
Engage with visitors for final sales –

 Get in touch with your visitors in real time to fix their issues so that make a positive decision. Attract customers with promos or offers using proactive triggers and increases sales.
Turn your visitors to potential customers –

Based on your visitor's journey, engage them with the right chat messages that will make them feel comfortable and they develop loyalty towards your brand.
Some other advantages of live chat support
Preset answers for common queries asked by customers help in better customer engagement, reduces response time and improve sales conversion.

With intelligent routing, new chat requests to the right agents help in quick resolution of customer queries

By distributing the chats across the right departments helps to deliver an instant response to customers.
5. Live chat delivers real time customer service
Live chat is a popular tool that is adapted for the main benefit it offers, i.e. real time assistance to customers and makes their buying journey a great experience. The benefit of live chat is that it increases customer engagement when your visitors can easily connect with you.
With live chat software, you can
Engage your visitors and customers with live engagement tools such as  co-browsing and video chat

Quick and effective solution in real time increases customer satisfaction and improves the chances of sales conversion.

Personalize your chat conversations to make the customer feel comfortable and improve customer experience.
Being available for chat assistance without delaying or queuing the incoming chat requests helps to resolve the customer queries instantly and take quick decisions. Also being able to deliver live assistance improves customer satisfaction and is all part of live chat etiquette tips.
5. Wow your customers with live engagement tools
Live chat software helps to communicate instantly without letting the customer wait for a long time. The chat conversations can be made interactive by using face to face video chat and co-browsing for better in person experience.
Co-browsing solution helps the customer service agents to interact and guide the customers in order to deliver a better customer experience. Find out how interactive customer engagement benefits the customers:
Combining live chat with co-browsing and video chat helps resolution of the query in an interactive and effective way.

It reduces the total number of touchpoints to get an accurate solution for the reported problem.

The importance of chat is that it helps to develop trust and loyalty with personalized chats.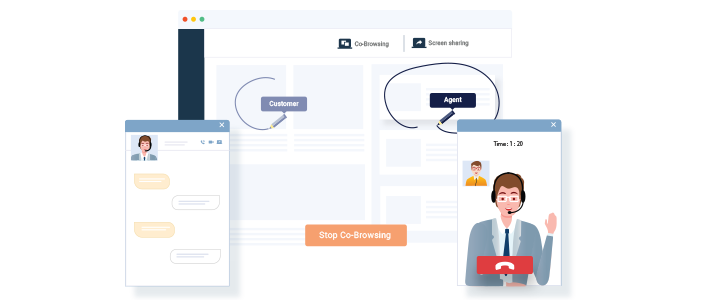 With live engagement tools, chat conversations become interactive and boost customer satisfaction rates as well as customer experience.
6. Reduce customer support costs with live chat
The traditional ways of handling customers chats over phone calls or emails restricted the support agents to handle one call at a time. The benefit of live chat is that it overcomes the restriction and reduce support costs.
Live chat is cost effective because of the below listed reasons:
Live chat handles multiple chats

– Live chat improves the efficiency by allowing agents to handle multiple conversations simultaneously. It also allows multiple options for chat distribution and utilization.

Effective support in minimum time

– With live chat, agents can connect with customers in real time. Identifying the complexity of the problem helps to resolve it in the first contact.

Reduce help desk costs

– By lowering the queue time and intelligent routing of chats across the right departments the help desk costs are reduced.
7. Learn customer pain points
Pain point refers to a customer's problem that has not been solved and still pending to be addressed. With the reactive approach channels, such as email or phone calls, it is at times difficult to figure out the pain points because you can only hear them.
With live chat, the support representatives have access to the pre-chat histories that can be used to search, sort and filter to identify the customer pain points. Learning the customer's problems allows you to effective ways to offer solutions to the customers.
This is one of the greatest benefits of live chat.
8. Live chat is cost effective
When compared live chat vs phone support, live chat is the maximum heard answer, one major benefit is it is an economical software. The importance of chat is that it controls the business operations costs related to sales and support.
Live chat boosts your brand image and effectively streamline the support and sales activities. 63% of customers reported that they are more likely to return to a site that offers live chat is cost effective.
The reasons that make live chat effecient are:
Live chat agents can handle multiple chats simultaneously. This increases efficiency and no need for hiring more agents.

As the customers are delivered real time assistance average order value increases. The agent satisfies the customer by delivering the exact product or service he was looking for.

Minimizes the help desk costs by lowering the waiting queue time with faster resolution.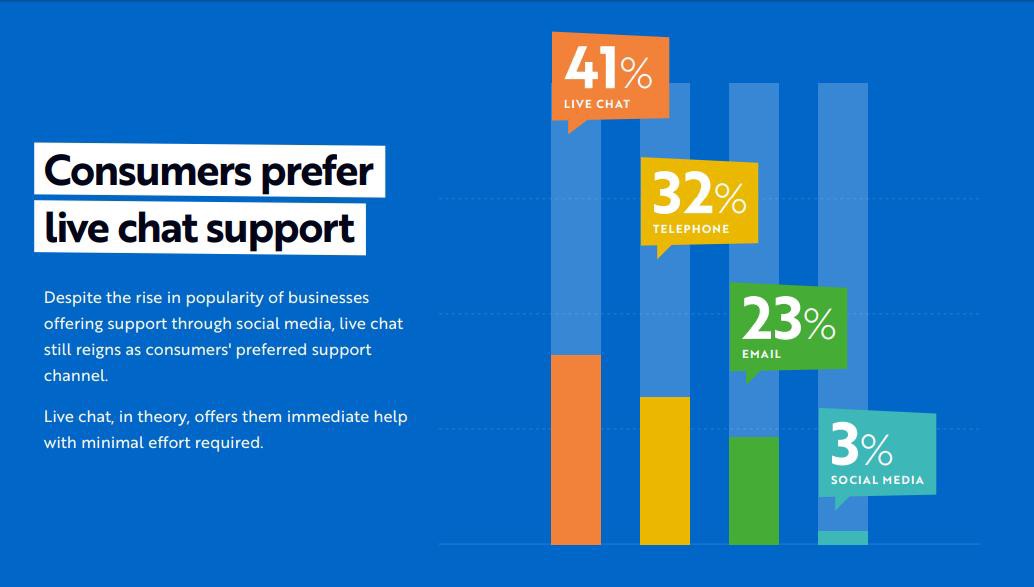 Source: betterthansure.com
Handling a customer query is expensive than to resolve it on the first point of contact. You can route the chats to your most qualified agent saves customers from repeatedly explaining their query to different agents and improves your First Call Resolution (FCR) rate.
9. Connect live chat with your business tools
Every business uses different tools to automate and streamline tasks to improve the operational efficiency of a business. Connecting live chat with other tools allows to boost business productivity and save time. It also helps you to spend more time more on customers and less on administrative tasks.
So what are the business tools you can integrate live chat with?
Some of the tools that live chat can seamlessly integrate with are as follows:
CRM tools –  CRM tools allow you to gather and store information from the website chat conversations with visitors. For e.g.Hubspot, Salesforce, Infusionsoft

E-commerce platforms – E-commerce tools help you to identify potential buyers and engage them effectively for final purchases. For e.g. Shopify, Magento, Opencart

CMS platforms – With integration with CMS platforms, you can create and manage content on your website including design, content, code. – For e.g. WordPress, Joomla, Drupal
10. Improve efficiency of your team
Live chat analytics give you valuable insight into your agents as well. You can use the visitor data along with chat histories, agent performance reports, wait time reports to monitor your agent's performance.
Live chat helps to meet the KPIs for customer service success. They are as follows:
Response time

– Refers to the time between the chat started by the customer and when it is responded to.

First contact resolution

– How well agents handle the chats and resolve customer problems in the first contact.

Total resolved conversations

– It refers to the total number of conversations that are resolved out of total assigned.
11. Provide a better website experience to visitors
One of the advantages of live chat is that it reduces the bounce rate. With live chat tool, you can connect with your visitors in real time to answer their sales related queries and significantly reduce website bounce rate.
You should intelligently place live chat over the pages across your website so that your agents can head on your customers navigate the right thing they are looking for.
To do so, you can employ the following techniques:
Provide a better website experience i.e. your customer should find your website easy to use as well as pleasing.

Try to embed videos on your website to engage your visitors and customers.

Use high quality images and content that grabs the attention of your website visitors.

Ensure that your website immediately describes your main products and there should be a prominently visible call to action. Do not mislead your customers as it creates a bad user experience and the main reason for the bounce rate.
Focus on accomplishing these tasks and the bounce rate of your website will surely decline.
12. Gain better insights with visitor analytics
The traditional support channels such as phone an email provide you limited information to take account of your team performance. To review the efficiency of the team becomes difficult as recording the calls and listening to them requires abundant time.
You have the ability to view all sorts of custom reports as well as the chat histories of all your agents is one big advantage of live chat support. The data shows how many visitors are landing on your website, the total number of chat requests are accepted or ignored.
13. Develop customer trust and loyalty
When your customers are satisfied with your service, they generally are no more price-sensitive but value the way they are treated. The customers who have live chat experience with your brand tend to come back and buy more often.
Oracle study found that 90% of customers said the "Live Chat" button gives them confidence as they get real time help. Without live chat, you have to struggle around hard to build trust with your website visitors.
Undoubtedly, customer trust and loyalty goes a long way. With personalized chat conversations, develop a comfort zone and personal connection in between that positively impacts conversion rate and business growth.
By adding live engagement tools chats can be interactive and personal with face to face contact. The tools help you to collaborate with your customers in real time and deliver prompt solutions. Further, the customers advocate and become loyal to brands who offer one-on-one service through personal conversations. 
Final thoughts on benefits of live chat:
If you are offering all the benefits of live chat, your customers can reach out to you to ask their questions with relative ease and gain a better live chat experience. No doubt that live chat is worth the investment. The above listed advantages of live chat support can benefit your business and customers as well.