Customer experience (CX) has become more important than ever as consumers choose businesses that focus on offering exceptional experiences. It is incredibly valuable for businesses to retain in the long run. Live chat is an integral part of a good customer experience as it allows you to connect with customers in real time, directly on your website or mobile. 
Compared to other communication channels, live chat support generates higher customer satisfaction levels, and 79% of customers prefer online chat support because of the immediacy it provides. 
Hence, businesses using live chat for customer service are able to understand customer needs and align their services to meet their expectations. Real time interaction with the customers not only cultivates brand loyalty but also increases customer lifetime value (CLTV).
What is live chat support? 
Live chat support delivers real time customer service via messaging conversations with their visitors on the website or in-app. Online chat empowers businesses to handle customer queries efficiently and forge happier customer relationships.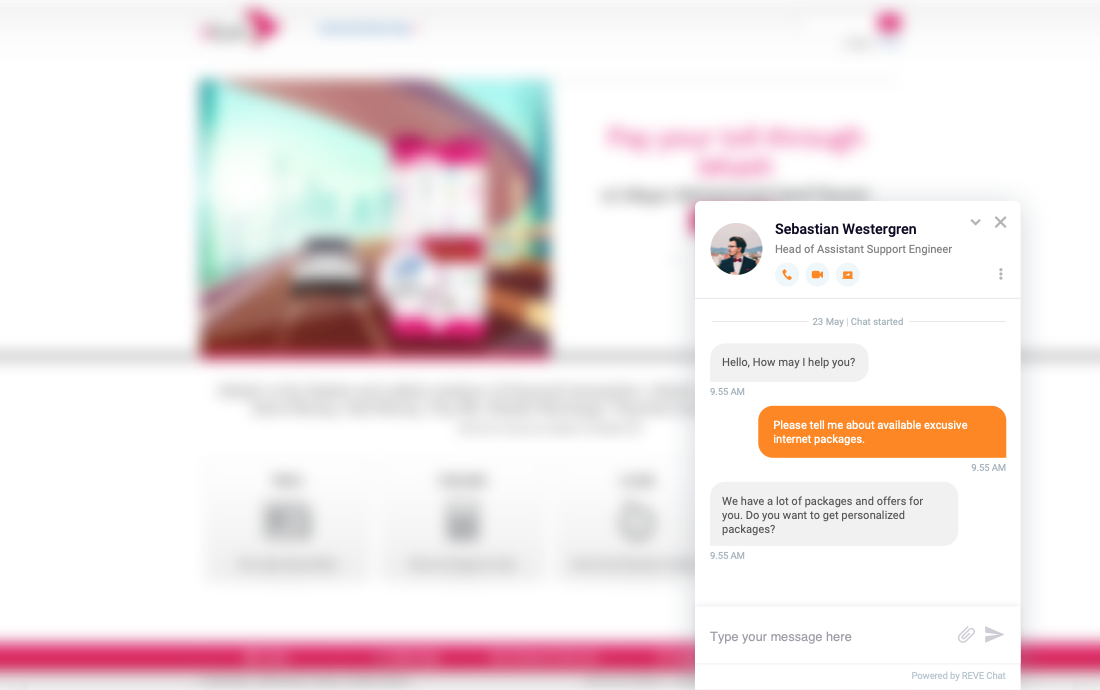 By choosing the best live chat tool, you understand customer pain points and address them effectively. Unlike other customer service channels such as email or phone support, a website chat is a proactive way of supporting customers avoiding back & forth conversations.
How does live chat work?
Live chat conversations happen when your visitors click on the widget that appears on the lower corner of your website. They do not have to install or sign up to start a conversation with you. The visitors can ask their queries related to the products, services, subscriptions, etc. 
The chat window is different for the agent and the visitor. The agents have access to more live chat features such as using canned responses, track visitor activity, ban suspicious visitors, etc. The more you engage with your visitors, there will be more opportunities to gain leads. . Further, you can convert leads and nurture the existing customers.
Key benefits of live chat support 
Live chat is a must-have tool for your business as it allows you to enhance customer service communication quality. It enables businesses to fulfill the core customer care objective – meet consumer expectations i.e. faster response and live assistance.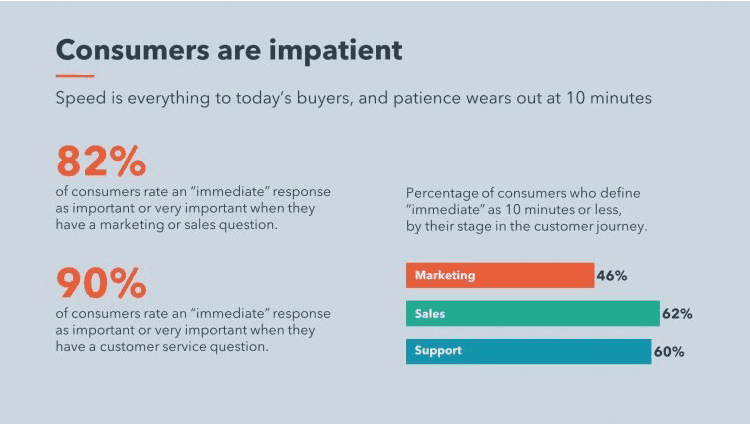 Having live chat on the website helps businesses to communicate with customers easily and increases brand value. Here are the key benefits of implementing website chat support:
Improve resolution time
Resolution time is an important metric that measures the accuracy of customer service. Live chat assures faster response to customer queries by using canned replies and routing calls to the right team. This reduces queue time and improves the resolution time.
Reduce support tickets
With a live chat support tool, the support queries are addressed in real time. The chats are distributed among the right departments to manage effectively thus, reducing the number of support requests significantly.
Higher team productivity
An increased number of support tickets impact team productivity. Online chat support empowers the support team to handle multiple conversations at the same time and meet the key productivity KPIs such as the number of chats, first response time, chat duration. 
Improve customer retention
Offering web chat support can be one of the best

customer retention strategies

and reduce the impact of the factors that adversely affect the customer experience. You can provide instant solutions and engage customers proactively before their doubt becomes an issue.

8 Proven reasons to implement live chat support
8 Proven reasons to implement live chat support 
When it comes to customer support, live chat is the most preferred channel both by businesses as well as customers. Online chat is not limited to SaaS support but broadly used to deliver a better experience, boost satisfaction, and increase customer retention across other B2B & B2C industries. 
Let us comprehensively discuss the practical applications of live chat support.
1. Live chat support improves customer satisfaction
59% of customers are more likely to buy when brands answer their queries in under a minute. Customers choose businesses that assure less queue time and offer prompt support to doubts.
A satisfactory interaction with your brand undoubtedly creates a great impression and excellent experience that encourages customers to retain your business. Live chat support offers immediate support, right at the moment when the customer is looking for it.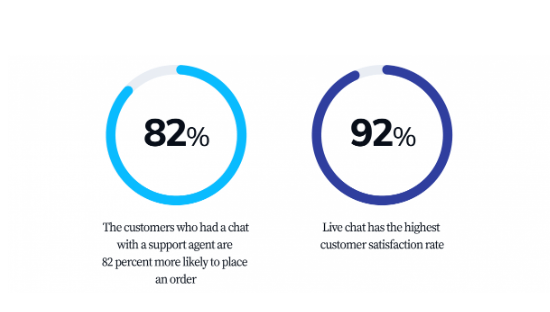 Here is how live chat support boosts customer satisfaction. 
Improve resolution time

by using canned responses to deliver faster responses

Deliver

first contact resolution

by routing chats to the right team to ensure effective solutions. 

Collect customer feedback

with a

live chat survey

to evaluate their satisfaction level.
2. Online chat support delivers a better customer experience
Long response time is the number one customer frustration that customers have when they interact with any company.
Live chat is the best proactive channel that can humanize your customer support. It helps your businesses to combat the frustration by providing immediate answers to the support queries. It offers a complete customer service toolkit that includes visual engagement tools like co-browsing and video chat that delivers real time personalized support experience.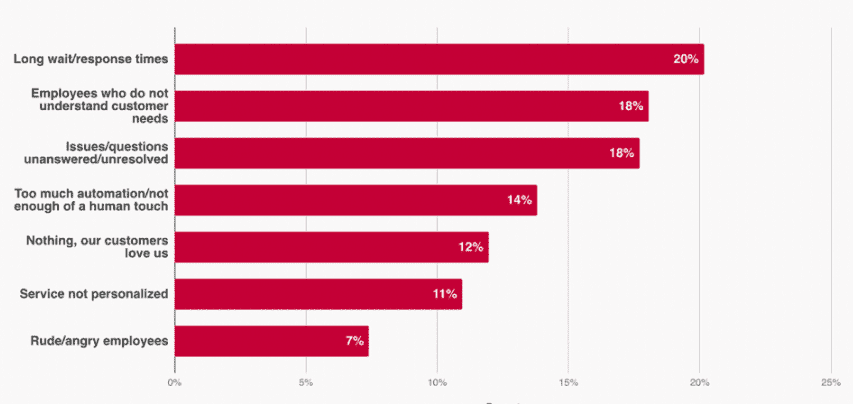 How website chat support enhances customer experience?
It offers the

lowest queue time

compared to other reactive customer service channels such as email support. 

Live chat empowers your team to have

proactive conversations

with customers and help them in their journey.

With the chat tool, you can personalize conversations

, greetings, and visitors' information that builds trust in customers.
3.  Live chat delivers contextual customer support
Live chat offers the best solution assuring instant communication without letting the customers wait for a longer time. Precisely, this is one of the crucial reasons why 92% of clients feel satisfied while using live chat for customer engagement. 
The online chat support conversations can also be made interactive by using visual engagement tools such as video chat and co-browsing to deliver a better conversational experience.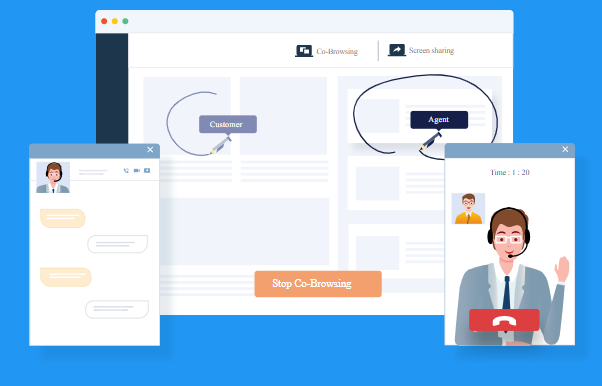 Here are the key benefits of conversational customer support: 
Combine live chat with co-browsing to collaborate with the customers in real time and guide them to resolve complex issues. 

Automate your customer support with AI 

chatbot

to engage customers 24×7 and deliver real time responses to FAQs.

You can develop trust and loyalty with personalized conversations with customers by using

video chat

support.
4. Website chat support reduces the number of touchpoints
It is really frustrating for customers when they have to reach out to the call center to resolve the same issue multiple times. Each time they contact, they have to describe everything from the beginning, which is time-consuming as well.  
72% of customers expect an agent to know their details including support history and product information without asking. 
Using live chat for customer service, allows empowers call center agents to gain first-hand information on the issue and get to the right solution faster. The process helps to assist customers with personalized chat that does not include repetitive questions. 
Here are the ways online chat support can help businesses in reducing touchpoints.
You can use

customer engagement tools

to diagnose the exact issue and deliver the appropriate solution in the first contact itself.

Live chat allows contact center agents to leave visitor notes

related to specific customer support conversations to collect details and assist accordingly.
5. Live chat support is highly accessible 24×7 
Imagine, you land a website and become curious to learn more about any particular feature or service. But you struggle to find a support option. 
What would you do at that moment? 
Obviously, you might leave the site no matter how good it might be.
Now, think if you would have found the live chat support option, everything was sorted.  
Having the live chat button placed at the right place of the website or mobile app is very important for customers who do not have to hunt for it. Quick accessibility of the chat button reduces both effort and annoyance.
Furthermore, a good website experience encourages customers to return while increasing customer loyalty.
6. Live chat customer service is proactive 
Unlike reactive customer support channels like email that requires back and forth conversations, live chat support software is highly proactive and real time.
Suppose visitors spend a certain amount of time or get stuck on a specific page like pricing, or features, you can trigger a personalized message so that customers are comfortable to ask the query without any hesitation. 
Offering assistance proactively before the visitors ask for it, helps you to identify the issue and connect to the right team or agent in real time so that they can complete their journey happily.
7. Online chat support gives your brand a competitive edge
Credibility is important in building a successful online business. Whether you are a startup, small business, or an enterprise, how customers perceive your company plays a critical role in your success.

How can live chat support help to build strong brand credibility?
Online chat helps your business to focus on the needs of your customers and the experience they are having with your business at almost every major touchpoint in the buying funnel on your website. 
Live chat is the best support channel for enchanting a customer by delivering as much value to their experience with your business and its offerings. 
Customers who use your live chat platform are three times more likely to buy since the method provides direct and personal interaction with customers. 
The effectiveness of live chat as a platform is incentive enough to begin winning over the customers of your competitors by consistently improving upon their experience with your business.
8. Website chat support builds strong customer relationships
89% of consumers have stopped doing business with a brand after a poor customer support experience. It shows for the sustainability of your business, building long-term relationships with customers is absolutely critical. Happy and satisfied customers are less likely to switch to other brands.
Live chat is an excellent way to build long-term customer relationships. When you are able to convince customers that you are actively listening to them, the bond strengthens and loyalty develops. When you provide superior live chat customer service, it improves customers' lifetime value (CLTV).
Here is a case study that explains the importance of online chat: Better Business Bureau (BBB) Boston used live chat for customer service 
Better Business Bureau deals with a lot of inquiries to create a better marketplace. BBB needed a real time solution for handling queries and customer complaints. They used the website chat support to improve their customer service communication.
The results of implementing live chat support were that on average 1200 chats were successfully handled via web chat.
Best practices for handling live chat support 
When businesses put effort into understanding what customers are looking for, following the live chat best practices makes it easier to align your services with their expectations. It will also help your business in raising the communication standards across all customer touchpoints. 
Tips to deliver better contextual customer support:
Prepare

canned responses to improve the resolution

by delivering faster and accurate answers.

Collecting feedback after each conversation

helps to understand the satisfaction level of customers interacting with the agent and business as a whole.

Setup routing rules

to make sure all conversations are routed to the right team to improve response time.

Effective

communication skills

is a

live chat etiquette

that allows customers to explain their problems and having a positive tone make customers feel valued.
As live chat support requires instant answering,

adequate product knowledge,

and training of the agent is very important.
Humanize your customer service with website chat support  
Having live chat support is one of the top reasons why consumers are likely to return to your website. For the same reason businesses of all sizes are investing in website chat support tools. Beyond enhancing customer experience (CX), live chat support has the ability to increase team productivity by meeting the core KPIs.
Live chat for customer service can delight customers by providing timely responses which will motivate them to retain with your business. Online chat support is not only best for delivering superior customer support but in a broader sense to meet your customer experience goal.