Consumers will pay a 16% price premium for a great customer experience (CX). If you delight your customers, they'll reward you.
Every organization needs to take CX seriously because it will help improve their sales and support but because that's what your customers seriously expect & demand.
Customer experience is as important as ever. It's no secret that exceptional CX is critical to a brand's success today and long term. So, as a customer-centric business, building a perfect customer experience is mandatory. 
Now, the question is how will you start on that? What are the customer experience questions you need to know to help you build a perfect CX?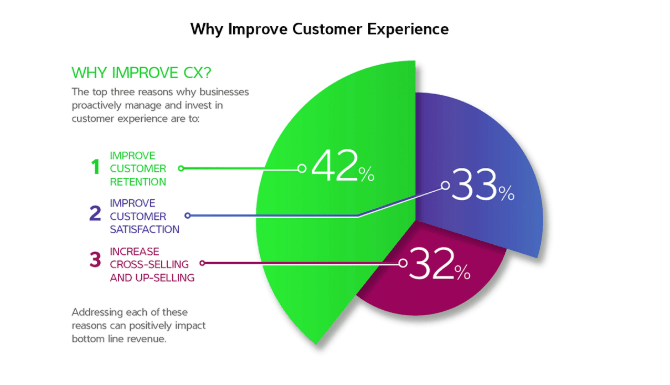 Customer experience involves knowing exactly what your customers are looking for and then putting effort into providing it.
For any business achieving a great customer experience can be a challenging task. 
However, it is essential to understand some vital CX questions across the customer journey to improve your customer experience.
10 Common customer experience questions to build a great customer experience 
The fact is if you aren't providing at every step in the customer journey what they want, they will leave you for competitors who can provide what they are looking for.  And many businesses are already ahead of the curve when it comes to knowing how to deliver a superior customer experience.
We have compiled a list of what we think are the most important customer experience questionnaires and come up with the relevant answers. 
We hope these answers provide the real essence to understand the importance of CX. 
Q.1. What are the pain points or issues in our current customer journey?
Usually, customers face a specific problem during the interactions across different touchpoints. 
Knowing how they perceive your brand and how to remove customer pain points, can go a long way towards implementing a solid customer experience strategy.
Businesses of all sizes and industries need to put efforts to identify the customer pain points to acquire and retain them by delivering a frictionless experience. 
The first step for businesses is to understand "what customers want" should be part of your customer service strategy.  By identifying pain points, businesses can craft an appropriate value proposition that attracts the customer to resolve their problems. 
Best practices to figure out customer pain points
Conduct intensive market research – Organizing a qualitative market study includes mapping customer journeys & customer perceived value, creating customer personas, and evaluating data regarding their pain points.
Listen to your customers carefully

– Actively listening to customers is the best way to identify their problems. Solving by knowing it first through the customer's perspective is the best way to handle it. 

Add live chat to understand pain points

– 

Live chat

is a great way to know customer demands and the issues they are facing and offer timely solutions. 

Frequent interactions with sales & support teams

– Regular conversations with your customer-facing teams (sales, customer, or marketing) helps to gain valuable insights into your customer perception.
Q.2. How will you measure your customer experience or feedback? 
A positive experience isn't just good for your customers. It's good for your revenue acceleration. 86% of consumers are now willing to pay more for a good customer experience. 
To truly understand your customers' experience, you need to have different types of channels to capture feedback at the right time. Only then can you gain the insights to make meaningful changes in your products, services, and support that improve the customer experience.
Here are some ways to measure customer feedback
Ask feedback at the right time

  – Approaching customers at the right time is crucial to gather more meaningful feedback. Ask for feedback at the end of the chat, after a checkout, support ticket resolution, or a product demo.

Use NPS surveys to measure loyalty

– Net Promoter Score (NPS) is a way to gauge how loyal your customers are by asking them to rate your product or service. Customers who answer

9/10 on NPS surveys have an average lifetime value that's 3-8x higher

than those who mark you lower. It splits your customers into three categories – detractors, passives, and promoters.

Use interviews for in-depth feedback

– You can segment customers to talk and listen to what they have to say. Then take action based on what you have learned. Interviews provide open-ended feedback that is more valuable than the scorecards.

Serve feedback forms

– A short form on your website can work wonders when it comes to encouraging customers to provide feedback.
Q.3. How do we deliver a true omnichannel experience to our customers?
Customers who used more channels were more valuable. They spent an average of 4% more in physical stores and 10% more than online single-channel customers.
An omnichannel customer experience strategy gives you a 360-degree view of your customer's journey. It streamlines all the interactions under one platform and provides insights into the right actions for improving your business.
Omnichannel CX strategy empowers customers to connect with the brand through their preferred channels (both online & offline). It is perfect for both digital and non-digital customers. When a business plans to deliver a consistent response, they also choose your business for a lifetime.
To design an omnichannel experience, companies should follow a sequential process composed of four essential components:
Setting the design principles based on an overarching omnichannel strategy.

Designing service journeys, ensuring that the end-to-end digital and live-contact journeys address identified customer needs and preferences and have clearly defined digital migration points.

Identifying foundational enablers to support the journeys, featuring multi-skilled agents and best-practice contact-center operations to engage with customers live.

Defining the IT architecture with next-generation enabling technology to support a seamless omnichannel experience.
Q.4. How to utilize the customer engagement tools to deliver perfect CX?
Companies have experienced 9.5X customer retention rates after the adoption of visual channels to differentiate their customer service from competitors that lacked these channels.
The live engagement tools have great power to identify the issues faced by your target audience in their journey. 
Getting the context and comprehensive elaboration of the issue helps to deliver personalized solutions that provide a positive customer experience and build customer loyalty.
The key reasons why businesses are investing in visual engagement tools  are:
Improve first contact resolution (FCR)

– The

co-browsing

tool helps agents to deliver real time assistance by collaborating with their browser & guide them in accomplishing particular tasks.

Reduce the number of touchpoints

– Learn the root cause of the issue faster with

video chat

and provide an effective solution through personalized conversations. When the customer issues are identified in the first contact, the resolution is faster and the number of touchpoints is reduced.

Shortened sales process

–  Visual tools allow agents to collaborate with customers in real time and assist them in filling up complex forms for faster check out. Also, the product demos can be made more convincing for the customer. 

Boost customer lifetime value (CLTV)

– Relying on visual engagement tools has the capability to drive more meaningful customer engagement, and a fully engaged customer is likely to spend over

20%

more on average throughout the lifetime of their brand relationship.
Q.5. How much role automation plays in CX?
It is one of the important customer experience questions as automation plays a vital role in improving CX. 
$8 billion will be saved by 2023 from businesses using chatbots.
CX automation uses technology and systems to improve aspects of customer service that include faster response time, improved efficiency, or incorporation of value-added features. It can be implemented during any stage of the customer journey to increase engagement, boost retention and improve the overall CX.
Here is how chatbots can improve customer experience.
Impactful business insights

– By collecting data from chatbot conversations, businesses can get valuable insights into user experience (UX) and be notified early regarding any issues and roadblocks that customers are facing.

Reduce wait time

– Chatbots engage customers promptly to the common queries and reduce customers' wait time. 

24×7 availability

– Bots are available round the clock to address customer support or sales-related FAQs.

Personalized customer engagement

– Chatbots gather customer data from their interactions. With that data, real support reps can use the information to personalize their interactions with customers. 
Globe Telecom is one of the largest telecommunications providers in the Philippines. They needed help with a busy call center and wanted to interact with their large customer base in a personal way. 
They deployed a hybrid bot – with Facebook Messenger and in 3 months witnessed 50% fewer calls to the hotline, employee productivity increased 3.5X, and 22% higher rate of customer satisfaction than the call center 
Q.6. How can we personalize customer interactions better across the entire journey?
The challenge for brands is not only to satisfy their loyal customers and those who are used to buying online but also to build lasting, customer-centric relationships.
Brands must be able to provide seamless purchasing journeys personalized to the needs of their entire customer base. Achieving this means overcoming multiple challenges:
Successfully matching visitor data to provide a coherent omnichannel experience.

Offering experiences adapted to the visitor's maturity in the stages of customer journey and personal preferences.

Retaining visitors to create long-term relationships that drive brand loyalty and lifetime value.
With personalization, actions can be taken at every stage of the customer journey, enabling brands to provide a consistent customer experience strategy that boosts conversions throughout the customer journey, increase visitor engagement, and reduce customer churn.
You can personalize every stage of the customer journey, including:
The first visit to the website

– Encouraging potential customers to convert to your brand

After a website visit with no sale

– Remind them of the contents of their cart and encourage them to come back and check out the purchase.

After a purchase online or in-store

– Ask for a review or highlighting complimentary products they can buy, driving cross-sell opportunities, and creating promoters for your brand.

Returning to the website

– Encouraging the visitor to convert again and to increase their cart value
Q.7. What are the key metrics and KPIs to improve CX?
Measuring the customer experience (CX) is important, but it's only useful if the information can help you make a difference for your customers.  Understanding this CX question will help you to keep improving your products and services.
The ultimate goal is to take what you learn and make a positive impact on your business by doing better for your customer, providing your company with a competitive advantage.
A consolidated view of customer experience metrics across the organization to achieve consistency and CX improvements. 
CX metrics showcase the progress of customer experience initiatives and pinpoint areas for improvement. They help you in understanding how loyal or satisfied your customers are.
The key CX metrics and KPIs are as follows:
Net Promoter Score (NPS)

– NPS is short and simple for the customers to answer and it is very easy to track for companies. NPS consists of only two questions and it gives that one customer experience-related number your leadership needs for target setting and bonuses. 

Customer Satisfaction Scores (CSAT)

– CSAT is a very good tool if you want to measure if a customer is satisfied with one-time interaction on a scale of 1 to 5. CSAT, together with NPS, is one of the most used CX metrics. 

Customer Effort Score (CES)

– CES is a transactional metric and it typically assesses the simplicity of a single solution. CES typically answers "how easy was it to solve your problem today?" and has a 5- or 7-point scale system.
Q.8. How can we better understand the impact of emotion on customer experience?
"Emotionally savvy brands combine CX discipline with empathy to make customers smile".
Apart from consistent experience at every touchpoint, customers demand reliable and outstanding customer service. If you break an emotional bond with a customer, they will usually start thinking rationally. Most customers will remain loyal if the brand offers an honest response.
Hence it is vital that brands should focus on understanding the role of emotional customer experience and find ways to humanize their interactions at every customer touchpoint.
While there are several aspects to understanding the impact of emotion on customer experience, organizations better understand and focus on their performance in two key areas to drive customer engagement and loyalty:
Understand your attributes of emotional connection

– Emotional attributes include feelings like trust, loyalty and trigger strong reactions. Quantifying these attributes and the feelings associated with your brand gives you an emotional inventory that can help to strengthen customer relationships.

Identify customer expectations of these attributes

– By measuring the expectations of these attributes across the experience, you will be able to highlight exactly where to focus to improve. Expectations change and have different weights at different times, and for different interactions. 
For example, trust is more important at one touchpoint or journey stage. No matter where expectations aren't met, knowing what they give you the tools to prioritize improvements to drive stronger connections by delivering better experiences.
Q.9. How can you make sure that employees are involved in delivering a great customer experience? 
If your customer engagement strategy is focused on creating a great CX, then you have to realize that every employee plays a vital role there. It is one of the important customer experience questions to be considered.
An outstanding customer experience is one that keeps customers coming back. One of the ways to make sure your customers are completely satisfied is to give your employees the resources and authority to deliver on the promise of excellent service.
The reason why Zalando was so great at CX was that every last employee was in on it, and they all were empowered to act in the way that they thought would make the customer the happiest.
Employees need to be trained on giving a great customer experience as it doesn't come naturally. They need to be trained on how to provide quick solutions for customers' issues as customer service tips.
Best practices to create a great CX
Outline your objectives

– Design your customer's experience with those in mind to make your company stand out from the rest.

Be empathetic

– Having empathy for your customers is knowing their needs or problems and personalizing the experience for them.

Use a positive tone

– When you interact with customers, use positive words so that they feel associated and comfortable with your brand.

Be consistent

– Make sure you deliver consistent responses across all the preferred channels by customers. 

Implement customer feedback

– The feedback you do receive from your customers is vital to your success. Always look at ways to develop a better way to improve their experience. Don't just settle on what you've always done.

Appreciate your customers

– Show your appreciation for their patronage. Sometimes, this is as simple as holding the door for them when they leave. Always say "Thank You."

Leverage the right technology

– Implement customer engagement tools like live chat, chatbots, and live tools to deliver superior CX.
Q.10. How do the experiences vary across different types of customers?
Businesses should consider this customer experience questionnaire seriously. Categorizing of customer base varies across companies – be it segments, personas, or some other grouping.
Segmenting customers and creating user personas for your most valuable customer types is one of the best ways to consider how different experiences can cater to different customer types. You could also segregate customers based on their journey, such as:
New customers 

Returning customers. 
But the question is is there a unique subset of your customers whose experience can be improved?
In the case of new customers, what are their first impressions of your business? Is there a source of confusion about your processes? Do customers find it hard to orient themselves on your site or in your store?
Protip – Analyze from the customer's perspective and figure out their different needs by the group to create more targeted customer experiences.
CX will be as important as ever
Customer marketing is becoming increasingly important for companies. The ROI of retaining your customers and expanding their lifetime value is much better than in acquiring new customers. Hence, customer experience questions are the best way to start with.
However, there are some key implications to understand for building great CX.
Your customers have demands

– Technologies and improvements that increase speed, convenience, and knowledge – core demands of consumers – are openings for companies to improve how people interact with, embrace and spend with their brand.

Customers generate revenue

– Employees drive the experience. Reduce friction for consumers and empower employees to drive customer satisfaction. It requires new ways of working and focuses on employee experience.

Technology can't solve experience problems

– It's only an enabler so, realign your priorities. Great employee experience leads to stronger, smarter, more innovative ideas. These will drive future business and superb customer experience.