Do you know that the cost of poor customer communication to businesses is estimated in the billions? A recent estimate claims that the cost in the U.S. alone is close to $4 billion annually.
Fostering effective customer communication management software to overcome such financial challenges and is much more than just important. 
It tremendously helps in improving the way to communicate with customers, promote your brand to future customers, build a strong relationship with existing customers, and address customer concerns.
Deploying customer communication software acts as a secret sauce to effective customer service communication.
Before we discuss the benefits of having the best customer communication software, let us know what exactly CCM is and how it is important to a business.
What is Customer Communication Management (CCM)? 
Customer communication management (CCM) is defined as delivering consistent brand messaging and support across all channels by understanding customer pain points. It also focuses on strengthening customer relationships.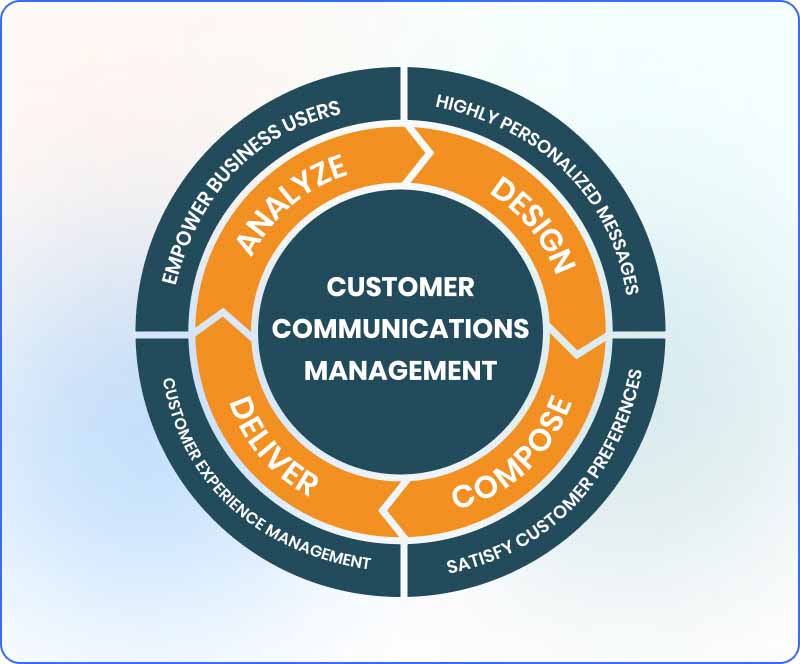 Having a strong communication strategy in place helps businesses to acquire and retain customers. Both B2B and B2C businesses strive for CCM solutions to design and deliver critical business communications that are highly personalized as well as interactive.
What is Customer Communication Management Software?
Customer Communication Management Software refers to an application that helps to strengthen a business communication strategy in terms of improving the creation and delivery of interactive communications. It supports the production of individualized customer messages, marketing collateral, new product introductions, and transaction documents. 
The CCM software is a collection of computer programs that composes, personalizes, formats, and delivers content acquired from various sources into targeted and relevant electronic and physical communications between an enterprise and its customers, prospective customers, and business partners.
The main object of customer communication software is to deliver targeted communications through a wide range of media including mobile, email, SMS, Web pages, social media sites, and print. 
Why is Effective Customer Communication Management Vital?
Effective customer communication is highly critical for improving the bottom line of every business. Whether it is internal or external communication management, you should be able to communicate flawlessly to make it effective.
If you communicate well with customers and focus on consumer messaging, your odds of success in business greatly increase by the following ways:
Faster customer support:

Effective customer communication helps to learn the pain points accurately and enables you to deliver faster support.

Reduce the number of touchpoints:

Acquiring a better knowledge of the customer issues helps in delivering faster solutions in the first go, which reduces the number of touchpoints.

Boost sales conversions:

Assisting customers with the right answers in real-time helps to close the sales faster and increase sales conversions.

Increase customer loyalty:

Having personalized conversations with customers with the help of visual engagement tools build trust and

increase customer loyalty

.
Top 8 Benefits of Using REVE Chat Customer Communication Management Software
Usually the customer communication methods vary from one business to another. It is really important to know the right way to connect with customers so that you can understand and address their pain points effectively.
Here is a summary of eight ways how REVE Chat, the best customer communication software can help businesses to improve communication with clients.
Let us dive into how REVE Chat customer communication software helps businesses to meet their objectives.
#1. Improve First Response Time with Live Chat
Live chat is a vital part of good customer communication as it allows you to connect with customers in real-time, directly on your website or mobile. 
When compared to other communication channels, live chat support generates higher customer satisfaction levels, and 79% of customers prefer online chat support because of the immediacy it provides. 
Hence, the businesses using live chat for customer service are able to understand customer needs and align their services to meet their expectations. 
Real-time interaction improves the important customer service metric i.e. first response time (FRT) that increases customer satisfaction and their lifetime value (CLTV). 
Here are the key reasons to use live chat as a customer communication channel.
Live chat software is very conversational:

As online chat combines real-time conversation by sharing links, collecting customer information, and delivering conversational support by following

live chat best practices

.

Live chat provides better contextual support:

Integrating live chat empowers businesses to deliver assistance across their preferred channels with contextual answers by using visual engagement software like co-browsing and video chat. 

Live chat is more human:

The top reason why live chat is preferred by customers – as it delivers personalized support by understanding customer pain points and connecting them in real-time.
#2. Real-time Assistance with Visual Engagement Software
Businesses views customer communication management (CCM) as a blend of processes and technology. 
But in reality, creating happy customers requires getting the basics right i.e. specifically, what existing and potential customers need throughout their purchase journey.
A majority of companies are investing in live engagement software that enables real-time customer collaboration with high efficiency.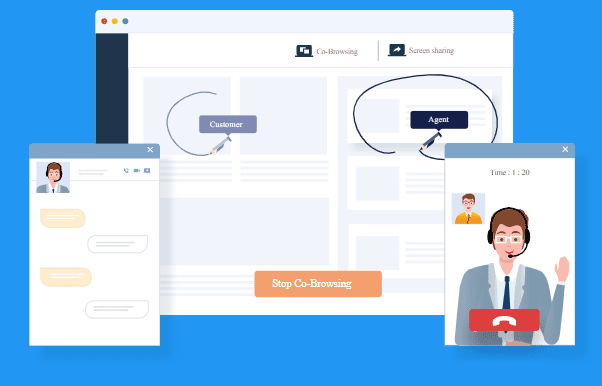 Types of visual engagement software
REVE Chat offers a complete suite of live engagement software that can be used for various industry use cases. This software are used to simplify customer communication across customer journey are as follows:
Video & voice chat
Using video chat software empowers support agents to deliver real-time personalized customer communication. It allows identifying your customer issues in the first interaction and delivers an effective solution, thus reducing the number of touchpoints significantly. 
Co-browsing
Co-browsing software allows agents real-time customer collaboration on the website or mobile apps. It helps to manage their browser and proactively guide them in the right direction, which accelerates sales conversions with one-on-one interactions.
How to improve communication with customer engagement software?
Faster solutions

– Following a

video based call center

empower agents to offer faster resolutions through face-to-face personalized conversations. It helps to identify the main cause of the error and deliver effective solutions at the first touchpoint. 

Lesser touchpoints

– Using visual software for customer communication helps agents to know the issue in the first go and improve first contact resolution by reducing touchpoints.

Better technical assistance

– You can collaborate with the customer's browser in real-time with co-browsing and guide them to complete a complex application process by collecting first-hand details of the issue.
#3. Build an Omnichannel Customer Communication Strategy
Omnichannel customer communication redefines the interactions and delivers an improved CX. You can gain insights into your customer journey that can help to enhance communication across all touchpoints.
Businesses that adopt an omnichannel customer service strategy retain an average of 89% of customers compared with 33% for those with weak omnichannel strategies. 
It is very important to connect with customers where they are and deliver consistent support across all channels. A well outlined omnichannel communication strategy includes online and offline channels such as websites, mobile apps, social media, kiosks, physical stores.
The main objective is to provide personalized support by integrating the reactive & digital communication channels to deliver a cohesive experience.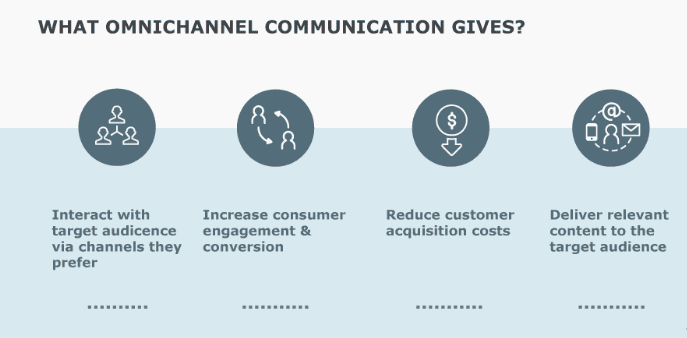 REVE Chat is one of the best Customer communication platforms that help businesses to streamline all customer conversations under one platform and deliver a consistent experience. 
Sign up with REVE Chat today and give your customers a better way to reach out to you.
The primary criteria to design your omnichannel communication strategy needs you to focus on three parameters that are as follows:
Identify the communication channels preferred by your customers.

Outline an effective

customer engagement strategy

across the channels identified.

Deliver a consistent experience throughout the stages of the customer journey.
#4. Excellent Customer Experience in First Time
No business can afford to deliver the first experience awful as it makes customers angry and frustrated.
It might risk your business badly. United Airlines had a brand crisis, in which $1.4 billion in value was wiped out overnight when a passenger's experience went viral on social media. 
Hence first positive experience is crucial as it results in making your customers satisfied and accelerates revenue.
Businesses that choose to invest in the best communication software are lucky enough to deliver a great experience that has a direct impact on customer retention and loyalty.
The customer communication software maximizes the chances of delivering an amazing experience in the first go leaving customers happy and satisfied.
Tips to enhance communication skills to build a great first customer experience:
Reduce the queue time:

Longer wait time discourages customers and they leave your website. By automating customer support with chatbots you can engage users 24×7.

Avoid scripted conversations:

When canned answers are overused, it leads to a

bad customer service experience

. Balance the use to make conversations meaningful.

Focus on real-time support:

Deploying both live chat and chatbot is a great way to deliver real-time assistance based on business requirements.
#5. Automate Customer Communication with Chatbots
Do you know 62% of companies view customer experience delivered by a brand as a competitive differentiator?
One great way is to automate customer communication with chatbots to provide an exceptional experience.
Automating the ways to communicate with customers improves the brand image, but the caveat is that it should not be over automated. You are supposed to balance rightly on how to communicate with common queries.
You can plan a chatbot strategy that balances the use of the bot as the first contact channel for common queries and transfer complex conversations for human support.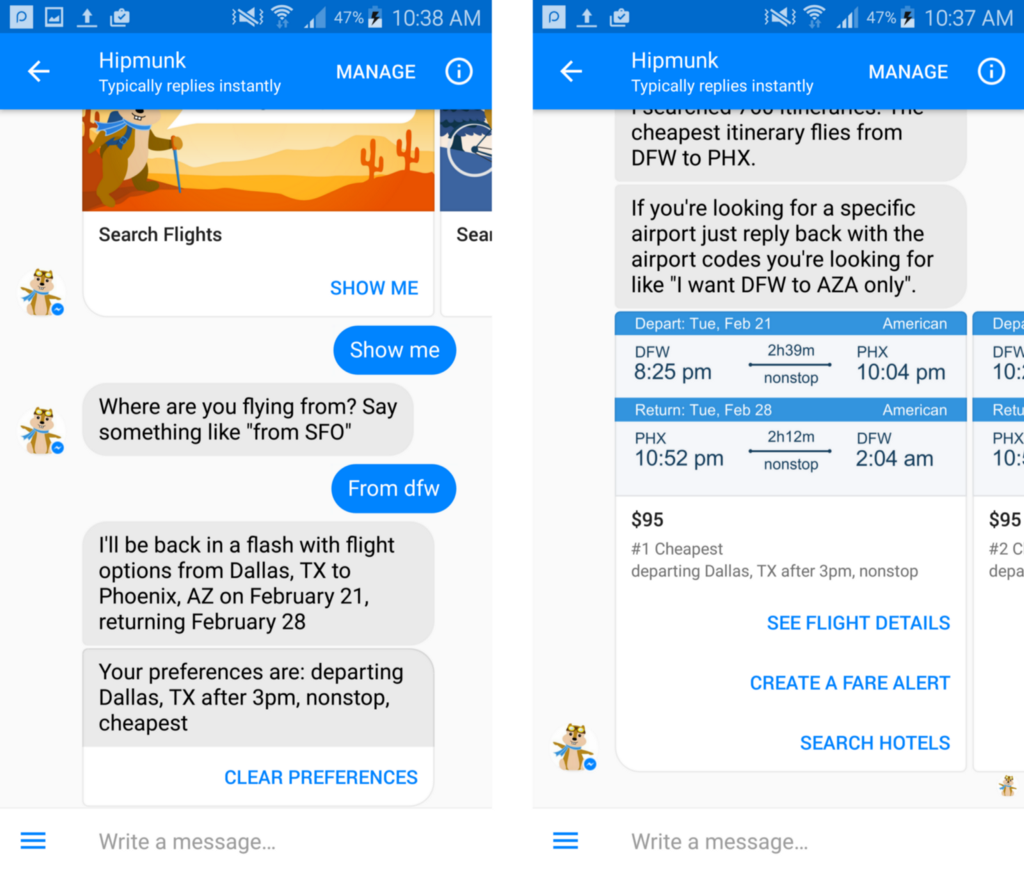 Hello chatbot built by Hipmunk is a right example that perfectly amalgamates digital technology for personalized customer engagement.
Here is how to improve customer service communication with chatbots?
Always-on support: Chatbots offer faster support and engage customers 24×7 when your support team is not available. 

Boost customer communication: Bots can engage customers by providing immediate answers that boost their satisfaction.

Assist in buying journey: AI bots assist customers across the journey and help them in buying decisions. 

Better customer experience: When customers get real-time support & sales assistance over their preferred time, they deliver a better experience.
AI-enabled chatbots are the best software that acts as a catalyst for your efforts to level up customer communication. Sign up  for REVE Chat today! and build your bot to add great value to your customer support. 
#6. Evaluate Customer Communication Metrics
It could be overwhelming for businesses to measure customer communication. Hence, it is crucial to outline a strategy to measure the conversations effectively. 
The important customer service communication metrics to be measured on a regular basis are:
– First response time (FRT) to improve the response time across every interaction
– Average resolution time (ART) to reduce the resolution time, and 
– Customer Satisfaction (CSAT) metrics to understand if customers are satisfied or not
Here is how evaluating the metrics helps to improve customer communication?
Evaluate your team performance

– Start with identifying the gaps in the agents' performance to be improved and based on that conduct additional training sessions to increase productivity. 

Enhance communication skills

–  Measuring communication metrics helps you to know how to plan to improve the linguistic skills of your team.

Better customer interactions

– Monitoring on a regular basis helps you to know the common issues and proactively communicate with customers.
#7. Collect Feedback to Improve Communication Management
Collecting customer feedback is a vital part of customer communication management. 
As per Microsoft, "52% of people across the globe believe that companies need to take action on feedback provided by their customers".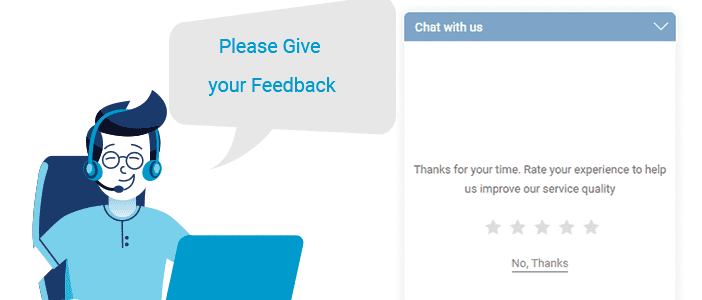 Asking for customer feedback at the right time via the right method is important. It helps to collect genuine and qualitative feedback. The best time for asking for customer feedback are as follows:
After the live chat conversation ends:

Once the live chat conversation, you should ask for feedback about their chat experience.

Just after a successful transaction happened:

When a successful transaction checkout happens, you can request feedback.

Ask feedback after the service ticket resolution:

Once the service request is resolved, the customer is happy, you use this time to obtain genuine feedback.

Once the product demo is over:

When the demo is done, you can ask for feedback about their experience in evaluating the product.
REVE Chat's customer communication software helps to collect genuine customer feedback on all the above circumstances. Sign up with REVE Chat to gain customer feedback and improve your business process.
REVE Chat helps incredibly for businesses to:
Collect real-time feedback:

With feedback collecting methods like

live chat, in-app, or chatbots

, you can obtain instant feedback to understand the customer satisfaction level. 

Monitor first-hand feedback:

With social media monitoring as a method to get feedback provides unfiltered customer comments. It helps to reach out to customers proactively.
#8. Understand your Customer Needs/Expectations
Providing self-help options to customers is one of the best ways to handle customer communication smoothly. It holds value even when your agents know how to communicate with customers at any stage of the journey.
You can predict issues or queries that your customers might face eventually in the future and preparing solutions or support documents beforehand will certainly help them.
Having self-service options acts as a customer communication management software and reduces customer service errors significantly. Businesses depending on the industry can create support documents such as knowledgebase, FAQs, video tutorials, how-to guides, etc.
Understanding what your customers want and keeping things ready for them previously will positively help them. It also reduces repetitive customer interactions and improves customer communication skills. You can also focus on creating fresh content at a steady pace on your social networks, blog, and website as well. 
Financial Customer Communication Management Software
REVE Chat offers the best customer communication platform for the BFSI sector. It offers live engagement software, such as co-browsing, video, and live chat to deliver a personalized, in-person experience to customers. With REVE chatbots, you engage customers 24×7 and deliver higher user satisfaction.
Here is how having financial customer communication software benefits businesses.
Hassle-free customer communication

– Banking companies can give customers a digital customer experience by balancing your support assistance with live engagement tools, without missing out on the human touch. 

Personalized engagement –

Customer communication management software allows banks and financial institutions to get connected with customers instantly and guide them in quick decision-making. 

Instant customer assistance

– With financial customer communication software, you can provide instant solutions for banking and financial queries with the help of digital engagement tools like video chat, co-browsing to deliver better service.
Customer Communication Management Software is a Must-Have
In the modern digital age, when you may not be able to meet your customers face to face, it becomes more critical to deploy the best customer communication management software in place. It would help your business to grow without and strengthen customer relationships.
REVE Chat is one of the best customer communication software backed with advanced features to complement your customer engagement efforts. Sign up today to give your customers a great value and a better experience.