One of the biggest pitfalls for businesses across the globe is the thought of having a great product or service is enough as a strong customer retention strategy. The bitter truth is that it is only one aspect of marketing while there are many more strategies on how to retain customers.
While every business needs new clients, it is equally critical to improve customer retention as acquisition costs are five times more than retaining an existing customer.
Customer retention is a blend of art and science. 
The art is to create & foster significant customer relationships by investing in extra efforts to go above and beyond your customer expectations.
The science behind customer retention is understanding their journey, ensuring consistent assistance from all touchpoints, and equipping your team with tools to deliver an extraordinary customer experience (CX).
KPMG says, "The businesses that understand the importance of effective retention marketing, consciously invest in customer retention plans because they see it as the biggest revenue driver."
So what does client retention mean? And how to retain customers with different relationship-building strategies? 
Let's explore the key concepts and examples of how you can build a successful client retention strategy to scale your business.
What is customer retention strategy?
Customer retention is defined as the ideas and strategies that an organization should implement to keep their customers stay with their brand. The key goal behind having a successful client retention plan is to help businesses to retain customers and how they contribute to the growth of the business.
A good customer retention strategy always begins with the first contact a customer has with your business and continues throughout the lifetime of the relationship.
Why is customer retention marketing important?
The success rate of selling to an existing customer is 60-70%, while the success rate of selling to a new customer is only 5-20%.
Understanding the aspect of customer retention for turning them into brand loyalists will be crucial to fueling your business through the ups and downs. Implementing retention tactics and ideas can significantly impact your business in three key ways.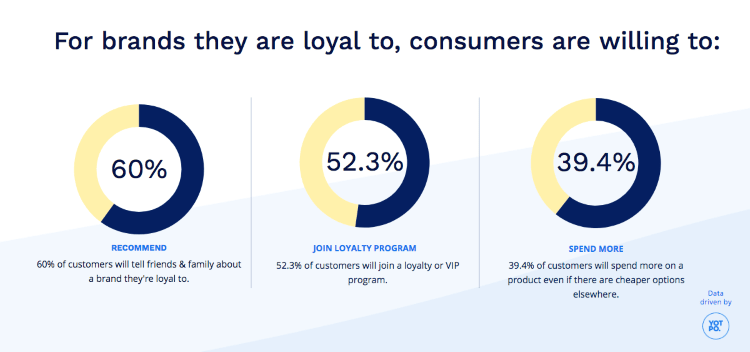 Cultivate customer loyalty – 

The right client retention programs help you create an experience that not only satisfies your customers but also engages them in a more meaningful interaction with your brand, forging loyal relationships.

Increase customer lifetime value (CLTV)

– Increasing

customer retention rates by 5% increases profits by 25% to 95%

. Hence any business that wants to grow its bottom line, needs to equally focus on retaining customers as well acquiring customers for sustainable growth.

Build positive word of mouth –

The best customer retention tactics enable you to develop lasting customer relationships who become loyal to your brand. Eventually, they might even turn out to be your brand ambassadors and spread positive word of mouth.
15 
retention strategies on how to retain customers from top brands
Customer retention strategies work parallel to deliver great experiences that develop loyalty and encourage customers to stay associated with your brand for a lifetime. Retaining customers not just obtain more value from a product but also encourages them to share their feedback and experiences to influence new customers.
We have narrowed down the list of strategies for an effective customer retention program.
Let us discuss the key strategies on how to retain customers and convert them as brand advocates.
1. Make customer experience (CX) a strategic priority
Everything you do impacts your customers' perception and their decision to return back to your business or not.
If you create a good experience, that is consistent and predictable, then you have a right shot at improving and setting good customer retention examples.
Customer experience comprises all the touchpoints with your business starting from website navigation, customer service interaction to the final purchase.
Thus, a great customer experience is your key to success. The unforgettable customer experiences are the ones that create an emotional connection with customers. Businesses that use emotional connections outperform their competitors by 85% in sales.
How making the customer experience the focal point can increase customer retention
Improve customer satisfaction

– A satisfactory interaction with your brand undoubtedly creates a great impression and experience that encourages customers to retain your business.  

Convert first-time customers to loyal customers

– When customers are delivered consistent service they are delighted with the experience and develop loyalty towards your brand.

Improves customer advocacy –

Happy customers not only have high lifetime value but also turn out to be the best brand advocates. They share their experience with their friends to improve brand credibility.
Zappos is a popular online shoe store that helped a customer during an unfortunate scenario. He was late returning a pair of shoes due to a death in the family. 
Source: chattermill
The Zappos' customer service team went the extra mile to take care of the return shipping and arranged a courier to pick up the shoes at no cost. They also sent the customer a bouquet and a note offering their condolences.
The unforgettable customer experiences are the ones that create an emotional connection with customers. Businesses that use emotional connections outperform their competitors by 85% in sales.
They offered service along with the human touch.
Creating connections with customers starts with listening. It shows that you care, and you will also be able to uncover their needs, challenges, and pain points.
Best practices:
Always listen to your customers to discover their needs, challenges, and pain points.

Keep your customer service as human as possible, whether you do it online or in person.

Try to connect with your customers emotionally in order to win their loyalty to your business.
2. Respond to customer issues instantly
The primary reason for the bad customer experience is "LONGER RESPONSE TIME". 
Implementing live chat can be one of the best customer retention strategies and significantly reduce the impact of the factor that adversely affects the customer experience.
59% of customers are more likely to buy when brands answer their queries in under a minute. Customers become loyal to your brand and retain for a long time period.
How live chat can be a good customer retention idea?
Immediate assistance

– It helps to provide instant solutions to all the sales and support-related queries. By routing the conversation to the right support team the queries are solved faster.

Boost customer satisfaction

– It drives customer satisfaction by reducing wait time and converts visitors to loyal customers who not only retain with your brand but also advocate positive word of mouth.

Proactive customer engagement

– You can engage customers proactively in the right direction before the doubt becomes a big problem.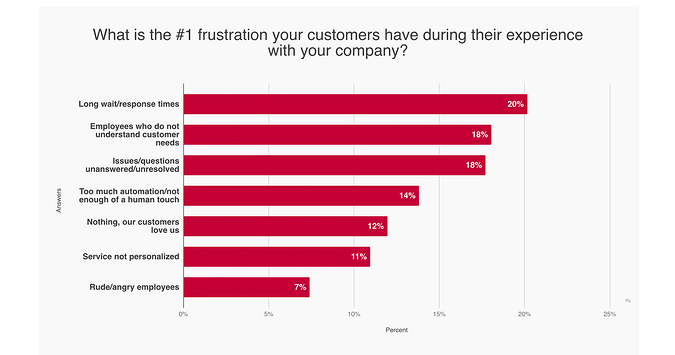 Source: Hotjar
Best Practices:
Resolve your customer queries instantly with live chat as they demand immediate response when it comes to customer service.

An immediate response helps in more sales conversation and retain customers with your business.
REVE Chat is a popular platform that offers a suite of customer engagement platforms essential for delivering quick responses. Sign up to get the best of support software and start delivering instant responses. 
3. Deliver real time customer engagement
Businesses that empower their customer support team with live customer engagement such as co-browsing and video chat can deliver faster solutions in the first contact. The live engagement tools reduce the number of customer touchpoints and deliver effective solutions in the first go.
By using the visual tools, you can guide them through the complex form fill process, make onboarding seamless, and provide a virtual in-person experience. 
Customer engagement tools can be one most preferred client retention strategies. Let's see how.
Personalize support

– Having a face to face interaction encourages personalized conversations and removes all fears and frustration settles faster, thus, building personal and reliable customer relationships.

Improve customer experience

– With instant response you reduce the number of customers touchpoints. Live sessions have a great impact on customer satisfaction. With

co-browsing

, you can deliver interactive real time experiences to your customers.
Commercial Bank of Kuwait (CBK) for example, that implemented REVE Chat's co-browsing and video chat solution. Their main goal was to increase user engagement through online banking operations and deliver an advanced digital banking experience.
The bank has marked an increase in online engagement and reduced the number of touchpoints to resolve the issues.  
Best Practices:
For communicating the technical concepts and complex form fill up, combining video chat and co-browsing can deliver effective solutions.

You can develop friendly communication with customers that positively impacts customer relationships and deliver faster responses in real time.
4. Create well tailored customer retention program
Any idea why loyalty programs matter?
Loyalty programs help your customers feel valued and appreciated. By delighting your customers with special offers and rewards, you make them feel good about purchasing and motivate them to keep coming back.
Customers with an emotional connection to a brand have a 306% higher lifetime value, stay with a brand for an average of 5 years, and will recommend brands at a much higher rate. The key ways loyalty programs help in customer retention marketing are:
Loyalty programs are inexpensive to implement but can significantly increase customer lifetime value (CLTV). 

An effective loyalty program helps you to identify your brand ambassadors who have turned out to be your loyalists and spreading the word of mouth virality.
In order to foster better customer relationships, loyalty programs can be highly beneficial in giving frictionless experiences. 
DSW runs a loyalty program that rewards customers with points for each purchase and includes tiers of rewards that customers can unlock as they spend more. Their program runs seamlessly.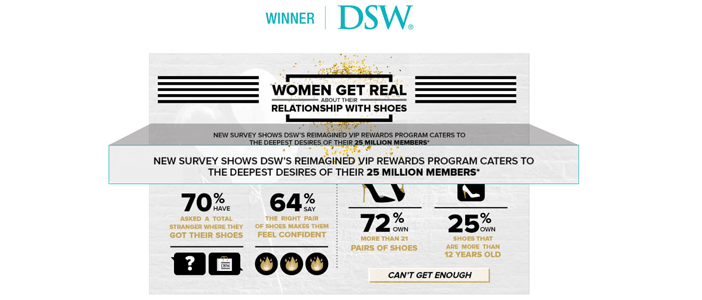 If customers forget about the loyalty program, DSW keeps customers engaged with the program and reminds them where they stood and what they could earn by spending more at DSW stores.
Best Practices:
You should define your business goals clearly and pick up the right actions to handle customers.

Keep your focus more on customers instead of products or services.

Monitor and learn your customers' behavior from the data and try to go beyond their expectations.
5. Implement customer feedback judiciously
"Your most unhappy customers are your greatest source of learning."  Bill Gates
And the easy way to know your customers are happy or unhappy with your products and services is by having regular customer feedback. Customer feedback is vital for every business and an important factor that determines the growth of your business.
Customer complaints or feedback provide you the customer's perceptions about your overall business. They also give a clearer view of how you are performing. Collecting feedback requires asking customers to share their feedback about the product, service, or about their overall experience.
The best time to ask for feedback from customers is right after a customer service conversation. Collecting feedback becomes effective when you analyze and act upon it. 
Best Practices:
Categorizing the feedback comments collected from customers for sending to concerned departments. Divide them into categories that deserve their own branding and attention into subcategories. 

Consolidate all the results and make a plan of action as to how you intend to respond to each of the issues raised.

Hire well trained support reps to ask feedback questions at the right time, choose the right channel to ask feedback to customers, tailor the feedback questionnaire, direct the feedback questions to the right team.
6. Deliver consistent omnichannel customer service
Customers expect contextualized engagement and seamless transitions between channels like phone, social channels, websites. Businesses that engage their customers by understanding their journey and needs are able to deliver a personalized service experience.
When you understand how customers interact with your brand across multiple channels, you can optimize your processes to reduce customer frustration and bridge the gaps in the process. It increases customer satisfaction and acts as a great customer retention solution.
How to improve customer retention programs by going omnichannel?
Map your customer journey to gain valuable insights on their previous interactions, conversation history, etc. that helps to take proactive actions.

Identify the most preferred channels by customers to connect with your business. It provides customers as many ways to reach out to your business.

Be where your customers are to deliver customer support 24×7 across those channels
When you are able to engage customers seamlessly by being where they are and provide consistent service across channels, you deliver the best omnichannel customer service.
Best Practices:
You can collect customer feedback to know whether your customers are satisfied or not. Accordingly, you can improve the support process and exceed customer expectations.

When businesses deliver omni channel customer service, the number of customer touchpoints is reduced by reaching them across various channels.
8. Map your customer journey
Mapping your customer journey or buyer journey mapping helps to identify, structure, and improve the complex interactions that customers experience across their journey. This makes your business customer centric and builds customer loyalty.
Analytics helps you to understand the steps customers go through while interacting with your company to reduce the operational and communication gaps. 
When the customer experience escalates with your superior service it can lead to a 30% – 50% increase in KPIs such as the likelihood to renew or purchase another product.
Best Practices:
Carry out research to validate the customer journey while identifying key opportunities to add value and build customer loyalty and engagement.

Understand how the customer journey research can help to shape ongoing customer retention solutions.
9. Delight your customers always
Customer delight is an excellent customer retention tip, which means businesses should go the extra mile to fulfill their customer expectations and deliver a delightful experience. 
But how would you know that customers are delighted?  The answer is simple, by listening to them and understanding their needs.
Never miss out on any opportunity to surprise your customers. Try to deliver better service at a lower cost, do more than they were expecting. Treat them as special people and you will for sure improve customer retention programs.
When you anticipate customer needs and align your products and services to their interests, they are happy that they are valued and listened to.

Putting genuine efforts to deliver good experiences to customers pays back well. They choose to remain with your business for a longer time.

Delivering consistent support across all channels always impress customers as it is one of their top expectations.

Know the top issues your customers are facing through surveys, social channels, and take active steps to fix them.
Customers are ready to pay more for a better experience, better quality that is proved by the fact that 55% of consumers would pay more for better customer experience.
Best Practices: 
Personalize your conversations with customers to develop trust and loyalty.

Not just collect but analyze the customer feedback values and customer comments.

Connect with your customers in real time over their preferred channels.
10. Create interactive content for educating customers
Educating customers refers to the effort a company takes to provide authentic knowledge to customers to use their products or services. The content created should be interactive and easy to understand by the customers to get started with.
Customer education turns effective when they choose to be associated with your company. They become loyal, your loyal customers also turn into your brand ambassadors. It empowers customers with the knowledge and gives insights about the product to help them to understand the product.
Here is how educating customers can act as great customer retention solutions?
It helps to develop a better understanding of your brand, which gives customers better clarity about your products and services.

Customers are able to find information and solutions about FAQs, which reduces the number of customer complaints.

It helps to build trust and loyalty towards your brand as they find integrity between the information and practice.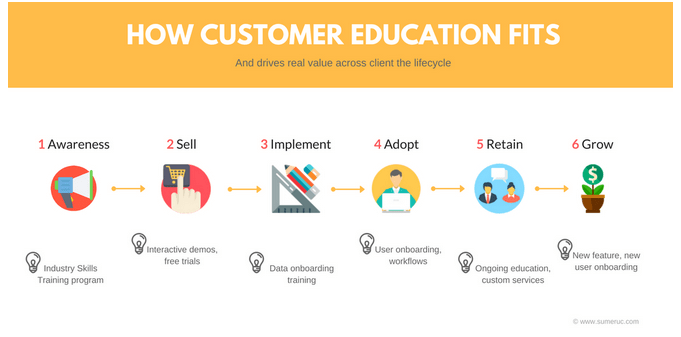 Source: sumeruc
Best Practices:
You can offer product demos for your product and services. It helps to understand the product better and start a conversation.

Try sharing content in different ways such as updating announcements through your website, via email newsletters, blogs, social media content etc.

You can organize workshops and try to connect with your customers emotionally.
11. Listen & empathize with your customers
"One-time customers aren't going to fuel the continued growth of your business. Retaining customers is crucial to your long-term business success"
Businesses that put efforts to understand that what customers are actually looking for, helps them to offer the right product, service, or solution. Practicing listening culture is a great retention strategy for customers. 
Thoroughly listening to customers helps you to develop empathic abilities. An empathetic statement has a good impact on customers and the feeling that you are able to understand their problem. 
But it is difficult to help customers who are not receptive. 
What should you say to customers who express unhappiness or anger? 
While such situations are quite sensitive to handle, using well designed chat scripts for different scenarios can help to deal with all kinds of customers. The consistent response helps to resolve the customer issues and settle him down to normal.
Best Practices:
Learn about your customer experience with your products and services.  Listen to them and identify their needs.

Train your customer support employees with soft skills – handling customers with patience, politeness, and pleasingly.

Provide transcripts to the support team to use during customer service interactions.
12. Maintain customer communication with newsletters
Emails newsletters are one of the best ways to stay connected with customers and build lasting relationships with them. It proves to be one of the best customer retention strategies and help businesses to attract new prospects and also retain them with your business.
Businesses that look forward to nourishing customer loyalty, must keep your email subscribers in the loop on the latest and greatest news from your brand. 
How to retain customers with newsletters?
When you launch a new product or feature, you can send emails to update them about the recent add ons to your brand.

Email newsletters allow you to send targeted information to your audience, helping customers feel catered to and encouraging them to engage more with your brand. 

You can segment your email lists to send personalized newsletters. You can sort the list into groups based on factors like purchase history and age demographics, then cater each newsletter to each group. 
Thus, you can show customers products or news on what they may be interested in. Following such ways to engage customers can be the best retention tactics, any business can follow. They prefer choosing your brand over others and stay linked with you for a longer period of time.
Best Practices:
Keep your focus on benefits parts as customers are not really concerned about a specific feature added. Instead, they want to know how it will help them achieve their goals.

Make use of good content and eye-catching visuals to convey your message to your customers.
13. Build a community to enhance customer relationships
People enjoy the feeling of belonging to a community or group. You as a business can supplement such positive feelings through community management, or by creating a user community that benefits your customers.
Having a community will give your customers the opportunity to discuss important topics and ask questions about your products and services.
When customers feel connected to your brand, they tend to show it through repeat purchases and word-of-mouth marketing—all of which help you build and grow a loyal customer base.
Shopify, the leading global eCommerce solutions provider have a discussion board. The community is a hub for information exchange on a global scale. The Shopify store owners can use it to engage with other store owners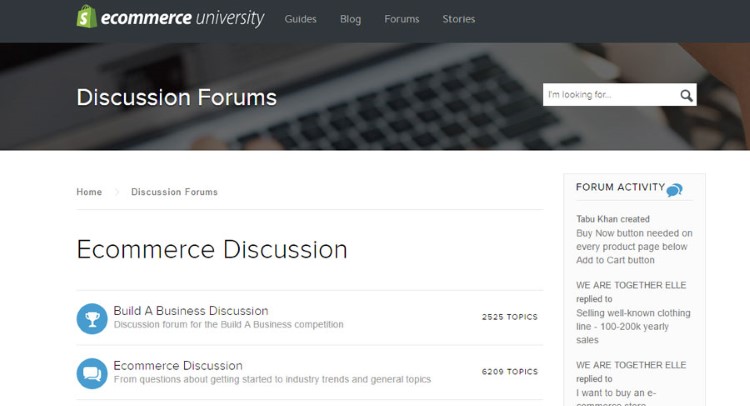 Building a community can be an excellent customer retention solution in the following ways:
You can build a loyal relationship with your customers that give your loyalists a place to connect with the brand and with each other. 

It acts as a knowledge base where your loyalists can share tips and tricks for optimizing the product.
No matter how your community might be used, as a resource for sharing useful information or as a medium for users to submit customer reviews, fostering a space where customers can interact with one another and your team adds value to your customer experience and continues to delight them.  
Best Practices:
Having a community is an essential tool for customer education but is it important to moderate the conversations in order to avoid irrelevant discussions that would dent your brand.

The community develops a sense of belonging in customers to your brand. They decide to stick to your brand for a lifetime.
13. Keep a track of customer retention metrics
In order to maximize your efforts on customer retention strategies, you need to understand how to track and measure some key retention metrics. When you know how to calculate the key metric, you can begin to put them to work in your own store for lasting, profitable results.
Key customer retention metrics are as follows:
Attrition rate – It helps in knowing your churn rate helps you determine what steps to take when developing a retention strategy.
Repeat customer rate – Your repeat customer rate is simply the percentage of your customer base that has made more than one purchase. Loyal customers are the ones who make repeat purchases.
Customer lifetime value (CLV) – CLV indicates how much your customers are spending during their customer lifecycles. When your customers are loyal, they tend to spend more, yielding greater lifetime value.
Measuring the retention metrics can help you to identify, which are the strategies that are performing well and the ones that need improvement. Tracking the metrics help you to retain your customers before they become your ex-customers. 
Best Practices:
You have to measure your customer retention metrics on a regular basis to understand the retention techniques that are performing well and those need to be modified.
When you know the ways your customers like to be served, craft the engagement plans in a similar way to make your service effective and helps in retaining customers.
14. Assist proactively to improve customer retention
You can proactively assist your website visitors and customers by using all the customer data you have. Analyzing the data will help you to understand your customer needs and assist accordingly to improve customer retention. 
For example, you should know how the tips for SaaS customer success often lie in knowing that customers are constantly getting stuck at a certain point. You can create triggers that will automatically send them messages to walk through that issue they are facing. 
Best Practices:
You will incorporate that feedback into the product to ensure that your customers don't get stuck at that particular point. 

SaaS is different because almost all the interactions are digital and measurable but the principles of being empathetic to your customers' needs remain the same, no matter what business you are in.
15. Leverage employee engagement
As a part of their client retention programs, businesses have to go beyond products and prices. What they need to do is leverage their most under-utilized assets i.e. employees base. When the employees are engaged they deliver personal customer experiences that create customer loyalty.
Gallup study about employee engagement says, a U.S. workforce with only 30% of employees engaged in their work, with active disengagement costing the American economy an estimated $450-550 billion per year.
The best example for employee engagement – Southwest Airlines
Southwest Airlines grabbed the top rank in building an excellent work ambiance and culture to make their employees happy and comfortable. They created a healthy work environment for employees comprising teamwork, work values, and motivation.
Best Practices:
When you value your employees, they are ready to go the extra mile for you and deliver the best customer service experience.

It is important to make employee training an integral part of your company culture to make them aware of your company's vision and

customer engagement strategies

.
Customer retention examples
Many businesses across different industries have invested time and money to deliver a great experience to their customers and retain their customers for a longer time.
Here are some examples of companies that made extra efforts and build smart strategies to create successful customer retention examples 
#1. Customer retention strategy example – Expedia (Ask the customer for feedback)
It's important to know how customers feel about your brand. That way you understand what is working, what is not, and how you can improve. 
Whether through surveys or customer interviews, feedback is the best way to get insight into the things that customers like and dislike about your brand.
Expedia uses automation to collect feedback from customers once their trip has ended. Automating the feedback process helps it become a consistent and informative part of your business practices.
#2. Customer retention example – Ellevest (Reward referrals)
Rewards get customers to return to your brand, but they can also get customers to send new customers to your brand. 
Create a referral program that rewards customers when they spread the word about your brand and lead family and friends to your business. Make the program even more effective by giving rewards to both the referrer and referee.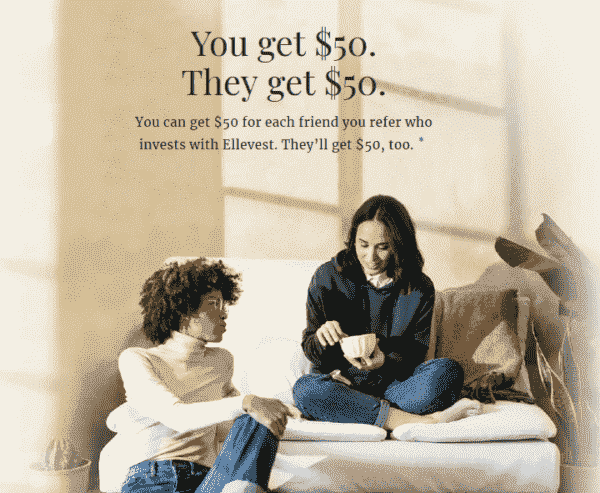 To drive new customers to use their financial services and reward existing customers for referring them, Ellevest implemented a program that gives both parties a $50 credit in their account in exchange for a referral.
#3. Customer retention strategy example – Buffer (Share company's update and news)
Keeping customers in the loop is another way to build trust while bringing consumers closer to your brand. As your company makes changes, let customers know by publishing blog posts or sending newsletters that update them on company news.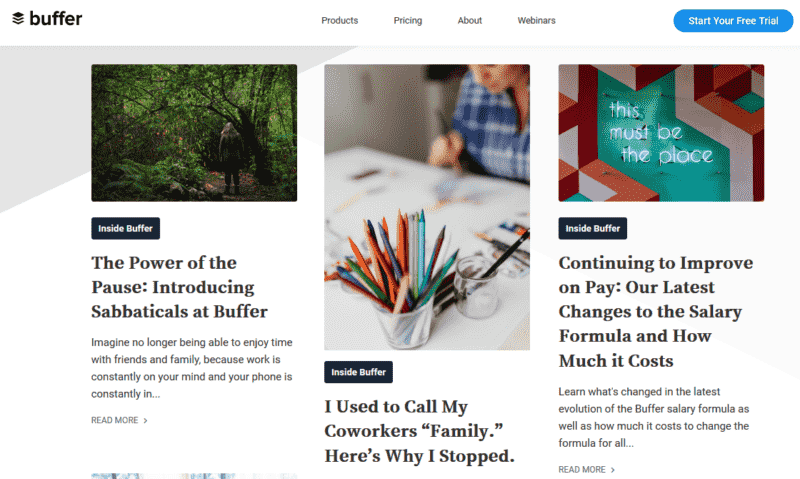 Buffer, a social media marketing provider, is a prime example of this customer retention strategy. Their Inside Buffer blog discusses operations and changes within the organization to make customers feel closer to the brand.
Key customer retention metrics 
If businesses want to maximize their retention efforts, they need to understand how to track and measure some key retention metrics. Once they know how to calculate them, it is easy to get profitable results.
Growing companies prioritize customer success more than stagnating ones and that increasing retention by 5% actually increases profits anywhere from 25% to 95%.
Here are the key retention metrics that have a huge impact on revenue and growth.
Customer Churn Rate (CCR)

– By understanding why customers leave, when they leave, and how they leave, you are able to optimize the customer experience for the ones you are still subscribers so they don't churn.

Customer Lifetime Value (CLTV)

– This metric shows the value of every customer and the revenue you can generate if customers are retained and continue to pay.

Customer Acquisition Cost (CAC)

– CAC is a fundamental metric that helps you to understand your target market and the ROI of your existing acquisition strategies and channels.

Net Promoter Score (NPS)

– A high NPS doesn't automatically guarantee customer retention and growth. But when analyzed alongside revenue growth rate and customer churn rate, you can predict possible growth from retention and referrals.
Final thoughts on how to retain customers
With well designed client retention strategies, you can understand your customer needs and improve loyalty. You have to deliver extraordinary customer service and develop interpersonal courtesy to treat customers positively. Sign up to get advanced customer service tools and delivering quick responses to customers. 
Make your customers feel they are part of your business by taking their opinions. Implement their suggestions and acknowledge them to achieve the customer success they deserve.
What customer retention strategies do you think work best for your business? Please share it with us!