Do you like the headline above? It says "A complete guide on how to write engaging content". Sounds a bit serious, right? 

But please don't get that much serious while reading the title. 
This is going to be a very funny article about how to write engaging content for websites, social media, and any other marketing channels. 
However, most of the tips are only applicable to web content as I wrote it, especially for web content.
BTW, what's the most interesting thing about this content?
Well, this is itself engaging web content. So, we won't only talk about how to write engaging content for websites but will see how we already have done it here in this article. 🙂 
Your responsibility: To simply read the article. 
Your next article's audience's responsibility: To engage with it. 
Cheers! Let's start with a very basic understanding of engaging content.
What is Engaging Content?
When you write engaging content, your audiences enjoy reading it and engage with it spontaneously. 
You can use some great techniques to make content interesting and engaging. This type of content resonates very well with the readers.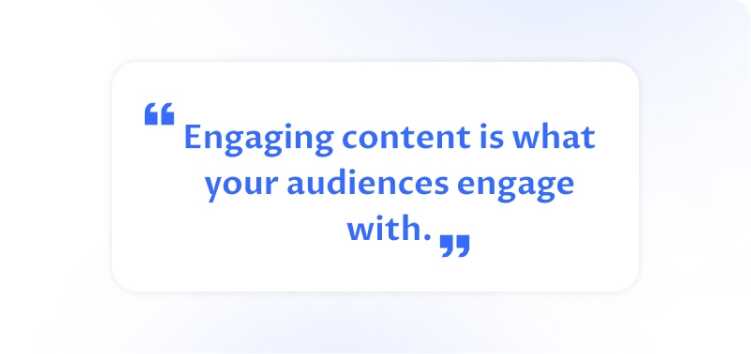 The more your audiences engage with your content, the more you will move ahead in achieving your goal behind the content.
In simple words, engaging content is what your audiences engage with.
How to Write Engaging Content?
You need to know 3 things if you want to write engaging content. 1) Know your audiences, 2) know their objective, and know your business's objective.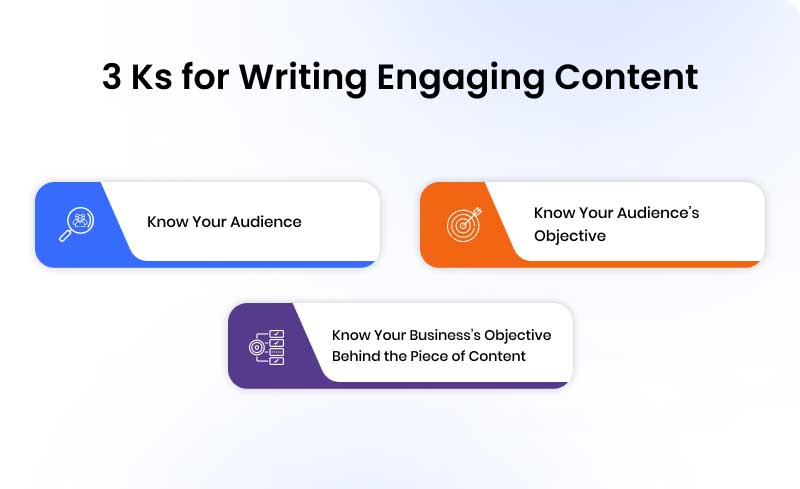 When you know these 3 things, it's time to use some techniques. These techniques must make your content engaging. Here we go.
1. Know Your Audience:
Before starting to write the article, know your audience. As you have got the topic, try to explore who will search for those topics on Google. 
2. Know Your Audience's Objective:
Learn why are they searching for the specific keyword on Google? If it does not resonate with their objectives, you can't make them happy with your content. 
3. Know Your Business's Objective Behind the Piece of Content:
Find answers to these questions:
Why are you covering this topic? 

Why does your business need to cover this topic? 

What do you want to achieve with this piece of content? 
4. Imagine Only One Person as Your Audience:
Why should you write for one person only? Or what does it mean when I encourage you to write for one person only? 
See, in reality, people won't read your content in groups. Mr. Alex will read it on a Sunday evening when he doesn't have anything else to do. 
He won't read it along with many other friends in his bedroom. Rather, he will be alone there.
So, why shouldn't you write for Alex only? Yes, don't think of his friends. Focus on Alex only. 
Take a look at the following tips:
While writing articles, keep in mind that you are not writing for the whole world. You are writing for a specific group of people who might be looking for the topic.

Remember, a group of people will be benefited from the article. But don't imagine all of them in your article. Imagine only one person, an ideal person who is looking for the type of content you are covering. 
5.

Don't Write for Them, Talk With Them:
Don't get me wrong. You are writing for sure. But don't write like an academic essay. Write in a way that sounds like you are talking with your audience, the one ideal person.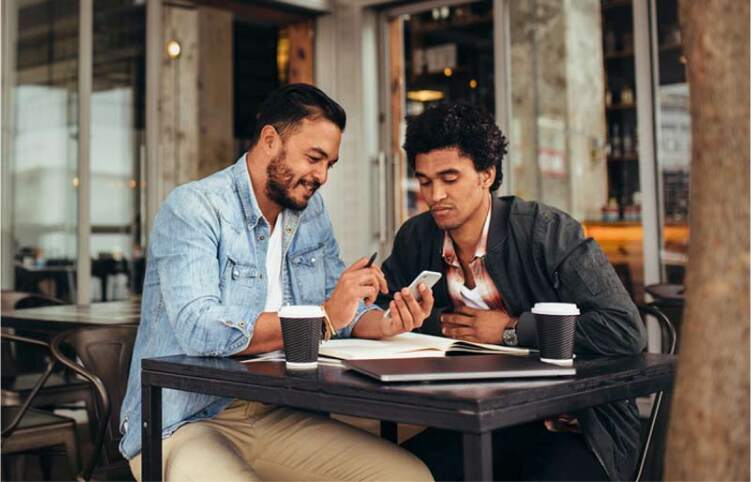 Imagine you and your audience (one person only) are taking coffee together in a coffee shop. 
You are talking with that person. What are you talking about? You are talking (not writing) about the topic i.e. "canned responses". 
Make the content as conversational as possible. 
6. Write Simple Sentences:
Always, imagine real-life scenarios while writing. When you talk with your colleague in an informal setting, do you make long, complex sentences? No, right? 
That's what you need to do in web content too. Write smaller sentences that keep your audience reading.
7. Keep Enough Breathing Space:
In real-life conversations, why don't you talk so many sentences together? 
Because you want your audience to listen to you and consume your statements.

Because you want them to listen smoothly. So you don't overwhelm them with 10 sentences together. 

Because you don't only want to give them the information, rather you want to engage them in your conversation.
Think of the same aspects for web content writing too.
So, write
small sentences

small paragraphs
This will improve the readability of your content. 
8. Maintain a Flow:
Make a symphony with your title, headings, intro, body, and conclusion. A proper flow can help engage the audience. Otherwise, your audience won't feel good to continue with the piece of content.
9. Grab the Attention of Your Audience With a Catchy Title:
The title is the first thing that your audience will see. Just like the main gate of your house. It can welcome and attract people to enter your house. 
At the same time, an unwelcoming gate may discourage them to get into your house. 
10. Compel Your Audiences to Read Further With the Right Intro:
You know what "compelling content" is. You also know this phrase (compelling content) is very common in the content writing arena. 
Yes, you need to compel your audience to listen to you (to read your content). Generate so much attention that they can't skip the article.
Can we try to improve the following intro together?
Just a suggested example. Read the screenshot below. See how it sounds. Then, see how we wrote it below the screenshot.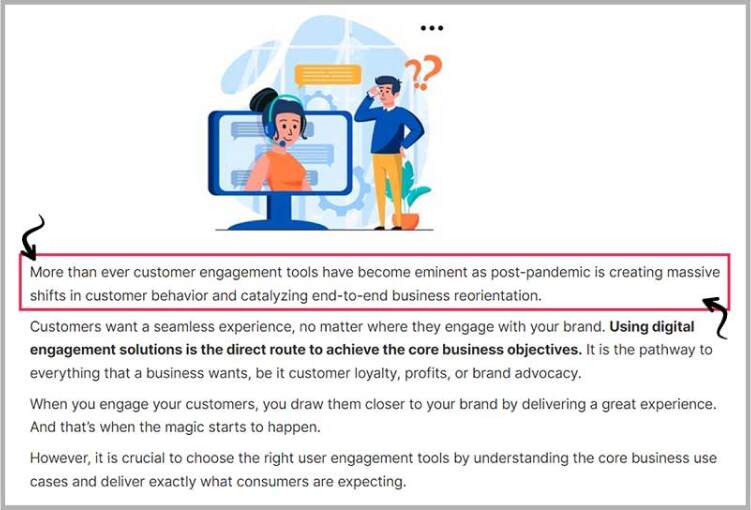 Took it from the article on customer engagement tools. (Pls note, it might have changed later on). 
Let's write the above content in a conversational way:
What if you find great tools that help you engage more with your customers? 
What will happen? 
So many things will happen. The ultimate result will increase your sales, right? 
If you are looking for such great customer engagement tools, you are reading the right article.
Here we have covered 18 awesome tools to boost your customer engagement.
Before we talk about the tools, let's start with the basics. By the way, do you know what customer engagement tools are?
What are Customer Engagement Tools: (This will be H2). But I'm not making this H2. 
Why?
Because I don't want to make Google confused about this topic. The topic is "How to write engaging content", it's not about customer engagement tools.  🙂 
[Now keep writing maintaining the flow.]
11. Write Engaging Content in an Empathetic Way:
Feel their problems. Let them know you understand their problems. Also, assure them you are going to meet their objectives or solve their problems. 
12. Don't Just Write, Even Don't Just Tell, Show to Their 3 Eyes:
What's this? 
Show relevant images to their first and second eyes. And let them imagine with their third eye wherever applicable. 
If you can make them imagine, your content is going to work. It will surely achieve its goal. 
13. Write Headings to Make It More Engaging:
Split the whole piece of content under subheadings. This will make the content even more readable. No more talk about this tip. You already have got it, right?
(Why did I write the last two sentences above? 
Yes! For engagement. You got it. See, the last sentence makes you say "Yes, I've got it. You can proceed further". 
And then, I wrote these sentences in brackets to delight you further. 
Hmm, that's the technique. And, the use of "Hmm" here, gives a conversational tone 🙂 )
14. Never Hurt Them:
Now we will have some imagination. 
Imagine a situation where you are talking with your newly joined colleague. She joined the marketing team, for example. 
After some conversation, you got to know she doesn't know how to do LinkedIn advertising. 
Then you said,
"You don't know how to do LinkedIn advertising? This is very crucial for marketing. Many people join the marketing team, but they don't know how to do things the right way."
After this, you tried to say some good words to her. What do you think, she will listen to you with attention? Nope! 
You already have hurt her. 
Let's not do this in writing. Ops! It sounds negative too. 
Basically, we are doing great in content creation. If we can say things more positively, we can win our audiences' hearts. 
Here's an example that we can improve.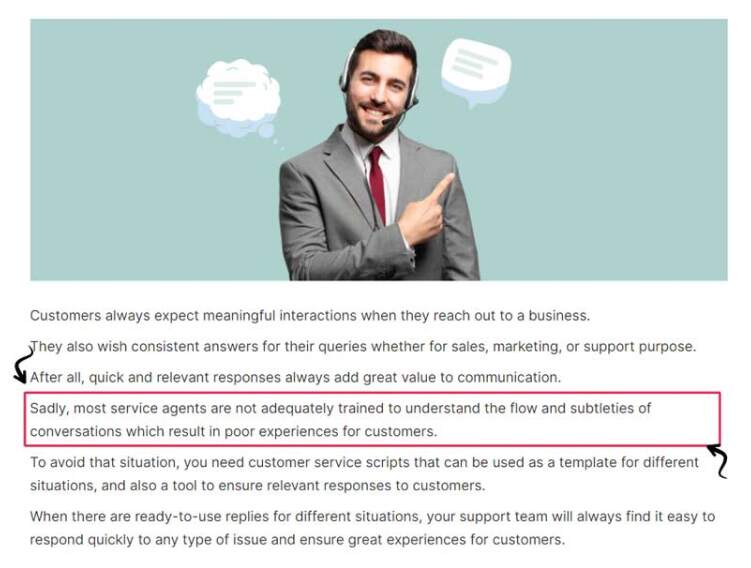 Took the example from the article on "customer service scripts". [The text might have changed later on]. 
15. Refresh the Attention Whenever Possible:
How to do this? Go to the previous tip. Tip #14. 
See, I said, "Now we will have some imagination". I made you interested in reading the next sentences with more attention.
As you have started reading the article and scrolled past it several times already, now I need to renew your attention so you don't cross the browser tab and go to any other article. 
16. Use Grammarly to Avoid Typos and Grammar Errors:
You already have used Grammarly, right? If you haven't, it's a great tool to check for common grammar and spelling issues that we may make as we are human.  🙂 Start using it and you will love it.
17. Use Hemingway to Write Engaging, Clear Articles:
If you haven't used Hemingway yet, try it today. I bet it will be your writing friend within a few days. 
Hemingway helps you write clear, bold content that your audiences find amazing. 
18. Use Visual Elements in an Engaging Way:
I know you have seen so many generic photos on the internet. Many of them approach with a welcoming smile and hand. These are too common. 
No one feels good about them. Not even you. Instead, you engage with photos that are interesting. These photos arouse some interest surrounding the topic. 
That's what we need to do. We have to choose contextual photos, not generic ones. 
The following image is ok for the banner or as the meta image.
But an image like the following can enhance the level of engagement. We can use such engaging images within the content.
Advertisement Break:  🙂  
See how you can utilize omnichannel customer engagement. 
19. Use Though-Provoking Questions and Quotes:
"Make a customer, not a sale." – Katherine Barchetti. 
What do you think about this quote? 
Well, you don't have to "think" about it. But I know if you are writing customer service-related content, your audience will feel good about it. 
This quote can tell a lot about the importance of customer engagement. 
What about this quote, 
"If you are not taking care of your customer, your competitor will." – Bob Hooey
Good one, right? Whatever topic you are writing about, you will get amazing quotes from pros in that field. Utilize them properly in your content. 
Questions also arouse interest in people. Use the ones that make your audience engage with your content.
See, what happens when you ask a question to your audience? 
Just like this one (the previous sentence). It makes people give more attention to the content. Sometimes, it makes them say "Yes", "No", "Obviously", "Sure", etc.
For example, if you have read this piece of content, now I am asking the following question. 
"So, as you have read the article, now you can write engaging content, right?"
What would you say? Maybe, "Yes" or "Exactly". 
That means the question makes you utter some answers. That's what engagement is, isn't it? 
So, Are You Now Confident About Writing Engaging Content?
Hmm, the question is, "Are you confident about engaging your audience with your content?"
Option 1: Yes, I am.
Option 2: Sure, I am.
Option 3: Obviously, I am. 
I think you don't need any other options. Haha! 
Now, I would like to ask you another question, 
"How to write engaging content?"
Wait, you don't have to answer this question right now. 
Answer it with your next content. And, help your audiences engage with it. Comment below if you found this piece of content useful.
The Last Thing:
What to do with engaging content if it doesn't serve the main purpose? 
If your main purpose is converting audiences with your highly engaging content, let our AI chatbot generate more leads. 
Or use our live chat for giving the engagement a more conversational touch and humane feeling. 
Disclaimer: This article is originally prepared as workshop material for the company's Content Team.