More than ever customer engagement tools have become eminent as post-pandemic is creating massive shifts in customer behavior and catalyzing end-to-end business reorientation.
Customers want a seamless experience, no matter where they engage with your brand. Using digital engagement solutions is the direct route to achieve the core business objectives. It is the pathway to everything that a business wants, be it customer loyalty, profits, or brand advocacy. 
When you engage your customers, you draw them closer to your brand by delivering a great experience. And that's when the magic starts to happen.
However, it is crucial to choose the right user engagement tools by understanding the core business use cases and deliver exactly what consumers are expecting.
What are Customer Engagement Tools? 
Customer engagement tools help businesses to engage, acquire, support, and retain their customers throughout their lifecycle. Customer engagement is about improving customer communication and interaction, making them more personalized, dynamic, and contextually relevant.
The customer engagement solutions are as wide-ranging as the many ways businesses interact with their customers, including through customer relationship management (CRM), customer service, customer feedback, marketing automation, and live chat software. 
The key reasons why businesses are investing in customer engagement tools are:
Reduce sales cycle:

The engagement tools help in providing information proactively and help potential customers determine if the product or service is the right fit for them more quickly. 

Improve resolution time: Using conversational customer engagement tools helps in learning the exact issue and provide faster solutions which improves the average resolution time (ART) metric.
Increase customer loyalty:

Engaging customers in emotional relationships, which go above and beyond mere transactional purchases, helps forge stronger ties between them and your company.
How to Select the Right Customer Engagement Tools?
Depending on a particular brand and business model the customer engagement tools might apply differently. Some businesses rely solely on conversational AI chatbots to automate support to measure their success, while others believe analytics alone is the best indicator. 
Before you can start improving your customer engagement, make sure you have a thorough understanding of your desired audience. Once you know this, you will know which route is best for your brand to take next.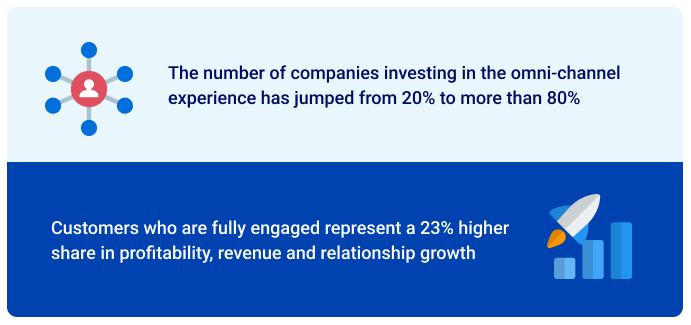 Here are the important factors to consider while choosing the customer engagement tool.
Identify the key use cases and business objectives

, whether you want to help customers to fill up forms, collect insight, understand customer experience (CX), etc.

Understand your target audience

and their needs to decide what are the right tools to be deployed to engage them better.

Consider a customer engagement tool with

powerful reporting capabilities

that provides real time insights into your customer behavior.

Choose a tool that

offers integrations

with the existing software integrated into your business.

Last but not least is

pricing

. Choose an affordable tool with strong customer engagement features.
9 Website Engagement Software to Interact with Customers 
Customer engagement is the connection between customer and brand. It encourages customers to interact and share their experiences with the brands they support. Real time customer engagement can grow a brand substantially, while poor service experiences can potentially deal businesses a fatal blow.
We have narrowed down important categories and the most preferred customer engagement tools that help to increase customer experience. 
Let's look at a few different tools you can use to enhance the quality of your customer engagement.
Customer engagement tool #1 – Customer messaging for instant sales and support 
One of the most important business objectives is to engage customers across their preferred messaging channels such as live chat, Facebook Messenger, Whatsapp, and more. Website being a common source of engagement for most businesses, live chat is ideally the important messaging channel.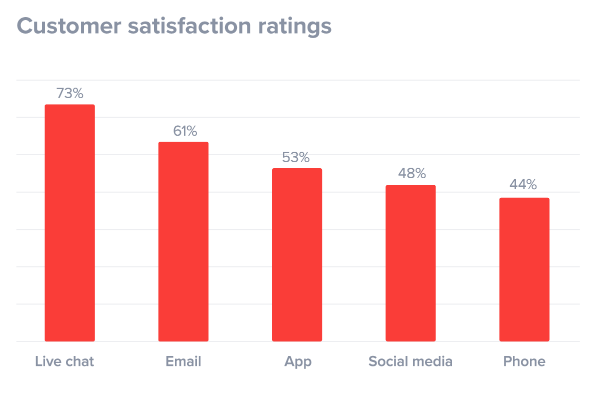 The top reason why customers prefer live chat is that it lets them get their questions answered immediately. 63% of consumers reported that they are more likely to return to a website that offers live chat. 
Key reasons why live chat is important for customer engagement.
Instant response:

Live chat

addresses the sales and support concerns in real time and offers effective responses that boost customer satisfaction.

Easy & convenient:

With live chat software, customers can connect instantly with a support agent which is why it is highly convenient. 

Reduce resolution time:

Support agents can understand customer queries with live chat and provide faster and effective solutions. 
The recommended tools to improve customer engagement are:
REVE Chat

 

is an omnichannel customer engagement tool to drive sales and online support. It helps businesses to engage with customers across their preferred channels and deliver a great messaging experience. The advanced features that help to boost engagement are visitor analytics, intelligent routing, and proactive chat triggers.
Intercom

is a conversational relationship platform that helps to build customer relationships via messaging and live chat across their journey. It provides better conversational support with proactive chat, self-service options, and human support.
Website engagement tool #2 – Live assistance for customer support 
Businesses are greatly relying on visual engagement tools to deliver personalized assistance in real time with the help of advanced tools like co-browsing, screen sharing, video & voice chat. 
The digital customer engagement tools have great power to identify the issues faced by your target audience in their journey.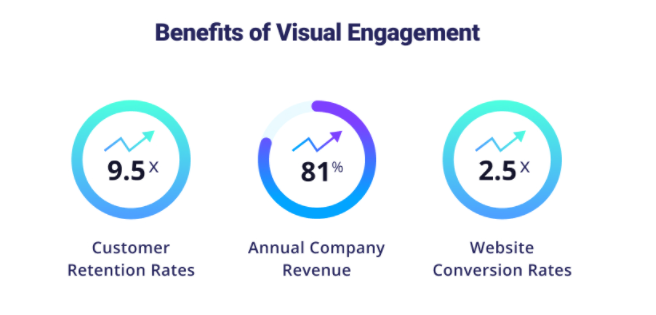 Co-browsing allows real time collaboration with customers. You can control your customer's browser and visually guide through complex transactions or forms. Video chat can deliver a faster solution in the first contact thus reducing the number of customer touchpoints. 
Personalized engagement with video chat helps to improve customer satisfaction and build long-lasting relationships.
Combining co-browsing with live chat and video chat helps to deliver a truly engaging customer experience.
Here is how live tools help in boosting customer engagement.
Resolve issues faster 

– When agents view the customer screen, they gain first-hand knowledge of the issues that can be identified and resolved much faster than phone calls or chat and improved first contact resolution.

Streamlined real-time support

 – Live interactions have the strongest impact on customer satisfaction. With co-browsing, customers can experience real time live support and get issues resolved instantly.

Improve FCR:

Using live engagement tools helps support agents to learn the exact issue and offer effective solutions in the first touchpoint itself.
The recommended customer engagement software for live assistance are as follows:
REVE Chat

offers a complete suite of live engagement tools like video chat, co-browsing & screen sharing that help business to engage with customers across their whole journey. The co-browsing tool allows collaboration with customers in real time to guide them through the problem and offers faster solutions. Video chat helps to personalize customer conversations on the website or mobile app by starting visual engagement.
24sessions

is a video-first customer engagement platform that offers powerful service solutions at scale. With 24sessions you cover every step of the digital customer journey – with integrated appointment booking, routing, video calls with co-browsing and screen sharing, compliant recordings, and AI-powered meeting insights.
Customer engagement tool #3 –  Conversational chatbots to automate support 24×7
Chatbots have great potential to drive user engagement and assist customers better. With more and more businesses opting for chatbot support, it's imperative to identify chatbots use cases and deploy the right one.
The biggest use case of chatbots is to automate customer support. As customers expect every online business to facilitate a chatbot on their website with a good response time. Many of these customers prefer a bot over human intervention for basic support and information.
Here is how chatbots of customer engagement platforms can improve the engagement process.
Customer satisfaction:

Chatbots provide immediate responses and that too on a one-to-one basis. When customers are provided effective guidance, they keep coming back for more.

Enriched user experience:

A chatbot can enhance the user experience as it can handle the emotions of a disgruntled customer. Customers always feel happy when their issues are resolved at the earliest, enhancing the overall experience.
The recommended chatbots platforms that can increase user engagement are as follows:
REVE Chat

offers a visual bot builder platform that allows brands to create customized bots with zero codings based on business needs. It allows to build & deploy chatbots in a short time frame, train the bots with advanced features like intent samples and sentiment analysis. It offers a hybrid chat option where the bot handles the common queries and complex chats are routed to the human agents.
ManyChat

is a widely accepted chatbot platform that automates & combines Facebook Messenger and SMS to grow your business. It helps to engage the audience with Facebook marketing tools. The visual drag & drop interface allows users to connect messages and actions with each other.
Website engagement tool #4 – Self-service for independent customer support
Self-service is not just nice to have but is a necessity for providing a positive customer experience.
In fact, it has become so important that 70% of customers now expect a company's website to include a self-service application.
Self-service allows you to provide online customer support without requiring any interaction with a representative from your company. The most common types of customer self-service include FAQs, knowledge base, and online discussion forums.
Adding feedback functionality, such as the ability to rate the article's helpfulness, is a sure-fire way to increase customer engagement.  
How do self service tools help to level up website engagement?
Real time engagement:

Self-service options such as knowledge bases or chatbots are always readily available. Customers do not have to wait for the support agents to assist them.

Boost customer satisfaction:

Having serve service options on the website, empowers customers to find solutions for their issues instantly and increases satisfaction
The recommended self-service tools for website engagement are as follows:
Zendesk

is a customer service solution and powers billions of conversations, connecting more than 100,000 brands with hundreds of millions of customers over telephony, chat, email, messaging, social channels, communities, review sites and help centers.

Document360

is a well-known knowledge base portal that helps in creating instant self-service knowledge base portal, FAQs, user guides, product documentation, standard operating procedures.
Customer engagement tool #5 – Feedback & survey solutions to retain customers
One essential aspect every business needs to measure and track is how impactful products and services are for their customer base. 
This is where customer feedback comes in handy. 
Essentially, a feedback tool is built to create and distribute customer surveys. It helps to gain valuable insights from customers as to how you can improve your product or service, identify unhappy consumers, and reduce customer churn.
Surveys and feedback forms are utilized for various reasons, including understanding your brand from a 360-degree view.
How do survey and feedback tools help to boost customer engagement?
Know customer needs:

  Feedback helps to learn customer needs and complaints closely and fill up the gaps in the products and services to improve customer satisfaction.

Retain customers:

Sharing CSAT surveys not only shows how much you care about their opinions but also gives a platform to engage with them.

Gain valuable feedback:

The customer feedback survey will help you gather consumer's feedback on any concerns related to the products and services. It will make you gain deeper insights into how they perceive your products/services/brand. 
The most recommended feedback and survey tools for customer engagement are:
SurveyMonkey

is a popular online survey tool that offers a wide range of features like automated reporting, permission controls for data simplification, and customization tools. It also offers integrations with over 100 apps and plugins to streamline and organize customer data.

Survicate

is a customer survey platform that easily integrates with your marketing application. It allows a simple process to collect feedback from customers who visit your website, embed surveys into emails, and even learn about your mobile app users.
Product engagement tool #6 –  Deliver better user experience with in-app engagement 
In-app customer communication is the most contextual way to reach users. In-app engagement shouldn't feel like a roadblock to the services you're offering—your messaging should feel like an extension of your product. 
Unlike live chat, in-app messaging uses asynchronous communication, which means that you do not have to stay connected while waiting for a response. It makes the whole customer service experience much more streamlined and customers avoid waiting unable to do anything else.
Here are some key benefits of in-app customer engagement
Seamless experience:

In-app messaging allows customers to raise queries directly within your application.  It becomes frictionless, enabling a continuous customer experience that puts them directly in touch with an agent that can help.
Boost engagement

– Implementing in-app messaging can foster increased engagement. It also increases an app's stickiness that leads to brands to be in the minds of consumers. For example, Uber uses in-app messaging to allow customers/riders to send messages directly to their driver once they book a ride, and vice versa.
The most preferred in-app user engagement tools are:
Appcues

is a great user onboarding solution. It allows you to build onboarding experiences without coding. The combination of full product tutorials, modals, slideouts, less-intrusive tooltips, and hotspots can be used to propel user engagement.

Sendbird

is a complete chat and messaging solution for your mobile apps and websites. Its chat, voice, and video APIs and SDKs connect users through immersive, modern communication solutions that drive better user experiences and engagement.
Customer engagement tool #7 – Email marketing software for personalized support
Though email is a reactive channel it still plays a main role in customer engagement. In fact, 62% of customers still want to communicate with companies via email for customer service.  
Email marketing can also provide a great medium that allows businesses to reach out to their potential leads and customers. It is also a good way to reach out to your customers and becomes a very powerful engagement tool when combined with personalization. 
Here are just a few reasons why email marketing works so well in engaging customers.
Personal touch:

Email segmentation makes it easy to deliver the most relevant offers & content to the consumer that are personalized and relevant based on the buying patterns.

Share instant information:

Sending email campaigns allows your business to instantly distribute your sales emails and promotions, to enable your consumers to take advantage of the opportunity to get a great deal.
The recommended email marketing tools are
Mailchimp

is a popular email marketing service that comes with an easy drag-and-drop email builder, autoresponders, segmenting contacts into groups, and simple tracking for analytics. It also allows you to set up delivery times based on the user's time zones, and you can set up segmenting based on geolocation.

GetResponse

is one of the best email marketing solutions. It comes with great marketing automation tools that allow you to create smart automated campaigns. The drag and drop builder helps to create campaigns, segment contacts, and send any number of emails designed for specific groups. 
User engagement tool #8 – Engage customers better across social media channels
Social media more or less has become a vital part of a customer – 63% of millennials use social media to keep up to date with brands. But, social platforms allow you to go far beyond simply broadcasting news and advertisements. 
Customers can get in touch with you – and hear back – providing the opportunity to create two-way conversations.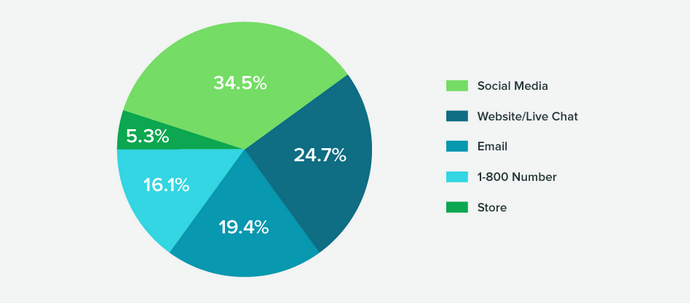 Businesses can use social media to build communities and leverage the human desire to share, producing content that people want to comment on and talk about.
LinkedIn is often used by B2B companies, whereas B2C businesses tend towards Facebook, Twitter, and Instagram. It all comes down to what will work best for your business.
How does social media help with customer engagement?
Build a rapport with followers:

Social media helps to build a rapport with audiences by putting faces to names and reinforce your company image when you are able to connect with your audience on a more personal level.

Make your followers feel special:

Social media is a great way to make your audience feel special by offering special deals and promotions. For instance, you can offer a special rate for a limited time to followers. 
The recommended tools for social media customer engagement are as follows:
Hootsuite

is a social media engagement platform that provides efficient & personalized customer service on social media. Hootsuite's social inbox helps you, monitor, & respond to messages from different networks. You can set permission levels for team members, quickly create and assign tasks.

Statusbrew

is a full-fledged social media engagement tool that supports Instagram, Facebook, Twitter, YouTube, LinkedIn. It empowers you to make each customer feel valued and ensures long-term loyalty by responding quickly to customer queries across social with Statusbrew's unified Engage inbox.

Movavi is an ideal video editing software, particularly for businesses that want to create stunning social media posts effortlessly. Its pre-built templates and vast library of effects simplify the editing process, allowing content creators to add a creative flair to their videos with ease.
Customer engagement tool #9 – Customer analytics software to gain valuable insights
Implementing powerful analytics tools should be your first priority. These can translate raw user behavior into actual insights you can work with, and generate reports that help you optimize your approach as you progress. In addition, you should think of using an omnichannel contact center software for offering support across channels and doing real-time tracking of all interactions. 
How customer analytics tools improve customer engagement?
Meet customer expectations:

The analytics tools provide deep insights into what customers are looking for. Based on the details, you can align your services to meet their expectations.

Proactively engage customers:

You get a clear picture of the customer journey and based on it you can assist proactively and offer personalized solutions.
The top recommended analytics tools are as follows:
Heap

is a digital insights platform that shows you everything users do on your product or site. It allows you to automatically capture and measure every user action, including taps, swipes, page views, form submissions, clicks, and much more.

Hotjar

is an all-in-one customer engagement tool. It allows heatmap analysis and recording sessions to track visitor movements and lets you play them back along with heat maps and detailed reports. It allows qualitative customer feedback through surveys.
Leverage the Right Customer Engagement Tools to Retain your Clients
Irrespective of the nature of your business you one thing is for sure: you need user engagement tools for your business success. The above-mentioned customer engagement tools from different categories can help to achieve your key business goals. These tools can also help to create or streamline an engagement strategy for your business. The good part is that the engagement tools are easy to use and implement. Choose the right one to acquire and retain your customers.