Customers always vouch for great experiences when they engage with brands. And when the engagement is seamless and frictionless, they become loyalists. 
However, not all businesses realize the value of consistently engaging with their customers across channels and therefore most of them suffer.
Since there are so many channels around, expecting customers to choose a specific one and ignore others can be the wrong strategy.  
In fact, a business must focus on providing customers multiple ways to interact and engage with your brand as it can improve their overall experience. 
This is where omnichannel customer engagement comes into the picture – it's a unique marketing approach where brands maintain consistent messaging and information across channels.
And when there is a seamless experience, customers love that and it may even boost the chances of conversion.
In this blog, we will discuss what is omnichannel customer engagement, its benefits, and how to create it. 
What is Omnichannel Customer Engagement? 
An omnichannel customer engagement model is an innovative marketing strategy that focuses on streamlining all the interactions across multiple touchpoints in a unified way. Its focus is to maintain a seamless transition between channels and manage them from a single platform. The purpose of this type of engagement is to easily manage the disconnected interactions of each customer and ensure individualized experiences.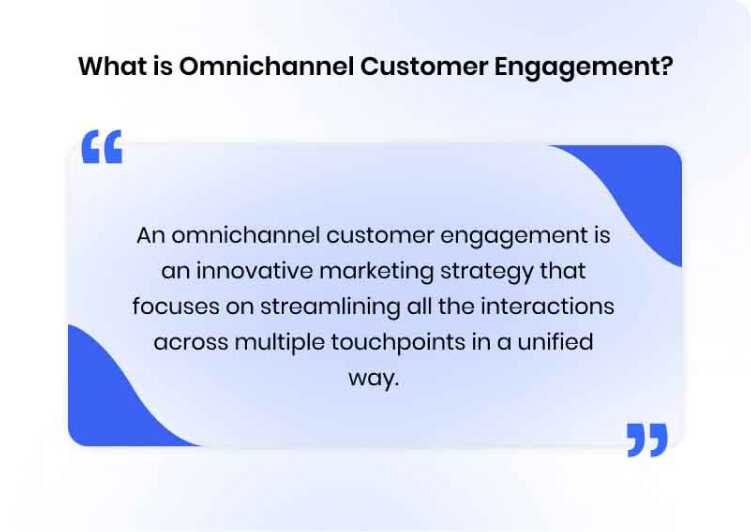 By adopting an omnichannel strategy, businesses will be able to support the customer journey of each individual and maintain consistency in messaging across all channels and touchpoints.
For example, Disney perfectly blends the digital and physical to ensure a great omnichannel experience for its visitors. Its My Disney Experience App and Magic Wand wearable technology deliver a seamless experience by bringing everything in the theme park – from tickets to photos, food options, ride wait time, and hotel room keys – under a single platform. 
The Disney experiment shows how to personalize the entire experience for customers and how to ensure a great frictionless experience with a brand.
Benefits of Omnichannel Customer Engagement Strategy 
It's important to understand what customers want and how to deliver amazing experiences across channels. Thanks to the omnichannel approach, a business can ensure consistent, contextual, and unique experiences across channels in an effortless manner. And when such kinds of experiences are delivered, customers are bound to return back for more purchases.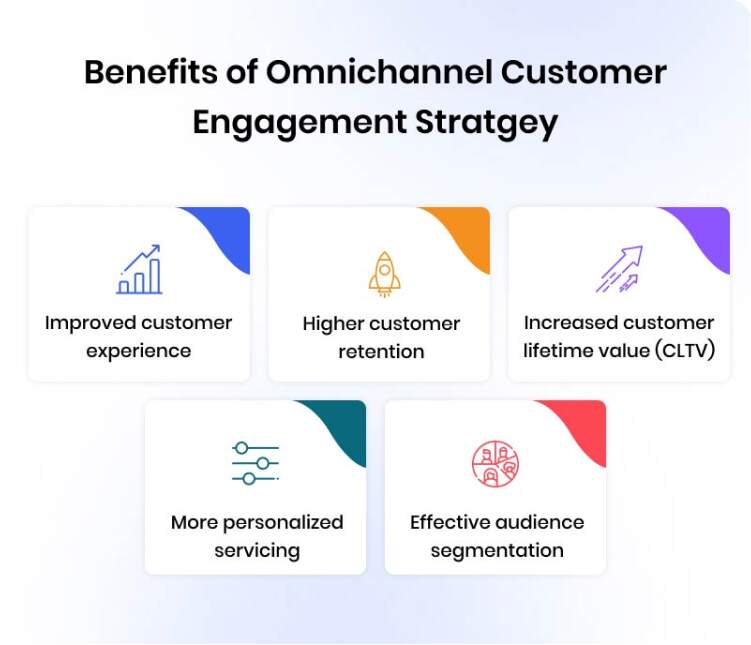 Benefits are many when a business decides to leverage an omnichannel customer engagement platform.  
Improved customer experience

– Adopting an omnichannel engagement strategy gives a detailed view of the customer's journey and also streamlines all the interactions under one platform. Both aspects are key to boosting the customer experience with a brand.   

Higher customer retention

– When customers have the freedom and flexibility to connect with the brand through the preferred channel, it boosts their satisfaction level. Such customers are more likely to stay retained for longer. 

Increased customer lifetime value (CLTV)

– Delivering

consistent and seamless experiences

to customers and making it easy for them to reach the business can win their loyalty. And loyal customers often bring more to the table which can give a boost to the lifetime value. 

More personalized servicing

– The use of a customer engagement platform can help map all touchpoints and interactions across channels for customer profiles. Based on these profiles, it becomes easy to deliver more personalized experiences to customers at every stage of the journey.  

Effective audience segmentation

– Businesses can trust an omnichannel customer engagement platform and the inherent technologies such as AI-powered chatbots etc. to learn more about customer behavior, and understand demographics and preferences. It will help in effective customer segmentation at all levels.   

 
Tips to Create Omnichannel Customer Engagement Strategy
Customers are quite demanding and they won't settle for less when it comes to service. Your business should ensure quick responses and a smooth transition between channels. After all, 86% of the buyers won't mind paying more for a better customer experience. To achieve this kind of experience, you need to plan a successful omnichannel customer engagement strategy.  
1. Determine the Preferred Channels of Customers 
Customers always like to have the freedom and flexibility of choosing their preferred channels to reach out to businesses. And if your business goes against the script, it might have a negative impact on your engagement strategies which is never good for the business.   
However, customers having the freedom to choose their channels does not mean you jump on every channel available. You should rather focus on investing in those channels that are extensively used by the target audience. 
At the same time, you should think of investing in a customer engagement hub technology to maintain a sync between the people, processes and channels for delivery of customer service. 
So, you first need to understand customers better and the type of channels they might use to contact your business. Based on that, you can find out the channels best suited for your omnichannel strategy.
How to determine the preferred channels of customers? 
You need to know your customers well and where they spend their time as it will give a good understanding of their favorite channels.

It's important to analyze the average day of your customer persona to be aware of the channels of choice.  
2. Map Your Customer Journey 
There are so many channels around which customers can use to contact your business. Be it social media, email, or live chat, communication can happen anywhere whether for sales, marketing, or support purposes. 
So, for a business, it's important to know customers' experiences with your brand across all touchpoints. Not knowing the same means you don't map the customer journey and in such cases, you allow customers to slip through the cracks.  
Customer journey mapping is vital to better understand customer expectations and optimize their experience at each step. When you map the journey, you're able to deliver personalized experiences to customers. 
With the journey mapping, it's easy to understand what customers want and then you can tailor the experience to their needs. More so, it helps you target the prospect across touchpoints.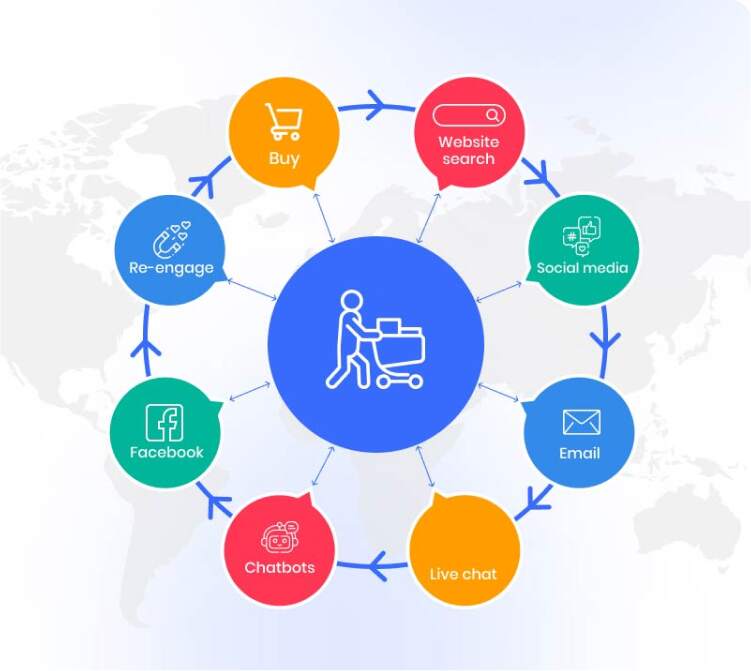 Benefits of customer journey mapping 
Journey mapping helps you understand customers inside out and engage them the way they want. 

You're then aware of the preferred touchpoints which enable you to stay available across the channels and provide real-time help. 

You can personalize interactions across touchpoints and ensure an excellent customer service experience.

 
3. Recognize Customer Pain Points 
Happy and satisfied customers are never an accident. They are the result of a planned strategy. And when you have a long list of happy customers, it means you have been giving them great experiences at every step of the journey.
So, in a way, a successful business is one that not only understands but also solves customers' problem before it becomes a pain point. And if you're not paying heed to customer problems, how can you understand the painpoints?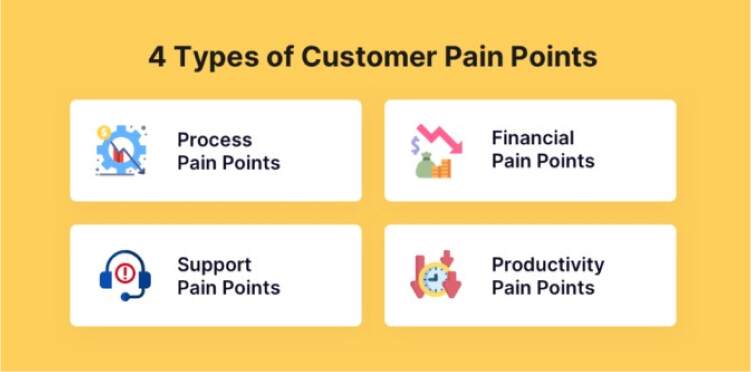 Whether the pain points are related to customer service or communication, you must take steps to identify them and fix them else it can impact their experience with your brand.  
Conducting pain point analysis is key to improving the experience of different types of customers.
Tips to recognize customer pain points
Map out your customer journeys as it will give you key insights into customer pain points. 

Create customer personas so that you can give focus to customer needs in syn with the different stages of the journey. 

Use the live chat to better understand every issue of customers and get plenty of data for analysis. 
4. Bring the Messaging and Channels in Sync
All your marketing effort would go waste if there is no sync between the messaging and channel. There has to be a balance between the type of channel and the message you use. 
In fact, you must keep the content relevant to the specific channel. There is no value in pushing the same messaging over multiple channels as it won't do the work.
Look, every channel has its niche audience base, and confused messaging means you're not able to leverage the full potential of that particular channel. After all, 78% of customers now prefer omnichannel engagement so there must not be a mismatch between channel and messaging.  
For example, if you use images to engage customers on Twitter, it may not get the traction as Instagram or Facebook would. Similarly, images won't do well on YouTube as we know this channel is all about interactive videos. 
So, your messaging and the choice of the channel has to be in unison to help you achieve the customer communication goals. 
How to strike a balance between the messaging and channel?  
Before deciding on the channel to use, you need to understand the objective of the message whether you want to drive awareness or boost conversions, or close sales deals. 

Do an in-depth analysis of the audience and try to know the types of content they normally respond to.  

Make sure the content ties in with the brand ethos and helps you stand out by achieving your marketing goals.    
5. Use the Customer Engagement Platform  
It takes the right tools and technology to deliver seamless experiences to customers across touchpoints. If your business lacks the resources, it won't be able to achieve an omnichannel customer engagement strategy.  
The focus should be on giving customers the freedom to switch between channels and still maintain the flow of communication. Rather than giving value to any channel, you must ensure customers are at ease on their preferred channels and touchpoints.
More importantly, your customer engagement strategies need to be backed by tools enabling multi-channel support and only this can ensure real-time and effective solutions. 
The best way is to leverage the features of omnichannel customer engagement software and take channels out of the equation. When you do that, managing omnichannel customer engagement chat becomes very easy.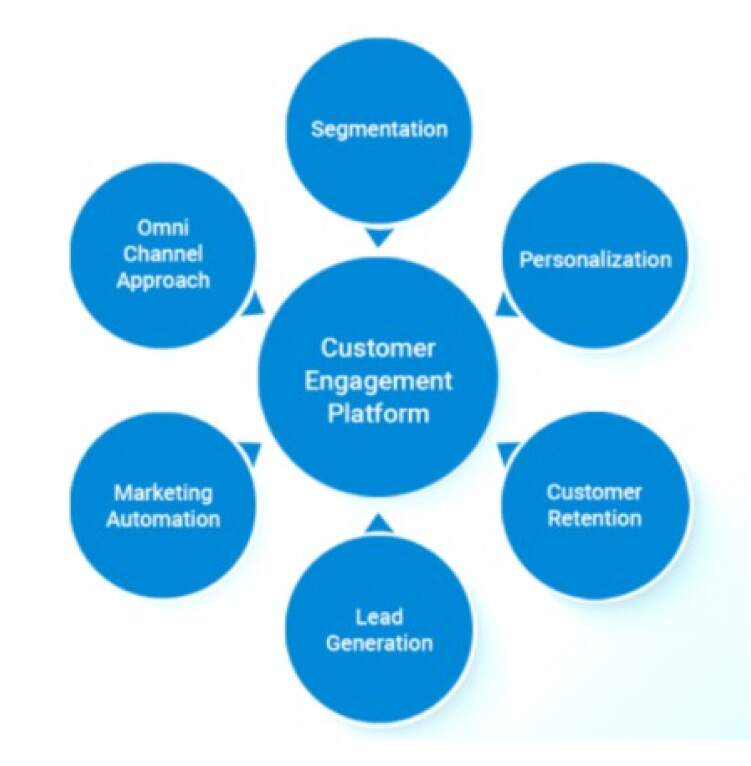 Tools to support your omnichannel engagement strategy 
You can deploy AI-powered chatbots to engage with customers round the clock and offer them real-time answers to their queries.  

The use of live chat can help you stay connected with customers 24×7, offer them instant support, and fix any issue immediately.  

There is a co-browsing tool that can be used to collaborate with customers through screen sharing and it will help guide them through different stages smoothly.  
6. Blend Automation with Human Support 
Customers not only expect quick responses to their queries but also a human touch to interactions as well. And if there is no human touch, conversations and customer service often feel drab. 
To deliver omnichannel customer engagement, you must blend automation with human touch as doing it can elevate experiences. It's therefore important to use intelligent or smart technology along with a touch of empathy with service.  
And when it comes to blending automation with human support, there can't be a better way to strike a balance between the use of live chat and chatbots either together or simultaneously, depending on the situation. 
Your engagement strategy basically needs both to deliver customers the kind of results they expect from you. 
How to strike a balance between automation and human support? 
Chatbots are fit for the primary stage when the focus of customers is largely on getting quick responses and instant answers to their queries  

You should put live chat-driven human support for complex conversations where chatbots fail to comprehend issues.  

It's equally important to know when a conversation needs automation and when human support and the blend of both can add depth to your customer engagement strategy. 
7. Give Customers Plenty of Self-service Options 
A low response time is always a key aspect of great customer service. The lower you keep it, the better experience customers will have with your brand.
However, not many businesses realize this and therefore they either ignore the value of self-service options or don't give it the kind of weight it deserves.  
You should not make this mistake because a lot of customers now prefer self-service options as it ensures them quick access to information and saves their time. In fact, 90% of customers globally expect brands to have self-service support options.  
So, you should invest in creating a good amount of content hub such as videos, tutorials, manuals, and how-to-do materials to ensure good experiences for customers. 
When the self-service option is there, it not only saves time but also helps educate customers and strengthens their association with your business.  
How Can REVE Chat be a Perfect OmniChannel Platform?  
A successful omnichannel customer engagement strategy is not possible unless you have a great marketing stack for help. You need it to stay organized by keeping all the customer-centric data in a place.
REVE Chat's omnichannel customer engagement software gives you the option to have all the customer information, interaction, and data in a single unified platform for easy access. 
The platform comes with a whole host of engagement tools such as AI-powered chatbots, live chat, co-browsing, etc. that ensures value to the way you look to engage with customers. 
In essence, your business should leverage the omnichannel customer engagement app to launch an effective strategy for ensuring value to customers at each step of the journey.
Final Thoughts on Omnichannel Engagement Strategy   
The days of the single-channel customer engagement model are behind us as its limitations were too much for new-age businesses. 
Now when there are multiple channels of communication, your business needs to make a switch to an omnichannel strategy to engage customers better.
With REVE Chat, you can sign up and find a host of powerful engagement tools to deliver what customers expect. 
And when you have the right engagement strategy in place, it's always easy to deliver value every step of the way.