At the time of placing an order in logistics companies, what is important to you? the answer is simple, the fast delivery of cargo, on time, excellent customer service, and low price.
Today, in an increasingly competitive market, customers are more attentive to customer service, because customers are looking for a partner who can understand their needs and can solve any problems.
A good logistics company is not just able to deliver cargo on time and at the lowest price, it is one that can be trusted and whose employees will help you at every step of the way: from placing an order to delivery of cargo. 
In this article, I will discuss customer service in logistics, its role, and ways to improve it. 
What is Customer Service in Logistics? 
Customer service logistics is the practice of creating positive experiences through the supply chain of goods and services. The service logistic organizes the transit of material and information throughout a company according to defined procedures. Its main functions are: to receive, store and deliver products, to ensure the proper flow of purchases and sales, and to manage internal transport.
A company has always had a "logistics" department even if this has never been formalized. It is the department that controls the reception and shipment of goods that come in and out of the warehouse. Its activities are mainly administrative and are performed by the more humble employees, who do not have direct contact with customers.  
In order for the logistics department to provide an excellent service, it is necessary that all employees have a general idea of how the company goes about its business, what type of activity they perform, and the cycles they undergo to meet customer deadlines. And, it is also important to know the difference between customer and client to deliver personalized service. 
What is the Role of Customer Service in Logistics?
Excellent customer service is not only important to get and retain customers, but also the main source of competitive edge. But customer service is a very essential part of the logistics industry. 
Consumer goods often have a very short lifetime, so the quick response time to customers and accurate information is essential. A good logistics company must always watch and reflect the market trend as well as its customer requirement, then offer suitable solutions to meet all customers' needs.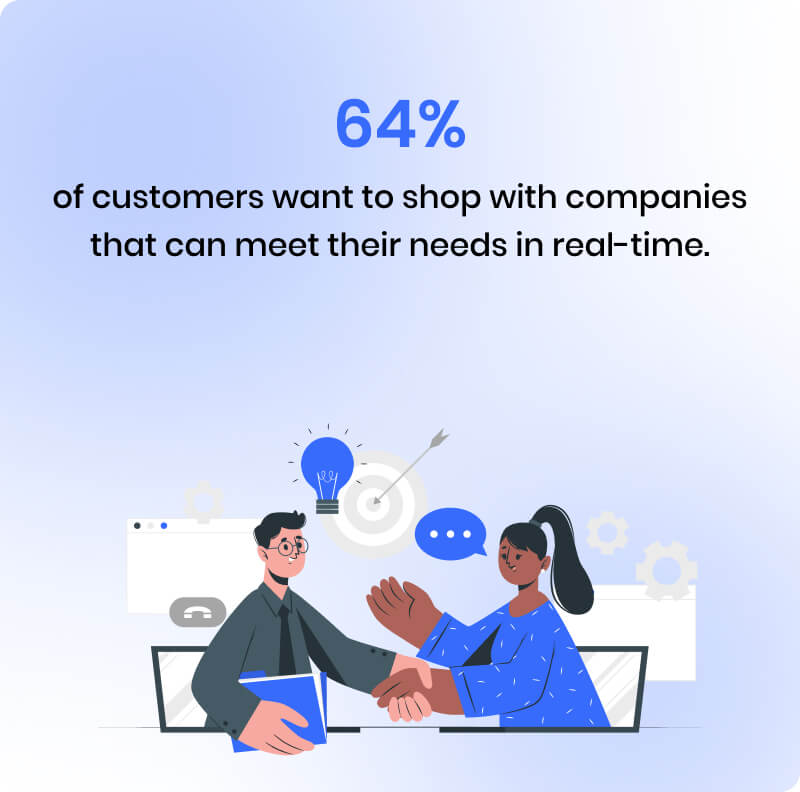 The key role of customer service in logistics is to solve customer queries after the sale and make them feel satisfied with the delivery. The customer service department will provide support for the customers on all the queries about their orders. It is a department that plays a vital role in logistics and helps in building long-term relationships with customers.
Businesses need to look out for the customers' satisfaction when they are making deliveries. If they fail to do so, customers may have second thoughts and may not trust them as they would like to. The lack of proper customer service on delivery can result in negative reviews on social media platforms which can hurt the reputation of a business.
Importance of Customer Service in Logistics
The importance of customer service in logistics is a common practice for companies to offer customer service as a means to an end: satisfying customers in an effort to reduce churn, increase retention and ensure future business. However, customer service should be a company's number one priority.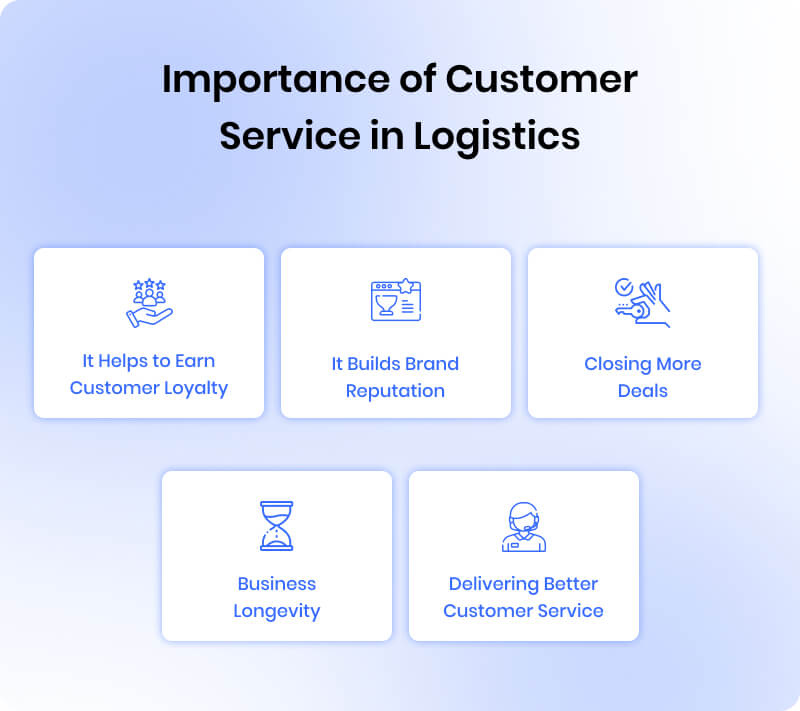 Let's take a look at some of the key points to clearly show why customer service in logistics is important. 
1. It Helps to Earn Customer Loyalty 
To earn customer loyalty, it's first important to know what customers want. They want to be treated with respect and feel like they are being listened to.
When customer service is bad or good, people tell other customers about it. As a business owner, it can be scary to think about how much is riding on your customer's experience with your business. 
However, 42% of consumers surveyed in a 2013 study said they would switch brands within the next 24 hours if there was an issue with their customer experience.
Some businesses focus more on their products or service rather than on the customers themselves. Those businesses tend to falter and fade away. Other companies focus on customer service, causing a strong bond to form between them and their customers.
2. It Builds Brand Reputation 
Excellent customer service reflects in the way companies treat their customers. Not only it is an essential part of the business, but it is also very important to have a good reputation and even more so when you have a brand.
The customer experience is key to positioning your product as a quality one and that's why it is also necessary to make sure that your past and current customers are posting positive reviews on social media. 
So always remember that unless your customer service is outstanding, you won't have a very good reputation, which is the most important aspect of any business nowadays. Customer service must be efficient, courteous, friendly, and reliable.
3. Closing More Deals
How many times have you used a company only to get terrible service that makes you regret your decision? Unfortunately, not every customer gets excellent customer service (ECS). But great customer service can be the determining factor in whether someone is a customer for life or not. 
Excellent customer service helps to close more deals. It is not just about service, but more about building a relationship and fully engaging with the customer.
4. Business Longevity 
In the world of e-commerce, excellence in customer service can make the difference between a sale and a lost customer. Today's customers are savvy and able to reward businesses that offer exceptional service with their loyalty. However, if you're lacking in this area, you may end up losing valuable income as your customer's shop for a better experience.
The first is to make the customer feel important. The most important thing to know is what you like about your service. It does not matter if you are a business owner r or an employee.

Secondly, it can make customers feel confident. Customers will come back because they feel confident with your service. Remember that when people feel good, they tend to return. This can be achieved by listening to them and treating them with respect.

Lastly, customer service provides a sense of satisfaction and loyalty. Once customers feel that they have been treated fairly and they feel comfortable, they will come back. They will also tell their friends about their own experiences so that their friends can come too.
5. Delivering Better Customer Service
84% of consumers that have an issue with a brand will never complain directly to the brand itself, they'll go straight to social media. So keep in mind, that customers who have an issue with your business have no loyalty to you as an individual or to your brand as a whole.
There is a lot of data about customer service being one of the top drivers of revenue and retention, yet customer service is all too often the afterthought. Why should you deliver better customer service? Well, there are plenty of reasons including
Better customer service leads to customer loyalty and increased revenue

It can make customers "brand evangelists"

It can help you recruit and retain better employees

Delivering better customer service has been shown to actually increase your daily productivity

It can improve your supply chain too by helping you develop a deeper understanding of your customer's needs

And finally, it's just the right thing to do
How to Improve Customer Service in Logistics?
The key to delivering better customer service is that it's not really about you, it's about the customer. Take a few moments today to think about how you can deliver the best possible experience for your customers. Think about how you can provide a level of service that takes the relationship beyond "transaction" and into something more meaningful.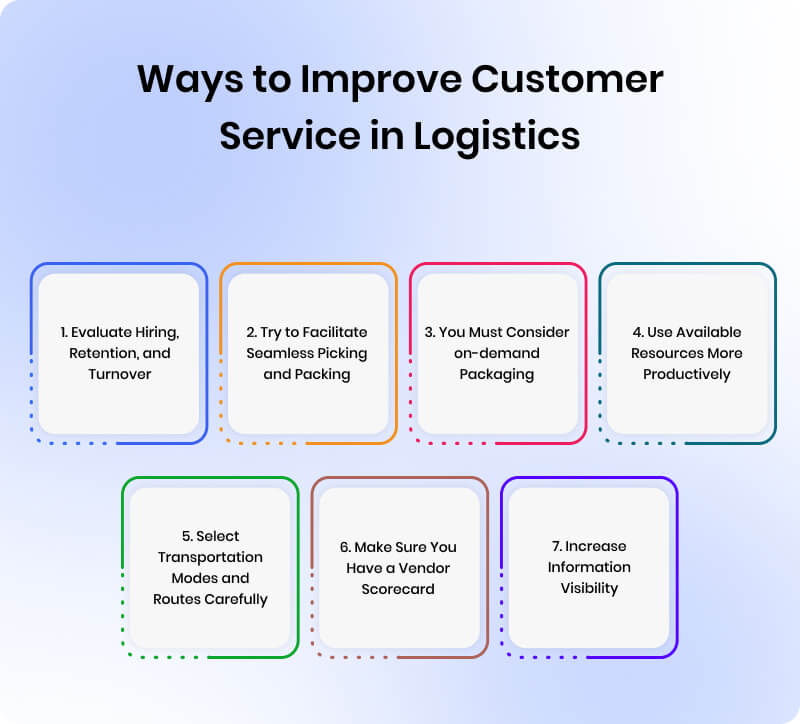 Here are some of the great ways to deliver effective customer service in logistics.
1. Evaluate Hiring, Retention, and Turnover
You may well know what to do regarding the continuous work loss rate and how dangerous it can be for your company's future but are you ready for the grim truth? It won't turn any better overnight. You'll have to take note of some vital factors to effectively address the issue and increase the retention rate straight away.
There are two fundamental parts where loss can turn into a real risk for you. The first one is high worker turnover, and the other one is dissatisfaction that takes after high worker loss. 
Here are possible solutions to decrease dissatisfaction and keep your workers:  
Acknowledge that your staff is not just other assets. They are individuals.

Create a sound money-related arrangement and treat your staff with respect.

Make a culture in which there's passionate cooperation.

Learn to comprehend your workers' necessities. Give them trust and influence over their own particular development.

Fulfill the requests that you make to your staff and give reasons for why you make these requests.
2. Try to Facilitate Seamless Picking and Packing
The picking process plays a significant role in the customer experience of your warehouse. The picking and packing procedure has a greater effect on the overall customer experience than most organizations think. There are three major components of the order and supply chain process that affect the customer experience:
Shippers and receivers must keep the client or receiver apprised of the status of an order. Packaging orders and products inside the containers should be planned. Picking an item should be easy to do and fast.
3. You Must Consider on-demand Packaging
Logistics customer service improvements have been a hot topic lately throughout supply-chain and e-commerce circles. On-demand bundling is the practice of bundling supply chain orders and putting them in a container or truck together with the intent of shipping them to a common location. This can save money and time, improve safety, and reduce leakage.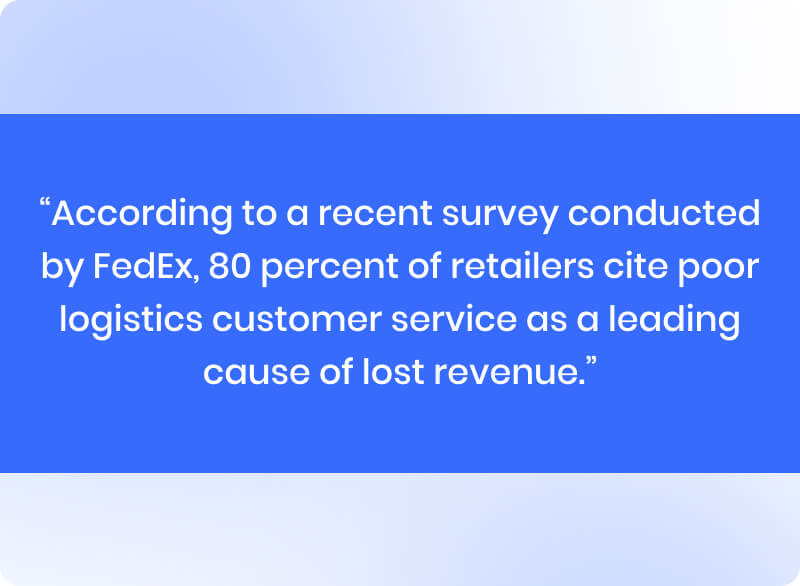 4. Use Available Resources More Productively
The cost of logistics is growing every year. This is due to the fact that more and more work is performed by specialized logistics personnel who are trained to perform certain activities. 
The fact is that the number of crates and boxes grows, as does the number of documents, customs formalities, etc. If you are even thinking about how to optimize your logistics, you should really think about using available resources productively. 
5. Select Transportation Modes and Routes Carefully
This can be a challenge if you own a global logistics company because you have customers in many different places. You need to know the right mode of transportation to use when moving goods and the luggage or containers in which to transport them.
Most businesses focus solely on speed and cost when choosing their transportation methods. But there's more to it – the logistics of getting things to customers. 
By paying attention to how the packages are transported, companies can improve customer service by addressing priorities like safety, accounting for weather conditions, and being proactive about damage or theft.
6. Make Sure You Have a Vendor Scorecard
It helps you identify, measure and manage their performance. As a buyer, you will be able to measure your suppliers by using the data from surveys. The vendor scorecard allows you to visualize the current state of your business relationship with those suppliers.
A good vendor scorecard enables you to optimize the performance of suppliers through regular communication and data analysis. 
For example, the scorecard allows you to measure how easy it is for their delivery and distribution managers to order their goods, as well as monitor their performance in relation to timely delivery and quality of products or services rendered.
7.  Increase Information Visibility
The worldwide logistics industry has seen a huge growth in the past decade, with an increase in the number of goods transported each year. In North America alone, the value of American imports has increased by 60 percent while imports from China have increased by over 300 percent. 
And globally, last year's volume of international freight traffic rose to 3.3 trillion tons. This growth means that logistics companies and their service providers are handling more cargo than ever before, with more destinations and modes of transport to manage. 
That is why it is important to increase information visibility to ensure transparency for both the clients and the logistics. 
How REVE Chat Can Help You?
Technological development has given an opportunity to use new approaches, new technologies, and new solutions that can help logistics companies and consumers to improve customer service in the logistics sector.
Many companies have started using a chat-based platform, which enables customers to reach out to brands through live chat and social media.
Chatbots are often integrated into messaging apps or can be programmed to respond to certain triggers in other applications or platforms. They are used to answer general questions and give relevant responses but are also used for interactive roleplaying games. So, what are you waiting for? Sign up now and enjoy 14 days free trial.