Businesses today are fully aware of the value of a great customer experience for their success. This is the reason why they are looking toward incorporating Artificial Intelligence (AI) to provide an intelligent, convenient, and informed CX at any point along the customer journey.
More than 50% of companies surveyed are already taking action to deploy AI for customer experience by using it to quickly access insights and automate campaigns and processes. 
The great potential of AI is because of the fact that AI has the power to analyze and process huge amounts of data from different sources, including human behaviors and emotions, thereby helping create more meaningful CX.
Benefits of Investing in AI for Customer Experience
Accenture projects that AI will double economic growth rates by 2035. 
As AI continues to transform the customer experience through personalization, deeper engagement, and proactive service, companies that employ this technology have a competitive edge over those that have not yet embraced its benefits.
Forward-thinking businesses have already broken the ice and adopted AI for customer experience trends. There are various examples where AI assists customers in booking tickets, buying products, ordering food, making reservations, scheduling appointments, etc.
Some compelling benefits of artificial intelligence for customer experience are as follows:
Higher Business Revenue
AI can be beneficial for targeted marketing strategies and sales funnel refinement. It helps the sales team in building relevant strategies and focus on the areas of improvement to boost their sales pipelines. 
Automate Customer Support 
Deploying a customer service chatbot, to all the communication channels can help you to deliver instant assistance to the FAQs requested by clients that improve response time and reduces customer churn.
Boost Customer Satisfaction
Leveraging the power of AI helps to deliver personalized assistance 24×7 when the support team is busy or not available. Getting faster service at the moment they need increases customer satisfaction.
6 Ways How AI Enhances Customer Experience (with Examples) 
Artificial intelligence can enhance CX in many ways. It streamlines processes and improves automated support to simplify everyday tasks. As per Gartner, "58% of consumers will use AI to save time, and 56% said they'd use it to save money. The more time they save, the more likely they are to purchase a product, and the more money they save, they're likely to return to your business to buy again." 
Understand how CX intelligence is important for overall business growth. Adopting the AI trend helps your businesses to grow in different ways discussed below.
Let's comprehensively discuss AI for customer experience.
1. AI for Customer Experience: Provide instant response 24×7
Long queue times or delayed responses are scenarios that can frustrate any customer.
Besides that, businesses lose more than 75% of customers due to long waiting times, it would be safe to say that 'not getting instant responses is easily one of the greatest causes of customer churn.
Deploying an AI chatbot along with other communication channels can help to deliver instant assistance to the FAQs requested by customers. 
Using artificial intelligence for customer experience helps businesses to deliver instant answers 24×7 when the support team is busy or not available without any additional costs.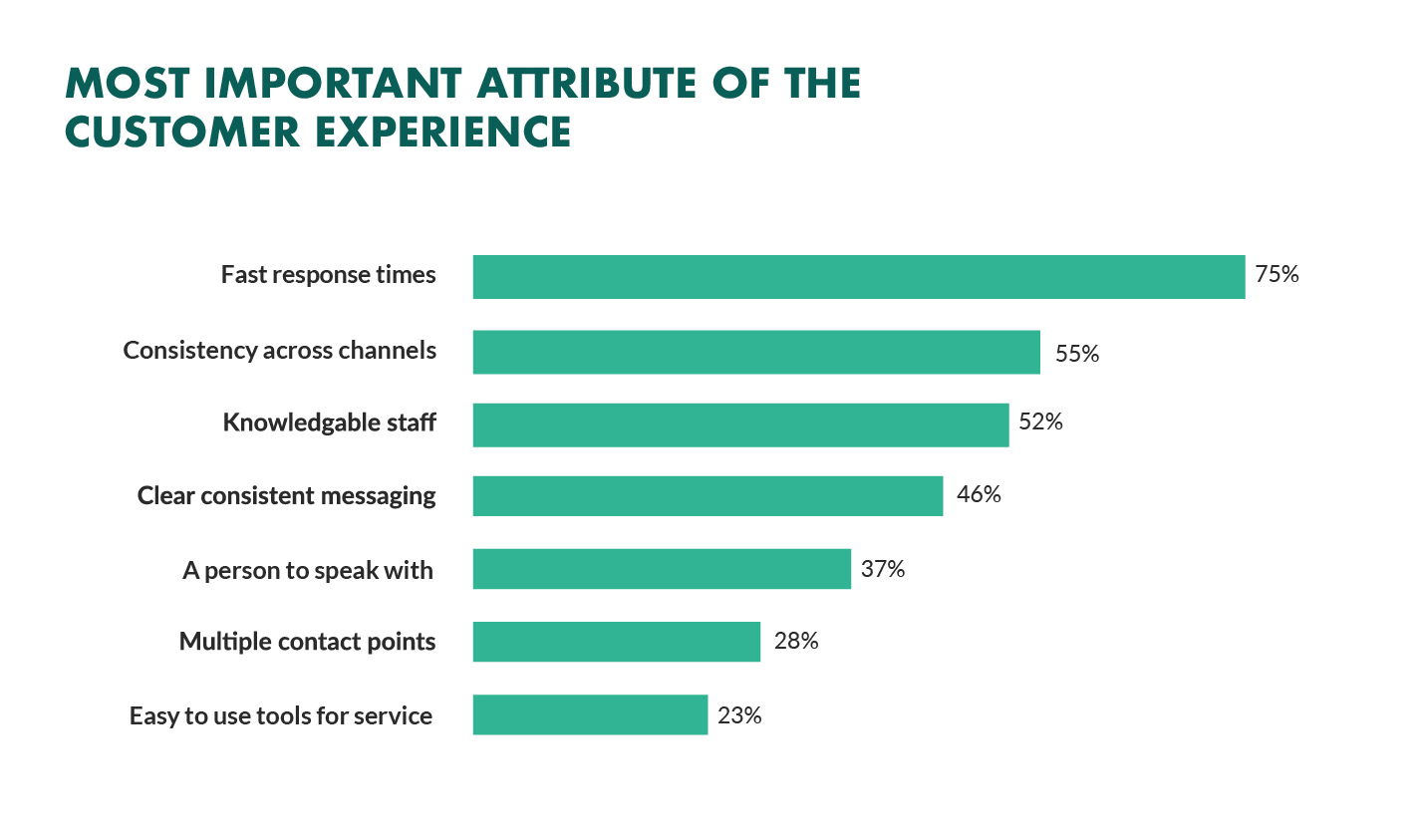 Amtrak's Julie is a perfect case to the point. It promptly responds to the queries from a comprehensive knowledge base on travel information across the Amtrak system. 
The bot has answered approximately 5,000,000 support queries in a year. In fact, Amtrak witnesses 25% of a significant increase in bookings and 30% more revenue with the help of Julie. 
Keyways how AI helps to deliver a better customer experience
Reduce customer churn

– Bots can be used as the primary point of contact to

reduce customer churn

and make human handover for complex issues.

Automate common queries

– If your business receives repetitive queries, implementing chatbots can be the best way to provide instant support without making customers wait.

Improve brand value

– Even if chatbots fail to solve issues immediately, they can provide instant responses relevant to the customer's query that create a good impression.
Note: You can train your chatbots to anticipate customer needs better and deliver relevant answers. 
2. AI for Customer Experience: Offer personalized recommendations
Personalization can be an overwhelming and time-consuming task, but it's made simpler through artificial intelligence.
75% of consumers are more likely to buy from a brand when they are acknowledged, remembered, or get relevant recommendations.
Artificial Intelligence helps analyze customers' data and key metrics, and recommend products or services to customers based on their browsing/buying preferences. AI is capable of analyzing huge data sets, drawing information such as the weather and location, and suggesting relevant content to customers. 
By creating customer personas, businesses can focus on individual purchasing patterns and have a better understanding of every customer. It enables them to send relevant content to customers at the right time and through the right channels. Thus, AI plays a major role across the customer journey.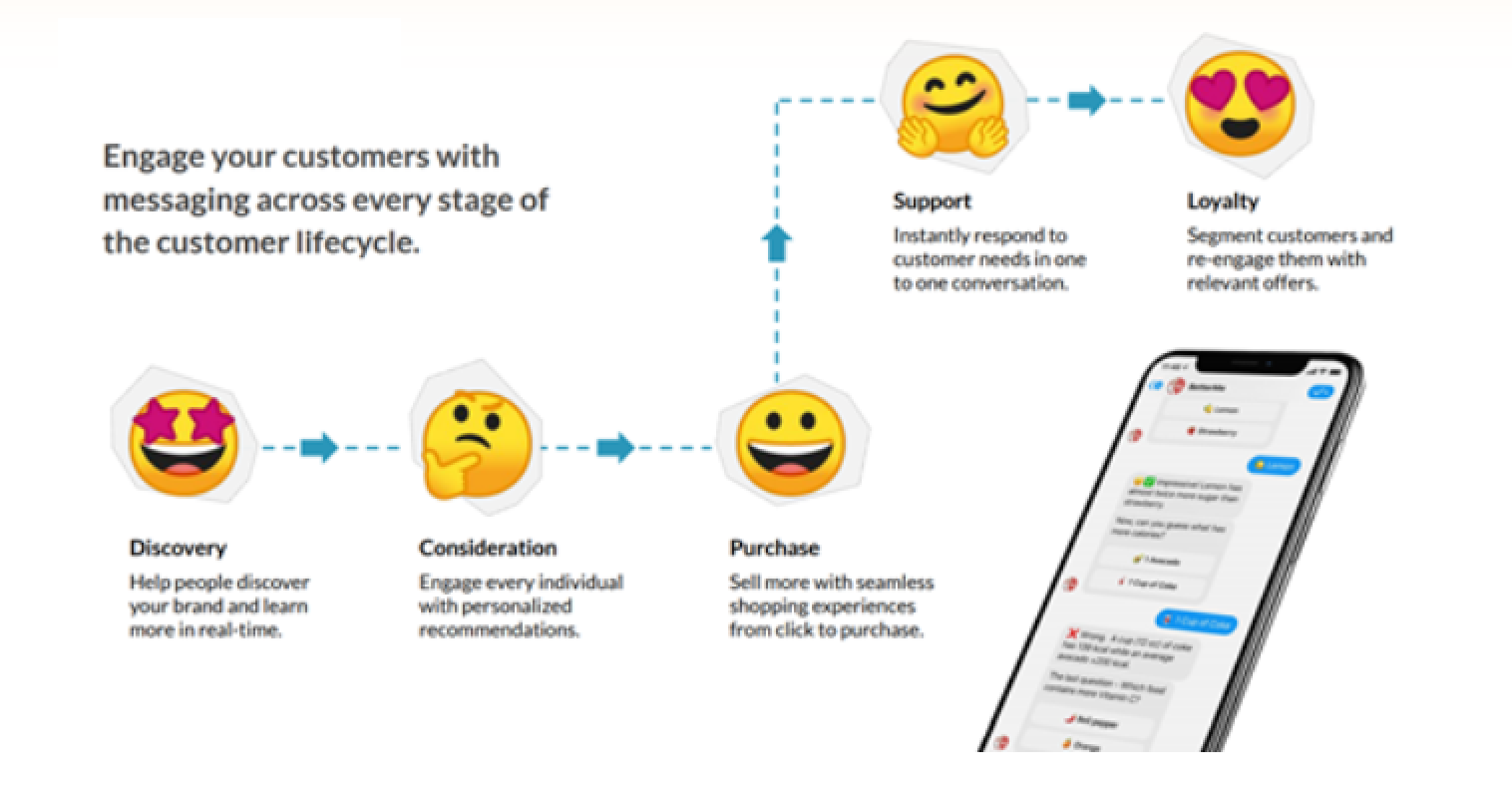 Levi's introduced an AI-enabled chatbot to help find the perfect fit. Virtual Stylist uses natural language processing to find out what each customer is looking for in a pair of jeans. The bot learns about each customer's lifestyle preferences. 
That information is combined with actual training that human stylists receive to provide accurate recommendations. After the chatbot recommends a pair of jeans, customers can share it with friends to get their opinions.
Here is how AI can be used to deliver hyper-personalized experiences.
Track customer journey

– Bots provide real-time insights on the customer previous interactions with the brand and based on that offer personalized recommendations

Understand preferences & needs –

Using the customer details collected, a chatbot can learn about the customer's interests and offer personalized services or products that they are looking for.

Real-time triggered communication

– By using the customer's knowledge fully, personalized messages can be triggered at the right time for effective conversation.
3. AI for Customer Experience: Increase sales conversions
AI chatbots can be a great tool to enrich your business with high intent leads. 
Businesses investing in AI for customer experience are surely going to reap the rewards in terms of quality leads. By creating chatbots for lead generation, you can achieve the intended targets of your business.  
Chatbots also can automate appointment booking to help customers to book instantly from the website or Facebook page. The bot also helps to place orders, be it food or apparel it is hassle-free and improves sales.
VainuBot is one of the fine examples of lead generation bots to engage users with rich conversations without the need to fill up a form and deliver an excellent experience.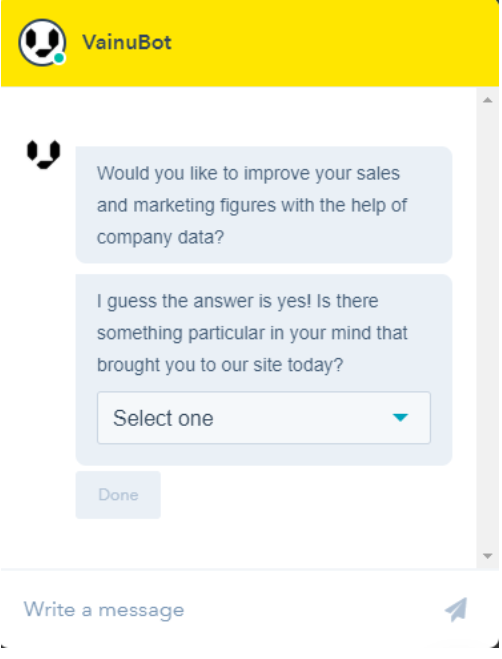 The bot asks qualifying questions and engages visitors by providing multiple options. The visitors can make choices by selecting the relevant option. 
Here is how chatbots can boost sales conversion
Automate sales FAQs – Deploy bots to automate your sales funnel. Prequalify leads by asking specific questions and based on their response direct them to the sales team or schedule an appointment. 
Higher return on investment (RoI) – AI for customer experience brings in business opportunities by creating effective chat experiences for the users and improving your overall service.
Being active 24×7– AI chatbots are always-on to engage customers with immediate answers to sales-related queries that increase sales conversions.
4. AI for Customer Experience: Predictive analytics to gain crucial insights
Predictive analytics involves data mining and modeling to make predictions to make customers feel that the products or services are specifically tailored for them. 
Bot marketing is indeed helpful to better understand and serve the customers, but it's also necessary to cautiously analyze all the data and identify trends to serve them better. 
Companies can draw out actionable insights from the collected data to increase customer engagement, satisfaction and help employees to make better decisions in no time.
Artificial intelligence makes the customer experience more relevant and more likely to generate sales, as well as providing the clients with a greater sense of emotional connection with a brand.
Businesses that have integrated AI for customer experience have improved their customer relationship by providing relevant information to the users. It has increased transparency and communication.

AI with predictive insights has elevated their work, making it easier to instantly scan through previous products, inventory, or services to recommend items relevant to the customer. 

If AI is infused with emotions, it will make customer experience and interactions easier and streamlined across all channels.
5. AI for Customer Experience: User engagement via visual, voice & text
Conversational AI bots assist users over both text or voice. Voice chatbots are all about facilitating your users with a seamless experience with your business. They are one of the important conversational banking trends adopted by many banks.
Smart speakers such as Alexa and Amazon Echo have revolutionized the way consumers are shopping online, empowering them to find the information they need and providing them with a self-serve customer experience at any time of the day.
eMarketer predicts that 38 million people will make purchases through their smart speakers.
Through voice-enabled interaction, your customers can find out more about your products, make purchases, and complete transactions simply by talking to their smart speaker. 
You will be able to build your brand using an easy and hands-free approach to connecting with your customers. 
Visual engagement along with voice and text sentiment analysis will help companies gauge emotions and sentiments in different types of communications. 

The AI-powered visual engagement technology analyzes facial expressions in face-to-face

video chat

conversations.

With the help of AI-based algorithms, companies can determine how to route communications and identify satisfaction. 

It will help them to deliver positive sentiments to increase lifetime values so that repeat business and more profitability could be achieved.
6. AI for Customer Experience: Understand user sentiments better 
Usually, call center businesses that use AI for customer engagement to rely on different language analysis tools to enable collaborators to extract key information from customer feedback and, based on that, adapt their communication.
Analyzing the user input is essential and a great asset to improve your call center experience. With the tools, your support agents can detect if the customer they're talking to is happy or unhappy and adjust their tone and actions accordingly.
An example of a language analysis tool that impacts CX is the Behavioural and Emotional Analytics Tool (BEAT) developed by Deloitte for large financial services institutions. 
The tool listens to conversations and transcribes the words and the sentiment in how the conversation happens to determine whether that customer seemed to be vulnerable and at risk of a bad outcome.
Provide the next level experience by using AI for customer experience
Artificial intelligence will be the driving force in delivering an enhanced customer experience. Rather than being reluctant in embracing the trend, it needs to be used as a competitive advantage and make it part of your conversational experiences.
Regardless of industry, companies have considerable opportunity to apply AI now and invent new business capabilities for unprecedented growth, profitability, and sustainability. But to achieve the full potential of AI, they must fully prepare for the attendant disruption. 
As a new factor of production, AI will interact with traditional capital inputs to create fresh challenges, and leaders will need to evolve in new and unexpected ways as their roles become increasingly interdependent. To prepare their organizations for a successful future with AI, business leaders have opportunities to adopt different strategies.