Every business has to be customer centric to sustain in the competitive market. Investing in customer support will help businesses to understand their complaints and improve their services and experience.
There is always a silver lining to the customer complaints. Smart businesses recognize the importance of customer complaints and consider it a golden business opportunity. However, complaints are inevitable, no matter how hard you work or how great your products are, no business can satisfy its customers all the time.
Research by American Express says that "78% of customers have given up on a transaction because of a negative customer experience"
The best way to ensure your business growth is to know what your customer complaints are and treat them as highly valuable feedback to instill in the customer service strategy to improve your brand experience. 
Before we comprehensively discuss the impact of customer complaints on businesses, let us know what does it mean and what are the advantages for business.
What are Customer Complaints? 
Customer complaints can be defined as the gaps between what business promises in terms of the product or services and what customers get. It is a mismatch between how customers perceive the brand and where they fail to get the desired customer service experience.
There could be different types of customer complaints. It could be related to a) improper communication, b) internal processes or c) poor quality of service. Realizing that a complaint is an opportunity makes it easier to turn conflict into positive change. Customer complaints can tell you how to resolve issues – if you listen to them carefully.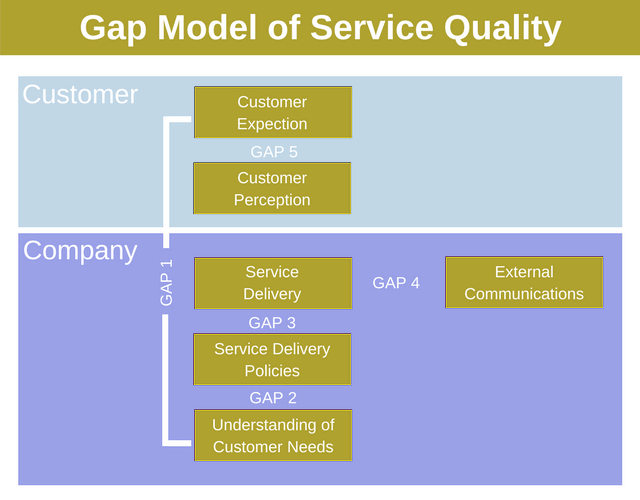 You should be thankful to your customers for sharing their opinions and complaints. It helps to understand the challenges customers are facing with your products and services. They are very valuable to your business because not only do they help you gauge the level of consumer perception but also unveil so many unexpected opportunities for growth. 
Benefits of customer complaints
Learning to value the complaints made by customers is an important step in taking your company to the next level. When you use customer feedback tools and understand how to handle the information, complaints can be turned into constructive opportunities for your team and your business to grow.
Some key advantages of customer complaints are:
Complaints

highlight key areas where your products or services

need improvement.

Customer complaints

open opportunities for your team to have honest discussions with your customers.

These conversations can help customers feel like the vital components to your success.

Customer complaints provide

valuable insights into how trained your front-line support is and how to improve them.

They can be used as training models for new team members. 
Importance of Customer Complaints to your Business?
Complaints give a first hand perspective of how your customers feel. Instead of doing expensive market research or running a feedback survey, customer complaints are actually the real feedback that you can get if you address them carefully and implement those changes. By realizing the importance of customer complaints, evaluating business areas becomes direct and easy.
Let us discuss a few reasons why customer complaints are important for your business growth.  
1. Complaints are a reality check for your business
"Why are customer complaints good for your business?" – The answer is quite simple.
Generally, customers do not prefer doing business with that company again after one negative experience."
It is critical to pay maximum attention to customer complaints.  Businesses that don't define their objectives get stuck without solid goals and customer complaints can help to identify ways to take businesses to the next level. It acts as a reality check for the businesses and helps them to plan strategies for growth and development.
Troubleshooting the complaints by evaluating the concerns help to improve your business as well as customer experience.
Here is how customer complaints can benefit your business.
Help to identify the loopholes of service delivery. 

Gain insights about customers' perception for your brand.

Learn about the most desirable features and how you can build better products.
Acting on customer complaints regularly helps to deliver a consistent support experience and it also makes every business department accountable to resolve them.
2. Understand customers better
Knowing and understanding customer needs is the focal point of every successful business. The more you know about your customers, the more effective will be your sales and marketing efforts. Making the effort helps to gain insights into your products and services.
Once you have the knowledge of the benefits and drawbacks, it can be used to persuade potential and existing customers that your brand is the best for their interests. 
Understanding customers can be vital for the following reasons:
Gain insights on who they are, what are their interests, what they think about you that can help you to structure your approach meeting their expectations.

Learn their psychology and use it to improve your products and services.

The easier you make things for your customers, the more likely they are to retain your brand over others.
No matter if your customers reach out to you with minor or major concerns, you should ignore them. Rather you should apply it to match the wavelength of the customers with your brand. Handling the challenges properly will help customers feel that brands value their complaints.
3 Get first-hand feedback about your products & services
When customers have a bad experience with your brand, they might not tell you but certainly, share with their friends and colleagues. Harvard Business Review found that the act of just asking for customer feedback is enough to keep customers from churning and coming back for more.
Acquiring first-hand customer feedback opens growth opportunities for businesses. Encouraging customers to complain and share their opinions is an easy way to share their genuine feedback. It is one good reason why customer complaints are important. 
Here are the key reasons why customer complaints or feedback are good for your business?
Points out important aspects that need improvement

– It is vital to understand what suits better to your customers. Feedbacks help you to know if your product is close to what they desire. When you show that you are listening to them, brand credibility improves.

Customers complaints can be used to sell products –

Unhappy customers who provide feedback should be seen as a chance. When they contact you and share the bad experience, expecting you to do something about it, give priority to the feedback.

Listening to customers makes them feel valued

– A good way to show your customers that they are important is by asking for their opinion and acting accordingly. When the customers feel listened to, they start having positive connotations with your brand and share their good experiences with you.

Genuine feedback generates recommendations

–

Forbes

study

revealed that personal recommendations are the top motivation for purchase decisions.

It generally comes from friends or family and can be even more convincing. 
4. Manage your online reputation
Podium survey found that 93% of consumers are influenced to purchase by online reviews. This is why marketers give more importance to online reputation and reviews. What customers say about your brand online directly impacts your bottom line.
Managing your brand reputation online is not about removing the negative reviews and complaints from the social channels. It is all about being active 24×7, putting the right efforts to reduce the negative reviews while keeping the customers satisfied at the same time. 
Quick tips to manage online reputation:
Respond to online reviews and customer complaints as quickly as possible.

Maintain a polite tone while conversing with the customers.

Never take the reviews personally while dealing with them.

Apologize. A sincere apology can diffuse the situation and may gain a loyal customer.

Gain insights to understand your brands' performance and your target audience better.
Wine Country Tour Shuttle serves a good example to handle angry customers with polite responses. You can see how fantastically the manager responded to the customer complaint.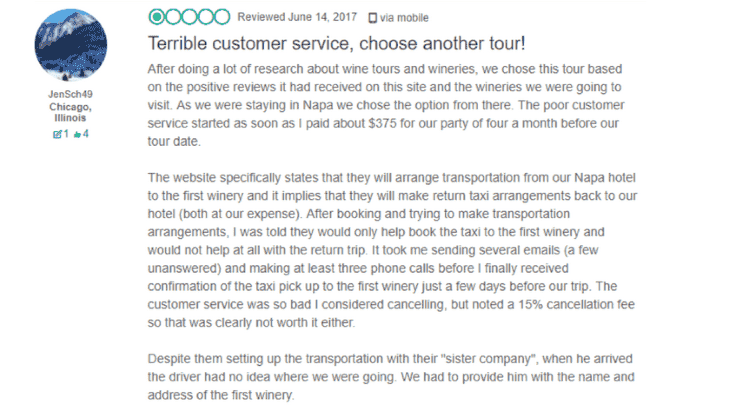 By taking timely actions to an angry customer, your response can appease the direct customer as well as other customers who might read these complaints and access your competence to handle tough queries.
Takeaways:
You should monitor your brand mentions regularly to understand what customers are talking about you.

Be prompt in addressing the negative reviews so that it does not connect to the bad word of mouth.

If a customer was really angry for a genuine reason, once you fix it, you can incentivize them to compensate.
5. Improve your customer support 
Why do customers complain so much?
May be due to reactive support channels the response may be delayed and multiple customer touchpoints or interactions are needed to resolve a complaint.
Sometimes customers complain because their "frame of reference" does not necessarily line up with the product or service that is offered. If your support team does not have the proper skill set, the process is inadequate or your team is not equipped with the right tools.
If you are not able to handle your conversations on time and effectively, then you can implement the right tools such as:
Live chat –

You can implement

live chat

to deliver instant assistance to customers' complaints related to sales or support and improve satisfaction. Make sure your agents are well trained on how to deal with angry customers and to diffuse situations.

Real time engagement tools – Tools like co-browsing and video chat help to connect with customers in real time to identify customer problems faster and deliver effective solutions.
Chatbot –

You can automate your sales and support with

chatbots

to engage customers 24×7. Responding to customers' issues instantly delivers a better experience.
REVE Chat offers an omnichannel platform with digital customer engagements tools that helps to address customer complaints faster, Sign up with REVE Chat today and give your communicate with your customers and address their concerns in real time.
When the customer complaints are related to improper skills of the team, you can respond to them by providing additional training related to products, services, and solutions. It will help the agents to enhance the knowledge to resolve customers' queries productively.
6. Enhance customer communication
McKinsey report says 70% of the customer's journey is dictated by how the customer feels they are being treated. Generally, customers move to other brands because they are put off by an untrained or rude support team. Effective communication plays a vital role in resolving customer complaints. 
When customers make a complaint, it is a hidden opportunity for your business to improve, which is why customer complaints are good for business. When customers see you listening and taking their feedback into account, they appreciate that their voice was heard. 
Practice healthy responses for resolving customer complaints:
Listen to your customers

– Listen to what your customers are complaining about. You have to identify the reason why they are complaining. Customers expect faster responses and listening helps to understand them and answer them quickly.

Find an effective solution

– Empower your customer support team to respond to customer complaints by avoiding them from transferring them to senior managers.

Follow up with the customers

– After offering solutions you can follow up with your customers to make sure they are happy with the resolution or not. Following up shows that you care for your customers.

Meet and exceed customer expectations – Never miss out on a chance to meet or exceed your customer expectations, even in situations where you intend to say no to customers. You can send a thank you or provide early access to new features. 
Apologize your customers

– You can calm down a frowning customer with a sincere apology. Always say sorry for your mistake if delayed to acknowledge or resolve the customer complaint.
7. Build customer loyalty
"Our greatest assets are our customers. Treat each customer as if they are the only one."
Thus, every customer complaint impacts businesses. Whether it is about a product or service is positive or negative, the business is impacted by it. A satisfied customer may share their experience with limited friends, while a dissatisfied customer may get on social media and share their experience with thousands of followers.
Resolving negative comments is vital but how to respond to customer complaints?
Acknowledge the issue and let your customers know that you are looking into the matter.

Provide an estimated timeline and follow up action.

If the customer is happy in the end, you can ask them to share his positive feedback.
By responding to your customer complaints in a timely manner, you can make them them feel valued and happy. Effectively handling customer complaints is important as it is a make or break point for customer loyalty.
Customer complaints are important
We need to shift our thinking about complaints by seeing the real value that comes with it. We should encourage them as there are certain important advantages of customer complaints. They have a significant impact on the business. So, by understanding the benefits of the complaints you not only improve your brand face value but increase your team productivity. 
Implementing an advanced customer communication platform like REVE Chat helps your business to learn clients issues proactively and provide effective solutions. Sign up without any delay!