Businesses that develop a customer service mindset thrive on positive growth compared to those with a negative mindset. 
It is important to remember that no matter what line of work you are in, you always have a customer base that is looking to embrace your products or services.
By developing a customer service mindset your overall business performance begins to improve, thus making it more likely for financial growth and long-term success.
Plus, make sure your company culture is geared toward making the customer feel heard, valued, and appreciated.
In this article, we will discuss the customer service mindset definition, benefits, ways to build,  and more. 
What is the Definition of Customer Service Mindset?
The customer service mindset is a set of tools, approaches, and attitudes. It can be used by any company to help foster a culture of customer service, deliver remarkable experiences, and grow the business.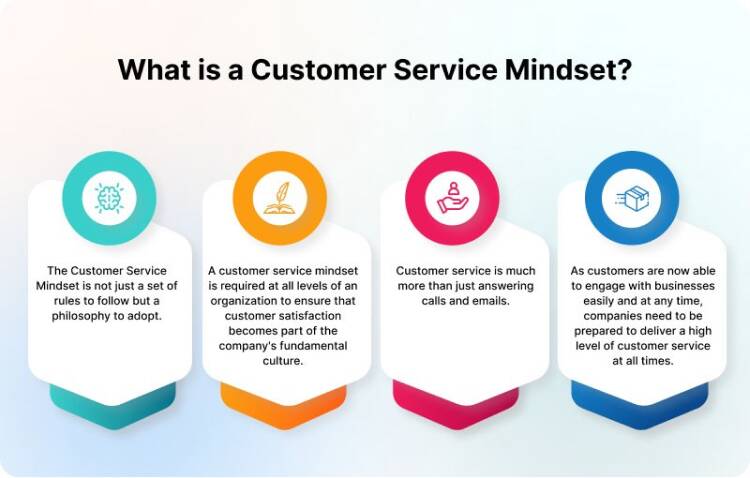 The most important element of consistent customer service is the mindset. There is not an easy way to deliver great customer service. It is hard work. We believe that businesses are more likely to succeed if they have a customer-service mindset. 
Let's take a look at the key points below to understand them properly; 
The customer service mindset is not just a set of rules to follow, but a philosophy to adopt.

A customer-friendly service mindset is required at all levels of an organization to ensure that customer satisfaction becomes part of the company's fundamental culture.

Customer service is much more than just answering calls and emails – it's about building enduring relationships with customers that will lead them to recommend your company or products to others.

As customers are now able to engage with businesses easily and at any time, companies need to be prepared to deliver a high level of customer service at all times.
10 Great Ways to Grow Customer Service Mindset
The customer service mindset is the result of a detailed analysis of the customer service landscape, which led to the development of a model. It defines the stages of customer service maturity. 
This model was used to develop a program, which outlines the key benefits of adopting a customer service mindset. It provides insights on how to apply it in business operations and processes. And, how a customer-friendly service mindset will help to grow business. 
Here are 10 effective ways that will help you to grow your business. 
1. Demonstrate Excellent Customer Service 
It's something that everyone in your company should take pride in and is often the deciding factor between your business and the competition.
The way we see it is, if you deliver a great experience to your customers, they'll tell their friends about it. Then those friends become new customers. And then those customers come back again and again.
Tips 
The voice of commerce is rapidly changing. Shoppers are looking for brands that demonstrate excellence in customer service. As a brand, you need to be where shoppers are looking.

Nobody likes to complain. Nobody enjoys complaining and most people like to stay upbeat. This is especially true when it comes to our personal and professional relationships.
2. Train Your Agent for Customer Service Mindset
If you're a business owner, you want to provide the best experience for your clients. A smart way to do that is to train your customer service agents. A study found that 80% increase in revenue for businesses that focus on improving customer experience.
There are many businesses out there and yours offers unique products and services. But, what sets you apart from others? You only have a short time to impress a client who may or may not come back.
32% of customers say the last time they had to contact a company about an issue, it was because their previous customer support interaction didn't go well or the issue wasn't resolved.

Customer service agents are the first and last touchpoint a customer has with your organization. They can build loyalty, create brand advocates and increase the lifetime value of your customers. 
3. Consider Customer Feedback
Customer feedback is an essential tool for business. It allows companies to identify their strengths and weaknesses.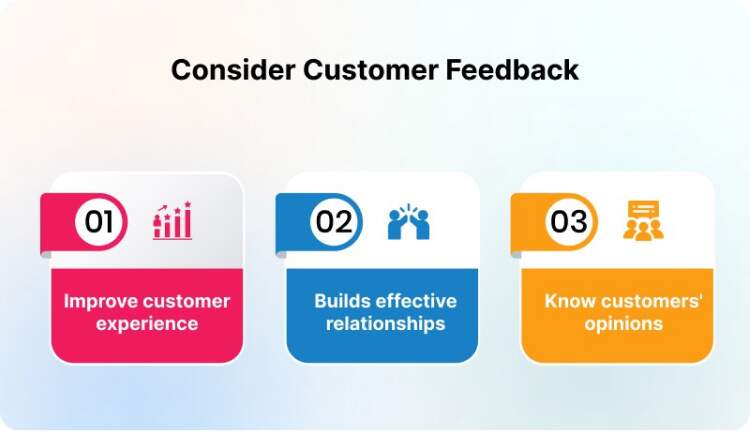 With the right data in hand, executives can make critical business decisions. For example, a big problem for businesses is how to collect feedback. There are two main solutions: focus groups and customer interviews. 
The former is expensive and time-consuming to conduct, while the latter can be difficult to schedule. 
Both solutions can be effective when used correctly, but only one of them offers businesses a cost-effective, instantaneous way to collect feedback from customers.
Improve customer experience –

with customers of all ages interacting with businesses in more ways than ever before, there is a growing demand for businesses to collect feedback to improve customer experience.

Build effective relationships –

from the responses you receive you can act upon this data and improve where necessary. This will help to build effective customer relationships and ensure you continue to be successful.

Know customers' opinions –

you can ask them their opinion of the product or service they have received, your team, or any aspect of your business. 
4. Show Empathy to the Customer
According to recent research, 78% of customers will pay more for a better experience. And one of the most important components of that experience is empathy.
Emotions are powerful. In fact, according to neuroscientist Antonio Damasio, emotions are what ultimately drive human decision-making. While that may seem counterintuitive for a company trying to focus on the logic. 
It's important to remember that an emotional experience is what connects you with your customer. And when you connect with them, they're much more likely to connect with your brand.
In other words, customers are not interested in "good" and "bad" service. They want to be treated like human beings, with kindness, respect, and interest.
5. Build a Strong Relationship With the Customer 
Customer service isn't just a department inside the company, but rather it should be a way of thinking, approach to solving problems, and responding to the needs of the customers on an ongoing basis.
Building a strong relationship with the customer is important for business owners, especially if they want to turn customers into repeat customers.
Reduce your cost of customer acquisition, as you'll have more loyal customers who will come back to you in the future.

Get referrals from your customers; they'll tell their friends and family about you, and that's free advertising!

Your products and services will become more visible to new potential customers through online reviews and social media.
6. Develop a Positive Company Culture
Having a positive company culture can be a challenge, but it is definitely worth the effort. Positive company culture is an environment that positively impacts the attitudes of your employees who in turn positively impact your customers.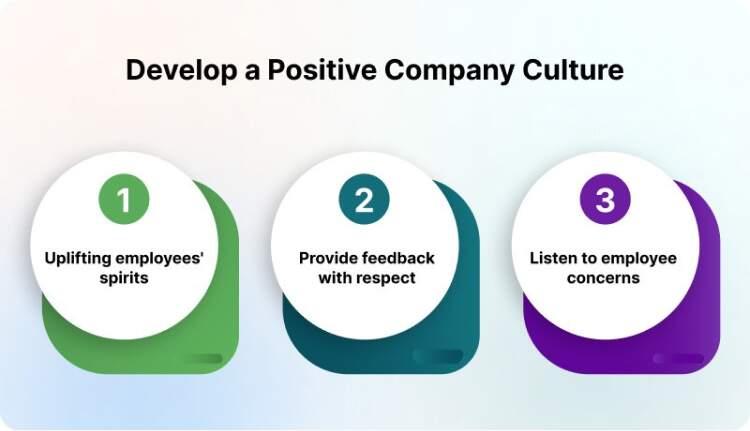 With the right approach, you will create a ripple effect that results in clients, customers, and staff that all benefit from working in a positive environment.
Uplifting employees' spirits –

encourage employees to try new things or step outside their comfort zone. Implementing training for employees to further promote their development.

Provide feedback with respect –

it's important to give your employees feedback on the work they do and how they can improve, but be careful to do this appropriately and with respect. 

Listen to employee concerns  –

be open to listening to employee concerns and suggestions, be flexible, and provide an open communications platform. So your people feel comfortable bringing problems up to management.
7. Celebrate Team Success 
Celebrating team success builds culture and defines a shared sense of purpose. When you consistently celebrate team success, your organization will;
Build Momentum –

celebrating success creates an energy that drives the activities necessary for future successes. Motivated employees are more productive and loyal to the organization.

Create a positive work environment –

the immediate benefit of celebrating team success is that it creates a positive environment and inspires the team. The long-lasting benefit of celebrating team success is that it establishes a culture of success.
8. Put Yourself in Customer Shoes
Let's face it, we get inundated with customer service requests from family, friends, and even strangers. We've been there, you've been there. Sometimes we are so overwhelmed by the volume that we can't provide the level of customer service expected or deserved.
Most businesses measure customer satisfaction with a single survey. Our experience is that most customer service issues come from misunderstandings, caused by the failure to put yourself in your customers' shoes. 
For example, your customers' eCommerce website goes down for any technical issues and it is causing your customer serious trouble, which should be unacceptable to you. If you were put in your customer's shoes, then you would just want to address the problem. 
9. Respect Customer Time 
Customer time is valuable. For example, if you go shopping, do you have time to wait for a salesperson? How much if it costs?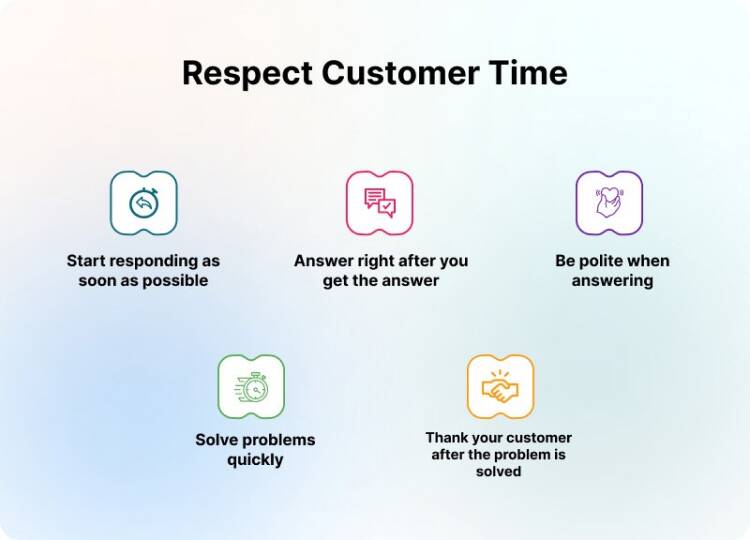 Something similar happens if you contact the support of any company, this can happen when you are contacting them in the morning and someone answers at 9 PM or later. Such behavior is bad and because of that customers may lose trust in this company and avoid using its services.
The most important parameters when it comes to respecting your customers are;
Start responding as soon as possible.

Answer right after you get the answer.

Be polite when answering.

Solve problems quickly.

Thank your customer after the problem is solved.
10. Solve Customer Problems Faster
Solving customer problems faster is one of the most impactful things a business can do. As a business, you're constantly building your customer base and trying to increase your customer lifetime value (CLV).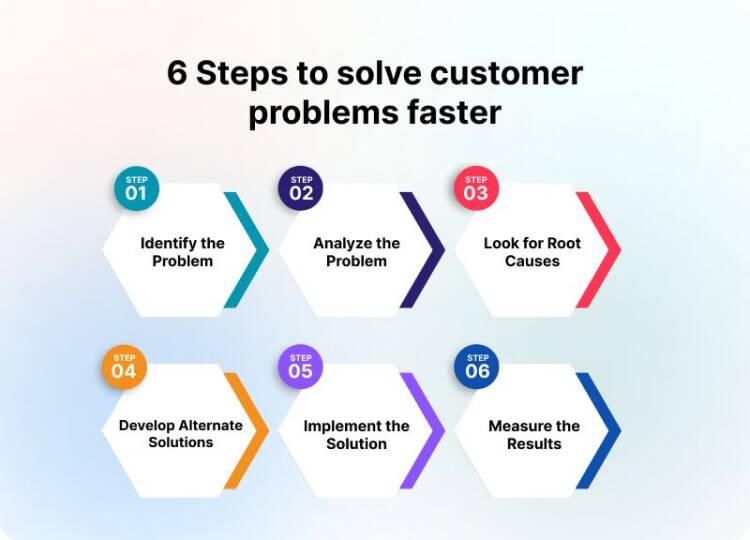 And for your customers to stick with you, it's important to keep them happy and engaged. One of the best ways to do that is through great customer service.
A recent study revealed that a customer-focused company increases its revenue 1.4x faster than a non-customer-focused company. 
Tips
If a customer has an issue, they want it solved. Even if they are wrong and they know they are wrong, the situation is a chance to make the customer feel good about their purchase.

All customers should receive the same level of service regardless of the platform they choose to interact with an organization.

Take full

advantage of AI Chatbot

to provide multi-channel customer service.

REVE Chat

is a smart digital customer service platform that uses Artificial Intelligence combined with crowd-sourcing, to solve customer problems faster.
How Does a Customer-Service Mindset Benefit Your Businesses?
A customer-friendly service mindset is a positive attitude that can help enhance the customer experience, increase productivity and reduce stress. This mindset is key to building a great company culture. Individuals who have a customer-service mindset may go above and beyond what's expected to create a positive experience for customers.
A study in 2016 by Temkin Group found that 45% of customers have stopped doing business with a company because of the poor service, based on a survey of more than 10,000 customers across 22 industries. 
Enhances your customer experience –

customer service is the most important part of the customer experience. Showing customers that you care about their needs, expectations and experiences will go a long way to minimize the negative impacts.

Helps build better overall business relationships –

it's about building relationships with people that matter for your business; your customers and your employees. The more you give back to them, the more you will get out of them.
How REVE Chat Can Help to Build a Customer Service Mindset?
Communication channels are converging and customers expect you to be available to them. The only problem is, humans have a limited attention span. You either have to have a large staff or you have to automate parts of your service.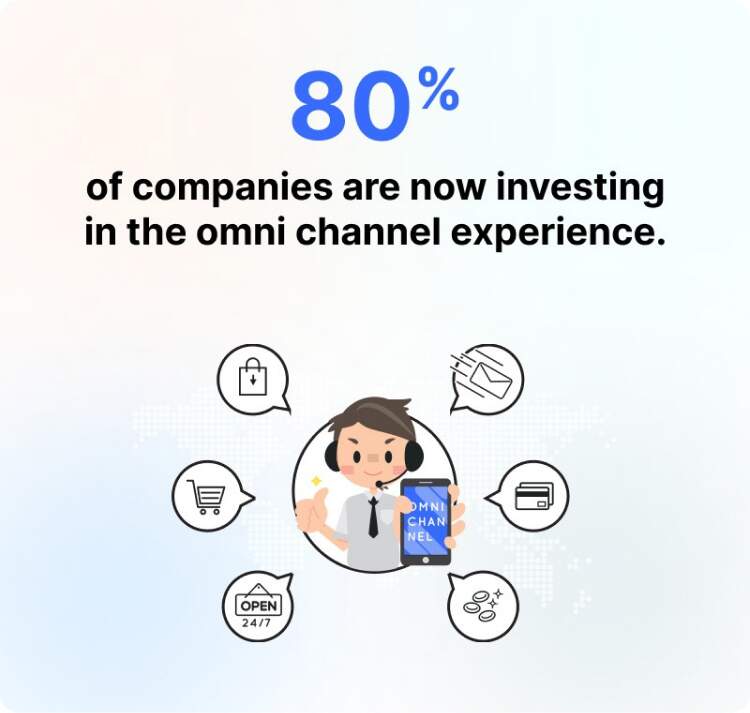 The modern consumer is looking for the best service and support, irrespective of the channel it originates from. Omnichannel customer service, which blends online and offline modes of interaction, will continue to become ever more critical for businesses to provide that personalized touch their customers want and expect.
It is predicted that Artificial intelligence (AI) & machine learning (AL) would handle about 40% of all customer interactions by 2023. REVE Chat introduces a new way for customers to interact with brands. This AI-powered chatbot is now available to help your business deliver better customer service across all channels, regardless of the brand behind it. Sign up now and enjoy 14 days free trial. No credit card is required. Hassle-free experience.