First impressions are everything, and when a customer calls a company for the first time, it's crucial that they have a positive experience. That's why consistency is paramount in customer service. Consistency ensures that customers are treated the same each and every time they interact with you, regardless of the agent they speak with.
The key benefit of consistent customer service is fast and accurate responses.
So why do companies fail so miserably? They fail in providing consistent customer service because doing so is downright difficult.
Companies are notorious for having trouble standing by one another, but they don't have to be.
Customer Service should be seen as a way to build trust and credibility among customers. Without it, companies risk losing existing business and losing out on new business down the road.
In this article, we will discuss the key benefits of consistency in customer service, roles, ways to deliver, and many more. 
What Does Consistent Customer Service Mean?
What is a consistent customer service definition? Whether it's making sure your customer knows they are heard or taking swift and immediate action to solve a problem. This is what every customer service representative strives to achieve. 
Consistency is the simplest and yet the most important way to create amazing customer service. Consistency is the key to creating expectations and satisfaction for your customers. In a survey, 46% of customers said that consistency is one of the most important factors in creating a positive customer experience. 
Customer service is more than just a one-time interaction with a brand or business. It is about setting up a relationship, whether it be with a particular product or business or someone you're buying from. This relationship exists before the interaction and will continue past it.
Why consistency is important:
A consistent process keeps you organized and focused. 

Consistency keeps this process moving smoothly, which leads to positive results for your company and the people who work there.

It creates expectation and satisfaction, which in turn creates loyal customers.
What Are the Roles of Consistency in Customer Service?
Consistency is an important factor in building strong customer relationships and building brand reputation. All too often we encounter customer service reps who are inconsistent throughout the phone conversation. This inconsistency results in the customer having a sense of being thrown around from call to call.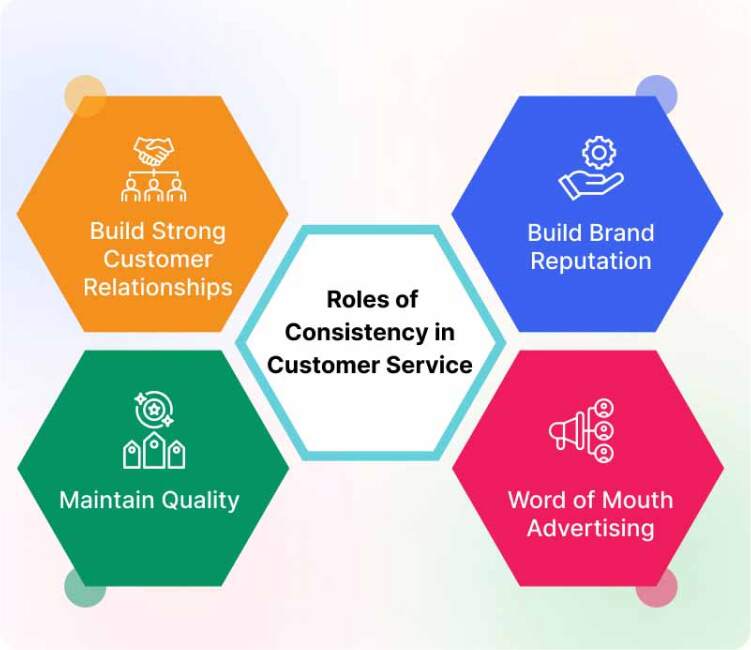 Consistent and reliable customer service is vastly important in building strong customer relationships and protecting your brand reputation. That's because consumers are very observant in today's society. They use the Internet to compare products and services online, and can draw very quick conclusions about companies. Based on one interaction with a company representative.
No longer are we satisfied with just having a product or service; now we want everything about the experience to be exceptional. 
From the moment you interact with someone to purchase a product or schedule a service to the time we actually have our product or service; everything matters. 
1. Build Strong Customer Relationships
Customers today expect a lot from the companies they do business with. They expect quick responses to their questions and problems. They expect their problems to be solved, and they expect their concerns to be heard.
It's easy to imagine a customer-centered company, but what does it look like in practice?

It means listening to our customers to learn how we can better support them.

Strong customer relationship means understanding how different customers prefer to communicate (text, email, chat) and serving them in the way that's most comfortable for them. 

It means putting their needs before ours when adding new capabilities or providing customer service. 

It means welcoming customers into our office, making them feel at home, and answering their questions about our business, our products, and our services. 

Sometimes it means even going outside our office to show customers we care.
2. Build Brand Reputation
In building a brand reputation, the goal is to be able to rely upon consistency in customer service. In order to do this, it takes a lot of hard work.
The first thing one has to do is to gain loyalty with their consumers by building up a reputation. The goal is to earn that trust so that when customers see the product. They will know what is known as the brand name.
To help make it simpler, it is important to be able to identify each of the two different types of consumers:
There are those who will always buy from you. These are your loyal customers and they are easy to keep around as they only want one thing. They want quality products or services. They will be the ones who support your company when it falters or even when it falls.

Then there are those who will only buy from you when the quality of what you provide is up to par. These are your fence-sitters and they can be persuaded either way depending on your performance. However, if you are not consistent in your performance, you may lose them altogether.
3. Maintain Quality
One of the biggest hurdles of customer service is maintaining quality. Customers expect that when they go to a fast-food chain, the quality of their service will be consistent, no matter which location they visit.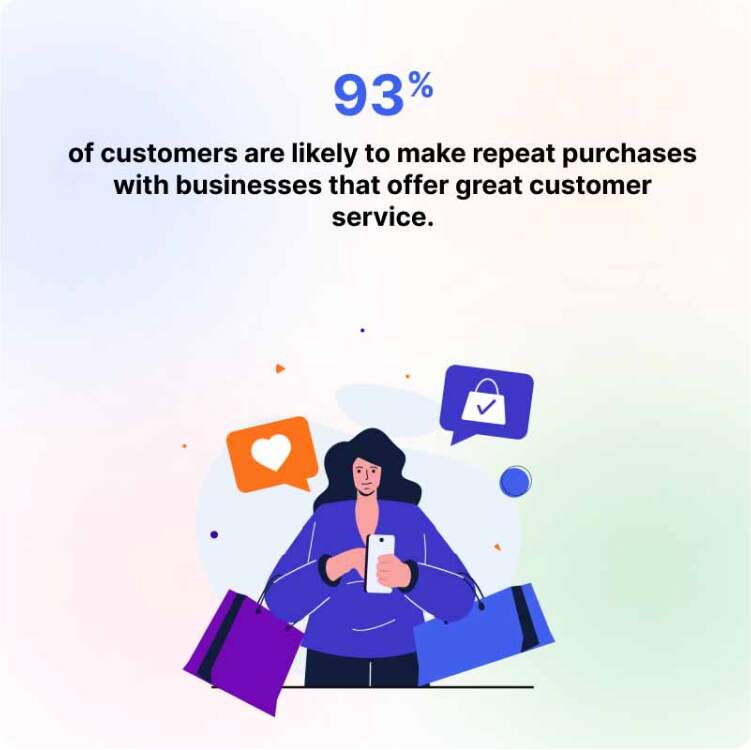 To ensure a consistent experience for your customers, you should track every interaction and maintain a comprehensive service record. This service record can be used to better serve both your employees and your customers, as well as manage internal quality control.
Tips to maintain quality customer service; 
4. Word of Mouth Advertising
According to the Word of Mouth Marketing Association, word of mouth marketing is an effective, data-driven process that inspires and engages customers to spread your word.
It is all about the conversation going around. Johnny Cupcakes might not be a household name, but he has done a great job in building his brand using word-of-mouth marketing. 
He has been mentioned in several magazines (i.e. The New York Times) and has even launched his own TV show on the Whacked Out Media network. 
And all that was possible because his products and interviews were highly recommended by his friends, family, and random people he encountered along the way.
Why You Can't Ignore the Importance of Consistency in Customer Service?
To have a successful business and keep your customers, part of the process or your customer service strategy needs to be about consistency. If you have ever been to a restaurant, then you know what I mean. 
You order a specific meal every time you go and on this particular trip. It was not as you expected, maybe they forgot something. In this situation, how did you feel? And how do you think they felt? If the next time you went there, that same thing happened again, what would that say about the restaurant?
The same is true when we are talking about our customer service. If we are not consistent with our customer service, our customers feel like they are being taken advantage of. 
And if they feel as though we are taking advantage of them. They will go somewhere else to do business with someone that provides better customer service. 
Let's take a look at the benefits of consistent and reliable customer service for customers.
It's what allows us to continue to do work we enjoy, the day after tomorrow. 

It is the DNA that interacts with new customers, as well as existing ones. 

Without it, your reputation will be in jeopardy and you will never be able to create a true connection with a new customer base.
How to Deliver Consistent Customer Service?
What contributes to consistent and reliable customer service? The process starts with the basics, but oftentimes companies don't put enough emphasis on it. What is the one thing your customers want more than anything else? Let's take a look at how to ensure a consistent customer service experience?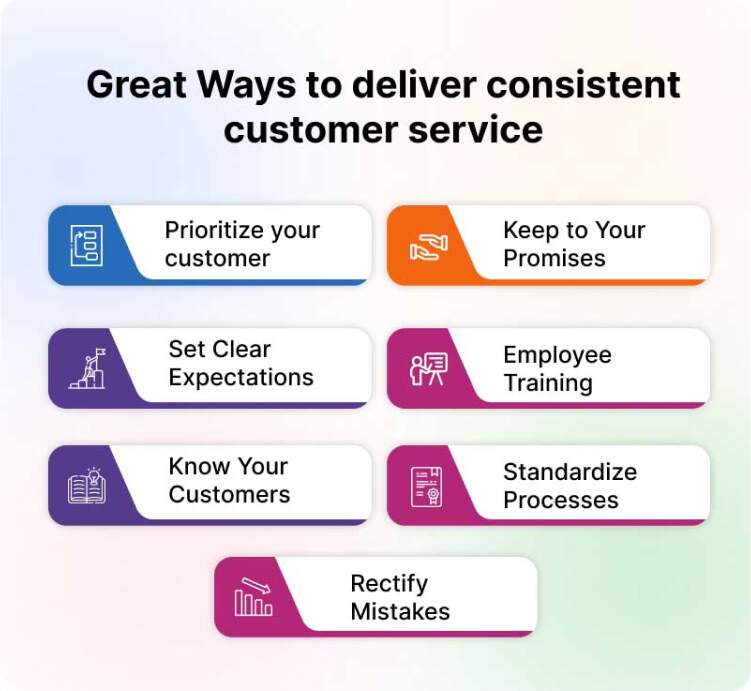 1. Prioritize Your Customer 
Love them first. Treat them with respect and dignity. Don't try to get them off the phone as quickly as possible, or rush through your emails just because you have another one 10 seconds later. 
Think about what they really need, and deliver it with precision. Don't just say that you're sorry that they had a bad experience – actually show them that you genuinely care what they think and how they feel.
If you can truly show that you care – whether it is a B2C customer, a B2B customer, or prospects looking for sales leads, then you will rise above the rest.
2. Keep to Your Promises
Your promise is the basis of your customer relationships – from the ad that pulls someone in to buy your products or services. To the guarantee that backs up your product or service when it fails for any reason, you need to keep your promises – or you won't keep your customers!
Research shows that the number one thing customers want is for you to understand their needs and keep promises regarding service. 
First and foremost, you have to know what your audience wants and then deliver on it. To learn more about what your customers "say" they need, you should have a clear understanding of what they "do". 
3. Set Clear Expectations
In order to be able to deliver consistent customer service, you need to first make it clear what that customer service looks like. But how do you do that?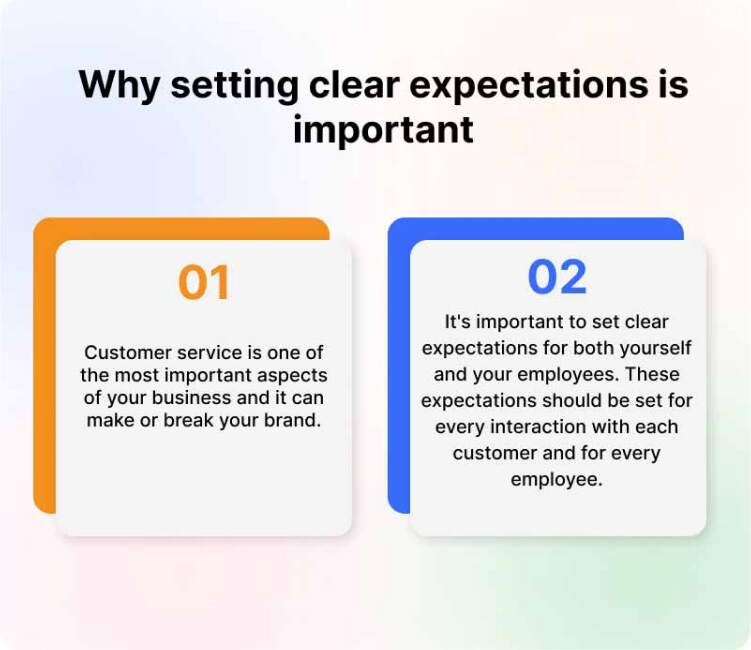 Look to your standards. Every organization should have a set of standards in place to make sure everyone is on the same page, no pun intended. These can be modeled after the customer service practices of the companies you look up to.
Why setting clear expectations is important?
Customer service is one of the most important aspects of your business and it can make or break your brand. 

It's important to set clear expectations for both yourself and your employees. These expectations should be set for every interaction with each customer and for every employee.
4. Employee Training
Training your employees is a great way to provide consistency in customer service. Training your employees on how to deliver quality service will give you more loyal customers and more end consumers.
The success of every project depends on one key factor: employees. You can have an amazing idea, talented people, and supportive investors. But if your employees make a mistake in customer service, your project will be unsuccessful. 
Benefits of training the employees;
Passionate about people and treating guests with kindness, dignity, and respect.

Self-motivated to ensure retail store standards are met and exceeded on a daily basis.

Able to work a flexible schedule or as-needed availability.

Professional appearance at all times.

Strong interpersonal skills and ability to manage emotions during challenging encounters with others

Physical ability to perform job tasks according to company policies, practices, and procedures.
5. Know Your Customers
It's about knowing your customer to serve them exactly how they want so you can make them happy. This is really important for any business, but especially for brands with loyal customers of all ages.
6. Standardize Processes
Standardizing processes for customer service will ultimately improve the quality of customer service you provide. Standardizing your processes will ensure all personnel is using the same approach to solving problems. 
In addition, nearly every task that is performed in day-to-day operation will be more efficient and effective. When performing each process step by step versus deciding everything they do on their own. Not to mention the overall improvement in quality control and accuracy.
7. Rectify Mistakes
In order to provide better customer service, it's essential to rectify mistakes. When you rectify mistakes, you can improve customer satisfaction, reduce customer complaints, and ultimately provide better customer service.
Your business model should be of a company that doesn't negligently dismiss its mistakes. This is one of the first places where you can truly lead and differentiate yourself from your competitors.
How Can REVE Chat Help You Deliver Consistent Customer Service? 
REVE Chat is an AI-powered chatbot designed to deliver consistent and reliable customer service. Using a set of intelligent rules and a machine learning algorithm, REVE Chat answers for you 99% of all your customer inquiries with a personalized response. It can also respond in any language, allowing you to expand your business globally.
You can either chat with it directly or embed it on your website to welcome visitors and provide quick answers to common questions.
With REVE chat, you can scale your business without hiring additional employees or raising the cost of your products. No credit card is required. Sign up now and enjoy a 14-day free trial.