Restrictions on mass gatherings and social distancing have become the new normal due to the unfortunate outbreak of the COVID-19 pandemic. According to a survey, the pandemic outbreak has led to 87% event cancellations and 66% postponed events. 
But thanks to the evolution of technology, customers can experience an almost-real yet virtual exhibition experience right from the comfort of their homes. In fact, nearly 60% of event professionals have pivoted towards an online event experience due to the impact of the pandemic.
All major event management companies, event exhibitors, and trade show organizers have adopted a digital-first approach to cope with the COVID-19 situation. Moving such fairs, exhibitions, and trade show to a digital platform have led to increased profits, improved customer acquisition, increased customer retention, and happy customers.
Why should event management industry move events to digital platforms?
Online trade exhibitions and fairs are the possible future of the event marketing world. Even after the effect of the COVID-19 pandemic dwindles down, a complete virtual or at least a hybrid event strategy is the most probable future of the event management industry.

By hosting multiple vendor booths on a single platform and integrating live engagement with a video tour, exhibitors can create a near-real experience for their vendors and customers in the most cost-effective manner.
Maximum engagement 
Engagement is the key to any event's (offline or online) success. Through virtual events and conferences, attendee engagement can be maximized with the numerous technology and data-driven tools that are available today. By the use of such innovations, participants will be able to experience interactions and networking just like they would do in a face-to-face event.
An authentic, human experience
In a real exhibition or event, customers get to choose from multiple vendors, interact with different booths, and engage with other participants in real-time. In the same way, using AI and real-time engagement, exhibitors can provide a humanized experience by organizing such virtual events.
Generate more leads through virtual events
In a real event, organizers can interact with customers and collect their information, which helps with lead generation. The same number of leads (or even more) can be generated through online events by initiating interactions through bots, collecting customer data through signups, voice chats, and video chats.
Save on event expenses
Organizing a virtual event can accommodate many more vendors and customers compared to organizing events in a limited physical space. Moreover, additional expenses such as the event venue cost, rentals, travel cost, and other accommodation costs can be entirely cut down through a virtual conference.
How to plan and manage a world-class virtual event?
As mentioned before, engagement is the single most major factor contributing to an event's success, followed by the number of leads generated and attendee retention.
Let's look at how you can amplify your online trade exhibition and fair engagement, provide a world-class experience to your customers, and make the event a grand success.
1. Amplify online fair engagement using live videos
Participants in events are looking for live face-to-face interactions to understand the brands' value propositions and to get their queries qualified. Such a face-to-face interaction is the single most crucial aspect of any event and hence should not be missed out in case of virtual events as well.
Product demos are an important part of any sales pitch in events and fairs that help the customers understand the product well and make an informed buying decision.  A real time high-resolution 1-1 video calls can be done to provide a virtual demo of physical products. 
Here is how voice and video chat can increase online trade exhibition and fair engagement.
Exhibitors can offer the attendees face-to-face real-time interactions with vendors and their agents by

integrating video chat with vendors' event pages

to make the overall experience more natural and fun.

Vendors should be able to engage and interact with multiple customers simultaneously,

thus providing the best possible experience to their customers.

Screen sharing and co-browsing solutions can be implemented for software product demos.

In this way, the best possible virtual booth experience can be given to all customers in a highly efficient manner.

The vendors should not have to install any separate applications

and API for providing demos to event participants. All such solutions can be single-handedly taken care of through a common portal.
Such an authentic booth experience where multiple business prospects can be engaged effectively simultaneously from a single platform can transform any virtual fair's customer experience. With such personalized 1-1 live video engagement, it can help build more credibility with the participants. 
Real-time video engagements will enable more and more customers to interact with multiple virtual booths throughout the event. This will also lead to a rapid increase in customer event retention and customer satisfaction index.
2. Manage multiple vendors from a common portal
Organizing a virtual fair with 100s of vendors and attendees may seem like a very tiresome and high-maintenance task.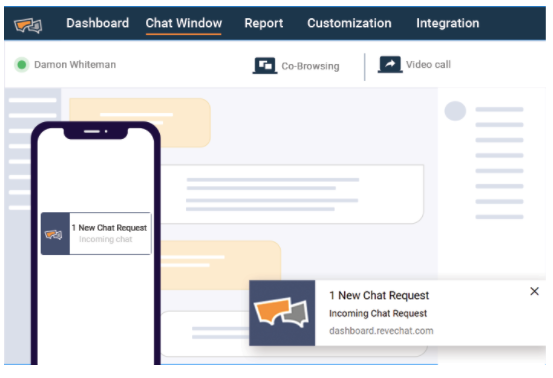 But unlike the common notion, technological innovations have proven to be highly beneficial for online event companies for organizing such large scale events just like in any other field, especially after the COVID-19 outbreak.
The

event organizer's website should be able to host everything

from vendor event pages, vendor dashboards, customization options, to live engagement options for event attendees.

Vendors can also be provided with their own event dashboards to measure the KPIs such as the number of leads generated and attendee engagement,

necessary to analyze their performance in the event.

The vendors or the participants need not have to go through the hassle of downloading, installing, or configuring anything on their devices. Everything, from the event preparation to measuring the event's success, can be done completely online without any unnecessary installations.

Mobile integration

is another important feature that must be provided by exhibitors. Not everyone will have access to computers and working with browsers on mobile devices can be tough. Hence providing native mobile app integrations for the online event companies is a must.
3. Effectively measure virtual event performance
Lead conversions, customer feedback, and customer engagement are some of the crucial metrics that need to be measured to gauge the performance of the virtual events and prepare for future marketing campaigns.
All important event metrics can be generated and viewed through separate analytics dashboards available for each of the vendors. The KPIs such as attendee engagement and the number of leads generated can even be exported to documents for further analysis and reference. Vendors can also view agent analytics through dashboards.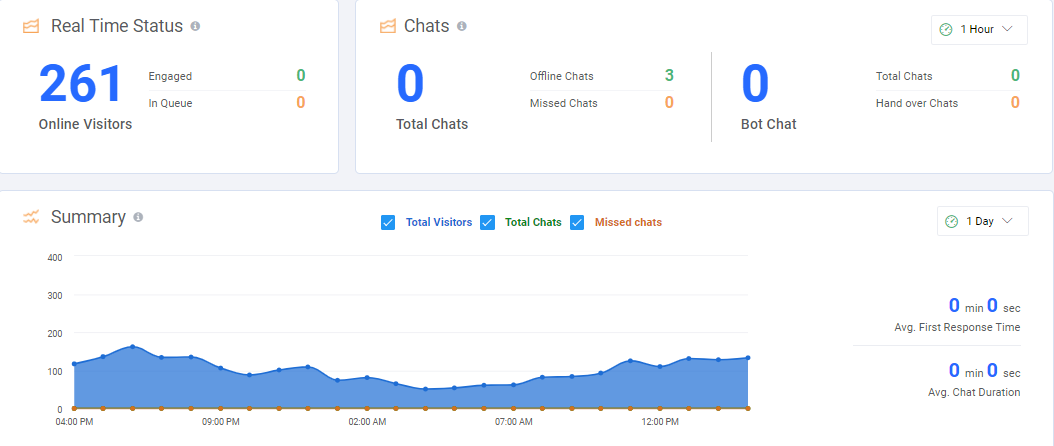 Here is how to measure virtual event performance effectively.
All these metrics obtained from the event organizer portal can be used by businesses to fine-tune their future marketing campaigns and better understand their customer needs. 
Moreover, the customer data collected through AI chatbots, live chats, and audience responses can be used for further communications with leads.
Apart from the vendor companies, event performance metrics are also important for the event organizers.

The metrics indicating overall event performance such as the number of attendees, chatbot interactions, live engagements, visitor analytics, and audience feedback – all can be viewed on one common dashboard by the exhibitor.
Such indicators can provide super-helpful insights for the event management companies, and the resultant data can be used for the betterment of future virtual events and exhibitions.
4. Increase online event attendee engagement with live chat
During the course of the virtual event, many participants will have questions and would need guidance in real-time about interacting with different virtual booths, just like in the case of an offline event.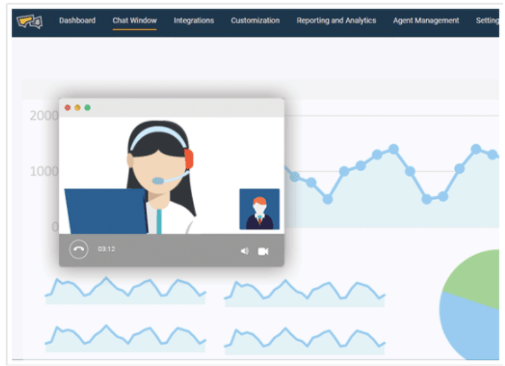 In the case of virtual events, there are high chances of attendees feeling like they are lost or ignored. This can lead to customer churn and event failure.
Integrating live chat with the event portal and mobile apps can prove to be the smartest solution to keep the customers engaged.

To tackle customer churn, live chat options can help to keep the conversation going with the customers. Live engagement can also help collect useful customer data in the process.

Another great feature that can

boost attendee engagement is the group chat

feature. Using group chats allows the participants to engage with fellow participants and network more. This massively improves the customer satisfaction index and boosts credibility for the event management company.
Such live chat integration will lead to increased event-to-event customer retention and thus improve the overall profits for the organizer as well as the vendors.
5. Personalize virtual event to match the branding
Any companies wanting to host their booths in online fairs may face objections and raise questions about how to make their booths in ways that would appeal to their prospects. Or about how to attract the crowd using a virtual platform instead of an actual physical booth.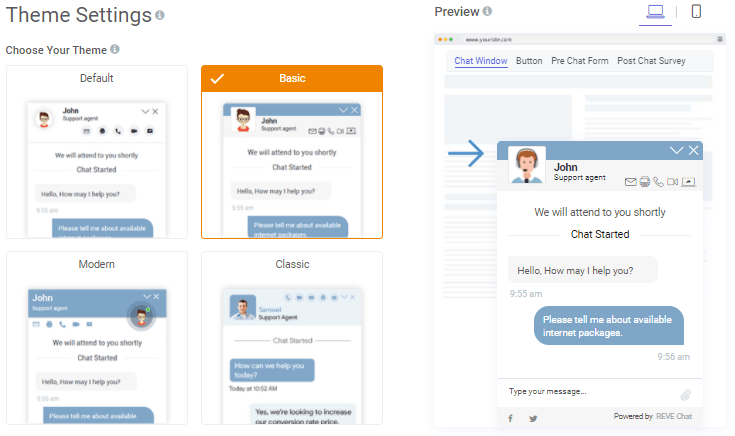 All such objections faced by businesses can be removed by online event companies through the means of branding and customization options. All the engagement options such as chatbots, chat windows, and video calls can be customized by adding the vendors' brand logo, widgets, colors, and buttons.
By providing such branding options to vendor companies, event management companies can attract more vendors to host booths on their platforms, resulting in increased ticket sales, lead generation, social media mentions, media coverage, and end-user satisfaction.
6. Collect helpful customer feedback
Customer feedback is extremely vital for measuring the event success, improving attendee retention, and contributing to the event's overall success. Without a proper platform to collect audience responses, vendors may find it difficult to measure metrics and organize their customer data.
To help with such scenarios, exhibitor platforms can provide options to collect audience feedback immediately after every vendor attendee interaction – be it live chat, video chat, voice chat, or AI bots. 
All these feedback can be organized and presented to the vendor businesses in their respective portals to help them with metric measurements. 
7. Effectively collect customer data by deploying chatbots
Online fair participants need to be attended to at various touchpoints during the events, such as initial inductions or guidance to get in touch with certain vendor booths. The initial induction process may involve collecting customer data such as their name, contact info, and preferences.
Such repetitive and predictive customer interactions can be unproductive, unorganized, and even lead to customers having to wait for a long time for their turn. 
Here is how chatbots can help in these scenarios.
AI enabled chatbots can handle these repetitive interactions and also collect the required customer data effectively. Exhibitors can deploy

chatbots with their main event page and also offer chatbots to their vendors.
Chatbots can also be used during promotions and ticket sales for online events. Bots can offer 24/7 support to all the leads

that land on the organizer's website and have inquiries about the online event. 

Integration of chatbot with virtual event websites can help bring in highly qualified leads for the event, increase the overall attendee count, and improve the virtual event's profits.

Event organizers can also use chatbots to provide

24/7 support to the various vendor companies

that they are hosting for their virtual event.
8. Effortless integration with mobile apps
Most of the online interactions these days are preferred to be done on mobile devices, and the same is the case with online events as well. Although online events can be carried out smoothly on mobile browsers, nothing beats the performance and quality of native mobile apps.
Using Mobile SDKs and ChatAPIs, features such as live chat, 1-1 video calls, chatbots, and co-browsing can be integrated into mobile apps so that as to provide the best possible customer experience. 
An online event model can help event management companies grow
Although the COVID-19 outbreak has led to cancellations of hundreds of offline fairs and trade shows, the possibility of conducting an even more successful virtual event has opened up numerous opportunities for event management companies worldwide.
Virtual or hybrid (a mix of offline and online) event strategies are predicted to be the future of online events. Hence, the quicker the event organizers and exhibitors adapt to this model of organizing events, the more fruitful their future events will be. 
Hence adapting to the new normal by conducting online fairs and increasing attendee engagement through technology integrations is the best decision that event management companies can make today.