What if customer support is not one of your core activities? Certainly, you may lack the expertise, resources, and finances to ensure good customer service to your customers. Outsourcing customer service is a great option opted by an increasing number of businesses to reduce their operational costs.
Almost 54% of all companies utilize third-party technical support teams to connect with customers. Because only selling the best product will not allow them to prevail in the industry in the long run. In order to gain new customers and retain loyal customers coming back, businesses have to follow concerted efforts to sustain it.
Statista reports says, the estimated market size for global outsourced customer experience in 2018 is at $75.1 billion, which is expected to rise to $82.6 billion by 2021. Due to the highly competitive market, businesses face difficulties to maintain the quality of resources. The limitations for such businesses might be the time factor or enough support staff to offer service after the sale. 
Customer service is incredibly important to today's consumers, with as many as 70% of customers saying they would leave a company over poor customer service. If the customer service worsens, customers will ruin your brand image over social media and bad word of mouth.
What is customer service outsourcing?
In the 21st century, the mass of the exemplary crowd is moving at an agile velocity. The rise in demand and flexibility of the product is visible at the consensus rate. Nowadays the product life cycle doesn't stop with the selling of the product to the customer, but it further moves to the desk for after-service facilities. 
The satisfaction of the customer lies at most importance for the vendor. In order to maintain the subtle reputation of the brand, arouses the call for extended effort in the form of better customer service.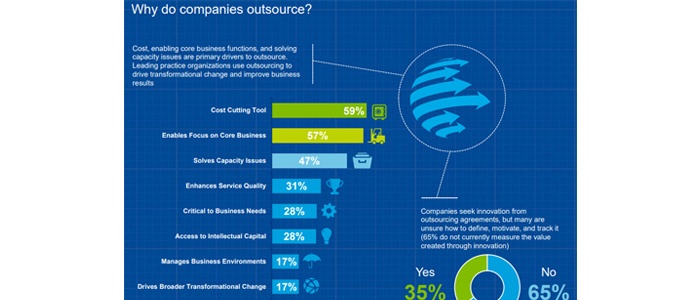 To rescue the organization from anticipated business turmoil, the usual support lies at the end of the professional belonging to customer support services, expertise in the same. 
Factors to consider while outsourcing customer service
Most of the big and small companies resort to outsourcing their business functions. Either they choose to outsource most of their functions or just a handful of them so that they can focus on core aspects of the business. 
For either of the cases, there are certain key factors to be considered that will help them make informed decisions. 
Let's dive into the factors to consider for making outsourcing decisions for your business.
#1. Plan budget according to your needs
Every single business seeks to garner cost efficiency, especially in outsourcing. You need to prepare the budget in advance before outsourcing any service and go through with deep analysis of all the pricing of different outsourcing companies.
You need to ensure that you are choosing the right customer service provider to streamline your overhead costs. There are many service providers that actually end up costing firms more money.
Tip: While selecting an outsourcing company for tech support, consider the track record, clientele, and reviews of their service.
#2. Ensure availability of right systems and tools
It is better to ask about the technologies and tools they are going to use for your project. Discuss with them and find out whether they are capable enough to handle your outsourcing needs. 
Many outsourcing organizations offer various solutions, but their under-trained customer service representatives will not offer you the benefits that you're looking for. So, you need to look beyond those criteria.
Tips:
Evaluate your providers with a verifiable track record of quality and performance. After all, customer retention and increased sales depend on good service.

Make sure that they eliminate the need for additional resources such as executives, extra workspace.

Check whether they have updated technology and skilled professionals or not.

Check the report and detailed structured analysis of their previous claim work.
#3. Service level agreement in outsourcing contracts
SLA (Service level agreement) is a critical part of any outsourcing contract. A well-drafted SLA sets expectations for both parties because it provides proper guidance for measuring accurate performance to the set targets.
Few things to remember before moving forward,
SLA needs to be specifying the consequences for failure to meet the expectation.

It may also include a bonus term to be given to the service provider for exceeding the performance standard.

It should be adaptable to the emergence of new technology and improvements.
#4. Brand reputation
When you want it to decide who your outsourcing partner would be, it is important to also understand their capabilities and their market reputation. You can go through the online client reviews that can give you an idea about their competencies.
A good outsourcing partner has credible customers, your industry or domain knowledge and also they have certifications or other industry specific recognition that can help you to evaluate how good they are
#5. Dealing with time zones
One of the key challenges faced by most of the companies is dealing with time zones. At times, your team might need some kind of clarification, important emails may return or work gets stuck until the requirements are well-clarified and understandable for everyone. With different time zones, it's hard to communicate anytime you want.
Now, the question is how you can deal with working in different time zones?
It is also important to give the team a common working space to share, find, and collaborate on the information they need to get the work done.
Use Slack, Skype or TeamViewer to keep communication open and transparent.
#6. Check legal compliance
Legal protections and laws greatly vary from country to country. To overcome, you have to learn and educate yourself on the enforcement of legal protections specific for your outsourcing initiative. Compliance with regulations about the preservation of client confidentiality and sensitive information is a crucial factor to consider.
What types of customer service you can outsource?
Whether it is customer service or technical support outsourcing, businesses may think of reducing the costs by alleviating the burden of repetitive and time-consuming tasks to third-party service providers. They want to keep their focus on the ultimate objective of bringing new prospects into the business. 
But the question is what services or business tasks should you outsource? Should you retain what is core and distribute the secondary?
Well, you can decide that based on your business requirements, however, the types of customer service that can be outsourced are as follows:
Email support

– Email services can be outsourced as maintaining continuous and unstinting communication with your customers is essential for the success of your customer relationship efforts.

Live chat support

– Online chat services can be outsourced for providing high-quality contact center and customer care support services in real time and assuring higher customer satisfaction levels.

Phone support –

The phone call support services can be outsourced for delivering better customer experience.
By outsourcing the above services, you can manage your resources efficiently. They can handle the tech support services that are more crucial.
Key skills to outsource your customer service
A well-structured action plan is essential prior to turning for customer service outsourcing. The strategy should focus on how effectively you can achieve your customer service goals. 
Consider the below criteria to outsource your support needs
Language

– Language is the key to effective communication. It is quite annoying for both the customer and the representative when language barriers hinder clear conversations. Prior to outsourcing your customer support tasks you need to evaluate and examine thoroughly the tone, clarity, and understanding of your business, the agents will communicate. You can have a test call to check the service quality.

Reviews

– You can check client reviews and testimonials to authenticate the outsourcing agencies. With reviews, you are able to gain more details into specific typical customer service experiences.

Invest in systems or tools

– When you outsource your business tasks, communication is a must between you and an outsourced support team.  For that, you should use tools like Slack or Skype.
Pros of customer service outsourcing
#1: Save money and resources
Many business owners probably don't have the budget to hire and onboard extra customer service rep, because their employees need to focus on day-to-day operations. Outsourcing customer service is the ideal compromise because:
You will get a skilled workforce at a lower cost.

Easily control your IT cost because you will only pay for what you use when you need it.

Save and focus on relevant human resources.

It reduces upkeep maintenance costs.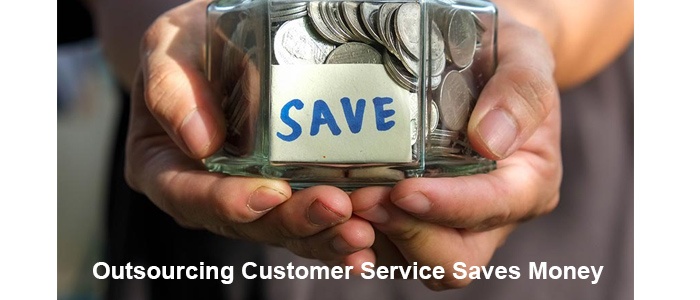 You can save around a total of $3000 in initial setup and infrastructure costs that is close 25 years of Amazon prime subscription at current rates.
#2: Minimal supervision is required
When you hire a company for outsourcing customer service, you thought that they are going to take care of everything related to your product. If you are running a matured business, then you need to supervise them minimally and let them take it from there. 
With minimal supervision, you can focus on your core business goals. The professionals hired expertise in their domain rather than a freshly trained in-house team.
#3: Easily monitor performance
Customer service outsourcing companies have the right tools and resources to make sure the effectiveness and quality of the customer agent and its services. They have KPIs and analytics in place to measure employee performance and track activities, as well as it bolsters in managing the insight of data for propagating the full-proof business plan.
With existing processes ready to be integrated with your business operations, you don't have to start from scratch. You are assured that your outsourced customer service team is well-trained, giving you peace of mind and allowing you to focus on core business activities.
#4: Deliver immediate customer service
Nowadays, every customer is looking for a fast and convenient support service to solve their issues. Handling customer service in the house with focus on, you might be unable to serve superior quality of customer support that you are looking for. And that can affect the overall customer service. 
In order to maintain the quality you have to outsource customer support to the best outsourcing companies.
They help to improve the flexibility of your help desk service.

Especially in outsourcing technical support, the third-party will take care of the cost and responsibility of installing, maintaining, and operating sophisticated telephony systems, data management teams, and other customer support software.

The customer outsourcing company provides extensional support with ever-ready 24*7 customer support.
#5: Efficient customer service management 
Having a outsource partner have their own established system, tools, a process that you might not otherwise be able to invest in. The well established process helps in delivering faster and efficient support to your customers. The agencies that take up outsourcing work are well aware of how to scale their services for effective customer service management.
How support agency can manage customer service effectively?
The have well equipped support systems – chat, phone, email.

They have well defined systems to deliver services that meet SLAs and KPIs.

Having resources and tools at place reduces the response time significantly.

The outsourcing agencies offer extended after-hour and weekend support.
Cons of customer service outsourcing
#1: Language and cultural barriers
The organization takes lots of effort to get a potential customer base. And due to customer support, they don't want to lose their customers. This fear holds an organization to outsource its customer support. 
To overcome these issues, try our bonus tips:
Send clear and specific customer service needs that you're looking for.

Include deep specification about your requirements like the team or any member should have fluency in a certain language, or they should multi-lingual and has a neutral approach.
#2: Choosing the right company for outsourcing customer service will take time
No doubt that the decision of choosing a suitable outsourcing company is very difficult. In today's fast-paced business world, outsourcing becomes the key driver for all start-ups to big organizations. 
To choose the right customer service outsourcing company you need to consider below-mentioned factors:
Set your business goals.

Check cultural compatibility.

Inspect technology advancement level and infrastructure.

Understand the terms for after-service customer support.
#3: Data security risk
The risk is the most significant driving factor behind what can and cannot be outsourced. According to the research nearly half, the respondents are doubtful of the security offered by the customer service outsourcing companies. About 30% feel security claims cannot be verified and approximate 20% feel no credibility.
Tip: Apply a data-centric approach for security purposes because it became difficult to control applications, devices or networks in a complex environment.
#4: Not having proper knowledge 
One big disadvantage of outsourcing is lack of knowledge. The customer support rep does not understand your product. It is very important to identify that your outsourcing partner has domain expertise and are often unfamiliar with company practices and values. 
Therefore, may not be dedicated to the company, devoted to the customer or provide a level of service that is in line with company standards and reflects the company culture.
Tips:
Look for an outsourcing partner with domain expertise.

The agents must be well trained about the product/services.
Final thoughts on how to outsource customer service

So, if you are planning to outsource your project, then it's important to assess your short-term and long-term goals and create a framework from which to base daily operations to make sure that both parties have clear expectations from each other.
Through outsourcing, you can focus on providing better customer service and earn great advantage for your business, working in favor of both, the vendor and the customer.