Customer service should always be exceptional. It must be consistent even if consumers keep switching between multiple devices. On top of that, maintaining quality in service is equally important irrespective of the channels chosen by customers. 
And if you plan to deliver great service, the first priority is to ensure customers get help as, when, and where they want it. You must also meet customer service needs whether through a live agent or real-time self-service options.  
Thanks to the omnichannel contact center software, it's now incredibly easy to engage with your customers wherever they are. The software makes it hassle-free to support customers on their preferred channels, be it chat, email, voice, or social media.
So, ditch the single-channel customer support strategy and switch to an omnichannel contact center platform immediately if you wish to delight customers through their journey with your brand. 
In this blog, we will discuss the significance of omnichannel customer solutions and their benefits for businesses. 
What is an Omnichannel Contact Center Platform?
This platform is a unique approach to providing superior customer service experiences and smooth interactions across touchpoints. It helps businesses interact with customers when they want it, through the channel of their choice.
To benefit from an omnichannel call center solution, an organization needs a piece of software that streamlines business communication through automatic syncing of interactions across devices and channels. 
When an omnichannel contact center software is used, agents find it easy to assist customers through a quick look at the entire history. Similarly, it allows customers the flexibility to choose their preferred mode of communication which leads to a higher level of customer satisfaction.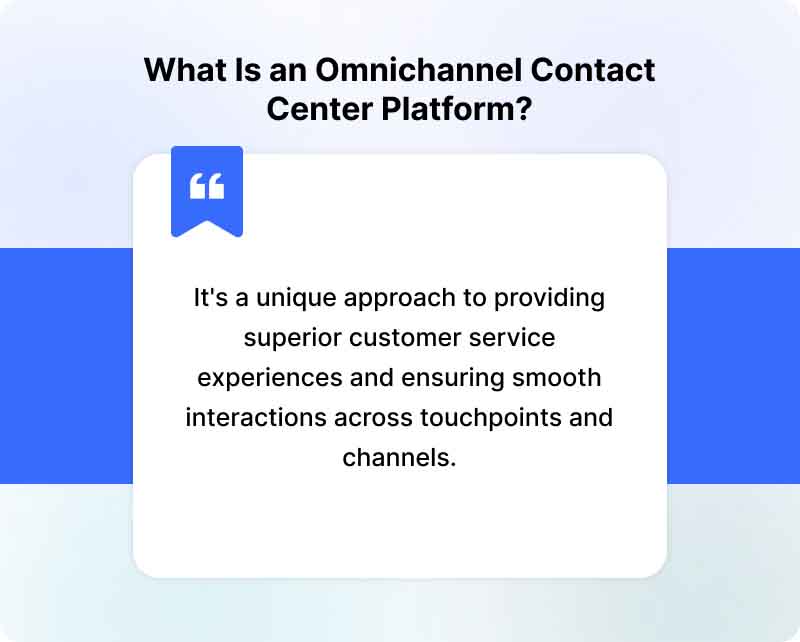 Agents that use call center software will find it easy to move between channels and touchpoints easily, therefore seamlessly helping customers regardless of the channel. When done right, such contact centers can hugely enhance the customer service experience and customer engagement throughout the customer journey.
For example, an omnichannel platform gives agents the freedom to switch conversations from one channel to another, from Facebook Messenger to phone calls or web chat, without having to leave the dashboard. 
Plus, the service team can handle all conversations from different channels like live chat, messaging, VoIP telephony, email, social channel, and SMS without being there. This can add great value to customer service.  
Why Does Your Business Need an Omnichannel Contact Center Software?  
Companies that implement omnichannel customer engagement strategies retain on average 89% of their customers. Yours too can benefit from omnichannel contact center solutions to redefine the way you communicate with customers. The most important part, the software not only helps customers but can make tasks easier for service agents as well.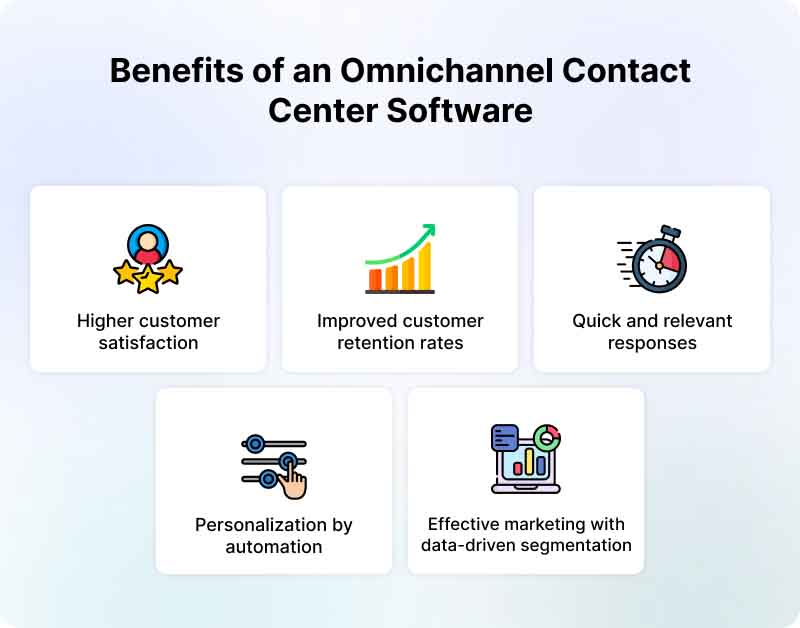 Leveraging the power of an omnichannel platform can bring a whole variety of benefits.  
Higher customer satisfaction

– Companies that use an

omnichannel communication

strategy are able to provide a consistent cross-platform experience to customers without making them switch between channels or repeat themselves. This ensures higher customer retention rates for businesses. 

Improved customer retention rates

– Omnichannel solution gives customers the option to reach agents on the channel of choice, experience less wait time, and find quick answers to their queries. All this can drastically improve customer retention rates.  

Quick and relevant responses

–  Businesses that switch to contact center solutions make it easy for customers to connect to an agent, get immediate help, and benefit from self-service options. Agents have access to customer data or history and therefore offer quick responses.

Personalization by automation

– Customers always love

personalized responses

as it caters to their needs perfectly. Thanks to omnichannel contact centers, it will be easy to personalize the experience by automating emails, texts messages, and responses, therefore hugely improving customer experience.

Effective marketing with data-driven segmentation

–  Omnichannel software gives the advantage of segmenting customers into the right audience type and improving conversion rates through effective marketing.   
Features of an Omnichannel Contact Center Software 
Having a single-channel approach to customer service is never an ideal scenario in a time when people love switching between devices and channels. You should rather focus on omnichannel customer engagement to easily interact with customers wherever they are. This kind of engagement is driven by advanced contact center software whose features ensure value for both customers as well as agents.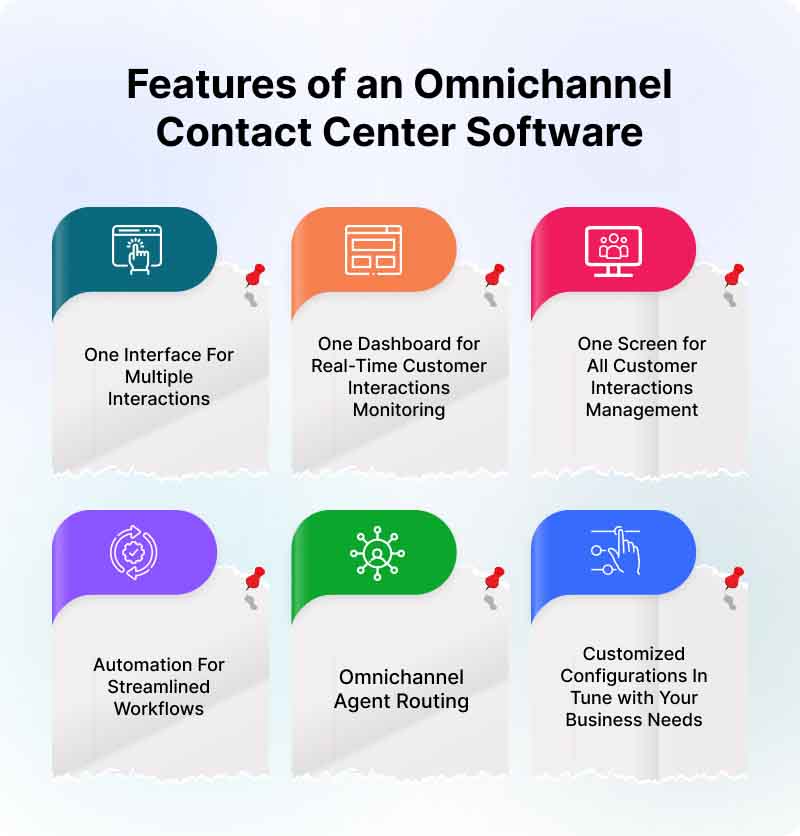 High-quality contact center software often comes packed with a whole host of support-friendly features. 
One Interface For Multiple Interactions  
Gone are the days when agents had to keep a watch on different channels to cater to customers efficiently. Now, omnichannel software makes it possible to not only engage customers across their preferred communication channels but also engage in multiple interactions simultaneously through a single interface.   
One Dashboard for Real-Time Customer Interactions Monitoring 
Customers using different channels to reach you is no longer a problem. Thanks to the software for omnichannel communication, agents can keep track of all interactions in real-time, and that too through one dashboard. This way, all the interactions through specific channels can be tracked from a single source itself. 
One Screen for All Customer Interactions Management 
Your customer service reps will no longer get troubled by the constant screen toggling hassles. With the omnichannel platform, there will be a unified agent desktop to manage all interactions through different channels. Now, all the team collaboration features and capabilities are packed into one screen which makes customer service simple and easy. 
Automation For Streamlined Workflows
Call center agents needn't worry about tasks and workflow management when there are automated operations for help. With an omnichannel solution, it will always be easy to set automation rules for customer service tasks and achieve efficiency at every level.  
Omnichannel Agent Routing 
You can make sure customers are routed to the right agents all the time. With omnichannel agent routing, it's simple to route incoming interactions from different channels to the best agent. The routing feature will help you achieve operational efficiency in customer service. 
Customized Configurations In Tune with Your Business Needs
One of the great aspects of the software is the flexibility to get it customized according to its own unique business specifications and requirements. So, you can expect to configure your dashboards and reports in reasonable omnichannel contact center pricing. 
Best Practices for Omnichannel Contact Center Platform   
Compared to single-channel, customer retention rates are 90% higher for omnichannel. This explains why customers switch over to competitors when they don't get quality service. To avoid that, you need to think of a strategy that ensures value to customers on the channel and device of their choice. In a way, you need to implement an omnichannel solution to meet and exceed customer service experiences.  
To get the most out of contact center solutions, you need to be aware of the best practices. 
1. Focus on Providing a Consistent Cross-Channel Experience
Be where your customers are. Give them the freedom to choose the channel they like to reach you. Don't force them to align with choices you have made for providing round-the-clock customer service. Rather, let them enjoy the flexibility to choose what they want.  
And if you don't give them the option to choose the channel or device, it means your customer service strategy is faulty. The right approach is to respect their preferences and align your service with their choices. 
This could only become possible when you make use of omnichannel call center software. This way, you will be in the right place to serve customers and deliver them value at each stage of the journey.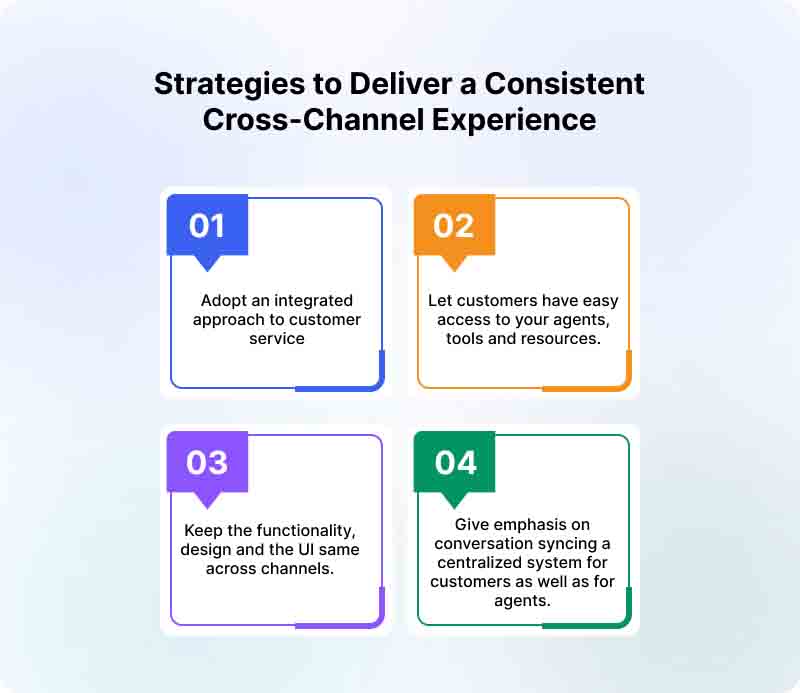 How to achieve a cross-channel experience?
Adopt an integrated approach to customer service as it will help them have easy access to your agents, tools, and resources.

Keep the functionality, design, and UI the same across channels.

Give emphasis on conversation syncing so that everything is managed from a centralized place both for customers as well as for agents. 
2. Map Online Customer Journey
Great customer service is not possible unless you're aware of the customer journey with your brand. When you map the online customer journey, you know what is expected of you or what needs to be done. 
With customer journey mapping, service agents are always in a better position to understand the exact requirements and cater to consumers accordingly. In fact, reps are better prepared when they map the journey.
Thanks to the use of omnichannel software, it's always easy to understand the customer journey irrespective of the channel or device is chosen by customers.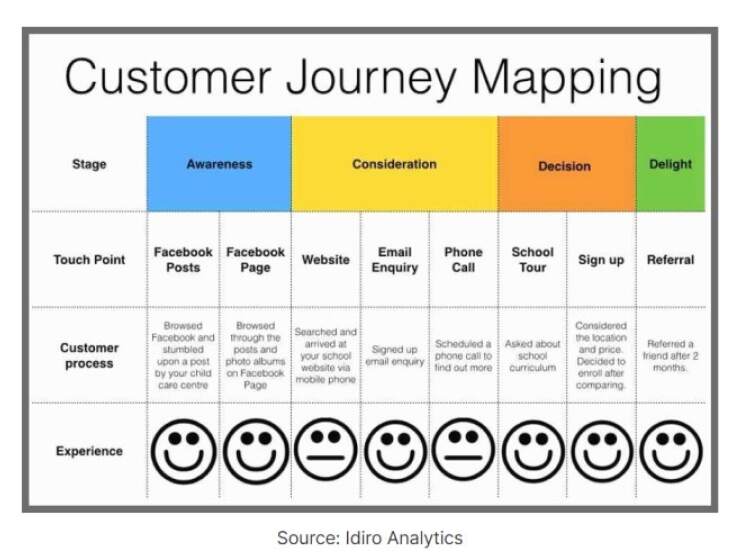 How does customer journey mapping tie in with omnichannel solutions?  
Journey mapping will help easily know the journey customers take through the website or mobile app or the information they seek. 

You will be aware of the actions taken by customers on specific web pages and then use this information to drive the conversion. 

The details gained from customer journey mapping can also be used to personalize customer experiences and enhance the value of customer service.
3. Make It Easy for Customers To Connect With A Live Agent
There is absolutely no substitute for the human touch when it comes to offering exceptional customer service. No matter how advanced technology is in place, the kind of connection a real person provides has no match.
In fact, 79% of customers prefer connecting to live agents purely because of the immediacy it offers compared to other channels. Many of them trust this way of communication as opposed to a chatbot or IVR-assisted system.   
Plus, most customer issues are often complex requiring human support for better resolution and enhanced experience.  
With an omnichannel center, you will find it easy to offer live support across multiple channels and that too without having to stretch the resources thin. This way, you can ensure a human touch to customer service irrespective of the channel or device used by customers. 
How does an omnichannel call center facilitate live agent support across channels? 
The omnichannel center makes it simple to offer live support across chat, phone, or video calling. 

Chatbot-powered automation

can give a big push to your attempt to offer live chat support across channels of choice.

You can always combine automation and internal knowledge bases to meet the requirements of live support on any scale.

 
4. Include AI-powered Bot as Part of Customer Engagement Initiatives  
Customers expect quick replies to their queries. They don't like waiting. Giving instant answers to their questions and removing their doubts at the earliest can add to their overall experience with your brand. 
On the other hand, if you make them wait longer than usual, they might leave you forever. But the reality is, that agents are often too busy to offer quick replies. They are stressed and overworked, so expecting them to be quick all the time is a bit too harsh.
You however can tide over this challenge by including an AI-powered chatbot in your customer service mix. With bots, there will be a great value to your customer engagement effort.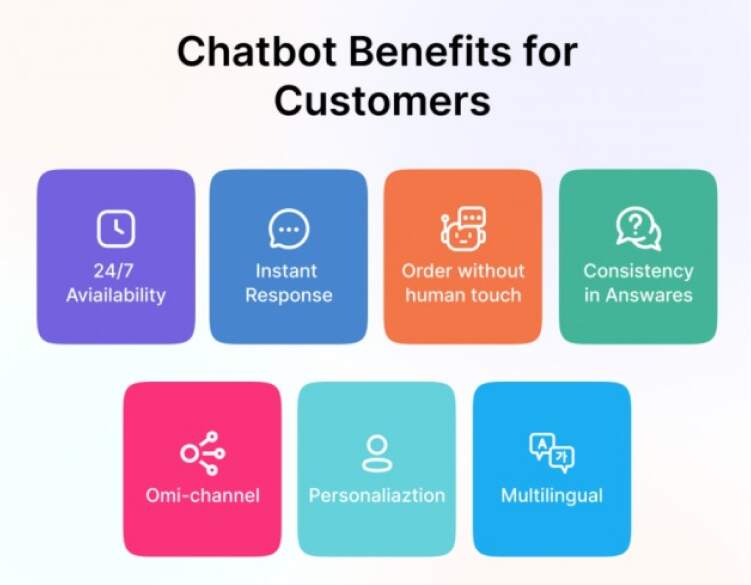 This is where contact center software can create a difference. When you use AI with omnichannel, it will ensure huge improvements in service delivery. Such an improvement is helpful given how nearly 75% of customers spend more with a company that provides positive customer service.
More importantly, agents become more productive and find time for other more important tasks once omnichannel integrates artificial intelligence.
5. Give Equal Attention to Social Media Service 
Social media is now a key element in offering customer support. Popular platforms like Facebook, Twitter, and Instagram are where customers try to reach out to brands or voice their problems. 
Despite that, not many businesses include social platforms in their service mix. And those who include are not too serious about considering social channels for customer support. 
In fact, customers' queries over social media often don't get the kind of attention it deserves. This happens despite the ease associated with these channels in terms of offering quick replies. 
With an omnichannel customer center platform, this kind of approach to social media can be avoided. You can trust the omnichannel solution to enhance customer service to queries coming via social networks.
How can omnichannel centers enhance social media customer service? 
You should focus on offering automated responses to social media queries as it helps better deal with customers on any scale 

Businesses that set up omnichannel alerts to include social channels are able to deliver enhanced experiences to customers on social platforms. 

Tie your social media service with an online knowledge database to give self-service options to customers who try to reach your business via social media.  
6. Move Your Contact Center Solution to the Cloud 
Offering omnichannel customer experience is not expensive by any means. In fact, its pricing is something that is easily affordable for any enterprise level. 
Sadly, many businesses wrongly assume otherwise and this stops them from leveraging something that can drastically change their customer support. 
The reality is, it takes very little to set up an entire system to offer an omnichannel experience. All you need is the willingness to move your contact center to the cloud. And yes, the omnichannel contact center cost is too negligible to matter beyond a point.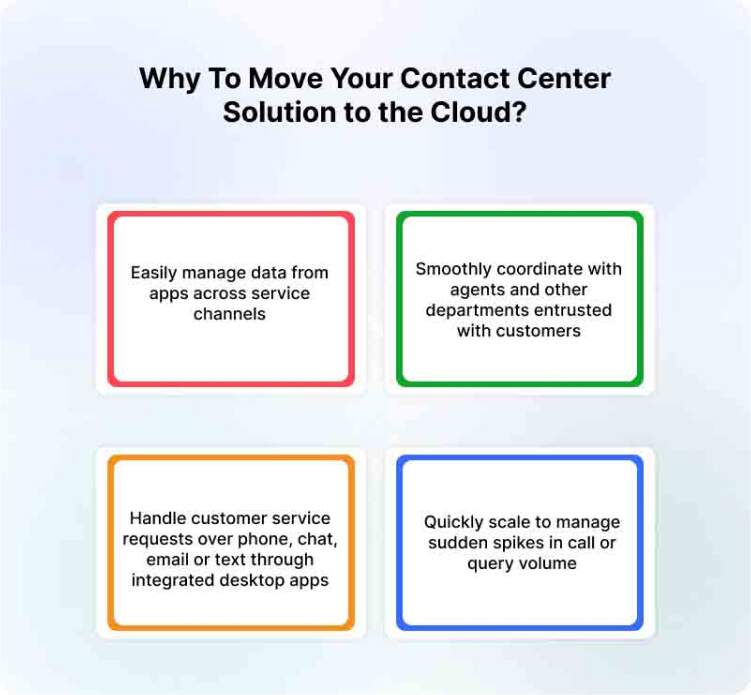 When you move the contact content to the cloud, you can –      
Easily manage data from apps across service channels 

Smoothly coordinate with agents and other departments entrusted with customers 

Handle customer service requests over the phone, chat, email, or text through integrated desktop apps 

Quickly scale to manage sudden spikes in call or query volume  
When the omnichannel cloud contact center is used, it makes processes streamlined. And this is how you can redefine the way you offer customer service. 
7. Work on CRM System Integration 
Your customer service strategy is faulty if customers have to repeat themselves with multiple agents. Such a scenario is never ideal neither for customers nor for your business. You might lose prospects this way. 
And when customers are made to repeat themselves, it shows your agents-  
Don't have detail about previous interactions

Feel clueless about customer history 

Lack of information on past orders
To avoid this kind of situation, you should think of CRM system integration. It could give a huge boost to your omnichannel communication strategy.  
When the integration happens, it results in – 
Agents get a unified and synced conversation history

Your service team finds it easy to speed up the overall resolution process

Service reps will have all the relevant information which can help them serve better   
Apart from the CRM integration, you should also think of syncing all your communication tools so that agents are always in a better position to understand what customers want. 
How Can REVE Chat Serve As An Excellent Contact Center Platform?
Instant replies and human touch to conversations are two of the most vital aspects of customer service. And if you manage both, you will achieve happy customers.             
REVE Chat understands the role live chat software plays in facilitating human touch to interactions and that too, at any stage of the customer journey. 
Our live chat comes packed with a whole gamut of advanced features that can ensure a great value to your omnichannel call center solution. 
In addition, you can combine live chat with an AI-powered chatbot to automate responses and ensure quick replies on a 24×7 basis. This is how a robust omnichannel call center approach delivers great results. 
With a chatbot, you not only enhance customer service but also spare precious time for agents and this contributes to improving their overall productivity. 
Final Thoughts on Value of Contact Center Solutions  
Omnichannel communication has become a necessity when it comes to delivering amazing customer service. It makes redundant customers' inclination to switch between multiple devices every day.
When you have an omnichannel communication technology in place, you assure a seamless experience for customers and this adds up to the value propositions your business offers.
You can start a free trial of some of the top customer service tools and sync them with your omnichannel approach to elevate the level of customer experience.
This is how you're always available for customers through contact center omnichannel technology and stay present on multiple channels without having to invest in considerable resources.