Expectations for banking experiences have been shifting continuously. And post-pandemic, these expectations moved even faster than anyone could have predicted.
There is a new baseline for the customer experience in banking. 
People expect more channels, and faster and personalized responses without long wait times. Banking customers want their financial institutions to provide more than just basic service – they want insights, guidance, and relevant recommendations. 
Hence, improving customer service in banking is crucial. 
A study by Accenture shows that 48% of bank customers demand preferential treatment and rewards in exchange for their loyalty to your bank.
In the banking industry, where technology continues to evolve the way we handle personal and business finances, quality customer care includes keeping pace with both live and digital options for handling simple to complex transactions.
What is Good Customer Service in Banking?
Customer service in the banking sector depends on efficient and prompt customer service. Customer service is the most important duty of the banking operations. Prompt and efficient service will develop good public relations, reduce complaints and increase business.
Providing quality customer service is important in the banking industry because it makes customers feel valued, helps you meet their needs more effectively and improves your overall customer retention.
Key Importance of Customer Service in Banking
Financial institutions have amongst the highest customer acquisition costs in the industry today. Acquiring new customers can cost five times more than retaining existing ones. Hence, it is essential to adopt the right strategies to improve customer service in banking.
Customer service means different things in different industries, but it always boils down to the same basic element – providing superior levels of service to your customers. 
Changing customer expectations

– Customers today are more demanding and more sophisticated than he or she was thirty years ago.

Increased importance of customer service

– With changing customer expectations, competitors are seeing customer service as a competitive weapon with which they differentiate their products and services.

Need for a relationship strategy

– To ensure that a customer service strategy that will create a value proposition for customers should be formulated, implemented and controlled. It is necessary to give it a central role and not one that is subsumed in the various elements of the marketing mix.
10 Practical Strategies to Improve Customer Service in Banking
Today's customer expects personal, relevant, accessible-anywhere experiences when they interact with businesses — and modern finance is no exception. With new post-pandemic norms setting in, digital-first service keeps customers connected to your offerings anywhere they need them.
Let us dive in to understand how each strategy can deliver exceptional customer experience in banking.
1. Monitor end-to-end customer journeys to create 360° view 
Mapping out your customer journeys is crucial to deliver the exact service that customers are expecting. 
First things first! You have to identify all touchpoints across all channels where you engage with customers. A common banking customer journey may include:
A business professional checking account balance online

Depositing a paycheck in-branch

Verifying the deposited funds on a smartphone. 
You should have feedback experiences in place at all three touchpoints. Then by identifying target customers, create customer personas and focus towards your customer experience program.
Secondly, outline the journey for how customers engage with your institution. Start your journey map with the first point of contact and each next step and all potential steps until the journey is complete.
Finally, identify at-risk customers and proactively engage on a personal level to improve the relationship.
Note: If financial institutions can learn to identify at-risk customers, proactively engage on a personal level, and identify what is causing the customer's behavior, companies have a much higher chance of keeping a customer loyal, maybe even for life.
The goal is to use experience management to move from reactive to predictive, and eventually, to a state of delivering exceptional experiences across all touchpoints.
2. Provide Real Time Support
People want to organize their finances on the go and find answers quickly online and the best option is live chat. 
Citibank reported that 90% of live chat users complete their home-equity application.
Live chat is a powerful tool to counter the bureaucratic and impersonal feel of banking institutions. It provides your customers with personal human support that's easy to reach.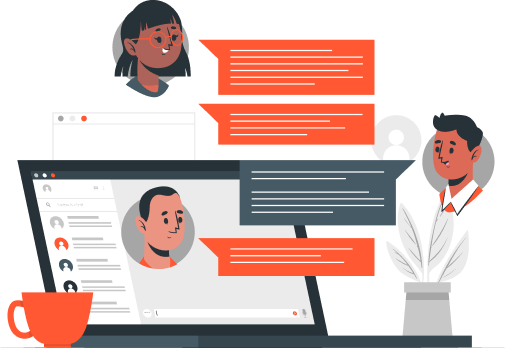 American Airlines Federal Credit Union recognized the advantages of live chat and empowered their service reps to engage customers in real time . The biggest German institutions like Hypovereinsbank and Targobank also use live chat as their main customer service tool.
How can live chat improve customer service in the banking industry?
Increase sales conversions

– Live chat can address customer queries instantly and help in faster decision making leading to more sales. It can also approach customers proactively – if they are stuck at some page/point you can trigger for a chat window to automatically open with an invite to chat.

Sending files securely

– Implementing a GDPR adhered complaint based live chat solution makes live chat suitable for directly sending files to your customers.

Address customer concerns instantly

– Live chat provides instant solutions for banking and financial queries with the help of digital engagement tools like video chat,

co-browsing

in order to deliver better customer service.

Reduce customer support costs

– With canned responses, you can handle multiple chats and offer faster responses. Live chat increases the efficiency of service reps by automated routing and delivers better banking support.
3. Deliver Personalized Experience
Personalized experience in any industry always pays off well. In the banking sector video chat is a wonderful tool that can have a positive impact on various aspects.
Video chat in customer service for banks has witnessed a whopping 70% growth. Its value even grows further when used in combination with other tools for customer engagement.
When the situations are complex where visual cues hold huge importance, a video chat platform emerges as the only option to ensure the best personal support.  
Benefits of video chat for customer service in banking
Live customer engagement

– Video chat helps businesses interact directly with customers on the website or mobile apps and improve the level of engagement manifold.

Deliver personalized experience

– When you combine a video chat platform with other customer engagement tools like live chat and chatbots, it's always easy to provide personalized experiences at any time through the different stages of the journey. 

Faster resolution of issues

– By using co-browsing and video chat together, it becomes easy to collaborate with customers in real-time and fix issues faster. 

Offer proactive support

– The use of cross-platform video chat proves very handy in offering

proactive support

and effective engagement once you have gained insights about your customer journey. 
4. Leverage a Banking Chatbot
AI in banking customer service is gradually gaining wide acceptance. They are not only simplifying the processes for businesses but also enabling quick access to services that were formerly confined to apps.
Banks need to improve the quality of their customer service without sacrificing time to redundant user queries. 
Subsequently, banks now understand the importance of automation and 24×7 services that are not only convenient to them but to their customers. It means seamlessly providing scalable 24×7 customer support on multiple channels and languages.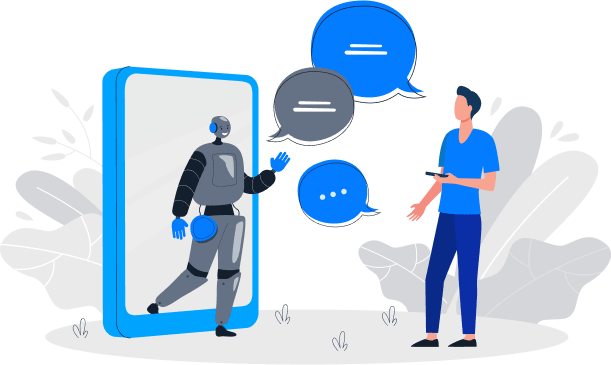 AI Chatbots in banking customer service can help streamline transactions like money transfers and account balance checks via a conversational interface so that customers are constantly guided through their actions
How deploying an AI chatbot helps to deliver better customer service?
Engage consumers 24×7

– A

banking chatbot

can be deployed on the website or on browsing pages to start conversations. It helps them analyze user behavior or interests, or introduce to them banking products.

Deliver great conversational experience

– AI bots respond accurately to the inputs of customers  and provide conversational experiences at each step of the journey. They route complex chats to the right human rep to ensure a humanized support.

Offer personalized services

– With the help of chatbot analytics (that captures user  behavior, trends and patterns) you can deliver relevant and personalized services and offers to customers.

Automated support for FAQs

– Bots are available 24×7 and banks can deploy them to solve customer problems any time without requiring human intervention. AI bots with advanced algorithms and machine learning ability can answer complex queries.
5. Develop an Omnichannel Experience
Nowadays, basic transactions in banks are speedily migrating from the physical to the digital channels. According to Reuters, 60% of customers would still prefer to open a new checking account at a bank branch rather than through digital channels
A majority of banks have adopted the omnichannel approach at the core of their strategies. 
It's because banks have understood that ease, innovation, simplicity, and accessibility of platforms provided by FinTech companies can influence the customer behaviors quite strongly.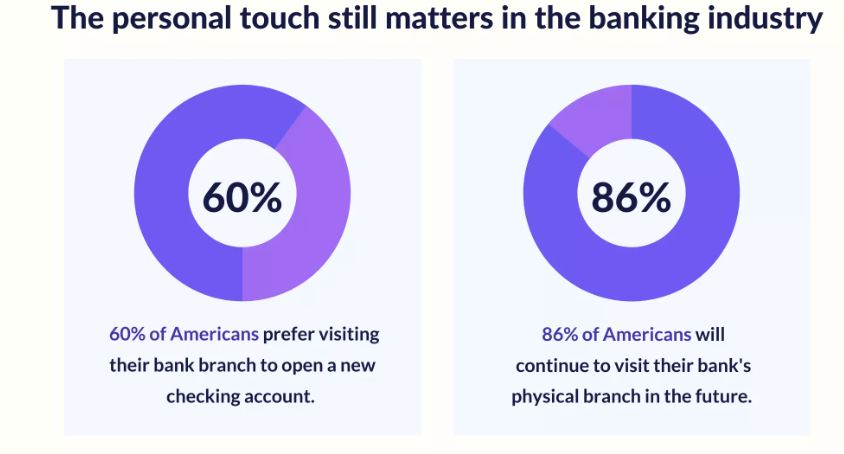 An omnichannel customer service strategy allows you to use all available marketing channels to achieve an integrated and seamless customer experience. 
The customer, on the other hand, is able to move from your app to the website to push notifications to social media, experiencing the same branding and messaging throughout in a synchronized way. 
How can an omnichannel approach benefit customer service in banking?
Faster resolution rate

– Omnichannel banks are capable of handling customer requests faster by using digital tools and strategies which increases the resolution rate as well as customer satisfaction.

Improved customer experience

– When banks engage across all online and offline customer service channels and deliver consistent support, there is a boost in customer experience.

Streamline customer journey for better insights

– Banks can easily understand the customer lifecycle better with conversation history and deliver personalized real time support.

Reduce customer churn

–  Customers expect instant response and when they are entertained across their preferred channels in real time, there is a significant

reduction in the customer churn rate

.
Note: However, banks should amalgamate traditional and digital components in order to create an omnichannel customer experience.
6. Conduct Training on Intrapersonal Skills
Financial matters are very critical to handle, so having frontline employees with exceptional interpersonal skills is an asset for any financial institution.
For example – There might be circumstances where you may find yourself in situations where you need to explain to a customer why their loan application has been denied or why a mortgage cannot be processed.
While it is important to be clear and transparent in explaining the options, one must display empathy and maintain the utmost composure. It will certainly go a long way in helping customers feel reassured.
So banks and financial service providers must invest in customer service training for employees to have them ready to navigate all possible scenarios. 
At times it may appear like these are additional costs that impact the bank's bottom line, but at the same time will be made good by clients who stick with you because of good customer service.
7. Create Knowledge Base for Self Help
As banks face new and evolving challenges, including digitization, virtualization of the workplace, government regulations, and growing security concerns, they can gain a competitive advantage with knowledge management.
74% of customers report that they use a self-service support portal to resolve issues on their own before contacting a live service representative.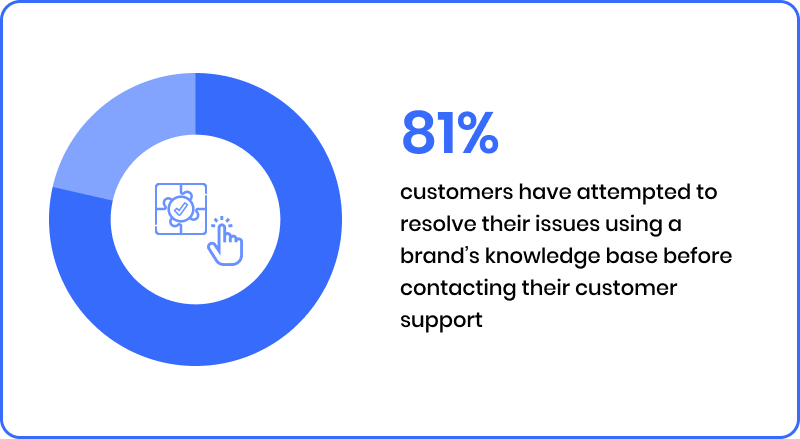 Creating knowledge base in the banking sector allows financial services organizations to more efficiently store and organize knowledge, which enables bank managers and employees to collaborate and stay aligned on short- and long-term initiatives. 
How to improve customer service in the banking industry with knowledge base?
Ensure bank customers receive consistent information at any branch

–  A centralized knowledge management system ensures that all employees have access to the same information, so they can then provide standardized answers to customers.

Create a consistent brand experience, both digitally and in person

– With a comprehensive knowledge base, you can ensure that you present a unified experience, no matter how a customer interacts.

Provide all bank employees with up-to-date regulatory updates

– A knowledge base system ensures that all employees receive updates about regulatory changes and understand how they impact the bank and its customers.  

Offer a holistic view of market research and customer insights

– By using a knowledge management platform to centralize all research and give all internal stakeholders access to the insights they need to make informed decisions.

Enhance overall customer satisfaction and the CX

–  When banks are equipped with a knowledge management system, employees can quickly search for the information they need to provide comprehensive solutions to client issues.
8. Solicit Customer Feedback
Customers are the ones who can anticipate their needs better than anybody else. 
After all, your customer data from your CRM and helpdesk tool can only tell you a part of the story. The other part lies with the customer. And no form of technology can magically help you read it.
It only makes sense to dive into this rich pool of information from your customer base by acquiring their feedback after every customer interaction. 
By doing this, you can gain insight into whether their needs are being sufficiently met, what financial products or services they're interested in, their financial goals for the future, how their customer experience can be improved, and more.
There are a number of ways to gain customer feedback, but the most practical approach is to establish check-ins across all touchpoints. 
For example, if a customer were to contact your bank's call center with a service request, the representative responsible for processing that request might close out the call by asking whether the customer had any additional questions and whether they were satisfied with the service they received. 
9. Revitalize Digital Experience
Every customer engagement platform needs a digital-friendly service experience that gets customers what they need regardless of the device they use.
For example, customers can be easily frustrated if they try to open a new credit card from a mobile device, only to be redirected to a full-size desktop webpage. In the worst cases, customers are forced to physically sign documents or come into a branch to even begin the process. 
Mobile-first banks are prepared against shifts in device preference with the flexibility to meet their customers wherever they are. Mobile users have already exceeded those of traditional online banking.
A dynamic interface design and full-featured portals on any platform feel more approachable, ultimately keeping customers loyal.
Providing an end-to-end digital facelift can also involve no manual processes. Managing documents via electronic signatures and other tools can streamline your backend to improve customer service. 
Even when leaving room for customers who prefer paper, digitizing behind the scenes will help you keep all their information at your team's fingertips. 
10. Make Use of Contextual Data 
Leveraging contextual data is an excellent way for banks and financial institutions to survive and thrive in the long run. 
In a nutshell, contextual data refers to any form of information that provides valuable context about a person/organization and an event.
In banks and financial institutions, contextual data can be used to identify behavioral patterns and gauge customer loyalty, which they can then use to improve customer relationships. 
The data collected can also be used to create bespoke financial solutions specifically tailored to meet the needs of every customer. For banks and financial institutions, their most valuable sources of contextual customer data are their help desks and CRM (customer relationship management) tool.
While banks can use CRMs to track contact details, location, social media activity, and purchasing preferences of the customer, helpdesks or customer service software can be used to track their post-purchase interactions and their support requests.
Many help desk tools come with built-in analytics suites that can help you keep track of all your customer service KPIs without having to invest in another tool to track them. Every information can then be used to piece together a 360-degree view of the customer.
Furthermore, these customer profiles can help you tailor your financial products, upsell, cross-sell, create targeted marketing campaigns, and even design loyalty programs/provide preferential customer service.
3 Examples of Excellent Customer Service in Banking
Technology is rapidly changing the way we work, communicate, and bank. Those who are steering the ship understand the importance of not only better meeting consumers where they are today, but also planning ahead to proactively address new needs in the future. 
The below mentioned financial service leaders are freeing up members of the team to deliver higher levels of service and tailor offers to make banking more personal. 
1. Navy Federal Credit Union – Delivering effective omnichannel experiences
Virginia-based Navy Federal Credit Union exclusively serves the military, veterans, and their families — a segment to which it promises "once a member, always a member." 
Great customer service is important in delivering on this promise, the Navy Federal Union realized that. 
"As a lender, it's really important for us to be consistent in the member service experience" explained Prabha KC, a mortgage loan officer at the company. "If the members are overseas they can still access their loan information." 
Offering self-service channels was one way the company sought to improve its service delivery, not only facilitating 24/7 support but also freeing up its member service representatives to do more added value work on behalf of their members. 
As a result of the implementation, the number of self-service applications doubled and the time taken to submit an application decreased by 40%.
2. BOK Financial – Making banking more personal
Investing in personalization empowers banks to deliver the white glove service that customers are looking for. In fact, the majority 72% of customers say that personalization is highly important in financial services today. 
Oklahoma-based BOK Financial adopted strategies to help it meet consumer demand for an intuitive and personalized banking experience.
By running consumer loans and mortgage applications, the company is delivering a tailored experience and, as a result, has seen completion rates more than triple. Moreover, the majority of volume now comes through digital channels — in stark contrast to the previous 15%. 
3. Amarillo National Bank – Adapting and responding to new needs
When banking teams prioritize their customers' needs and preferences, they can deliver better service, and they can achieve more impactful customer relationships as a result.
During the global pandemic, many lenders, including Texas-based Amarillo National Bank (ANB), searched for ways to continue closing loans remotely. The value of hybrid and electronic closing methods quickly became clear. 
"We knew we had to move forward with the hybrid closings so that our customers didn't have to go into the title companies to close their loans," Debbie Bigelow, senior vice president, recalled. They will continue to adopt innovations that allow them to succeed in a rapidly changing operating environment.
Wrapping Up: Customer Service is Banking is Paramount
The financial services landscape is in constant flux, with new trends and regulatory measures emerging almost every day. To ensure that your financial institution delivers the best customer experience possible, you need to keep your finger on the pulse of the industry and keep exploring the strategies to improve customer service in banking.
It is recommended that banks must open for change and constantly  look for ways to improve and embrace new technology. By listening to your customers and making smart investments in digital customer engagement tools, you can guarantee exceptional customer service at your bank or financial institute.