Customer service resources can help you to learn all the necessary skills and gather knowledge to provide excellent customer service, streamline your business processes, and save money. 
In fact, 3 out of 4 consumers use the internet to look up product reviews before making a purchase. We all know how important it is to have a good online reputation, so your company's customer service will be equally important.
81 percent of consumers say a positive customer service experience increases the chances of them making another purchase.
In this article, we'll share some of the great customer service resources which will play a pivotal role to improve customer service efficiency surely. 
How Customer Service Resources Can Help You?
If you're a small business owner or even someone who is just getting started, then the last place you want to be worrying about is customer service. After all, there are always new customers to reach out to. There's product development and marketing to look after. 
We are confident that if you implement these simple steps into your company, your customer service representatives will react in a more positive manner, bringing back happy customers and improving your overall score.
Customer service resources can help you empower and take your agents to the next level by enabling them to deliver an even higher level of customer service.

It establishes who you are addressing and why that is important as well as what your brand does. It also provides a clear call to action.

If you are able to utilize the resource then your agents will learn how to handle the customers in both good and bad situations.

You can learn how to handle multiple customers at once and make them satisfy. 

What words to use and what words not to use when delivering feedback or dealing with a difficult customer. 
12 Best Customer Service Resources
We all know that empowered customer service reps deliver a superior customer experience. But who has the time to equip each of your team members with the resources they need? That is why we have decided to share some great customer service resources to help you deliver the best service possible.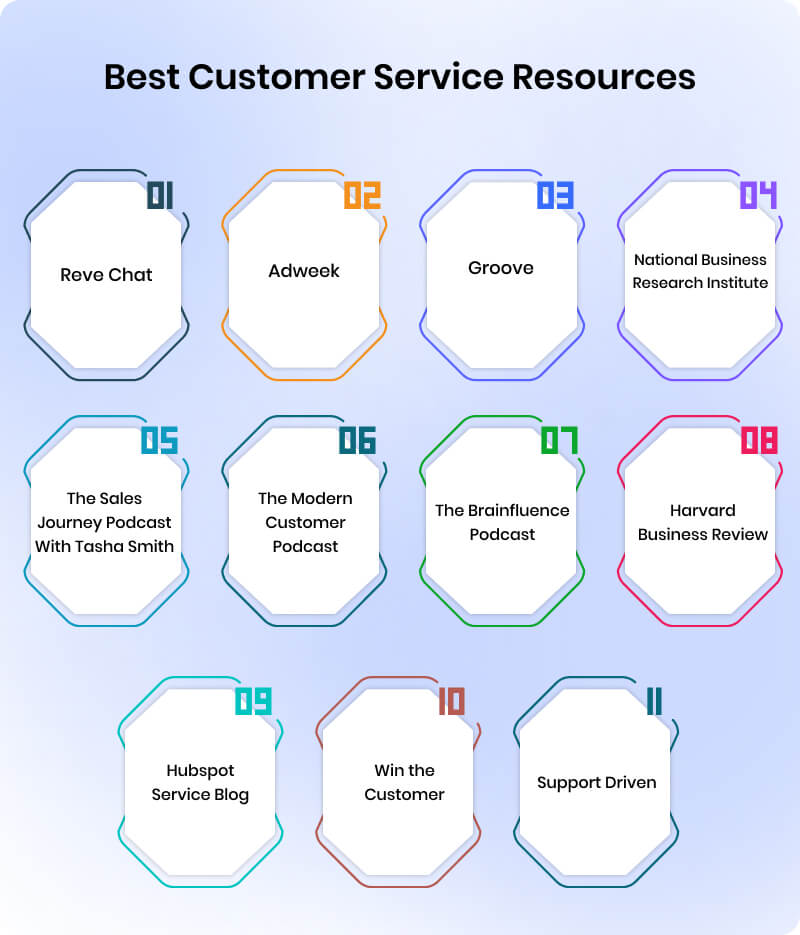 Let's take a look at some of the important resources; 
1. REVE Chat 
REVE Chat is an omnichannel customer engagement tool that is fully loaded with dynamics 365 customer service resources for customer service agents, teams, and companies to learn, grow, and improve their customer service. It provides businesses with the knowledge and insight they need so that they can grow their businesses and tackle customer service with confidence.
Customer service can be a challenging field to break into, especially when you're starting from scratch. With so many brands out there, it's increasingly hard to differentiate yourself from the competition.  
One of the best ways to stand out is by really getting to know your customers and using their feedback to improve. If you want to give your customer a better experience than your competitors then you can utilize REVE Chat omnichannel customer engagement tool. It offers a hassle-free experience. You can easily give it a free trial just by signing up. 
Useful resources:
Customer Service Skills:
Everyday Resources:
Customer Service Tools:
2. Adweek
Adweek is a marketing publication for the advertising and media industry. In partnership with their sister publication, Adweek publishes its customer service handbook. 
AdWeek's customer service handbook is a great resource for anyone looking to improve their customer service skills. If you're interested in creating a positive customer experience and want to learn more about creating a better customer experience Adweek can be a great resource for you to learn. 
Useful resources:
3. Groove
Most companies in today's business world have customer service problems and issues. Learning the basics of customer service will take a company far in today's online business arena.
Groove's Customer Service experts focus on actionable tips and strategies that help businesses grow.  The guide includes easy tips, like checking in with customers after an interaction or creating a "cheat sheet" of common questions and issues, as well as more advanced strategies such as measuring customer service performance and ensuring teams are properly trained.
Useful resources:
4. National Business Research Institute
A credible and trusted resource for information on the customer service industry, NBRI continues to lead the way in providing relevant statistics and analysis of key trends. They have a full line of information products meant to help businesses stay ahead of competitors and increase their bottom line. 
The resources are all accessible through their website, which they continually update with the most current information. Articles are updated as needed, and they also provide access to a 24-hour news service if an online update isn't enough.
Useful resources:
5. The Sales Journey Podcast With Tasha Smith
It offers tips and sales techniques from top salespeople and entrepreneurs from around the world. The podcast is hosted by top sales trainer and media personality Tasha Smith, as she interviews influencers and entrepreneurs to share their knowledge at Sales Journey Podcast.
It is a great sales training resource for every brand and business. If you're ready to take your sales efforts to the next level, a membership at Sales Journey Podcast is an effective to learn. 
It's a one-stop-shop for all your needs from sales leads to sales training and sales coaching. It offers more than just sales training, it offers solutions to grow your business by becoming a trusted advisor to your customers.
Useful resources:
6. The Modern Customer Podcast
The Modern Customer Podcast focuses on how great content, customer support, and happy customer all go hand-in-hand. No matter what business you are in, how successful your small business is, or how savvy you are with social media, there's one thing that transcends any industry and that's making your customers happy.
The issue is when people think of customer service they imagine sugary sweet pawn shop workers who greet you with a smile and are always willing to help customers even if it costs them money in the long run. You know the type—the people that do everything short of hand out free candy to keep a happy customer.
The real value of great customer service comes from improving your bottom line by providing valuable services and advice to your customers. That takes time, knowledge, and experience.
Useful resources;
7. The Brainfluence Podcast
If you're looking for a good place to learn customer service, check out the new Brainfluence Podcast. It's hosted by Dr. James K. A. Smith and his co-host is Bryan Borzykowski of Today Matters and Later Live.
The podcast features guests from across the tech and business world who are diving deep into customer service. In fact, you'll find real customer service happening in these podcasts.
Useful resources:
8. Harvard Business Review
If you are looking for great customer service resources then why not HBR? The publication has been around since 1922, meaning it has a proven track record of providing actionable tips and advice for businesses and their customers. If you're just starting out in the customer service industry, the HBR has exactly what you need to become a pro. 
Their " On Point" podcast series features in-depth interviews with industry experts who share their knowledge on a wide range of topics including customer service. You can also download their " e-Handbook of Customer Service" for free. 
This digital tool is a great way to learn how to create an outstanding customer experience from the top down, while also gaining insight into the latest customer service trends across all industries. Get tips, videos, and articles on customer service, customer support, and customer retention. 
Useful resources:
9. Hubspot Service Blog
The Hubspot Service Blog is here to help your firm be more responsive, effective, and engaged. They've divided their resources into training articles and quick tips to help you improve your customer service today.
It is a source of easy, actionable content and advice on implementing the best practices, tools, and tactics for world-class customer service. Whether you're just getting started or are looking to improve your current strategy, they've got you covered with a wide range of blog posts on topics like phone support, live chat support, social media support, self-service, and more. 
Useful resources:
10. Win the Customer
Win the customer helps people learn customer service by building relationships with companies and their employees. It works this way: You share what you love about a product, business, or person. And when a business rep responds, you're off and running building a relationship. Win the Customer is free to use and free from ads.
Useful resources:
11. Support Driven
Support Driven is another great customer service resource for reps. It is an awesome company that studies people's approaches to customer service. It teaches others how to do good customer service through workshops and seminars. 
The website features articles, newsletters, and other resources, most importantly, professionals can join a Slack community. Once you enter there you will be able to hear a lot from the professionals, and industry leaders. 
Useful resources:
12. Buffer Community
As a company, you can set rules that support these improved skills and provide a positive experience for your users. You can even encourage socializing within your company so that employees feel more empowered to improve customer experiences or reach out to others for help if they are having difficulty handling a situation.
Buffer Community discusses that in order to have great customer service you need to be a community. They discuss what they look for when hiring customer service reps and how you can have great interactions with your customers.
Useful resources: