The insurance industry has been adopting new technologies, for example, Artificial Intelligence (AI), Machine Learning (ML), and Robotic Process Automation (RPA). These technologies are on the path to becoming game changers in the insurance industry. 
These innovations can be applied to automate and simplify manual tasks to improve the customer experience.
Automation will not only save time but also alleviate stress. For insurance companies, the need to deliver a great customer experience is becoming increasingly important. 
According to a 2015 report from McKinsey, "Insurers that offer superior customer service beat their peers in terms of profitability."
In this article, we will discuss the ways to improve the insurance customer service experience, trends, challenges, and how an AI chatbot can help you improve the entire insurance customer experience.
What Are the Insurance Customer Experience Trends? 
Insurance is an industry that has largely been untouched by technology. The traditional methods of acquiring customers and managing customer satisfaction have remained largely unchanged for many years.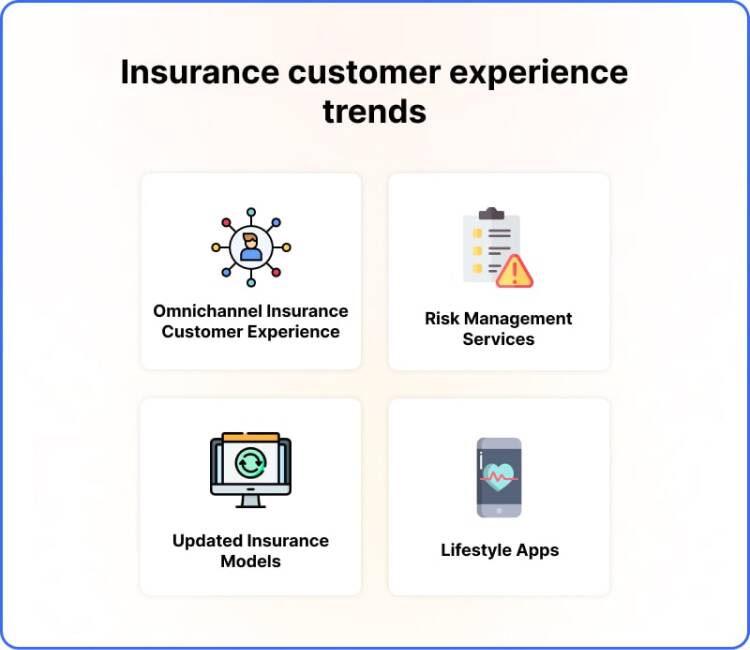 However, there are now several companies that are looking to change the industry and give customers a more personalized experience. 
Let's take a look at some of the latest Insurance customer experience trends. 
1. Omnichannel Insurance Customer Experience
In a report released by The Direct Marketing Association, the convenience of using multiple channels (such as Messenger, WhatsApp, Viber, Telegram, Email,  Website, etc.) to engage with a brand is becoming more popular with consumers. 
Additionally, the report shows that online customer service at an insurance provider is becoming more important than ever.
The report, which surveyed 2,000 Americans, found that 67% of respondents said they expect an insurance company to have an online customer service channel.
Why do you need the omnichannel customer experience for insurance?
The importance of customer service in the digital age is evident as well. In addition, the report found that

54% of respondents

said they'd rather use a mobile app for customer service than a phone call or email.

Omnichannel customer service

has proved to be a successful strategy for various industries in the past. For example, it was previously reported that chatbots are replacing humans in customer service roles at major banks and telecom companies.

Further, according to a study by Oracle, 71% of customers said they prefer to interact with customer service representatives through a messaging channel.
2. Risk Management Services
These changes will be mainly related to Smartphone applications, which can be used to monitor the location of the insured item through GPS and share various useful information from the insured to insurance companies. 
The mobile application is a very important development for the insurance industry. Besides, there will be some improvements in claims service and automated payment service.
Benefits of risk management in the insurance industry;
Helps to see the risks that are not apparent.

To the Board of Directors, it demonstrates insights and support.

Plays a key role to build a better defense for risks.

Decreases business liability. 

Helps the company to focus better and structure its inquiry.
3. Updated Insurance Models
The concept of insurance will be updated when it comes to new trends in the Insurance industry. The new Insurance model will focus more on the sharing economy. 
For example, Airbnb users will have some coverage from accidents or losses when they are hosting or participating in Airbnb events. It provides a way to earn some extra income as well as letting them save money on accommodation costs.
4. Lifestyle Apps
Customers now have an easier time interacting with their favorite insurance companies. Insurance companies are looking for innovative ways for customers to interact with them, especially mobile apps. 
An innovative way is the use of

lifestyle apps

that incorporate things like fitness, music, and other lifestyle requirements into the insurance claim experience. 

These apps can be more convenient because they allow the customer to enter their policy data on the go while they are at home or on the road, without having to contact their carrier.
Top Insurance Customer Experience Challenges
Most insurance companies have a personable and friendly front-end, but when it comes to the back-end, technology becomes the enemy of customer satisfaction. That's because it's never easy to manage policies, account information, and customer data while providing a great customer experience in the insurance industry.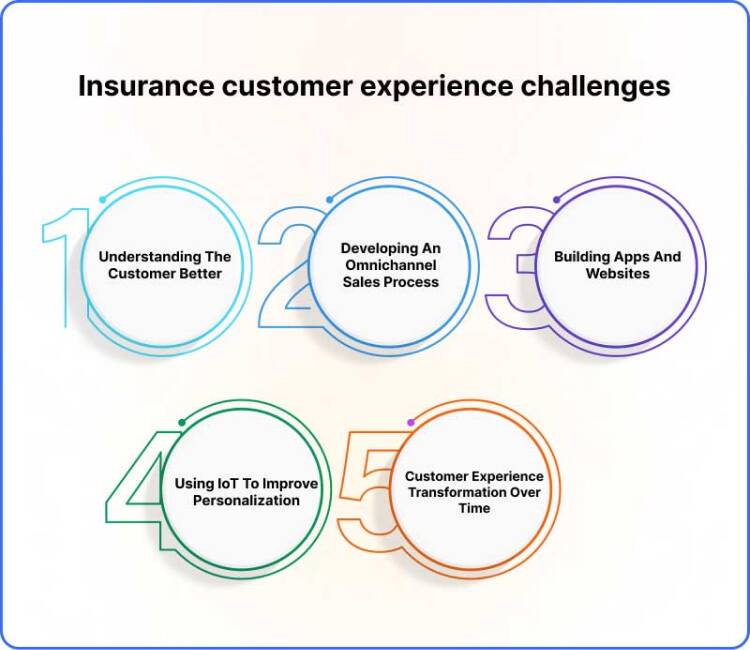 Let's take a look at how to improve customer experience in insurance; 
1. Understanding the Customer Better
The Insurance customer lifecycle is very complex because of the amount of data, products, and services that customers interact with on a daily basis. And, Insurance companies need to understand their customers better.
Steps to understanding your customer better; 
Identify your customer

Create a buyer persona 

Seek feedback from your customers

Analyze the competitors

Craft a customer needs statement
2. Developing an Omnichannel Sales Process
The Insurance sales process is traditionally built around a series of interactions with agents and brokers. Insurers want to better connect with their customers. But they need to build relationships with them in a way that maximizes the agent's or broker's effectiveness in engaging customers over the phone and online. 
To do so, an Insurance company needs to have a comprehensive understanding of all channels through which customers interact with them.   Developing omnichannel sales can bring a lot of benefits to your business. 
It has a proven success record –

  it has delivered impressive results through its strategic approach to customer segmentation and multi-channel strategy. Some brands, for example, Dior, Gucci, Givenchy, Jimmy Choo, and more, experienced astonishing results by implementing an omnichannel sales process.

The power of omnichannel sales is undeniable –

data from First Insight

shows that shoppers who experience omnichannel retailing are nearly twice as likely to make a purchase.
3. Building Apps and Websites
Most people don't think much about insurance unless they have a claim. They may write a check, fill out a form, or, if they're lucky, have an in-person interaction with a customer service representative (CSR). 
But very few of these interactions are truly differentiated from all the others. Part of the challenge is that insurance policies and products are regulated. The other is that there's a high cost for implementing new technology into the customer experience in the insurance industry.
The standard business paradigm for customer experience in insurance has been to build your own applications and websites to manage customers' policies and claims.
4. Using IoT to Improve Personalization
Insurance is a highly regulated industry, with government agencies setting and enforcing rules on companies, premiums, and customers. They require policies to be purchased online as well as a paperless and hassle-free renewal process. Insurers are using IoT technologies to improve personalization and collect data.
Gaye Cook, CEO of Cook CSR, says this means that too many insurance companies end up building their own apps and websites. She recalls one insurer she worked with that had over 50 apps. "It's a nightmare," she says. IoT is an opportunity to solve this customer engagement problem by improving personalization. 
Improve customer service –

it helps to gather and store a huge volume of data. With IoT, it is now possible to analyze a massive volume of customer data to provide

personalized customer services

and product recommendations. 

Improve customer engagement –

With IoT, now businesses are able to gather real-time customer data that they can use the engage the customer with the business proactively. 
5. Customer Experience Transformation Over Time
What has happened in the last year? From a crisis management perspective, the only way to address these issues head-on is to understand them. And, find ways to inform your customers that you've heard them and are actively working to improve the experience.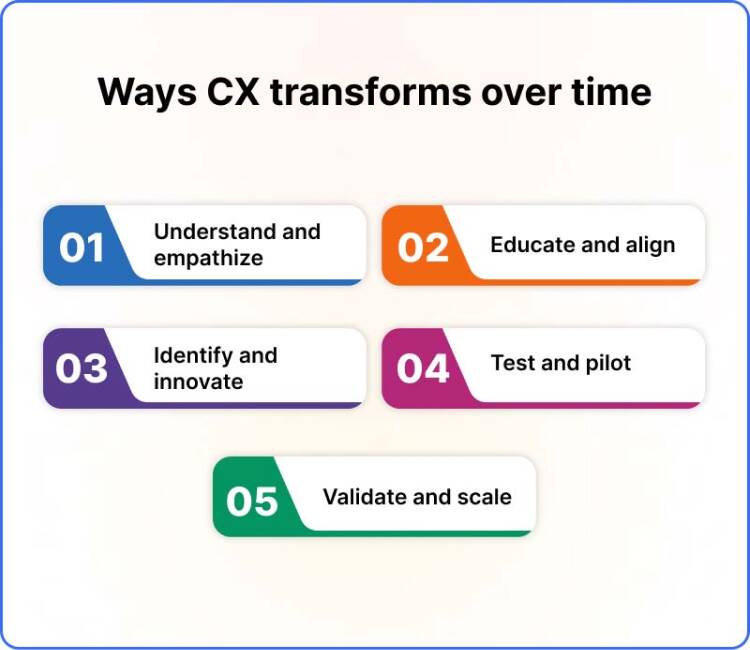 Most of the time, the insurance industry's customer experience challenges can be traced to legacy systems and processes. There is a gap between what the insurer wants to offer and the reality of what they actually deliver. 
In addition, their relevance drops dramatically as millennials are less likely to be attracted to their products.
Ways to adapt CX transformation over time;
Understand and empathize 

Educate and align 

Identify and innovate 

Test and pilot 

Validate and scale 
How to Improve Customer Experience in Insurance?
The insurance industry has changed dramatically in recent years, and it's now more competitive than ever. In order to stand out in the market and inspire new customers, it's essential to seize every opportunity to deliver a brilliant customer experience in the insurance industry.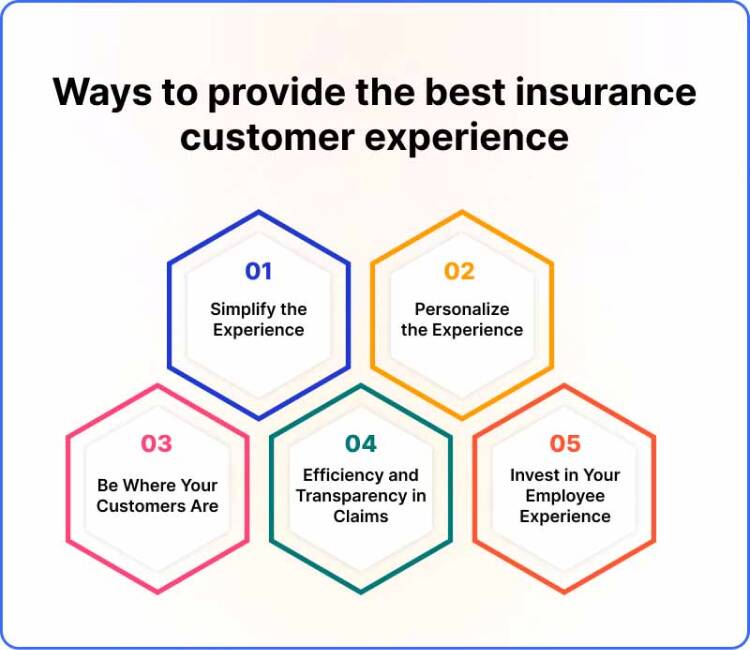 By getting smarter about how you collect insights and measure performance across all your channels. You can build upon your strengths and drive measurable improvements in your business. And, it will help you to solve the insurance customer experience difficulties.
How to do that? Here are the effective ways; 
1. Simplify the Experience
As a customer of today's businesses, you're used to a seamless user experience. Your insurance company should be no different.
The customer experience in insurance is not a simple one. We do everything in our power to make it easy and enjoyable so you can focus on your family and business.
Key benefits of simplifying customer service experience; 
It can reduce costs through inbound marketing, virtual assistants, and personalization. 

Simplifying the process makes it easier to acquire insurance in a way that makes sense, cuts out the confusion, and enhances customer experiences. 
2. Personalize the Experience
The Insurance customer experience depends on a lot of factors, including the right product, features, and coverage. But the key is the way it's delivered. We studied over 1,000 insurance companies across 15 countries to learn how and when insurers personalize the customer experience.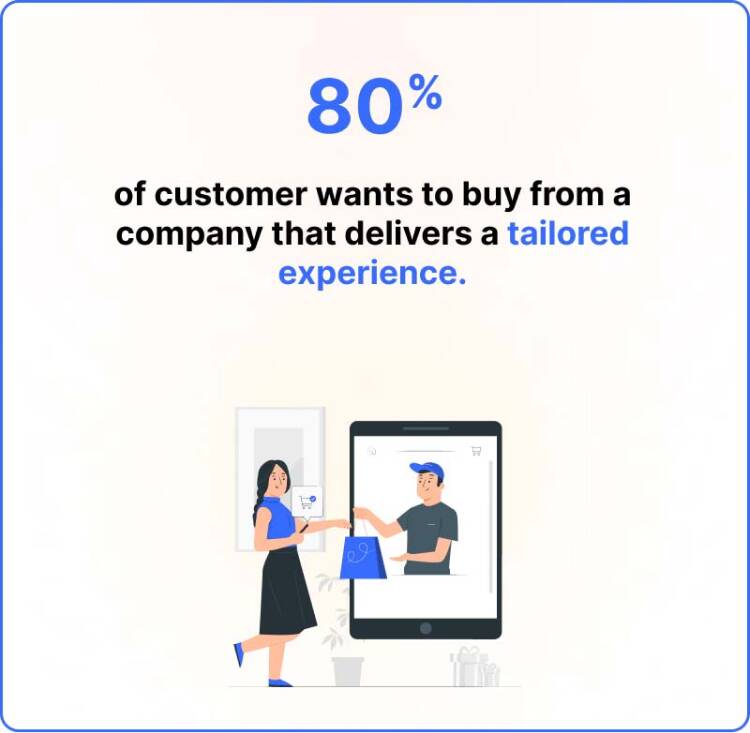 Let's take a look at why personalizing the experience is important?
Customers are more likely to buy a product when they are approached with a personalized message at the exact right moment in time. Chatbots in banking help do the same and the insurance sector can also use bots for personalization. 

80% of customer wants to buy from a company that delivers a tailored experience. These

customer experience metrics for insurance clearly demonstrated the importance of improvement to provide the best experience for customers.
3. Be Where Your Customers Are
Customer experience management is no longer a sub-set of business strategy, but rather a key component of it. In order to provide the best possible customer experience at all times, insurance businesses need to follow customers across all channels, from social media to in-branch to phone.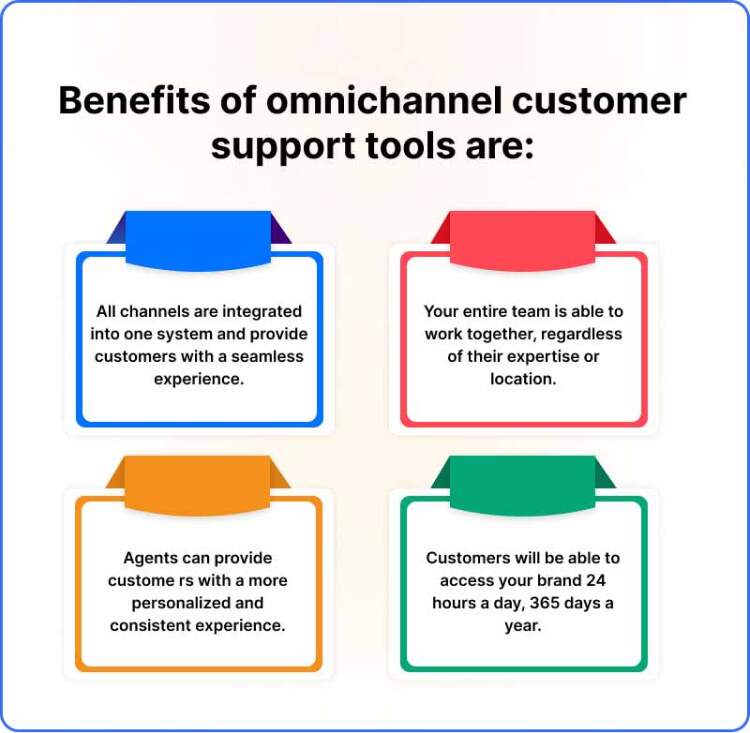 Omnichannel customer support tools offer insurance businesses the ability to manage multiple channels from a single unified interface. Thus, allowing them to minimize the negative impact of one-off experiences across channels.
The benefits of omnichannel customer support tools are:
All channels are integrated into one system and provide customers with a seamless experience.

Your entire team is able to work together, regardless of their expertise or location.

Agents can provide customers with a more personalized and consistent experience.

Customers will be able to access your brand 24 hours a day, 365 days a year.
4. Efficiency and Transparency in Claims
Insurance companies should continuously monitor their policies and premiums to provide complete transparency in every claim. This can prevent unnecessary delays in claims, which ultimately help improve customer experience in insurance. To achieve this goal, it's important to deploy an insurance chatbot and elevate the customer experience. 
By adding transparency to the insurance claims process, customers are more informed and therefore more empowered to settle their claims quickly. 

It increases the efficiency of the insurance industry by reducing the amount of claims expenses insurance companies spend on customer service, which allows them to pass savings on to their policyholders.
5. Invest in your Employee Experience
Find out how creating a positive employee experience leads to increased employee engagement and happiness, which results in an overall increase in revenue and profitability.
But have you invested in making sure that your employees are happy? Employees, more than anything else, make up your customer service experience. 
They interact with your customers on a daily basis, and their attitudes and actions affect how your customers experience your brand.
Spend time and money ensuring that their experience with your company is positive.

Investing in employees will result in less employee turnover. 

Happy employees are 20% more productive than unhappy ones. So it is important to make your employees happy to get the best output from them. 
How REVE Chat Can Help You to Improve Insurance Customer Experience? 
A study by Interactive Intelligence found that 74 percent of consumers prefer to use an automated system for solving customer service issues.
Customer experience is one of the top factors for every insurance company. And it's not just about a shiny website or an app that's easy to use. Today's customers want genuine and fast interactions with their insurance companies. Insurance companies, in general, are still a long way from achieving this goal.
An AI-powered chatbot can help by covering the work of many employees and freeing them to focus on more impactful work.
Chatbot captures customer data, assesses risk, and helps agents prioritize their workflow. As a result, customers get their questions answered quickly through multiple channels, and best of all, agents are more productive and happy at work.                                    
Sign up now to provide the best Insurance customer experience. No credit card is required. Enjoy 14 days free trial.