Customer service tools and software help generate more revenue and increase customer loyalty. With the right tools, you can ensure that your customer service is a competitive advantage.
Besides, customer service management tools help businesses manage, capture, and automate all their customer service processes while delivering the best possible experience.
According to a recent survey, customer service is a top issue worldwide, with 58% of customers indicating they'll take their business elsewhere if they don't receive good customer service. A staggering 43% of customers say they've actually left a company because of bad customer service.
One of the main reasons customer service fails is due to a lack of communication between departments and personnel. By automating customer service, you can increase your response time, reduce the number of calls you receive, and better manage customer requests.
In this article, we'll demonstrate the 5 best customer service tools, characteristics, and benefits. 
5 Best Customer Service Tools to Increase Customer Retention Rates
Sales and customer service are two of the most important factors that can determine the success or failure of a business. If you can't handle your customers properly, your business might end up failing.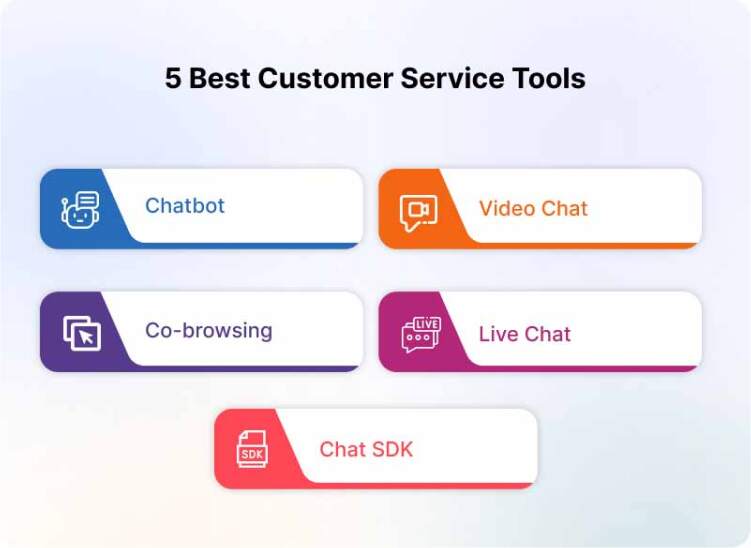 When it comes to customer service, you should always aim to deliver the highest quality support to your customers no matter if they're buying or just inquiring. In addition to answering their questions, you should also be polite and treat them right.
What are the best tools for providing support? Here are some of the tool that is right for you.
All customer service organizations will soon be using some kind of automated assistant. A recent report found that 80% of customer service organizations will be using some type of automated assistant within two years. Even if you don't have a customer service center, chatbots can find their place in your daily communications.
But why chatbot?
A chatbot can instantly translate any message from your language into the language of another person or an emoji, or vice versa. 

It can add an unlimited amount of images to your messages and even make a video call. 

A

chatbot

is always there for you, since it is online 24/7, unlike humans who are online only at specific times during the day.
Pricing 
REVE chat offers four plans: standard, advanced, enterprise, and custom.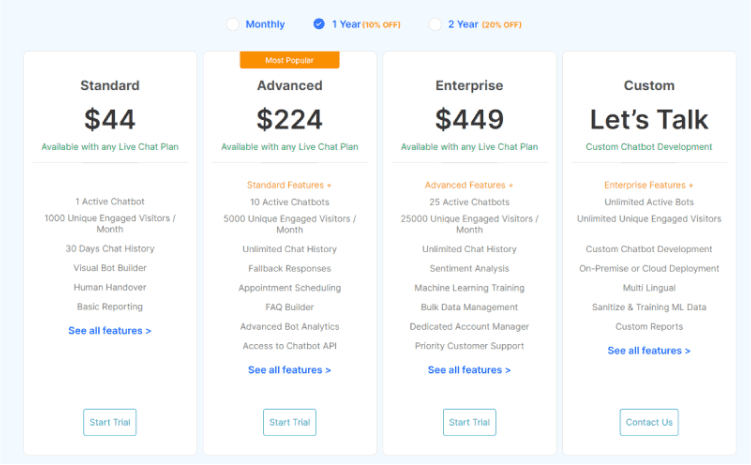 Standard –  starts from $44 a year for one active chatbot with 1000 unique engaged visitors/month, 30 days of chat history, visual bot builder, human handover, basic reporting, etc.
Advanced – starts from $224 a year for chatbots 5000 unique engaged visitors/month, unlimited chat history, fallback responses, appointment scheduling, faq builder, advanced bot analytics, access to chatbot API, etc. 
Enterprise – starts from $449 a year for 25 active chatbots, 25000 unique engaged visitors/month, unlimited chat history, sentiment analysis, machine learning, training bulk data management, dedicated account manager, priority customer support, etc. 
Custom – REVE chat also offers custom chatbot development for unlimited active bots, unlimited unique engaged visitors, custom chatbot development, on-premise or cloud deployment, multi-lingual sanitizing & training, ML data custom reports, etc.
By now, most online shoppers should be familiar with live chat. Many e-commerce sites offer it to their customers, and they can see it on the websites they visit most often.
Live chat software helps businesses provide real-time customer service to their site visitors. Instead of leaving a site because it's difficult to get help from a site's customer service desk, shoppers stay on the page and get help from a representative in real-time through text or video chat. 
Since live chat is available 24/7 and allows for unlimited conversations at any given time, it's a critical component for companies that want to improve their customer service and allow potential shoppers to contact them more easily.
A study from RainToday found that 78% of customers prefer to interact with companies via live chat as opposed to other channels.

And that's not surprising – live chat provides a personal touch, real-time support, and an easy way for customers to get answers to their questions.
Pricing 
It comes with three different packages which are standard, advanced, and enterprise. +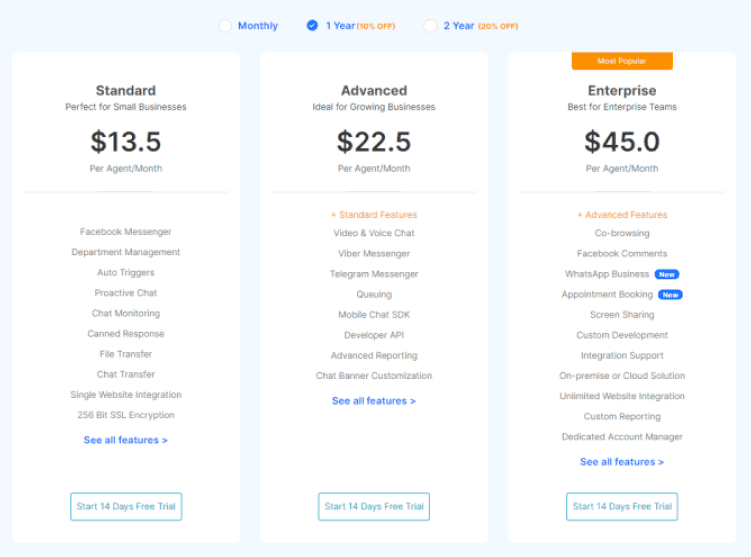 Standard – starts from $13.5  per agent monthly for one year package. If you buy it for two years then you will get 20% OFF. It includes Facebook Messenger, department management, auto triggers proactive chat, chat monitoring, canned response, file transfer, chat transfer, single website integration, 256-bit SSL encryption, etc.
Advanced –  starts from $22.5 per agent monthly for one year package. If you buy it for two years then you will get 20% OFF. It includes video & voice chat, Viber messenger, telegram messenger, queuing, mobile chat SDK, developer API, advanced reporting, chat banner customization, etc.
Enterprise – starts from $45 per agent monthly for one year package. If you buy it for two years then you will get 20% OFF. It includes co-browsing, Facebook comments, WhatsApp business, new appointment booking, new screen sharing, custom development, integration support, on-premise or cloud solution, unlimited website integration, custom reporting, dedicated account manager, etc.
Who doesn't like video chatting? No need for long explanations. Just a simple video chat and you're ready to go. It's a great way to solve any issues your customers might have which is why so many businesses are using it. 
And the numbers show a huge number of you guys use it as well because video chat is one of the best and most popular customer service tools out there. And the numbers speak for themselves. 
The ease of communication and small talk makes video chat a natural choice for customer service. It is also a great way for businesses to stand out from the competition because video chat is not as accessible as email or other social media platforms.
It's a great way for customers to talk to experts face-to-face, as peers helping each other out, or for customers and businesses to have important conversations that are hard to have over the phone or online.

When something needs fixing, like your car or your morning and sometimes you just want help right now, like when you're lost in an airport and want directions. In these situations, being able to talk through things immediately can mean the difference between waiting hours or just minutes for an answer.
Pricing 
Video Chat feature comes with the Live Chat Advanced or Enterprise package which prices are $13.5 & $22.5 monthly per agent for one year. If you purchase for two years then you will get 20% OFF. 
The online co-browsing tool is designed specifically to provide better service for e-commerce websites. It helps solve problems before they arise and makes the process of purchasing and using a website much more enjoyable. A recent study shows that 78% of customers are satisfied with co-browsing support.
This tool enables live help between service providers and customers by sharing the screen so that both parties can see where a customer is stuck or confused. This allows for timely assistance, which increases customer satisfaction and loyalty.
A website that uses collaborative browsing also leads to higher conversion since the website becomes more intuitive and easier to use; this leaves less room for error on the part of users.
With collaborative browsing, your team can view and control your screen remotely to solve problems, help you train new employees, or just give advice on how to improve performance.

Co-browsing software enables customer support representatives or customer support teams (CSRs) to see the customer's screen in real-time, so they can discuss and resolve issues together. 

This way CSRs can save time, assisting customers fast and efficiently. This frees up more time for them to help more people while resolving even more cases on their own.

Co-browsing eliminates the language barrier and allows you to really see what your customer is seeing on their phone screen. So you can offer the best and most efficient solution in the shortest time possible!
Pricing 
Co-browsing feature only comes with the Live Chat Enterprise package which prices are $45 monthly per agent if you purchase for one year. If you purchase for two years then you will get 20% OFF. 
With Chat SDK you can increase your customer service efficiency and provide your customers with a better experience. Chat SDK stands out because it combines the opportunity to chat with a brand that has an existing mobile app installed with a great snippet of code. So it allows you to talk directly via chat with the customers that have your app installed.
It's a great way to engage with your customers and it will also make them happy.

It allows your customers and users to chat with a live representative via the app and website.
Pricing 
Chat SDK feature comes with Live Chat Advanced or Enterprise package which prices are $22.5 & $45 monthly per agent for one year. If you purchase for two years then you will get 20% OFF. 
Characteristics of the Best Customer Service Tools?
When you are looking for AI in customer service tools, it may be tempting to just pick one and start using it. This is an easy thing to do, especially when you're busy and need to get up and running. But don't overlook cost-effective ways to evaluate your options.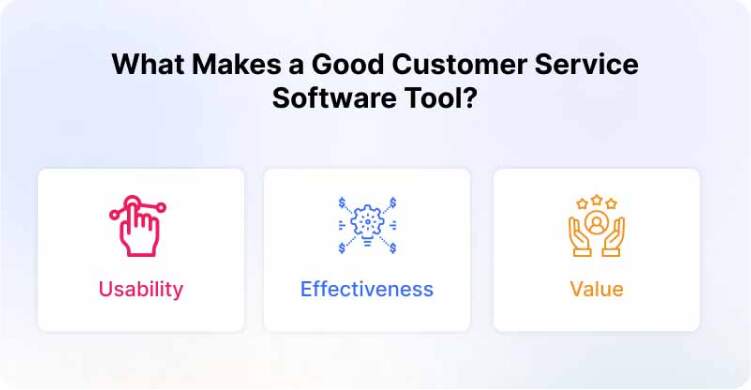 A good customer service software doesn't just answer the question but also helps you decide.
If your customer service team doesn't like or actively dislike the customer service tool, it's probably not going to be used.
Here are the key factors of the best customer service tools.
Usability
Excellent customer service software should be usable by anyone, with no prior knowledge of how to use it. A bad customer service software tool will require a lot of training before it's ready to go.
Usability is a factor that should not be underestimated. The tool you choose must be easy to operate and customers should not spend more time learning how to use it than actually interacting with your business.
If you are in the customer service business, you need to provide service to your customers. Your digital customer service tools should allow easy access to your customers. 
You don't want to interrupt your customers during their shopping by making them read your instruction or navigate through your complicated customer service tool.
Effectiveness
A customer service software gives you the opportunity to create multiple online channels for communication, including live video chat, text messaging, and email.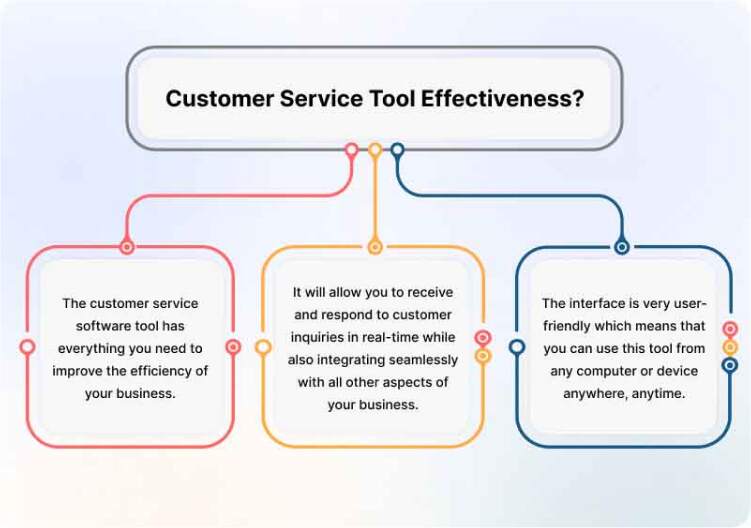 With the help of customer service software, you can give your customers a convenient way to get in contact with you. Using this type of software will help you save on costs, ensure efficiency, and offer optimal convenience for your clients. 
The customer service software has everything you need to improve the efficiency of your business. 

It will allow you to receive and respond to customer inquiries in real-time while also integrating seamlessly with all other aspects of your business. 

The interface is very user-friendly which means that you can use this tool from any computer or device anywhere, anytime.
   Value 
On average, companies lose 10 percent of their annual revenue due to

dissatisfied customers

. A customer service tools for business help your company reduce those losses, by improving communication and satisfaction.

The customer service tool captures customer service requests and unauthorized contact in real-time, forward them to the companies, and replies to the customers on behalf of their support team.
Reasons We Need Customer Service Tools and Software?
There are many reasons why we need customer service tools. Even though many businesses are doing a great job on their customer service, they could do better, and there is always room for improvement. Automating your customer service is one of the best ways to reduce costs and improve performance.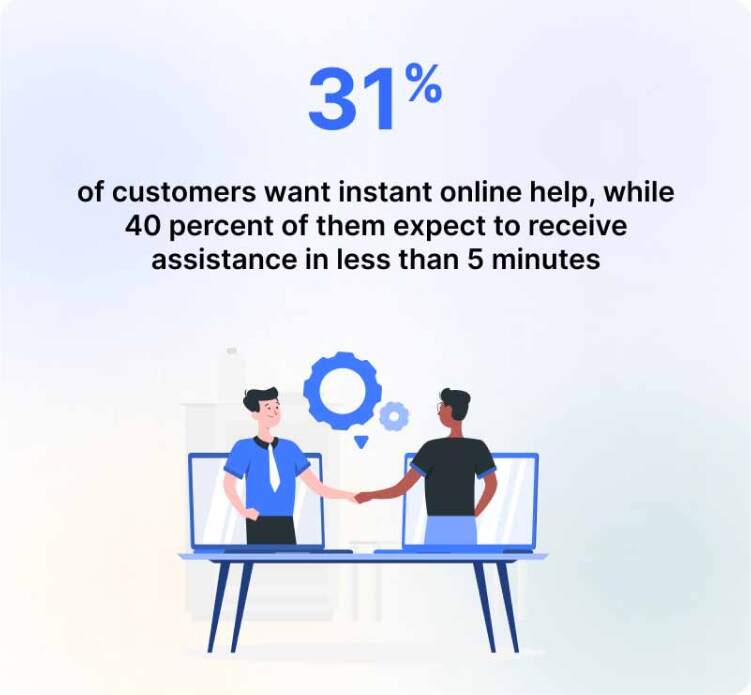 Customer service is an integral part of your business and must be treated as an important investment. As a business owner, you have to look at the big picture and evaluate the return on investment (ROI) for the time and money spent on your customer service.

Tools help the agents to collaborate with other agents and help more customers.

It helps to solve customer problems faster. 
Benefits of Customer Service Software
Customer service tools make it easy to respond to customer requests and feedback. The tools make it easier to be sociable and friendly while responding to customer requests and feedback. Because the tools are automated, it allows companies to be more efficient. 
Whether you want to chat with customers on Facebook Messenger, email links, or text links, there is a tool for you. 
Not only do these tools reduce the number of manual responses required by your team but they also provide automated responses to frequent inquiries that can help increase conversions and sales.
1. Drives Customer Satisfaction and Loyalty
Businesses and organizations of all types rely on customer service software to manage their operations and improve customer satisfaction. A customer service software is designed to help organizations keep track of incoming complaints and requests for help, as well as provide multiple channels for customers to seamlessly exchange information with the company.
The primary benefit of customer service software is how effective it is at helping businesses manage customer interactions. Using an integrated software platform, businesses can efficiently support all interactions with customers. 
Information between departments is shared seamlessly, so customer service issues can be resolved quickly and efficiently. Businesses can also leverage the information recorded in the system to better target their marketing efforts and improve the experience for all customers.
For example, a company may use the data gathered from its customer service software to determine which products appeal more to which types of buyers to help drive future sales and marketing strategies.
Improved employee satisfaction –

 In many cases, those who interact with customers on a regular basis are also required to go through other processes before doing so. This can lead to frustration among employees and a lack of motivation. Customer service software helps to simplify the process by allowing employees to multi-task, which can ultimately save them time, leading to higher employee satisfaction.

Improved customer relationships –

As an organization grows, it becomes increasingly important that they proactively communicate with their customers. This is a challenge for companies that have a substantial amount of customers and varying degrees of contact with them. The use of customer service software can help organizations manage these relationships through automated communications and improved tracking capabilities.
2. Streamlines Self-service
Industries today are undergoing a technological revolution, fueled by the rapid growth of mobile devices and cloud computing. As a result of the shift to digital technology, companies must find creative ways to deliver superior customer experiences. Customer service departments have been among the first lines of business to adopt right-now solutions that save time, cut costs and empower customers.
A self-service app takes the heavy lifting out of day-to-day inquiries. The benefits of such software are self-evident. But what may not be as obvious is the role a customer service person plays in facilitating engagement, and driving customer satisfaction and loyalty.
3. Fosters a Seamless Agent Experience
Self-service is already an essential part of customer service in many industries and sectors. For example, the United States Postal Service has a robust self-service channel, allowing customers to locate ZIP codes, calculate shipping costs, pay bills, and more on their own.
But while self-service is a great way to supplement customer service, many businesses have not figured out the best way to integrate it into their operations.
DemandGen Report (a leading customer intelligence company) found that only 10% of companies are highly effective at both engaging customers and managing tickets through self-service. Successful companies need to streamline their self-service and integrate it with their other existing customer service channels.
4. Gives Businesses the Ability to Scale Smarter
Most businesses face challenges when it comes to customer service: they lack visibility of their customers, they can't keep up with the volume of interactions, or they're not prepared to offer a high level of service.
5. Enables Smaller Teams to Do More, Faster
Customer service is an integral part of any business. It's the means to an end: a way to communicate with your customers and keep them happy.
Customer service tools help agents to do more, faster, giving your customers the best possible experience. With more information and control over your support inbox, agents can be more precise and make the most of their time.
How REVE Chat Customer Service Tool Will Help You? 
You need to be mindful of what your customers think about your product, service, and more. In fact, according to a report by Harvard Business Review, bad customer service can cost a business upwards of $5 million to $15 million a year. So it's no surprise that many businesses are starting to look at tools that provide a more personalized approach to customer service.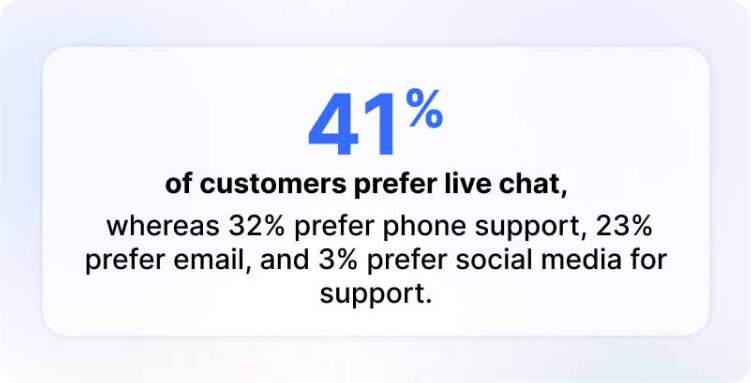 REVE Chat is a customer service chatbot that allows you to make the most of your customer care team with live chat, email, phone, website, and social media support all in one place. 
The platform features an agent dashboard for real-time updates and tracking, as well as custom fields for any kind of information. With REVE Chat, your agents can handle the influx of messages from a simple interface, so you can focus on other important tasks in your business. Start a 14-day free trial now.