The healthcare sector has turned to improving digital healthcare services in light of the increased complexity of serving patients during a health crisis or epidemic. One in every twenty Google searches is about health, this clearly demonstrates the need to receive proper healthcare advice digitally.
Healthcare providers are relying on conversational artificial intelligence (AI) to serve patients 24/7 which is a game-changer for the industry. Chatbots for healthcare can provide accurate information and a better experience for patients.
An AI-enabled chatbot is a reliable alternative for patients looking to understand the cause of their symptoms. On the other hand, bots help healthcare providers to reduce their caseloads, which is why healthcare chatbot use cases increase day by day.
What is a Healthcare Chatbot? 
A healthcare chatbot is an AI-powered software program designed to interact with users and provide healthcare-related information, support, and services through a conversational interface. It uses natural language processing (NLP) and Machine Learning (ML) techniques to understand and respond to user queries or requests.
Healthcare chatbots can be integrated into various platforms such as websites, messaging applications, or mobile apps, allowing users to access healthcare assistance conveniently. They can perform a range of functions, including:
It can ask users a series of questions about their symptoms and provide preliminary assessments or suggestions based on the information provided. It is suitable to deliver general healthcare knowledge, including information about medical conditions, medications, treatment options, and preventive measures. Besides, it can collect and analyze data from wearable devices or other sources to monitor users' health parameters, such as heart rate or blood pressure, and provide relevant feedback or alerts.
Benefits of chatbots or conversational AI in healthcare
Businesses now very well understand what is a chatbot and its importance. Healthcare bots help in automating all the repetitive, and lower-level tasks of the medical representatives. While bots handle simple tasks seamlessly, healthcare professionals can focus more on complex tasks effectively.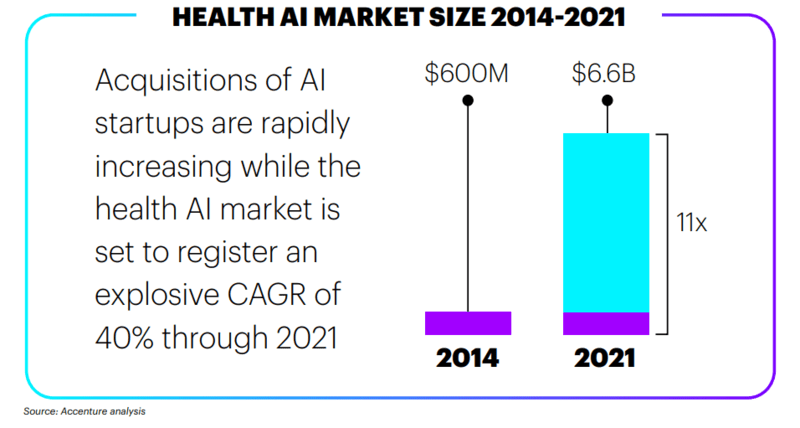 However, the key benefits of chatbots in the healthcare sector are as follows:
Instant access to care

– Leveraging chatbot technology in healthcare helps providers to deliver immediate responses and notifications and reminders round the clock. Patients have the benefits of immediate access to care that reduces wait time.

Increase patient satisfaction

– AI-enabled chatbots can understand patient behavior via facial recognition and deliver a personalized response that boosts the satisfaction level of the patients.

Monitor user behavior

– Designing a healthcare chatbot helps in tracking users' behavior, anxiety, and weight changes, to encourage the development of better habits.

Bots save money

– Deploying a medical chatbot helps to handle tasks efficiently without the need for extra resources. Healthcare bots are predicted to save

$3.6 billion worldwide by 2023

.
Top 7 use cases of chatbots for the healthcare sector
Undoubtedly, chatbots have great potential to transform the healthcare industry. They can substantially boost efficiency and improve the accuracy of symptom detection, preventive care, post-recovery care, and feedback procedures.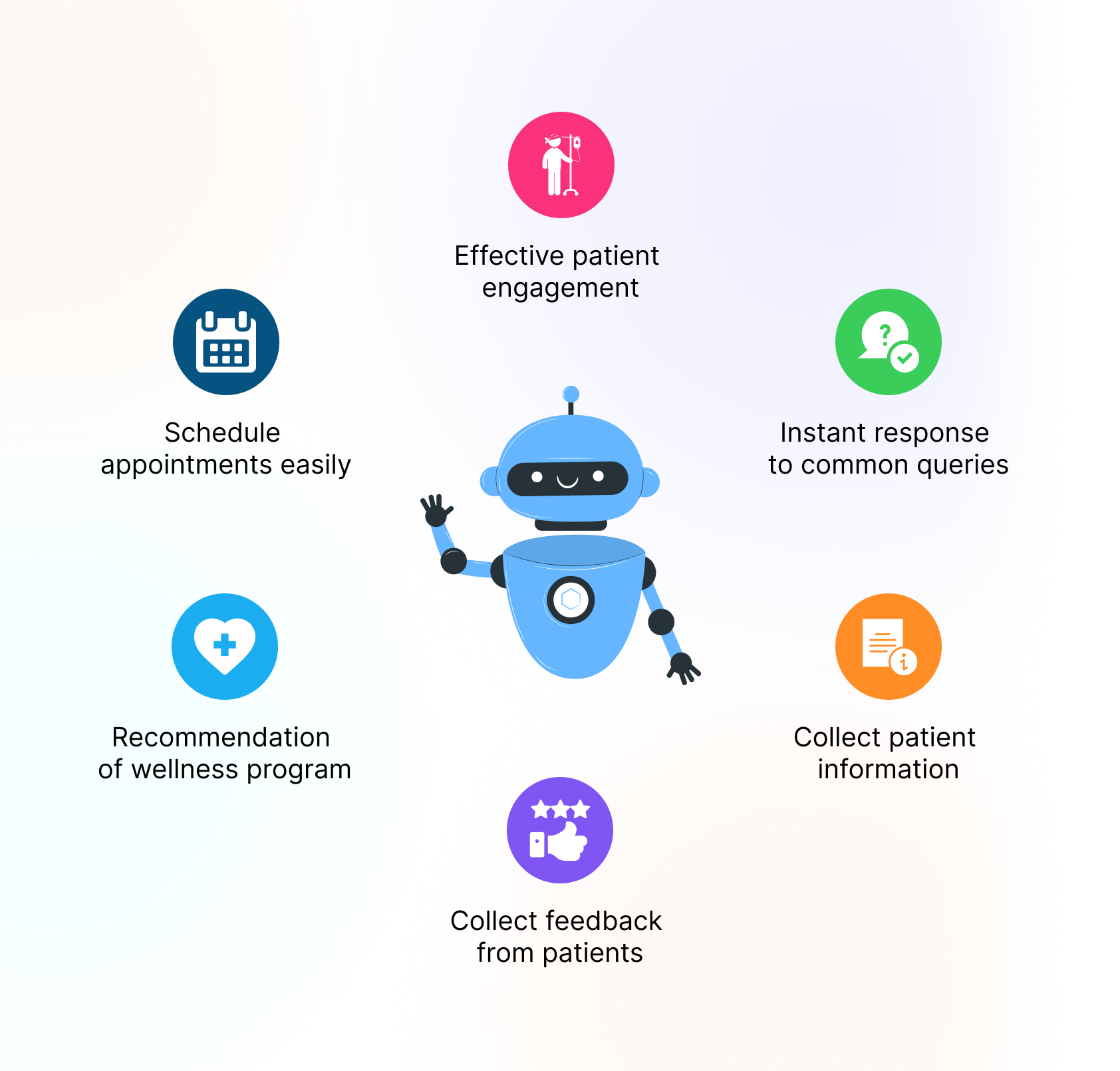 Let us discuss the key healthcare chatbot use cases. 
1. Schedule appointments easily
Managing appointments is one of the common tasking operations associated with the healthcare industry. Despite scheduling systems, many patients challenge themselves to navigate the scheduling systems. 
30% of patients left an appointment because of long wait times, and 20% of patients permanently changed providers for not being serviced fast enough.
Chatbot in the healthcare industry has been a great way to overcome the challenge. With a messaging interface, website/app visitors can easily access a chatbot.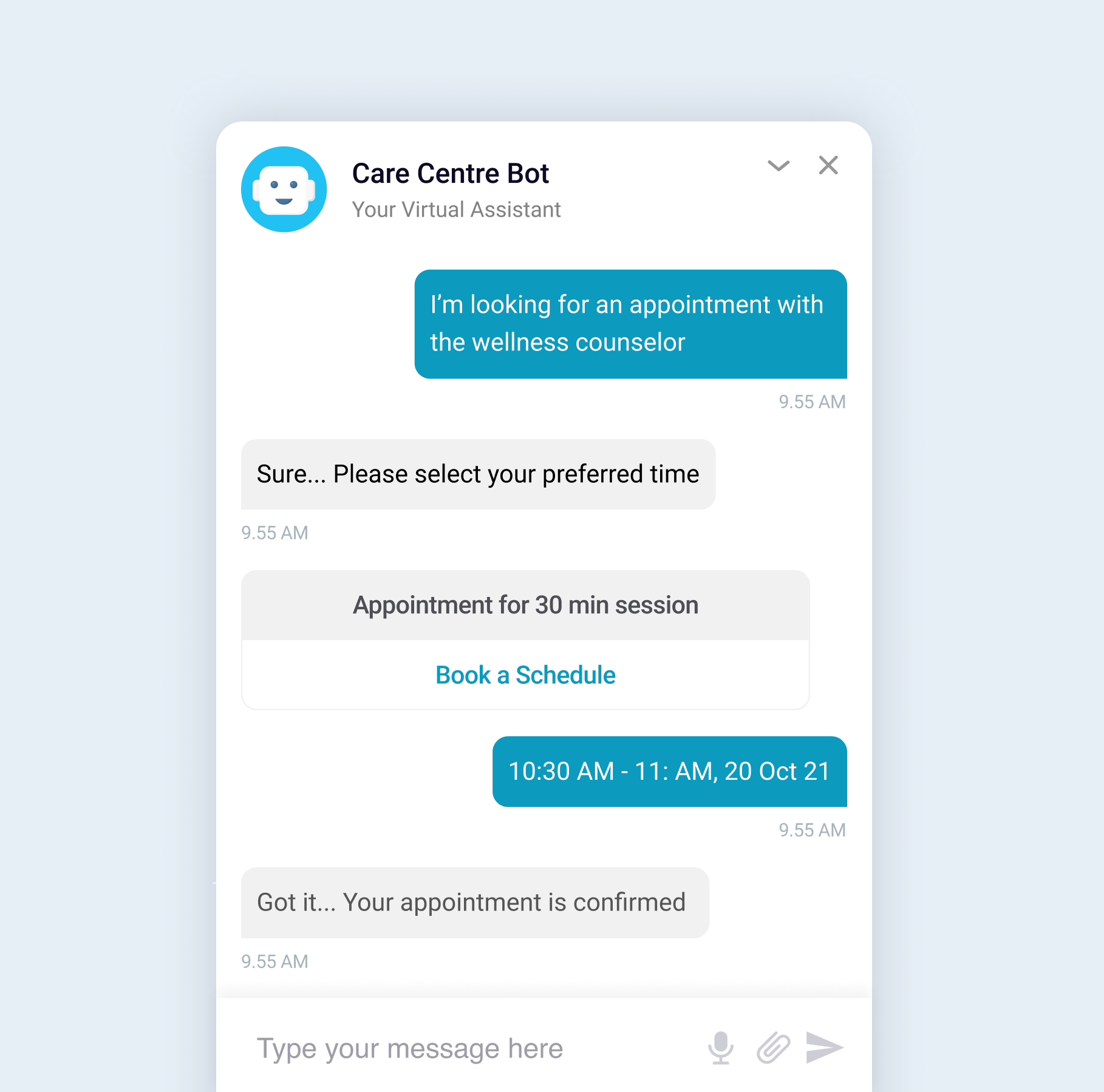 A well-designed healthcare chatbot can schedule appointments based on the doctor's availability. Also, chatbots can be designed to interact with CRM systems to help medical staff track visits and follow-up appointments for every individual patient, while keeping the information handy for future reference. 
An AI healthcare chatbot can also be used to collect and process co-payments to further streamline the process.
2. Instant response to common queries
One of the most common aspects of any website is the frequently asked questions section. 
There are simple queries that a chatbot can handle effectively such as: 
What are the business hours

What are the required paperwork for obtaining treatments

How much of the cost will be covered by insurance

What are the payment tariff rates?
Using chatbots for healthcare helps patients to contact the doctor for major issues. A healthcare chatbot can serve as an all-in-one solution for answering all of a patient's general questions in a matter of seconds.
Many healthcare service providers are transforming FAQs by incorporating an interactive healthcare chatbot to respond to users' general questions. It helps people in fetching immediate responses to common queries.
Here is how a chatbot for healthcare is a perfect fit for institutions?
Real-time response

– A healthcare chatbot provides instant responses to users to commonly asked questions and reduces the number of tickets.

24×7 availability

– Bots are available round the clock to engage customers and provide faster assistance.

Personalized answers

– A medical chatbot identifies and understands the patient's query and provides personalized responses.
3. Effective patient engagement
Patients who are not engaged in their healthcare are three times as likely to have unmet medical needs and twice as likely to delay medical care than more motivated patients. Maybe for that reason, omnichannel engagement pharma is gaining more traction now than ever before. 
Chatbot for healthcare help providers effectively bridges the communication and education gaps. Automating connection with a chatbot builds trust with patients by providing timely answers to questions and delivering health education. 
AI-enabled patient engagement chatbots in healthcare provide prospective and current patients with immediate, specific, and accurate information to improve patient care and services.
Here are three ways healthcare chatbots can enhance your patient outreach:
Automate a Personalized Experience

– Chatbots help healthcare providers connect with patients using an online chat conversation via text or text-to-speech, in lieu of providing direct contact with a human agent. The patient receives the information they are looking for with no one-on-one human interaction.
Connect Meaningfully with Patients

– Chatbot access is delivered to patients via SMS text messaging, email, QR codes, websites, and more. The flexibility to connect patients in the communication channel they prefer increases the likelihood of engaging and benefiting from the interaction.
Deliver Engaging Content

– Patients have varying concerns, interests, and attention spans. Healthcare providers and patients benefit when the right information lands at the right time and in a way that is easy to understand. Chatbots provide the mechanism to route patients to the answers they need in multiple formats. 
4. Collect patient information
One of the key healthcare chatbot use cases is to acquire patient data. Simple questions concerning the patient's name, address, contact number, symptoms, current doctor, and insurance information can be used to extract information by deploying healthcare chatbots.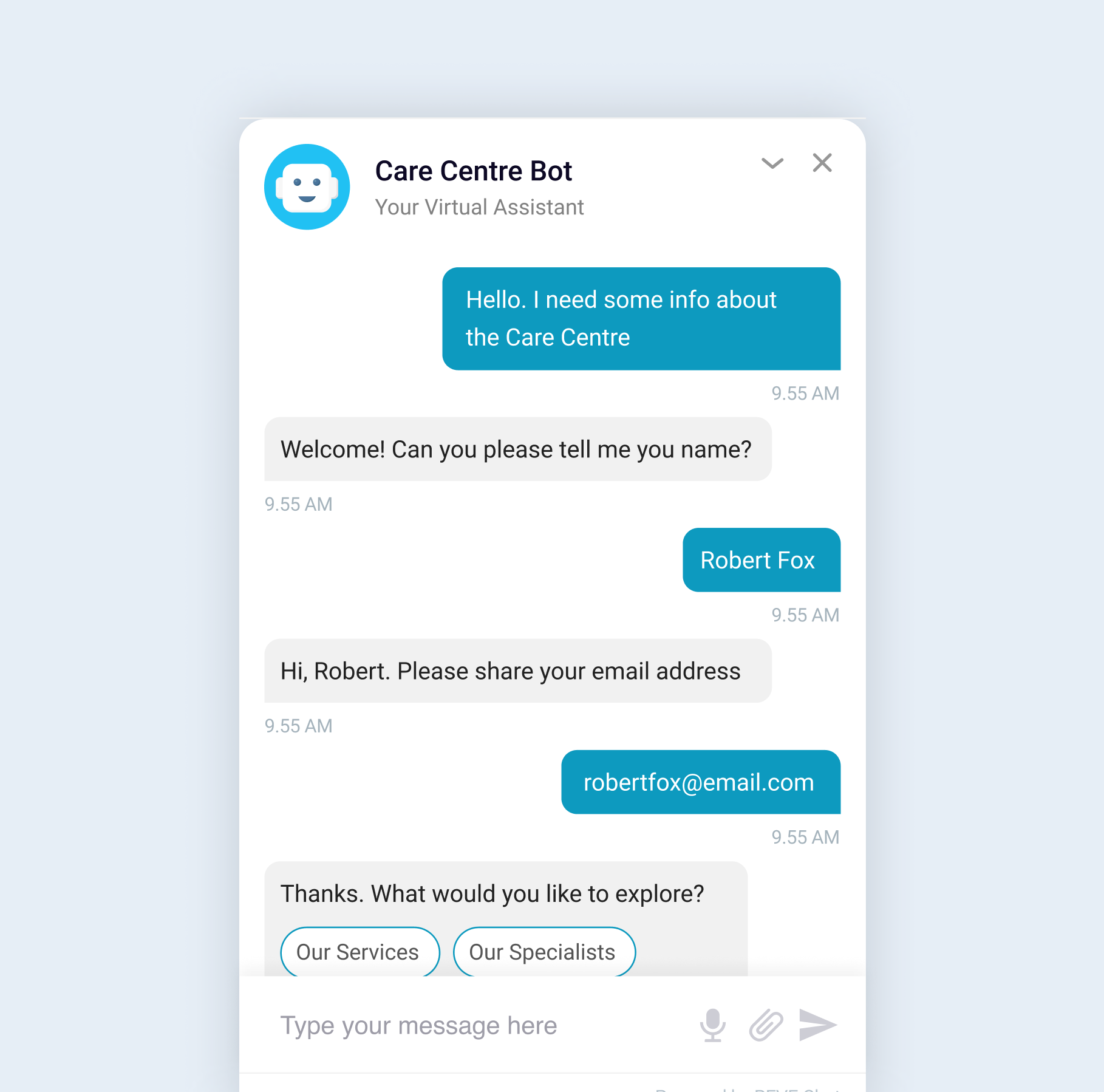 The data can be saved further making patient admission, symptom tracking, doctor-patient contact, and medical record-keeping easier. 
5. Recommendation of wellness programs
One of the key aspects of the healthcare sector is boosting enrollment. For healthcare institutions when it comes to increasing enrollment for different types of programs, raising awareness, medical chatbots are the best option.
A well built healthcare chatbot with natural language processing (NLP) can understand user intent with the help of sentiment analysis. Based on the understanding of the user input, the bot can recommend appropriate healthcare plans.
6. Collect feedback from patients
Acquiring patient feedback is highly crucial for the improvement of healthcare services. 
Leveraging chatbot for healthcare help to know what your patients think about your hospital, doctors, treatment, and overall experience through a simple, automated conversation flow.
69% of customers prefer communicating with chatbots for simpler support queries. Real time chat is now the primary way businesses and customers want to connect. At REVE Chat, we have extended the simplicity of a conversation to feedback.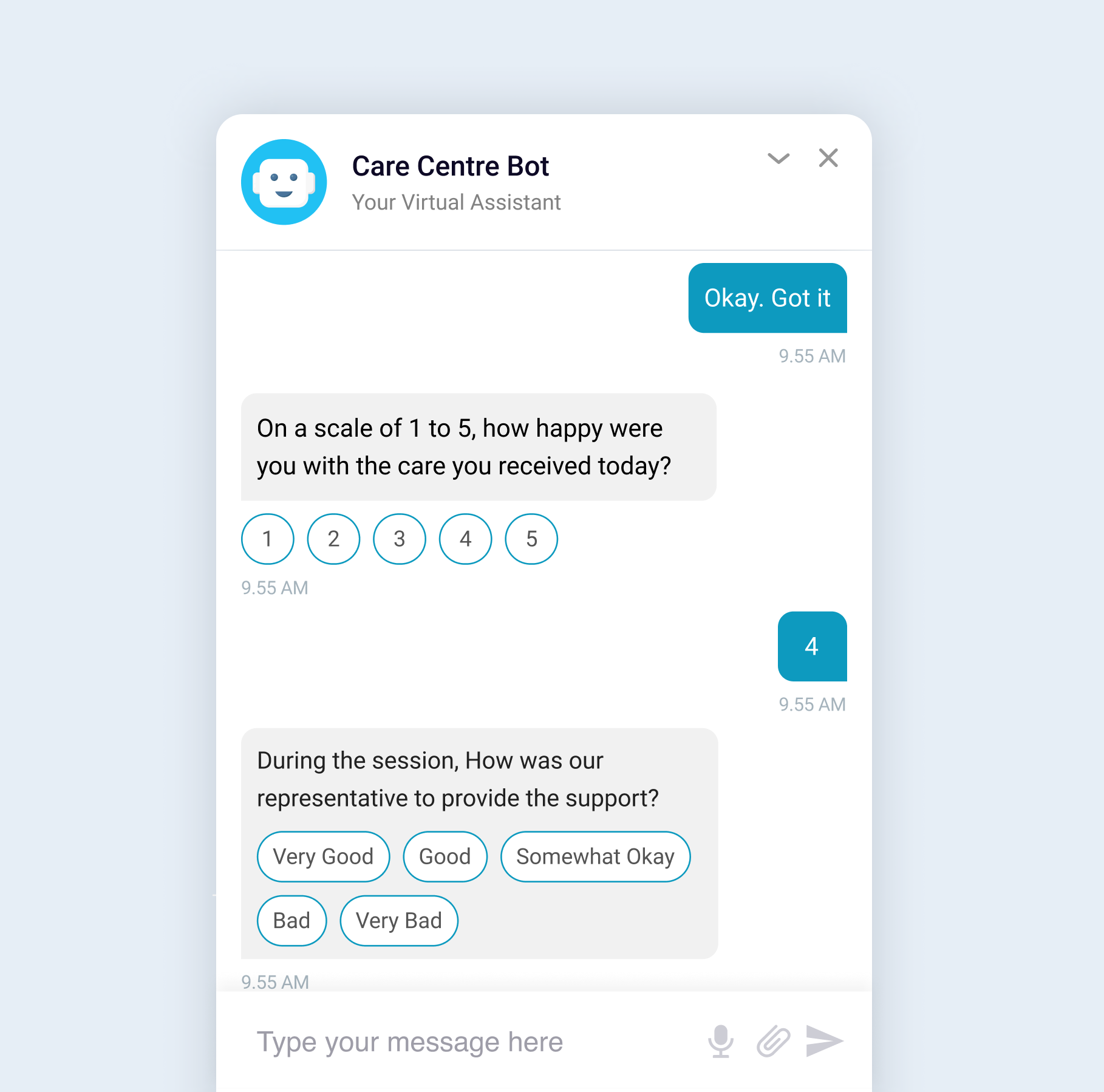 Here is what the feedback chatbot offers:
Qualitative and quantitative feedback – To gain actionable feedback both quantitative numeric data and contextual qualitative data should be used. One gives you discrete data that you can measure, to know if you are on the right track. Whereas open-ended questions ensure that patients get a chance to talk and give a detailed review.
Real time and Contextual – Deploying a healthcare chatbot helps to collect real time feedback from patients. These feedback triggers allow you to target patients at different points during their journey. It helps to understand patient behavior towards your services.
7. Easy scalability of service hours
Having an option to scale the support is the first thing any business can ask for including the healthcare industry.
There are circumstances when the traffic increases suddenly, how would you handle the rush with the same support infrastructure in place?
It will result in challenges like adding more medical experts, conducting training, etc.
By adding a healthcare chatbot to your customer support, you can combat the challenges effectively and give the scalability to handle conversations in real-time. 
Customer service chatbot for healthcare can help to enhance business productivity without any extra costs and resources. 
Here is how REVE Chat helps to scale customer support with AI chatbots
Easily balance scalability with both medical chatbot and live chat. The simple queries will be managed by the bot and the complex queries are handed over for human support.

Bots can engage in endless conversations irrespective of time and volume that brings business growth as well as customer satisfaction. 
The future perspective of chatbots for healthcare
While the industry is already flooded with various healthcare chatbots, we still see a reluctance towards experimentation with more evolved use cases. It is partially because conversational AI is still evolving and has a long way to go. As natural language understanding and artificial intelligence technologies evolve, we will see the emergence of more advanced healthcare chatbot solutions.
Undoubtedly, the accuracy of these chatbots will increase as well but successful adoption of healthcare chatbots will require a lot more than that. It will require a fine balance between human empathy and machine intelligence to develop chatbot solutions that can address healthcare challenges.
However, healthcare chatbots are expected to fulfill the below expectations in the coming years:
Serve patients as 24×7 companions, monitor health status in real time, and automatically call for assistance during emergencies.

Helps to manage chronic conditions, mental health issues, and behavioral & psychological disorders.

Proactively identify symptoms, crosscheck against medical history, suggest the next plan of action, and improve the treatment success rate in cases where early diagnosis can play a critical role.

Make self-care easier by acting as a virtual assistant and providing timely medical advice.
Medical chatbots are here to stay
As healthcare continues to rapidly evolve, health systems must constantly look for innovative ways to provide better access to the right care at the right time.  Applying digital technologies, such as rapidly deployable chat solutions, is one option health systems can use in order to provide access to care at a pace that commiserates with patient expectations. 
While building futuristic healthcare chatbots, companies will have to think beyond technology. They will need to carefully consider various factors that can impact the user adoption of chatbots in the healthcare industry. Only then will we be able to unlock the power of AI-enabled conversational healthcare.
Try out REVE Chat's no code chatbot builder platform to build a healthcare chatbot to meet your usecase.