The base of customer communication has always revolved around one thing i.e. reducing friction. Customers have always looked for better and faster ways to connect with businesses and the expectations have been rising with changing time. Ultimately, meeting your customer's expectations and keeping them happy will help your business to grow because 80% of consumers say they are ready to spend more money to have a superior customer service experience.
Live chat is able to meet customers needs in real time that makes it the most preferred channel as compared to the traditional reactive approach. Forrester reports say, more than 30% of customers expect live chat on your website. The real time communication with live chat enables you to deliver higher levels of customer satisfaction. And live chat metrics help you monitor and measure the impact of live chat support.
Top live chat metrics and KPIs
Measuring live chat performance benchmarks helps the business to improve their live chat support services. Here are the 11 most crucial live chat metrics that you should measure on a regular basis. 
Let's dive in.
1. First response time
The first response time is all about how long a customer has to wait before getting an initial response from the agent. It is one of the major attributes of good customer service and one of the most important agent performance metrics.
Ifbyphone research finds 59% of customers are more likely to buy when brands answer their queries in under a minute. Thus, live chat takes the top position over phone, e-mail, and social media support.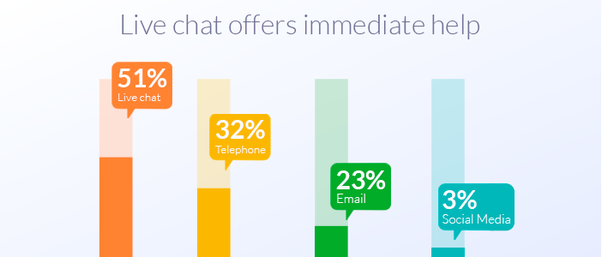 The FRT ensures customers receive responses within an acceptable time. When visitors come to your website, promptly answering their queries is imperative for maintaining the service standards and boosting conversion rate. If they have to wait for a long time they decline getting annoyed. 
So, how would you ensure your response time is optimal?
Key tips to improve your first response time:
Increase live agents

– Ensure that you have enough agents to handle the chats with a prompt and effective response.  

Chatbots

– Offer 24×7 real time support with the help of AI-powered chatbots.

Canned responses

– Use customized messages for answering the common customer queries to improve the response time.

Intelligent routing

– Routing the chats to the right agent across various departments helps to deliver a faster response in the first touchpoint.
2. Average resolution time
Average handling time refers to the total resolution time or the time taken to wrap up the chat conversation successfully. The or close chat handling time differs across industries. It may be 2 mins or maybe 2 hours, depending upon the nature of the issue.
Live chat is most preferred as it offers real time support as compared to other support channels to contact the business. It helps to identify the issue and get details in the first go and use different customer engagement tools to resolve the problem in the first contact.
Low chat resolution time indicates that less time utilized to resolve the issues and it has a negative impact on customer satisfaction rate. And if the agents are taking more time, it could indicate that agents need additional training or guidance to address issues quicker.
So, how to retain the average resolution time?
Tips to improve chat resolution time:
Integrate live chat on right places and pages across website, helpdesk and within apps for instant support.

Provide adequate training to your customer support team.

Gain deep insights on customer demographics and peak hours.

Use live engagement tools such as co-browsing and video chat to make chats interactive.
3. First contact resolution
First Contact Resolution (FCR) is a vital live chat metric to measure customer satisfaction. If the FCR rate is high, it means customer satisfaction is high. Businesses that focus on improving their FCR rate are able to achieve higher customer satisfaction.
Customer Contact Week Digital research says, 70% of consumers see "first contact resolution" as a top priority while interacting with a brand.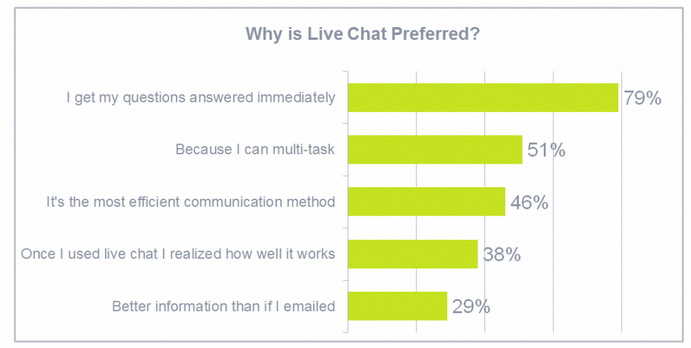 FCR is how long a customer is engaged with agents. First contact resolution rate directly affects your customer satisfaction score. With live chat software, you can empower your agents to deliver instant support by addressing their queries in real time. 
You can improve your first call resolution by the following practices:
Empower your customer support team with effective training about product and process to improve customer engagement and experience. 

Collect customer feedback by using post-chat survey forms to know why your FCR rate is declining and how you can improve the gaps.
For more details, you can read the related blog – Ways to Achieve First Contact Resolution with Live Chat
4. Total number of chats
Tracking and analyzing the total number of the number of chats is an important KPI to measure agent performance metrics. It is crucial to monitor total number of chats to find out how many chats were assigned to the agents, how many chats have been resolved and how many are pending.
Based on the numbers you can calculate the amount of time required to resolve the pending chat requests. You can also decide if you need to add up new resources to your team for handling complex issues if there are any.
You can classify the chats under the following categories:
Open chats

– refers to the chat conversations that are currently active – agents are working on it.

Missed chats

– are the gone opportunities as your agents fail to engage with your visitors and customers.

Resolved chats

– refers to the chats that have been resolved successfully.
5. Net Promoter Score (NPS)
One of the top live chat metric to measure customer satisfaction is NPS that uses an index that ranges from -100 to 100. NPS calculation involves asking the most common question – "How likely are they to recommend your product or service to anyone?". The customers have to give their answers a scale of 1 to 10.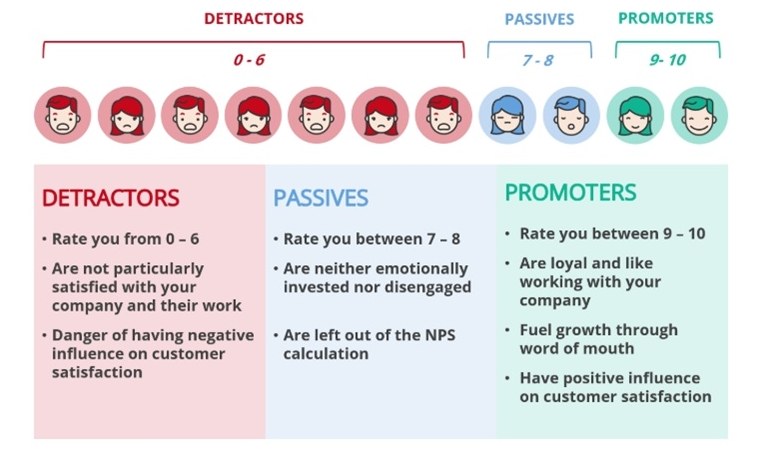 The customers are then categorized and the NPS score is calculated. The scores divide them into three distinct groups: 
Detractors

– The group of customer who scores between 0 and 6 and has a negative perception of the brand.

Passives

– The customers who score between 0 and 8 on the NPS, and show behavior that falls between detractors and promoters.

Promoters

– The customers who respond with a score of 9 or 10 are the promoters. They will be loyal to your brand and also advocate with positive word of mouth. 
Best practices:
Prepare separate questions for acquiring survey feedback from different groups as

HBR webinar

says

acquiring a new customer is anywhere from 5 to 25 times more expensive than retaining the existing one

.
Follow up with the detractors with the NPS surveys to know the gaps to fill them up and improve customer retention.
You may find this interesting to read – live chat best practices
6. Customer Satisfaction Score (CSAT)
One of the key live chat performance benchmarks is CSAT measurement. With CSAT, you can measure your customer service success and know the areas that need improvement for better brand perception.
The customer satisfaction rating measures the actual level of customer satisfaction. The CSAT score is calculated by dividing the number of responses by the total number of responses.
CSAT survey asks customers about their satisfaction with the recent purchase, agent interaction or customer service call over a rating scale. It generally includes open-ended questions, and the scores are expressed in percentage from 0% – 100%.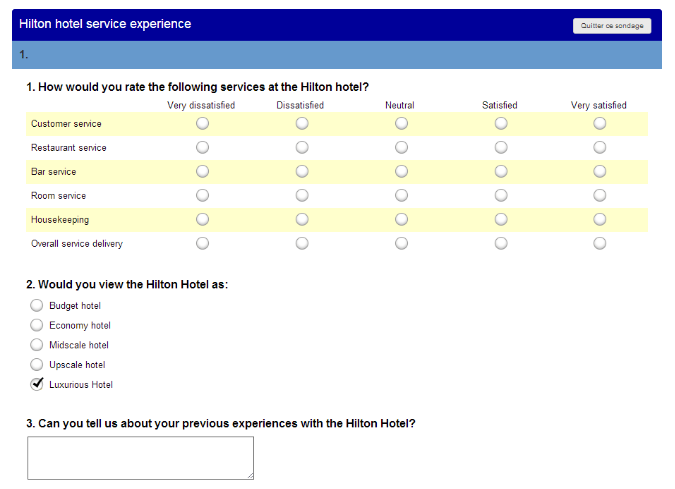 Here is the Hilton Hotel survey program for example. They look into every survey on a regular basis, and live data is updated every night. 
7. Customer Effort Score
Customer effort score (CES) metric measures customer experience with your brand (product & services). Customers are provided a seven-point scale where they have to rank their experience from "very difficult" to very easy". The numbers determine how much effort customers had to put to use your product.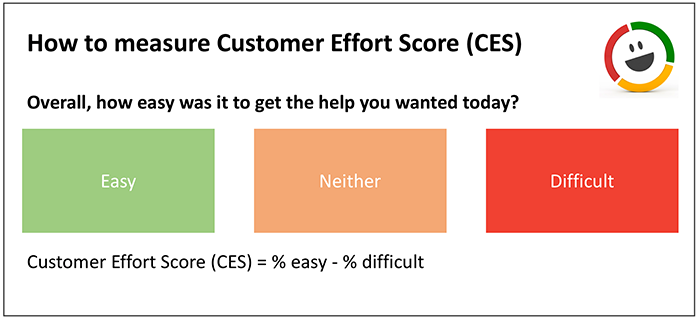 CES is an easy survey to deploy and is best for measuring customer loyalty. It is important as it helps you to gauge the ease of experience of your customers 
The best time to use CES as listed below:
Immediately after an interaction with the product that ended with purchase.

Just after the customer service interaction.

To measure overall experience with your brand
8. Average conversion rate
Average conversion rate is a key live chat metric to measure your team or agent performance. You can use your live chat tool lead generation as well. Prospects that come to your website and ask a question are apparently interested, and this is an excellent opportunity to engage them.
Almost all the businesses, the website is the main place of customer interaction and lead acquisition. Live chat helps to convert your prospects into leads by proactively engaging them with a personalized message at the right time. With live customer engagement tools, you can interact and engage them in real time to boost sales conversion.
Measuring the visitors turning to customers helps to measure the agents' efficiency at pitching your product or service.
9. Average queue time
Usually, businesses provide live chat support only during business hours or peak traffic on their website. So, it is obvious that website visitors will be put in a queue and they have to wait for agents to respond.
Average queue time is one of the important live chat metrics that helps to understand whether your chat support is over-utilized and not perform effectively. Measuring the average queue time helps to know the agent performance and accordingly work over it. 
What happens if the queue time is high?
The visitor abandonment rate increases.

You risk losing your customers to your competitors.

Affect brand reputation with bad word of mouth

The rate of conversion decreases
So, how can you reduce the queue time?
By following the tips below:
If your business is having more chat requests then you can increase the number of support agents or increase the number of concurrent chats an agent is handling. 

You can also use chatbots to offer real time support round the clock.

If both are optimized you can hire more agents

Create support content that answers the common queries and hence reduces the chat requests
10. Agent utilization rate
Every business is behind maintaining high customer satisfaction levels but they also monitor their business costs very well. So, they start with to control over agent utilization. It has a great effect on reducing the agents' cost per contact.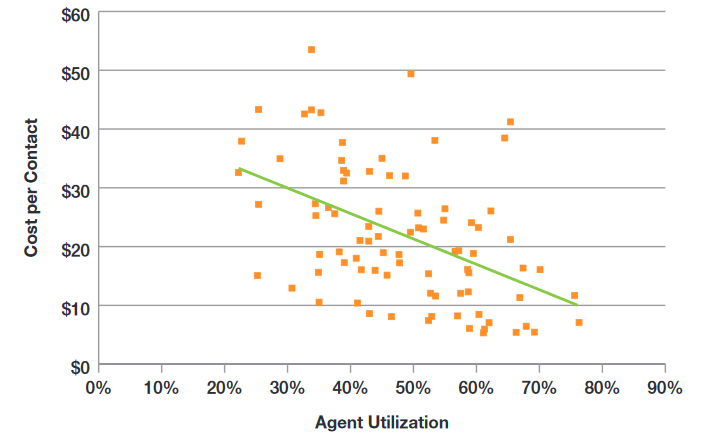 High agent utilization rates can actually increase your costs by driving up agent turnover rates. The formula for determining agent utilization factors in the hours in a workday, break times, vacation and sick days, training time, and a number of other variables.
Let's say, for example, the agents handle an average of 500 contacts per month at an average handle time of ten minutes per contact. The agents work an average of twenty-one days per month, and their workday is 7.5 hours after deducting lunch and break times. 
The utilization formula for the above example would be:
(Total number of contacts per month) x (Total time per contact)/(Total workings days) x (Work hours per day) x (60 min/hr) i.e.
500 contacts x 10 mins / 21 days x 7.5 hours x 60 min/hr = 52.9%
11. Chatbot vs live chat
Businesses are widely implementing chatbots for improving their sales and support processes. With bots, the conversations are answered 24×7 in real time. It improves the business efficiency making customer approach seamless.
The conversations handled by bott chatbots and live agents need to be measured to define the business accuracy. By measuring these chatbot KPIs, you can measure the effectiveness of your team and customer satisfaction.

It helps to find out how much time the agents are utilized.

You can know the total calls handled by bots and human.

Learn the ratio of conversion from bot to human.
Final thoughts on live chat metrics and KPIs
It is by now you would have understood the importance of live chat best practices and how crucial they are to use them. That's not enough! You need to know how to use them in the right way to deliver a better live chat experience.