Live chat channel is a boon for any organization. The organization that employs live chat for customer service requires to have an understanding of the key performance metrics (KPIs). Live chat software is a popular channel and helps your support agents to handle concurrent chat conversations and support operational costs of your business as compared to the traditional channels such as phone or email.
Forrester reports say, more than 30% of customers expect live chat on your website.
The real time communication with the customer has made live chat popular and deliver higher levels of customer satisfaction. The live chat metrics help you monitor the effectiveness of your live chat performance and the areas you need to improve.
Key live chat metrics & KPIs
With the continuous measurement of key performance indicators (KPIs), you can improve the live chat performance experience of your customers as well as the productivity of the team. Let us dive into the 10 most important live chat performance benchmarks metrics that you should measure on a regular basis.
1. Average response time
Response time refers to the time between the chat made by the customer and when it is responded to. Measuring the wait time for a response is key to maintaining a standard for customer satisfaction with your chat conversations.
The average response time is one of the major attributes of good customer service. Ifbyphone research finds 59% of customers are more likely to buy when brands answer their queries in under a minute. Thus live chat takes the top position over phone, e-mail, and social media support.
If a prospect visits your website and a chat window appears, it is very important that their query must be answered promptly. If they have to wait for a long time they get annoyed and lose patience. What it means that every industry may have their own chat service standards which need to be met.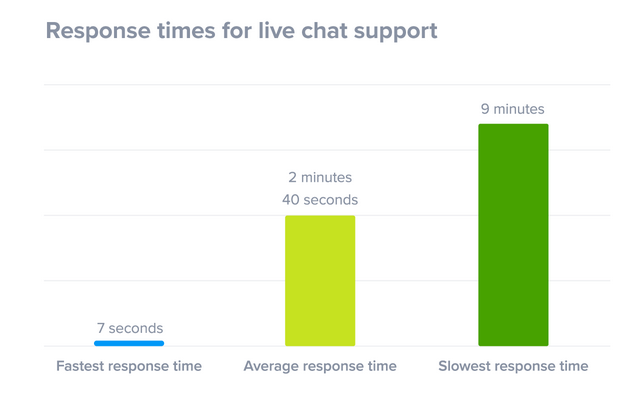 Source: SuperOffice
Some of the best practices of how you can improve your response time
Enough resources

– Make sure you have support agents to handle chat conversations with prompt and effective responses.  

Chatbots

– Using AI-powered chatbots helps to provide instant response to the customer queries 24×7.

Canned responses

– Using pre-drafted responses for the common customer queries helps to improve the response time during conversations.

Intelligent routing

– With smart routing, you can connect the chats to the right agent across various departments to provide a prompt response in the first touch point.
2. First contact resolution rate
First Call Resolution (FCR) is a standard set to measure customer satisfaction. Higher the rate of, higher is the customer satisfaction level. The companies that have high FCR rate have a high customer satisfaction level.
Live chat is the most popular channel as it delivers a prompt response to customer's queries. It is one of the vital live chat metrics as it indicates the query resolution rate in the first contact. First contact resolution rate directly affects your customer satisfaction score.
FCR defines how long a customer is engaged with you. Contact Week Digital research says, 70% of consumers see "first contact resolution" as a top priority while interacting with a brand.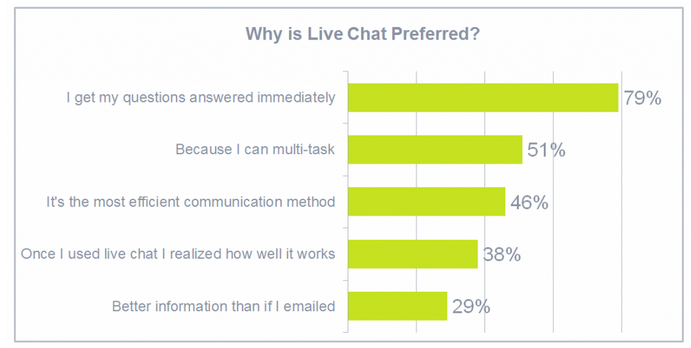 The best practices you can follow are:
Empower your customer support team with effective training about product and process to improve customer engagement and experience.

You can use the post-chat survey forms if your FCR rate is declining. Post-chat surveys help you to gain customer insights and how you can improve it.
3. Average resolution time
The average resolution time of chat support metrics refers to the average time taken to wrap up or close a conversation. Ideally, the chat resolution time differs across industries from 2 minutes to 2 hours.
Live chat software allows to connect with the customer at the real time and get the first hand information of the error. The agents with the help of different engagement tools and features try to resolve the issue in the first contact.
Lesser chat resolution time indicates that less time was used to resolve the issues and it has a negative impact on customer satisfaction rate. And if the chat representatives are taking long to resolve issues, it could indicate that agents need additional training or guidance to address issues quicker.
Here are some good practices to maintain the resolution time
Integrate live chat on the places you offer customer support

Train your customer support team properly

Know your customer demographics and peak hours

Video & voice chat, co-browsing for personalized in-person service
4. Customer satisfaction rating (CSAT)
Incorporating customer satisfaction measurement to your customer success strategy will help you to find out where you currently stand and know the areas of improvement. Customer satisfaction rating (CSAT) measures the actual level of customer satisfaction.
CSAT score is calculated by dividing the number of responses that are rated above 4 with the total number of responses.
CSAT survey asks customers about their satisfaction with the recent interaction after a purchase or customer service call over a rating scale. It comprises of open-ended questions, and the scores are expressed in percentage from 0% – 100%
Benefits of CSAT
Measures the overall customer satisfaction (satisfaction in the specific area of your business, product or offer).

Helps you to gain feedback and measure customer satisfaction with each agent's performance.

Identify performance issues and ensure that each rep is fully equipped and capable of generating maximum satisfaction through your live chat presence.
5. Net Promoter Score (NPS)
Net Promoter Score (NPS) is a customer loyalty metric that measures customer satisfaction using an index that ranges from -100 to 100.
Customers are generally asked about their willingness to recommend your product/company to their friends and relatives on a scale of 1 to 10. The customers are then categorized and the NPS score is calculated.
Based on the scores the customers are then categorized into:
Detractors

– Detractors are customers who score between 0 and 6. They have a negative perception of the brand and the least likely to spend money.

Passives

– Passives are customers who score between 0 and 8 on the NPS and show behavior that falls between a detractor and a promoter.

Promoters

– Promoters are customers who respond with a score of 9 or 10. Promoters are more likely to buy products, stay loyal to the brand and advocate your brand among their family and friends.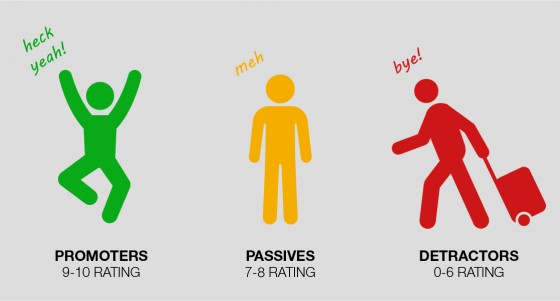 Source: okuma.com
You have to get in touch with the right category by preparing a separate set of questionnaires for asking feedback. HBR webinar says acquiring a new customer is anywhere from 5 to 25 times more expensive than retaining the existing one. NPS surveys help to follow up the detractors, who are really not happy with your product or service and improves customer retention
6. Leads conversion ratio
Website is the main alley for businesses for lead acquisition. With live chat, you can convert your prospects into leads by proactively engaging them with personalized messages at the right time. By using the live engagement tools, you can engage them interactively and boost the conversion ratio.
Implement chatbots to convert your website visitors into qualified leads automatically and transfer them to your sales team for further help. When new leads for the company are generated it increases the revenue growth.
Measuring how many new visitors are converted into customers will help you determine how active your agents are at pitching your product or service.
7. Average wait time
Many businesses employ live chat support only during business hours or during peak traffic on their website. Hence it is quite common that your visitors need to be put in a queue and wait for agents to respond if they are busy.
Measuring waiting or queue time helps to understand whether your chat support is over-utilized and may not perform effectively.
You would notice a high abandonment rate if the wait time is long. It means that you have more chat requests then your agents are currently handling. You can do either of the two below-mentioned actions to keep this in check:
Increase the number of concurrent chats an agent is currently allowed to handle.

Increase the number of agents.
8. Total number of tickets
Tracking the number of tickets is an important KPI to measure agent performance metrics. It is important to monitor from the total chats assigned, how many of them were solved and, more importantly, how many of them are still pending.
With the help of the information, you learn about how quickly your team is able to solve tickets. Whether you need to add some resources to a ticket-solving team or not and if there are any complex issues.
You should always check how many tickets are:
Unassigned tickets

– assure that there are no unassigned tickets because it means that no one is working on it.

Open tickets –

it means that your support team is currently working on the ticket.

Pending tickets

–  are the resolved cases and are waiting for customer feedback.

Solved tickets

– means its all done successfully.
9. Total engaged chats
Total engaged chats is a main live chat performance metrics which shows how many chat sessions you have had with your website visitors. A higher chat volume shows that you have good engagement with your website visitors.
With the help of the metric, you can know the number of issues your customers are facing. When there is an issue with your product or website, you would see a surge in the number of chats initiated.
While analyzing if you find that most of the queries are related to particular information, then you can create a FAQ's page including all the information or make it appears on the most visited pages. So, you not only need to check the number of chat but also the content of the chats in the chat history.
10. Chat tags
Chat tags help you to understand what are the common queries are coming to live chat. If we are getting many chats where the topics are about shipping info, sales related query, demo schedule, pricing, etc, then it shows that the information is not clear to the customer on the website.
It is good to use chat tags as a live chat metric as it gives you the information about what are the areas you need to improve.
For e.g. Out of 30 tags received, say 10 are for shipping duration, 10 are for pricing. It means you provide relevant information about shipping time and pricing on the support section to provide customers all details at one go.
11. Missed chats
The main purpose of live chat is to make your actively available to your prospects and customers. If you are missing out chats for whatever may be the reason, it has a negative impact on your brand reputation.
According to the INC report, 51% of consumers say a business needs to be available 24×7.
Missed chats are gone opportunities for you to engage with customers and prospects. If your team is missing a lot of chats it means you do not have enough resources to handle chat conversations effectively or the agents are not deployed in the specific time.
To overcome the problem you can practice:
Use chatbots – Not all conversations require manual support.

Balance the chat conversations with bots and human – Let bots handle the basic queries and complex queries by support reps.
12. Right use of canned responses
With live chat software, you the ability to leverage canned responses and improve the response time. Canned responses are pre-drafted responses to commonly asked questions that can be triggered when those questions are asked by the visitors in order to reduce the wait time.
Canned responses significantly impact the resolution rate and allow agents to close more chats in less time. If the responses are not used properly or overused gives a feeling of automated chat. So, using it at the right time and right place improves customer satisfaction and conversion.
Final thoughts on live chat metrics & KPIs
Providing live chat support will help you connect with customers, improve their overall experience, and boost conversion. To accomplish all of these goals, however, you have to gauge the success of your live chat by monitoring the above mentioned live chat metrics.
With these metrics, you can measure live chat as well as agents performance. Following the agent performance metrics and chat support metrics you can deliver an amazing chat experience and gain more satisfied customers and accelerate the growth of your business.