Customers today are increasingly empowered by modern technologies, easily accessible information resources and a wide range of options. As a result, there has been a greater demand for faster response, brand relationship, and live assistance. Live chat best practices become so essential to meet customer expectations and boost their experience.
75% of survey respondents stated they would prefer to live chat.
You really don't have to be a marketing expert to know that quality customer service plays a crucial role in business. Your customers are the ones who advocate your brand with positive word of mouth and help grow your customer base. 
Businesses are adding live chat support to their help desk software in order to provide real time answers rather than having customers leave their websites. Following the live chat best practices will help businesses to grow in the global pace.
How live chat best practices impact the business?
Talking about customer's expectations — they expect their queries to be addressed with as fast as possible. In order to meet the expectations businesses look for new ways to deliver outstanding customer service. However, live chat best practices impact the three key areas of a business. They are:
Live chat is real time 
Live chat allows businesses to connect with customers in real time. Identifying the problem helps to resolve it faster and in the first contact improving customer satisfaction.
Live chat is multi tasking 
Live chat improves business efficiency by empowering agents to handle multiple conversations simultaneously. Delivering faster response to customers reduce the average queue  time.
Better business RoI 
With live chat, businesses deliver instant response that drives more sales from your website, preventing sales funnel drop out and ultimately delivering a better return on investment to your business. 
Live chat best practices for better customer support
By implementing live chat practices, you enhance the quality of communication with your customers and ensure consistent customer service across all touch-points.
Let us dive into some live chat best practices that help you to deliver great customer service and experience.
1. Automate your conversations with bots
Chatbots have a big impact in the customer communication landscape. According to The State of Chatbots Report, 64% of internet users say 24-hour service is the best chatbot feature.
Chatbot handles automated chats conversations by quickly addressing the information based queries reported by the customers. It reduces the number of support tickets raised and boost customer engagement. 
But it isn't just about using AI, it's also about finding the niche areas where AI will be fast and reliable. For complex issues, you will still need to connect with the customer support representative. Make sure that you automate your customer support in the right way to provide customers the best of both worlds without losing the personal touch with a complete AI and live chat platform.
Here are the common use cases across different business functions.
Customer service 
Chatbots allow businesses to automate live chat conversations to provide quick answers, proactive customer interactions and increased customer engagement.
Lead generation 
Helps to increase the quantity and quality of leads. It helps to improve information about your prospects so that you can target your leads once again.
Online bookings 
Businesses can expand their customer base by using chatbots for online bookings for food , travel and other purposes. 
Website engagement 
Chatbots helps brands to create user-friendly customer experiences through simulated conversations.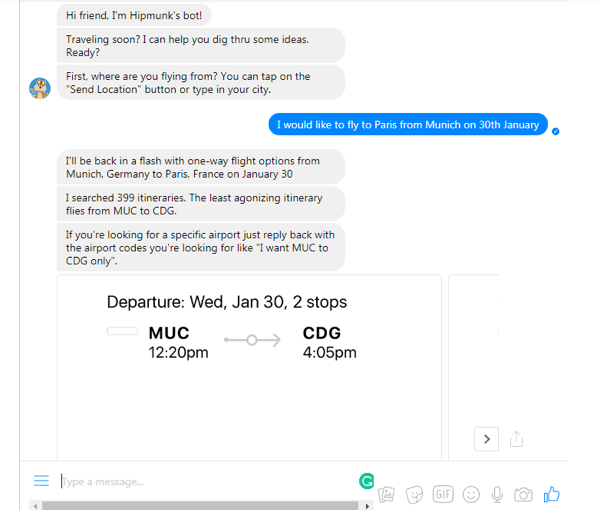 Hipmunk's "Hello Chatbot" for example was created to engage customers at a closer level. Hipmunk is a popular platform for searching for travel deals such as like flight bookings, rental cars, hotels, and tour packages. 
2. Personalize your conversations with video chat
When you engage your customers more interactively, they will be happy to be associated with your brand. 58% of companies don't have formal customer engagement strategies. For many brands, customer engagement comes from a combination of different channels and platforms.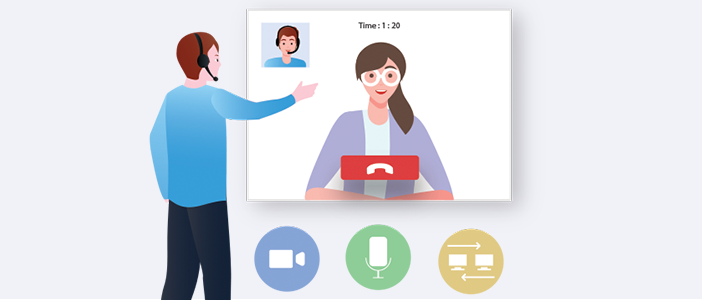 Video chat offers faster solutions by identifying the actual problem and improving the customer experience. Face to face chat helps you to build a better relationship with your customers with personalized chat conversations.
Video chat adds another dimension in providing personalized assistance to customers. Here are some of the benefits:
Provides one-click for real time sales and support assistance.

Identify problems faster and deliver solutions in the first go.

Personalize chat conversations and improve sales conversions.

Provide remote support and effectively engage customers.
 Visual engagement helps to accelerate business growth and sales conversions with personalized interactions.
3. Real time engagement with co-browsing
Gartner study says customer experience is on pace to exceed price and product as the number one differentiator for companies. Your customer expectations align with reality when your business adopts new technology to provide real time live support to your customers.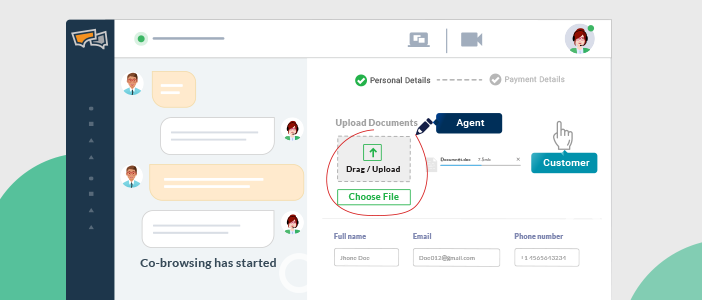 Co-browsing tool helps you to collaborate with your customers in real time without letting customers wait and improves the response time. The sharing of the browser screen during the session helps through complex form fillup and application process, make conversations interactive and deliver a virtual in person experience. 
Benefits of co-browsing
Co-browsing helps to deliver real time assistance and remote support to your website visitors and customers in an interactive way by combining with video and voice chat.

Co-browsing along with video chat with co-browsing helps to manage your customer's browser and proactively guide them in the right direction.

Co-browsing tool helps to improve your business KPIs and enhance your team productivity.

Co-browsing tool makes the customer communication seamless whether is onboarding or product demo.

The entire communication is secured with enterprise-level encryption standards.
4. Place live chat at right places and pages
Stepping in customer's shoes helps to know what the customer wants. Being able to think like a customer, understand their needs helps to provide the right contextual solution. 
When the customers visit your website, they will follow their instinct to making actions. So, to deliver a better live chat experience to your customers, make live chat available on the right place of the pages. Ensuring the right place is vital for the easy visibility to your customers.
According to the Nielsen-Norman Group research, customers tend to scan in an F-shaped pattern. The standard placement for live chat customer support is on the bottom-right of a window screen as customers expect their live chat widget to be available there.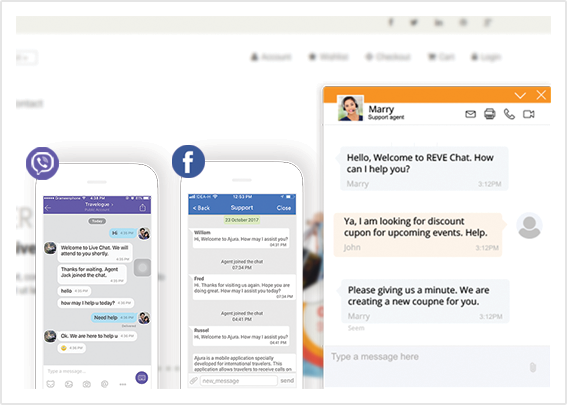 You can provide live chat across pages, which you think are the most important – add to your 
Website

Helpdesk

Inside your web app  

Mobile app
You can use it anywhere you want but make sure to account the usability. If live chat is too intrusive it can be annoying. Live chat is essential where the customers are likely to have queries: Contact page, Pricing page, Sales page, and Home page
The main purpose of live chat is an instant response. Placing the live chat accordingly simplifies seeking chat option and has a positive impact on customer experience.
5. Improve response time with canned responses
Nobody likes waiting for a long time, especially customers. They expect a faster and effective response without having to wait for long. Canned responses are a smart way to improve your response time and deliver a better experience. 
Benefits of using canned responses:
Faster response – Customized responses improves resolution process with faster responses and boost customer satisfaction.

Right tone of language – Canned replies ensures customers are satisfied and eventually turn out to be your brand advocates.

Consistency in brand experience – Preset responses help to deliver a consistent brand messaging experience during conversations with the website visitor or customer. 
Depending upon your business interactions, you can prepare canned/pre-drafted messages beforehand, for the commonly asked queries. You can also send multimedia messages for reported queries instead of a simple response to make the conversation effective.
You might find interesting to read about live chat scripts and phrases.
6. Integrate your live chat with business tools 
No matter, you are a startup or a growing business you can seamlessly integrate your live chat software with your business tools. It is a usual practice that every business uses some tools to automate and align things in a better way.
Automating tasks by connecting live chat with your other business tools can be a big time saver and productivity booster. Having such integrations helps you to spend your time more on customers and less on administrative tasks.
Here are some key tools that are frequently used that you can integrate live chat:
7. Target your customers with right triggers
You simply can't ignore the customers who return to your business. There are very very important. 
Not to miss out on it you have to reach out to your website customers and engage them by sending proactive triggers in real time. 
You can gain a better understanding about the visitor's journey with the help of live chat software about the buying experience from a customer perspective by combining the pain points of the customers and acting to their specific requirements.
Here are some common times you can trigger a message to start conversations:
A hesitant buyer

Customers who returned back or repeat customers

Customers who are from certain regions or geographical locations

Pop- up promotional messages to the right customer

High bounce rate pages

Customers who are visiting FAQ pages

Visiting certain product pages
You can reduce cart abandonment by triggering right and timely messages to your website visitors and customers. Based on their buying journey, send personalized messages to guide through a seamless checkout process.
8. Measure SLAs with live chat metrics
Live chat metrics helps you to measure your Service Level Standards (SLAs) and access live chat performance. With the right live chat metrics, you can measure your team performance against your defined KPI and improve the negative areas.
How key performance indicators (KPIs) to help businesses to understand and measure:
Customer satisfaction ratings to understand if it meets the expectations of the customer

Team and agent performance in terms of business metrics and conversations

Cost and ROI associated with the live chat support
Here are a couple of key live chat metrics to measure the profit meeting the objectives.  
First response time (FRT):

refers to how long your agents take to make the first reply on an issue. It helps to understand how agile the business is about customer communication. 
First contact resolution (FCR):

helps you to measure customer satisfaction across the number of touchpoints. Higher FCR means happier customers.
Customer satisfaction ratings (CSAT):

CSAT score allows to measure customer satisfaction level to find out different strengths and weaknesses and best ways to make customers happy.
Cost per conversation:

measure your business ROI about how the resources and time you invested in terms of live chat, is helping your business. So how can you understand whether the live chat is implemented successfully or not? 
9. Adopt right live chat etiquette
Poor customer service fails to impress customers and affects your business rapport too. If you follow the right chat etiquette it will undoubtedly create a perfect live chat support experience.
Some of the areas where live chat etiquette can be followed are:
Set positive tone
Listen patiently and allow customers to explain their problem. Set a positive tone while speaking to them by using phrases such as Please don't hesitate, Please note that, Kindly, etc. to make customers feel valued.
Ask for feedback
Asking feedback from customers and acting on it is an important live chat etiquette and a key factor that determines business growth. Feedbacks help to transform your brand products and services to gel with the needs of your customers.
Real time customer service
Forrester research says more than 30% of customers expect live chat on your website. Never keep your customers waiting. In order to resolve customer queries faster and in the first contact itself 
The best way to win the hearts of your customers is to close their cases in the first contact itself, without having them have to come back multiple times and go over the same questions again. So practice this live chat etiquette to gain more customers. 
You may also like to read a blog on a similar topic – Live Chat Etiquette Tips for Customer Service Success Excellence
10. Maintain your customer support quality 
Brands are usually remembered by the quality of support they offer to their customers. It the prompt and seamless support offered by brands brings customers back to the businesses. Businesses lose 71% of customers due to poor customer service.
In order to deliver better customer experience, you have to maintain the support quality of your business. How can you do that?
Training your support team regularly
Provide product and services training so that they can further guide customers with the latest authentic information.

Maximum queries are related to price. So make your team aware of the updated prices for helping customers for making quick decisions.

Train your team with the functionalities and features of live chat widget that is scalable. In-depth knowledge about the key areas of your business helps to stay ahead in the competition.
Monitor chats and improve the key metric
Define KPIs such as average response time, first contact resolution, cost per chat, open and closed conversations. Monitoring these metrics and improving the weak areas helps to strengthen your support team.
11. Customer feedback after every chat
"Your most unhappy customers are your greatest source of learning."  Bill Gates
And the easy way to know your customers are happy or unhappy with your products and services is by asking feedback. Customer feedback is vital for every business and an important factor that determines the growth of your business.
Feedback gives your business a clearer view of how it is performing. Collecting feedback requires asking customers to share their feedback about the product, service or about their overall experience. You can use customer satisfaction surveys, feedback forms, and questionnaires for collecting feedback.
Feedback helps businesses in the following ways: 
Measure customer satisfaction level with the product or services

Enhance your customer communication

Deliver a better customer experience

Improve customer retention
The best time to ask feedback from customers is right after a customer service conversation. Collecting feedback becomes effective when you analyze and act upon it. 
12. Collect information with pre-chat forms
Is there any way to get to know customers better way?
Of course yes, you can ask for information using chat forms.
You can use the pre-chat survey or forms at the beginning of each chat to collect relevant information about visitors. Asking users for their name, email or customer ID hastes the chat process, as you can skip those questions later in the chat. 
Having such knowledge at hand, you are ready to provide a better, faster and more personalized service.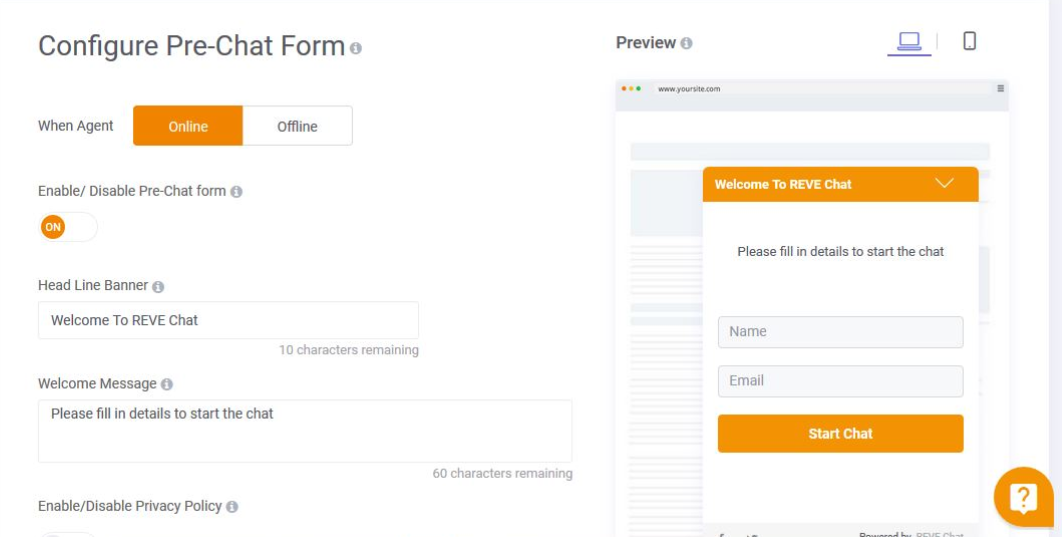 13. Reduce queue time with intelligent routing 
Whenever a new chat request comes you can route them to the specific department for efficient response. You can reduce the queue time significantly and improve your response time. 
82% of consumers look for an immediate response from brands on marketing or sales questions. 
With intelligent routing, your team can:
Respond faster for any sales support as chats are directed to the right department and the right agent.

Reduce the first response time that increases customer satisfaction and improves your sales conversion cycle.
Handling the chat loads by distributing them to different departments helps to resolve your customer's issues much faster. It also eliminates chat transfer and delivers an excellent live chat experience to your customers
14. Categorize chats with tags
Tagging customer chats is one live chat best practice option that can be used to categorize the chats based on queries for e.g. product, price or sales. When chats are categorized, they can be followed up further from the same place it has been left.
Tagged queries help agents to follow up easily without having the need to ask and collect basic information. Thus helps the agents to deliver quick and effective service.
Final thoughts on live chat best practices
Live chat is a widely adopted for marketing, sales, and customer support. If you have implemented live chat to your business the above mentioned best practices will prove worthy for your business. 
Use live chat best practices to help your website visitors and customers to achieve their goals—and you will be achieving your business goals.