Having just one or two channels for support is never an ideal strategy in times when brands are expected to be present on different channels together and deliver a seamless experience. 
Customers too have gone quite demanding as they now want a choice for the channel to receive support. 
90% of customers expect consistent interactions across channels. 
This is where multi-channel customer support enters the scene and becomes a major differentiator for companies of all sizes. 
It's also becoming the key to offering quick, convenient experiences on the preferred channels of your customers. 
So, your business needs to adopt a multichannel approach for digital engagement and maintain consistency across channels.   
What is Multi Channel Customer Support?
By definition, multichannel support is the strategy of using different methods of communication together for customers to reach a business. 
The value of this type of support is required because every customer has their own ways of interacting with brands and may not use the same channel to contact a business.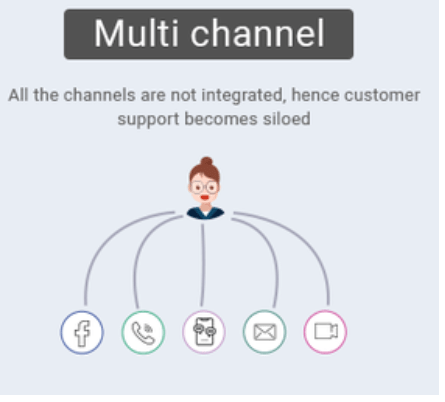 In general, multichannel customer service can combine a variety of platforms together or a few of them separately such as live chat, social media, email, knowledge base, etc. to enhance the digital experience for clients.  
Importance of Multi Channel Customer Support for Your Business  
Brands now realize the value of having a broad presence across channels to handle customers successfully and delivering them great experiences. 51% of companies today use at least eight channels to engage, communicate and interact with users. When your business is available on multiple channels, it always ensures value to customers.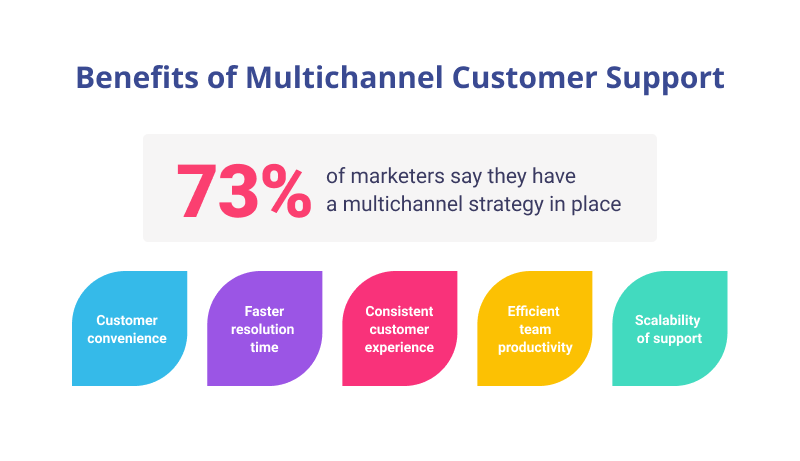 Multichannel support can add value to your business in many ways. 
Customer convenience

– Customers always wish to have the freedom of engaging with a brand that is present across different channels and that is available as and where customers expect them to be.     

Faster resolution time

– Brands with a multichannel customer support strategy are able to deliver quick answers to customers' queries, therefore, achieving a faster resolution time. 

Consistent customer experience

– By using many channels for customer support, a business can give users the flexibility to switch between channels and have their queries resolved.       

Efficient team productivity

– Agents can be distributed to various

customer service channels

according to expertise and this often frees up the load, therefore, making the team productivity go up.  

Scalability of support

– Having multiple channels for customer service gives the advantages of scaling the support as and when needed in the future to meet the ever-growing expectations of customers.  

 
Things to Consider While Managing Multi Channel Customer Support  
Enhancing customer experience is mostly the driving force behind the strategy of being present on various channels at the same time. Your business can make it successful only when the resources and energy are streamlined together. Plus, more channels mean your business needs to take more responsibility to ensure value to customers at every stage of the support journey. 
Many things are there to consider when your business decides to offer multichannel customers support. 
Let's look at each of the ways; 
1. Identify Your Preferred Customer Channels  
Customers prefer to interact with brands that offer support on many channels. This gives them the choice to switch to any channel and get value with the interactions. 
Keeping this in mind, your business must have a mix of channels to attract customers and show them you understand their preferences. 
With so many popular channels around such as live chat, social media, email, knowledge bases, and self-service tools, etc, the key is to identify the channels that are incongruent with your brand vision and leverage its potential.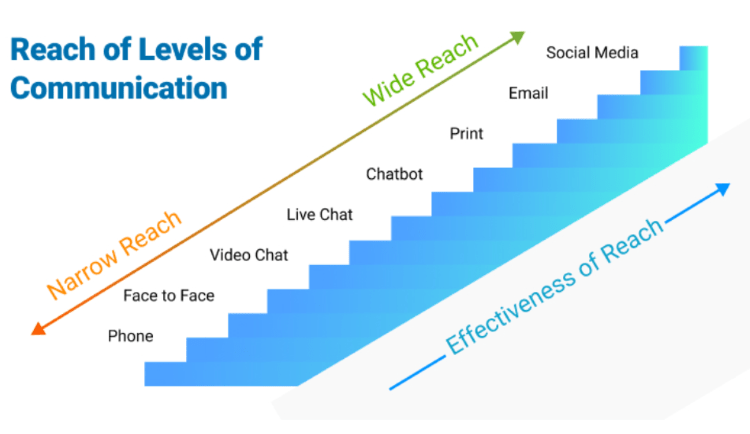 Best practices in identifying customer channels  
Understand the current trends

– Before choosing support channels, you need to analyze different

customer service examples

and understand the trends in the market to get a good idea about what customers prefer today to get in touch with a brand. 

Offer channels you can handle efficiently

– It's important to restrict the support to a few channels only in order to avoid stretching the resources and team beyond a point. 

Maintain consistency across channels

– Using a common workflow process and knowledge bases are vital to maintaining consistency across support channels and ensuring awesome experiences to customers. 
2. Link All Your Support Channels to the Same Interface  
Customers want quick answers to their queries. If you keep them waiting even a little longer, they might feel frustrated and even switch over to your competitors. 
With so many channels and responses to handle simultaneously, your agents may feel constrained at times and this can adversely affect the response time. 
To avoid that situation, your business should link all the support channels to the same interface such as live chat, social media, messaging app, video chat, and let the agents become more productive in dealing with customers.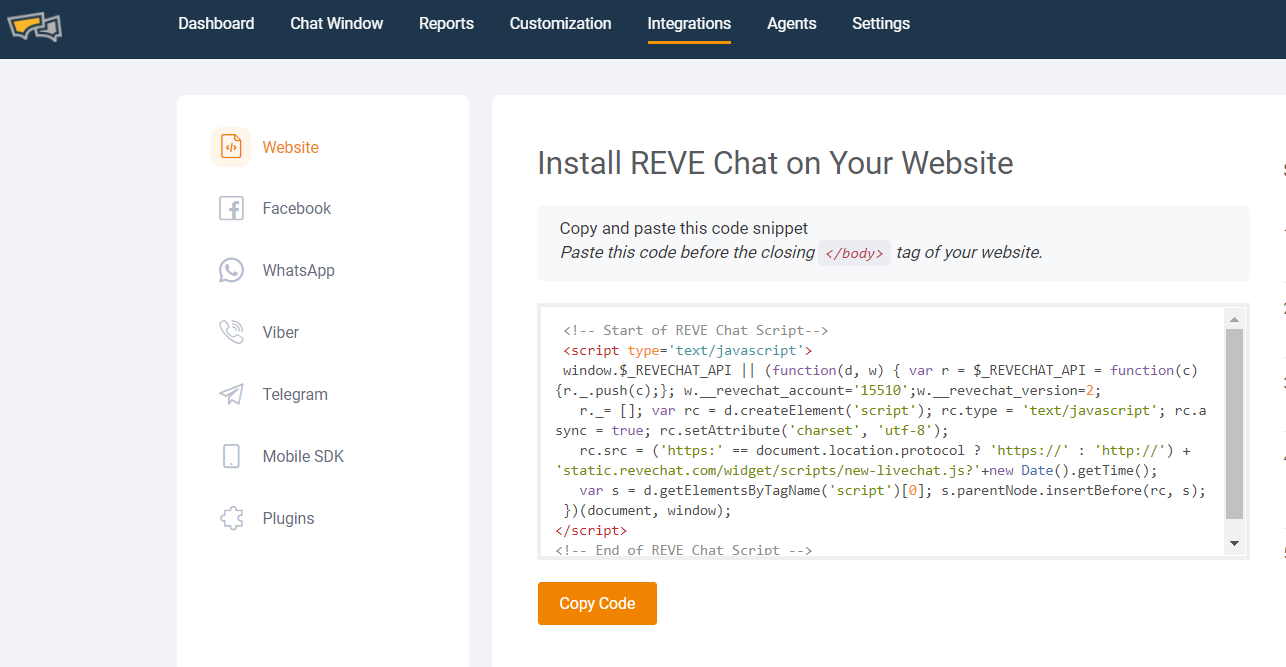 Benefits of having one interface for all support channels  
Your support team will be able to respond to queries in a quick time and

achieve a better average response

time when it can access all channels from the same dashboard.     

Accessing the customer data will be easier when there is just one interface to look to and this can help the agent to

maintain a superior customer follow-up

. 

When the support team finds every customer information in one place and can respond from there itself, it can easily

avoid the hassles of switching between channels

and improve productivity. 

 
3. Use Chatbots for Conversation Support   
50% of consumers don't mind whether they are dealing with humans or AI-enabled assistants. 
A growing number of brands are choosing chatbots as an integral part of customer service to automate responses and free up agents to focus on other equally critical tasks. 
Bots can give your business the freedom to provide prompt assistance at various touchpoints of the customer journey. 
When bots are used for multichannel customer engagement, it not only saves operational costs but also improves response, therefore, enhancing the customer service experience.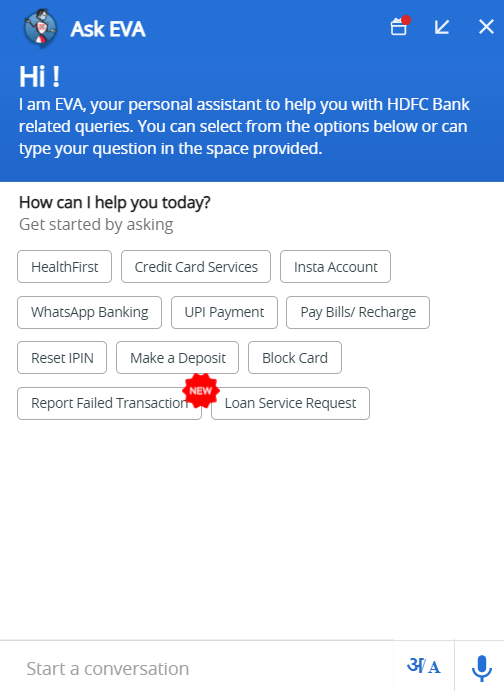 HDFC Eva banking chatbot for customer service is a great example of how to provide multichannel service to customers in an efficient manner. It uses the latest Natural Language Processing (NLP) to understand the user requests and offers information in zero wait time.  
How to use chatbots for customer support?
It's easy to

automate simple queries with AI chatbots

 and provide quick answers so that the number of support ticketed from customers can be reduced. 

Customer service chatbots can be trained to

efficiently decipher customer needs

, deliver relevant answers, and minimize wait time.  

Your business can

use bots as the first point of contact

to reduce customer churn and make a human handover for complex issues.  
4. Know the Customer Context     
Customers like to switch between channels when interacting with brands. They also wish to get the same type of experience across different channels. 
For that reason, your business should first try to clearly understand customer service trends and then strive to maintain context across various channels.
When you do that, customers are spared the inconvenience of repeating their problems every time they change channels. 
Why do you need to identify customer context? 
Personalized response

– Your business will always be in a better position to personalize the customer experience once it's able to identify customer context. 

Customer intent

– When customer intent is known, it becomes easy to identify where they stand in the buyer's journey and then tweak response based on that.   

Optimize customer journey

– Knowing the context will give you an opportunity to understand the reason customers have chosen to connect with the business and then streamline the process to optimize their journey.  
5. Include a Human Touch  
Bots handle 85% of all customer service interactions without the involvement of any human intervention.  
Even when automation is taking center stage in customer service and Artificial intelligence (AI) driving customer service interactions to digital platforms, it would be a mistake if the human touch is completely removed from the support delivery.  
There will always be certain complex situations where customers would want to speak to someone to get their doubts removed.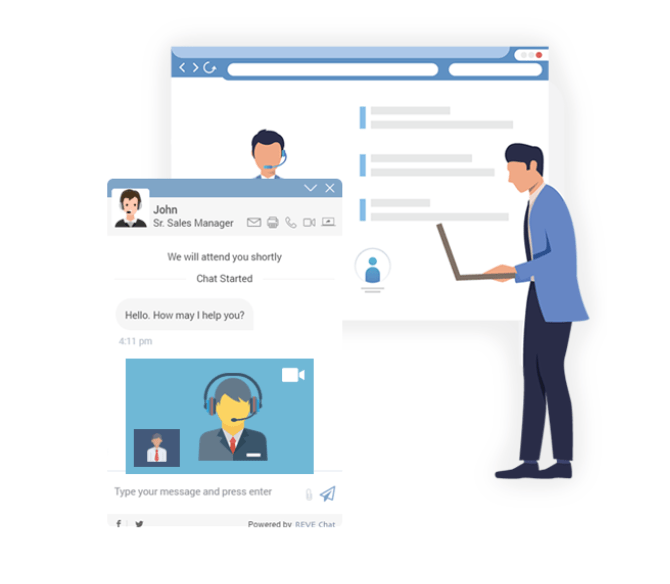 To include a human touch, you need to: 
Analyze every interaction to

understand when and where a human touch is needed
Combine the power of automation with personalized experiences

to boost customer experience 

Understand the gravity of the support needs of customers and

allocate resources judiciously to human intervention

  
Involving your customer support team at the right time is always the key to minimizing excessive reliance on AI-powered technology and include a human touch to support. 
6. Evaluate Your Channel Performance
For your business, not all channels will be equally rewarding. While some may maintain their usability for long, others might lose their relevance with time for customers. 
Well before any channel ceasing to matter, you need to regularly evaluate all of them and see how they fit in with the continuously changing contours of customer demand. 
Based on the analysis of customer channels, you will be in a better position to identify the key customer and team metrics and then improve upon them.  
The evaluation will also give a deep insight into what customers want and how to train the team to bridge the gap between what is delivered and what is expected. 
Tips to evaluate your channel performance   
Customer metrics

– Tracking key customer metrics such as Net Promoter Score (NPS), First Response Time (FRT), Resolution Time, and Customer Satisfaction Score (CSAT) can give you a good idea of how your support channels are performing.  

Team metrics

– Your business needs to measure the team performance against popular KPI metrics such as Efficiency, Quality, Initiative, and Helpfulness to get a good grasp on the performance of customer channels. 
7. Offer Awesome Mobile Support Experience
One-third of all customers use their mobile devices to reach out to businesses or get in touch with the customer service team. 
With smartphone usages skyrocketing across the globe, not offering mobile support experiences could be a huge loss for any business that sets high standards for itself.   
Mobile traffic is something you just can't ignore, so your business needs to devise the right support strategy to benefit from one of the key customer service channels around.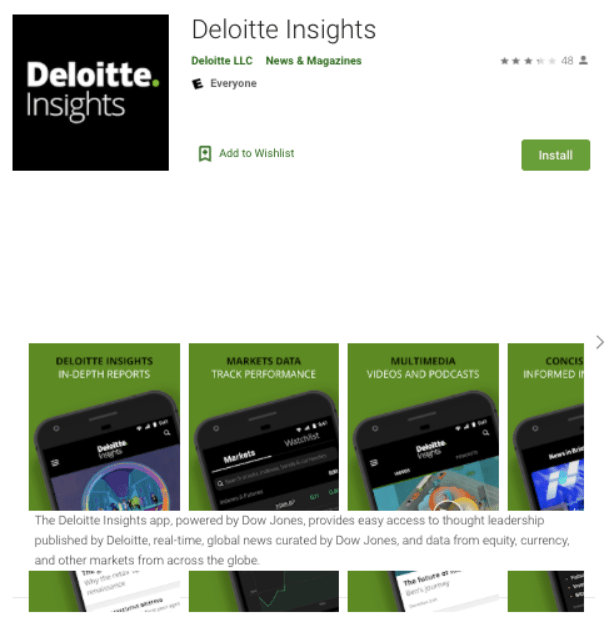 Deloitte is a large multinational professional services network that shows how to get mobile multichannel support strategy right. Through Deloitte Insights, an educational hub, it produces mobile-friendly content and smoothly delivers a better customer experience. 
Tips to offer great mobile support experience   
Make sure you

use responsive design and adaptive layouts

so that all your service pages are mobile-friendly and all the content is readable.   

Integrate live chat software and offer support on mobile devices

to help customers reach out to your business quickly and get responses on an immediate basis. 

Show your mobile number at all key places

where customers may seek support, be it product pages, navigation menus, FAQs, Help Center, etc.  
8. Review All Your Customer Interactions Regularly 
Understanding customer interactions on a regular basis is always one of the key aspects of customer service. 
If you're not reviewing all the calls, emails, social media messages, live chat history from customers, it means you're not evaluating the quality of your support.  
You need to review the customer conversations: 
If you want

a good understanding of what customers expect

from your business and what you deliver to them 

If you want to

know which customer channel is performing

and which is not up to the mark 

If you want to

revise your support strategy

by ironing out the flaws  
So, make sure you're aware of customer expectations through regular analysis of their conversations as only this can give you a reason to improve the value of support. 
Multi Channel vs Omni Channel support  
Gaining customer insights and understanding their behavior or sentiments is always a challenging task. Many businesses have a poor idea of customer actions across multiple interactions. So, you need to know about omnichannel vs multichannel support strategy and how it fits better for your business. 
The multichannel approach is about helping

customers reach the brand via a maximum number of channels

whereas omnichannel support is a holistic approach with a view to connect all channels to engage with customers.   

Customer engagement is siloed in the multichannel strategy

while on the other hand, the omnichannel strategy ensures that customers get a unified messaging experience through every channel.  

Multichannel service does not aim to

connect the touchpoints together

while an omnichannel strategy is about understanding customer journeys better to serve with personalized solutions.
Delight Your Customers with Multi Channel Support  
Implementing multichannel support is now essential to keeping pace with the changing aspirations of customers who expect brands to have a presence across various channels. Your business needs to identify the right channels, link them all to the same interface and regularly evaluate channel performance to ensure value to customer engagement.
With more brands looking to invest in different channels to reach out to customers, you should not lag behind and adapt to the current trends in the market. And this is where a multichannel approach can fit in and help you delight your customers across touchpoints.