In 2016, Black Friday and Cyber Monday have recorded the highest sales ever touching $3.34 Billion and $3.45 Billion according to Adobe Digital Insights.
You would also love to get a piece of that pie. Won't you?
And in this era of eCommerce, slashing prices isn't the only thing that is driving sales. Now you need to do something extra for the customer like assisting them while shopping.
But being in eCommerce industry which is virtual, how do you assist a website visitor?
The answer is Live Chat.
You can communicate with your visitors using live chat in real-time. This way you can assist them while shopping either by giving them more options or by tell them what's best.
According to research done by Forrester, "44% of online consumers say that having questions answered by a live person while in the middle of an online purchase is one of the most important features a Web site can offer."
Here, I have listed some tips on how to boost your sales on Cyber Monday and Black Friday using Live chat:
Reply quickly & Accurately
It's a fact that no one likes to wait. If a customer is trying to reach you but does not receive a response within a minute, it won't set an example of good holiday customer service.
According to research, 79% of consumers said that they prefer to live chat because they get their questions answered quickly.
There's no doubt that chats flow would be higher in the festive season than normal days and that's why you need to plan beforehand.
In the holiday season, people would come to your website with a mindset of purchasing hence they can have a lot of queries. But the good thing about this is they are open and tell you what's blocking them to make that purchase. They make ask you questions ranging from product details, shipping timeline, warranty, returns policy, etc. The live chat agent should be able to handle multiple clients at a time and must be accurate.
No one expects the wrong answer. The live chat agents have to be well versed with the details and give the right information to score the customer.
Offer Instant Discount on Chat Window
When a website visitor is asking a live chat agent about product details, warranty, return policy, etc. he's halfway there. But still, some of them do not convert. You can offer an instant or on-spot discount to them via coupon valid only for 15 mins.
This will instigate the fear of missing out (FOMO) in them and hence they will start purchasing.
If you're targeting millennials then this statistic may help you, 95% of millennials are sensitive to price.
Also, it may surprise you but around 90% of the consumers use coupons collected by a variety of online and offline sources.
Also, offering a little extra only to the person you're chatting to will make them feel important and valued. This way you can increase your overall sales by a good amount.
Proactive Chat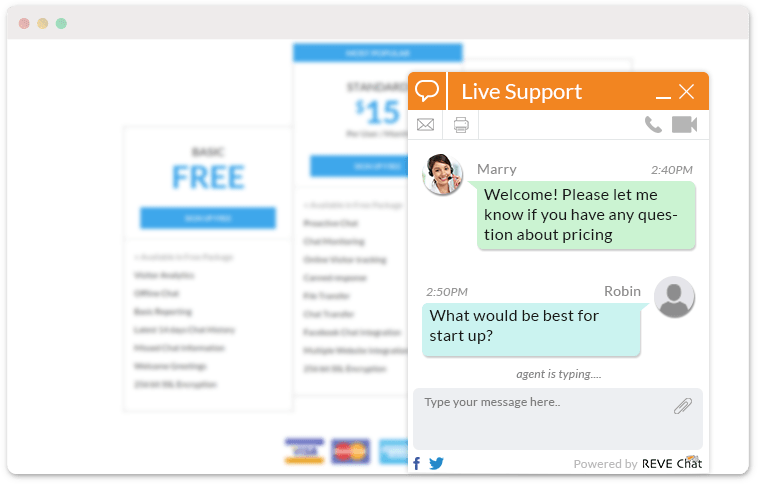 There would be many kinds of people visiting your website, some of them would be a hesitant shopper. A hesitant shopper is one who would like the product, spend a good time reading details but would not ask for any query by himself. When you target these shoppers, you increase the chances of conversion.
A Forrester Research study shows that investment in reactive chat produces a return on investment (ROI) of 15%, while an additional investment in proactive chat capabilities will produce an incremental 105% ROI.
Being proactive also shows that you're confident and is ready to help the customers. Also, let your chat window open 24/7. It will build trust in the customer's mind that you are available to help them all the time. Using proactive chat also helps you in reducing bounce rate, abandoned carts, etc.
Customize Chat Window
A customer is likely to initiate the chat only if he's confident. And if your live chat window does not show your brand color or design, then the customer will hesitant in sharing his details.
Customizing your live chat widget with the festive theme is one of the best holiday marketing strategies, which can lift the mood of the customers, and hence they become more open to the agent.
You can also include holiday theme in your chat by sending him greetings like "Happy Holidays! May I help you?" or "REVE Chat wishes you Happy Holidays! How can we help you today?". You can club instant discounts with this message as well.
This can leave a lasting impression in the mind of consumers and will enhance the customer experience.
Conclusion
I hope to have added value in how to increase your sales. Don't lose the piece of the pie this holiday season. Cloak big sales!
Have you used any of the strategies mentioned above? Tell me the results in the comments section below!