More and more companies today are adopting live chat software for their websites, web apps or mobile apps to provide better customer support. If your business is not taking live chat best practices right now than it is going to impact their sales. According to a study by FurstPerson, nearly 77% of customers won't purchase on a website which does not have any live chat support. Yes! You have heard it right.
So now you are thinking that is a huge percentage of people and I am going to add live chat support right now! Okay hold your horses. Here are top 15 live chat best practices for you to read carefully first:
Today, more than 30% of customers expect live chat on your website. & customers that visit your website on a mobile device, this number is as high as 62%.
Why live chat best practices are important to deliver superior customer service?
Below are some of the important advantages of why your business must include live chat support within its system.
Resolve support issues faster – Through live chat support customers get an instant response to their questions whereas for email it is 12 hours, for social media it is 10 hours.

Adds a personalized touch – One of the main reasons businesses are adding live chat to their website, web apps or mobile apps because it is warm and mindful. If you are greeting a customer using their name they will feel at home.

Understand the customer journey – Having live chat widgets integrated into your web-pages will let you know better about the customer by tracking their journey thus live chat support team can provide the best solution to any needs.
Top Live chat best practices for customer support
Here in this article you will find 15 live chat best practices for awesome customer support and experience that work.
1. Train up your team properly
You must provide a complete training course for your team who are going to engage with customers for support using live chat. Only a well-educated team can bring you the success you deserve.
Train your customer support team with the following
Have thorough understanding of your product/service: with proper training related to your product or services you can expect your team of having thorough understanding about your business. They can answer any queries or even help a confused customer to make a purchase.
Know the pricing: one of the main questions asked by many customers on the website is related to price. So, team with information regarding product or service pricing can help customers make a quick buying decision.
The functionality of the features: today's live chat widget comes with many features and their functionality is scalable. Customer support team must know every functionality of the features to stay ahead of the game.
2. Place live chat on all places you want to provide customer support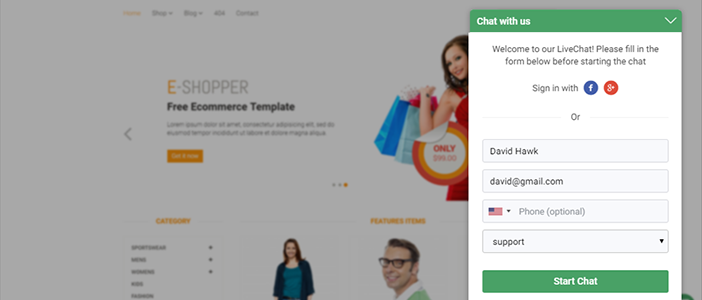 One of the best live chat best practices will come into fruit if you can think like your customer. What your customer wants?
By instinct your customer will look for live chat from the bottom right side of your website. Provide a bright but small button for them to click on. The area must be visible but on the other hand it must not irritate the customer. Keep it in a visible area so that your customer can find it easily.
Also, you can provide live chat everywhere if you think it is for the best. You can add it to your website, inside your web app or mobile app.
3. Understand your customers demographics and peak hours
If your business is operating locally you have certain business hours to deal with your customer and you can see a pattern of their peak hours. Set your live chat support team accordingly to engage with customers.
Many businesses nowadays operate globally and they must have shifting duties to communicate with their users through live chat. A clear operational hours whether it is 24/7 or fixed time helps you to manage your support resources more efficiently without taking a toll on your quality of support.
4. Video chat & voice chat for superior customer service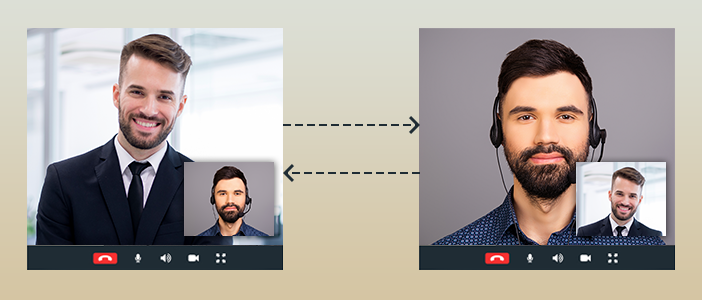 Often time visitors might need some extra efforts other than written chat only. Live chat support should include video chat & voice chat in their disposal as a mean of providing real-time solution. It not only resolve any issues faster but also it helps improving user experience.
Video and voice chat brings in another dimension in providing assistance to customers. Here are some of the benefits:
happens in real-time.

can solve troubleshooting issues faster by screen sharing.

enhances customers experience hence increases sales opportunity.
5. List down all the common queries you get
Another important live chat best practice is keep your average response time low. How can you achieve that? It is easy! Just list down all the common queries. This will not only give you a high response rate but also increase customer satisfaction.
Canned responses are customized replies you have prepared by accumulating the most common types of question asked by your users. It improves the efficiency of your support team and keep the website users ecstatic with fast response. You can also send multimedia messages for a query instead of plain simple written response.
6. Co-browse with your customers during live chat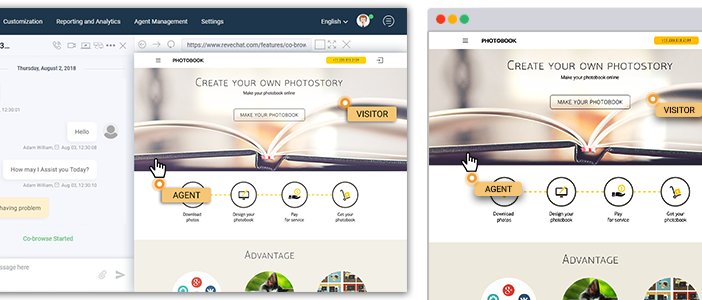 One of the live chat best practices for superior customer service is having the option of co-browsing. Many of your customers might need assistance to guide them by highlighting different web points within a particular page from your website. With co-browsing your customers can sit back and relax while a member from your customer support live chat as well as guide.
Co-browsing is safe as live chat software consider client privacy as an essential part of their programming.

Co-browsing can happen simultaneously with live chat.

It reduces the average response time.

Co-browsing is real-time troubleshooting for the customers.
7. Connect your live chat with eCommerce or CRM tools
Think of a scenario where Mr. Murphy is one of your regular buyers. Every Time he visits your shop for a cup of hazelnut coffee you keep forgetting him or his favourite and asked the same details from him again and again. It is a nightmare! Customers need to feel love. So, you can always use tools and integrate with your live chat software to gather information regarding your customers.
Some of the benefits of CRM integrations are:
Builds a customer profile by collecting their name, email address, social accounts etc.

Makes your support team's life easier as they can see the chat history and get knowledgeable before providing live chat support.

Increases lead generation.
8. Give your chat a face
Do not hesitate to give a bright and shiny look to your live chat widget. Visitors of your website will not click on a boring button and start engaging. They will love to interact with it only if you have given the widget a look to go with your brand.
9. Have clear understanding of who will manage what type of chats
If your business have multiple departments, routing a new chat request specific to that department will help to resolve their issues much faster. Many live chat solutions have department management as a core feature which helps a visitor of the website to select his needed department.
10. Keep monitoring the performance and ways to improve
Arrange meeting with your live chat support team time to time, ask them about reports, what is the biggest challenge they are facing, how many simultaneous chat they can handle, are their any resources missing etc.
These information will give you heads up and you can plan accordingly when you are rolling out live chat for your website, web apps or mobile apps.
11. Let everyone manage chat support
Real-time conversation is an incredible opportunity for you to learn about your customers behavior. From decision makers to executioners, everyone in the office should give some time with their customers. It will make CEO's or departmental heads' life easier in their decision making and planning for the future.
12. Responsible for chat support even when you are offline
You must be clear about your status while providing chat support. If you are online show that you are online, if you are offline take them to contact page or any other pages where you can support them by other means and while you are away put in a message showing operators are not available right now or whatever you think is best.
If you do not have a 24/7 support team you can define your customers regarding your online and offline time. But your customers can start a chat anytime they want. In that case you can answer them with a generic message or guide them to your contact us page for other means of communication.
13. Trigger right messages at right time to start conversations
Keeping in mind visitors' geographic location, time on website, current page, referral page, chat times, visit times and so on, your chat agents can start an one-on-one conversation. Triggering right messages at the right time is necessary. Your chat agents offer assistance to visitors upon entering your website, going through a product page, visiting checkout page etc. These timely manner responses will the visitor feel at home and help smoothen their shopping journey.
Here are some common times you can trigger a message to start conversations:
A shopper who is hesitating

Customers who returned back or repeat customers

Customers who are from certain regions or geographical locations

Popping-up promotional messages to the right customer

High bounce rate pages

Customers who are visiting FAQ pages

Or visiting certain Product pages
Do not show a flashy live chat invitation within the first couple of seconds. Give them some time to look around, get the feeling of website and then only then start a conversation with a right tone.
14. Add a human touch to your support
Put on your customers' shoes and try to think what they are thinking when they are visiting your website. Turn their complaint into a troubleshooting session. Listen to your customers. Live chat with them actively rather than passively. Your cold and distant live chat will diminish the chance of your customer returning back anytime soon. So give them a warm welcome, start a conversation with their name from your buyer history, try to make a connection.
Delivering a personalized support is always give s your brand a competitive advantage and following this as one of the important live chat best practices can help you to differentiate yourself easily.
15. Make use of chat API
Adding live chat or in-app messaging can be a good way to engage your users with various messaging use cases. Using a chat api gives more power and flexibility to use chat the way it suits in your application.  REVE chat provides fully-documented live chat API for you to create custom component.
To wrap up
So now you know the best practices of live chat support. Implementing these practices will able to bring smile in your customers and see them keep coming back for more. Share with us which live chat best practices you find most interesting.
For more on Live Chat Etiquettes read: Live chat etiquette: best practices for online live chat support