Driving quality traffic to the websites won't help much if you can't leverage it and achieve the desired conversion rate. 
And when visitors are not turned into qualified leads, it always becomes difficult to boost the ROI on the marketing investment. 
It is where AI chatbots can prove a great tool — you can use them to devise a solid engagement strategy and drive the conversion.  
After all, 55% of businesses that use chatbots generate more high-quality leads. 
So, you should use AI-powered bots to automate the sales process and engage, qualify the website visitors successfully. 
It is how chatbots for sales can ensure every dollar spent on marketing fetch better returns and certainly generate more revenues for your business.  
9 Sales Chatbot Features that Help Drive Conversions 
Great conversations with customers are always at the center of accelerating leads and growing conversions for any business. Thanks to the AI chatbot marketing features, you can think of delivering great experiences to customers via timely conversations and engage them with the perfect message, therefore giving a much-needed boost to the sales pipeline.  
Your business can benefit from sales chatbot features to drive leads and increase conversions in many different ways. 
Let's discuss each of the ways in detail;   
1. Pre-qualify Leads 24×7  
Chatbots can be a great tool when it comes to optimizing the customer experience and boosting lead generation.  
Since bots are conversational and always available, your business can modify them based on the different stages of the customer journey and bolster the lead qualification effort. 
However, you first need to build the chatbot for lead generation flow in your chatbot with the relevant questions to ensure better engagement with customers.   
It is also important to consider the human touch in building the bot flow to avoid sounding robotic, get more visitors hooked to your website, and generate more leads. 

Best practices to be followed for qualifying lead with chatbots  
Consider the customer journey

– You need to target the lead qualification bots based on the stage of the customer journey or the specific page of the visitors to get better results.  

Have step-by-step questions

–  Make sure there is a multi-step form system in place with specific questions for each stage so that customers are served relevantly without making them confused. 

Prioritize the questions

– Design the bot flow in a way that customers are asked the most critical questions first on a priority basis as this boosts engagement manifold.  

Place easy-to-click buttons

– More leads can be qualified when the visitors are provided with easy-to-click buttons against questions as this makes the tasks easier for them. 
2. Automate Appointment Bookings 
Customers like the reservation system via chatbot as it's fun and quite interactive to book appointments based on availability. 
They also like the idea of navigating through a tree of options, answering questions, and getting recommendations for bookings or reservations.   
Your business can automate appointment scheduling with chatbots and let visitors self-schedule. It is how you benefit from chatbot use cases and gather data to generate leads for the sales team. 
Further, integration of the chatbots with Google Calendar will help you display the available slots to customers and prevent overbooking. 
The calendar integration will always ensure that both, you and the lead, relieve a timely email invite so that the dates are remembered.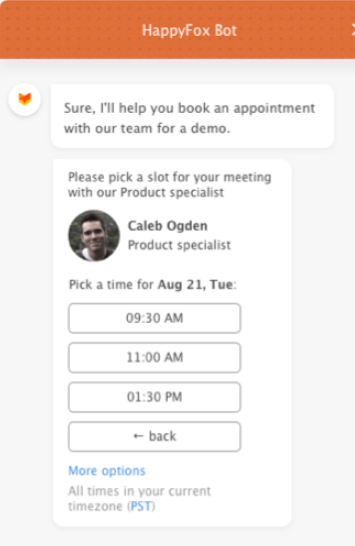 How to use AI chatbots for appointment booking?  
Target your potential customers –

You can use chatbots to meet the people that match your customer profile, target them, and schedule meetings with them anytime. 

Give slots to customers

– Chatbots can be configured or programmed in a way to set the time and duration for the appointment, or to give specific slots to customers. 

 

Send appointment notifications

-The use of artificial intelligence bots gives you the flexibility to send reminders and meeting notifications to leads based on their time zone.  
3. Assist Customers with Pricing Queries 
Giving customers the pricing information at the right time can definitely help ensure better leads and conversions. 
AI chatbots can help automate pricing and save the agents from the routine task of displaying it to visitors. Plus, you can now let customers know the price at the right time. 
More importantly, a pricing bot can always handle customer queries efficiently and guide them with the right product information through the sales funnel. 

Tips to use chatbots to assist customers with pricing queries 
Bot on the pricing page

– Adding a bot on the pricing page can be incredibly helpful in answering routine queries and help customers pick the right product easily.

Display product pricing

– You can display product pricing in a visual way and give customers a chance to compare prices for different products quickly.  

Send product quotations to customers

– Bots can help automate the quotation or replace the purchase order form and drive the sales manifold.  
4. Ensure Online Order From Social Media Pages
Conversational e-commerce is growing as customers now expect online ordering systems to be aligned with their social media usage. 
In fact, a lot of businesses have started to add chatbots to social media pages in order to let customers book orders straight from there. 
Twitter and Facebook Messenger users are now able to use a chatbot without having to place an order over a phone.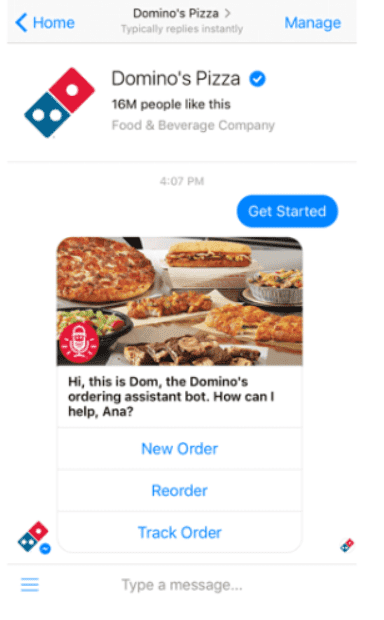 Why use chatbots for online ordering?
By using chatbots for online orders, your business can

tap into the next generation of millennial customers

in the messaging platforms.

The

purchasing process can become very seamless

for new-age customers as they won't have to download an app to buy from a brand.   
5. Offer Product Recommendations 
Most customers look for some help to smoothly proceed through the final stage of the sales funnel. 
With quick answers to their queries and a bit of guidance, your business can meet their preferences easily and help them convert.  
It is where customer service chatbots can prove extremely helpful as they can engage with customers via conversations, understand their needs better, and then recommend products accordingly. 
These chatbots can efficiently guide users and eliminate the need to have a sales agent and at the same time, buyers won't need to waste their time in searching and knowing about the products by themselves.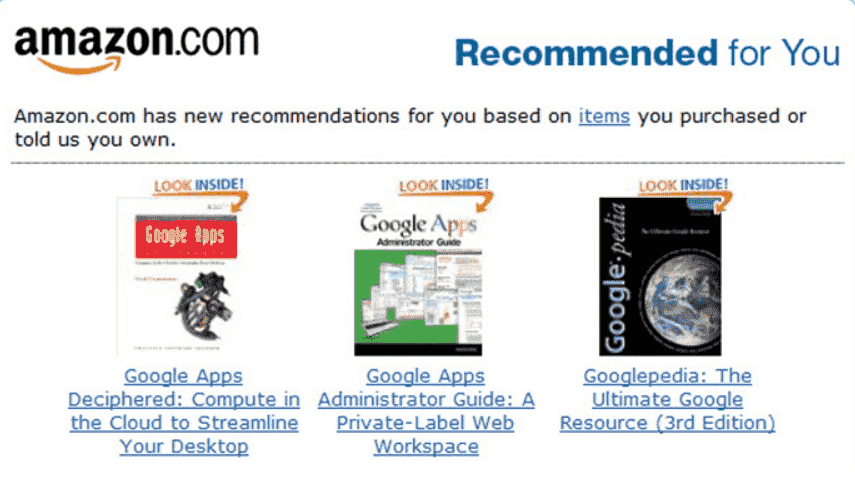 Amazon.com is easily the best example of how to use artificial intelligence or a bot to recommend products to customers based on their search history, product preferences, tastes, likes, demographic data, etc. Its product recommendation has been such a huge success that it now generates 35% of the revenue for the company.   
6. Give Personalized Welcome Messages 
Customers love being greeted by sales agents as this makes them feel special. 
A gentle welcome at the start can always prove handy when it comes to engaging visitors on the website and making them convert.  
Quite like a brick-and-mortar store, you can greet your online customers with a personalized message and make an instant connection with them.  
The use of a proactive chatbot can help your business engage customers of any type, whether new or returning ones, and cater to their needs via conversations. 
To be effective with personalized welcome messages, you just need to work on the chatbot design flow a bit and prepare multiple messages/scripts tailored to their experience.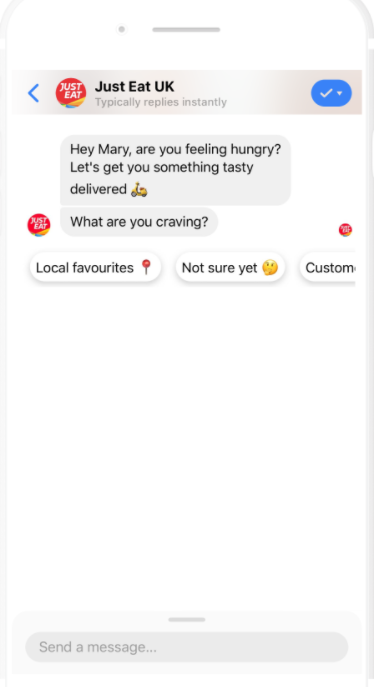 Just Eat UK is an excellent example of how to use personalized welcome messages to greet customers and also drive conversions along the way. The use of chatbot in greeting customers based on analytics has proved extremely successful for this company as it receives over 400,000 orders on weekends. 
Examples of personalized welcome messages 
For new customers:
"Hello, welcome! Thanks for visiting us. Need any help with our products?"
"Hey, great to have you here! How may I help you? Want to check out the website? Have any query?"
"Hi, you're welcome! Searching for something ( your product name)? Ping us anytime, if you need any help on that?" 
For returning customers: 
"Glad to have you back, Alex ( customer name)! What do you want this time around? Looking for our latest range of products ( your product name)? 
"Great to see you again, Peter( customer name)! We have a more exciting product ( your product name, like shirt, clothing, etc.) range for you. Want to try?"  
7. Track the Status of Sales Order  
After buying a product, the last thing customers want is to wait for the delivery. 
Worse still, not being able to know the exact status of their parcels at any particular point in time further infuriates them. 
And if your order tracking is old-fashioned, it means the customer has to manually find the shipping number from the mail and then type it on a third-party website to get the details.    
All this can cause churn, at least, to some extent. 
The latest chatbot trends can help you in such cases – integrating them into the shipping system can help customers track their order status in real-time.    
Thanks to artificial intelligence bots, buyers can be spared the inconvenience of calling the support agent or filling the tracking order on a third-party website.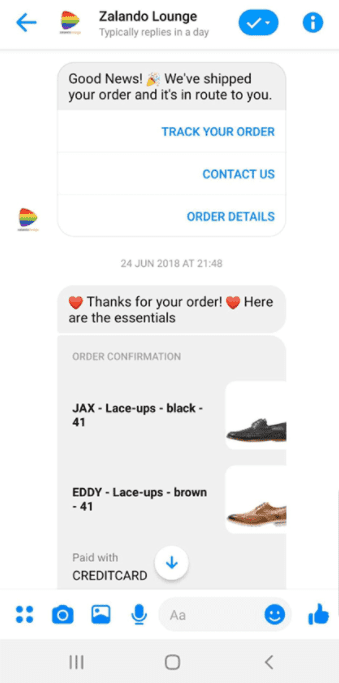 Zalando, a European popular fashion brand, is a good example of how to use an artificial intelligence chatbot to provide quick product order tracking to its customers. This feature not only delivers a great experience to customers but also gives the support team ample of free time for handling other complex issues. 
8. Reduce Cart Abandonment Rate  
Cart abandonment is a big issue faced by retailers and the e-commerce industry across the world. 
After all, there could be many reasons why customers might leave the purchase mid-way, whether a complex checkout process, poor website navigation, or high shipping costs.   
AI chatbots can help reduce cart abandonment by filling the gaps between what customers want and want they should get. 
Your business can adeptly use bots for triggering messages at various stages of the sales funnel and stop buyers from ditching the purchase. 
How to use chatbots to reduce cart abandonment?
Answer product FAQs

– Chatbots can be used to answer the FAQs before and during the purchase either in a clicked-on or automatically trigger manner and remove customers' doubts in a timely manner. 

Ensure guided selling

– You can program and set up AI-powered chatbots in a way to easily understand customer preferences, answer their product queries, and automatically get triggered based on certain predefined conditions.  

Give last-time personalized offers

– Businesses can set up triggers with their AI-based chatbots such as last-minute discounts, offers, something free with the products, etc to reduce the cart abandonment rate.
9. Offer Multilingual Sales Support 
75% of online shoppers want to make purchases in their own language and they would not go ahead at all if this option was not available.  
It clearly shows how most of the customers are comfortable conversing in their first language of choice, and English is not always that.   
So, if your business is selling products across the globe, it's going to have customers with different choices for conversations. 
In such scenarios,  AI chatbots can prove handy as you can program them to offer multi-lingual support and increase your conversions.  
And when you're able to help sales related queries in multiple languages, your business can become more accessible and expand to new markets easily.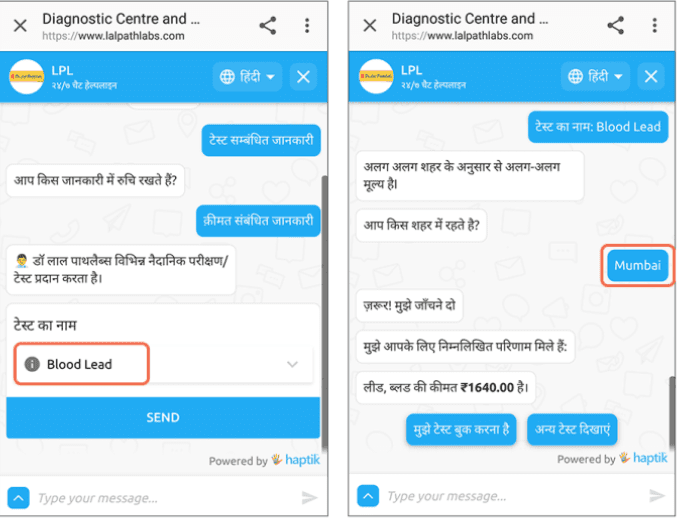 Benefits of offering multilingual sales support 
Improve the customer experience

– Using AI bots can help you engage customers better with a quicker and easier conversation in the native language and improve their experience with your brand.  

Expand your customer base

– A multilingual bot can help you expand your reach to new places and new markets, showcase the products to a new set of customers and easily move them down the sales funnel. 

 
Automate Your Conversions with Sales Chatbot and Achieve Customers' Delight  
Bringing visitors to the website is only the job half done as the other half is to convert them through relevant conversations and timely sales support. And if you want to convert more often than earlier, you should think of automating the sales with AI chatbots as it can ensure a better engagement with customers thereby ensuring a boost to conversions as well. 
Thanks to artificial intelligence bots, you will always be able to live up to customer expectations and deliver them value at every step of the sales process. And when this happens, the sales funnel is always active and brims with the prospects your business so richly deserves.