Customers have changed, businesses have evolved but the support continues to feel the same. Support holds firm even in today's digital-first world where most interactions between companies and customers occur online. 
Support is still about being there when someone needs you the most. It's still about forging personal connections and helping solve problems as and when customers face them. 
Naturally, customer support will be in reckoning as long as people continue to buy a product or avail a service. And when people pay, they will always expect the business to stand by them and solve the problem in a no-fuss manner. 
Whether customers approach you over email or phone or social media or any other channel, you must respond to them immediately to win their trust and enhance their experience with your brand.    
In this blog, we will discuss what is customer support, and also discuss its importance, examples, and some key features.  
What is Customer Support? 
In simple terms, customer support is the act of providing help when people have trouble with a product or service. It's a business philosophy to solve customer service problems timely and ensure their every need is met successfully.  
Customer support could look different for each company or industry but the ultimate purpose in each case is the same: to be there when customers need help with the product or service. By customer support definition, it is an all-encompassing role with a part in the entire customer lifestyle, from acquisition to retention.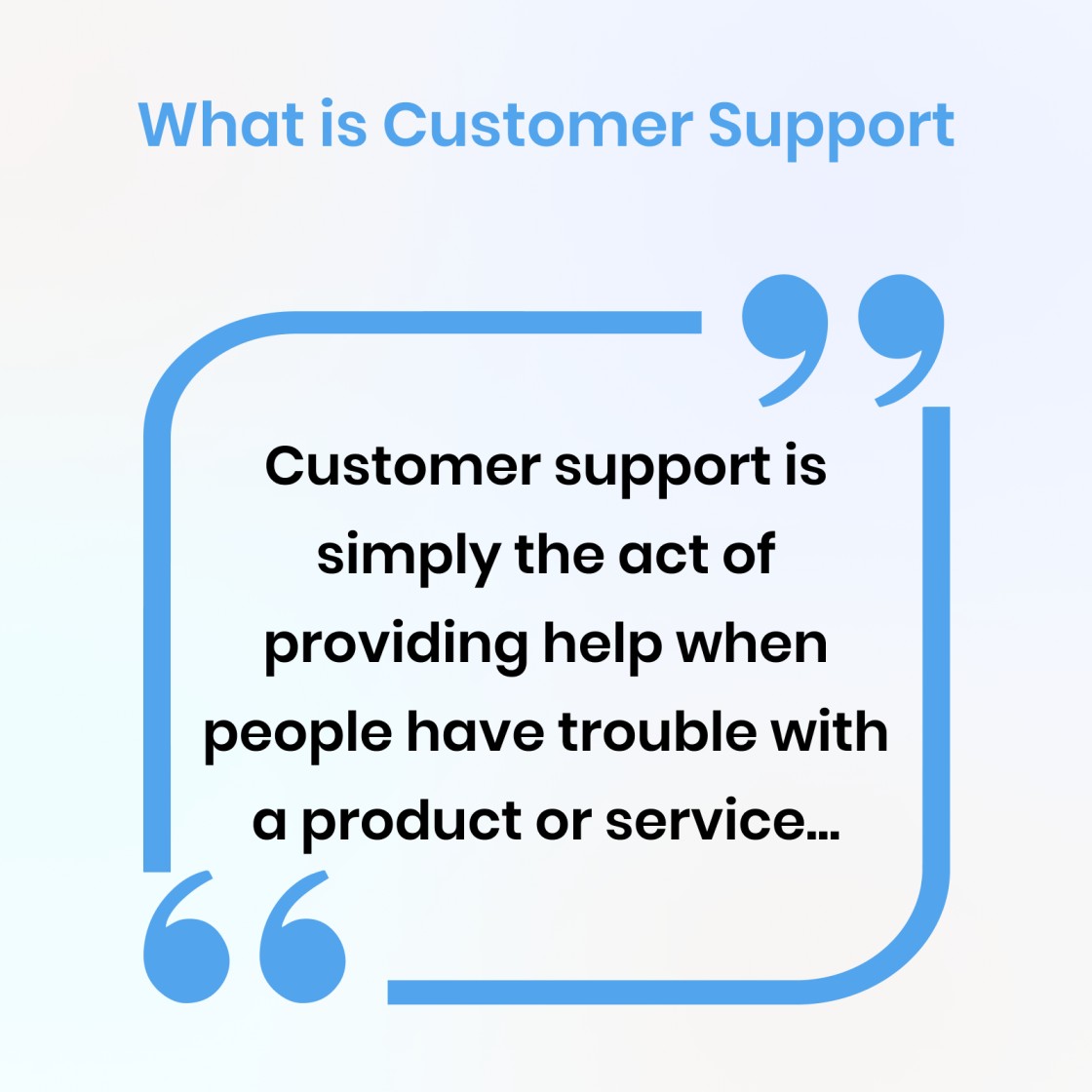 People who do support roles are tasked to enhance the user's experience with the brand, build trust through help, and turn customers into loyalists. In a way, the purpose of the support is to ensure great experiences to customers at each step of their journey and ensure maximum value out of the transactional relationship. 
Customer Support vs Customer Service: What is the Difference? 
People often use the terms "customer support" and "customer service" interchangeably to describe a range of activities related to solving problems of customers. While some consider support to be a broader term that includes service, others see service as an umbrella term including support.
Not many are able to clearly differentiate between the two though. But yes, most know why customer support is important!
Before looking at the differences, we should understand how both have the same purpose but differ in form and function. The purpose of both, support and service, is to solve customer issues timely and improve customer experience with the brand.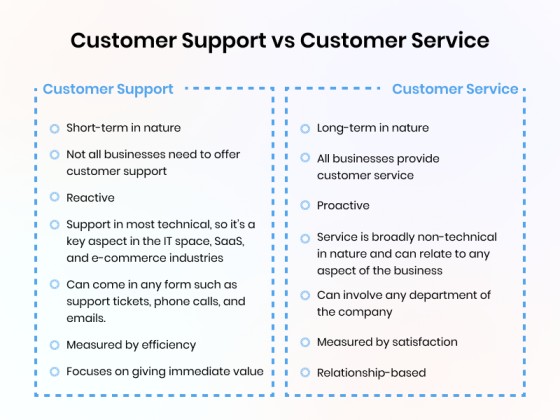 In a way, customer service is an umbrella term that can be used for all interactions that improve customers' relationships with the company while customer support is just one type of interaction. 
Similarly, while customer service refers to all customer-focused activities that contribute to the sale and use of a product or service, customer support basically points to a set of activities employed to fix a specific issue that a customer is facing with your product or service. 
Types of Online Customer Support
Online customer support can come in different flavors. Since there are a variety of channels, and customers may choose whichever they like, support too can look different from case to case. In general, businesses can leverage various customer support tools in combination and offer amazing support.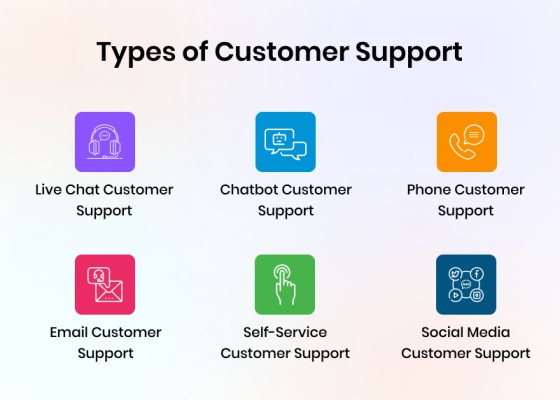 Some popular types of customer care support include – 
Live Chat Customer Support –

When you want to handle several customers at a time and provide real-time support to them all, live chat remains the best option. It's a great type of customer support for businesses that want to combine the best of email and phone together. Using live chat, you can offer protective support and stay available round the clock. Maybe that's why

73% of customers

find it the most satisfactory form of communication with a company.
Chatbot Customer Support –

AI-powered bots are the best tool to automate support, stay available 24×7, and give amazing experiences to customers. Chatbots also give options to transfer chats to human agents, collect customer data, and respond based on sentiment analysis. Plus, you can use bots to put support on auto-pilot and free your agents to great extent.
Phone Customer Support –

People still use phones to reach out to brands. And phone-based customer support is still favored the most for resolving complex customer issues. Needless to say, this type of customer support ensures more natural human-to-human interactions and therefore delivers an improved customer experience. 
Email Customer Support –

Many customers still find email a trustworthy and professional channel. In fact, offering customer support via mail is something that is very much in demand across industries. Above all, email support does not cost much and also allows some form of automation. That's why a

study

says email is still the most commonly used digital customer service channel.      
Self-Service Customer Support –

Not all customers like to talk to agents. And not all would have faith in your customer support solution. Some even prefer self-service before engaging with agents. For that reason, many companies now make it a point to add a knowledge base on the website that includes FAQs, ebooks, how-to posts & videos, demos, etc. 
Social Media Customer Support –

Customers love social media and they expect businesses to solve problems there themselves. Whether Facebook, Twitter, Instagram, YouTube, or any other channel, you are never sure which channel a customer might use and reach out to you. Plus, social media customer support is quick, real-time, and ensures personalized experiences. 
Customer Support Process
The customer support process is the sum total of all the activities involved in offering service to customers. It has different phases, starting from the moment customers contact an agent through the information gathering and finally delivering help.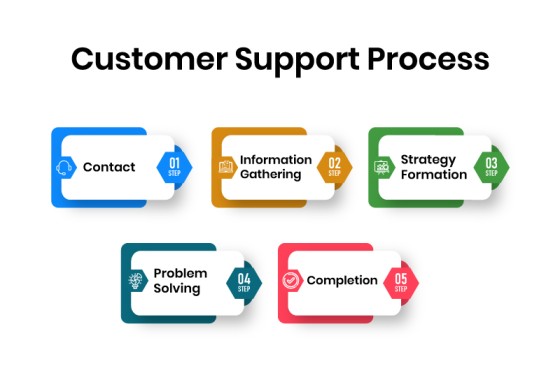 In general, the customer support process includes some of these steps and phases – 
Contact

– This is the first step of the customer support process. It denotes how every support starts with a customer contacting the business for a solution. 

Listen

– Once the customer contacts a business, he/she expects the support agent to carefully listen to what they say before planning a solution strategy. 

Solution Strategy

– when you have listened to what customers have to say, you have to move ahead with the solution. You need to formulate the right solution strategy for customers.    

Problem Solving

– Once the customer problem is listened to and strategy formulated for help, the next stage is to solve the problem.

Farewell

– After the problem is solved, it's important to make customers feel good and leave a positive impression on them.  
Importance of Customer Support 
Customer support is always a vital function of any business that offers products or services. It may be short-term most of the time but the impact lingers on long before the problem is solved. In fact, support is often the anchor of any successful business as 72% of customers tend to share their good experiences with others.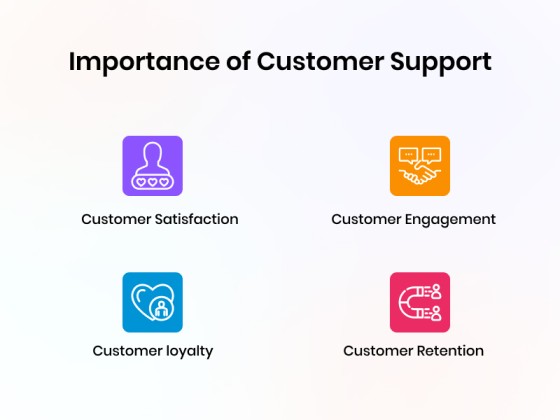 Offering timely and relevant support to customers is important for many reasons; 
Customer Satisfaction –

Support has a huge role to play in the way customers perceive a brand. When the support is prompt and it solves the problem immediately, it can be a great tool to boost customer satisfaction. 

Customer Engagement

– Every business strives to engage customers for a long-term association. Support is thus always a huge opportunity to provide resources or solutions to ensure success to your

customer engagement strategies

and build trust.   

Customer Retention

– Customers trust brands more when the support exceeds their expectations. Therefore, having a trained team with in-depth product knowledge can deliver timely solutions and help retain customers.   

Customer loyalty

– The real meaning of support is to assist customers and fish them out of the problem. Any business that works on this principle goes on to win loyalty and turn customers into brand evangelists. 
Some Customer Support Examples
When it comes to customer support, SaaS companies often find it bang on target for many obvious reasons. They understand the pulse of the customer and keep track of the technology as well. You will better understand support when you analyze customer service examples of these companies.
Some customer support examples include – 
1- MailChimp's Vast Help Center Lays Out Everything Clearly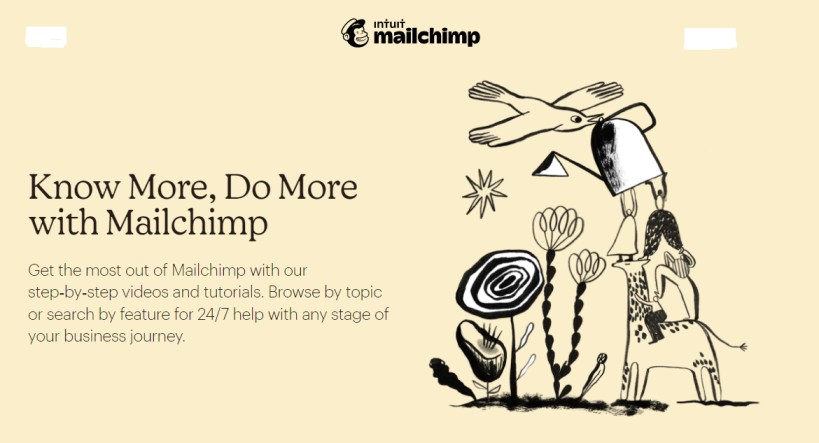 MailChimp is a leading platform for email marketing services and it knows exactly how to get its support right with a vast help center. 
Its help center is multilingual with step-by-step guides, resources, and tutorials for account setup, campaign creation, and analytics. 
Plus, it has a contact form as well in case the help center proves inadequate.
2 – REVE Chat gets the Omni-Channel Support Right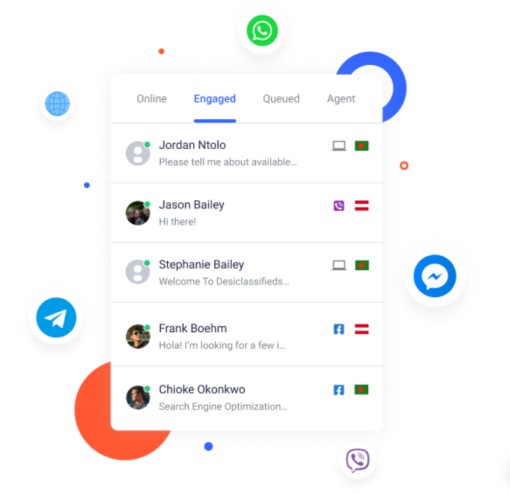 REVE Chat is a popular SaaS company known for its feature-rich customer service tools such as chatbots and live chat. At the same time, it redefines customer support through a robust omnichannel customer service strategy in place. 
It's available on virtually every channel and engages customers across platforms be it website, Facebook Messenger, WhatsApp, etc. Plus, its HELP Center has dedicated resources for each channel and platform which users find easy to get started. 
Customer Support Best Practices
Customer support exists to make life easier for customers. It exists to ensure the best customer support for everyone. Its core lies in solving problems so that customers can use the product or service easily and get the maximum value out of the transaction with a brand.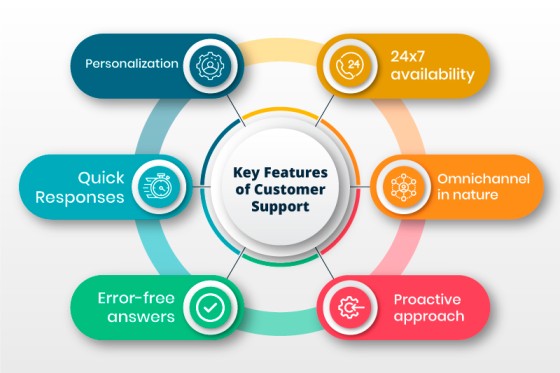 Some of customer support best practices are –   
24*7 Availability

– Support is never a shift-based task. It has to be always on whether you are open, or you have closed the shop for the day. After all, customers need support round the clock and when there is technology, you just can't escape that.  

Omni Channel

– Customers love choices. With a whole range of support channels to choose from, they can use any to contact the business. It's therefore important to plan for

omnichannel customer experience

and ensure prompt and timely support. 

Proactive Approach

– Anticipating the customer's needs before they become pain points is often one of the key features of support. By being proactive in approach, a business can ensure value as and when it's needed the most.

Quick Responses

– All the customer effort would be futile if customers could not get quick responses to their questions.

33% of consumers

would recommend a brand that offers a quick but ineffective response.

Personalization

– There has to be a touch of personalization to support so that customers can feel special when they get help. With the advent of technologies like chatbots and live chatbots, it's easy to personalize support and delight customers.   

Error-free Answers

– The real meaning of support is lost when there is an error with the solution. And if you want customers to feel good about the support you provide, make sure you're largely error-free.    
Tips to Deliver Great Customer Support
Delivering great support does not happen by chance. It involves systematic planning and action on your part. Without having the mindset to serve customers, there can never be a great support. More importantly, to ace the support game, you must have the right match of personnel and approach. 
Here are some key customer service tips to offer amazing support –   
1. Equip Your Team with the Right Tools 
Do you know what makes a support team effective in most situations? Yes, it's the product knowledge and the tools it has for the task. 
While regular training can sharpen their product knowledge, your team may still need the right tools to do the job efficiently most of the time.
And if your team is not adequately equipped, it will fail to provide great support for sure. 
Make sure you – 
Provide them dedicated customer service software 

Give them all the tools and technologies designed specifically for support tasks

Make sure they have everything to respond to customers and track

engagement metrics

   
It's always important to give your support team the right tools and software so that they can do justice to the job. 
2. Strike a Perfect Balance Between Automation and Human Touch 
Some form of automation has become a support necessity in today's time and no business can ignore this fact. You need it to do all the routine and repetitive tasks that often keep support agents busy. 
Plus, automated support also helps deliver quick, error-free responses to everyday questions. For that reason, the trend of offering conversational support is gaining more traction across industries.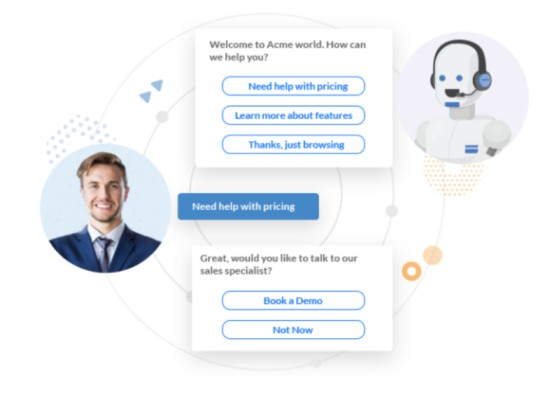 All however is not that rosy with the use of automation as chatbots are not 100% accurate in most cases. They are not able to comprehend complex questions most of the time which causes frustration for customers. 
Before going for full automation to support, you need to understand –  
— There may be problems that require critical thinking only humans are capable of
— There may be lots of customers who don't like generic responses to complex questions.  
It shows how having the right mix of human touch and automation could add value to your customer effort. This type of arrangement can help you manage a perfect balance between automated responses and human touch. 
3. Have Self-Service Support Options 
The purpose of the support is to make it easy for customers to find solutions to their problems. And not all customers like the spoon-feeding types of support, particularly when the issues are not that complex. 
It's therefore important to bolster your support with self-service options and let customers help themselves sometimes. And when you ease online customer service, customers feel confident in their ability to solve problems on their own.  
To employ the self-service option, it's important –  
— You have a knowledge base with the right resources, guides, and how-to materials for customers 
— Structure your knowledge base in a logical manner so that customers find the resources quickly  
4. Build a Support-Ready Team 
It takes a good team to offer great support. And if you don't have a team with the right mindset and skills, all your support efforts might not bear the results you anticipate. 
If your support team is up for the job, it can handle any type of support challenges head-on and ensure value in every situation. In a way, such a team will help deliver the kind of support customers often expect. 
Building a support-ready team means – 
— Hiring skilled professionals who are well-versed in the art of customer communication and have customer service etiquettes 
— Training your support team to develop deep product knowledge and mindset of resolving issues of any complexity 
If you manage to build a competent team, you will find it easy to deliver amazing support most of the time. 
5. Encourage the Atmosphere of Escalation-Less Support  
72% of customers say that having to explain their problems to multiple people is poor customer service.  
Some of the best support happens when agents don't have to make customers wait, or when no escalation is involved. And when support people are able to make decisions on their own, it reduces the friction and improves value for everyone involved.  
On the other hand, even the best of agents would feel helpless when there is too much burden of escalation. If there are too many rules to follow, how can agents exercise their own wisdom and judgment?
To have a culture of escalation-less support indicates – 
— You empower support people to solve customer problems on their own without having to check with the management
— You have policies and guidelines clearly laid out for the team to access and follow in case of any complexity   
— You provide the support team the freedom and authority to take tough calls no matter what the outcome   
6. Be Always Available for Customers 
The purpose of the support is to be available when customers need you the most. You also need to be available on all possible channels that customers might use to reach your business. 
Unless you're available, how can you fix the issue and ensure a great experience with your product or service? 
Unless you offer 24×7 customer service, how can you feel confident in being there all the time? 
When you're always available for customers, it shows – 
—  You follow an omnichannel approach as you know customers often choose the channel of choice   
—  You include chatbots and live chat in your support effort as you know how the 24×7 availability is necessary for today's time. 
— You provide contact details and make every effort to customers easily find you   
— Your team understands the value of follow-up in customer service and practices it more often than not. 
It shows how you need to be available on various customer support channels together to serve your target audience in the best possible manner. 
7. Regularly Review Support KPIs
Adopting a data-driven approach to customer support can prove very helpful in terms of improving value for end-users. If you regularly track and measure engagement metrics and support performance, you will get tons of data and insight into customer support. 
Make sure you – 
— Have a regular review of customer service KPIs to determine areas to evolve and improve  
— Evaluate the CSAT, net promoter scores (NPS), and churn rates to measure the effectiveness of support 
If you're not reviewing the performance of your support agents, you will always find it difficult to understand customer pain points or deliver value. 
How REVE Chat Could Add Value to Your Customer Support?
Your business needs the right tools and software to engage customers and provide the best possible support in a timely manner.
We, at REVE Chat, understand the value that lies in being where your customers are. Our engagement tools and customer support chatbot integrations can help you deliver better contextual and conversational support in real-time.
You can use our AI-powered chatbot to provide fast, error-free support and deliver a unified customer service experience.
With our bot, you will find it easy to engage customers across channels like websites, in-app, Facebook Messenger, WhatsApp for Business and ensure real-time support.
With the combination of chatbot + live chat, you can deliver hybrid support and ensure value at each stage of the journey. 
Final Thoughts
Customers expect great experiences when they reach out to businesses. The trend will keep evolving and it's therefore important to keep pace with the technology and deliver on those ever-growing expectations. 
And when it comes to meeting the standards of your target audience, you need to have the right customer support software and tools in the arsenal. 
With REVE Chat, you can start a free trial of customer support software and take a solid step towards delivering incredible experiences to customers.