Customer service is one of the most important factors when it comes to choosing a place to stay.
With an increasing number of hotels adopting innovations and implementing digital services, top-notch customer service becomes more and more important every day.
According to research carried out by Forbes, 35% of customers will pay more for great customer service, while 34% of customers will not return if their needs are not met. Moreover, 81% of customers will share their experiences with others on social media.
However, implementing innovations in the industry alone is not enough to make a difference.
Studies have shown that when it comes to customer care, men and women have different expectations. Hotels need to tailor-make their services for both women and men at all stages of the bookings process for a great customer experience.
In this article, we will highlight the importance of customer service in the hotel industry, ways to improve, and so on. 
What Is Customer Service in the Hotel Industry?
Customer service is the attitude of how you treat customers, hotel guests, or other patrons who will encounter your business. You have to take a proactive approach while dealing with your customers; make sure you communicate your brand's essence and deliver a quality experience.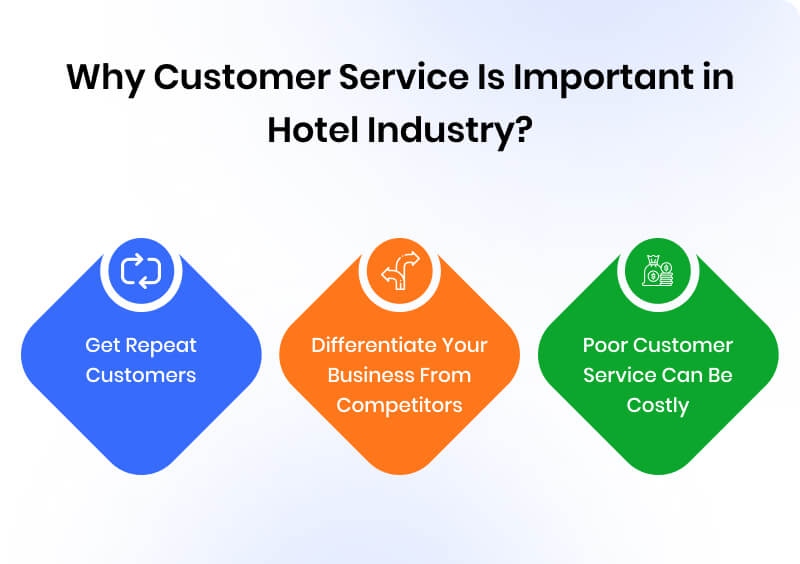 Besides, customer service is the provision of service to customers before, during, and after a purchase. It is a method of demonstrating respect, gratitude, promptness, and dependability to customers. 
The concept of customer service may also be applied to the delivery of services to non-customers, such as standardized greeting card messages, or the administration and maintenance of a helpline, call center, etc.
Customer service also refers to the support or assistance that a company provides its customers. Customers expect businesses to solve problems, anticipate needs and provide solutions.
Why Customer Service Is Important in the Hotel Industry?
It takes 12 positive customer experiences to make up for one negative experience – Ruby Newell-Legner. 
Excellent customer service is essential for any business. Providing consistently great customer service, however, can be challenging in a large organization with multiple locations and a diverse workforce. 
A study conducted by Cornell University found that only 41 percent of consumers are satisfied with customer service in general.
Let's take a look at some of the key features why customer service is important in the hotel industry;
Get Repeat Customers 

Differentiate Your Business From Competitors

Poor Customer Service Can Be Costly
1. Get Repeat Customers
Service quality and customer satisfaction in the hotel industry should be the prioritized highest to get repeat customers.
When you are going to have such a long stay at a hotel and live on-site, almost every guest expects good customer service from the hotel staff. They demand that the staff be polite and helpful, down to every employee.
The hotel employees know very well that their efforts will make or break a customer experience and therefore they do everything to make the guests feel comfortable and take care of them perfectly. 
The employees are well trained and monitor their behavior to make sure it is up to the mark. If a customer got exactly what they were looking for then they will come again. 
There are a number of ways to repeat customers, for example:
Employee Training:

frequently inform employees about the importance of repeat customers as well as instruct them in ways to be effective at repeat selling.

Customer Service:

every company has some way of dealing with customer concerns and complaints. Make sure you have systems in place that can help facilitate repeat customers through handling issues and concerns in a way that makes the customer willing to return again.

Incentives:

offer incentives to employees who help the company maintain repeat business through bringing in new customers or helping those customers do business again.

Reducing Turnover Rate:

when staff members are trained well and feel valued, they are more likely to remain with your company and refer others to work there.
2. Differentiate Your Business From Competitors
Customer service is important in the hotel industry. You can differentiate yourself from your competitors by providing great customer service when you are in a competitive market. 
It is important to remember that the customer is king and his or her needs should always be met before anything else. Even when your business is very busy, customers should receive a high level of service at all times.
If you want to provide excellent customer service, you will be rewarded with repeat business and loyal customers. When people receive good service, they like to talk about it and will tell their friends about the experience. 
Businesses nowadays are fighting over the same marketplace and because of this, everyone is trying to be unique from the other. However, being unique will give you an advantage over your competitors.

Word of mouth is still one of the best ways to promote your business, so it is important to make sure that your business stands out from the competition.
3. Poor Customer Service Can Be Costly
In today's world of social media and online feedback, business leaders must maintain a strong customer service stance.
A recent study from MaritzCX found that the hotel industry is one of the worst at measuring customer experience. The study found that only 18% of hotel customers stay loyal to brands and will return if they have a positive experience. 
Consider that you might be giving your customers more than enough reason to write bad reviews about your company. 
Poor customer service can be very costly in the hospitality industry. Hotel owners or businesses need to work hard to create a positive experience for guests whenever possible. 

If a guest has a problem and doesn't feel that the problem was addressed appropriately, they may share their

poor experience

on social media or with friends and family who may want to book a trip with your company. Long wait times turn into lost customers who will not come back.
How to Improve Customer Service in the Hotel Industry?
In today's economy, customer service is a top priority for many businesses and the hotel industry is no exception. Whether an employee has been with the company for 10 years or 10 minutes, all employees must be trained to provide customers with quality service.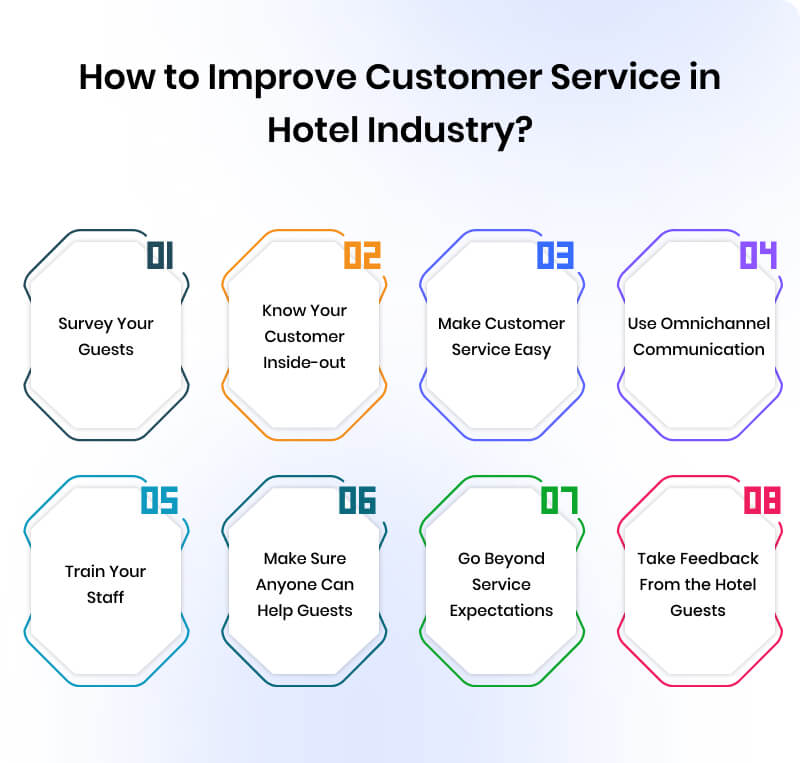 Now let's talk about the excellent ways to improve customer service in the hotel industry. 
1. Survey Your Guests
Many hoteliers take the time to survey their guests after a stay to improve customer experience. But, how do conduct an in-depth survey to visualize the real scenario? A chatbot can be an excellent and convenient tool for hotels to collect valuable customer data and feedback to assess. Fortunately, there's a new way of creating a custom chatbot that will help you to survey your guests easily. 
There are many reasons why you should Survey Your Guests:
Your reputation is really important for the future success of your business. In addition, a good reputation will attract more guests. Surveys are a great way to know how satisfied are your guests. If you want to make your hotel better in general; you need to know what people like and what they do not like about it.

Focus on providing good service. By asking your guests questions about their experience, you can identify the problems and fix them in time.

Make your customers happy by going above and beyond their expectations. In this case, the survey is a great way to know if the customer has been satisfied with their stay or not. You can use this information to provide better service or upgrade the quality of your service.
2. Know Your Customer Inside-out 
One of the most important factors of successful customer service is knowing your customers. The more you know about them, their needs and preferences, the easier it will be to satisfy them. And since in the end, customer satisfaction is what makes your customers stay with you, or even come back and recommend your business to others, it is fundamental that you know your customers better.
So let's have a look at some great ways for you to know your customers to provide them with better service:
Make sure you have a database of all your customers. This will make it easy for you to identify and segment your customers. It's also a good way to keep track of your sales over time and to gather insights about your product or service.

Use the information you already have on hand.

The way they get back to you (through your site or app, social media, email, etc.) can tell you a lot about how they feel.

If your business uses a point system or rewards of any kind, pay attention to how they interact with those elements.

Ask for feedback from your future customers and be sure to take it seriously; 

You may want to test different approaches through paid ads on social media or PPC search.

Watch video reviews and check out what people are saying about your products or services online.

Sometimes it's worthwhile to just ask directly for feedback and try asking for referrals at the same time.

The first interaction between your customer and your brand can tell you a lot about what could be wrong or right with your business.
3. Make Customer Service Easy
A customer is often your most important marketing tool. Why? Because they're always talking. They're telling everyone else how awesome you are. They're promoting you to their friends, their family, and people they don't even know.
The best customer is the happy customer because they're the ones who will tell everyone else how awesome you are. They're giving you the power to promote yourself for free. So why not take full advantage of that?
Here are five ways to make customer service easy.
Solve for the customer:

focus on solving the problem first and foremost, not the medium or brand perception.

Use Chatbot to serve your customers 24X7:

a chat experience that's relevant to customers is extremely powerful.

Leverage emotional intelligence:

online, chat, or in person, people don't want to be sold, they want to buy themselves and resolve their problems.

Let the customer know you're on their side:

all brands should be public advocates for the customer on social, on-site, and via messaging.

Set and manage expectations:

if you can't solve for the customer, let them know what you can do for them, and then adjust as needed with empathy and grace.
4. Use Omnichannel Communication
The hotel industry in the new year has been faced with challenges. It is hard to find a solution that will suit all the needs of the client, but it is possible to base the content of your communication on the use of omnichannel communication.
Three main types of channels can be used – conventional, which is the channel itself is inherent in the hotel business. For example, the phone operator or front desk clerks.
Omnichannel is a mix of digital and classic – it includes contact via chat and social media but also e-mail and call center services.
The main goal – is to make your customers happy, so that they return. And the only way to do this is by showing them that you love them, appreciate them and understand their needs at every stage of communication with you.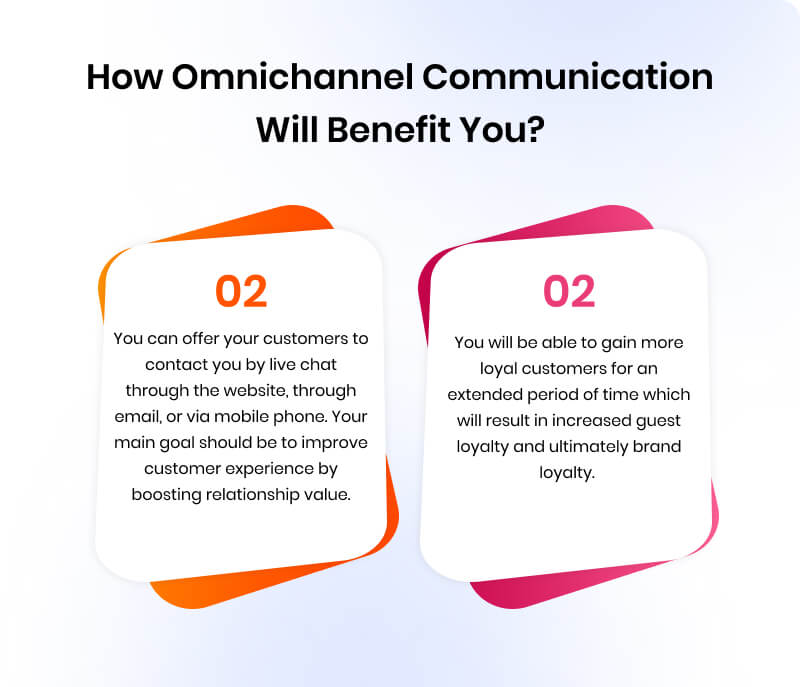 How it will benefit? 
You can offer your customers to contact you by live chat through the website, through email, or via mobile phone. Your main goal should be to

improve customer experience

by boosting relationship value. 

You will be able to gain more loyal customers for an extended period of time which will result in increased guest loyalty and ultimately brand loyalty.
5. Train Your Staff
Training your staff on great first impressions will lead to happy guests and good word-of-mouth for your hotel. Train your staff to; 
Create a good first impression – Hotel customer service training is extremely important. With 80 percent of guests saying that they will not come again if they do not feel welcome. Make sure your employees are creating an excellent impression. 
Make it personal – Use their name during the check-in process. It's a simple touch, but it helps to build rapport and makes them feel special.
Make your guest feel special – Hotel staff should make customers feel special and treat everyone equally. However, not everyone is the same. They should always greet guests warmly with a smile and a pleasant demeanor.
Provide additional amenities – When they arrive at their room, have fresh fruit, mints, or other small items waiting for them on their pillow (or desk, table, or nightstand). It's a small gesture that can have a big impact on the way they perceive your hotel and the service you provide.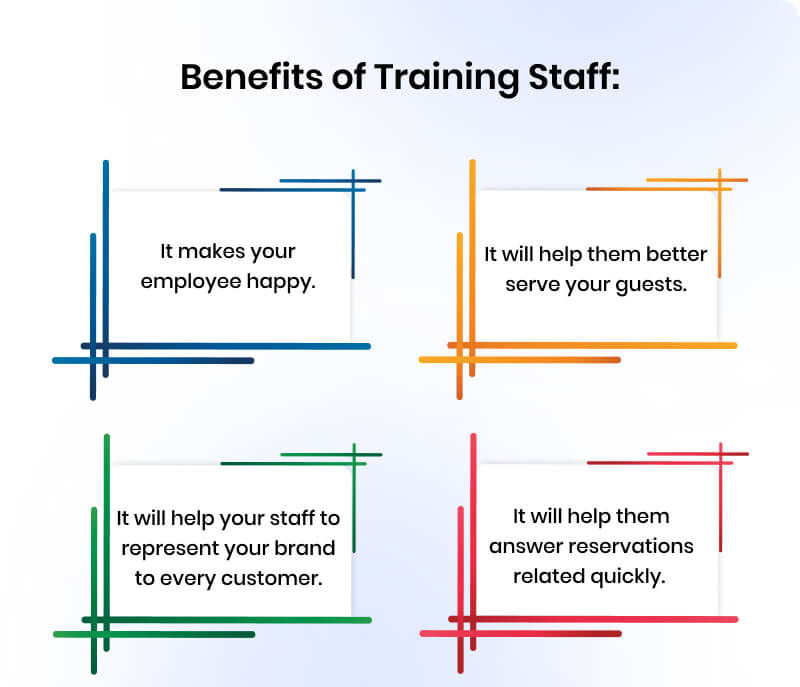 Benefits of training staff:
Training employees will help them better serve your guests, who will appreciate and return to your business. 

Make sure that the jobs they are doing are what they want to be doing and that you're paying them fairly. If you want to keep these wonderful people working for you, make them happy.

Know what your customers expect from them in each step of the process from entering the hotel to guests departing. 

Make sure your employees are your brand ambassadors out in the field, and as such, they represent your brand to every customer. 

Additionally, each member of your employees should know what kind of questions guests ask most frequently and how to get reservations answered quickly. 
Pro tip:
If a customer has a negative experience with one of your front-line staff—if they are rude, unhelpful, or dismissive—that customer is going to walk away feeling like there is something wrong with your hotel.
You should take the matter into account to give the customer an excellent experience as well as train the employee to serve the customer better. 
6. Make Sure Anyone Can Help Guests
In the hotel industry, there's never a right reason to make your guest wait. We believe that is why solving the guest problem faster is so crucial in the hotel industry.
However, in many cases when a hotel guest encounters any issues he/she has no idea who to talk to solve the problem. In this case, if you want to ensure the best customer service for the hotel guest then any one of your staff should be able to help the guest. 
At least, each department's employee should acknowledge what all the others do. As a result, a gym attendant will acknowledge how to help a guest to find a maintenance department, as well as, the maintenance department will know how to help a guest to find a gym. 
7. Go Beyond Service Expectations 
At the heart of hospitality is the customer service encounter, where a hotelier's day-to-day activities and decisions ultimately impact revenue. From check-in to check-out, the quality of these interactions directly influences the guest experience and satisfaction. 
More important, these interactions are an essential component of how you differentiate your hotel from your competition. 
"In a survey conducted by BzzAgent, 85% of consumers said they are more likely to spend more money with a business that provides great service''.
Why should you go beyond service expectations? 
As customers have many options to choose from when it comes to hotels, the experience of the workforce and hotel facilities are the most important factors in making a decision.

The hospitality industry is all about providing a wonderful experience to guests. Most of the time, the guest's experience is beyond expectations. However, when it's not – and especially when it's less than expected – the impact on brand legacy can be devastating
8. Take Feedback From the Hotel Guest 
Most hotel managers we have encountered are not really excited about getting feedback from their guests. They have experienced the guest who calls to check in and then complains about the noise in the hallway, the temperature in the room, or some other issue.
So why should you take feedback?
A study was conducted by The American Hotel & Lodging Association (AH&LA) to discover how satisfied today's hotel guests are with their hotel stay. The study found that:
68-percent of hotel guests would consider another hotel chain if they had a bad experience

Getting feedback from the guest is important. The guest will tell you something is wrong even though they might deny it when you ask them.

Many times the complaint is not about you but about what the guest encountered earlier in their day.

Listen to your guests and respond quickly to their problems (even if it is not your fault). It is a great way to gain new customers and keep existing ones happy and loyal. They will come back!

Use the feedback to improve your service and you may find that you do not need to raise your rates to make more money because you will have happier guests and more customers than ever before.

It just makes good business sense to take feedback from the customer and to "follow up" on the complaint promptly.

Before you can get to the root of your guest's dissatisfaction, you need to accept that there is one. What appears to you at the time to be an innocuous action, can leave a guest feeling uneasy.
Ways to Improve Service Quality and Customer Satisfaction Through Online
Hotel chatbots could be a significant factor in increasing customer satisfaction and building loyalty. Utilizing an AI chatbot for customer service to book an appointment, reservation, and answer the common queries not only improve service quality but also satisfies customer expectation. 
A customer service chatbot provides quality service by replacing a customer service worker on both platforms. 
It is more convenient for customers, since they can have all of their questions answered at once, and it is more convenient for businesses because the chatbot does not require any salary or benefits.
If you want to satisfy your customer online and improve service quality then REVE's Chatbot can be an ideal solution for you. It comes with everything that needs to be improved service quality and customer satisfaction in the hotel industry.
How Does REVE Customer Service Chatbot help?
The service will facilitate the day-to-day management of customer relations for the hotel, allowing guests to get all the necessary information about the hotel, booking, loyalty program, and special requests.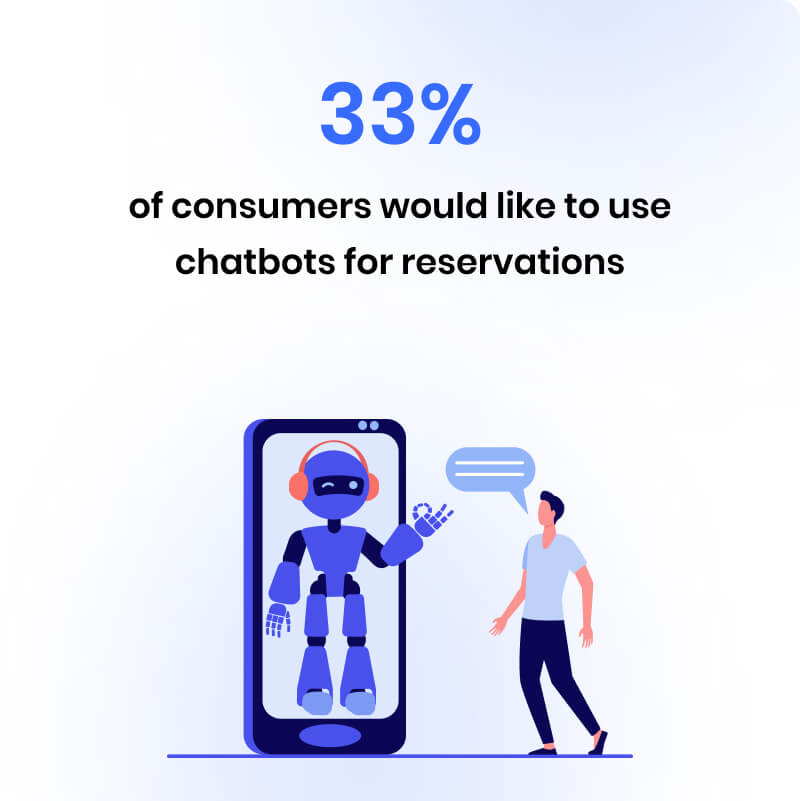 The bot can answer incoming questions from the customers automatically and autonomously and it will be updated in real-time to deal with any changes on the website or the reservation platform of the hotel. 
What's the key benefit of REVE Chat?
Much faster response times.

Chatbots are faster than humans, so your customers will get their answers in no time.

More conversations.

We all love talking to nice people, but sometimes, we need information and it's only about asking questions. Chatbots allow you to talk with your customers over thousands of conversations in a very short time.

24/7 service.

You can provide 24/7 service to your customers because Chatbots don't sleep or take vacations, they just work!

Scale easily.

You can add more chatbots to your website, as your business grows and more customers come in.
If you want to provide the best customer service in the hotel industry then REVE chat can be a great option for you to improve overall service quality and customer satisfaction in the hotel industry. Sign up now to enjoy 14 days free trial. No credit card card. No hassle.