The key to success in business is great communication. Having a strong omnichannel strategy means your customers can reach you wherever they want to contact you – whether by phone, email, or social media.
According to Finances Online, "79% of consumers say that if they were unable to get a human response on their first attempt. They would give up and shop at the competitor's store." 
Only 30% of shoppers will make more than one effort to contact a brand and only 10% of retailers have no formal strategy for responding to their customers via any channel. 
And it's not just about the immediacy of the response, it's about the perception of the responsiveness.
Well, in this article we will discuss the omnichannel chatbots importance, key benefits, deployment, and more. 
What Is Omnichannel Chat?
Omnichannel is a way to chat with customers whenever and wherever they want. It is the next step in the evolution of customer service. 
It is an extension of your business model, where you are capable of serving your customers in all possible modes at once, primarily online, mobile, and social media channels. It is the ability of a business to reach customers in whichever channel they prefer.
Omnichannel customer engagement chatbots that are able to answer questions or execute actions across different channels can improve the customer service experience and make it feel more human. 
Omnichannel forms the basis of a customer experience strategy that allows companies to make their sales and support teams more efficient. 
It involves integrating several customer-facing departments such as customer service, product development, marketing, and sales to present a unified message to the customer. The goal is to make sure that the first touchpoint for customers is consistent across all channels.
Importance of Omnichannel Customer Engagement Chat
A chatbot is a revolution and it is happening now. At the end of the day, it's not about how fast or how good a service you offer. It is about how easy it is for your customers to reach out and get what they want.
Plus, another biggest advantage of a chat omnichannel is that it is available 24/7, which makes it the perfect solution for omnichannel customer engagement chat. 
You cannot be there at all times but your chatbot can. This means that your customers still feel connected to you even when you are not around. 
After all, they know that you are there and they can talk to you anytime they want.
Be There Where Your Customers Are
It is no secret that consumers use more than one channel to engage with brands. ECommerce shoppers shop across all channels including mobile, social, and desktop. Businesses must meet them there. This is yet another study that reinforces the importance of omnichannel customer engagement chat.   
      2. Consistency 
In today's world, almost every business, big or small, is using messaging technology to provide superior and consistent customer service.
Omnichannel is the way of the future. Consumers have become accustomed to being able to shop on their preferred channel in the way they prefer. And they expect that experience everywhere they shop.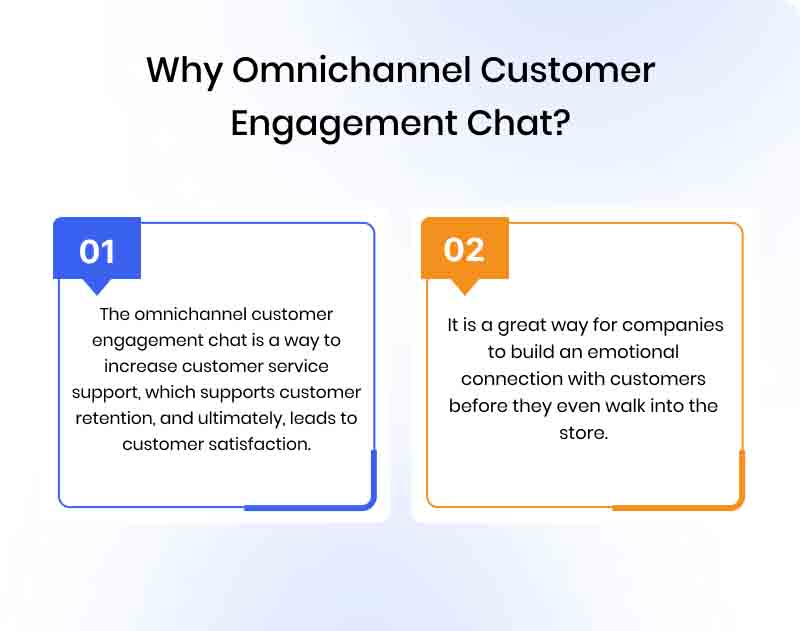 The omnichannel customer engagement chat is a way to increase customer service support, which increases

customer retention

rate, and ultimately, leads to customer satisfaction.

Chat omnichannel

is a great way for companies to build an emotional connection with customers before they even walk into the store.
Key Advantages of Omnichannel Chat
Omnichannel chat helps you communicate with your customers quickly and effectively. It's a great way to interact with your customers across all messaging channels. With this tool, you can make it easy for shoppers to chat with you on any website or app on any device.
1. Provides a Personalized Experience
With the advent of online shopping, omnichannel chat is invariably becoming a preferred choice of a customer-facing business. It isn't either just a customer support platform or sales pitch medium rather it is a combination of both. It is the only way to win the trust of the customers by delivering a personalized experience.
2. Builds Business Trust 
Omnichannel messaging is a great way to build business trust and enhance customer experience with seamless service and real-time communication.
It is one of the most effective channels to reduce customer service calls and increase customer satisfaction.

An excellent channel for personalizing and enhancing customer experience.

An effective tool for maintaining long-term customer relationships.

Provides a more efficient, consistent, and personalized experience for the customers.
3. Manages Customers' Micro-moments
In order to compete in today's fast-paced world, all the parts of your organization are going to have to learn how to serve in real-time. Omnichannel chat plays a key role to deliver a better customer experience, reducing customer support costs, and eliminating the time and cost of training. 
By harnessing the power of chat to provide a micro-moment solution, companies can now engage in meaningful interactions with their customers.
7 Effective Ways to Implement Live Chat in an Omnichannel Marketing Strategy 
Omnichannel live chat is an important tool, but how do you determine which channels to engage on? Where can live chat fit into your customer service efforts and actually help your business? How do you integrate it into an omnichannel marketing strategy?
It is important to have a seamless experience in all channels while interacting with customers. Your live chat must be able to adapt to any channel your customers are using and meet them on their terms.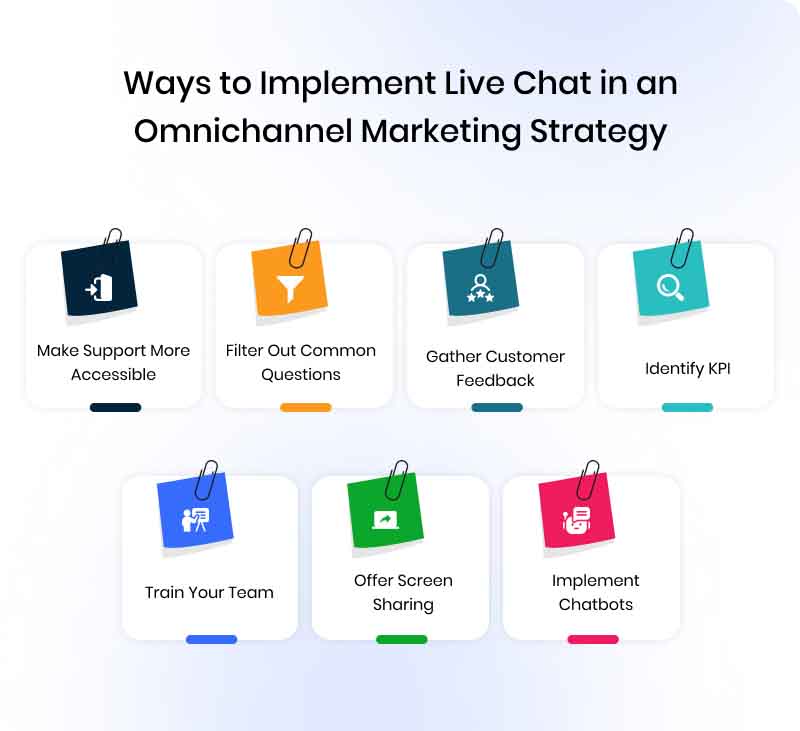 Here, we will look at 7 easy steps to implementing live chat effectively in your omnichannel marketing strategy.
1. Make Support More Accessible
Nowadays, consumers have many options to connect with brands. They may visit a website, call the contact center, tweet on Twitter, or reach out on Facebook Messenger. 
With increased competition in the market, businesses need to provide a way for customers to get in touch with support immediately. 
Otherwise, they may not remain loyal and may switch to another brand. The need for fast and easy access to support directly impacts how consumers shop online.
Why should your support be more accessible to the customer?
With the vast expansion of e-commerce and the exponential growth of mobile, the way we interact with customers is changing.

Customers are expecting a more personalized experience from companies.
2. Filter Out Common Questions
Whether it's helping to answer questions about products and services, or providing a digital point-of-contact for customer issues, chat can help resolve friction points along the customer journey.
Most of your support questions are perhaps related to very common issues. You can fix these problems fasters in a cost-effective way by instructing them by other resources. This approach helps your live chat support team to concentrate on the most complicated issues. 
According to Business Insider, 60% of customers who reach out to customer service via email or social media expect a response within one hour.
3. Gather Customer Feedback
Customer satisfaction is absolutely essential to the success of any business. To be effective, companies need to provide an experience that meets the needs of their customers.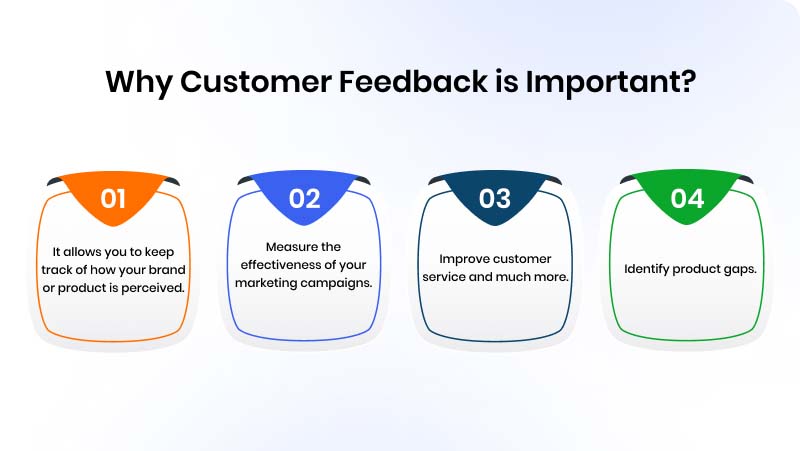 Feedback from all channels – whether it's an email, phone call, or social media comment – helps businesses know what they're doing right, and where they can improve.
Why it is important?
It allows you to keep track of how your brand or product is perceived.

Measure the effectiveness of your marketing campaigns.

Identify product gaps.

Improve customer service

and much more.
4. Identify KPI
Companies today are facing so many challenges—and opportunities—that they often don't even know where they want to go. And in a digital world, it's important to not only know where you're going but to track your progress along the way.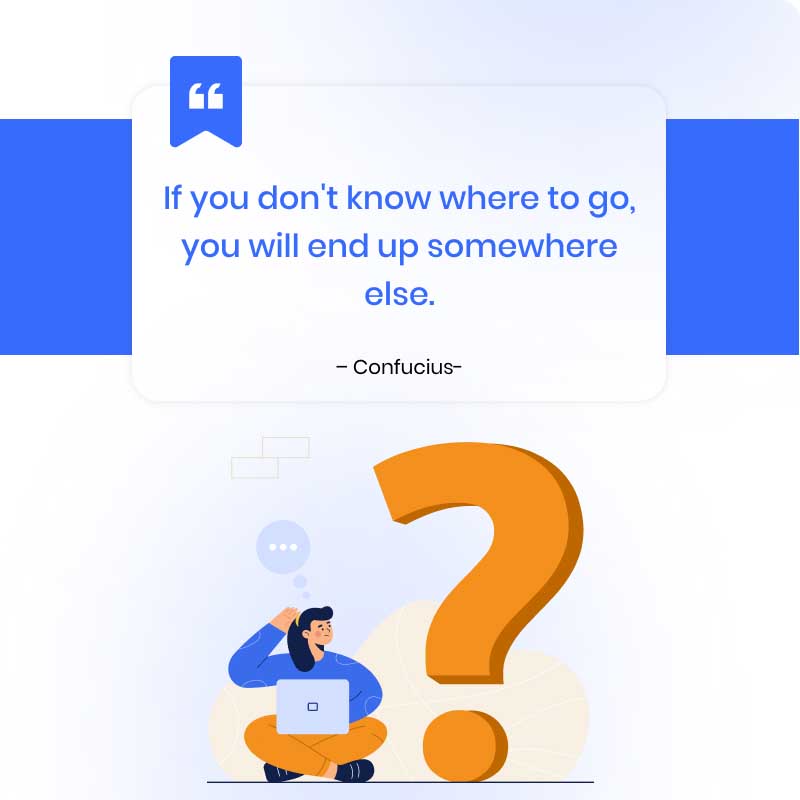 A KPI is an important metric that your business uses to identify if the business is doing well or needs improvements. A KPI can be a financial indicator, such as a growth rate, or it can be a marketing indicator, such as a conversion rate.
5. Train Your Team
You've been looking to get everything up and running on your own, but it's just not working out. It's time to get a team on board.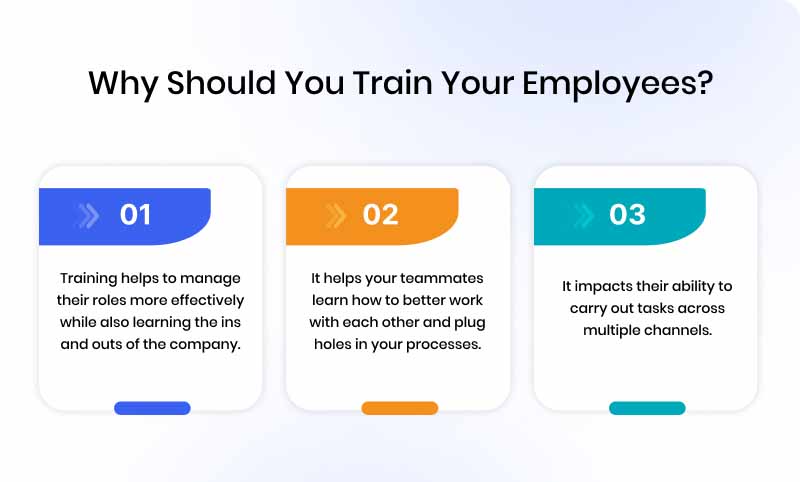 Now, whether you're a small business or a large enterprise, it's important to have the right team in place. If you're not sure what that would look like, it may be time to stop the search for your first hire and put someone in the driver's seat by making your team members autonomous.
For example, if you have a sales team, their performance is directly related to how well your business performs. If they are not carrying out tasks as expected, or if they don't know what is expected of them, then your business could suffer. 
But if they perform to the best of their ability it helps to drive improved results which is why it's important they are up to date with all aspects of their role through training.
Why should you train your employees?
Training helps to manage their roles more effectively while also learning the ins and outs of the company.

It helps your teammates learn how to better work with each other and plug holes in your processes.

It impacts their ability to carry out tasks across multiple channels.
6. Offer Screen Sharing
Allowing your customers to share their screens with the live support team when they encounter any problem can make communication faster. Plus, it also allows the live support team to provide solutions in a step-by-step process.  
There are many tools that offer screen-sharing options. For example, Live Chat is an AI-powered omnichannel customer support tool. It can be an ideal tool for you if you want to serve the customer faster and cost-effectively.                                              
7. Implement Chatbots
Chatbots are one of the latest marketing technologies in use today. They are a way for companies to create automated chat systems for their customers. 
These chat systems can answer questions, thank customers for their purchases, and also retain valuable information about customer preferences. Chatbots are a great tool to use in an omnichannel marketing strategy. 
This is because they allow your company to have a consistent experience with your customers regardless of what method they are using to communicate with your company.
Why Should You Use Omnichannel Proactive Chatbot to Engage Customers? 
The digital world is changing at an exponential rate and getting ahead of these changes is often the difference between success, failure, and extinction. Omnichannel proactive chatbots have opened a whole new world of possibilities for online shoppers. Unlike when you call customer service, a chatbot is capable of communicating with you in real-time.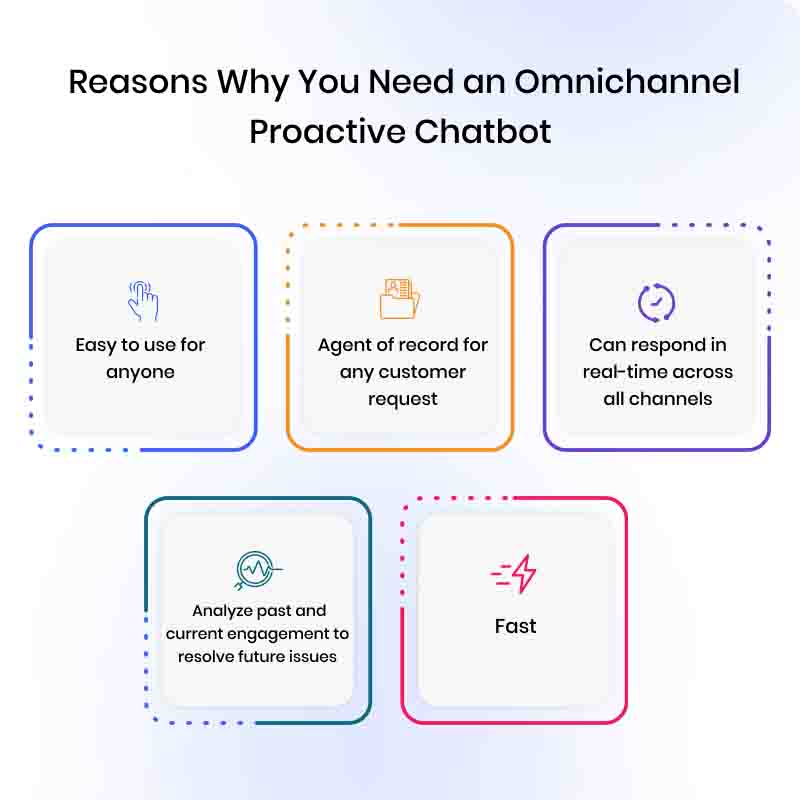 Customers expect a seamless shopping experience. Often times it is hard to provide this experience as there are many disconnects between the various channels you use to communicate with customers; be they web, mobile, social, etc. 
Not only do these various channels require different information from the customer but they are also typically handled by different teams within the business. This can lead to confusion and frustration by the customer who doesn't know who to go to in order to resolve an issue.
Reasons why you need an omnichannel proactive chatbot;
Easy to use for anyone

Agent of record for any customer request

Can respond in real-time across all channels

Analyze past and current engagement to resolve future issues

Fast
Manage Entire Customer Communications With Omnichannel Customer Engagement 
75% of customers prefer to text or chat with businesses. An omnichannel chatbot can solve all your problems connected with customer engagement and communication. The chat omnichannel will modernize your customer service and improve the overall user experience with your brand.
It is a powerful tool that will help you improve the experience of your customers on every channel: on your website, social media, Viber, WhatsApp, Tango, Skype, and many more. 

It can help to increase conversion rates, reduce the number of contacts with your call center and save your time. A great tool that saves on advertising expenditures too!
Why Should You Deploy an Omnichannel Chat Widget?
The Omnichannel chat widget is a revolutionary concept powered by artificial intelligence (AI) and machine learning (ML), which provides you with the ability to talk with your customers via bot, text, and video in an omnichannel experience. REVE chat seamlessly integrates with your system, providing a personalized and intelligent customer engagement platform. 
As a result, you'll significantly increase your sales, customer satisfaction, and brand loyalty.
Key benefits of deployment of an omnichannel chat widget
Increased responsiveness and customer satisfaction

Improved sales conversion rates

Growing business bottom line
Why REVE Chat?
Omnichannel means the right channel, the right information, at the right time in order to improve the customer experience and increase revenue. This requires first-class talent and technology, which we have grown rapidly.
Unfortunately, most of today's customer engagement technologies are ineffective or just empty talk. Our goal is to change this reality. We do this through our NLP-powered chatbot, REVE Chat, which gives companies an omnichannel experience for their customers in real-time across any device by integrating with any CRM or eCommerce platform. 
We make it easy for companies to create a chatbot that delivers a personalized experience across any channel and responds to millions of inquiries per day.
We're developing an ecosystem that democratizes artificial intelligence for everyone. Our belief is that just as email democratized communication. Chatbots will democratize AI so that businesses of any size can interact with their customers at scale. No hassle, no credit card required. Just start a free trial now.