Omnichannel strategy is no longer a blueprint for big businesses or for the billion-euro brands to follow. The omnichannel benefits have so much impact that customers around the globe expect an "Amazon-like" experience when shopping — even from smaller companies. 
Businesses can't just settle by creating a website and offering superior customer service; today's businesses have to be exceptional just to remain ahead in the competition.
Modern customers expect a seamless omnichannel journey, 24×7 customer service, and personalized communication. 
Companies that fail to deliver on these expectations have to bear the risk of losing their customers over their competitors. 
Undoubtedly, a well defined omnichannel strategy benefits both businesses and customers. In this article we will discuss the benefits of omnichannel acts as a differentiator in an era of stiff competition.
Benefits of Omnichannel Marketing
The purchase trend of today's customers is no longer a straight line. It may spark by a social media post and end up on a tablet or in a brick-and-mortar store.
Omnichannel is the latest marketing buzzword that represents a great shift in the way businesses manage customer interactions in response to a changing business environment.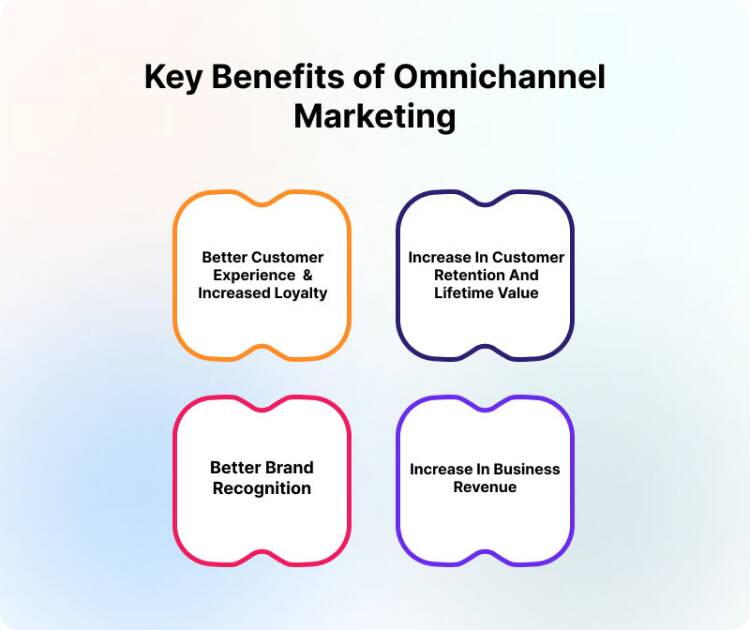 The main objective of omnichannel marketing is to meaningfully engage customers irrespective of device or channel and create a cohesive experience. The benefits of omnichannel marketing is to provide customers an unified brand experience. 
Here are the Key Benefits of Omnichannel Marketing
#1. Better Customer Experience & Increased Loyalty
Omni channel marketing focuses on consistent marketing experience across multiple touch points and platforms for your customers. Customers can reach out to the brand through advertising, radio, commercials, social media, website etc. 
With the benefits of omnichannel marketing, businesses have the opportunity to customize messages for target audiences. Offering a high level of personalization leads to excellent customer experiences, higher conversions, and improved customer loyalty.
#2. Increase in Customer Retention and Lifetime Value
The customers who are able get the benefits of omnichannel marketing have a 30% higher lifetime value than others.
When you offer real-time assistance to customers, they will be more inclined to purchase from you rather than the competitor where they cannot get the same personalized service. 
Keeping customers coming back increases the overall customer lifetime value. Businesses that have empowered their support agents to serve online shoppers are witnessing a 10x increase in conversion rate and a 50% increase in average order value.
#3. Better Brand Recognition
Having an omnichannel marketing strategy means that your customers should receive a consistent and seamless experience across all channels every time they encounter your brand. 
For example, if your customers receive a personalized experience on their mobile device, the same should be translated to their desktop as well.
Well designed omnichannel marketing strategies lead to increased awareness from your target market. If your brand is marketed first, customers are at least familiar with your brand name and products or services. This can help give you a significant advantage over the competition.
#4. Increase in Business Revenue
One of the significant benefits of omnichannel marketing is increased RoI (Return on Investment). Actually, it is one of the most important measurements in any marketing endeavor. 
By following right segmentation and personalization, an omnichannel marketing strategy can be highly successful. Thus, improved customer engagement will lead to more conversions and higher business revenue.
Benefits of Omnichannel Customer Service
Omni channel customer service is when businesses provide a cohesive, integrated customer experience, no matter how a customer reaches out to you. It allows a seamless transition between channels and has the same experience.
Companies that delivered strong omnichannel customer service retained 89% of their customers.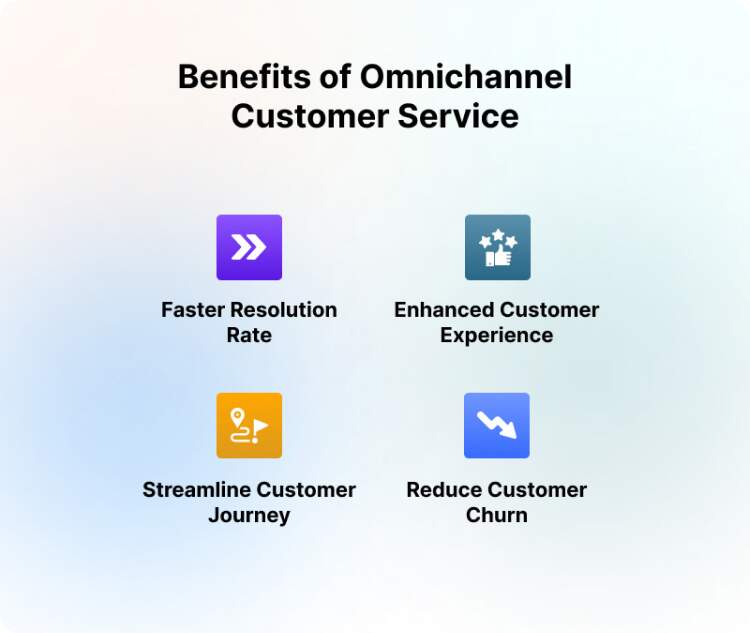 Implementing an omnichannel customer service strategy helps businesses in better understanding the customer lifecycle, their conversation history. Further it helps in delivering personalized support by integrating the traditional with digital channels. 
Here are the Key Benefits of Omnichannel Customer Support
#5. Faster Resolution Rate
Businesses that adopt omnichannel customer communication strategy witness a higher customer satisfaction by providing excellent customer service. It empowers agents to meet the expectations and align services as per their needs
The benefits of omnichannel customer service allows businesses to handle customer concerns faster by using visual engagement tools and strategies that improves the resolution rate as well as customer retention.
#6. Enhanced Customer Experience
From a customer's standpoint, every interaction with your business should be part of a singular experience. It means it should not be siloed or repetitive as it happens with multi channel customer support. 
Having a seamless journey across all channels, both online and offline is the key to provide a consistent omnichannel experience. When brands engage across all online and offline customer service channels and deliver consistent support, there is a boost in customer experience.
#7. Streamline Customer Journey for Better Insights
Learning customer behavior and their mindset is vital to deliver excellent customer service. When you align your service according to the customer's needs and expectations.
The benefits of omnichannel strategy is that you can gain valuable customer insights that further help businesses to easily understand their lifecycle better with conversation history and deliver personalized real time support.
#8. Reduce Customer Churn
Customer churn is one of the common challenges reported by most of the businesses. By investing in an omnichannel customer service strategy, you can engage your customers in real time and overcome it.
The benefits of omnichannel customer service is that you can fulfill your customer expectations of instant response. When they are entertained across their preferred channels in real time, there is a significant reduction in the customer churn rate.
Benefits of Omnichannel Retail/Ecommerce
Leveraging an omnichannel retail strategy improves the customer experience and provides more channels for customer purchase––whether it is on mobile, web, or brick and mortar stores. The availability of multiple purchasing channels leads to an increase in sales and traffic. 
In fact, omnichannel customers spend 15 to 30% more than single or multi-channel customers. The benefits Omnichannel allows retailers to achieve more availability, drive sales and traffic, and integrate digital touchpoints.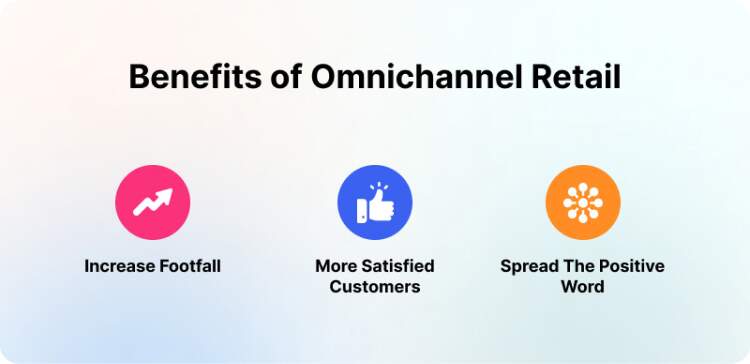 Omnichannel retail strategy allows consumers to start and complete purchases on different channels. It also creates a better retail journey for customers, because retailers can build a relationship with their customer-base and are able to engage with them on a personal, immediate level through a variety of purchasing channels. 
Here are the Key Benefits of Omnichannel Retail
#9. Increase Footfall
Managing a brand's online presence is a big concern for many retailers, which makes it harder than ever to compete effectively – especially if you are a SMB and fail to invest on promotions, placements or people.
REVE Chat omnichannel customer engagement software is great for retailers that focus on expanding the online presence without committing significant budget and resources to it by making sure you have the right information available digitally and in real-time.
#10. More Satisfied Customers
Omnichannel benefits in delivering great experiences that help to engage potential customers. About 64% of customers expect to receive real-time customer support, regardless of the channel.
Monitoring a variety of channels is a daunting challenge, but with the benefits of omnichannel for retail, you have the opportunity to engage customers promptly by providing relevant answers. Customers prefer returning to companies that focus towards offering good customer service.
#11. Spread the Positive Word
Businesses spend a lot of money on advertising, but nothing can beat word of mouth benefits that can drive business. According to Nielsen, 92% of consumers believe recommendations from friends and family over all forms of advertising.
So why not use social media to help make the most of this opportunity?
You can engage with customers across a range of popular platforms, engaging customers and driving sales and even rewarding customers for promoting your brand.
How Omnichannel Benefits Customers
If I think from a customer standpoint, I would desire to have complete control of my buying decisions. Nevertheless, all customers think the same.
Customers want to purchase products at their convenience, on their own terms, and through a method that suits them best. The success of your business goes beyond just how excellent your customer service department is to how well you keep track and make use of your customer's purchasing journey.
Today, consumers use diverse channels to interact with your brand. According to Gladly's Customer Expectations Report, 73% of consumers get frustrated when they have to explain their issues over and over again.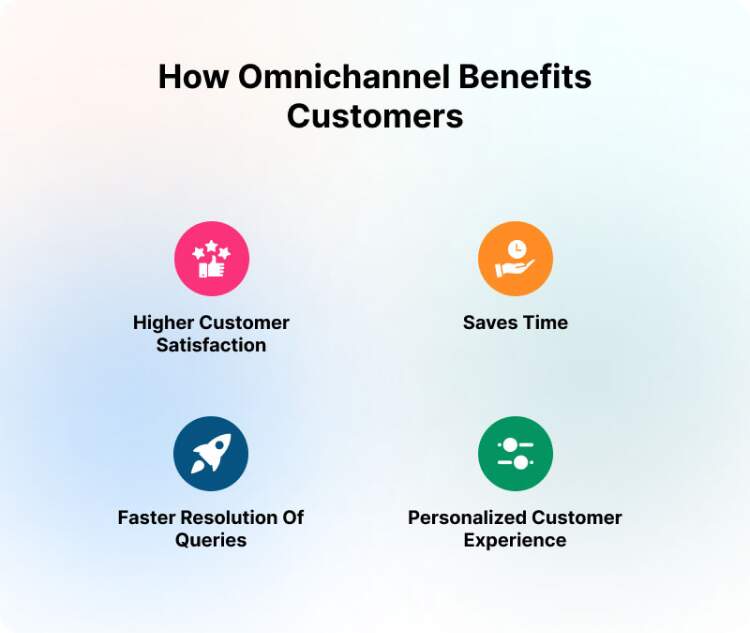 As such, there is a need for an omnichannel service strategy that includes personalization. It is because the benefits of omnichannel support a multichannel sales approach to give customers an integrated, holistic shopping experience. 
Here are How Omnichannel Benefits Customers
#12. Higher Customer Satisfaction
Brands that have put in place an effective strategy have better customer satisfaction and retention than those with less effective strategies.
63% of customers fall in love with brands because of great service. It is because effective omnichannel strategies make customers' purchasing journeys easier by clearing any hurdles they face while interacting with your brand.
The benefits of omnichannel strategy is that it allows customers to reach out to business via any channel such as WhatsApp, Viber, Facebook, Website etc. Businesses being available at all the customer journey touchpoints and addressing their concerns instantly increases customer satisfaction.
Businesses also deploy chatbots and digital engagement tools like co-browsing, video chat to engage customers better and provide effective solutions in the first contact by collaborating together. All these impacts the CSAT scores.
#13. Saves Time
Time is a major concern when it comes to service. Omnichannel benefits in delivering effective solutions in the first contact by using visual tools that helps in the accurate identification of the issue. 
Customers are happy when they do not have to reach out to the brand for the same issue again and again. On the other hand, it also improves the team productivity as they close the resolution of the support ticket in the first contact.
#14. Faster Resolution of Queries
The benefits of omnichannel strategy is that when customers report their queries, businesses are ready to offer quick solutions. As a part of the strategy, they firstly identify the most preferred channels of their target audience.
They implement live chat, chatbots and digital tools to offer 24×7 assistance. The tools help to identify the root cause of the issue and offer faster answers that improves the key customer service KPIs i.e. Average Resolution Time (ART), First Contact Resolution (FCR), Response Time etc.
#15. Personalized Customer Experience
It is how well you have integrated your omnichannel strategy will determine how efficient it will be. All your channels should work harmoniously so that they steer your customers in one direction. 
By using centralization and data integration, you can personalize your service that suits every customer's specific needs. Omnichannel benefits not only to your customers but also your support team. For instance, it saves the bandwidth of the support team by enabling quick response rates and promoting self-service.
Final Thoughts
A customer's lasting impression of your brand is often determined by the level of service you provide. Without deploying an omnichannel service strategy, your customers' buying experience will likely suffer, and ultimately your business will, too.
The omnichannel benefits for both customers and businesses are highly significant. Hence, the benefits of omnichannel strategy can not only help your business to grow but also improve in terms of customer loyalty and lifetime value.