Omnichannel customer engagement is becoming increasingly popular as business owners and marketers seek to provide a seamless experience across all devices.
94% of retail companies now use multiple channels to engage with customers.                                   
According to a recent survey, 61% of American consumers prefer online shopping over visiting physical stores. And try not to forget about the U.S. Millennial generation, which is actively using all the digital channels for shopping purposes.
In this article, I will demonstrate omnichannel statistics for marketing and customer experience. 
Why You Can't Avoid Omnichannel in This Age of Competition
Today, more than two-thirds of all purchases are made with the help of some kind of digital device. Prospects browse and research using their smartphones, then buy in-store or on a desktop. Maybe even later that day from their smartwatch.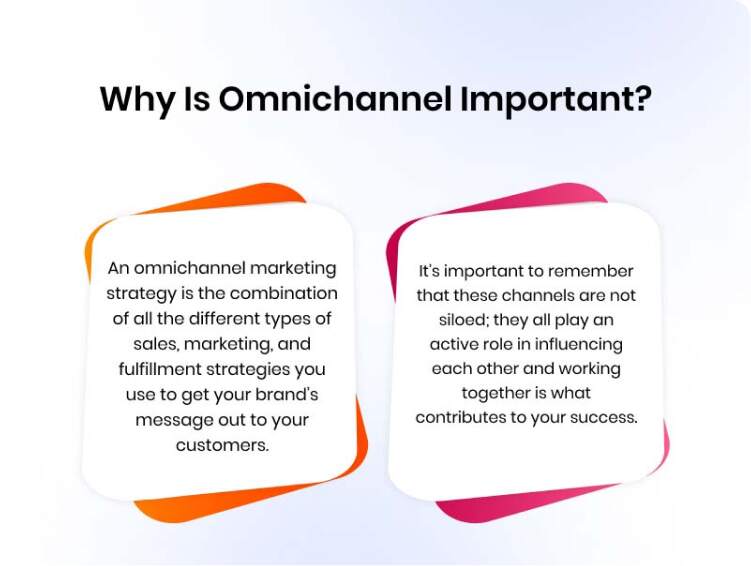 Each channel has its own strengths, weaknesses, and quirks. And yet, many brands force their customers through a series of checkboxes for each channel to fulfill a buying process. That's why omnichannel is so critical, especially when you're talking about mobile.
By embracing omnichannel retail we're able to deliver the best possible experience at each touchpoint, whether it's a mobile app, in-store interaction, or talking to an in-house expert over the phone. When you take the time to think about the different ways your customers interact with you. It opens the door for you to deliver a better experience for everyone.
An omnichannel marketing strategy is the combination of all the different types of sales, marketing, and fulfillment strategies you use to get your brand's message out to your customers.

It's important to remember that these channels are not siloed; they all play an active role in influencing each other and working together is what contributes to your success.
7 Important Omnichannel Marketing Statistics 2023
Omnichannel marketing aims to enhance the customer shopping experience by integrating multiple offline and online channels. This is not only about using various channels, but also about making the most of them by leveraging them at the right time and in a high-impact manner. 
As such, it is not simply a matter of taking your offline marketing efforts online and vice versa, but also about bridging the gaps between all these channels. So that you can deliver a seamless experience to the customer.
Now, let's take a look at the 7 top omnichannel marketing statistics for 2023;
The

Harvard Business Review

found out that around 73% of customers prefer shopping through multiple channels. Similarly, 7% of customers shop online exclusively, and 20% of them shop merely in-store.

Google

found that omnichannel customers have a 30% higher value than those who shop using only one channel. It shows that omnichannel customers can generate more revenue. 

By 2023, e-commerce will account for 23% of all retail sales globally. In 2017, this figure was 15.3%. 

Due to the seamless communication experience, nearly 80% of customers prefer omnichannel strategies.

90% of retail leaders

agree that a seamless omnichannel strategy is crucial for business success.

Harvard Business Review's research

found that omnichannel customers spend 10% more online as well as 4% more in-store than single-channel customers.

According to the

Think with Google

indication, omnichannel strategies generate an 80% higher rate of incremental store visits by consumers. 
7 Important Omnichannel Customer Experience Statistics for 2023
The customer experience is a crucial aspect of online retail. The report, released in February 2016, examines omnichannel strategies and tactics using data from the 2015 E-Commerce Impact Study. It's important to note that while a majority of the survey participants reported selling products through multiple channels, "the vast majority of retailers can't claim that distinction."
Overall, the report found that just 15% of online retailers are doing an excellent job of providing an overall, seamless experience for customers. However, this percentage is higher for retailers selling through both high-touch and low-touch channels. 
In order to improve, retailers need to work on streamlining their customer data from all sales channels, leveraging customer insights across sales channels, and ensuring that customer service is consistent across channels. 
Let's take a look at the 7 best omnichannel customer experience statistics;
Companies which has omnichannel customer engagement see a 9.5% year-over-year surge in annual income, in comparison with 3.4% for companies that don't have one. Likewise, solid omnichannel businesses see a 7.5% year-over-year reduction in cost per contact, in comparison to a 0.2% year-over-year reduction for weak companies. (Aberdeen Group)

Companies with solid omnichannel customer engagement typically retain 89% of their buyers, in comparison to 33% of businesses with weakened

omnichannel customer experience

. (Aberdeen Group)

77% of solid omnichannel companies store customer data across channels, in comparison with 48% for poor omnichannel companies. (Aberdeen Group)

55% of companies do not have a cross-channel strategy in place. (The CMO Club).  

Businesses with omnichannel customer engagement techniques keep on average 89% of their customers, in comparison with 33% for businesses with weakened omnichannel customer engagement. (Aberdeen Group)

49% of customers purchase from their favorite omnichannel brands at least once weekly (Marketing Land)

48% of purchasers will share information for personalized services (Deloitte)
Why Do Modern Customers Expect an Omnichannel Experience?
Because modern customers want to shop in the way that is most convenient for them, they're not willing to settle for anything less than an easy and delightful shopping experience.
But today, increasingly, their needs are not being met on their terms. It's time for retailers to step up, recognize the expectations of today's customers, and adopt across channels.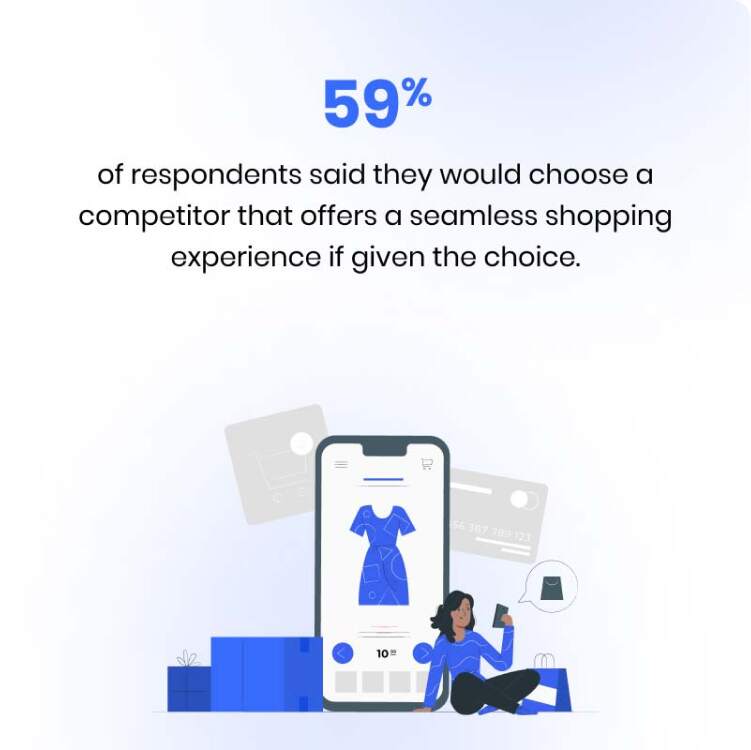 In fact, a recent survey revealed that two-thirds of consumers are least likely to purchase from an organization that does not offer an integrated omnichannel experience. 
And 59% of respondents said they would choose a competitor that offers a seamless shopping experience if given the choice.
Today's customers want to feel welcomed and valued across every interaction with a brand.

They want the same level of expertise and service across every channel — and they won't hesitate to go elsewhere if they feel like they just don't matter enough.
So it's time for retailers to start thinking of their customers as customers — not just in-store or online, but as customers all the time, everywhere they are. I hope these omnichannel statistics help you to get more insight into customer engagement. 
Why REVE Chat Omnichannel Customer Engagement Tool?
REVE Chat is an omnichannel customer engagement tool that puts the power of personalization and the human touch into your hands. Our artificial intelligence combines content, context, conversation history, and the human touch to deliver consistent, omnichannel customer engagement experiences.
With REVE Chat, you can personalize your customer service and sales interactions across multiple channels. Sign Up now and enjoy a 14-days free trial. No credit card is required.