Customer Experience is the key growth driver for businesses to attain exponential growth. The BPO industry leverages the 'customer satisfaction' factor to promote the company's products and services. 
In today's rapidly changing business environment, a successful organization adopts various pragmatic approaches to build its own niche market. The approach is designed in such a way that it enhances business revenues while strengthening the customer relationship.
Organizations can achieve this by successfully delivering world-class customer service in the BPO (business processing outsourcers) industry.
Hence, companies subcontracting their business functions expect service providers to optimize their client experience by sharing all the relevant and important information about the company's offerings. 
In reverse, it creates word of mouth that significantly plays an important role for the companies to gain a competitive edge and increase brand visibility in the marketplace.
What is Customer Service in the BPO Industry?
Customer service in BPOs refers to the companies that specialize in handling customer queries that come in via email, chat, phone, social media, and other channels in real-time. It means addressing customer concerns effectively by using digital tools like live chat, chatbots, and co-browsing.
When customers consistently have positive interactions with your representatives, they're more likely to become repeat customers or recommend their friends or family to your business. In fact, 80% of customers say the experience a company provides is just as important as its products or services.
Key Importance of Customer Service in BPO
Customer support management requires special attention to promptly address and resolve user issues in no time. A company managing this task in-house is generally unable to focus on other core business functions. 
Leveraging a well-planned inbound customer support service of BPO directly addresses this issue by providing customized services, such as inquiry handling, technical support, phone answering, customer surveys, and medical answering services.
We will analyze the criteria needed for more insight into the importance of customer service in BPO. 
#1. Increase Customer Retention
Every customer interaction can positively or negatively impact your brand, so making every customer interaction count is essential.
While every business needs new clients, it is equally critical to improving customer retention as acquisition costs are five times more than retaining an existing customer.
Having a framework for personalized communications, including the latest customer communication tools like live chat, chatbot, video chat allows you to provide meaningful and results-driven messaging to customers. 

Superior customer service in BPO impacts retention significantly. Here is how.
When BPOs focus on delivering excellent customer service it cultivates loyalty. It creates an unforgettable experience by delighting customers and engaging them in meaningful interaction forging loyal relationships.

Providing improved customer service increases customer lifetime value (CLTV) and retention rate levels up by 5% with a boost of profits by

25% to 95%

. Hence BPOs focus on retaining customers as well acquiring customers for sustainable growth.
#2. Boost Customer Satisfaction Ratio
Undoubtedly, customer service in the BPO industry is an excellent differentiator.
Here is how – For example, more than half of customers stop doing business after one poor service experience, and 67% of the churn is preventable if the customer's problem is resolved during their first interaction. 
It means if you provide superior customer service, you will not only retain your customers, but you will also attain your competitors.
A well-trained team, empowered with using visual engagement tools provides the ability to converse with customers directly and grow your customer base.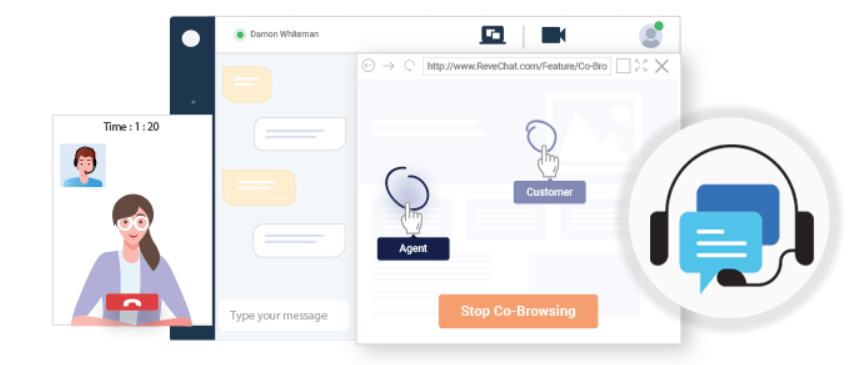 How to improve customer service in the BPO industry with digital engagement tools?
Improve first contact resolution

–  Leveraging advanced tools goes a long way towards promoting first contact resolution (FCR) and preventing customers from returning back.

Reduce the number of touchpoints

– Gaining a visual understanding of the issue by using tools like

co-browsing and video chat

, businesses can offer a concrete solution and improve average resolution time.

Boost customer satisfaction

– Visual engagement facilitates hassle-free communication and real time collaboration to guide your customers through complex workflows and provide personalized customer service solutions.
#3. Deliver High Quality Service in Real Time
One of the top expectations of customers from any company is to get real time service. 
They don't want to feel like they're being treated just as another person. Instead, they expect to feel a personal connection with a representative that has the insight and expertise to resolve their issues.
According to a recent survey 66% of customers said they would switch brands if they felt they were being "treated like a number, not an individual."

There are many options that will help you to meet customer expectations if you want to attract and retain loyal customers.
Live chat software

helps businesses to address sales & support concerns in real time and offer effective solutions that boost their satisfaction.

Deploying AI enabled

chatbots

helps to automate customer support and offer 24×7 personalized assistance.

Create

self-service options

and a helpful FAQ section that helps customers to find out the solutions without reaching out to the customer service staff.
#4. Enhance Customer Lifetime Value (CLTV)
Customer lifetime value (CLTV) is one of the most important customer service KPIs for the BPO industry. 
It showcases the

total revenue you can expect from a single customer account

, and growing the value indicates that your customers are using your services more frequently.

It makes

new customers trust more on your business

and allows you to upsell and cross-sell additional products/services with minimal friction. 

The

new customers also rely on the BPO customer service team

when they recommend services that fit their needs.
It creates overall a better experience. 
Leveraging innovative technologies provide a solid foundation for efficient, high-quality customer service and allow the BPO sector to collect detailed data on customer service performance. The data is analyzed regularly to make sure your business and customers realize all the benefits.
#5. Improve Customer Loyalty
Keeping customers coming back for more is critical to business success. Loyal customers are just better for business: they help you grow and keep profits high.
Improving the standards of customer service in the BPO industry help to retain existing customers, attract new customers, reduce turnover and drive profits.
Increase sales conversions

–  Returning customers spend close to 70% more money on products and services when compared to first-time customers. Once a customer likes the service you offer, they're more likely to purchase in higher quantities.

Boost repeat business

– The loyal customers are most likely to keep coming back to purchase from your business. They like the service and way you value customers and are inclined towards the brand. 
#6. Positive Word of Mouth
Loyal customers keep coming back themselves, they will spread brand awareness through word-of-mouth marketing. 
Happy clients increase customer loyalty and are likely to tell friends and family about your business and products.
When customers are addressed in real time, provided effective solutions, and valued their opinions they choose to stick to the brand for a longer time.
Improved customer service in BPO enables you to develop lasting customer relationships who become loyal to your brand. 
Eventually, they might even turn out to be your brand ambassadors and spread positive word of mouth.
How to Improve Customer Service in the BPO Industry?
Providing great customer service in the BPO industry is a benefit to both you and your audience. Offering good service will help satisfy your clients. Happy customers boost your revenue. 
A company's overall revenue emphasizes the importance of customer satisfaction. To help your company with this, here are seven strategies to improve customer service in the BPO industry and boost satisfaction.
1. Improve First Call Resolution (FCR)
FCR is one of the top metrics and the BPO industry needs to focus to keep it improving. It reflects your team's ability to resolve customer issues or complaints the first time they reach out to you, with no additional follow-ups required. Try avoiding call transfers, as every switch of the phone line drastically reduces customer satisfaction.
2. Train your BPO staff consistently
Inadequate knowledge about your products/services can hamper the customer experience. Hence, consistent training is vital to level up the standards of your customer service in BPO. Well-trained agents are up-to-date on industry changes, have expanded skills-sets, and treat customers with empathy. 
3. Reduce queue time
No customer likes to be on-hold and they hang up when they feel your business does not value their time. BPOs should balance the hold function and must equip agents with enough resources and tools to retrieve the right information within seconds, thereby eliminating the need to put someone on hold for too long.
4. Acquire customer feedback
Today's customers share their feedback about a product or an experience across social channels. To enhance customer service in BPO there should be a feedback loop to capture valuable customer opinions. To get customer feedback, you can share survey links via text message or email seconds after the call is completed. The outcome helps to understand customer satisfaction, their pain points, agent performance, and plan the scope for improvement accordingly.
5. Establish excellent customer service models 
While hiring new call center representatives, you need to plan training sessions with the more experienced CSRs to help them learn what an ideal client call looks like. Such an approach creates a good opinion of your best practices in action and can witness the soft skills required for exceptional service. Such training sessions can bridge the gap between their training and call execution.
6. Personalize calls to improve customer service in BPO
Inbound call centers deal with hundreds of callers regularly, and personalizing every call is an ardent task. The last thing that every customer wants when they reach out to your business is  robotic voice passing generic messages. Having a centralized CRM can provide your reps all customer details.
7. Focus on building strong relationships
The final of our five top customer service tips may be seen as a summary of all that's come before it: personal work relationships should be your top priority. Do your best to make your agents feel like actual people, rather than expendable workers.
Invest in Customer Service in BPO Industry 
The customers take the center stage in the BPO industry, hence it is crucial to invest in the latest tools and technologies that help to deliver exceptional customer service in BPO. Across all industries customers are better informed so empowering your support squad with adequate training, customer engagement tools and tactics will help to win over them and increase their lifetime value. 
REVE Chat is one of the best live chat platforms that offers real time sales and support assistance, empowering your customer service team to delight your customers by understanding and fulfilling their expectations. 
Sign up with REVE Chat today and level up your standards of customer service in the BPO industry.