Consumers today expect omnichannel experiences from brands they like. The best way to engage them and build trust and loyalty is to connect with them right where they are.
Messaging helps them build trust and make people feel more comfortable about their brand. 
77% of consumers also agree that they are more likely to buy from a brand that they follow and engage with on social media.
Facebook Messenger chatbot automation is the present and the future. Absolutely no doubts!!
What's next?
According to Facebook, there are currently more than 300,000 active bots on Messenger. And that 80% of businesses plan to use Facebook Messenger bots by 2024? Here is a Successful Facebook case studies to market your brand.
It's really no surprise. 
Messenger bots are hugely valuable to businesses and can be programmed to perform all kinds of tasks — everything from customer support to building brand awareness and even acquiring new customers!  
What is a Messenger Chatbot?
A Facebook Messenger Chatbot is an Artificial Intelligence (AI) fueled system that can respond to customer queries instantly 24×7 sent to your business via direct message. The main aim of the bot is helping the users with the necessary support in seconds.
The Messenger chatbot uses text, images, videos and combinations to communicate, making it one of the most effective and efficient models. It also offers triggers that help define your customer needs and show them the pathways for getting the potential answers.
Building a FB Messenger bot needs to be programmed to understand the questions, provide answers and assist people when using this artificial intelligence. A Messenger bot will use the Messenger app from Facebook to communicate in live artificial intelligence-driven conversations, which you can set up for any part of your business and marketing.
Key Benefits of Using a Facebook Messenger Chatbot
Facebook introduced the functionality of chatbots that integrated with their Messenger app as a new Facebook feature in the year 2016. The first Facebook Messenger chatbot was used with the Marriott and Starwood Group to help guests.
Facebook Messenger chatbot is one of the fastest-growing and most effective ways businesses can connect with customers seamlessly. Chatbots are the newest, easiest and most efficient tools for a business to communicate with customers over social media platforms and websites. 
Chatbots are the finest example of conversational AI and human intelligence coming together to serve the customers.
Engage customers where they are

– Your audience is already using Messenger, and they expect to be able to interact with your brand there. FB Messenger has the

third-most active users

of any app, building Messenger chatbots can increase response rate, making it easier for people to get the information in real-time.

Automate sales

–

83%

of consumers say they would shop for or buy products in messaging conversations. With the right script, a Messenger bot can make sales. Conversational commerce allows for personalized recommendations, lead qualification, and upselling.

Save time for business and customers

– Customers expect 24/7 availability, and they hate waiting on hold. Facebook Messenger chatbot answers the easy questions and saves time with instant answers to their questions.
Different Ways Facebook Messenger Chatbots are Transforming Business (With Examples)
Facebook Messenger bot help businesses to build automated answers for responding to messages from potential customers.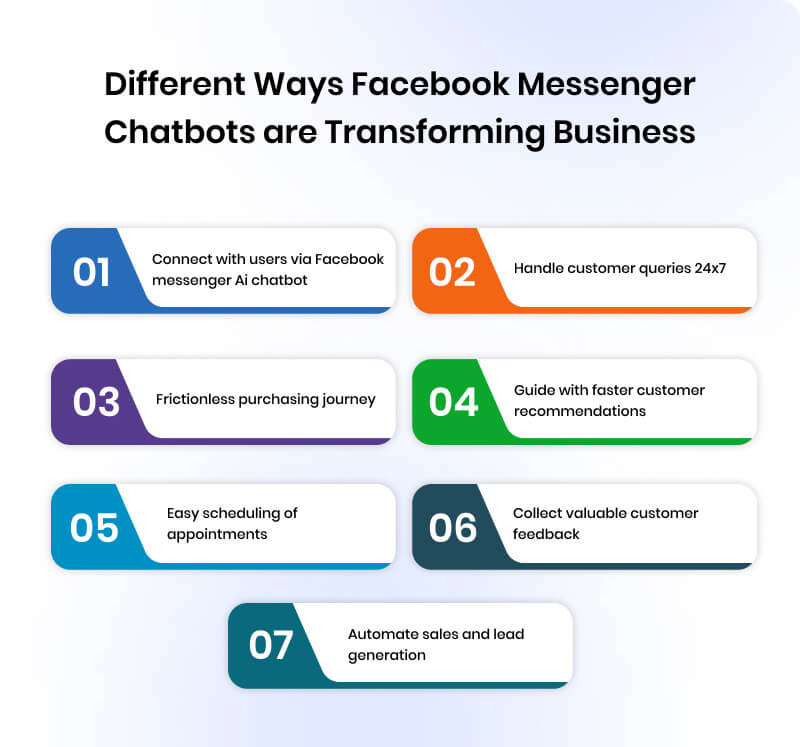 Facebook chatbot framework is designed to help businesses automate customer support operations, assist in marketing campaigns and much more through engaging text and media message formats. 
Let us discuss the different ways FB Messenger AI bots help businesses.
1. Connect with Users via Facebook Messenger AI Chatbot
Usually, customers do not like to engage with Messenger chatbots unless the welcome message is interesting. 
A renowned clothing company prAna keeps users interested by giving the prAna bot a casual, friendly tone. The type of language helps make shoppers feel welcome and establishes a connection with them.
The more they are comfortable conversing with the chatbot, they are more likely to stay engaged and possibly make a purchase.
PrAna's Messenger chatbot uses emojis and word choice to achieve its light tone.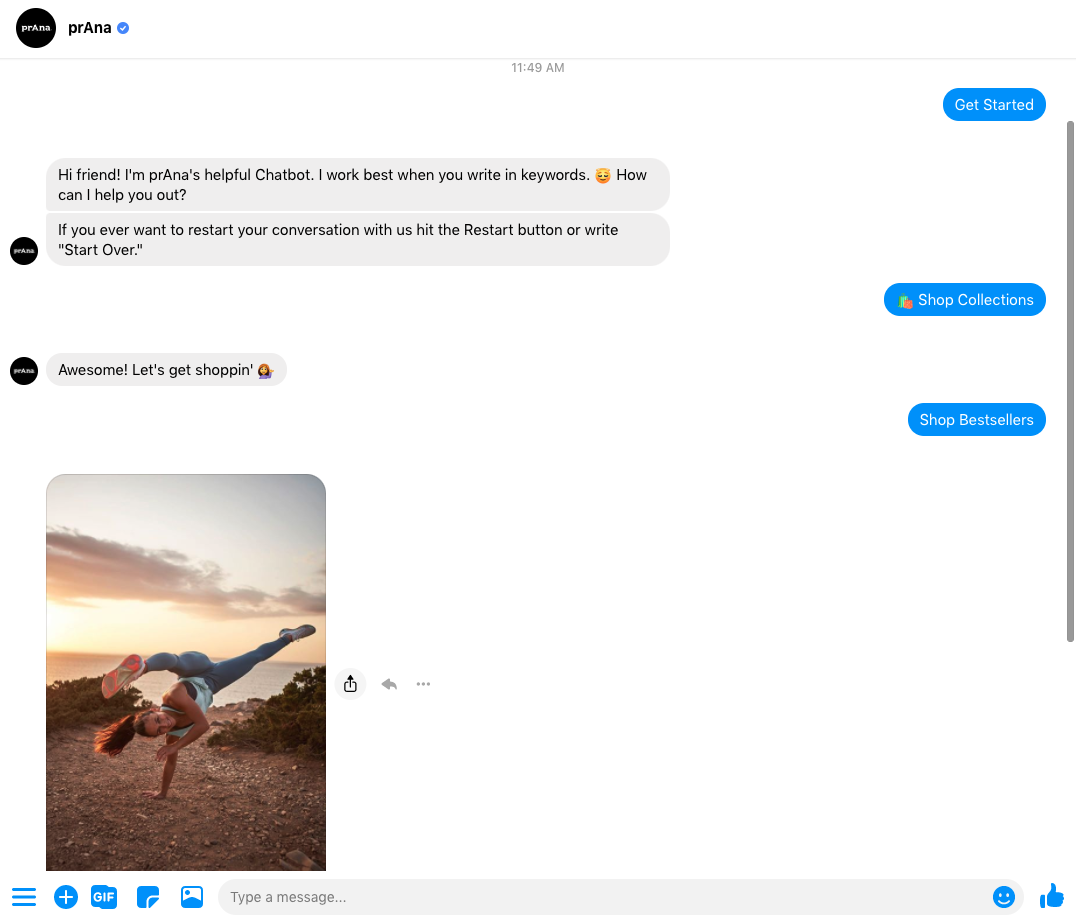 Instead of greeting the customer with "Welcome" or "Hello," The bot starts with an informal "Hi, friend!" to initiate a friendly conversation.
The chatbot maintains a perfect balance between informing the customer and holding a relaxed conversation with them.
The user learns about clothing and receives guidance on what to do next in a way that feels like speaking with a human rather than a bot.
2. Handle Customer Queries 24×7
Facebook Messenger has emerged as a great customer service channel. It is crucial for businesses to integrate it into their customer service strategies and automate conversations to stay ahead of the competition.
You should understand the significance of integrating AI-powered Messenger bots into your customer engagement strategy and leverage them to accelerate the growth of your business.
From responding to customer questions to sending automated content blasts, Messenger bots can be programmed to perform all kinds of complex tasks. 
Plus, because bots are "always on" customers don't have to wait to get the answers they're looking for!
Evernote uses Messenger chatbot to collect basic information from the customer so a support rep is able to reach out when they're back online.
When a customer messages the company, a bot replies asking for their email address and their question and then tells them a customer service representative will respond soon.
By sending a message right away, the bot creates an immediate contact with the customer, assuring them that their message will be addressed on time. It also lets the customer know what information the business requires to address their concerns instantly.
3. Frictionless Purchasing Journey for Customers
No matter if you are a delivery service or not, Messenger chatbots are useful for guiding users through the ordering process. 
By deploying a chatbot to handle ordering relieves your employees for other priority tasks and enables customers to make purchases without having to wait for the team to be available.
The famous pizza delivery service Domino's uses their chatbot to take customers through the entire ordering process. It gives them three choices to start off: Order, Track Order, or Customer Support.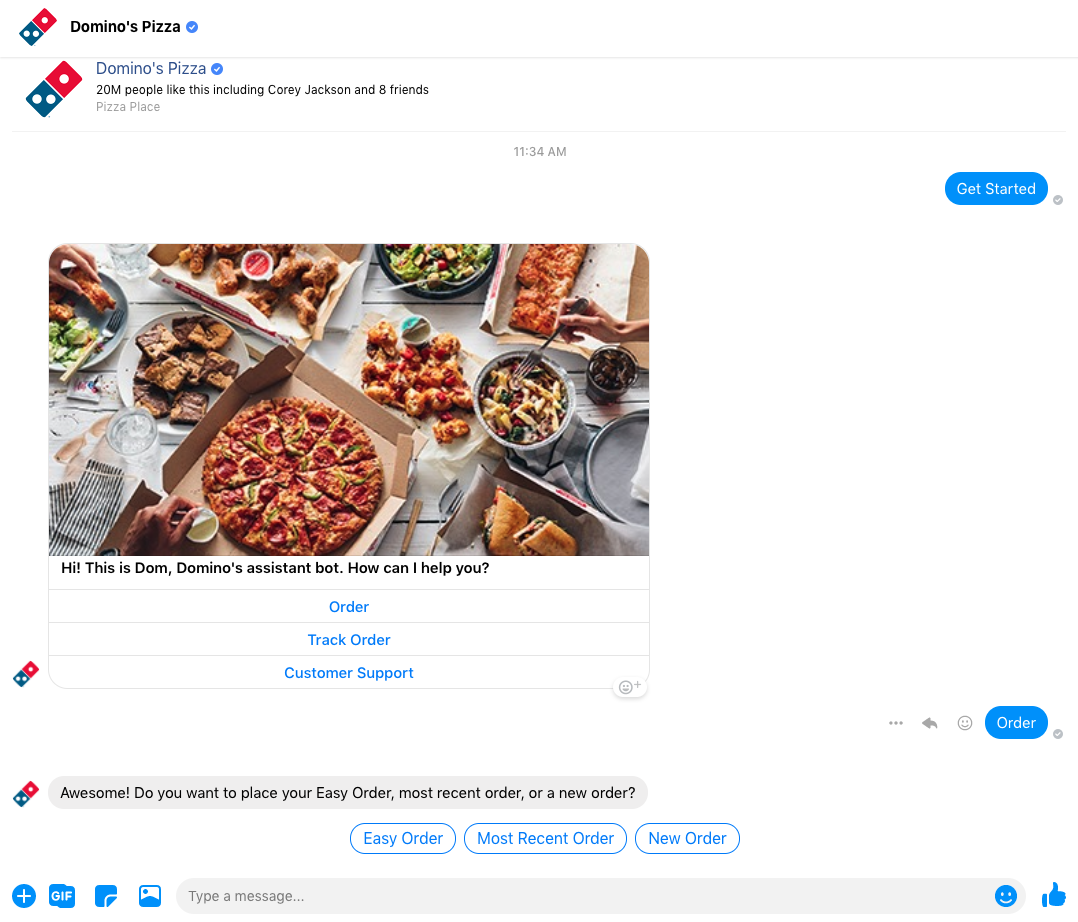 When the user begins to order, it shows the pizza options, with an "Add to Order" button below every choice.
If the customer has placed a Domino's chatbot order previously, the bot will ask if they would like to repeat the same order. With these features, a FB Messenger chatbot makes the ordering process simple, both for Domino's and for the customer.
4. Guide Customers Faster with Recommendations
Do you want to guide customers toward making purchases through Messenger? 
It's very easy – build a Facebook bot to learn about customers' preferences and deliver personalized recommendations.
Here is a good example of the travel-fare aggregator Kayak, that provides flight and hotel recommendations based on user input.
When the user clicks "Get Started," Kayak immediately prompts more information about their travel requirements to narrow down exactly what exactly they are looking for.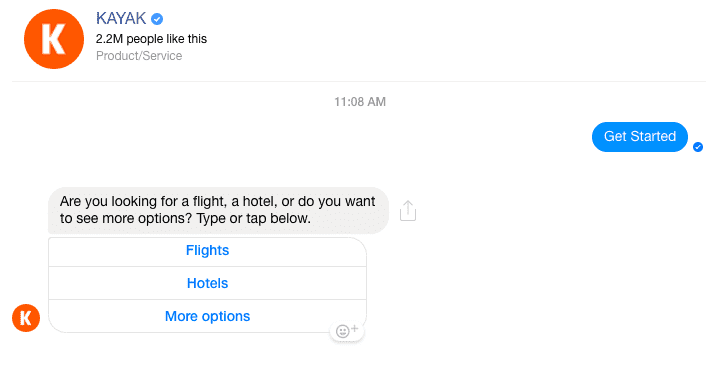 By clicking "More Options," the customer is able to ask the bot questions directly, and it will provide the most relevant answers it finds.
The bot also uses previous conversations and search history to provide targeted, personalized recommendations.
Leveraging previous conversations and search history makes interacting with the bot much more streamlined. It will build trust and brand credibility and foster better overall relationships.
5. Automate Sales and Lead Generation
Chatbots for lead generation are one of the best tools that help marketers to connect and engage with their prospects 24×7 even when the sales team is busy or not available.
Facebook Messenger chatbot makes it easy for potential customers to connect with your business anywhere, anytime.
You can create simple lead generation flows for Messenger using Ads manager. The bot provides information that the user is looking for and recommends products to match with the needs.
Key ways a Messenger chatbot can increase sales and help your business grow
Improve brand awareness

– Use your bot to talk with people who might not be familiar with your company, but have similar interests with your brand. Offer these new prospects a lead magnet, such as an ebook, in exchange for their email address. 

Deliver prompt support – You not only get a reasonable Facebook Messenger bot pricing but also expect to save time and answer common questions that come through to your customer service team, which will encourage customers to stick around. 
Stimulate repeat sales

– Messenger bots not only help make first-time sales, but they can also encourage repeat sales, too. Ask users for feedback about their satisfaction with the purchase they made. Also, send a discount coupon on their birthday. 

Driving website traffic

– Website is the main source where customers interact primarily and decide to stay or leave. Using your chatbot helps to share the link to your website homepage, latest blog post, or a product page.
6. Collect valuable customer feedback
By building a Facebook Messenger chatbot you can acquire insightful feedback from your customers that will help your business constructively.
For example, Surveybot allows you to send your customers surveys after the completion of a task—a purchase, conversation, a download, a registration, etc. 
The user is already in Messenger when they receive the request, and they can complete the survey without having to navigate to a new page or fill out a separate form.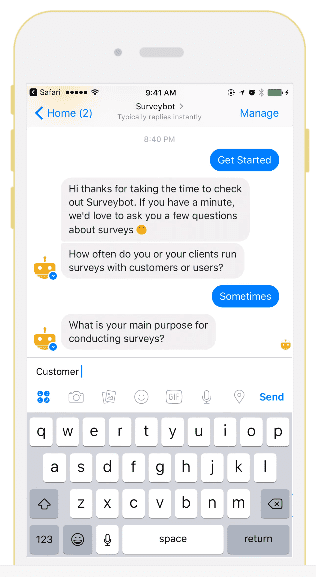 Surveybot is that it doesn't require any coding knowledge. It's 100% plug-and-play. Once you create a survey with this bot, Surveybot will provide a link to share through Messenger with your customers.
Customers expect companies to communicate through their preferred channels  and Surveybot allows your company to easily accommodate that while collecting feedback immediately after the customer interacts with your company.
7. Easy scheduling of appointments
Does your business offer appointments or services that need to be scheduled? 
By using Messenger chatbots your business can empower your customers to schedule appointments right from the app on the go. 
Leveraging a booking bot enables customers to schedule appointments whenever they are online, without needing a customer service representative to be available.
For instance, the popular beauty brand Sephora, allows customers to schedule in-store service appointments, such as makeovers or facials, using the Messenger chatbot.
On choosing "Book A Service" triggers a series of questions from the bot to help customers select the location and services they wish to schedule. Finally, a scheduling pop-up lets customers select a time available at the desired store.
When the customer enters the time, Sephora pulls the name and email of the user from Facebook to finalize the appointment.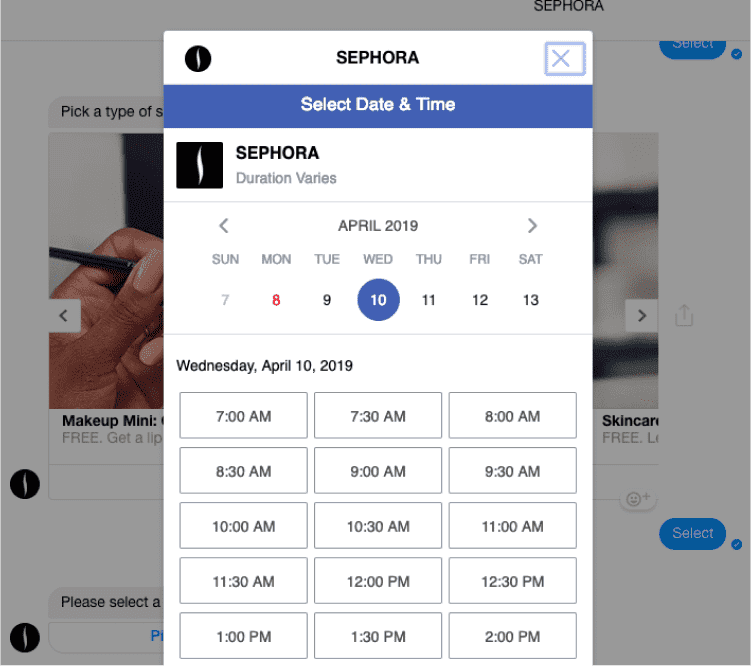 By using a chatbot, Sephora makes it easy for customers to book services. There is no need to call a store or hunt for a scheduling tool on the company's website. It can all be done in just a few steps through Facebook.
Sephora witnessed an 11% increase in in-store booking conversion rates over any other channel when they introduced the scheduling bot.
How to Build a Facebook Messenger Chatbot With REVE Chat Platform
While most companies are moving on social media platforms to connect with customers, businesses that leverage chatbots on social media platforms hold the chance to enhance their customer experience.
Hence, it is essential to know how a Facebook Messenger bot is built over the best chatbot platform. REVE Chat offers a ready-to-use chatbot platform that allows brands to create customized bots with zero coding based on business needs. 
You can deploy chatbots in a short time frame, train the bots and measure their performance much quicker compared to a custom solution. It is ideal for enterprises or small businesses across different use cases like customer support, lead generation & sales, healthcare, banking & insurance to manage conversations in a hassle-free manner.
Creating Facebook Messenger chatbot with REVE Chat is a simple process. You need to follow simple steps for a chatbot for Facebook Messenger to work.
Here are the steps on how to build a Messenger chatbot successfully.
1. Sign up REVE Chat by clicking "Start 14 days free trial".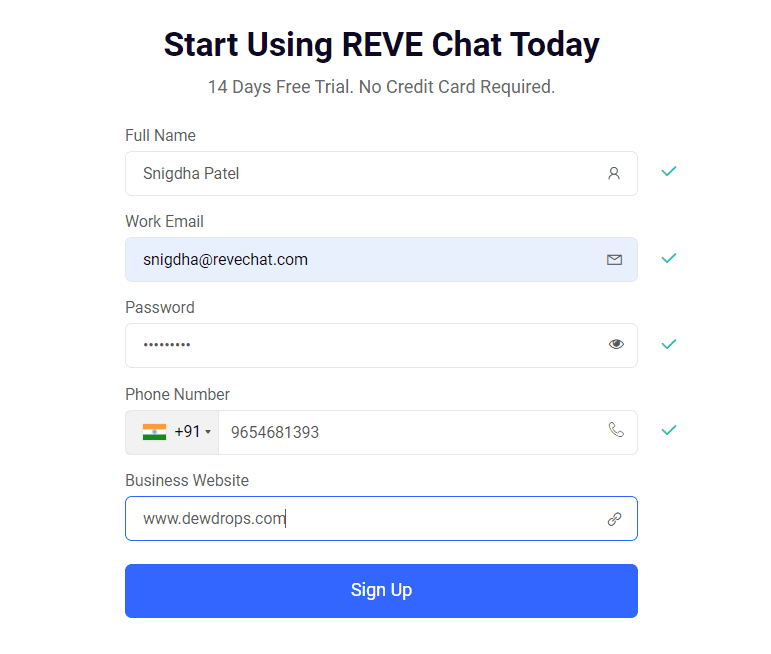 2. Once you sign up successfully, the next step is to integrate the live chat to your desired web pages. You can copy the small code snippet and paste on the website.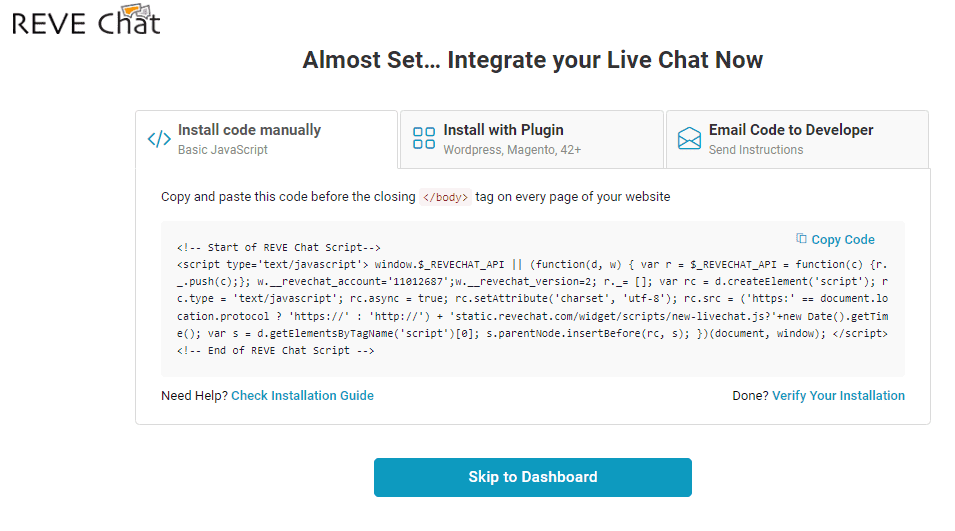 Check out "how to install REVE Chat" to your website to avoid any mistakes.
3.  Then comes the main part. You have customize your chat window that complements your business website by choosing, color, theme, customized welcome message and many more.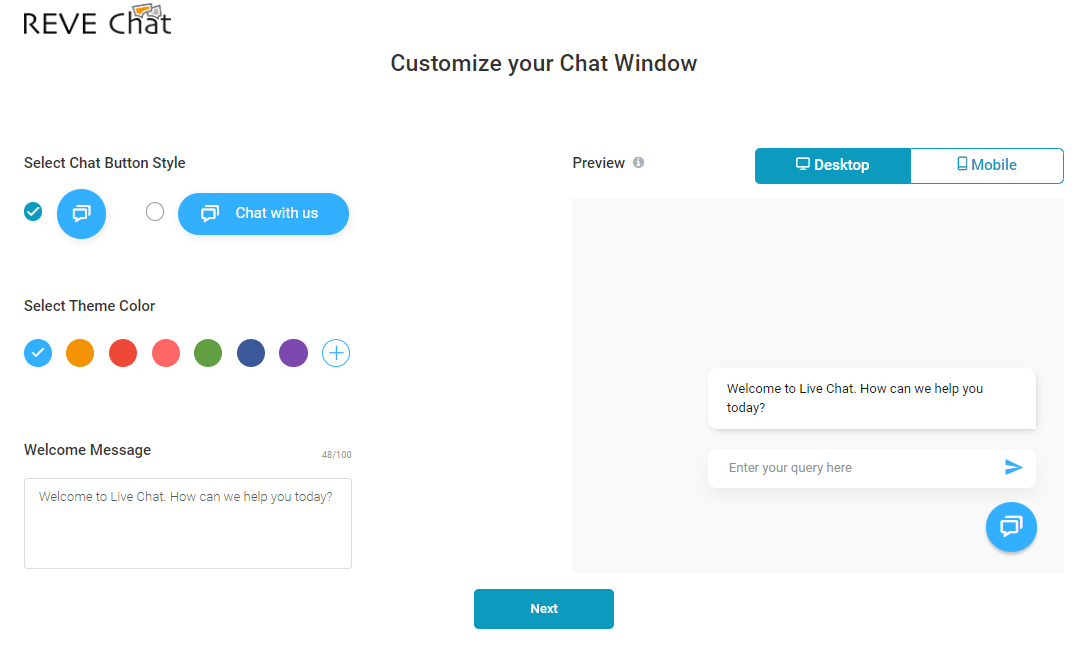 Explore more in our tutorial on "how to get started with REVE Chat" for more understanding.
4. Now to go Integrations -> Social Media Channels -> Connect Facebook Page. Your business FB page is successfully integrated with REVE Chat. 
You can easily manage all the conversations and comments in real time effectively under REVE Chat dashboard.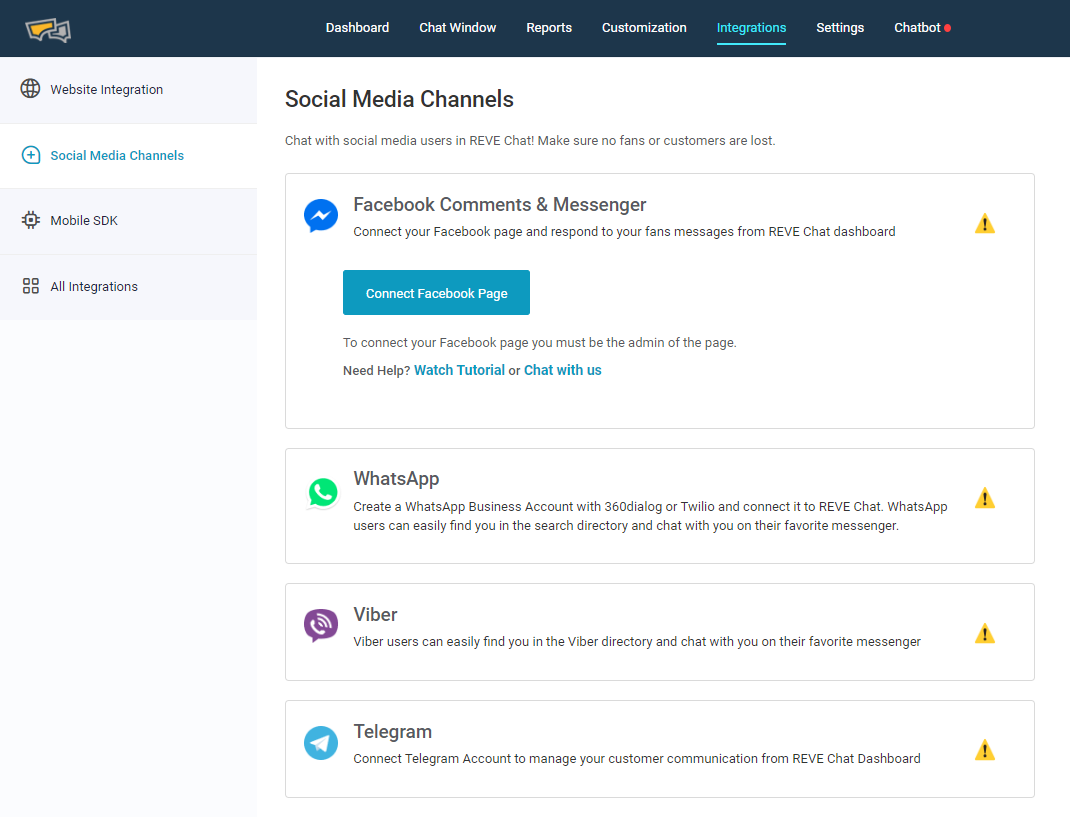 NOTE: Now as a business, if you think that you want to deliver 24×7 support, automate sales & lead generation, provide real time recommendations, schedule appointments, order food right from Facebook Messenger, you need to create a bot as per your use case and enable the channels you want your customers to reach you out.
5. For that first of all you have to create a bot by choosing ready to use templates or customize as per your need.

Refer to "how to build a chatbot" for creating a chatbot successfully.
6. Once the bot is created successfully, you have to set the profile that comprises various fields.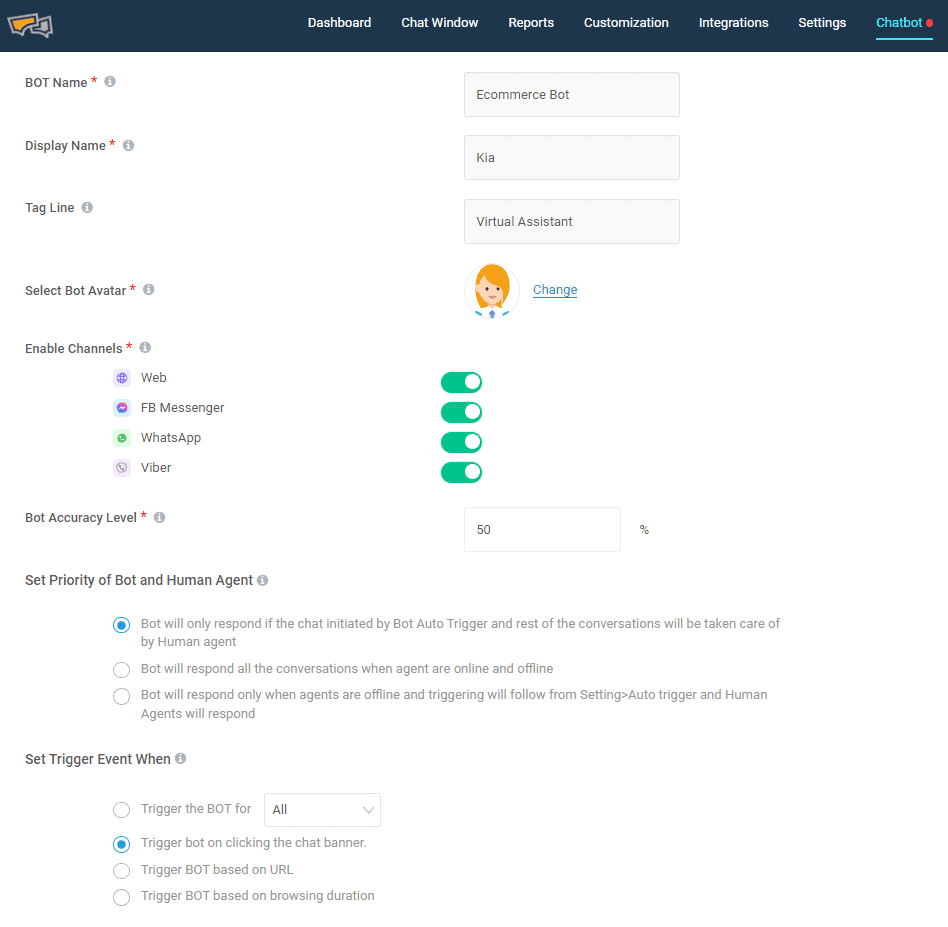 BOT Name

– You can name your bot for internal business purposes. Your customers won't be able to see this name. For e.g. Sales or Customer Service bot.

Display Name

– You can give a name to your bot that matches your personality. For example, Eva or Zoe. This name is displayed to your customers and makes them feel that they are interacting with the human agents.

Tagline

– You can set a designation of the chatbot, which can also be displayed to visitors and customers.

BOT Avatar

–  You can personalize your bot by choosing an avatar from the gallery or upload of your choice. 

Enable Channels

–  REVE Chat offers two channels for bot communication. (i) Website (ii) Facebook (iii) WhatsApp (iv) Viber . You can choose your preferred channel to deploy the chatbot for 24×7 assistance.  

Bot Accuracy Levels

– Here you need to select the query matching the accuracy level in percentage.

Set Priority of Bot and Human Agent –

You can choose from the three options to set the priority of bot and human agent for seamless communication.

Set Triggers

– REVE Chat offers four main triggers with sub-options. Based on the trigger you select, the chatbot will initiate conversations.
7. Once you set the bot avatar, you need to enable the channels that are relevant for your business. Enable Facebook Messenger here. That's it!

You are done!
Isn't simple to deploy a chatbot on Facebook Messenger. 
Now you can customize the welcome message to your preferences.
That's literally it.
You can then test the welcome message directly in Messenger once you have customized it.
The entire process takes about five minutes, start to finish.
Once you are in, you can explore the full range of advanced chatbot features offered by REVE Chat. They are as follows:
Advanced REVE Chat Features
Visual Flow builder:

Create your bot flow with the help of nodes and actions like text, image, carousel. Also set triggers as per the use case with no coding efforts and give a

cute bot name

. 

FAQs:

Train your bot regularly by creating FAQs. It allows the bot to identify the user intent and have effective communication with the users. 

Human handover:

You can set a live chat takeover in case the user asks a complex query that the bot is not able to answer.  

Sentiment analysis:

Understand your

customer emotions

and respond more accurately to deliver higher customer satisfaction. The feature trains the bot to nullify such responses and focus on the business objectives.

Fallback option:

There are multiple

fallback options

such as triggers, surveys to have a seamless conversation if the bot is not able to respond.

Bulk Machine Learning (ML) Training:

Import your own data in bulk to train your chatbot and improve the overall accuracy.

Data Sanitization:

Convert your unstructured data into a structured one so that chatbots can deliver accurate responses. 

Bot Analytics:

Additional report to understand the leads generated by bots and its time trend.
The chatbot platform is available at $44 per month with any of the plans. 
You can login to your account or sign up for 14 days free trial to test drive REVE Chatbot platform. 
For any custom chatbot solution, you can request a quote by contacting at [email protected]. Also check out the latest chatbot pricing and plans to choose the right one for your business.
Automated Facebook Comment Management
Facebook is one of the leading messaging platforms preferred by both consumers and businesses. Hence, Facebook is a key channel to be included by businesses for conversational marketing and helps in achieving higher business growth. 
Furthermore, automated Facebook comment management comes into play here.
REVE Chat helps businesses to use Facebook as a channel to manage FB accounts directly. Deploying a chatbot for Messenger will help in managing Facebook comments effectively by responding instantly 24×7 even when the support team is not available.
Handling all the conversations and comments in real time will enable businesses to deliver a consistent experience. 
By integrating your Facebook messaging with the customer engagement tool, you can connect to multiple channels and manage your FB account directly. 
Key benefits of automating Facebook comments
You can automate handling of Facebook comments & messages and the complex issues can be handed over to the right team member. It will improve your team productivity. 

The fb Messenger bot will track your conversations across Facebook comments & Messenger in real time so that you don't lose your customers.

You can measure your Messenger bot performance with

chatbot analytics

and reporting. Gain better insights into how the conversations are managed by your bot and the areas of improvement.
Tips for Using Facebook Messenger Bots
So made up your mind to leverage Messenger bots to improve customer engagement and increase conversions?
Superb!
Here are a few tips that can help you build your own Messenger bot and use it to grow your business:
Outline your expectations

from the Messenger bot. What do you want the bot to do?

Personalize conversations. You should

avoid too much text

in bot conversations and use emojis.

Test, update, and optimize conversations

on a regular basis to deliver a great customer experience.

Always have a

human handover option

to handle complex issues that bot fails to answer.

Keep evolving your Messenger bot

continuously by identifying your strengths and weaknesses.
Develop Instant Connections with Facebook Messenger Chatbot
Actually, there are so many ways you can use Messenger chatbots to engage with customers.
Just to mention a few – you could use them to promote surveys, collect customer orders, or guide customers through purchase journey significantly.
Use Messenger chatbots to create faster and long lasting customer relationships, even when your team is busy or not available.
Choose REVE Chatbot platform to build your FB Messenger chatbot and serve to make customers feel heard and assure them that your company is not ignoring their Facebook messages. Sign in with REVE Chat today!