The Banking, Financial Services & Insurance (BFSI) industry is undergoing a dramatic digital transformation that has led the way with new FinTech & InsurTech services. Considering this, banks need to move from traditional banking methods to conversational banking strategies. 
Research by Digital Banking Report found that 75% of financial institutions considered using conversation AI, data, and analytics to determine the next best action. So, banks must optimize the use of technology by leveraging Artificial Intelligence (AI), Machine Learning (ML) to improve the customer experience. 
Before we go deeper into the conversational e-banking trends and use cases, let us understand what exactly does it mean and how next-gen technologies enable BFSI industries to cater to the changing customer requirements.
What is Conversational Banking? 
Conversational banking means a process of digital banking through voice, text messaging applications, or visual engagement tools. It means you can chat directly with the bank with the messaging apps. Conversational banking also gives banks access to critical data on customer goals, financial behavior, intentions, and desires, based on which banks could upsell or cross-sell and offer relevant advice.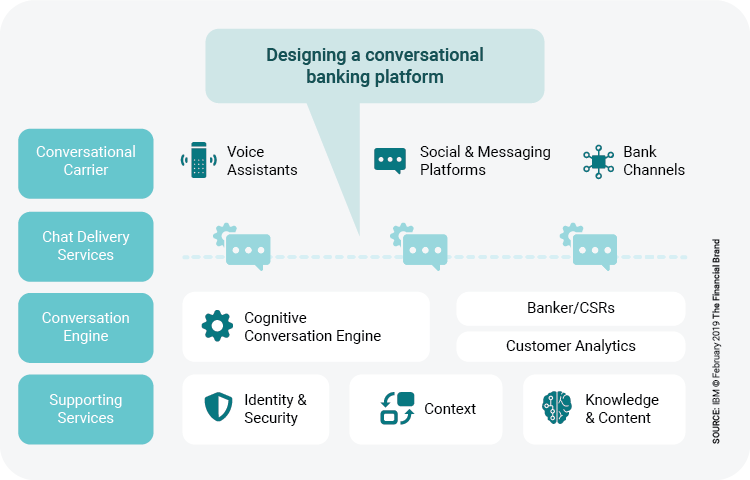 Conversational banking is a broader concept as it is not limited to text and voice chat. The technology itself means smart interaction with the client. The main goal is to understand customer needs and offer the best possible solution.
Benefits of Conversational Banking 
Conversational banking enables customers to interact with chatbots, voice assistants, human agents via live chat, mobile apps to get personalized advice on the need to visit the branch. It bridges the gap between convenience and the personal touch on your customers' preferred channels. 
Let us bifurcate the benefits separately for customers and banks.
Benefits for customers
Here are some key benefits that customers get from conversational e-banking.
24×7 availability – Customers do not have to wait for a response to their query. Chatbots for banking can stay available round the clock to handle the common financial queries asked by the customers. 
High-quality service –

With the help of

digital engagement tools, the error is identified faster and an effective solution is provided. It reduces the number of touchpoints and improves first contact resolution.

Proactive engagement –

Reaching out to customers proactively helps them to get an immediate solution when they are looking for it. This improves customer satisfaction and increases brand loyalty.
Benefits for banks
The key benefits of having a conversational platform for the banks are as follows:
Cost reduction

– Deploying chatbots can effectively handle common customer requests that reduce operational costs.

Businesses spent nearly $1.3 trillion to service these requests and bots can help you to

save up to 30%

.

Reduce errors

– Manual work has a risk of errors that can eventually create big problems. Conversational banking delivers error-free service and avoids complications. For eg. AI chatbots are programmed with all the information there is no chance of errors. 

Easy scalability

– Bots are easily scalable during peak banking hours or unexpected increases in customer requests. They can handle large volumes of chats without affecting the business costs. 
Uses Cases of Conversational Banking 
The rise of AI chatbots in the financial industry indicates how quickly the business landscape is changing even in traditionally conservative areas. 
Here are some of the most successful use cases of the BFSI sector
1. Automated customer support
Juniper Research predicts that 90% of interactions in banks will be automated by 2023 using chatbots. The research also suggests that "dramatic cost savings" can be made in the banking sector.
Bots can engage with customers 24×7 by promptly responding to their common queries and reducing the number of support requests. By automating your website support, you can offer assistance even when the service reps are busy or unavailable. 
Round-the-clock availability creates a positive impact and increases resolution speed which reduces customer churn.
Banking chatbots can assist clients in conducting a variety of financial transactions in a conversational and secure manner. From reviewing an account, making payments, renewing a policy, or handling a refund, client can handle simple tasks on their own.
Conversational banking example – Bank of America
Bank of America deployed a virtual financial assistant named Erica.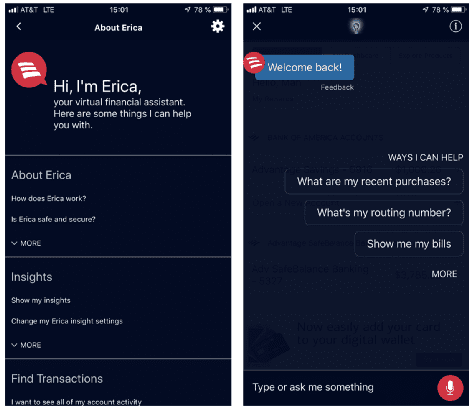 The bot efficiently handled the customer service queries in various ways like sending notifications and providing balance information, sharing money-saving tips, and providing credit report updates, facilitating bill payments, etc.
Erica has surpassed 6,000,000 users and has serviced over 35,000,000 customer service requests.
2. Voice bots in call centers
Banks are transitioning from product-centric to customer-centric business models and are implementing voice-based conversational AI to enhance their CX strategy. 
Conversational IVRs or voice bots have reduced customer wait time by 92% and increased first call resolution by 80%.
Banks are implementing voice bots to empower customers to engage in the way that they want and connect on their own terms. 
The below image shows banking use cases where customer experience can be enhanced by voice bots.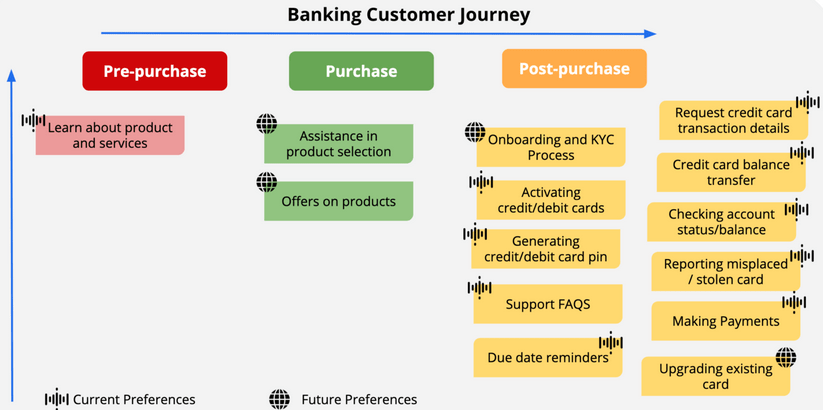 Voice bots enable 24×7 access to e-banking services from any location at any time zone. Availability, accessibility, and rapid responsiveness have made voice bots a popular banking interface.
Key ways how voice bots empower banks
Great autonomous self-service experience 

Enhanced customer service experience

Reduction in operational costs and improvement in employee efficiency
3. Real time customer assistance
Providing visual support in real time to engage customers proves more effective in improving customer experience than text conversations. Banks can use live engagement tools like co-browsing and screen sharing to collaborate with customers. 
With shared browsing, you can provide contextual information to your customers while they are browsing your website. It also helps guide clients in complex bank procedures step by step until it is resolved.
Here are some of the co-browsing benefits for the banking sector:
Faster resolution process – When the agent is able to visually identify the issue, it improves the speed of resolution. It can be more effective and interactive by combining with video, voice, and

live chat

.

Deliver personalized service – With collaborative browsing, you can personalize your conversations based on the customer's problems. Co-browsing delivers high-tech solutions giving a virtual in-person experience.
Improve first contact resolution (FCR) rate – With shared viewing, it is easy to identify the problem and deliver an effective solution in the first contact itself. It improves the FCR rate and boosts customer satisfaction.
Convert more customers – Co-browsing helps clarify customer doubts and helps increase familiarity with e-banking processes. If a visitor requests more information about the financial products, agents can use co-browsing to direct the visitor to pages that could be interesting for them.
4. Video-based client onboarding 
Customer onboarding is one of the conversational banking trends as it showcases the strategies to build effective relationships to acquire and retain customers. Onboarding customers is all about mapping the customer journey and engaging them in a better way. 
Great onboarding refers to addressing customer queries effortlessly. Customer onboarding in banks is all about:
Providing real time assistance to your new customers

Demonstrating the value of your product

Understanding and adapting to your customer's needs
Using video chat for product demos makes the onboarding process seamless. It proves beneficial especially while you are communicating crucial information to a new user. Video chat helps in educating the user base about the product features & functionalities in a better way.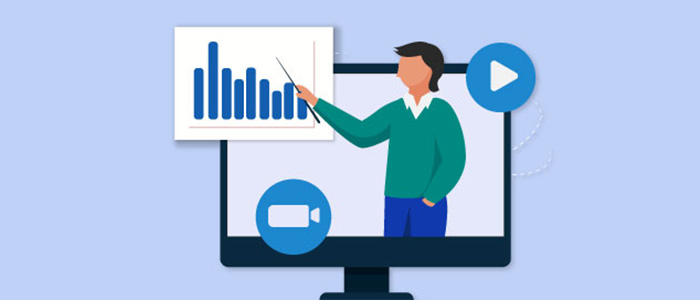 Barclays launched its Video Anywhere service that enables the availability of bank representatives in all the branches. The 24×7 service offers customers to speak to a video banker that can be accessed via smartphone, tablet, or computer at a time and place convenient to them. 
Video e-banking has become a powerful tool in deepening relationships with customers; allowing multiple video bankers to be in one place for better onboarding and easy sharing of product details along with providing workforce flexibility.
How to Design a Conversational Banking Experience?
In order to make an appealing conversational banking platform, you need to check out the latest banking trends and review them thoroughly. However, you need to consider the below steps to streamline your flow of financial services.
Let's discuss the steps to create a great conversational banking platform.
1. Map your customer journey
Mapping the customer journey is the first important step in designing a great conversational experience. By creating customer journey maps, you can provide the kind of support they are looking for.
The key elements of customer journey mapping are:
Identify the touchpoints

– Banks need to figure out all the touchpoints a customer interacts with your business. It helps in delivering a consistent

omnichannel customer experience

across all outlined channels.

Plan for offering consistent CX

– After the channels are identified, it is important to prepare a plan in order to engage customers efficiently and deliver a consistent customer support experience.
Note: The customer journey can be mapped for especially three categories of customers – the prospects, the new, and the established customers in order to offer a better conversation experience.
2. Identify the common queries asked by customers
Once you have created customer journey maps then you have to identify the frequently asked questions. It could be general inquiries, onboarding, application-related queries, transaction, and account services.
Once you list down the queries you can:
Automate the common queries with bot

– Filter and automate the repetitive questions by deploying a chatbot. The bot will be always available to handle the FAQs and increase engagement.

Deliver hybrid support

– Provide hybrid customer support by a bot handling the common queries and a human agent dealing with the complex queries.
Note: Make sure to consider all the touchpoints for the different types of customers. 
3. Outline the areas for human assistance
100% automation is not possible and customers might feel the need for human assistance at a certain point. Hence, it is crucial for you to understand those specific points of the customer journey interaction to identify the friction points.
Knowing the customer touchpoints helps to deploy the right tools to engage your customers and deliver a conversational banking experience.
Use video chat for personalized engagement

– With video chat, you not only deliver effective solutions in the first go but also have personalized customer conversations.

Real time support with bots

– Implementing a bot solution helps to engage your customers round the clock even when your team is not available
5. Choose a conversational platform
The conversational solutions are not always accurate. So, as far as inferring intent or understanding context goes, it is better to consider human support. 
You can plan a hybrid support approach by automating bots for responding to common customer queries, collecting feedback, etc., and for transferring complex conversations to the right human agent for support.
There should be a smooth transition from bot to human. The solutions should also support the channels on which you want to offer a conversational experience such as live chat, messaging.
4. Safeguard customer's privacy and data
Just like the messaging apps, conversational e-banking also has risk associated with it. For banks to offer a safe and secure e-banking experience, they must adopt measures to protect customers' data privacy and retain their trust.
Here are some measures banks can adopt for secure banking:
Compliance

– In order to offer a compliant banking experience, a holistic collaboration between the finance, legal, compliance, and security teams is required.

Secure messaging

– When a customer reaches out on a messaging app, they must be able to provide their data securely without the data being stored in the messaging app. Hence, it uses a fully encrypted messaging app.

Chatbot security

– Leveraging chatbot means a number of security measures can be taken to protect customers from hackers and fraudsters. For example, personal details should only be exchanged when a customer has undergone an identity authentication process. 
5. Measure your success across channels
Not only identifying the channels but also measuring the success across those channels is extremely crucial. 
You can measure the conversational banking experience by taking a look at regular customer feedback and NPS surveys. It will provide insights on how efficiently you are able to resolve customer issues and the areas to improve.  
Grow your Banking Business with Conversational Commerce
Banking that relies on conversational interfaces is going to dominate the near future.  Here is a snapshot of what conversational banking can achieve in the near future.
Apart from delivering answers to FAQs, conversational AI will handle complex questions, understand customer sentiments, etc. for highly personalized conversations.

Contextual engagement will become the norm. When a customer shifts from one channel to another, the conversation will be continued from the same point to keep it ongoing. 

As AI for conversational banking expands, consumers will be exposed to a number of options – voice, human, and more.

Conversational banking will eventually have to be a proactive platform that can notify customers about the shortage of balance or recommend based on previous purchases. It will be more of a personal financial concierge.
The future roadmap of conversational banking is going to be complex with any breakthrough technology that the banking industry has witnessed. Banks need to adopt new marketing strategies and overall have a vision around which the entire organization can rally to be successful. As the power to converse bestows on you a unique opportunity to better understand your customers and fulfill their needs.