Do you know the benefits of using AI in customer service are huge? First of all, it's about efficiency and simplicity. No paperwork, no annoying call-back, no need to wait. Second — AI provides a more personal interaction which is essential when you have a serious customer support problem like recovering a lost password or canceling something. 
"Servion Global Solutions predicts AI will power 95% of all customer interactions by 2025, including live telephone and online conversations"
The day when AI is helping people by making their daily routine easier has come, and it doesn't matter if you are a business owner or a customer. AI can now replace your receptionists, order your pizza and deliver it to you, and even check the weather for you and warn you if you need to bring an umbrella on your way.
In this article, I'll briefly discuss AI in customer service, its benefits, and its future. 
What is AI in Customer Service?
Artificial intelligence (AI) is everywhere these days, but what does it really mean for customer service? We need to understand what AI is. AI in customer service can be defined as the state of computer science that develops computers and computer systems to perform tasks normally requiring human intelligence such as visual perception, speech recognition, decision-making, and translation between languages. 
In customer service, this means that companies can use machine learning (ML) and natural language processing (NLP) to solve customer issues without human intervention.
Key Benefits of AI in Customer Service
AI is revolutionizing the customer experience, by providing assistance with sales inquiries, helping insurance companies assess risks, and assisting companies with a wide variety of administrative tasks.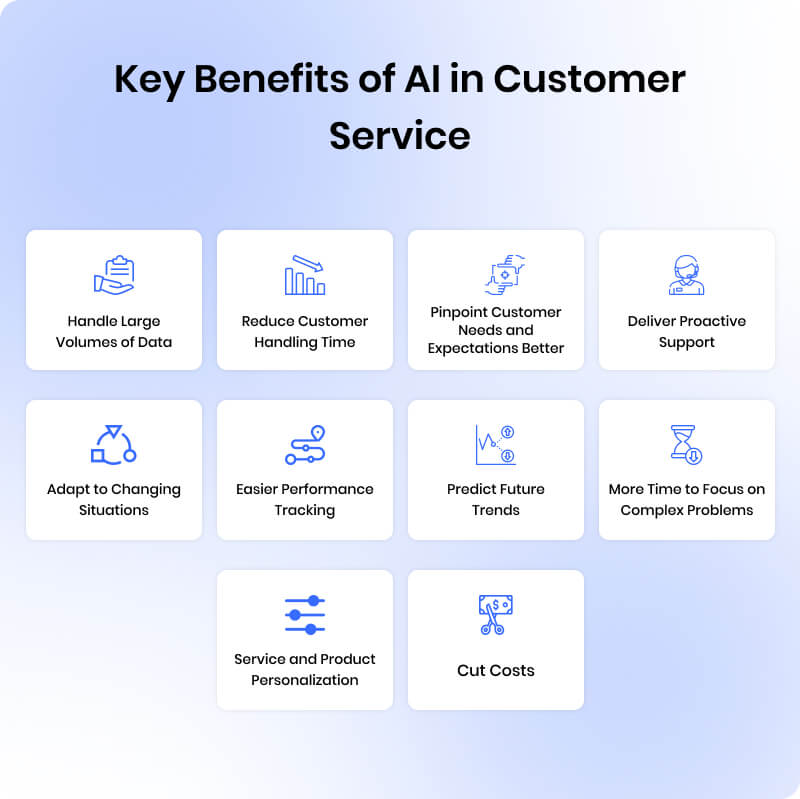 Now let's take a look at the benefits of AI in customer service.
1. Handle Large Volumes of Data
Artificial intelligence (AI) is the next big thing in customer service and it can solve a problem that many businesses face: large volumes of data.
Augmented Intelligence technology is sweeping across the customer service landscape and transforming it into a more efficient, cost-effective, and productive environment.
2. Reduce Customer Handling Time
When it comes to handling customer queries, most organizations face challenges like scaling up the number of agents to handle the increased customer traffic. At the same time, all customer queries need to be addressed in an efficient and effective manner. And, this response needs to happen in a timely manner.
Businesses with large volumes of individual customers would rather spend 5 minutes on hold with a human agent than 20 minutes waiting for an automated callback.
3. Pinpoint Customer Needs and Expectations Better
One of the biggest challenges in customer service is trying to meet increasingly high standards of customer satisfaction. Even when you're doing a good job, it's never enough.
The solution? Personalization. Personalization gets better with AI.
Personalization can be tricky. How do you know what they need? How do you know what they like? How do you know what they want? By bringing the power of AI to your customer service operation, you can pinpoint customer needs and expectations better than ever before.
4. Deliver Proactive Support
Today, most customer support software applications are designed to provide reactive support—that is, they help customers when they have an issue or problem. But, in reality, the best time to solve a customer's problem is before they experience it. AI can be a powerful tool to solve problems proactively, providing proactive support.
With AI, you can:
Compare previous conversations and interactions to determine the root cause of an issue.

Identify patterns in customer inquiries across all channels.

Automatically prioritize cases based on urgency and customer issues.

Deliver proactive alerts when a customer is unhappy or facing an issue.
As AI technology gets more advanced, it will be able to not only provide proactive support but also proactively identify opportunities for improvement and make recommendations for changes to processes and procedures to help companies run more smoothly. So, the next time your company needs customer support software, consider the benefits of using AI to deliver proactive support.
5. Adapt to Changing Situations
Many companies that are using human resources for customer support have to deal with a high volume of service requests and therefore have to hire more and more people.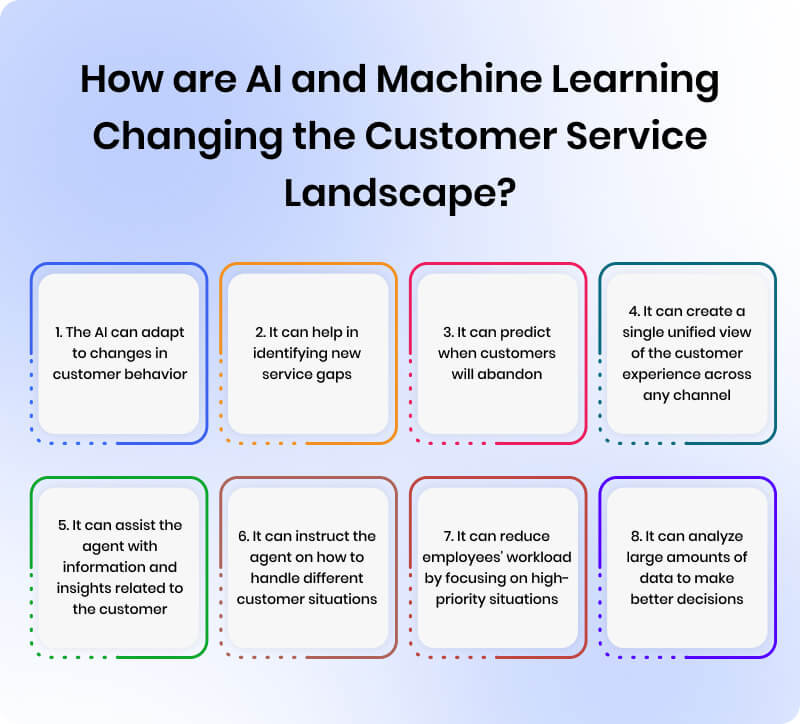 There are several ways that artificial intelligence (AI) and machine learning (ML) are changing the customer service landscape
The AI can adapt to changes in customer behavior

It can help in identifying new service gaps

It can predict when customers will abandon

It can create a single unified view of the customer experience across any channel

It can assist the agent with information and insights related to the customer

It can instruct the agent on how to handle different customer situations

It can reduce employees' workload by focusing on high-priority situations

It can analyze large amounts of data to make better decisions
Finally, in the next few years, AI will be used not only for customer service systems but also in retail and travel industries, allowing companies to collect more information about their customers and provide better services to them.
6. Easier Performance Tracking
In the work environment, performance tracking and measuring are essential to assess how you're doing as a team.
However, sometimes it can be a grueling task to ensure that you are doing all that you can to improve your team's performance, especially if you're not using the right tool or using one at all.
A number of companies have realized the potential of using artificial intelligence (AI) to improve their customer service. Customer service is a crucial part of customer experience (CX). In fact, it can make or break a business.
AI platform offers a wide range of data, graphs, and metrics, which you can use to assess your team's performance. 
7. Predict Future Trends
AI is now used to predict a future trend, in the field of the fashion industry, AI can be used to predict the trend of a popular brand and the style of the fashion elements which is related to the brand.
Similar to the algorithm of Google news, except it is not just text, but also contains a picture that can influence the trend in the fashion industry.
8. More Time to Focus on Complex Problems
Today's artificial intelligence (AI) systems can handle most smaller tasks independently, giving employees more time for higher priority jobs. 
For example, Nara Logics uses AI to help radiologists read CT scans and other diagnostic images. These images are incredibly difficult for humans to interpret because they typically do not conform to standardized sizes, making them susceptible to human error.
Precision, acquired by Uber in 2016, uses deep learning to help warehouse workers find items in massive fulfillment facilities.
Facebook is using AI to organize photos, which frees up time for employees to focus on higher-level tasks like managing the image library across all of Facebook's social networking properties, Instagram and WhatsApp. 
9. Service and Product Personalization 
AI is expected to be a $36.8 billion market by 2025, according to the International Data Corporation. AI has penetrated many industries including retail, healthcare, and financial services, but this technology hasn't been widely adopted in the customer service industry. AI in customer service allows for immediate, on-demand assistance and self-service.
AI can be used to automate the tracking of customers' issues and queries without the need for human intervention. 

This allows companies with large customer service teams to save on costs and increase efficiency. 

For many companies, AI can also be used to enhance customer experience by giving customers more

personalized support via live chat

or voice assistants such as Alexa and Siri.
Businesses that choose to invest in AI solutions can generate significant returns. Since companies rely on product sales for their economic growth, increasing the sales volume by 10% would increase profit by 15%. However, using AI solutions can help companies increase profits by more than 15% while keeping their revenues the same.
10. Cut Costs
Almost every major tech giant is using some sort of AI to provide customer service. By providing a 'chat-bot' or an automated way, companies are already reducing their cost of providing customer service by up to 80%. But what about the customers? What do they get from this? 
Well, first of all, no human operators, no endless waiting, and worst of all – no human mistakes. Now, imagine if you could get a real-time answer to your questions from a bot that can also learn from your interactions and develop its own AI personality. That is something you could never get from any human soul out there!
Revenue growth is never guaranteed in today's competitive business environment where new products launch every day. Using AI in customer service will enable businesses to stay competitive by keeping their customers happy and increasing their profits. 
What Can Your Do With AI in Customer Service?
Over the past few years, Natural Language Understanding (NLU) has evolved rapidly, with chatbots able to respond to increasingly complex queries. Now, let's take a look at what can you do with AI in customer service.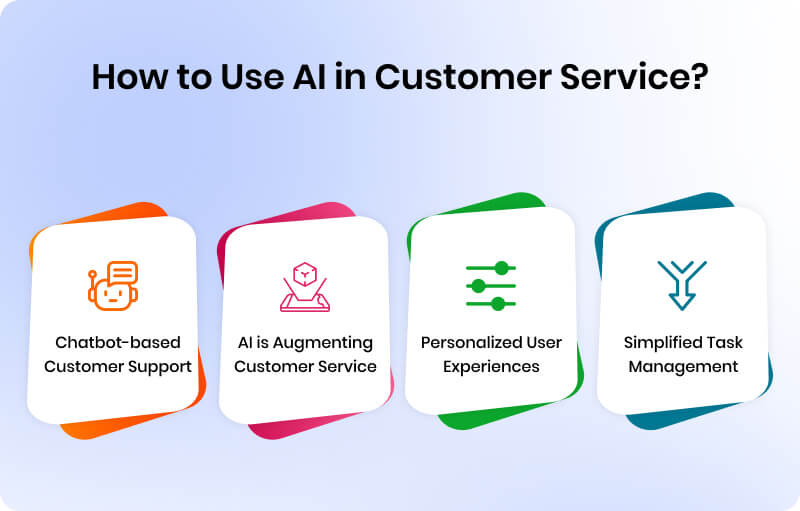 1. Chatbot-Based Customer Support
Chatbot-based customer support and the technology behind it are becoming more and more popular in today's marketplace. The technology is predicted to grow at a compound annual growth rate of 58.5 percent by 2023 and is estimated to be worth $1 billion. 
Chatbot-based customer service is a growing trend where businesses are replacing their phone or email support systems with an automated chatbot that answers questions or provides solutions to problems.
The chatbot's ability to search the user's history and draw on its understanding of the product, combined with its ability to understand natural language, makes an unbeatable customer service solution.
An article published by Forbes quotes a study performed by Forrester Research that claims that customers who get proactive chatbot-based customer service have 43% loyalty toward a brand.
Specifically, it allows customers to instantly connect with a company through a fast, friendly, and intelligent interface that can answer hundreds of different types of questions.  
2. AI is Augmenting Customer Service
Artificial Intelligence and Cognitive Computing Market – Global Forecast to 2023," it said, "AI is emerging as a disruptive technology that can transform the way of doing business, and cognitive computing holds the promise for a new wave of innovation in the information technology front.
Global AI and Cognitive market size was valued at USD 12.18 Billion in 2016 and is expected to reach USD 55.68 Billion by 2023, at a CAGR of 37.5%. The growth of the cognitive computing market is driven by factors such as increasing demand for automation of business processes, growing use of Internet of Things (IoT) devices & services, and rising demand for AI-powered consumer applications. So, you can use this AI technology to deliver superior customer service. 
3. Personalized User Experiences
Amidst all the noise of the AI hype, many startups are focused on providing a stellar customer experience. All companies want to delight their users and increase customer retention through personalization. 
With the use of machine learning techniques and Natural Language Processing (NLP), computers can now crunch through vast amounts of data to assess needs, preferences, and emotional responses.
4. Simplified Task Management
It does not impose on you its own way of managing tasks but helps you figure out your own way of managing tasks and make it as efficient as possible for you.
Understanding your goals;

Understanding your working style;

Organizing your tasks around your goals;

Organizing tasks according to your working style;

Tracking progress;
What is the Future of Customer Service AI?
The customer service industry has always been a key part of the business, as it represents interaction with the end users.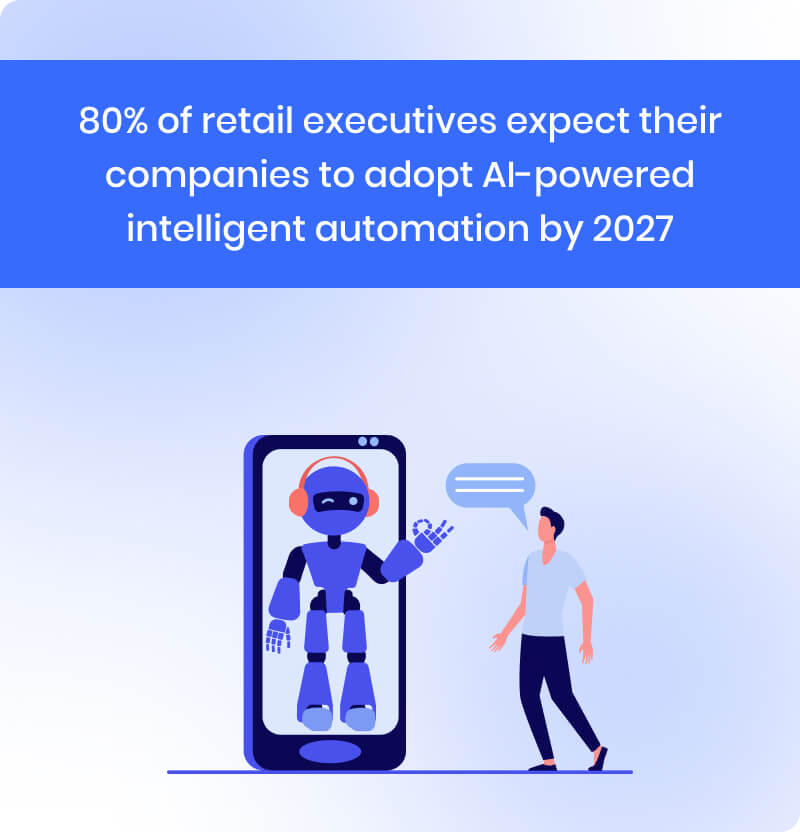 The role of this industry is becoming more important than ever, as the customers are starting to be able to reach a brand at all times and globally. In order to keep up with this time, customer service must modernize, and adopt new technologies and practices. 
The importance of customer service is accentuated when we take into account that more than 70% of people would recommend a brand to a friend only if the contact with it was satisfactory. 
Therefore, the main goal of any brand should be to provide excellent customer service. But what does this comprise?
Multiple factors affect customer service today, such as
Artificial intelligence (AI) in customer service;

Personalization technologies;

Performance management;

Quality assurance;

Usability testing.
Customer service is not only an internal department that takes care of resolving customers' concerns and doubts. It is a crucial part of many organizations' brands and is directly influencing how potential customers perceive them. This had led to the widespread use of AI in customer service.
Why REVE Chat? 
At REVE Chat, we know that the quality of customer service directly correlates to the success of your business. 
That's why we've built a customer service platform with artificial intelligence at its core. Our platform allows you to automate customer service processes and offer immediate, personalized responses at scale.
It comes with some awesome features such as Live chat, Chatbot, Cobrowsing, Screen sharing, and many more. These incredible features will play a key role to increase customer satisfaction, repeat customers, and get more sales. So what are you waiting for? Sign Up now and enjoy 14 days free trial.