WhatsApp is ranked the world's most popular instant messaging app to communicate with each other with 2 billion active users worldwide. It is immediate, personal, and global in reach, making it a great tool for customers to reach out to businesses.  
Brands with a focus on omnichannel strategy can find WhatsApp for customer service a perfect solution as it incredibly helps to engage with customers in a private and secure manner. 
From handling customer queries to showcasing products, sending notifications, or giving updates, a variety of tasks can be done through WhatsApp to enhance customer experience with a brand. 
Your company can benefit from the end-to-end encryption feature and use it to redefine communication with customers. 
With WhatsApp messaging, you can strengthen your customer support and take business communications to an altogether new level of engagement.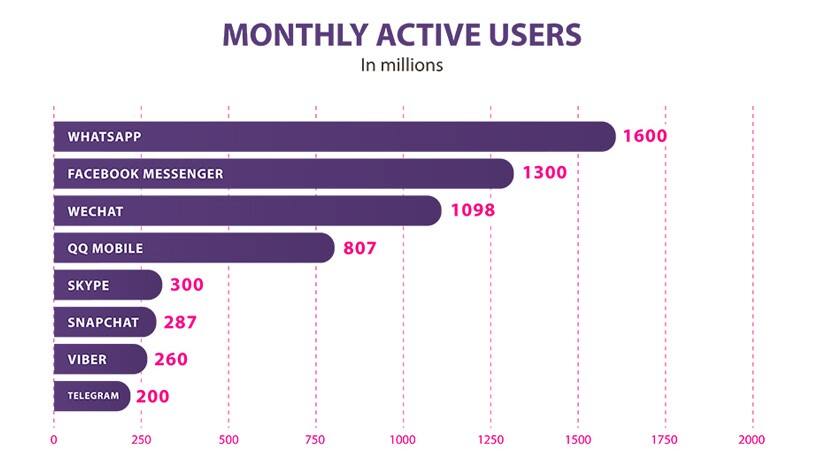 Benefits of WhatsApp for Customer Support
Customers now expect personalized answers and wish to be engaged in real-time communications. The trusted and secured messaging nature of WhatsApp makes it ideal for engaging customers and meeting their expectations. For that reason, brands globally are using it as one of the top messaging apps for customer service and quickly reaching out to customers.   
Using WhatsApp for customer support can help your business in many ways:  
Highest number of monthly active users: 

 Among messaging apps, WhatsApp has the highest number of monthly active users cutting across age groups and geographies. Therefore, it can give your business a chance to expand its reach and realize its true potential.    

Team inbox: 

Using WhatsApp for business gives the advantage of a team inbox where customer chats can be assigned to multiple support agents together so that the quality of service can be improved.     

Chatbot capabilities: The use of a chatbot template for WhatsApp customer support

 can enhance the capabilities of your business and automate responses. Integration of bots can help manage customers efficiently.   

API availability: The easy availability of WhatsApp business API can help your business with third-party integration such as with CRM and Salesforce. This can help put together all customer data in one place and use it for better customer service.  
Rich media support: 

A new dimension to customer engagement can be added by sending rich media content such as images, videos, emojis, or documents. It's also possible to create a catalog to showcase your products and services.  

 
How to use WhatsApp for customer service 
Brands need to be present on virtually every channel to meet the goals of customer experience. By using WhatsApp, your business will find a great customer service channel and be able to offer quality customer support through the most widely used messaging platform. 
Brands are using WhatsApp in different ways to achieve the goal of customer satisfaction and deliver an omnichannel experience. 
Let's look at each of the ways to use WhatsApp for customer service. 
1. Handle common customer queries
Customers seek quick responses when they reach out to businesses. Thanks to WhatsApp, you can engage in one-on-one communication with your customers and handle their queries in real-time. 
Your business also needs to be ready as customer queries can come in many forms, be it inquiry about a product, information regarding a purchase, interest in a potential product, complaint or order-related doubts, etc.  
In fact, you can give a huge boost to customer engagement with WhatsApp integration and ensure value at each step of he journey.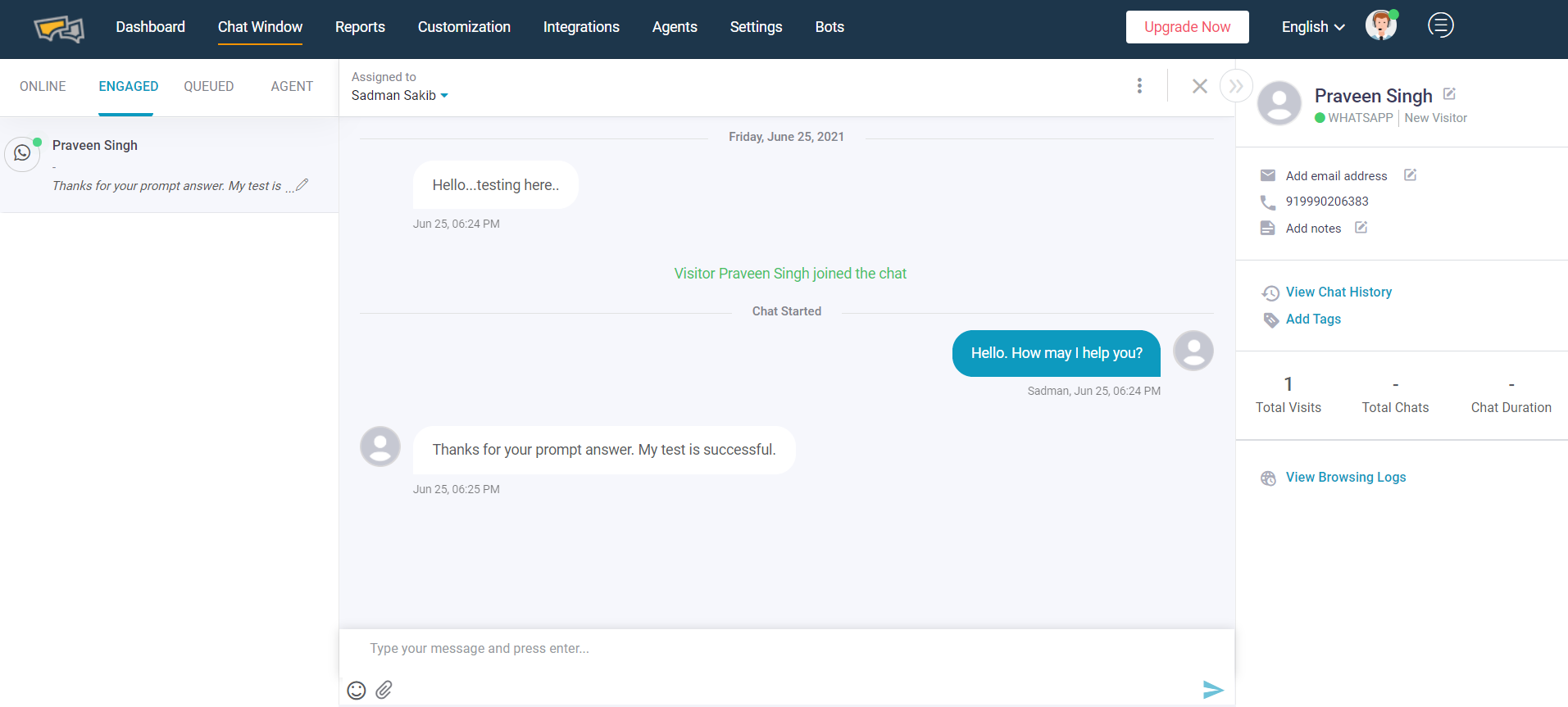 How to use WhatsApp for customer queries?  
Make your WhatsApp number available on your

website, social channels, and email signatures

so that your customers can reach out to you.

Put your WhatsApp number in the contact us section

or add a chat button to let customers easily access it and start the communication. 
2. Collect customer feedback
52% of people believe that companies need to take action on their customer feedback.   
Well, customer feedback should matter to your business, as much as anything else. And when there is an excellent platform like WhatsApp, brands should not think twice about reaching out to customers and soliciting feedback from them.
The conversational flow of the channel makes it one of the key tools in collecting customer feedback and sensing the mood of customers.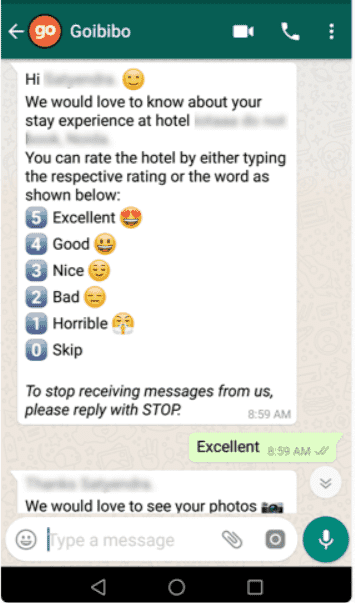 Goibibo is a leading travel and tour agency that uses WhatsApp successfully for customer feedback collection. The experiment has been a great success for the agency as it has witnessed a huge uptick in its review conversion percentage. 
Why use WhatsApp for customer feedback collection? 
The two-way communication nature of WhatsApp helps brands

get customer feedback in real-time

and implement suggestions to improve their bottom line. 

The conversational flow of the channel is one of the top reasons that makes it

ideal for customer review generation

.  
3. Send status updates
Adding WhatsApp business to your communication mix can prove to be very handy in sending status updates to customers regarding booking, order tracking, etc. 
You can use the channel to inform customers about the exact status of their order, its scheduled arrival, and other key information. 
Updating customers about the status is easily one of the key customer service tips and grow your business.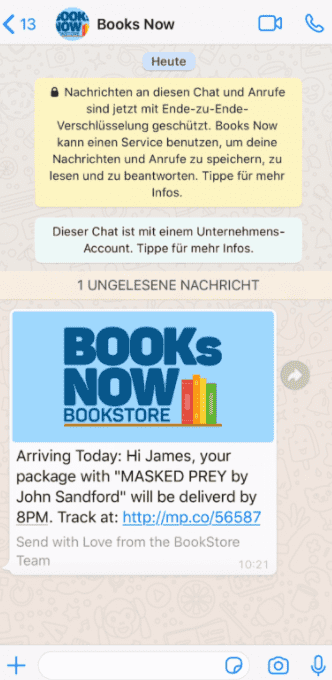 Best practices with using WhatsApp for status updates 
You can

use WhatsApp messages to confirm each new order

instead of an email and enjoy the high open rates for your message. 

Brands are leveraging WhatsApp to

update customers about the availability of items

on their wishlist that were earlier out of stock. 

Your business can drop a quick message to customers to

inform them about discounts on a particular product

and this can boost the conversion. 
4. Share notifications instantly
Your business can use WhatsApp API for sending notifications and reminders to customers and enhancing their experience with your brand. Different types of notifications can be sent to customers such as related to booking, due payment, etc. 
Unlike email, customers are more interested in reading WhatsApp messages and that's why sending notifications and reminders there can help a lot. 
Different types of notifications through WhatsApp
Billion invoice notification:

 Your business can send a billing invoice or payment request for an order via WhatsApp and keep customers timely notified of their dues.  

Appointment reminder: Y

our business can use WhatsApp appointment notifications to remind customers of important appointments.

Delivery status: 

WhatsApp is always a great platform to

keep customers informed about the status of an order.  

 
5. Highlight products and services 
WhatsApp Business gives you an opportunity to highlight your products and services so that customers can find them and think of engagement. Brands can create a catalog to showcase their products and services with the view to achieving the marketing goals.  
In addition, the chatbot capabilities can be combined with WhatsApp to automate queries and efficiently respond to customer messages. Whether your business is small or large, you can leverage the platform and showcase your wares to the world for free.  
6. Seamless bookings
Customers nowadays expect booking information and related details on WhatsApp as it feels convenient to them. When all the booking-related information is available in a single place, it enhances the customer experience with the brand.  
Your business can include WhatsApp as part of the customer communication channels with a view to club all the booking info together and deliver it in a seamless manner. This can save customers the hassles of checking emails and calling the support team for relevant information.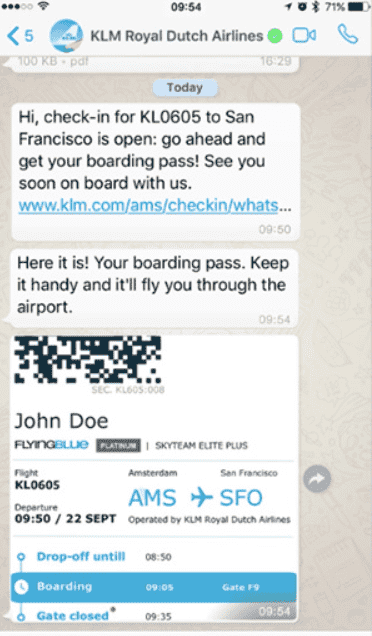 KLM Royal Dutch Airlines is a good example of how to successfully use WhatsApp business API to make booking simple and effortless for customers. The airline not only sends all booking details on the customer's WhatsApp number but also sends e-boarding passes to add great value to customers. 
Best practices to use WhatsApp for bookings
Include WhatsApp business number in the list of options customers can choose to receive their booking details.

Have a WhatsApp customer service agent to deal with complex matters of booking and ensure quick resolution to problems. 

Ensure that all the information of booking is delivered via the WhatsApp platform to ease the whole process and experience for customers.  
7. Scale customer communication
The use of WhatsApp can be done to do customer communication at scale or engage in mass communication. There is the freedom to use the media format of choice be it images or videos with customer interaction to enhance the experience.  
How to use WhatsApp for customer communication 
Group Targeting:

 Your business can use WhatsApp to do group targeting and tap into customers with similar interests. 

Campaigns:

 Innovative campaigns are easy to run using WhatsApp as this can prove value addition not only from communication but also marketing point of view. 
Revolutionize your customer service through WhatsApp  
Omnichannel engagement holds a lot of promise for businesses to seamlessly connect all channels into one customer experience flow. And WhatsApp is definitely a great leap forward in this direction to boost customer engagement and redefine support. 
With private and encrypted messaging, WhatsApp is going to add a lot of value to your customer service strategy and provide a competitive edge in the industry. You can thus make it part of your customer service mix and put your business on the right track of growth.