By now you must have heard or played Pokémon Go which has literally taken the world by storm. Developed by Niantic, Inc, it has crossed 75 million downloads and within a month of its launch, its global revenue is more than $200M.
Pokémon Go not only applied many creative ways to get brand recognition through excellent customer experience, but also has provided several great insights on customer behavior. Here I have listed down some of the useful techniques that this mobile gaming app has taught us about consumer experience and user engagement. These tips can be applied for not only gaming apps, but all kinds of businesses where customer engagement is an utmost priority.
Pokémon GO daily active users compared to previous app hits, in millions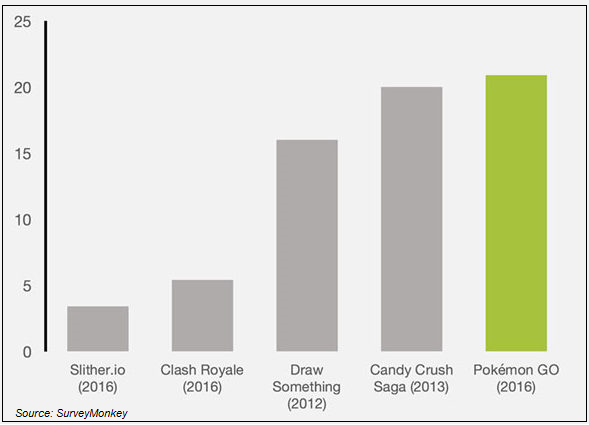 1. Your product must deliver value to customers
For customer engagement, always develop the product keeping your user needs in mind. This is the only way to add value to your customers, by which they will get benefitted. Don't forget that the first time consumer experience always gives a head start.
Pokémon Go has shown how a product can be customer centric. The team understands the users very well. They knew that nowadays people are very busy and they need something which is fun, delightful and at the same time a big time stress reliever. Its first time user experience is so good that people really got addicted to it.
[Tweet "As of August 12th, Pokémon GO has generated $258 million in total."]
2. Your customers are your BEST brand ambassadors
Customers can become your brand ambassadors only if they love your products and want to share their experiences with others. If you make them feel that they matter to you then your brand will also matter to them. The customer ambassadors are not your team members, but their word of mouth advertising can influence the growth and success of your business.
Pokémon Go has applied the same logic. Being impressed by its excellent user experience and highly appealing visual content, people have started recommending others to play the game. Here word of mouth advertising has effectively given a boost to this brand. People always trust the words of their friends and families. They always readily try something new based on personal endorsements.
[Tweet "A brand is no longer what we tell the consumer it is, it is what consumers tell each other about it- Scott Cook"]
3. Create an excellent customer experience for mobile users
For 2016, the number of worldwide smartphone users is forecast to reach 2.08 billion. So for any product, nowadays smartphone presence is a must and no one has understood it better than Pokémon Go. People have become really tech savvy and their whole world revolves around the smartphones. So, use it as a strong weapon to reach to the potential customers.
Pokémon Go was launched in both iOS and Android platforms only, thus has been exposed to a larger group of audience. This game also requires to use the phone camera, GPS and mapping system which smartphones are compatible to provide.
4. The better your visual content is, the more customers will engage
Your content must be meaningful and attractive, this is the main key to improve customer engagement. Customer needs are forever evolving. You can create the best mobile app or great looking website, but customers will never engage if you don't pay attention to their requirements.
For any good brand, it's all about catering services which are user friendly and add value to the consumers as an incentive to stay engaged. In case of Pokémon Go, people are ready to pay money to enhance the overall experience which means that customers are always ready to pay money for a service only if it meets their requirements.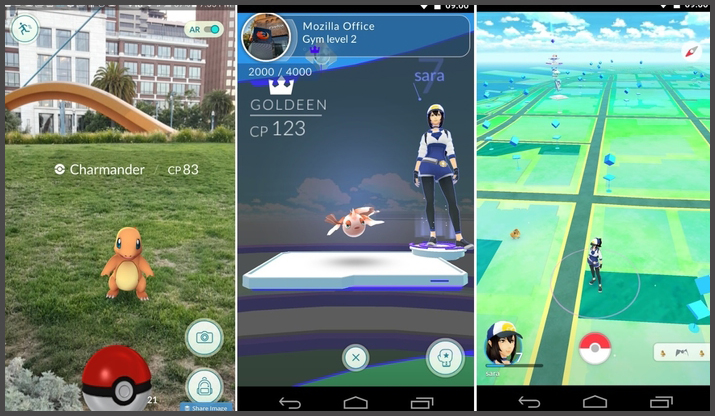 5. Reward customers to earn loyalty
Want loyal customers? Offer something extra which is actually valuable for them like rewards. This is the main mantra!
Pokémon Go also has followed the same path. People here get bonus points and incentives for catching new Pokémons, completing a level and even walking miles. The adventure to find a rare Pokémon and winning extra incentives are good enough to make people engaged and stay loyal to this game. Pokémon Go has clearly demonstrated how successful this reward idea can be if you make the overall experience delightful and relevant for the customers.
 [Tweet "Percentage of iOS users that do in-app purchases – 80%"]
6. Let your customers create experiences by themselves
Let your customers customize the experience as per their choice. It will not only make them happy, but also drag them again and again to your brand. Pokémon Go allows people to choose and personalize their own avatars, rename their Pokémons and join teams by their own choice. It will definitely create a sense of attachment to the brand, customers will be devoted to it as the experiences are created by them only.
7. Omni channel user experience
Pokémon Go has literally created a bridge between the virtual and physical world, thus utilized the omni channel consumer experience in the best possible way. To catch the Poké Monster, people need to visit one Poke Stop to another and check various stores, so it means businesses can also pay Niantic (parent company of this game) to turn their shops into Poke Stops.
You won't believe that companies have already started paying to Niantic. L'inizio Pizza Bar in Long Island City has transformed its shop, into a Poke Stop and witnessed a 75% increase in its daily sales.
The makers of Pokémon Go have taught us some good techniques about user engagement. By allowing players to customize their own experiences to offering high quality visual content, they have understood the need of people and served what exactly the users want.